Services Offered: Influencer Search & DiscoveryRelationship Management
Channels: Instagram
It's estimated that only 10% of the world is left-handed, so the odds that the three founders of the Lefty platform would share this trait were pretty slim. But, hey, when you go into business with people and start signing documents, things like this get noticed—and then companies are named.
Founded in 2015 by Thomas Repelski, Roman Berenstein and Christian Rivasseau, Lefty has all the looks of an influencer marketplace that's trying to refine the idea of what a marketplace can be. Marketplaces have gotten a bad rap in the last year or so, as they tended toward the quick and transactional side of influencer marketing. The problem with that approach, the critics say, is that there is no quick and transactional side of influencer marketing. Doing it that way misses the point of influencer marketing entirely. The problem that these critics miss, though, is that there is still a need for an end-to-end platform where influencers are discovered, activated into campaigns, paid, and tracked.
While Lefty isn't yet an entirely turnkey solution, it is still very much a solid entry into the marketplace of Marketplaces. It takes the basics further than many do: It has the ability to retrieve and track Instagram stories, which is a big deal. Its database of influencers isn't restricted just to those who've signed up for Lefty accounts. Like a true discovery tool, Lefty's influencers are found by algorithms that comb through Instagram, indexing all the accounts that meet the minimum reach of 3,500 followers. This data is monitored and updated in real time, and their AI engine categorises the content and indexes the profiles of 5 million influencers and counting.
Lefty further differentiates itself with the "Seeding" feature of their upper tier subscription plans—a managed service that moves the platform beyond a simple "self-service" designation. We'll get into that more down below in The Details, but what's most noteworthy about the service is that it's even offered. That's not meant as an insult against the service itself—it's just that even the upper tier subscriptions are within the reach of small and medium sized businesses, budget-wise. The SMB market, which would benefit the most from some expert guidance, has historically been relegated to self-service, limited-feature plans. With Lefty, they can do a lot more. How much more, and for how much? Good question.
---
Summary:
---
---
Pricing
To be fair, Lefty does offer two lower-cost self-service plans, both of which place limits on features and are entirely self-service. It's the Pro and Enterprise plans where you'll get the most value. Enterprise is custom priced, but you can see that the Pro plan is should meet even the most basic of budgets.
For all plans, you get two months for free if you choose annual billing.
Starter, $129 or 99€ per month —

Includes 1 user account, 1 campaign, 10 influencers per campaign, and 1 audience report per month. (

With Audience Reports, you can find out the age, gender, and location breakdown of an influencer, as well as some basic info on audience interests)

, email and chat support
Standard, $249 or 199€ per month —

1 account, 5 campaigns, 50 influencers per campaign, 10 audience reports, and automated hashtag tracking (which is for campaign monitoring, though you can only monitor 1 active campaign at a time), email and chat support
Pro, $599 or 499€ per month —

2 accounts, Unlimited campaigns, 200 influencers per campaign, 50 audience reports, automated hashtag tracking, monitoring 5 active campaigns, custom briefs, content search, data export, Seeding, dedicated account manager and training session
Enterprise, Custom Pricing —

Basically, this has all the features listed above but the number of accounts, campaigns, audience reports, and monitored campaigns are all customised.
---
The Details
At first login, the user friendly interface is immediately apparent as it provides some on screen guides to get you started. Searching for influencers is easy, and the search function itself is incredibly quick and responsive. Search a hashtag and the results appear almost instantly. Further refine that search—which you can do based off familiar criteria like categories, follower count, brand mentions, and location—and there's still no latency.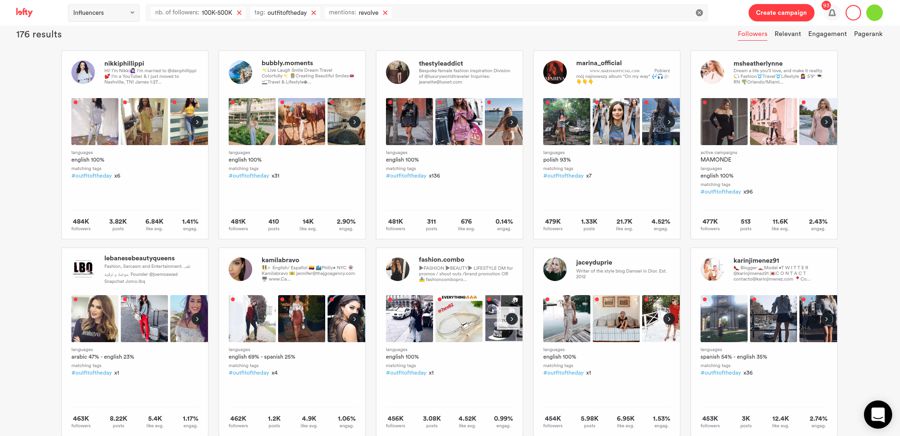 The sheer size of Lefty's database means you'll have a lot of influencers to sift through, which makes the "Sort by Relevance" feature especially useful. The best part of sorting this way is that the platform actually tells you why the influencers being displayed are relevant. If you're searching for English-speaking chefs who post photos of #sushi in the London area, you'll see results like this:

Notice that it lists and quantifies the criteria you've mentioned—in this case how much of their feed is in English and how many posts contain the #sushi tag. You can scroll their content right from the results screen to get an idea of their aesthetic before drilling down any further. Each post that has a little red dot in the upper left corner means it specifically matches the search criteria. This is a welcome change from the standard of just getting back lists of relevant influencers and having to go through their feeds to find out why they showed up in the first place.
You'll get a nice amount of data on each influencer if you want to look at them further. You can see their big stats like reach, average engagement, average likes and comments, as well as minimums and maximums for each. You'll see the accounts they mention most and the accounts who are mentioning them—good for finding out if they've collaborated with other brands before, as well as a way to find yourself similar/connected influencers. You can't search by audience data, though, which is a bit of a letdown because that data is there. You have to run those audience reports to get it, and your subscription determines how many of those you can run each month. And unless you're running the custom plan, your limit on these reports is less than the number of influencers you can work with.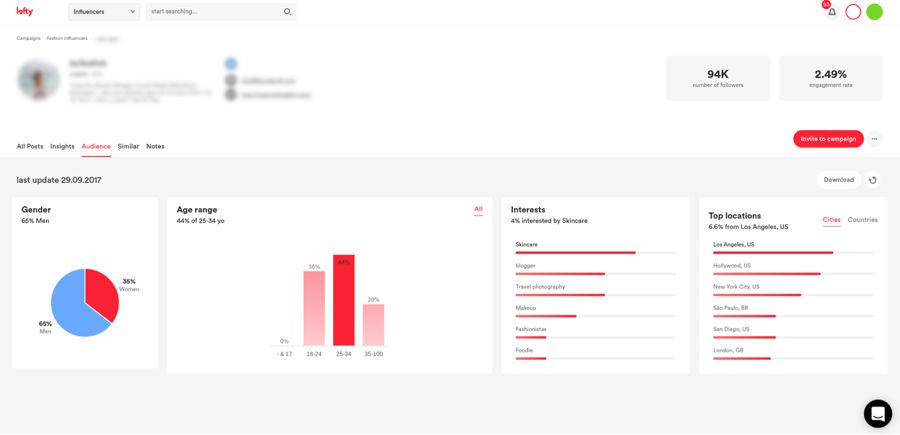 After searching,if you like what you see, you can add them to an existing campaign (or create a new one on the fly). Setting up and managing campaigns is also quite simple: the platform guides you through the initial setup as you give it a name and a target reach, then define the hashtag and/or user mentions you want to track as part of the monitoring. From there, it's the standard procedure of creating a brief, publicising it, and reaching out to the influencers you'd like to work with.
Mostly standard, anyway. Activating influencers is the one area of Lefty that can be kind of clumsy. If you have an influencer's email address—and you can filter your searches on Lefty to only get results where the email address is known—it's a nearly simple process. You navigate to the campaign dashboard to see the influencers you've added to the campaign, select the one you want to invite, add a custom message, then send it along. Then you have to do that for every other influencer in the list, as there's no way to send it in bulk from the interface. To do a mass mailing, you'll need to export the list to a CSV, grab all the email addresses from there, and get them into your email client.If you don't have their email address, then you'll need to slide into their DMs on Instagram to initiate contact. Not exactly turnkey.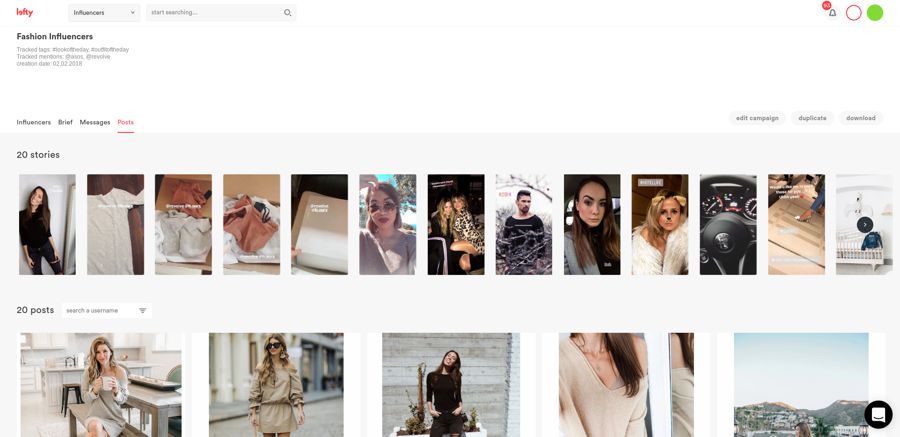 Other than this, Lefty's management tools do a good job of keeping things centralised and organised. The messaging system—which you'll use to track your influencers' status/progress once they've sign on to participate—is especially useful for bigger teams that all need visibility into what's going on. Towards that end, there's an internal notes feature, so that team members can share comments/thoughts on each influencer. And with its integrated payment ability, we'd be pretty impressed overall if that was where it stopped.
Which brings us to the Seeding service, included in the pro-plan and above, which streamlines the process of getting your product out to influencers who can then review it or feature it in a post. You provide a brief, the team at Lefty use their platform to discover and contact influencers, and get all their address so that you can ship the products. Then the platform will retrieve all the content that gets posted featuring your product.
Now is a good time to mention—again—that Lefty retrieves and tracks more than just photo and video posts. It also tracks Instagram Stories. Sure, we said that up in the introduction, but just in case you forgot, there it is again. Instagram Stories are more popular than Snapchat with influencers, and brands need to up their game with them. Now there's a tool to help them do just that.
---
Conclusion
The market for marketplaces may be getting more crowded, but there's always room for one that gets it right. As with any new software, there are kinks to work out—and we discussed them here. Overall, though, Lefty got it right.
By opting out of the "opt-in" mentality, Lefty offers marketplace functionality on a greater scale. They've added the ability to track Instagram Stories for campaigns. When you add the dedicated account manager and the Seeding service with the upper tier plans, Lefty starts to seem less like a self-service operation and more like a full-service one.
---
Search Precision

Management Tools

Interface/Ease of Use

Reporting/Analytics

Services Offered: Influencer Search & DiscoveryRelationship Management
Channels: Instagram