Best for:
DTC brands, Agencies and B2C brands of all sizes
Founded in 2014 by Bryan Gold and Adam Rivietz, #paid (spoken like it looks: "Hashtag Paid") shied away from traditional models of influencer marketing. That's really saying something because in 2014, influencer marketing wasn't established enough to have any traditions at all. Still, the industry—such as it was—maintained a focus on reach and engagement, measuring influencers with the bigger/better/more attitude that you'd expect from marketers and brands alike. The more followers an influencer had, the better they were to represent a brand, leading to more awareness and customers. Nowhere in that equation, however, was there a consideration made toward sales, or a strategy beyond awareness, or anything else involving just what to do with the awareness you'd created with a campaign.
When we first looked at #paid in late 2019, we noted that most of the industry had caught up to them in this respect. Influencer platforms may have evolved beyond a simplistic "increase exposure at all costs" approach, but #paid deserved credit for being one of the first to see the potential of influencer marketing as something more than a way to gain clout on the social web. They did this by reminding their users of two things:
Influencers were creators first. Their influence only came about as a direct result of being so good at creating content that their follower counts grew.




A blanket approach to marketing is not as effective as targeting campaigns to the different portions of your sales funnel.
With these two basic ideas, #paid differentiated itself by rejecting influencer marketing as a purely numbers-based game. Influencers should be creating exciting content, and should be a good fit for a brand—these two criteria are more important than reach. The years since #paid's launch have shown that quality micro-influencers deliver more value than a Kardashian any day of the week. We all know this now, but it wasn't the conventional wisdom back when they launched. And the quest to discover influencers who could deliver reach to a large number of people ended up preventing marketers from considering whether they were reaching the right people.
In the years since influencer marketing really took off, the stories of marketers hungover with regret—about spending too much, or thinking too little—in pursuit of huge, indiscriminate audiences have become commonplace. Meanwhile, #paid customers seeing real results—brands like Coca-Cola, Starbucks, Uber Eats, and Ikea—have also become pretty common. There's probably something to their approach.
But also, there's something to the platform itself. In the three years since our last review, the team at #paid has been working to improve the user experience. Not that it was bad back then—quite the contrary. But, while nothing in this world can ever be perfect, all of it can be improved. Despite our previously overall-glowing review, the people at #paid heard the critiques and got to work addressing them. If making good software is the goal, making good decisions is the way to get there.
---
Summary:
---
Pricing
Just Content $499/mo - Unlimited campaign per month, 10 handraised creators per campaign.
Grow $699/mo - Unlimited campaigns per month, 10 handraised creators per campaign, 2 creator whitelisting licenses.
Advanced $999/mo - Unlimited campaigns per month, 15 handraised creators per campaign, 10 creator whitelisting licenses, Customer Success Manager, Advanced audience demographics.
---
The Details
On the surface, #paid appears to function like any other influencer marketplace.But when you dig into creating a campaign you'll see the first hints of why we like this platform so much. In steps one and two of your campaign set up, you define both your ideal audience and ideal creator. On their own, each set of preferences isn't that granular—audiences can be selected by demographics and their topical affinities, while influencers are only filtered by their niche category and audience size. Taken together, though, they really set the algorithm up for success in surfacing relevant results. Another nice touch with campaign setup is the ability to "order" specific types of content simply by checking off the option: For Instagram, it's Photos, Stories, Carousels, and Reels. For TikTok, it's just videos (naturally). This doesn't just let the creators know what to expect, it lets the algorithm broadcast the opportunity to those people who have a proven history with the content type.
That said, it isn't all algorithms behind the curtain. Another big deal about #paid is the eminently human approach to influencer discovery. With most marketplaces, you publish your brief, creators who are algorithmically determined to be compatible get notified, and then those who want to participate can send their pitches directly to the brand. With #paid, there's something called a Handraise, which is very much what it sounds like: they "raise" their hand to signal interest, and wait to be called upon. The Handraise is more than the push of a button, though. Creators are expected to write a message that describes why they believe they're a good fit, and what their strategy for the campaign might be.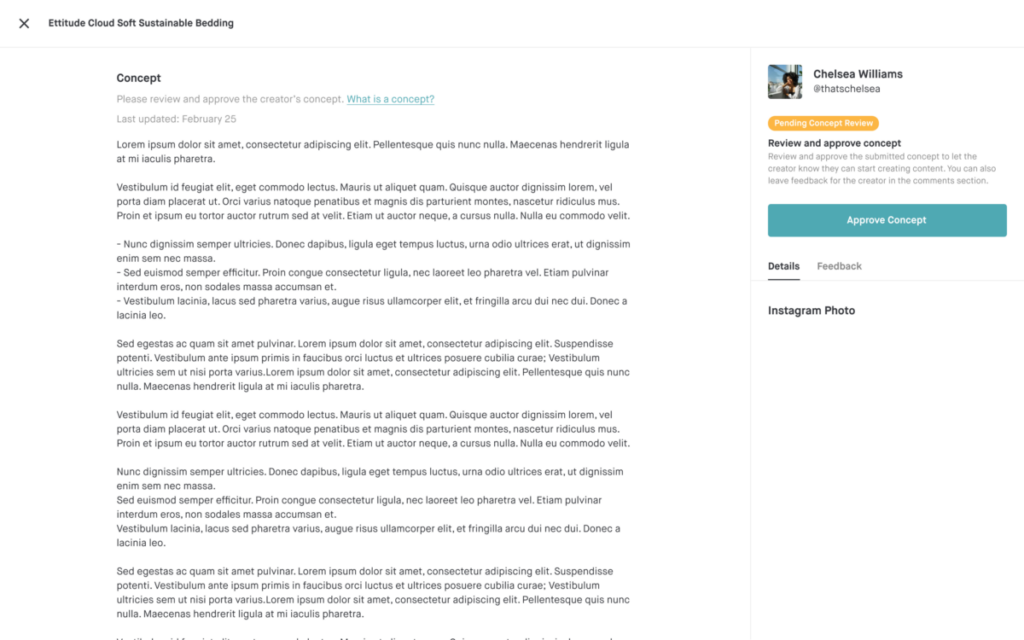 What's different here is that the brand doesn't see these initial expressions of interest. #paid has a team of people who vet each and every creator submitting a pitch before the brand ever sees them. They'll do a full and thorough accounting of each creator's background, audience, and past content. They'll review the Handraise Message to see what they have to offer for the campaign specifically. The team at #paid will then accept only a portion of those who responded, at which point they'll pass off this whittled down roster to the brand. While this process may add a little time before brands see responses to their campaign brief, it's nothing compared to the time it takes to wade through hundreds (or even thousands) of raised-hand profiles.
Think of it: the platform contains tens of thousands of creators. When a campaign brief is published, #paid's algorithm only shows it to those who fit the criteria of the campaign, from their demographic information, content categories, and if their audience is suitable for the campaign goal. Maybe that number is in the hundreds. Then more get filtered out as creators apply for consideration. Then just a handful of them—the most suitable—make it to the brand to review. Going through maybe a dozen or so handpicked influencers is an easy day at the office compared to sifting through hundreds of responses. From there, brands can review their options, performing a final round of vetting to make sure they like what they see.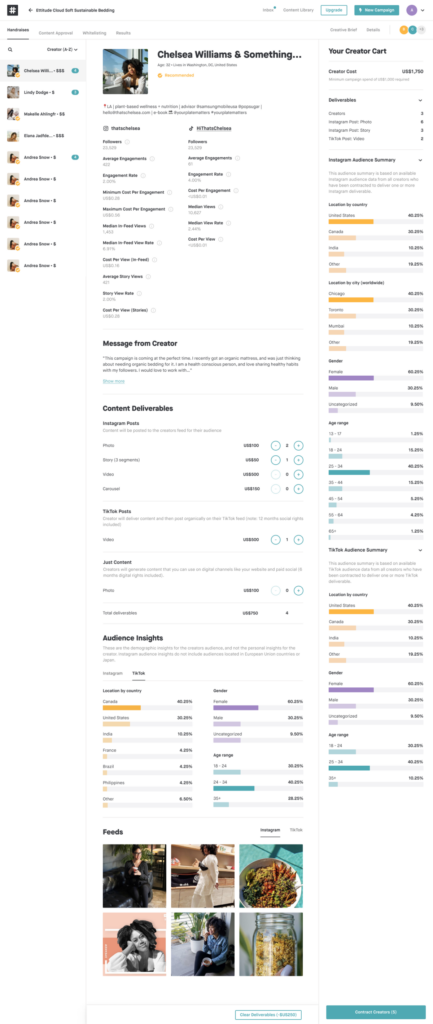 This review process is one of the nicest we've seen, as it contains a major improvement to the interface. Each creator who raised a hand appears in a list down the left side of the screen, while the middle column contains their personalized message and a schedule of rates for each content type. It all looks just like a standard inbox, but for one thing: the right hand column, which is called the Creator Cart. You can add as many of each kind of content types that you want (maybe you add 2 photos, a Story, and a TikTok video) directly from the creator's message and included rate card, and each one gets added to your cart. The cart doesn't just tally up the price, though. It's also updating the details on the audiences #paid expects you to reach. With every piece of content you add to your cart, you'll see your audience grow and the collective audience demographics update. It makes quick work of showing you what you're spending and predicting what you're going to get based on that spend. If that isn't business intelligence, nothing is.
The messaging turns out to be even more flexible than this first appearance in the activation phase. If you've accepted an influencer to the campaign, that message thread carries over into the main inbox of the platform. But also: if you're reviewing content submissions from your creators and are messaging them from the content review module, all the messages are there, too. Wherever you're messaging your influencers, the entire message thread carries from one module to the next.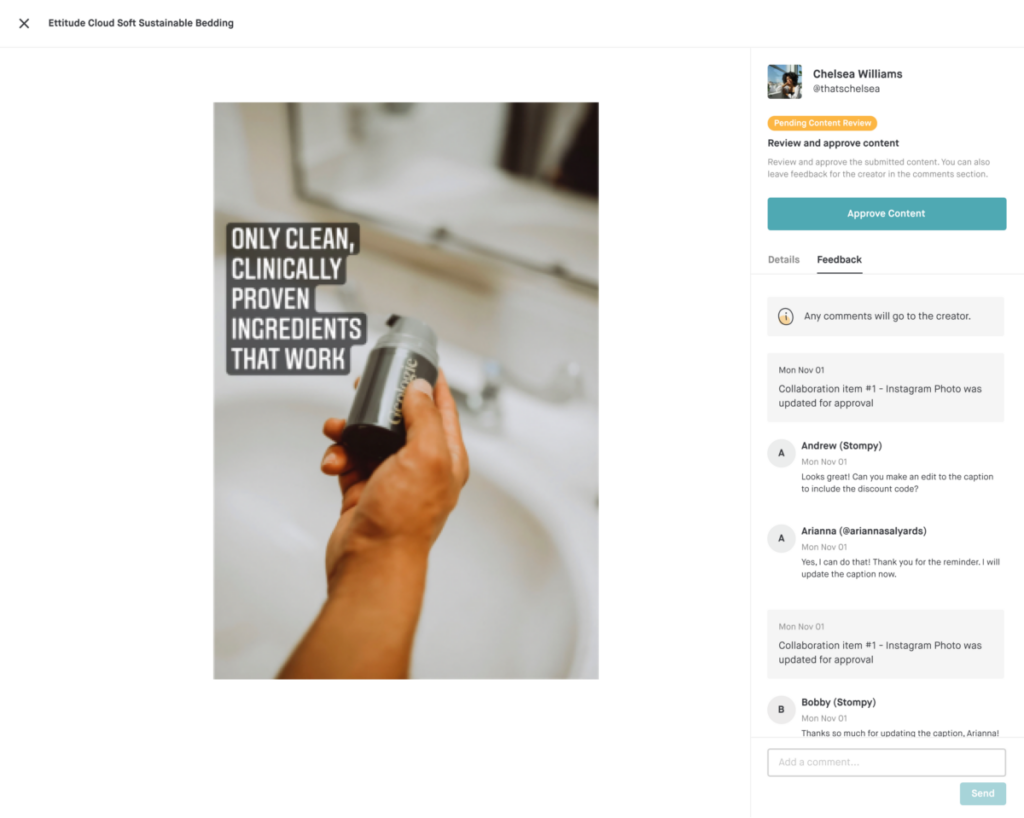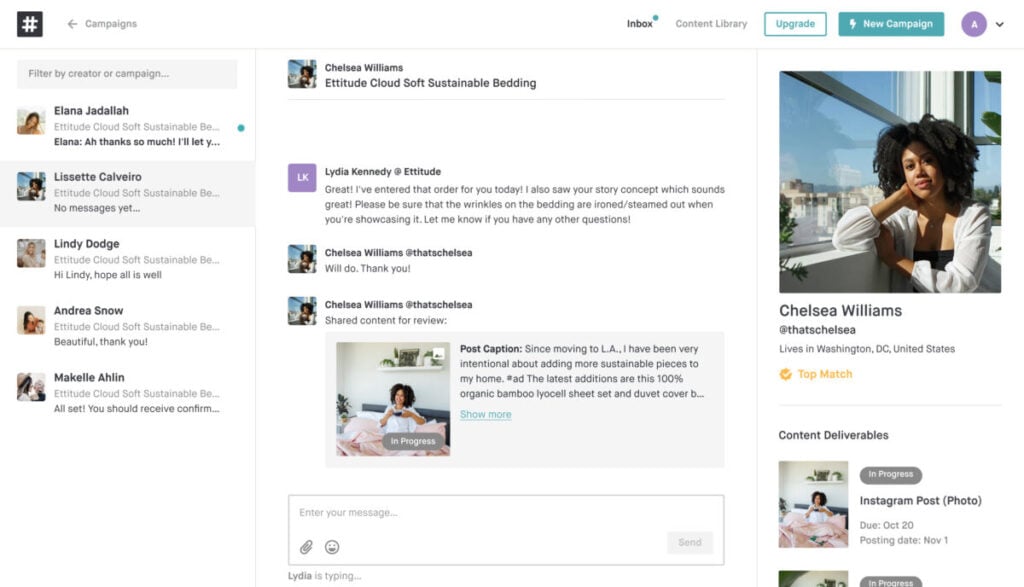 And, at last, we come to the reporting. This was an area of weakness for #paid when we first looked at it, but they've made some really nice improvements. While the platform was very thorough with metrics around campaign performance, both predicting it and reporting on it, it lacked any kind of post-campaign comparison tool to show you how well your campaign—and, by extension, the platform itself—actually performed. This is done for any of the metrics that the platform made forecasted for during the activation stage. You can see two of these metrics pictured below—Followers Engagement and Impressions Engagement—with the attainment rate expressed as a percentage of the prediction. With the addition of this, #paid is very close to having it all. We'd still love to see more audience psychographics and insights, especially in the post campaign reporting to better understand how your influencer's posts are performing. But we're also not complaining: a good platform just got markedly better, at a price point that should appeal to even the small brands.
---
Conclusion
With the form and function of an influencer marketplace, #paid presents an easy way into building influencer campaigns for any brand. But they've taken that foundation of what the marketplace is and transformed it into something that's much more. Marketplaces are usually built to appeal to smaller brands, looking for easy and cost-effective (read: inexpensive) ways into influencer marketing. #paid operates under no such pretensions.
Their target customers are large businesses with big marketing budgets. And they've created enterprise-level software that mimics an SMB platform—but only on the surface. Under the covers is something more complex, mixing high tech with a human touch. It's self-service, but also isn't, as evidenced by the discovery process. And it's something that some of the companies have already used and found success with. No doubt more companies will soon experience the same.
Frequently Asked Questions
What is #paid?
It is an influencer marketplace that you can use to create campaign briefs that describe the aim of your campaign, the scope of the content that you need and something about who the perfect creator might be. Though, it offers a more human approach to influencer discovery compared to similar tools. The belief that drives #paid is that influencers should create exciting content and fit with the brand. This is more important than reach.
What services does #paid offer?
It offers a wide range of services that include campaign management, third-party analytics, influencer content amplification, global influencer payment, fraud detection, and audience health. It integrates with Instagram, Facebook, YouTube and TikTok. One unique feature is its Whitelisted Ads. This enables you to whitelist specific creators and content to be used with paid Instagram and Facebook ads. It also lets you reach your target audience without being limited to only those who follow the influencer.
What does #paid cost?
There are two levels of subscription: Essential ($299 per month) and Grow ($599 per month). These prices are quite reasonable compared to the competition and within the budget of a small business. Customized plans are also available for bigger brands and agencies. While these two plans differ in what they offer, both plans have the following features included: a content library, analytics, payment and contracting, multi-user permission, a help center and email and chat support.
Is #paid easy to use?
The interface is very clean and easy to use. The design team of #paid has really created an intuitive interface. While the interface is simple, the platform can complete complex tasks. At no stage, will the person using #paid feel overwhelmed. Everything from creating a brief for a campaign to the very detailed reporting is easy to use and understand. All in all, with #paid it is easy to build influencer campaigns for any brand.
Is #paid a good tool for small businesses?
Typically, marketplaces are created to appeal to smaller brands that need a simple, cost-effective way to use influencer marketing. This is not the case with #paid. Instead, they target big businesses with big marketing budgets. Their software is intricate and combines high tech with a human touch.
#PAID
Features

Ease of Use

Reporting

Best for:
DTC brands, Agencies and B2C brands of all sizes