Best for:
Medium and Large e-commerce companies
Overview
Influencer marketing, for all its 21st century bells and whistles, is just a more advanced, programmatic form of word-of-mouth marketing. Word-of-mouth marketing, of course, is just a more programmatic version of actual word-of-mouth, long regarded as the most effective endorsement of a product or business. Skeepers, a French martech company, was born out of this knowledge. Its first product, Verified Reviews, launched in 2012 and gave brands a way to engage with their customers, solicit reviews, and then integrate those reviews into their marketing.
On the strength of Verified Reviews's success, the Skeepers brand grew both its customer base and product offerings. Between November 2019 and November 2021, the company raised over $100 million in funding and used the funds to acquire complementary solutions aimed at making Skeepers an all-in-one platform for brands to stay engaged with their customers, opening up new and effective channels to market and sell to them. It's no surprise, then, that a Ratings and Reviews module is an integral part of the Skeepers influencer tool set: your customers have influencer.
One of these acquisitions, Octoly, was reviewed here back in 2017. At the time, Octoly was a fashion, beauty, and wellness focused influencer platform that dealt strictly in product gifting—no payments to influencers. This made Octoly a natural fit for Skeepers's word-of-mouth vibe. Influencers on Octoly may have larger than average audiences, but their product posts still keep them mostly level with their audience: they're all just users of the product, giving a review. No longer strictly in the realm of fashion and beauty, the former Octoly will appeal to nearly any kind of retail brand.
Rounding out the Skeepers influencer suite is Live Shopping, a way for brands to host shoppable live streams right on their website. This opens up another channel for brands to use influencers, and here they'll do more than a simple post—they can actually drive sales. There's more to the Skeepers platform than these three tools, but these are the ones we'll focus on. First, for the way they can work together as part of a multichannel influencer campaign. But also because they show the direction that influencer marketing is headed in, with a multi-pronged approach that goes beyond simply paying for posts.
---
Skeepers Review:
---
Pricing
Skeepers doesn't publicize its pricing, indicating that it's either very expensive or very dependent on customer needs. They have some pretty big customers, especially in the fashion and beauty vertical, but they also have more modest ones that only have regional recognition—so we're going to go with "very dependent on customer needs." You'll need to chat with someone on their sales team to get a firm price quote.
---
The Details
Skeepers deals with influencers on two scales: at the traditional influencer level—from nano- to macro-influencers—and at the consumer level. Consumers can participate through Skeepers's Ratings and Reviews section, applying to receive products with the promise of a review in return. All that's required here is a valid Facebook account to ensure that the applicant is both a real person and lives in the region that the campaign is going to run in. Influencers, on the other hand, have a much higher bar to clear.
When an influencer applies to be on the platform, she'll need to pass two checks before being accepted. The first one is an automated data check: the Skeepers algorithm scrapes the applicant's social data and ensures certain minimums: 1,000 followers, 2% engagement over their last 15 posts, and their audience must be at least 75% real people who are local to the market they're applying to. If an influencer passes these checks, their application gets forwarded to a team of real, live people on the Skeepers team who conduct an editorial review of their content. This is done to ensure that their general vibe is brand-safe, but also to see more specifically the kind and quality of the content they're making. Only when their content passes this quality check are they accepted on to the platform.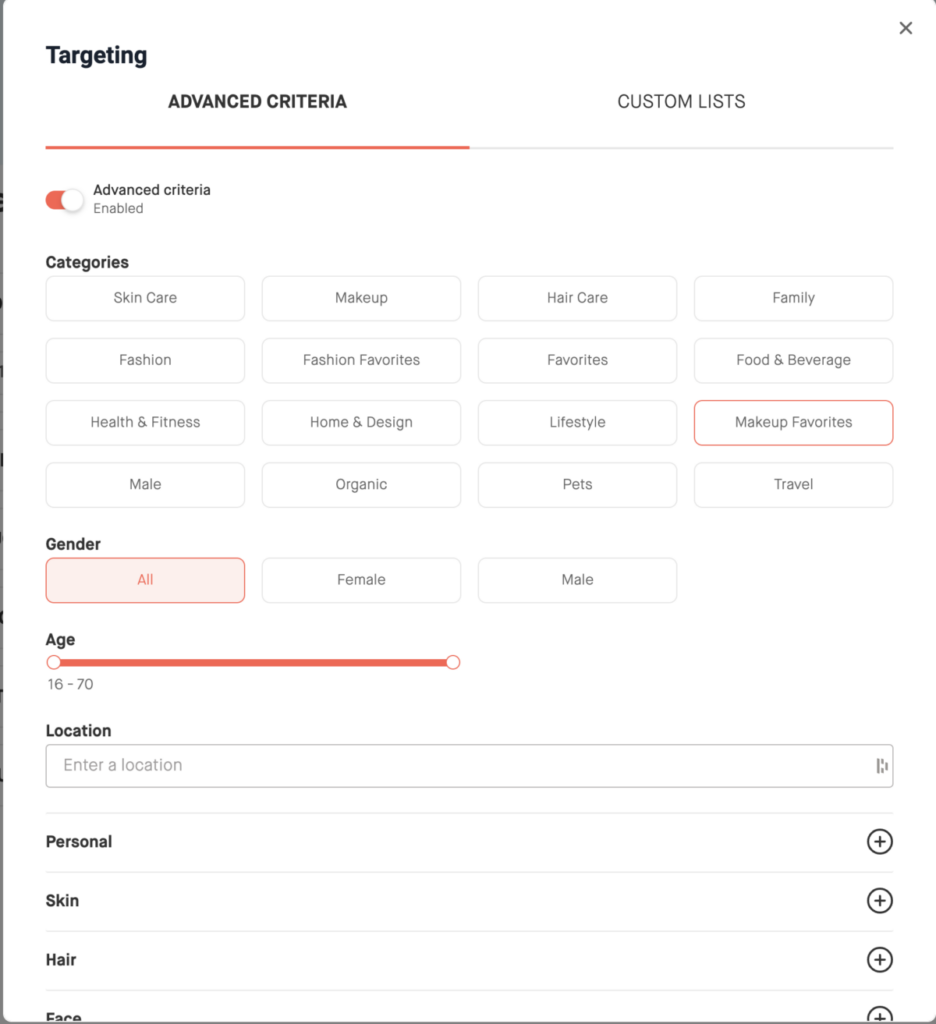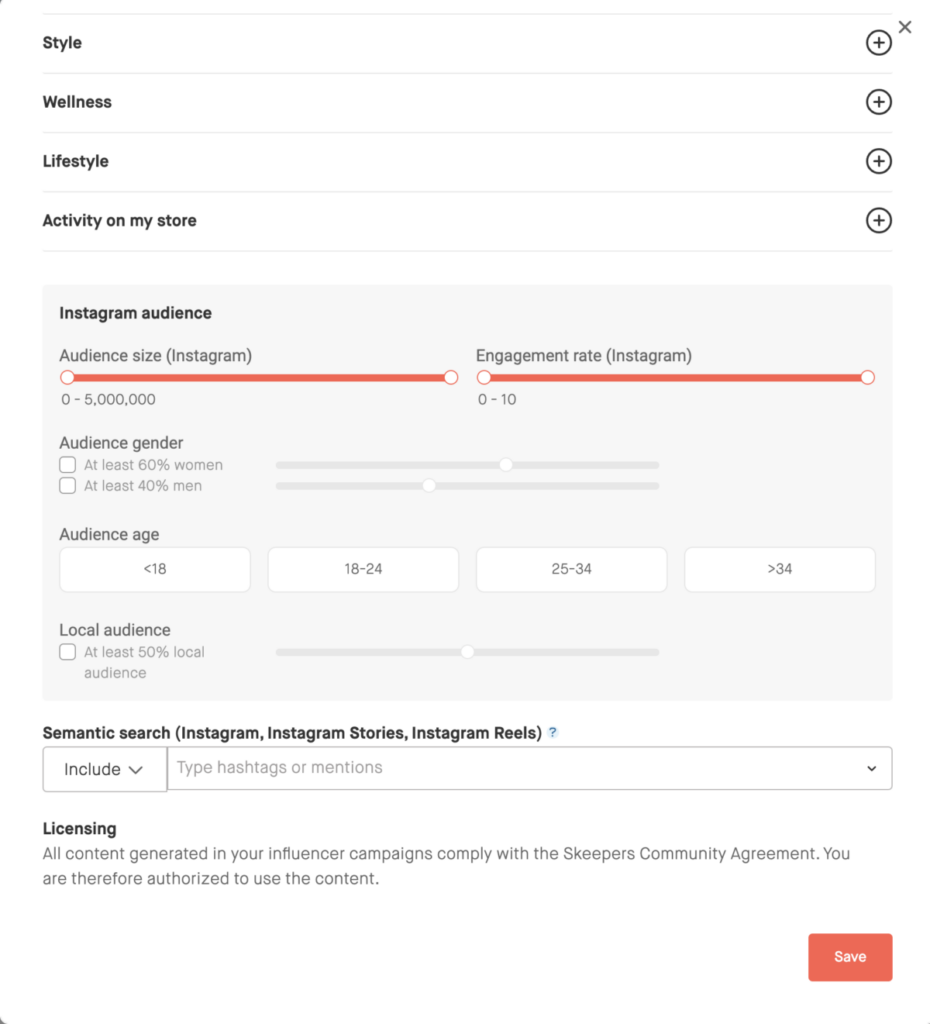 As a marketplace, there's no real need for Discovery—brands can simply create campaigns and define the kind of influencer or consumer they want to target. They can do this based on a number of factors: demo- and psychographic data like age, gender, income, and interests; their audience size and engagement rate; brand affinities; keyword searches, including @mentions and #hashtags. There are even different profiles influencers can sort themselves into by answering questions about beauty, wellness, or lifestyle. The vetting team puts accepted influencers into the most appropriate category for that content, and they'll get more personal questions related to this category during the application. Because of this, brands can get super specific in their requirements: if a shampoo brand wants influencers with curly hair that's been dyed green, they'll be able to do that.
If this sounds like a lot, don't fret: the campaign setup process is very easy, laid out in discrete steps and guiding you all the way. When a campaign brief is completed, Skeepers's algorithm will invite all the influencers that fit the profile you defined, and you can also specifically invite people that you already know you want to work with. Then it's just a matter of watching the applications roll in.
One of the cooler features around this part of the process is Skeepers's influencer credit system. When an influencer is accepted onto the platform, they're issued five credits, which they use to apply to a campaign, one credit per campaign. This credit system is a simple yet ingenious way to hold creators accountable. Having only five at a time prevents them from spreading themselves too thin, no more than five campaigns at a time. If their application to a campaign is declined, they get the credit back. But if they're accepted, the only way to get it back is to complete the work they contracted to do.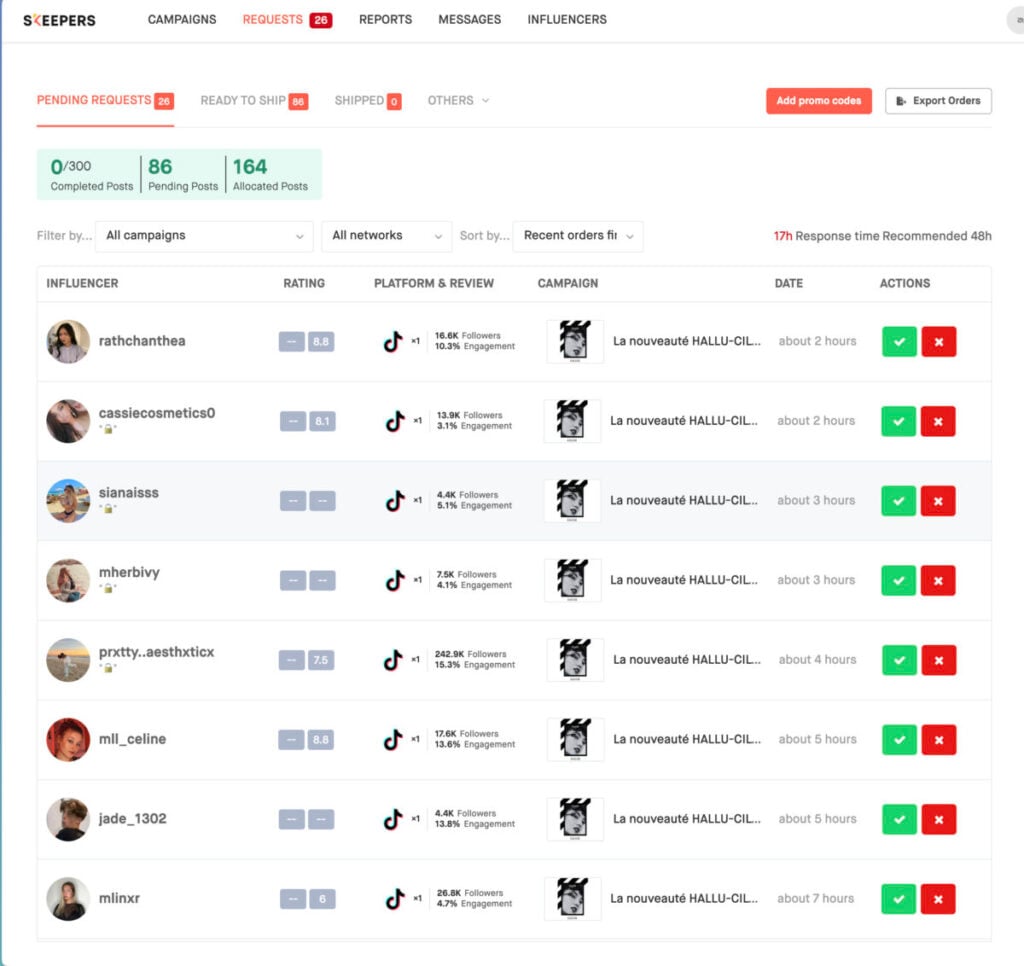 From here on out, managing the campaign within Skeepers is also uncomplicated. If you've used a marketplace platform before, the mechanics of communicating with influencers, and approving or denying content, will feel familiar to you here. Influencer profiles are a little lean, offering high level stats like followers and engagement rates, and basic demographic information about their audience. But there are also some helpful internal metrics, like an overall quality score, sentiment analysis of the people who engage, as well as any campaigns they're involved in currently (or have been in the past).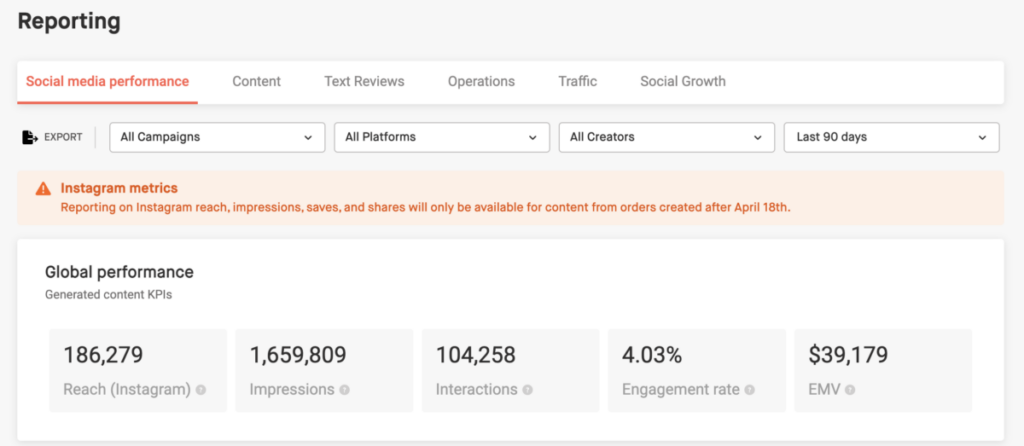 With posts going live, Skeepers wastes no time in reporting. It's all done in real time, and the analysis is truly a highlight. The main reporting page is its own thing: you don't have to click through to each campaign to find its corresponding data. Instead, you just head to the Reports page, where you're given aggregate stats for all your campaigns. Narrowing down to a single one is simply a matter of choosing it from a drop down menu. You can do the same with social channels, influencers, and time frames—and any combination of these. From the Reports module, you can also look through a content library of everything that's been posted on your behalf. This library, incidentally, is yours to use and reuse as you see fit, as brands own the content rights as part of the standard Skeepers agreement.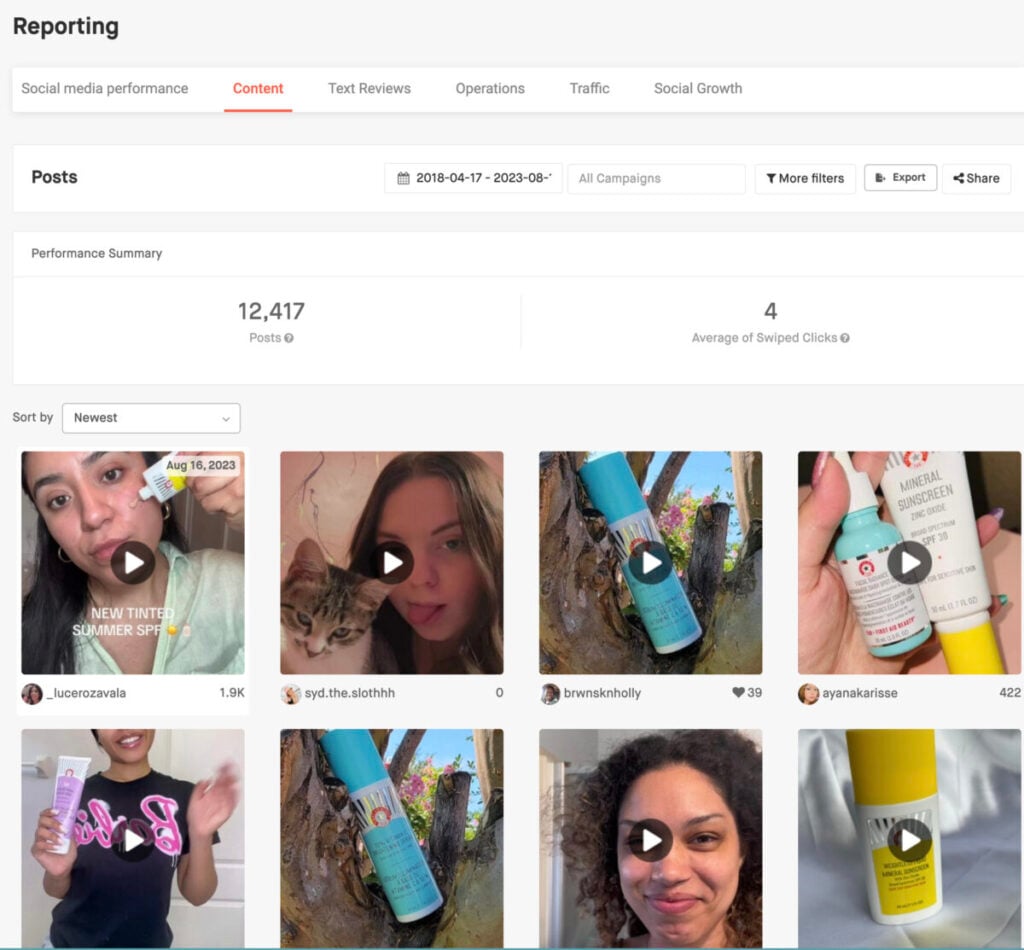 Finally, we come to the Live Shopping feature. This is part of the overall Skeepers suite of tools, and exists on its dashboard. Brands can use it to host live events on their own website, and make these events shoppable. So, maybe you're an athletic wear company and you hire one of your favorite fitness influencers to host a live workout. His outfit could be available for purchase right from the video. The options here are endless, and can even be used for virtual, one-on-one personal shopping experiences. It's an exceptionally clever idea that makes an already excellent platform even better.
---
Conclusion
Perhaps the most impressive thing about Skeepers is that it's not primarily an influencer marketing platform. If we were to give it any label, it would be ecommerce optimization. Such is the nature of its suite of tools. But that's what makes its influencer offering so impressive. It doesn't feel like an afterthought—or even a late-stage acquisition by the company (which is precisely what it is). It already came fully formed from Octoly, so it's not as if they had to reinvent the wheel or anything. But, the fact it fits so neatly into the Skeepers ecosystem gives you a glimpse into the company's future—and maybe the future of influencer marketing itself.
Skeepers
Features

Ease of Use

Reporting

Best for:
Medium and Large e-commerce companies