Best for:
Midsize, enterprise and agencies
This November, it will have been 6 years since we launched Influencer Marketing Hub—when the site went live we had a handful of platform reviews (along with our other content) and Traackr was one of them. Though it was published simultaneously with another 9 reviews, Traackr was actually the first one we received a demo for—and it blew us away. As we saw more and more platforms, all of what made Traackr so good became ever more obvious.
Two things stood out. The first was the way it made good on influencer marketing's promise of authenticity. Many competing platforms viewed influencers as low-cost alternatives to celebrities, and much of the software being created to find and manage influencers was largely transactional in nature. Traackr, on the other hand, focused on giving brands the tools needed to cultivate authentic relationships with influencers and, by extension, their audiences. The way they were able to do this was the second thing that put Traackr ahead of its competition: data.
Data has always been an integral part of what Traackr does—and it's a huge factor in the long term success of influencer marketing. If authenticity was what made marketers try influencer marketing in the first place, data was what made them stick around. The people at Traackr understood this early, and so data and analytics have always been big parts of what the platform does - so much so that the company's longtime customers started calling Traackr "Google for finding people". This didn't just mean it was a search engine that delivers relevant results. Like Google, Traackr doesn't just try and match keywords and filters. There's context to every search, and results are backed not just by matching criteria but also analyzing and understanding it, as well.
Add to this fact Traackr was founded in 2008, a time when social media was an unproven entity, and influencers did not even exist. Its founders—Pierre-Loïc Assayag and David Chancogne, the CEO and CTO, respectively—had the impressive foresight to see how important it could become. They started Traackr as a way for brands to sift through the growing mountains of content online and understand what people were saying/thinking/feeling about them. Over the years, Traackr has added functionality—including ways to discover and manage influencers—but the data and analytics have been there from the beginning. That understanding of how important these things are to marketing has influenced the platform's growth since then, and Traackr continues to impress us as it remains one of the top influencer platforms available.
---
Summary:
---
The Details
Because we made a big deal about the data that powers Traackr, let's start with a couple of metrics right off the bat. Traackr's data set is massive: It's indexed over 4 billion influencer posts across 13 platforms, from more than 7 million influencers. This represents two and a half years of historical data at any given moment. Compare that with the industry average—90 days. Even platforms that lean into data the way Traackr does don't go back more than a year. If you know anything about statistics, you'll know that the larger the sample size, the more accurate the data (and if you don't know anything about statistics, you just learned something in this sentence).
So what do they do with all that information?
One thing they do is provide their customers with something called a Benchmark report, a way for brands to get a bird's eye view of how they're doing vs. how their competitors are doing in the social media space. Here, "how they're doing in the social media space" means getting an idea of what your share of the social conversation is, and understanding how you achieved it—you'll also find this out for your competitors. Updated monthly, the Benchmark report compares your company to other companies you define as your competitors.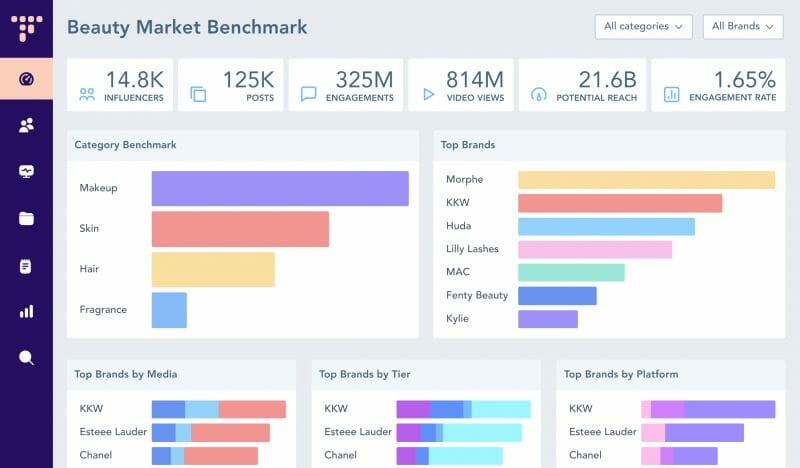 So, for example, if you want to see "how you're doing" you'd click into the Performance tab, and peruse through the collection of metrics there showing each company's number of activated influencers, number of posts, number and rate of engagement, video views, and more—all presented as easy-to-read bar graphs. These are all factors used to calculate an overall "Brand Vitality" score, Traackr's own metric that gives an at-a-glance understanding of your spot in the competitive landscape. You can drill down into any of these metrics for you or any of your competitors. For example, if you were looking at the Video Views metric and clicked on your competitor's name, you'll see the influencers they worked with—and their stats—that were driving those views.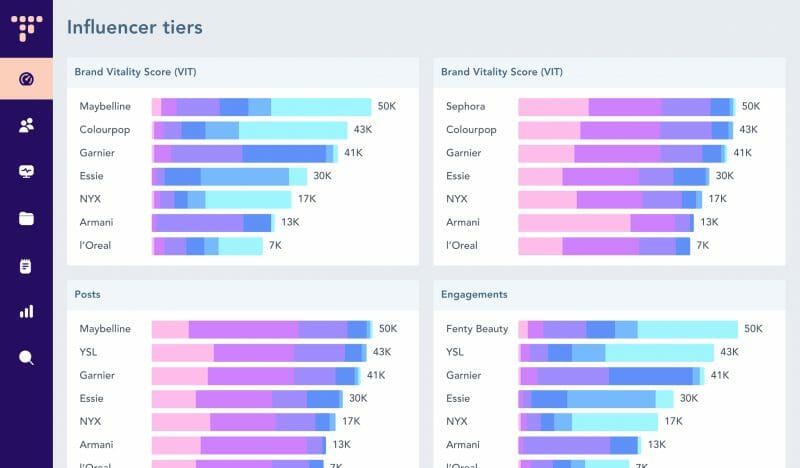 There's more to the Benchmark, than just this, though. You'll get the measure of your (and their) paid vs organic marketing. There's an accounting of the kinds of influencers who are talking about you (nano, micro, etc.). You'll learn which social channels are working best for you. And all of these high level stats can be clicked on for more information. Want to see who's driving the most conversation about your biggest competitor? Find them in the Engagements graph and click on their name. Does one influencer stand out with a particularly high number? Click on her name and you'll see all the posts she made about them. Want to know more about her? Click on her name in any of those posts and you'll go to her profile.
And the insights keep on coming.
You can learn an awful lot about an influencer from their Traackr profile. There's all the obvious stuff, like the different social channels she posts on, her location, her reach, and all of her content—and the performance metrics of that content—to name a few. There's the less obvious, but very helpful, Brand Safety measurement, which gives you a heads up if there's any controversy or bad behavior you should know about. This isn't some generic play at conventional morality—there's no wholesale ban of sex, drugs, profanity, etc. Rather, the brand decides what's safe and what isn't and feeds those preferences to the platform.
You can dive deeper into their audience as well, with both psycho- and demographic information on display. But then you also get a very specific understanding of how credible their audience is: Traackr shows you the specific percentage of suspicious and mass followers, but it can also tell you what portion of the audience is made up of other influencers. There's even a metric called "Reachability," how likely someone from her audience is to see her post, based on how many people they're following.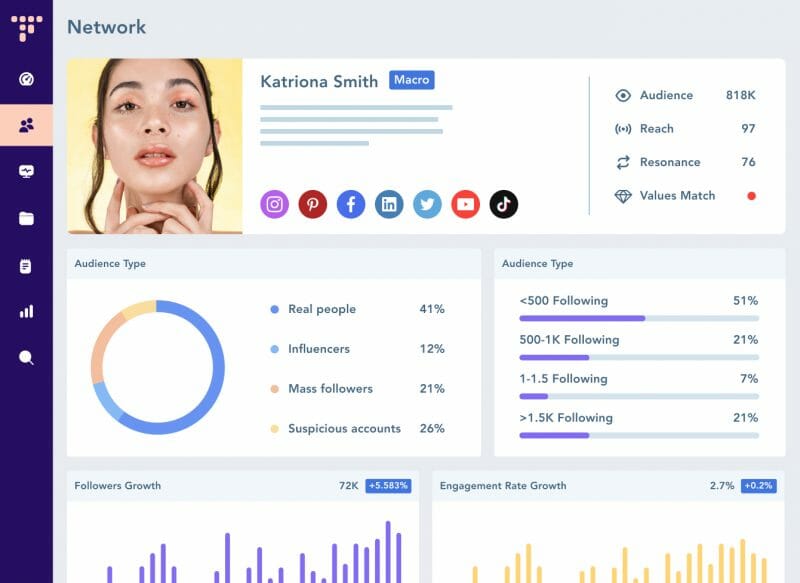 Now, after two paragraphs, we didn't even cover everything that you can learn from an influencer profile.What's important to remember about all these insights is that they're based on publicly available data. The influencer doesn't need to connect her social accounts and authorize Traackr to read her data. This means that if you're interested in knowing more about an influencer you find out in the wild, you can add her to Traackr and you'll get all this analysis for her, too. That Traackr can glean so much insight from a simple web-scrape tells you that there are some very smart marketing types behind the scenes that know HOW to slice, dice, and analyze the data they get. It should also make you question any platform that can't give you more than basic performance data.
Recall that we just dove into an influencer profile by way of the Benchmark report. We haven't even covered the Discovery module, as comprehensive a search as we've seen. You can define criteria for people or content, create lists of those you find, assign "ownership" to each profile (good for agencies and large teams managing talent), and tag them with custom descriptors, all of which makes them easier to find when you want to add them to campaigns.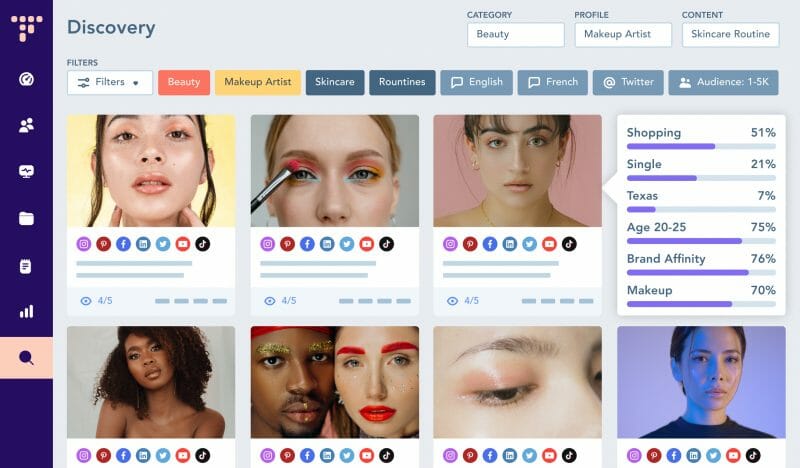 Campaign management is a huge functional standout, another module where you can see the marketing expertise of the people who designed it. At the administrative level, it's as thorough as an expert assistant making sure you leave nothing to chance, contractually. You can get remarkably detailed on the content requirements, account for all fees involved, and spell out any products they're going to get. And, once again, we see how Traackr is clever about its use of data: based on everything it knows about an influencer and her past performance—paid or organic, branded or not—and reconciles that with the content you've contracted her for to suggest an appropriate fee to pay. If you've created affiliate links for the influencer as an incentive to drive sales, that can also be managed here.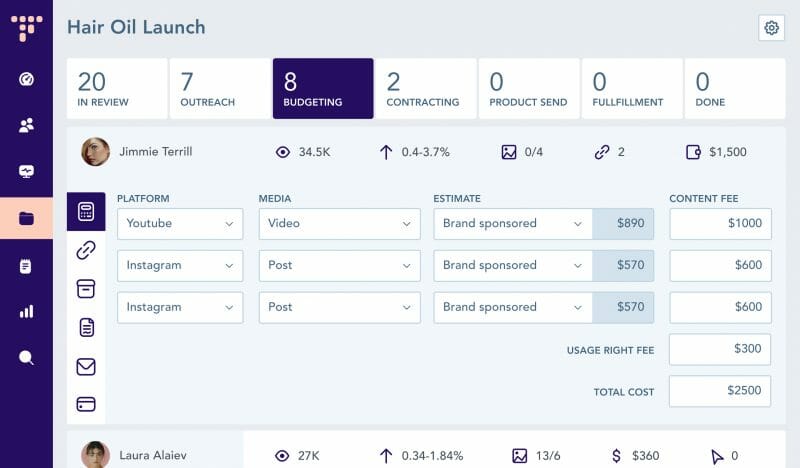 The reporting on the campaign is, as you'd imagine, highly detailed. Traackr aggregates all the content, and associated data, onto the platform so you don't have to click out to another website to see it. It aggregates all the affiliate link conversions, too. One of the cooler things in the reporting is the "Efficiency" page, which breaks down the total spend and lays it out against other metrics, like cost per view, cost per engagement, cost per post, etc. The page has a list of all the influencers that took part in your campaign and reports on their individual efficiency. The sums and averages of all these stats is then presented at the top, giving insight into how well (or not) you spend your money.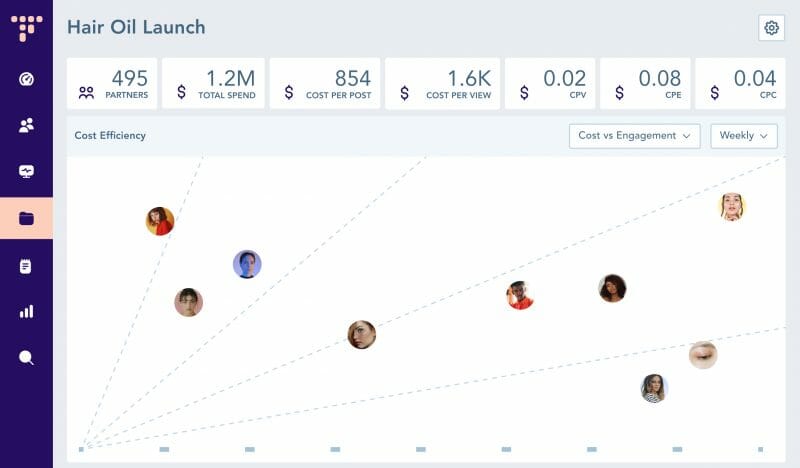 Finally, we'll close this up by saying we're not done. There are more tools and reports included in Traackr that we don't have the space to completely cover: tools to help teams communicate and collaborate, "Topics Reports" that help you surface the right influencers in your network for each campaign by seeing who's talking about related topics, a Brand Buzz tool that's essentially a feed of content of people talking about your brand, and full messaging.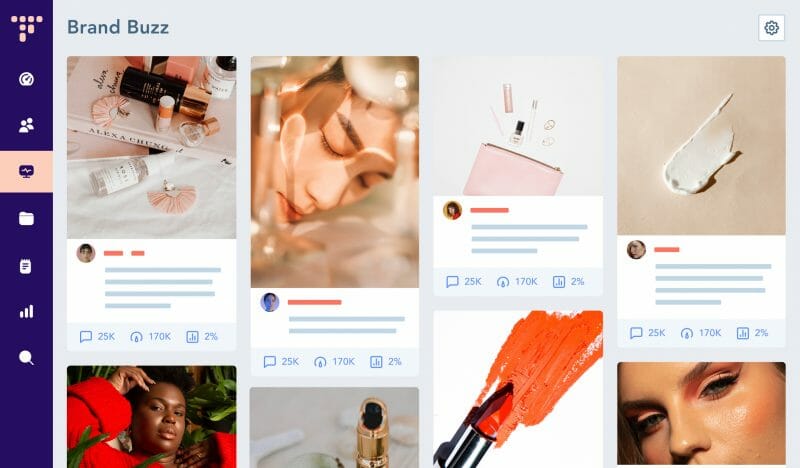 ---
Pricing
The depth of this data, the insights provided by the analytics, and the overall sophistication of the platform has attracted some big names: L'Oreal, Unilever, Samsung, Revlon, and Cartier are some of them. Names like this are prominent on their website, and reviews like ours tend to mention them, too. This, and the lack of published pricing, has given Traackr the appearance of being a high-end tool that only the biggest companies would need (or could afford). But this is not the case: it would be limiting to only go after the world's top brands. They may have deep pockets, but there's only so many of them to go around.
Traackr's pricing is highly individualized, based on the customer and its needs, and doesn't have set "plans" at a preset monthly price. The key driver to their pricing is the number of users who will need access, so Traackr scales up or down with a company. Most of their customers are mid-sized and enterprises. The best way to find out whether the platform fits your budget is to call up and get a price quote.
---
Conclusion
Traackr's long history as a company predates influencer marketing. It was always meant to be a marketing tool for brands on social media, and it always saw data analysis as the basis for them to be successful. That Traackr became one of the premiere platforms for a marketing practice that didn't even exist when it was founded tells you something about how solid that foundation of data is. That it's as meticulous and through from a marketing management perspective tells you that there was a solid foundation of marketing know-how, too. That's a potent combo for an influencer marketing platform; Traackr lets its customers harness that power.
Frequently Asked Questions
What is Traackr?
Traackr is one of the oldest influencer marketing tools. In fact, they have been offering tools for influencer marketing before it even had a name. Initially, it was a product that users could use to measure their reach and the response to their posts on various social media channels. The services offered include influencer search and discovery, relationship management, and campaign management. It works with Facebook, Twitter, Instagram, YouTube, Pintrest, Tumblr and blogs.
How does Traackr's pricing work?
To be able to use their platform, you can either opt for an annual or multi-year subscription. Generally, Traackr is a cost-effective solution for medium-sized and bigger brands and agencies. You will need to reach out to Traackr directly for specific pricing.
How does influencer discovery work on Traackr?
With Traackr, influencer discovery and campaign management are extremely thorough. Searching for influencers on their platform starts with a comprehensive search through the database of influencers on Traackr. To help you, there are many options to narrow down your search that includes filtering by topic keyword, locations, languages, age, gender, brand and affinities. You can also use the new Audience Attributes tool to filter by the psychographic data for the followers of influencers.
What are some of the advantages of using Traackr?
Compared to other influencer marketing platforms, Traackr offers much better data and analytics. The amount of insight brands can get from this platform is overwhelmingly impressive. You can get a breakdown of how various brands are performing across various categories. You can also use it to see where you (and your rivals) are allocating your influencer budgets. Another major perk is that the influencer discovery function has a lot of options to search and filter by.
Is Traackr easy to use?
As Traackr gives you many ways to organize the influencers that you've added to your network, it's quite easy to use and segment your influencers. This feature simplifies collaboration among members of your marketing team as well. All it takes is a glance, and any team member will know where things are at with a specific influencer. What is more, it also offers you a lot of space to customise the data that you save about your influencers by, for example, adding notes about interactions.
Traackr
Features

Ease of Use

Reporting

Best for:
Midsize, enterprise and agencies