Services Offered: Influencer Discovery
Channels: Facebook, Twitter, Instagram, Youtube, Pinterest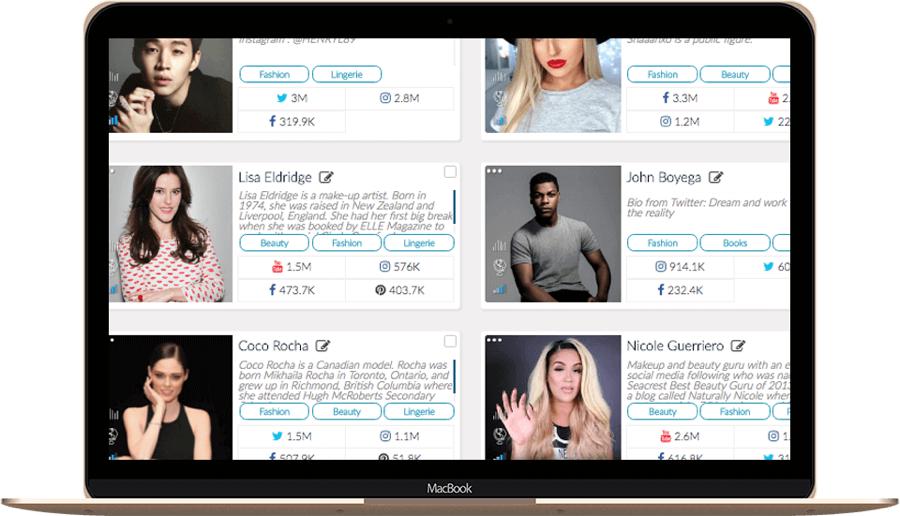 The story of Hypr isn't another one of those "two guys in a garage" tech startup myths. No, Hypr started by two guys in a living room. Founded by entrepreneur Gil Eyal and technical whiz-kid Guy Tamir.
Hypr is an influencer marketing search engine based on a single idea, namely, that if you're investing in an influencer to create content for you and you don't know much about her target audience other than its size, you're doing things wrong.
The front-end for Hypr sits atop a massive database of 3 million influencers along with the demographic data of their followers. That number is going up to 10 million in early 2017. Clearly, this is not an opt-in network of influencers and the information they provide. There's a true search engine crawler that's parsing through billions of social media posts and indexing all the information it can scrape up. On its website, Hypr argues that with opt-in networks "there is typically an unspoken agreement between the platform and the influencer that the platform should help the influencer make money." Whether or not that's true is up for debate, but there can't be any doubt that when you work with an opt-in network, you're only getting to see the people the platform wants you to see. Hypr aims to remedy this by providing what it terms a "talent agnostic" search engine. They don't care which influencer you choose to work with; finding an influencer that's right for you is the only thing that matters.
---
Summary: Quick Jump Menu
---
Pricing
Hypr doesn't publish its pricing on its website, but it's probably not a tool for small businesses. Access to the search engine requires a subscription with a monthly fee, and the typical Hypr client will have about $1k - $5k of their marketing budget—per month—earmarked toward discovering new influencers. If that sounds like your business, then read on. You'll find Hypr a great way to spend that money.
There are four levels of subscription to the service, each offering more features than the last. You can also register for a free trial if you want to give it a whirl and see what it can do.
Standard - Includes up to 250 searches per month, and the creation of two lists (more on lists in "The Details"). There's no access to influencer contact information—the standard plan is for people who are looking up specific influencers to access in-depth audience analytics.
Pro - Includes unlimited searches, 6 lists, 50 exports per month, influencer contact information, and 1 user login.
Platinum - Unlimited searches, unlimited lists, 250 exports per month, influencer contact information, and 2 user logins.
Enterprise - For any clients needing more exports and users, or wanting white label options (like branded reports), this is the way to go.
Brands that have used Hypr include the Hearst Corporation, Gatorade, Quaker, and Thrillist.
---
The Details
They call themselves the Google of influencer search engines, and for good reason. The interface itself itself is minimally designed, but its responsiveness during a search is very impressive. Results appear nearly instantly, and as you filter the search down the screen refreshes itself quickly.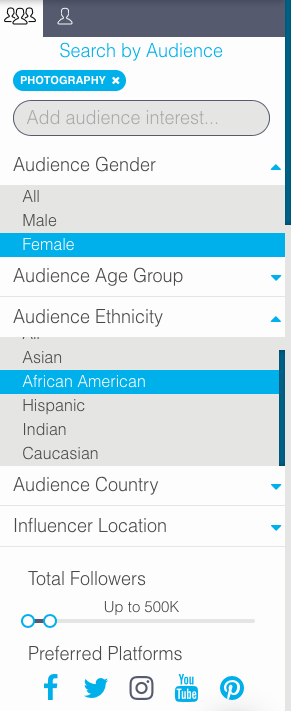 As for the search function itself, there are two ways to go about it. One way is to search by influencer, though this is only useful if you already know the name of the person you're looking for. There's just a single field for entering in your search. This is essentially for people subscribed to the Standard plan.
The other way to search is by audience, and this is where Hypr shows its power. You can do a keyword search by audience interest, and then select one or more demographic categories—like gender, ethnicity, and age group—to refine the results. There are also a few fields to further narrow the results based on the influencer, like his location, follower count, and the social platform you're looking to market on. With every selection the search results refresh to fit the new criteria.
A word of warning to those who choose the standard plan and have a limit on searches: when I test drove the search engine using the free trial, I noticed that each refinement of the results counted as its own search. The free trial grants 50 searches; type in a keyword for the audience interest and results automatically show, counting as 1 search. Then each time I selected another criterion, search results refreshed and my search counter increased by one. There's no way to select multiple criteria and then submit the query. I burned through about 20 searches this way in a few minutes. Standard plan users aren't likely to use the "Search by Audience" feature, so this might not be a big deal, but it is something to be aware of just in case.
Once you've refined your search to where you want it, it's incredibly easy to start perusing the results. Each influencer shows up on the screen like a little trading card. You see their name, profile picture, bio, areas of interest, and quick stats on their follower counts. If someone looks like a good fit, you can click on her card to get the full deep dive into their audience and social performance (reach, engagement, and amplification). Or, you can simply tick little boxes off for each person that looks interesting and add them to a list for later review.
Lists are the only kind of management tools that Hypr offers, but that's appropriate given the scope of what they're trying to accomplish. Since users will be going through an almost overwhelming amount of choices, organising the ones that interest you has to be done in a clean, simple way. With lists, you can group influencers together so that it's easy to go back and refer to candidates for multiple campaigns (or, if you're an agency, for multiple clients). You can then export entire lists into a single PDF, with each influencer's in-depth stat sheet presented on a single page in an attractive and easy to read layout. Exporting can also be done for a single influencer right from their Hypr profile page. One thing that would be nice to add to the grouped reports is a page with just a list of names and contact information. Since Hypr is a search tool only, there's no messaging function built into it for making that first contact. Unless you're logged into the site, you're going to need to refer to your exports for their phone number or email address. If you've created a list of 100 potential candidates, it'd be easier to find the contact info if it's all right there up front (instead of searching through the doc to find it).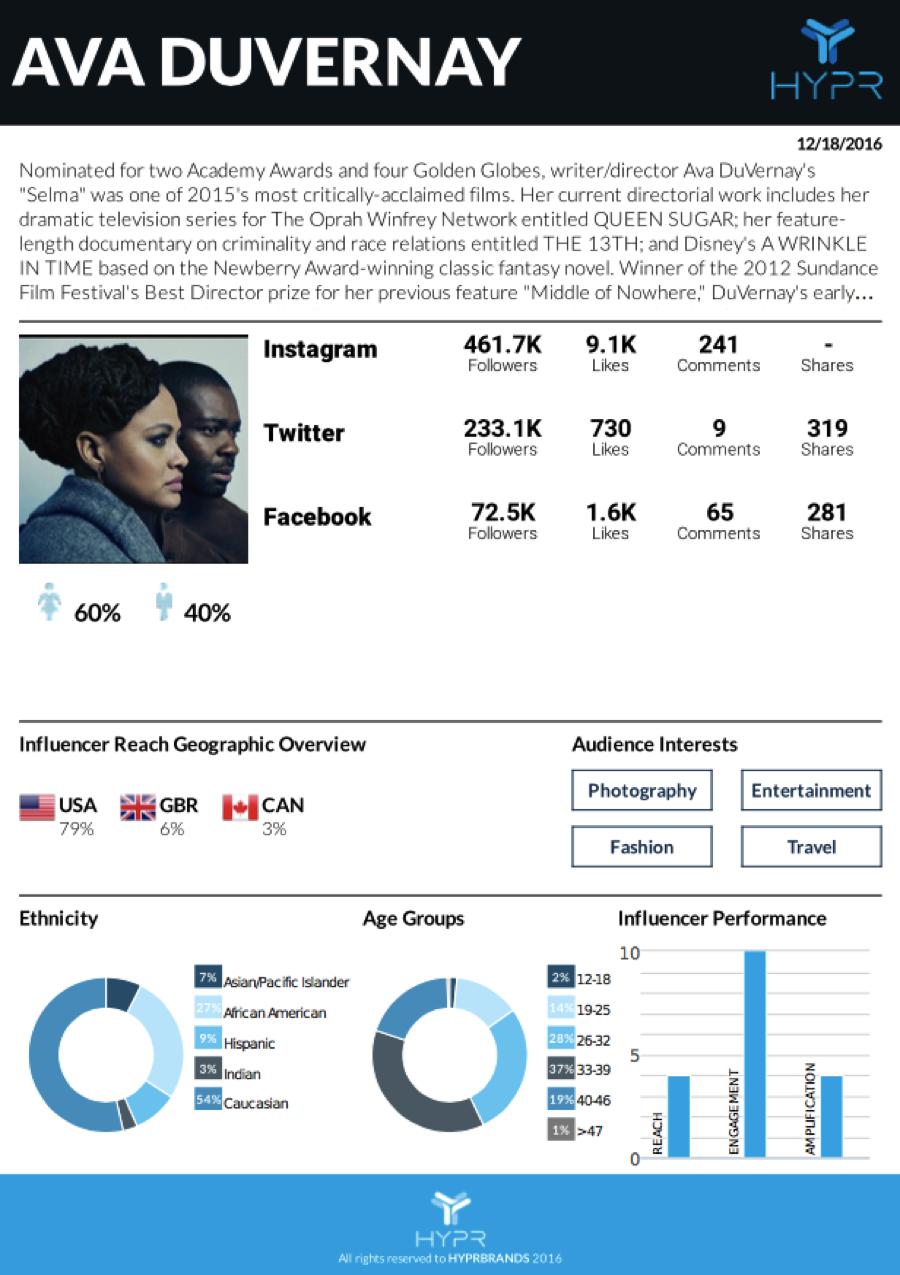 There's really only one criticism I could make about the information Hypr offers. While the data they have on an influencer's audience and performance is more granular than any I've seen, it doesn't include any specifics about the content they create. Their posts are being crawled and indexed in some way—where else would the performance data come from?—and it would be nice to see a small sampling of, say, the last 5 or 10 bits of content from their feeds to assess the quality and tone. Sure, you could go to Twitter or Instagram and check out their feeds separately, but it would be nice to have, at least, direct links to posts from within Hypr. To make an extreme hypothetical, imagine searching for an influencer who appeals to white males, aged 19-25, with an interest in politics. The data might show you this influencer is a top performer with a high level of engagement, and that his content is being shared widely by his followers. Wouldn't it be nice to immediately see that his last 5 posts were racist screeds and conspiracy theories, so you can move on to the next possibility?
---
Conclusion
That last criticism aside, Hypr is still among the most powerful influencer search tools I've come across. Ultimately, it's the influencer's audience you're after, and Hypr is built on this fact. The size of its database is staggering, and don't forget it's about to get 3 times larger. Hypr is perfect for companies with an in-house marketing department that needs a way to find influencers to work with. But it could also be a great supplement for those who are already working with an influencer marketing agency that exclusively selects from its own talent pool. You'd be able to do your own research on the influencers they're suggesting you use as a way to independently verify their credentials and performance. Or use it to find your own influencers, whom you can then bring into future campaigns with the agency you're working with.
Hypr - Influencer Marketing Platform
Search Precision

Management Tools

Interface/Ease of Use

Analytics
Hypr
HYPR influencer marketing platform makes influencer marketing easy. We help you find social influencers with actionable data to boost your campaigns.

Services Offered: Influencer Discovery
Channels: Facebook, Twitter, Instagram, Youtube, Pinterest