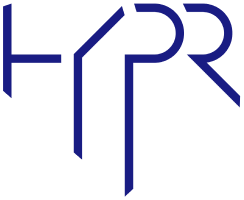 UPDATE: HYPR has been acquired by Julius - for a full review of Julius please visit the JULIUS influencer marketing software review
---
HYPR, takes a data first approach to influencer marketing - an approach that has driven founder and CEO Gil Eyal to proclaim that Influencers are a commodity.
HYPR started as a search engine based on a the idea that audience data should drive decisions in Influencer Marketing. You would never spend a dollar advertising in a magazine without knowing who reads it. HYPR believes that you should behave the same way when investing in an influencer to create content for you. In 2019, that seems like an obvious statement, but HYPR has been focused on data since its beginning in 2013. At a time when most influencer discovery platforms focused simply on finding talent, HYPR was providing brands and agencies the tools to analyse that talent. These tools have evolved significantly, and HYPR's platform tracks over a billion social media users every week to generate a "living and breathing" index - one that updates regularly so that you can see which influencers impact which audiences at the moment. In a world that has evolved into a focus on micro-influencers, this is extremely important because we all know how quickly they can get hot or cold, and if you are trying to sell a product to women who plan on getting pregnant, you need to find that audience before they already are.
The front-end for HYPR sits atop a massive database of 12 million influencers along with the demographic data of their followers, top conversation topics the influencer participates in and how influential they are within that context, as well as all the keywords, brand names and hashtags the influencers have used recently. While this is not an opt-in network of influencers, HYPR's team explains that this is by design. By electing not to opt-in influencers, HYPR can focus on lowering costs and increasing ROI for its customers without any conflicts of interest. Furthermore, since the platform shines in the micro-space, most of the influencers have posted contact information publicly, and are happy to accept offers from brands and agencies even if they aren't opted in. HYPR's team of software engineers and data scientists built some pretty sophisticated algorithms to parse through billions of social media posts and indexing all the information it can collect. As the influencer marketing industry has evolved, there's been a debate over which method is better for gathering influencers into a database: automated algorithms or opt-in services. On the side of algorithms, the argument goes that opt-in networks have a much smaller pool of talent to choose from, limiting choice. The opt-ins will say that their data is more accurate, because the influencers who sign up are granting permission to share it, but if you need a larger pool, aren't in the obvious beauty or fashion space, or want to go micro, they just won't enough to offer.
Of course, marketers have had success with both kinds of services so it doesn't really have to be an either/or situation. And in any case, HYPR makes a pretty compelling argument that you don't need influencers to opt-in in order to get at the good data.
Over the last few years, HYPR has continued to innovate, introducing tools that focus on automation that include:
Influencer list creation;
Audience overlap;
Audience quality measurement;
Historical content scan to discover racism, nudity and other;
Audience targeting by DMA;
Automated outreach and campaign opt in;
Performance tracking with audience demographics and per post anti-fraud technology;
Automated payments.
---
Summary:
---
Pricing
HYPR is an enterprise solution. While it doesn't publish its pricing on its website, we do know that the solution targets brands and agencies that anticipate spending hundreds of thousands of dollars a year on Influencers.
There are three levels of subscription to the service, each offering more features than the last. You can also register for a free trial if you want to give it a whirl and see what it can do, but free trials run on a tiny database of 5,000 influencers.
Pro — 1 user, unlimited searches, 6 lists, 20 profiles per list, 25 list/report exports per month, and 5 hours of access to a dedicated account manager per month.
Platinum — 2 users, unlimited searches, 6 lists per user, 30 profiles per list, 50 list/report exports per user per month, campaign post tracking, and 10 hours of access to a dedicated account manager per month.
Enterprise — 4 users, unlimited searches, 12 lists per user, 50 profiles per list, 50 list/report exports per user per month, and 15 hours of access to a dedicated account manager per month.
For the platinum and enterprise plans, HYPR offers three optional add-on features for an additional monthly cost:
Audience DMA — DMA stands for "Designated Market Area," a fancy of way of saying you can see the audience geography down the city level.
Unique Audience Tool — This lets you analyse audience overlap between multiple influencers (more on this in The Details).
Custom PDF — PDFs will be branded with your logo.
---
The Details
Over the last few years, influencer marketing platforms have become, in general, more and more feature-packed. This is especially true with opt-in services that don't have as deep a well of talent to search through, who've had to play catch up in other areas as they build their influencer networks up. interface itself is minimally designed, but its responsiveness during a search is very impressive. Results appear nearly instantly, and as you filter the search and narrow the results, the screen refreshes itself just as quickly. When you consider that there are over 12 million influencers in HYPR's database, and each of them has thousands of posts that the algorithm has to go through and parse, the responsiveness is particularly noteworthy.

HYPR's engine is remarkably flexible, allowing you to discover influencers based on:
Topics their audience had been discussing with them online. The system recognizes over 15,000 topic conversations.

Keywords used by the Influencer in the past 6 months;

Hashtags used by the influencer in the past 6 months;

Brand or account mentions made by the influencer in the past 6 months;

Influencer name or online alias.
Once you've started your search, the system automatically populates with thousands of results. You can then filter down the results, by one or more demographic categories—like gender, ethnicity, age group, education and income levels, as well as audience DMA (down to city level). You can also narrow the results based on the influencer's information - his location, follower count, and the social platform you're looking to activate on. With every selection the search results refresh to fit the new criteria.
Once you've refined your search to where you want it, it's incredibly easy to start perusing the results. Each influencer shows up on the screen like a little trading card. You see their name, profile picture, bio, areas of interest, and quick stats on their follower counts. If someone looks like a good fit, you can click on her card to get the full deep dive into their audience and social performance (reach, engagement, and amplification). Or, you can simply tick little boxes off for each person that looks interesting and add them, one at a time or all in bulk, to a list for later review. Again, the software's responsiveness here is great—it doesn't feel like you're searching through a website at all.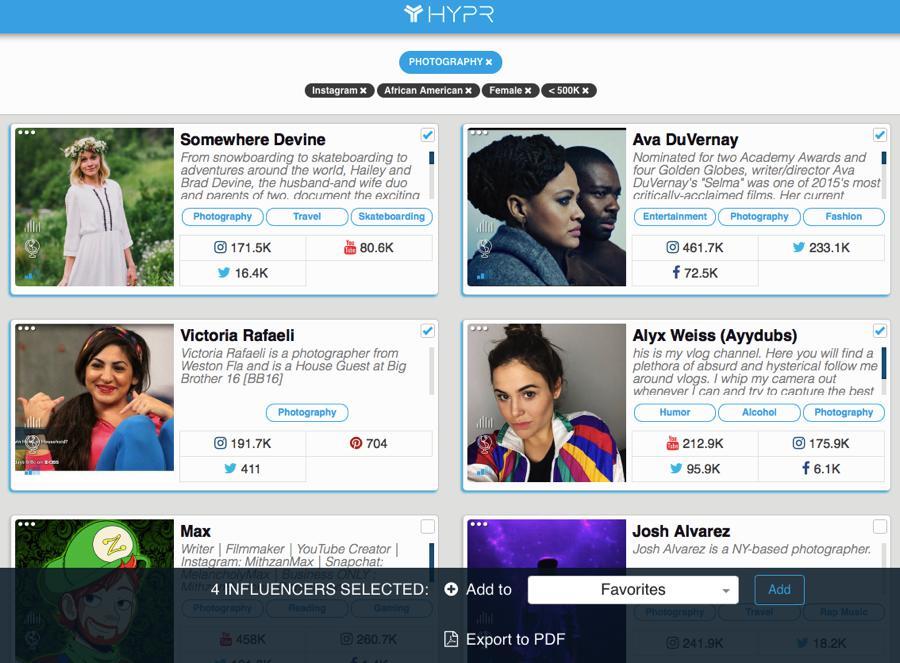 Since users will be going through an almost overwhelming amount of choices, organising the ones that interest you has to be done in a clean, simple way. With lists, you can group influencers together so that it's easy to go back and refer to candidates for multiple campaigns (or, if you're an agency, for multiple clients). You can then export entire lists into a single PDF, with each influencer's in-depth stat sheet presented on a single page in an attractive and easy to read layout. Exporting can also be done for a single influencer right from their HYPR profile page.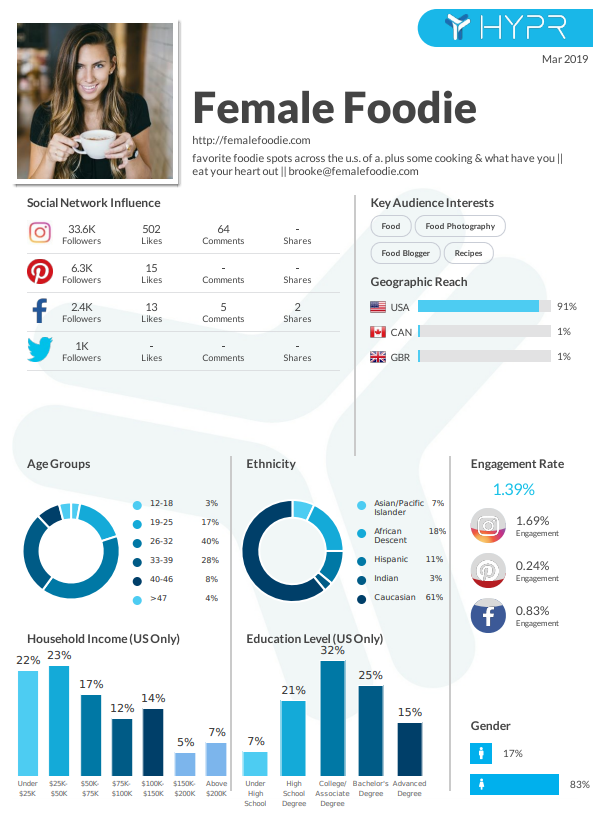 The lists aren't just an easy mechanism for organisation. They also give you excellent insight into the group as a whole. Let's say you've created a list of 15 influencers for a specific campaign. You'll want to make sure that they're reaching the number and kind of audience your campaign is targeted to. You can see all that for each person, but within the list you can see how their numbers look aggregated and then averaged out. And, from the I-Can't-Believe-None-Of-Us-Thought-Of-This-Before Department, you also get to see what the REAL reach of this group of influencers. Within a given vertical or audience interest, it makes sense that there would be a lot of overlap between followers. With HYPR'sUnique Audience tool, you can see the actual number of individual people you're reaching.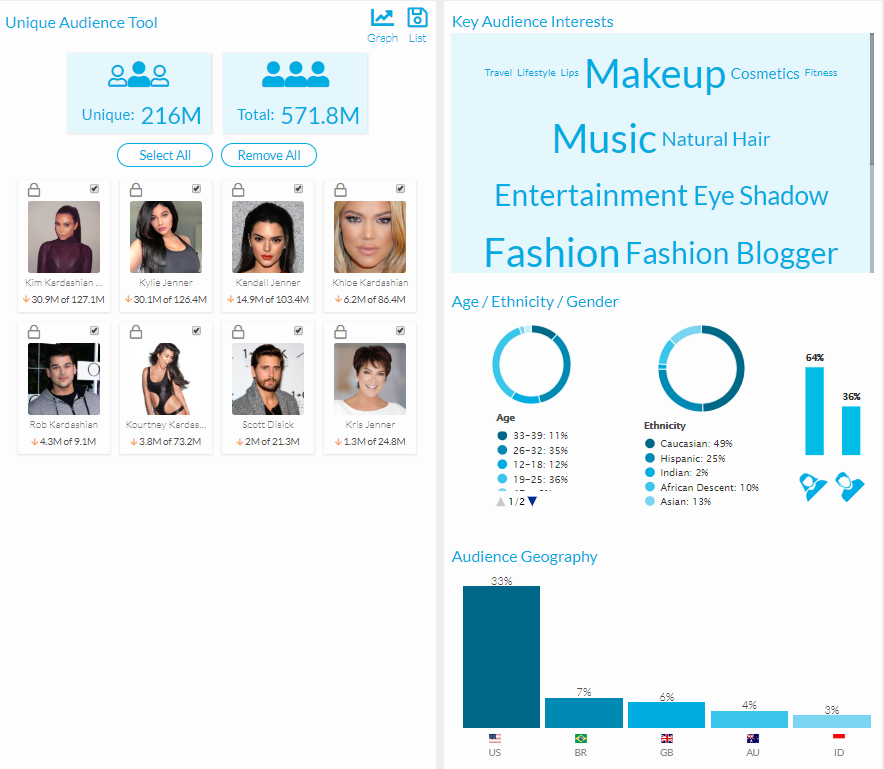 You can see in the screenshot above that adding up the numbers of all Kardashian Clan followers isn't a true reflection of their collective reach—nearly two thirds of those followers are duplicates. The system automatically ranks the influencers based on how much they're likely to contribute to the campaign. In this case, once you've hired three influencers you've hit 99% of the audience and don't need the others. This is a very unique and valuable planning tool we haven't seen elsewhere..
HYPR offers two custom options for each Influencer. The first is an audience health analyzer which tells you whether or not the Influencer has an active audience, as well as what percentage of their fans are fake. The second is a content safety analyzer than tracks everything the influencer posted to ensure their content does not contain nudity, racism and other obectionable content.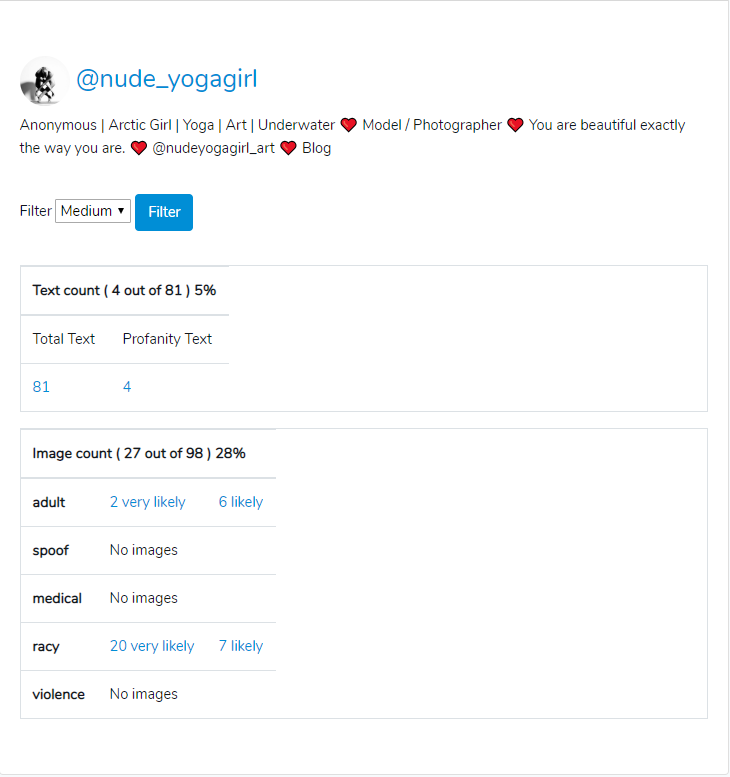 Another new feature on the platform is the Instagram campaign tracking tool. The tool is unique in that it goes beyond the obvious metrics and breaks each post individually, as well as the campaign collectively into deeper metrics - specifically engaged demographics, reach and live detection of suspicious activity. The tracker is fully automatic, sparing you the need to check when posts have gone live, and it also ranks influencers based on how well they performed..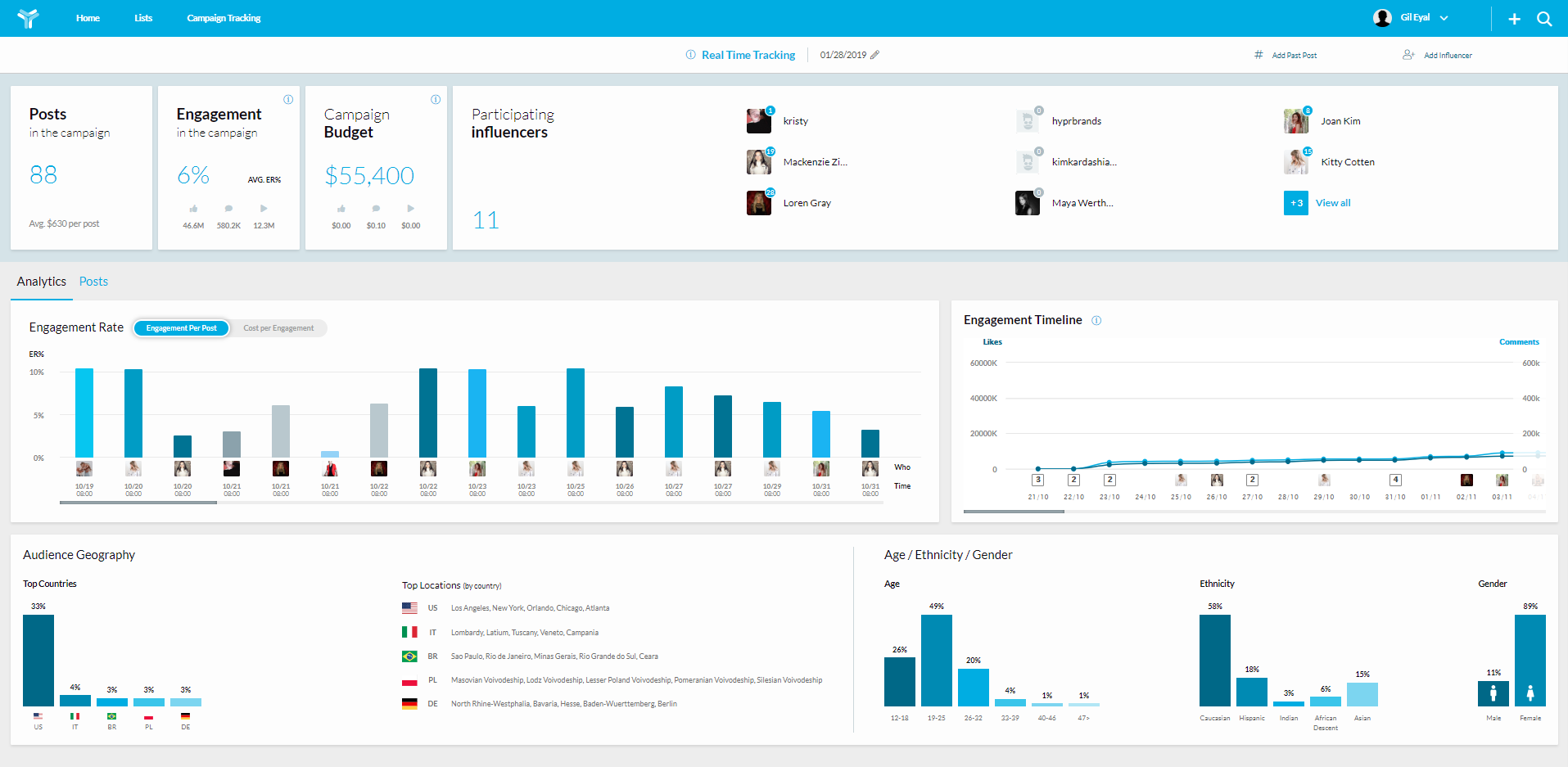 You can set the tracker automatically from any list you create or from any influencer page.In the general view you'll get an overview of the campaign and how each influencer is performing. In the list view you'll get the status of the post, performance metrics, and ROI calculations based on what you spent. You can then view each post's stats individually to gain insights into which influencers are doing the best work for you.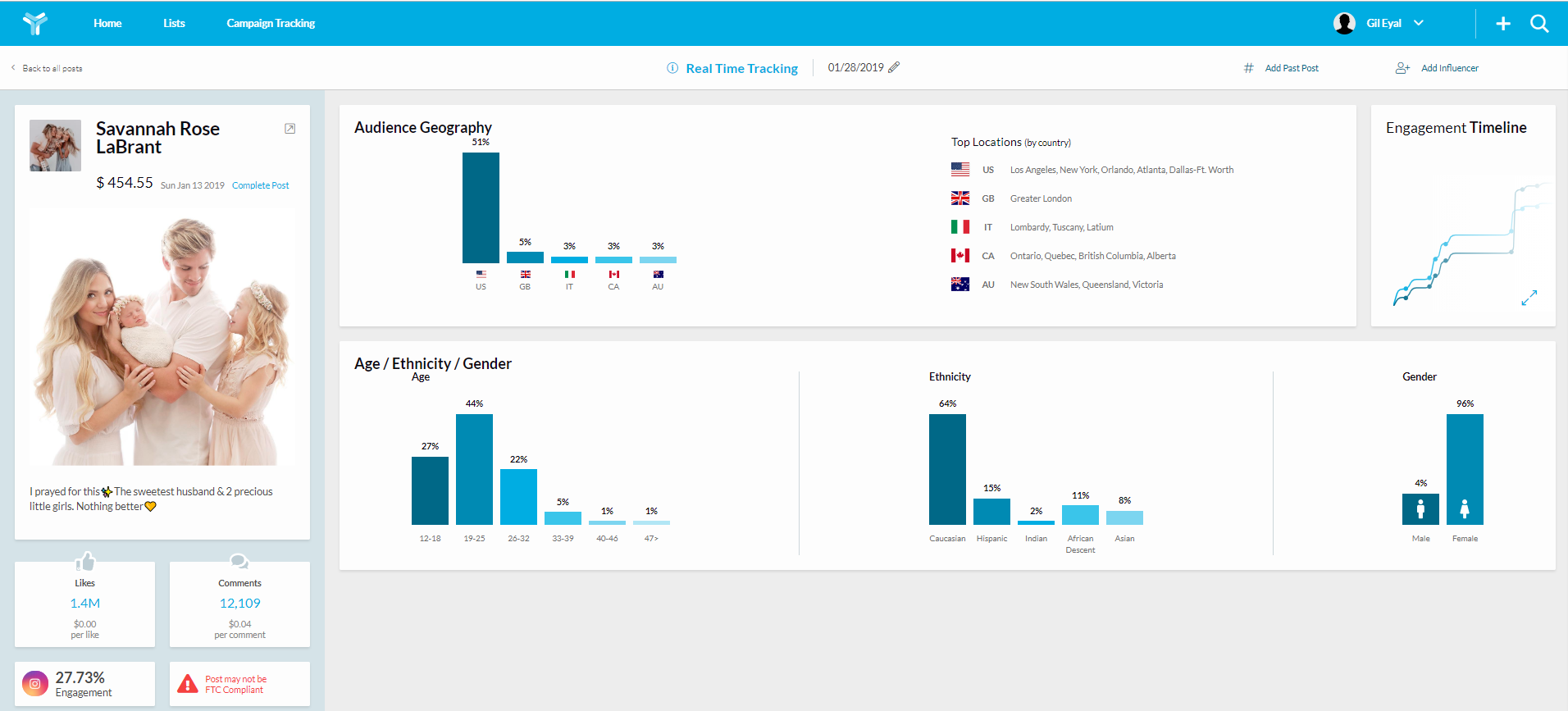 Information about individual posts is easily accessible and you can see whether the post actually reached your target audience, whether or not it was FTC compliant and whether there was suspicious behaviour (but clicking on the engagement timeline.
---
Conclusion
Years ago, HYPRset the standard for data-rich influencer discovery based on a simple idea: if the only thing you know about an influencer's audience is its size, then you don't know very much at all. Other platforms were connecting brands with influencers and helping them broker deals for content, they often left their clients in the dark as to who they were actually reaching. When HYPRlaunched, there was nothing new about marketers wanting to know as much demographic info about their target audience as possible—it was just slow to catch on with influencer marketing. HYPR's been doing it from the start, and they're still doing it very well.
HYPR says its end game is full automation from A-Z. this will allow you to target an audience and have them activate automatically for you. In the meantime, it's a great move to see they're now making it possible to collect data on live campaigns. Even if you have your own Influencer tool, it's likely it doesn't have the entire data rich feature set HYPR offers. HYPR is great as a standalone offering but also makes a great complementary tool to Influencer Relationship Management solutions. Actually, even if you're using an opt-in platform, HYPR is still a great choice. You'll get access to about 12 million profiles (and growing) that you just won't find as easily any other way —if you could even find them at all.
Hypr - Influencer Marketing Platform
Hypr
HYPR influencer marketing platform makes influencer marketing easy. We help you find social influencers with actionable data to boost your campaigns.