Services Offered: Influencer DiscoveryCampaign Management
Channels: Facebook, Twitter, Instagram, Pinterest, Vine, Snapchat, YouTube
Overview
Let's get the first and most obvious question out of the way: Why is it called Julius? The long answer has to do with the most influential people in history, one of whom is Julius Caesar and his name has more of a ring to it than others. The short answer is that it's a better name than Thuzio, which is what the platform was called before a rebrand expanded the company's focus.
Founded in 2012 by former NY Giants running back Tiki Barber, along with Mark Gerson, Thuzio was a precursor to what would one day become Julius. Thuzio was something of a personal mission for Barber, who watched a lot of his ex-colleagues, retired American football players, struggle to adapt to "civilian life" once left the sport for good. Thuzio became a kind of web-based talent agency for current and former athletes, looking to make extra money with appearance fees and endorsement deals.
As Thuzio continued to grow, and many of the athletes they represented were doing well with social media endorsements—and influencer marketing was becoming big—Barber & Co. saw an opening to take Thuzio even further. They opened the platform to all kinds of influencers, as digital stars and celebrities in the world of entertainment joined their roster of athletes. With this new direction, Thuzio, the company, launched Julius, the Influencer Search and Discovery tool.
With over 50,000 influencers in its database, each sitting on a mountain of data, you'd be forgiven if you assumed that it was all algorithms and automation under the hood. But the people who created Julius are quick to let you know that the data you get out of the platform would not be possible without the team of actual humans that researches each influencer. The sheer amount of data suggest that there must be some kind of algorithm behind the scenes, gathering and indexing information. But look at an influencer's profile in the Julius interface and it's clear a person has had a hand in its organisation and presentation.
---
Summary: Quick Jump Menu
---
Pricing
Julius is software-as-a-service, but unlike other search platforms you pay an annual fee—there is no monthly option. The specific fee you'll pay is contingent on the number of users you'll want to have access to the software. Each case is different, so we can't give exact numbers. We can say that the annual cost of using Julius is in line with competing products.
Regardless of the number of users, all subscriptions come with complete access to the platform, unlimited messaging, custom influencer lists, and a dedicated and on-demand account manager for guidance/assistance.
---
The Details
The number of different ways to search in Julius is practically overwhelming at first. That sounds like a complaint but it isn't. That's because the interface is so clean and easy to understand, there's never a moment where you feel overwhelmed by how to use the search tools. It's immediately understandable, which creates the realisation that you don't know which criteria to start with for your search.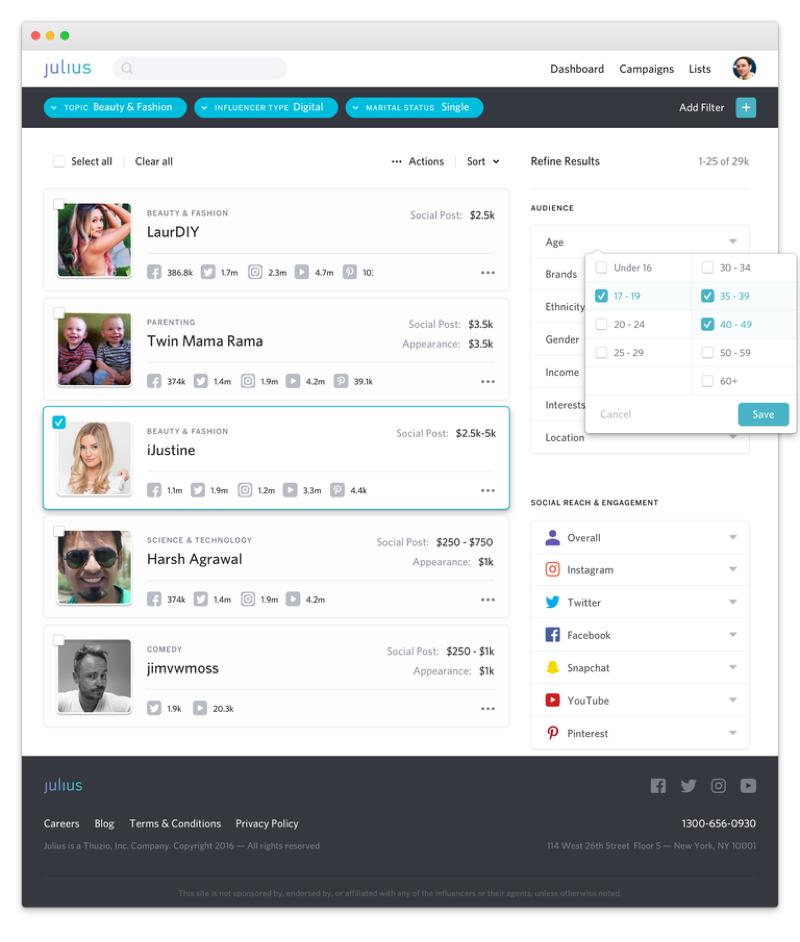 There are over 50 data points to choose from, covering attributes of the influencers and their audiences. Want to search for a female digital superstar, located in Los Angeles, with an interest in surfing, and whose audience consists of white males aged 25-34 who are fans of craft beer and make between $20k and $40k a year—you can do that. If someone exists that meets those criteria, Julius will find her in seconds.
If there are too many results, you can narrow them further. For example, by:
Influencer:

Age
Brand Affinity
Gender
Interests
Location
Pricing
Type (Digital or Celebrity)
Audience:

Age
Brands
Ethnicity
Gender
Income
Interests (Music, TV, Movies, Sports, etc.)
Location
Social Reach and Engagement:

Overall Reach and Engagement (All Channels)
Per Channel Reach and Engagement
Within all these search results are easy mechanisms for creating and maintaining lists of influencers. You can create lists on the fly, or add influencers to existing ones. There's also an impressive comparison feature, up to five influencers at a time, that makes it incredibly simple to see how they stack up against one another.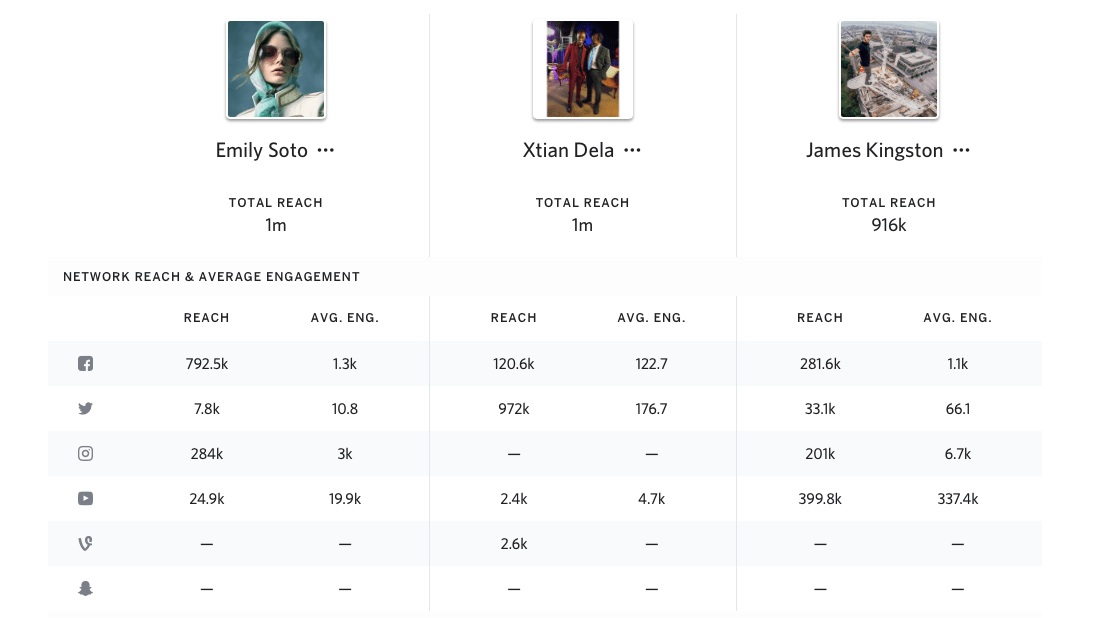 One way that the human contribution can be seen in Julius is in the way it connects information. Within an influencer's profile, you can see her interests she posts about as well as any causes she might be aligned with. Click on an interest—let's say baking—and you can follow a link that shows you an example of that in action—maybe an Instagram post of a cupcake. If she's an author, you can follow the link to her Amazon page. If she's involved with a cause, you can view content she's produced in support of it. Any previous endorsements she's done (or is currently doing) and brand mentions are all part of the record.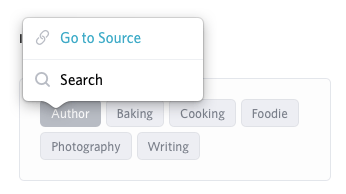 Finally, Julius is an opt-in database. This means that all the contact information you get is verified and accurate for influencers who represent themselves. But a bulk of the talent to be found is represented by agencies who've partnered with Julius, and who have accounts on the system. So when they receive an inquiry through its messaging function, they know it's someone serious on the other side.
This is a good place to note that Julius's campaign management tools are on the lighter side, feature-wise, but that's more because that isn't what the platform's focus is. That said, the internal messaging system is actually a quietly impressive feature. You can create multiple campaigns and assign influencers out to the appropriate ones. Internal team members can also be assigned to campaigns, and all messaging within that campaign stays in a central location. Manage conversations with your influencers, and internal conversations you don't want them to see; file attachments are supported, as well, making for easy annotation and revision tracking when you're collaborating on content.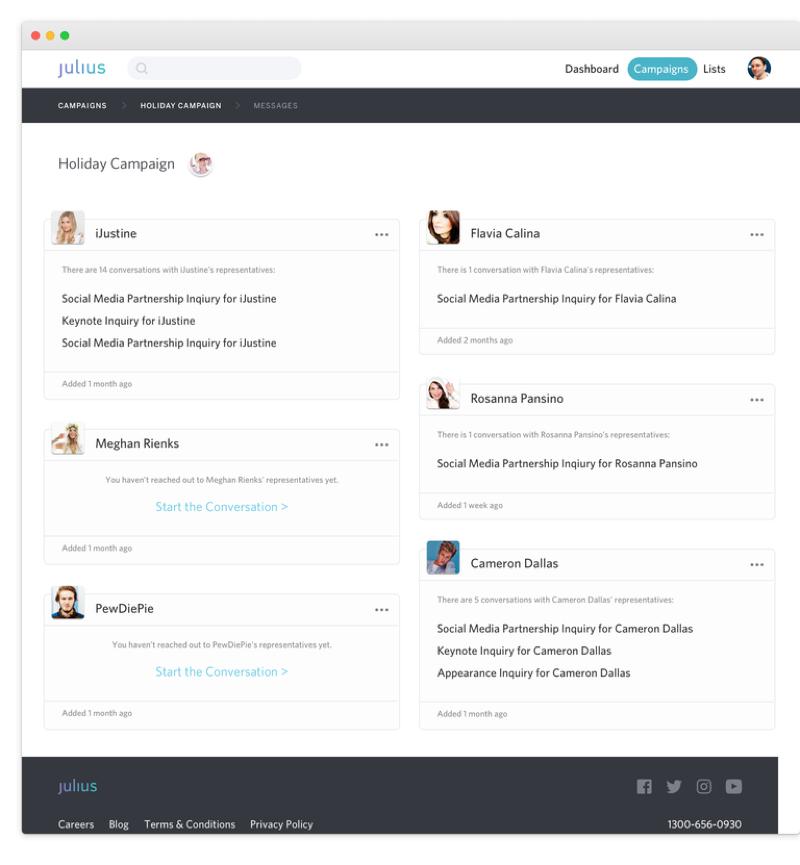 With all these positives, it was pretty surprising to see a swing and a miss in one area. When looking at an influencer's profile, you can view the last 60 days worth of posts they've created across all social channels (and filter by channel). However, none of the posts, as reproduced within the Julius interface, display any engagement stats. No likes, no shares, no comments (I wouldn't expect to have entire comment threads included here, but knowing the total number would be nice). It's puzzling why this isn't included. The main view of an influencer's profile includes reach and engagement stats for the last 60 days worth of posts for each social channel. So we know the numbers are there, in the database. Why not display them here with each post, so that marketers who are evaluating influencers can see what kinds of content most resonate with audiences? From there it would be easy to incorporate that data into Julius's modest campaign tools, to at least provide a basic level of insight as to how content is performing. The data's already there.
One other minor gripe is with the PDF export function. You can export any single influencer's information to a nice looking, full color data slick. You get a profile picture, contact info, pricing information, reach and engagement stats, and some of the more major audience demographic data. There's even a little place to add some notes before the export. It's really nice, but can only be done at a time. With multiple selections, or with any of the lists you've created, there's no way export them all at once. Not as a PDF, anyway. You could export all their information out to a CSV file, for viewing in Excel or the like. But the whole point of the list feature is to avoid using spreadsheets. And the whole point of the PDF is to have something that's easy to read when comparing potential collaborators.
---
Conclusion
Neither of those criticisms are meant to dissuade you from using Julius. Compared to the wealth of information that's already available with the platform, those two items see minor in comparison. Perhaps they'll be cleared up in future updates.
Even without them, Julius is a big success. The search function is almost comically in-depth. It's not just that there over 50 data points to search, it's that you can combine them in any way, layering criteria on top of criteria. The interface is clean and responsive, and it's easy to stay organised, both for future campaigns and active ones. And even though it's primarily a search tool, they quietly built an impressively efficient campaign management tool into it. If there were a way to monitor the performance an influencer's content within that tool, this would be 5-star software.
Julius
Search Precision

Management Tools

Interface/Ease of Use

Reporting/Analytics

Services Offered: Influencer DiscoveryCampaign Management
Channels: Facebook, Twitter, Instagram, Pinterest, Vine, Snapchat, YouTube