Services Offered: Influencer Discovery
Channels: Facebook, Twitter, Instagram, Youtube, Pinterest, Blogs

The story of Upfluence's origins actually begin outside the world of marketing. Founder and CEO Kevin Creusy brought with him a wealth of experience in the e-commerce world, having had a hand in starting a number of web-based businesses. From handmade ties to travel guides for backpackers, his ventures served very different groups of people. It was in the marketing of these companies, and the subsequent search for ways to connect with these diverse audiences, that Creusy was first introduced to influencer marketing.
His forays into influencer marketing were hit or miss, largely due to the inherent difficulty of finding just the right people. It was fairly simple to find a fashion-centric Instagram user with tens of thousands of followers; it became another thing entirely to find a backpacking blogger with a loyal following of readers looking for their next great adventure. But he kept at it, and found that with patience and time, influencer marketing could really pay off in the end. He also found that quite a few business owners had neither patience nor time, and were abandoning the idea of influencer marketing after a minimum of effort.
This was enough to give Creusy his next big idea: Upfluence.
---
Summary: Quick Jump Menu
---
Pricing
Though Upfluence's monthly cost is on the low side compared to some other influencer marketing platforms, that's largely due to the self-service nature of the software. In other words, it's not to be seen as a reflection of its ability. Upfluence's low cost makes it ideal for small and medium sized businesses, but that hasn't stopped companies like Microsoft, PayPal, Nestle, and Victorinox from using their services.
There are two levels of service:
SMB, $950/mo - Includes 1 user account, access to the shared database for 10k searches and 10k influencers exported per month.
Agency, $1750/mo - Includes 5 user accounts, access to the shared database for 100k searches and 100k influencers exported per month, customised searches and exports, and the creation of a private database. Currently, this pricing is for use of the Influencer Search tool only. The Influencer Management tool is a separate platform that will soon be folded into Upfluence—but that hasn't happened yet. See "The Details" below for more information on this.
---
The Details
Currently, the company is retooling and rebranding its offerings, and its website isn't exactly up to date. The website promotes two products:
Facade, a search engine that uses the power of big data to drive extremely precise influencer searches
Publishr, a robust Influencer Relationship Management system meant to replace the unwieldy spreadsheets and other arcane tools marketers use to keep track of their influencers. It also functions as a marketplace for influencers and brands to connect to buy and sell content.
These two products aren't going away; rather, they're being folded into one product, the newly named Upfluence. At this point, Upfluence is the search engine only—essentially a rebranded Facade. Publishr remains available for now, but will eventually be folded into Upfluence and stripped of its marketplace focus (more on that in a bit). This will review will discuss these two pieces separately, to better represent what the company's offering as of this writing.
---
Upfluence (formerly Facade)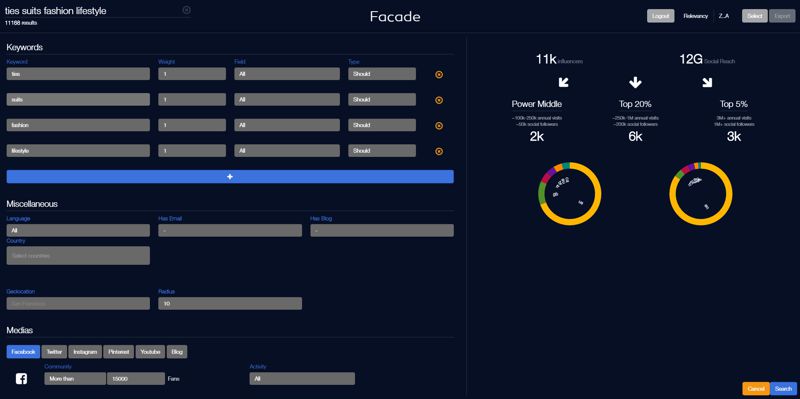 Upfluence is built on a massive database. While many influencer marketing platforms exist as closed systems—maintaining a network of pre-screened influencers—Uplfuence's proprietary algorithm indexes over 500 million pieces of content across multiple platforms. It's constantly updated, with every piece of content analysed for reach and engagement.
Brands and agencies can search through Upfluence to find influencers using as many keywords as necessary. A pizzeria that uses organic and local ingredients isn't going to get anywhere by just looking for influencers who've posted about pizza. Everyone likes pizza. By drilling down with keywords—food, local, and organic—you start to narrow the pool a little bit. It can be narrowed even further using criteria like location, social platform, or number of followers. One
thing that's missing here is the ability to dive in and search (or run reports) on the target audience's demographics. Ultimately, those are the people that brands and marketers are trying to reach, and larger companies often have quite specific audiences in mind.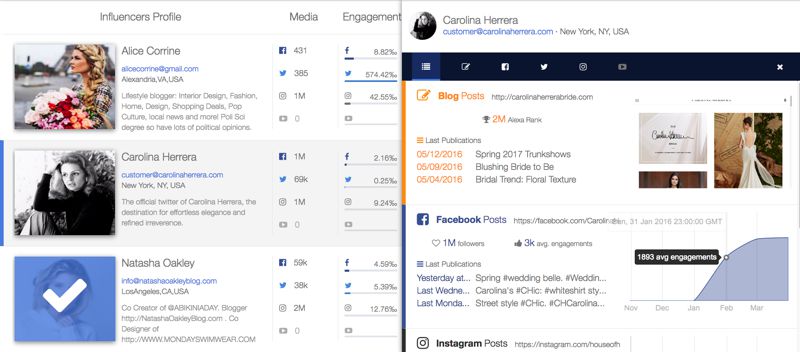 The interface for all this is intuitive, with results showing up in near realtime. Or, rather, the result statistics show up. The left side of the screen is where you type search terms, and the right side displays the number of results based on your search—and categorises them into groups based on follower size. It's cool to watch the stats and pie charts refresh themselves as you narrow your search.
Even with all this you'll still get thousands of results, and Upfluence is able to get you detailed information on all of them. Behind the statistics about search results are the actual results. Scroll the listings for high level information—profile bios, followers per platform, engagement rates on each, influence and relevancy scores, and the titles of their most recent posts. Dial in further and find out how each post performed to get an idea of their audience's interest in what you have to offer. Once you've identified prospective collaborators, it's only a matter of you reaching out to see if they'd be interested in working with you. All of this information can be exported for use outside the software.
---
Publishr (soon to be part of Upfluence, partly)
Right now, Publishr is a full blown marketplace, where brands or agencies can post campaigns and solicit pitches from influencers on the platform. Connections are made, fees are discussed and finalised, content is generated, payments are issued. In between all that, there are powerful tools to manage each influencer relationship. Those tools are the parts of Publishr that will survive its being merged into Upfluence. It's the marketplace functionality that's being given the axe.
That doesn't mean you can't work out a fee structure and pay for an influencer's services. And you'll still be able to manage and track that part of your agreement within Upfluence. But payment for it will have to be worked out privately—Upfluence is no longer going to act as a payment middleman between parties. Creusy explained that part of the company's rebrand was to put forward its belief in influencer marketing as a long-range strategy, and Upfluence's aim has always been to provide the tools for marketers and brands to achieve that. Getting into the transactional nature of individual agreements wasn't where Creusy wanted to direct resources.
So, what's left of Publishr is its management tools. One tool has already made its way into Upfluence: list management. With it, users can create and export lists of influencers and their details. The lists can be for whatever purpose is required, such as if you're prospecting for specific campaigns or clients. Campaign Management and emailing is due out in Q1 of 2017, so take our "Management Tools" star rating with a grain of salt. Based on what we've seen of Upfluence, there's reason to believe it will be every bit as thorough as its search function. Once it goes live, users will be able to track each influencer they're working with, organised by campaign, and get precise stats for each her performance with each piece of content (engagement, reach, clicks, views, that kind of thing). You can also collaborate on content, annotate and revise it, and track its progress towards a scheduled publication. All this information is organised by campaign, too, so you've only got one place to look if you're working with multiple influencers. Finally, a dashboard view shows you an at-a-glance look at everything you've got going on. Check back here for an updated review once we've seen it in action.
---
Conclusion
Though Upfluence's main products are going through a transition at the moment, it still offers a powerful search tool for a very affordable price. The ability to search through millions of influencers in seconds to find even a few hundred that are perfectly suited for you saves you, quite literally, weeks to months of time you can now spend actually marketing. Even without the inclusion of any of the influencer and campaign management tools, there's still plenty of value in the software. If it were just the search engine, Upfluence would still be competitive on price—other platforms focus strictly on search/discovery and charge around the same monthly fee. That the management tools will be included within the next few months makes Upfluence well worth a look now.
Facade – Influencer Details
Upfluence
Search Precision

Management Tools

Interface/Ease of Use

Reporting/Analytics
Upfluence
We take care of your inluencer marketing campaigns, and provide content marketing services tailored to your needs.