Best for:
E-commerce businesses of all sizes
Upfluence was created when co-founders Kevin Creusy and Vivien Garnès were looking for a way to build organic collaborations to market their necktie business. At its core, influencer marketing is all about leveraging genuine connection and affinity. That's why Upfluence software was launched to enable brands and agencies to turn their customers into brand ambassadors and run profitable and scalable influencer marketing campaigns. Every aspect of influencer campaigns can be managed in one place; from influencer search and identification, to outreach, sending briefs, making payments and tracking performance, including tracking of personalized coupon codes and sales.
Upfluence's offering is tailored for direct-to-consumer and eCommerce brands, with powerful integrations with Shopify, WooCommerce, Klaviyo, Zapier and more that help brands to uncover influencers within their network of customers, subscribers and followers. Using consumer and influencer data insights, brands are equipped to choose the best partners for their campaigns. Brands can drive online sales with affiliate campaigns thanks to native promo code generation and tracking within Upfluence.
---
Summary: Quick Jump Menu
---
Pricing
As a SaaS platform, access to Upfluence is sold on a subscription basis. There are three levels of service, each with a monthly fee (but sold on an annual basis):
Growth - 2 user accounts, access to all influencer profiles, Influencer relationship management dashboard, Live Capture, basic integrations and campaign workflow.
Scale - 5 user accounts, access to all influencer profiles, Influencer relationship management dashboard, Live Capture, advanced integrations, campaign workflow and a dedicated account manager.
Enterprise - Unlimited users, access to all influencer profiles, Influencer relationship management dashboard, Live Capture, advanced integrations, campaign workflow, a dedicated account manager, team collaboration tools and whitelabeling.
Upfluence's pricing is tailored to your needs. Fees are based on the number of active influencers in a campaign, helping brands to easily scale campaigns over time.
---
The Details
Upfluence has a large database of influencers from all industries worldwide. They have influencers of all types, from nano-influencers to celebrities, so you can be sure to find the most relevant creators for your brand. Their proprietary algorithm indexes and updates all their profiles in real time, with every piece of content analyzed for reach and engagement. For Instagram, audience data is also available (age, gender, location) provided the influencer authorizes it. You can also view an influencer's estimated fee and their percentage of real/fake followers.
Upfluence was the first platform to integrate ecommerce tools so that brands can leverage their own customer bases for influencer discovery. The idea is simple: your own customers are the best advocates for your brand and can become ambassadors to promote your products. If you're an e-commerce business, you can connect your online store to Upfluence's software with the Reveal feature to discover influencers who are visiting your website and offer them an incentive to share their social media handles. They can then be activated through dedicated campaigns, allowing you to build your ambassador program and benefit from long-term collaborations.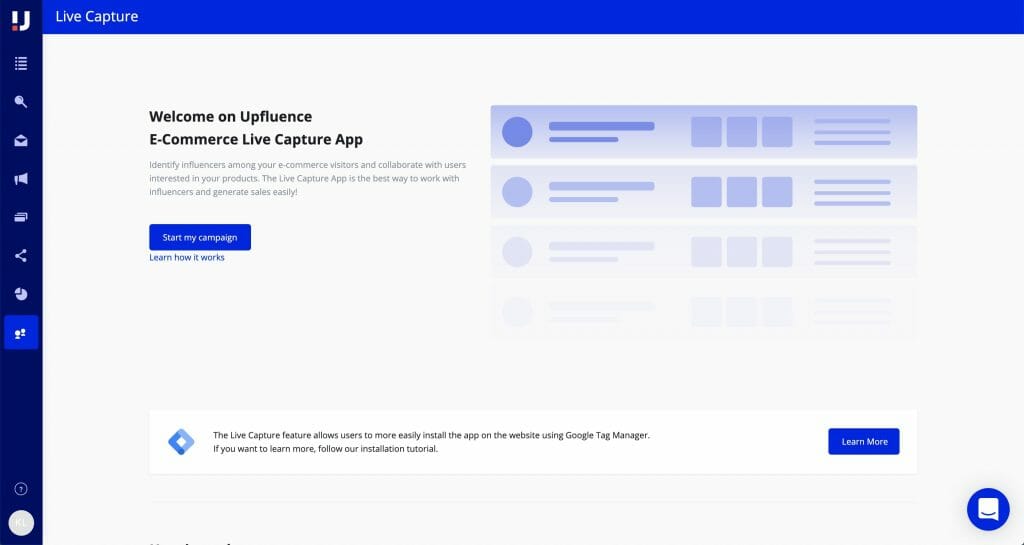 Organic influencer identification isn't limited to those visiting your website. The real game
changer here is Upfluence's integrations with existing eCommerce tools and CRMs, including Shopify, WooCommerce, Magento, Klaviyo, and Zapier to identify influential people within your list of customers. You can then access social reach data and customer purchase history to pin-point those customers that have a voice on social media and offer them a collaboration.
More recently, Upfluence unveiled their new whitelabel ambassador sign up page. Brands can create a customized sign-up page to put on their website so that creator's looking to partner with them can apply and be added to a dedicated list in the brand's Upfluence account.
You can also search through Upfluence's own database to find influencers using 20+ advanced search filters including keywords, location, social platform, or number of followers. Upfluence covers all the major social media platforms: Instagram, Youtube, Twitter, Pinterest, Twitch, and Tiktok.
The search interface is intuitive, with results showing up in near real time. With Upfluence, the left side of the screen is where you type search terms, and the right side displays the number of results based on your search—and categorize them into groups based on follower size. Scroll the listings for high level information—profile bios, followers per platform, engagement rates on each, influence and relevancy scores, and the titles of their most recent posts. See who they might have collaborated with in the past based on brand mentions. Dial in further and find out the reach and engagement rate for each post.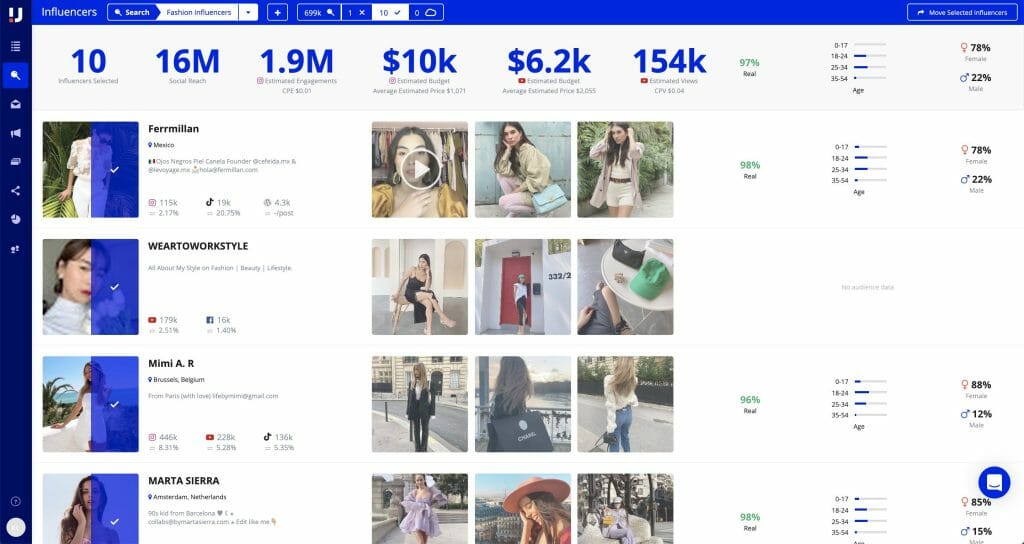 With this many results, Upfluence made sure that their customers could organize and contact them effectively. Their powerful Influencer Relationship Management feature (IRM for short) lists all the influencers you have selected, and even includes a ranking feature to make it easy to keep track of those influencers you really enjoyed working with and that had the best performance. From the IRM you can send influencers to lists, add tags, and even issue discount codes. Particularly powerful is the ability to export these lists to CSV files, and then add new columns of data that you can bring back into the platform.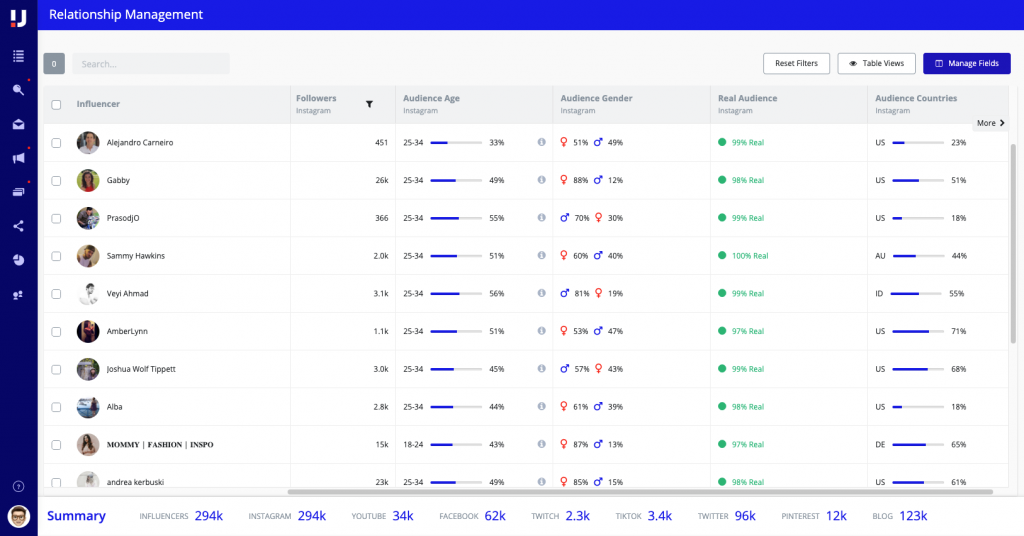 You can better plan your outreach thanks to the influencer response score, letting you know the average time an influencer will take to respond.
Outreach messages can be easily personalized and sent in bulk through the platform. All team members have visibility into any message sent to or from each influencers. There's also a lifecycle management component that shows you your progress for each influencer—who you're negotiating with, who you're waiting for to complete content, who's waiting on payment, etc.
Most brands will run more than one influencer campaign and will work with a large number of influencers. With Upfluence's campaign workflow, you can easily run several influencer marketing campaigns at once and stay on top of influencer selection & offers.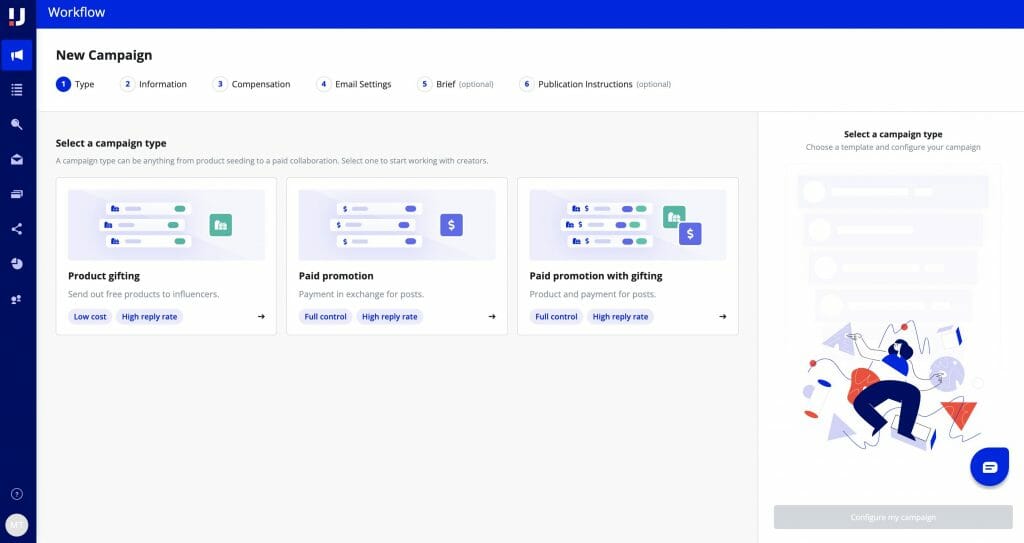 All the tools you need to streamline your campaigns can be found in Upfluence's platform:
Campaign briefs and contracts can be directly uploaded into the software

Email templates to save time sending outreach emails to large groups of influencers

Draft review to moderate & approve influencer content

Payment instructions to send to influencers in order for them to complete the steps for a payment request

Discount codes and tracked affiliate link generator to provide each influencer with their own unique code or link and keep track of their individual sales, compatible with any CMS

Product-seeding to let influencers choose which products they want to promote and one-click order generation for fast shipping

Pricing offers that help you have an overview of your influencer costs & manage your budget. Directly send payment offers & have influencers submit counter-offers within the Upfluence software.

Influencer payment management takes away the pain of managing influencer payments. Automate invoice requests, influencer bank detail collection, procurement, & payments.

Integrations with all of your favorite tools: Gmail, Outlook, Google Tag Manager, Shopify, Klaviyo, WooCommerce, Zapier, Refersion, and more.
What's more, Upfluence's affiliate management system is 100% commission free!
Affiliate Features:
Enhance Your Affiliate Program: Leverage our integrated e-commerce solutions to unearth your most influential customers. By synthesizing their social data with their purchase history, we assist you in identifying potential brand ambassadors hiding within your existing clientele.
Automated Sales Attribution: Experience the efficiency of automation by generating custom discount codes and distinct affiliate links for each partner. This precision ensures each sale is accurately attributed, providing invaluable insight into the performance of your individual affiliates.
Streamlined Payment Process: Simplify your payment procedures. Gather all necessary payment documentation and execute international payments in just a few clicks. This swift and efficient process not only saves time but also fosters better relationships with your affiliates by ensuring prompt and hassle-free transactions.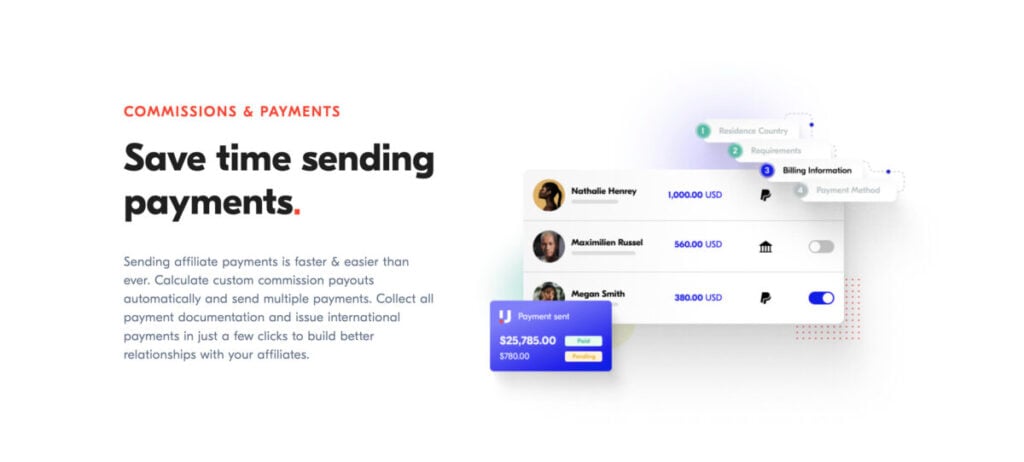 Finally, there's the social listening component, which is more flexible than most we've seen. As you'd expect, you can create several streams with different purposes such as monitoring certain hashtags to get an idea what's trending, or monitoring specific influencers, like ones you've got your eye on that you want to engage with. You can monitor your competitors, their activities and their mentions, if you want to do some opposition research. It's also a great tool for performance tracking, search for campaign-specific hashtags used by influencers you're working with and you'll get the data you need to see how your own campaigns are doing.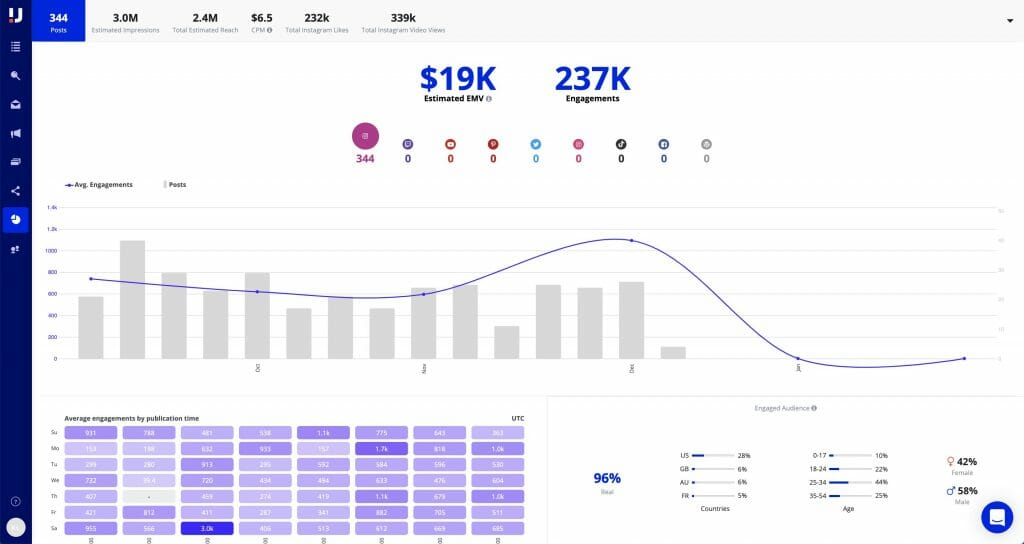 ---
Conclusion
In the last year, Upfluence has doubled down on eCommerce, offering dedicated integrations with the likes of Shopify and WooCommerce to help brands run promo code and affiliate campaigns, earning them their place as the leading influencer marketing platform for eCommerce.
The goal of any influencer marketing platform is ultimately to ease the headaches of marketing at scale and drive more sales with positive ROI. Upfluence does this by making it as simple as possible to communicate with all your influencers, issue promo codes, track their progress, and monitor your campaign sales. Their clients report boosting operational efficiency to save 80% of the time they used to spend on influencer marketing, and recouping up to 80% of their influencer marketing budgets since using the platform.
Frequently Asked Questions
What does Upfluence do?
he services offered by Upfluence include: influencer search, influencer discovery from your own databases, relationship management, campaign management, influencer payment management, email templates and third-party analytics. It connects with all the main social media platforms that include Instagram, YouTube, Facebook, Twitch, TikTok, Twitter, Pinterest and blogs. It also has a robust, yet flexible, social listening feature that extends Upfluence's capabilities far beyond a search engine, influencer management system and content marketplace.
How does Upfluence find influencers?
Upfluence can identify influencers within a brand's network of customers, subscribers and followers. Integrations with tools such as Shopify, Klaviyo, WooCommerce and Zapier have expanded opportunities for influencer identification within eCommerce platforms, CRMs and payment processing platforms. Their tool Live Capture helps eCommerce brands to identify organic influencers visiting their site. Live Capture analyzes social reach data shared by website visitors, forwarding it to Upfluence's Influencer Relationship Dashboard so that the brand can then review it. This way a brand can essentially grow its influencer network passively. Alternatively, brands can search via Upfluence to identify influencers by using keywords.
What are some of the advantages and cons of using Upfluence?
One of its most impressive features is that you can place a relative weight on each keyword. In other words, you can get some really precise results that show up in almost real time. You can then narrow down these results even further using other criteria such as location and the number of followers. Sadly, you can do this only on Instagram.
Is Upfluence easy to use?
The interface is very intuitive. The left side of your screen is where you key in your search terms, while the right side of your screen will display the number of results based on your search. The results are displayed in a format that is easy to read. If you want to dig deeper into a couple of specific profiles, you will not be overwhelmed. What is more, you can also organize your results effectively with the help of a number of influencer discovery tools.
Is Upfluence a good platform?
Most platforms use a one-size-fits-all approach which can lead to limitations and rigidity. Though, Upfluence instead uses an approach that emphasizes flexibility. While it is slightly more complex than other influencer marketing platforms, it is not more complicated. So, once you have learned how to use it (which is not difficult), it is really easy to use. All in all, it is a good tool to use, even more so if you rely on Instagram a lot.
Upfluence
Features

Ease of Use

Reporting
Upfluence
We take care of your inluencer marketing campaigns, and provide content marketing services tailored to your needs.

Best for:
E-commerce businesses of all sizes