Services Offered: Influencer DiscoveryCampaign Management
Channels: Instagram, YouTube
Overview
A funny thing happened on the way to influencer marketing becoming a big deal. See, the practice of influencer marketing itself was based on the belief that people with large social media followings had value to brands. Brands began testing the waters, connecting with these digital celebrities, supplying them with product, and then watching as their messaging organically reverberated through online social communities. The success of these early campaigns not only proved the value of an influencer, it increased it. Suddenly, freebies weren't enough to woo influencers and money started changing hands.
Two schools of thought around influencer marketing emerged. The first held that influencers are most valuable as part of a long term strategy, where the brand connects and builds credibility with influencers' audiences, gaining new followers and more loyal customers. The second approach looked more like a traditional celebrity endorsement: a brand finds influencers to work with, and offers them money on a per-post or per-mention basis to say nice things and feature a product. These schools of thought shouldn't be viewed as either/or, though. They can and do co-exist, and each can be effectively used for different purposes.
San Francisco based company Revfluence, with its Influencer Marketplace platform, does a really good job at defining that niche that the pay-for-play approach can serve. Whereas data-heavy search engines—with their in-depth access to audience demographics—are ideal tools for longer term strategies like follower acquisitions and developing brand loyalists, marketplaces like Revfluence are more suited to product-specific campaigns where the goal is to boost sales.
For that reason, the focus is more on the organisation and management of campaigns than it is on providing reams of data about influencers and their audiences. The search function is on the lighter side in terms of filter criteria. The emphasis isn't on finding influencers who are "just right" for you. Rather, it's about finding hundreds of influencers who are appropriate, and having them put your product out in front of their followings, complete with trackable links to purchase. The tools Revfluence provides to manage sales campaigns at this scale are very impressive. It would be impossible to lose your way through a campaign using Revfluence, and when all's said and done you'll know exactly what your ROI is.
Because Revfluence is a self-service platform, a lot of its results depends on what you bring to it. If you're a newbie to influencer marketing, jumping in with this software might not be the right answer for you. But for brands and agencies who are already knowledgable of the ins and outs of influencer marketing, you'll find a lot to llike here.
---
Summary: Quick Jump Menu
---
Pricing
Revfluence is web-based SaaS platform, requiring an annual fee for full access to the platform, with no other fees or commissions to speak of. This is something we're seeing more of—an annual, and not monthly, fee—with influencer marketing platforms, and it's a model that makes a great deal of sense in this space. You can't judge the efficacy of any platform till you've seen what it does over time.
Since Revfluence is meant to be a collaborative tool, it's ideal for agencies and brands which are likely to have decent sized teams working together on influencer marketing campaigns. That also means pricing is customer specific and you'll need to contact the company directly to gauge whether it's a fit for your budget.
---
The Details
Revfluence's database of influencers over 150,000 strong and growing. It's an opt-in network, and any creators (as they're called on the platform) can sign up and get access to instantly. Sort of. There isn't as much vetting here as I've seen with other services that solicit applications from influencers. But there are a few hurdles one has to clear before being fully accepted onto the site. Anyone can sign up and get in, but if creators don't meet these criteria they won't be allowed to view brands or their campaigns:
Instagram users must average 500 likes or more, though it's not specified whether that's for their whole feed or just some recent time period.
YouTube users must average 2,500 views (again, no time period specified).
If those requirements are met, then the Revfluence team conducts a content review to ensure that nothing inappropriate is getting through
Once a creator is in, she's free to peruse brands and any requests for proposals for campaign content. Her profile will also get entered into Revfluence's searchable database so that agencies and brands can discover her and communicate directly.
About that search: it's lean. To search for a creator, you enter a keyword (fitness, fashion, music, that kind of thing), select Instagram or YouTube, and then adjust some sliders to set minimum and maximum numbers for followers and/or likes. You can search from here, or refine the results a little further by audience characteristics—gender, age, and location—and that's about as deep as it gets.
Alternatively, you can use Revfluence's "Quickmatch" feature, which they described in the demo I received as a "Tinder for Influencers." It's a pretty apt description. Navigate it into the Quickmatch tab and you're presented with an influencer based on your preferences. You'll see a name, profile pick, follower count, average likes, and a short bio. Below that is a grid of recent content for you to look at—if you're interested you click "Like" and they're invited to contact you for a collaboration. Otherwise, you click "Skip" and you're shown another creator.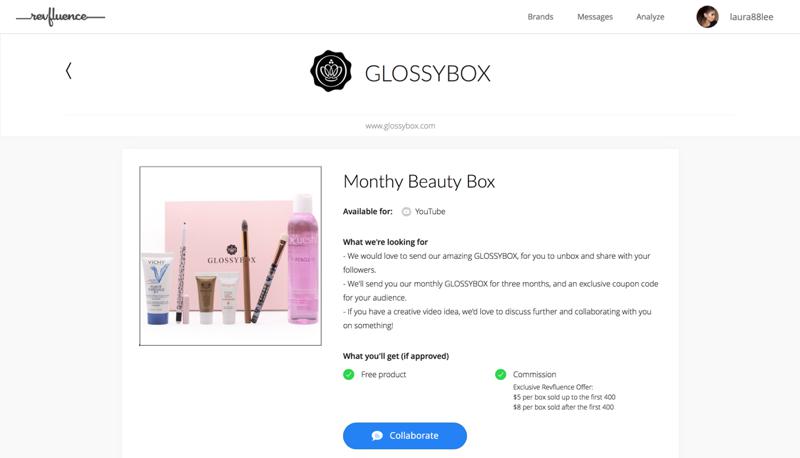 What Revfluence might lack in search precision, it more than makes up for in management tools. It's impressively stacked with all kinds of features that cover every aspect of campaign management. From the beginning to the end of any campaign, Revfluence has you covered:
Campaign Creation, which defines the following:

Campaign name and description of the kind of content you're looking for
Eligibility restrictions based minimum number of required followers and/or average likes per post
Audience preferences, with respect to their age, gender, and location
Creator's interests/topics
Creator Management, for campaigns where brands will supply creators with free products (either to review or as payment). This allows brands to automate product selection, allowing creators who submit a proposal to to select the product (or its size, color, etc.)
Auto-response message, sent to any creator who submits a proposal for the campaign
Campaign Lifecycle Management, enabling brands and agencies to drill down and see which creators are in which phase of the campaign—those who've sent proposals, those who you've sent offers to, those who are waiting for the arrival of product, those who've accepted and are working towards publishing, those who've completed their work and are waiting for payment, and those who've received payment.
Digital Term Sheets, which are used to spell out the terms and conditions of each individual deal. These act as a contract, spelling out the work that will be done and the money that will be owed. It also stipulates the review process that might occur before publication, as well as any requirements for the content itself (i.e. required hashtags, what links to include, and anything else that a brand might want to make sure is included).
Product Tracking, for when a product is shipped to be reviewed or featured in content (or if it's the only payment). Using information from the Creator Management feature listed above, brands/agencies can track and monitor and track the progress of their shipments to creators.
Content Collaboration, which allows creators to submit their content to the brands/agencies, who may then check off each requirement spelled out in the digital term sheet or request changes.
Trackable Sales Links, which are generated through the platform so that each influencer has her own sales link to display in the content. This link is what makes it possible to track the success of each campaign (and each influencer in that campaign)
Creator Performance Spreadsheet, which isn't really a spreadsheet but a much better looking way to keep each influencer's performance statistics at the ready.
Campaign Analytics, where you can see a summary of what you got for the money you spent (also known as ROI). The summary includes individual influencer performance statistics, making it easy to see who delivered and who under performed.
Payments, which are handled over the platform.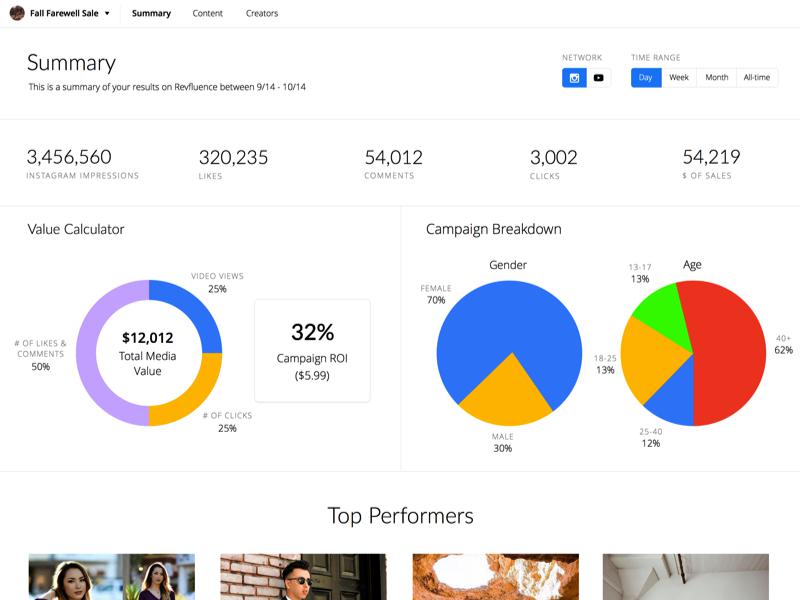 ---
Conclusion
The difference between Revfluence's search function and its management tools is like night and day. The former seems like a bare minimum effort, while the latter goes above and beyond what you might expect from a marketplace platform.
There's a case to be made that a platform like Revfluence doesn't need to have such a robust search function. The thinking might go that since the app aims to alleviate the headaches of dealing with dozens, if not hundreds, of influencers simultaneously, the inability to filter your search down to manageable numbers is irrelevant. It's not a bad leap of logic, but it doesn't really do much to justify such a lean search tool. Sure, you can manage that many influencers at once, but wouldn't it be better to manage less of them if you had the data to weed out to further undesirables?
The answer to that is yes, it would be better.
But a more legitimate question in this context, would be to ask "Will Revfluence achieve the kind of results it promises?" We can't guarantee that it will, for the simple fact that it's a self-service platform, and much of what you reap from your access to the platform is up to you. But we can say without question that, for those who are comfortable and knowledgeable about influencer marketing and who have clear expectations set, the tools you need to succeed are provided here. And they are some powerful tools, indeed.
Revfluence
Search Precision

Management Tools

Interface/Ease of Use

Reporting/Analytics