Best for:
Large Brands, Agencies
Overview
San-Francisco-based Aspire (formerly AspireIQ) is looking to redefine what it means to be an influencer marketplace.
When the platform first went live, it was already a pretty powerful tool. Marketers could discover and begin working with influencers on content for campaigns—no surprise for a marketplace, but the included campaign management tools were step ahead of what anyone else was doing in the space. We first reviewed Aspire a year ago, giving it 4.3 stars overall. The chief criticism was the discovery engine, which was serviceable but not great. But, without software, it's harder to manage an influencer than to find one, and with software like Aspire managing them was as easy—and thorough—as it got. It wasn't a stretch to understand how the company was regularly landing big name clients like Calvin Klein and Scentbird.
Now, over a year later, our second look at Aspire shows a company that's not content to rest on its achievements. The search function has been vastly improved, for a start. But there are other changes and additions that show the company also refining its focus, taking a more "Influence 2.0" approach. Running and managing campaigns is still a core function, but the approach has shifted toward something beyond the "one-and-done" nature of content-for-pay. Aspire has its eye on the long-term. High-performing influencers are easily identified, and users have the tools to nurture those relationships. There's a recommendation engine that points out similar influencers to the ones you've worked with. There's no fee for anyone when payments are handled over the platform. There are tools for repurposing campaign content into paid ads. All of this gives incentive to for their customers, and influencers, to stay on the platform and keep working together.
That focus on the long term obviously has a positive effect on the business itself, as well. As influencer marketing continues to march toward the mainstream, there's been an exponential increase in platform solutions seeking to supply newly created demand. Having a history before the boom certainly helps Aspire out in terms of reputation, but continuing to make their product better and stay relevant is what matters. We're certain we'll be looking at their updates next year, and each year after that.
---
Summary: Quick Jump Menu
---
Pricing
Aspire offers three levels of service to access the platform. In all cases, pricing is customised and requires a yearly commitment (if you're going to try software that bills itself as a long term solution, it makes sense to give it a year to judge the results).
Basic —

1 user, 1 active campaign, full access to the influencer database, recommendation engine, campaign and influencer management tools, and campaign analytics

Pro —

All of the above for 4 users and 4 active campaigns, plus a dedicated "success manager," social listening, and the ability to track the influencers of up to 5 competitors.

Enterprise —

All of the above for unlimited users and 10 active campaigns, the success manager turns into a success team, plus you can automatically send legal contracts for electronic signautres, customisable media values to determine ROI, and exportable data.
At all levels, the team atAspire is actively involved in onboarding and training new customers.
---
The Details
Though an influencer needs to have an account on the platform in order to participate in campaigns, the database of influencers isn't restricted to those who've opted in. There are over 500,000 profiles to search through, all found by the software's underlying algorithm. It crawls the web gathering massive amounts of data on social accounts, and the best ones filter through and get added to the platform.
Aspire's influencer discovery module has undergone enhancements, most notably with the way they give customers a variety of ways to find the right influencers. There is, of course, a straight ahead search engine, where you can search for keywords, hashtags, topics, etc., and then filter the results down by specifying follower counts, average likes per post, and other demographic info (for the influencers and their audiences). But finding influencers isn't restricted just to searching for them. There are other methods Aspire uses so that you can truly discover someone you might not have otherwise seen.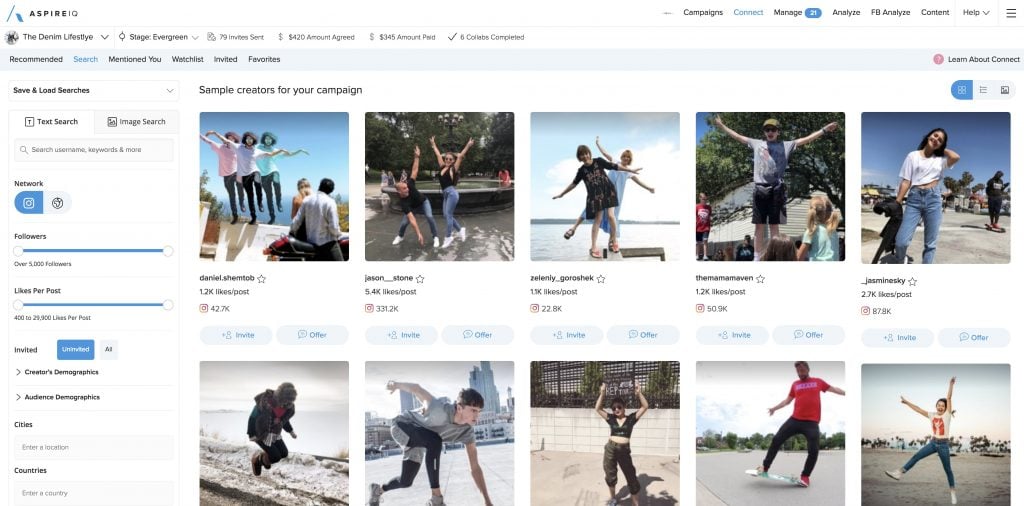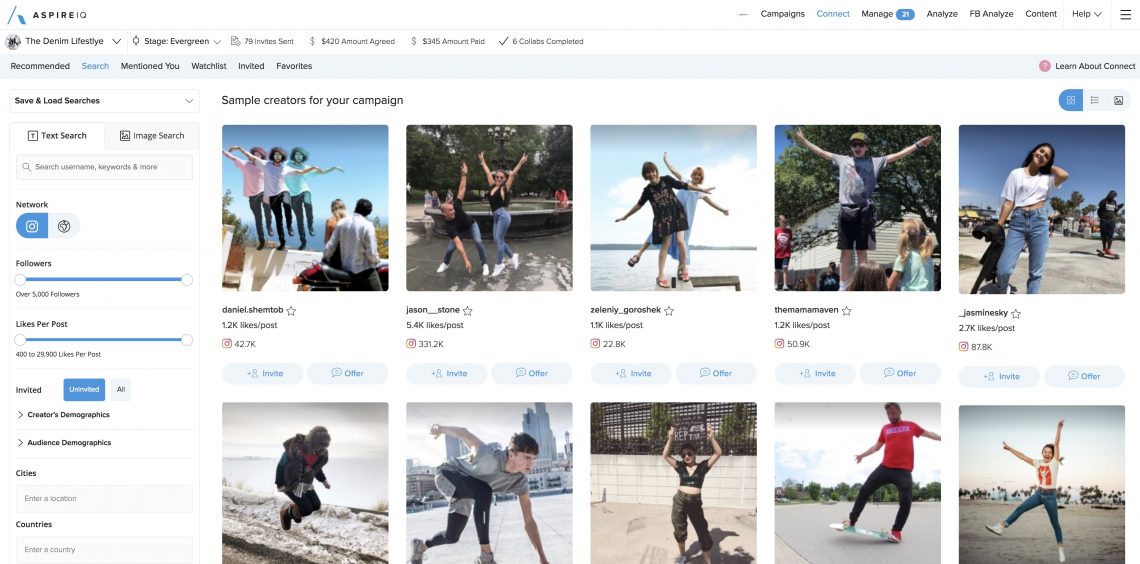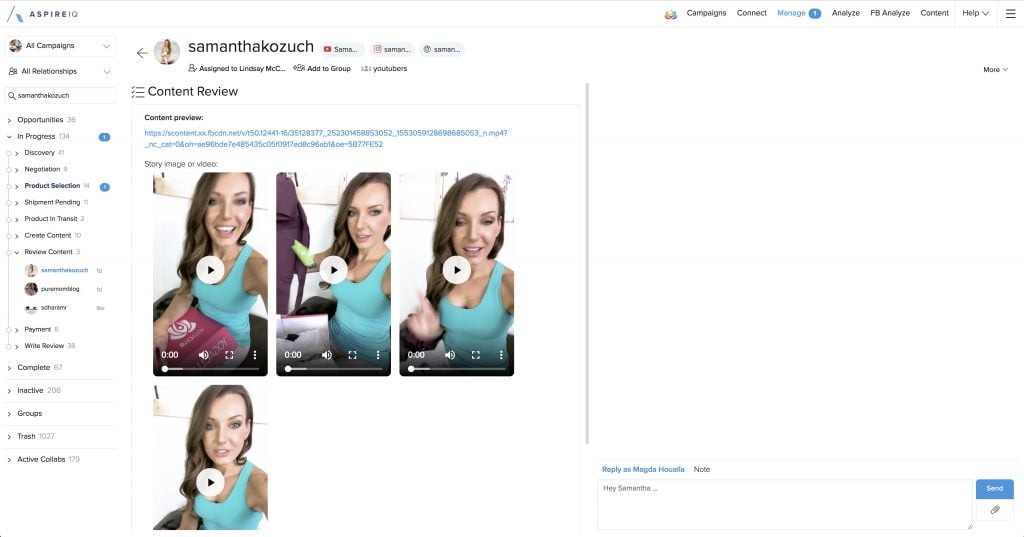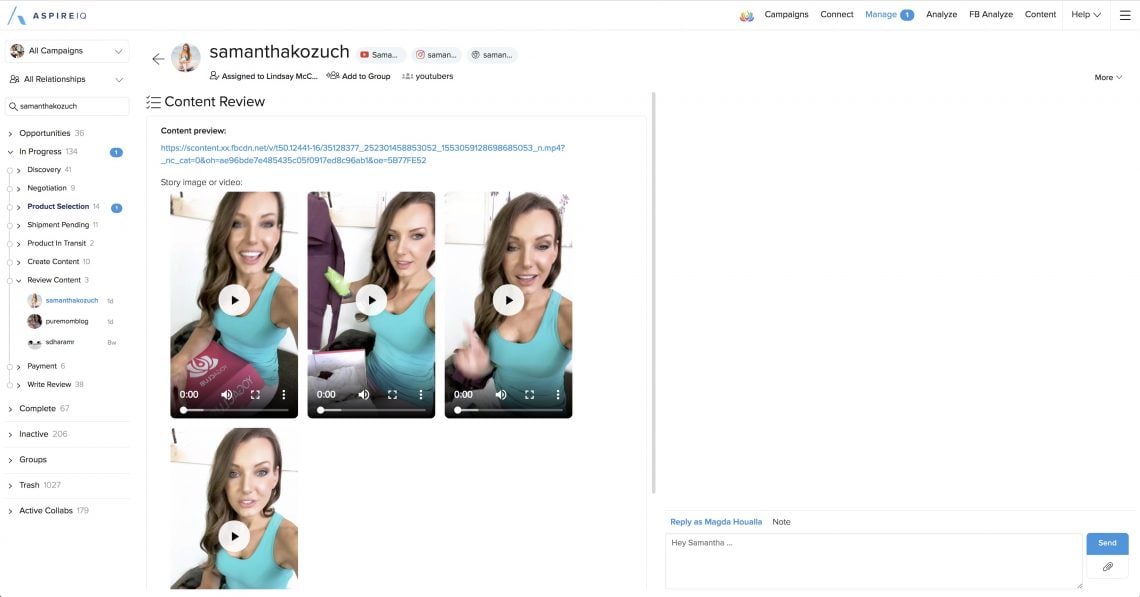 You can use the "Quickmatch" feature, which they describe as a "Tinder for Influencers." It's a pretty apt description. Navigate it into the Quickmatch tab and you're presented with an influencer based on your preferences. You'll see a name, profile pic, follower count, average likes, and a short bio. Below that is a grid of recent content for you to look at—if you're interested you can either send a general invite to collaborate, or make an offer right there for an existing campaign. Otherwise, you click "Skip" and you're shown another influencer.
Aspire social listening abilities make it possible to find quality influencers in other ways. The software will track mentions of your brand and keep a list of those who do. Using the Watchlist feature, you can monitor the social activity of your competitors; along with this you'll get another list of influencers who are mentioning the brands in your Watchlist.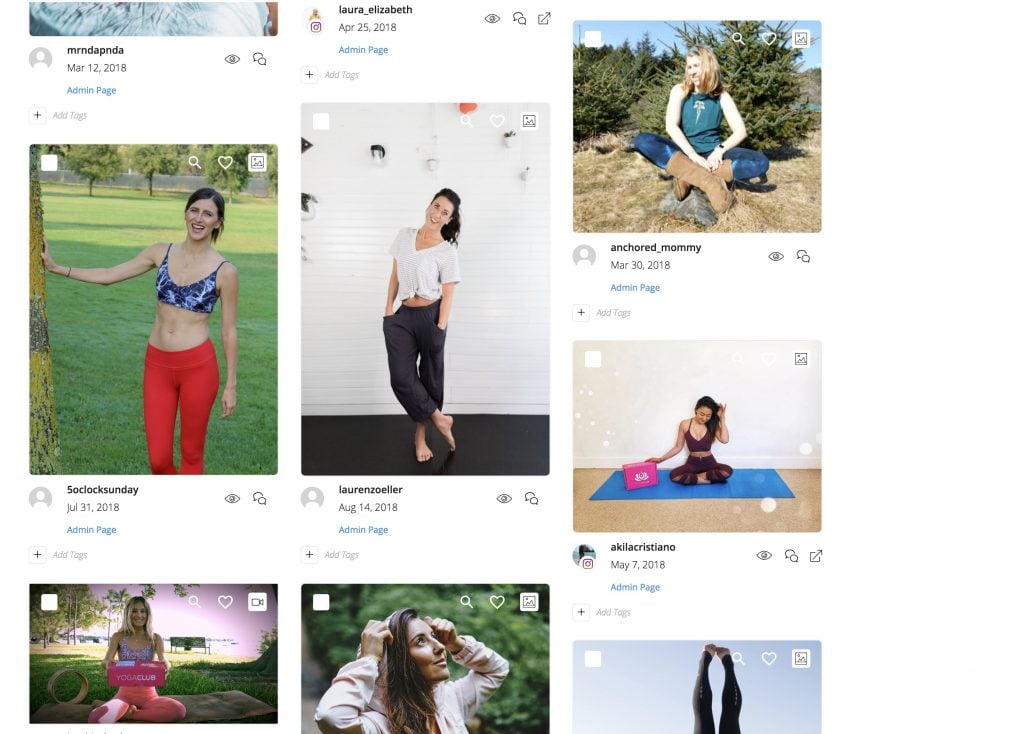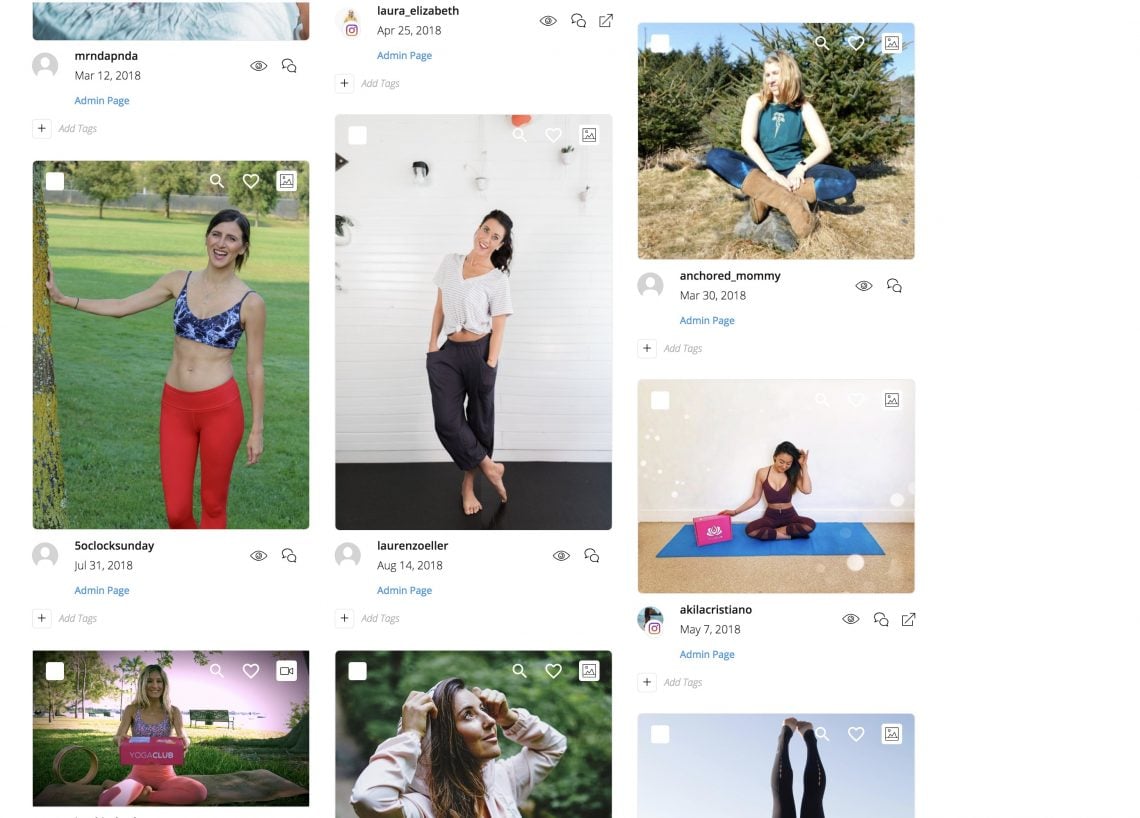 Finally, you can search for influencers by matching their content to an image you provide. It could be a successful image from a past campaign, or specific subject matter that you want to see. It could be from a bank of images that you store on Google drive. Once you've uploaded it, you'll get back results that are remarkably similar—a great starting point to find new voices for your campaigns.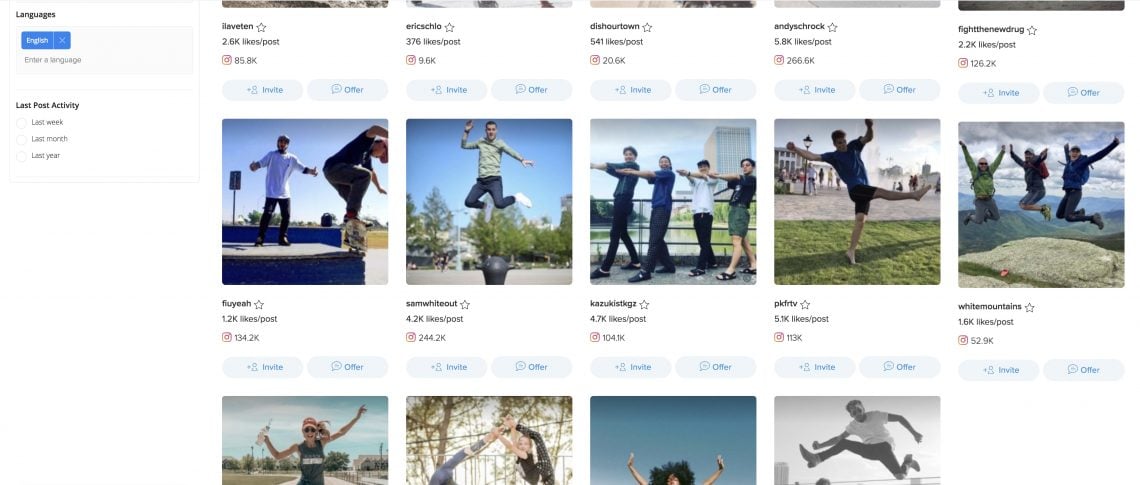 As expected, the management tools inAspire continue to impress. It's stacked with all kinds of features that cover every aspect of campaign management. From the beginning to the end of any campaign, Aspire has you covered:
Campaign Creation

, which defines the following:

Campaign name

and description of the kind of content you're looking for

Eligibility restrictions

based minimum number of required followers and/or average likes per post

Content Guideline Templates,

which define the requirements for campaign tasks. You might have, for example, a template for Instagram Photos, and another Instagram Videos, and still another for YouTube videos. This automates the inclusion of all the fine print.

Audience preferences

, with respect to their age, gender, and location

Creator's interests/topics
Creator Management

, for campaigns where brands will supply creators with free products (either to review or as payment). This allows brands to automate product selection, allowing creators who submit a proposal to to select the product (or its size, color, etc.)

Auto-response message

, sent to any creator who submits a proposal for the campaign.
Campaign Lifecycle Management

, enabling brands and agencies to drill down and see which creators are in which phase of the campaign—those who've sent proposals, those who you've sent offers to, those who are waiting for the arrival of product, those who've accepted and are working towards publishing, those who've completed their work and are waiting for payment, and those who've received payment. They've even added automation here, with automated emails sent when triggered. If an influencer hasn't accepted an offer, or they're overdue on content, reminder emails are sent and logged along with the rest of your communications.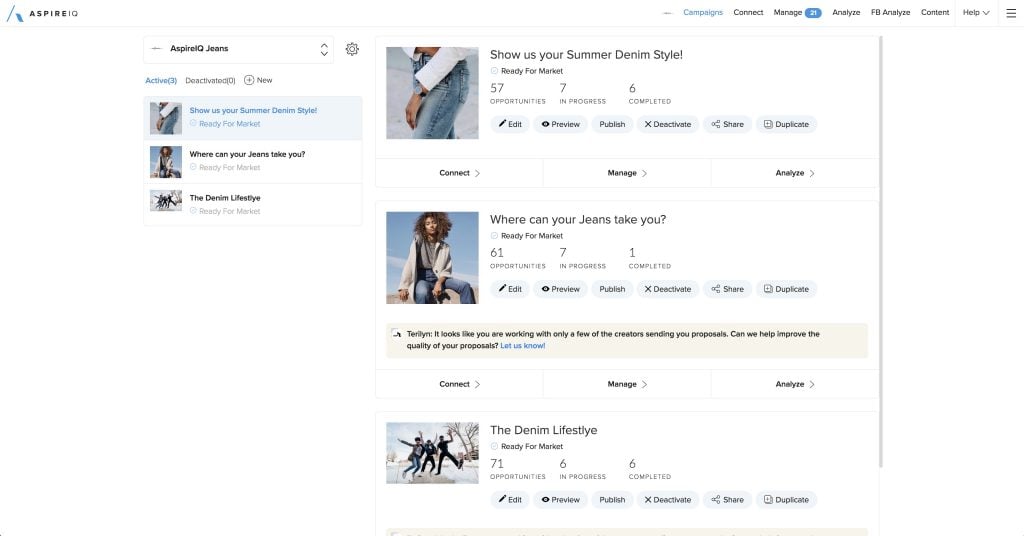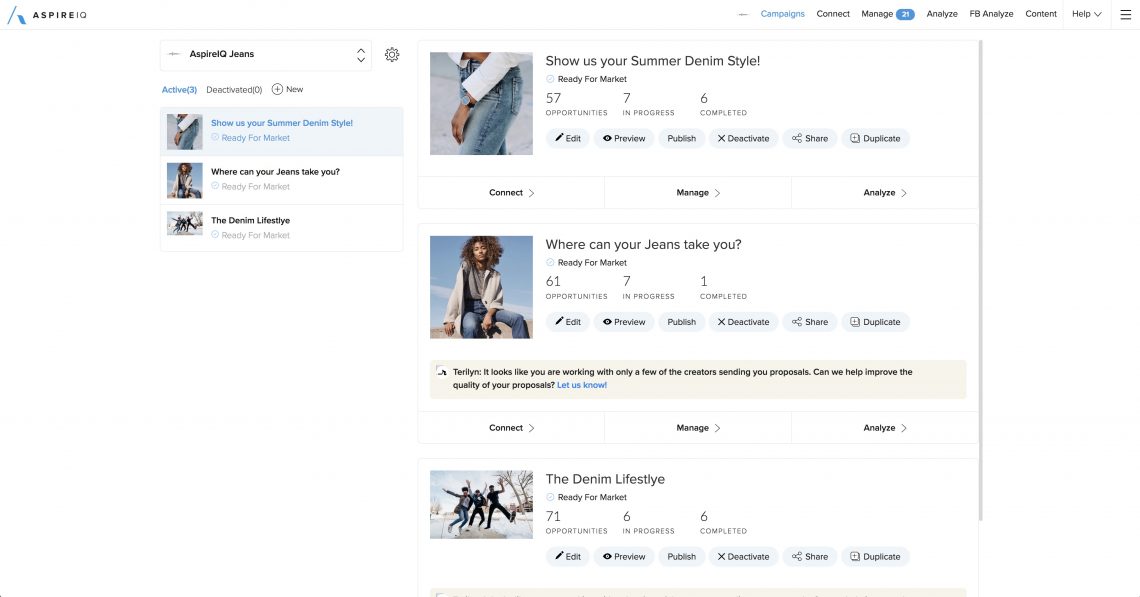 Digital Term Sheets

, which are used to spell out the terms and conditions of each individual deal. These act as a contract, spelling out the work that will be done and the money that will be owed. It also stipulates the review process that might occur before publication, as well as any requirements for the content itself (i.e. required hashtags, what links to include, and anything else that a brand might want to make sure is included).

Product Tracking

, for when a product is shipped to be reviewed or featured in content (or if it's the only payment). Using information from the

Creator Management

feature listed above, brands/agencies can track and monitor and track the progress of their shipments to creators.

Content Collaboration, which allows creators to submit their content to the brands/agencies, who may then check off each requirement spelled out in the digital term sheet or request changes.
Trackable Sales Links

, which are generated through the platform so that each influencer has her own sales link to display in the content. This link is what makes it possible to track the success of each campaign (and each influencer in that campaign)

Creator Performance Spreadsheet

, which isn't really a spreadsheet but a much better looking way to keep each influencer's performance statistics at the ready.

Campaign Analytics, where you can see a summary of what you got for the money you spent (also known as ROI). The summary includes individual influencer performance statistics, making it easy to see who delivered and who underperformed.

Payments,

which are handled over the platform and absolutely free. This is worth dwelling on because it's still such a rare occurrence.
Don't think, though, that just because a campaign has ended that Aspire has no more to offer. This is one of the major new additions we've seen since our last look, and it's a good one. It's no secret that influencer created content performs measurably better than sponsored posts (also known as: ads!). What's less well known, but probably not for long, is that user-generated content increases engagement with Facebook ads. Aspire gives you a way to tap into that. As campaigns end and you're diving through all the numbers, you can add high performing content to a favorites lists for future use. There's more to this than just getting two posts out of one assignment from an influencer (although that is a good selling point). You won't just know that post performed well, you'll know who it did well with, and where. That's all information you'll find very useful when you're plugging the target demographic into your Facebook Ads console.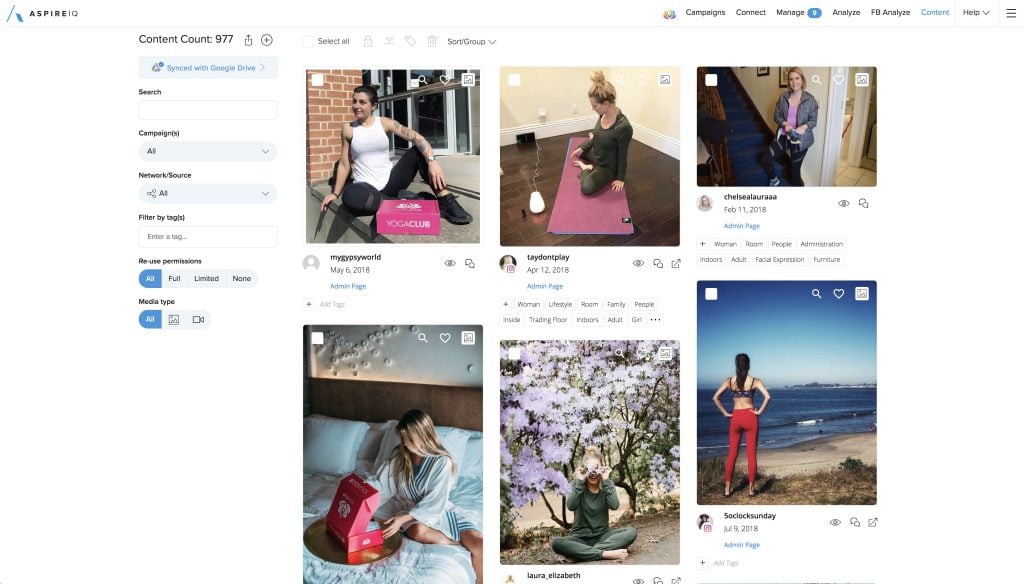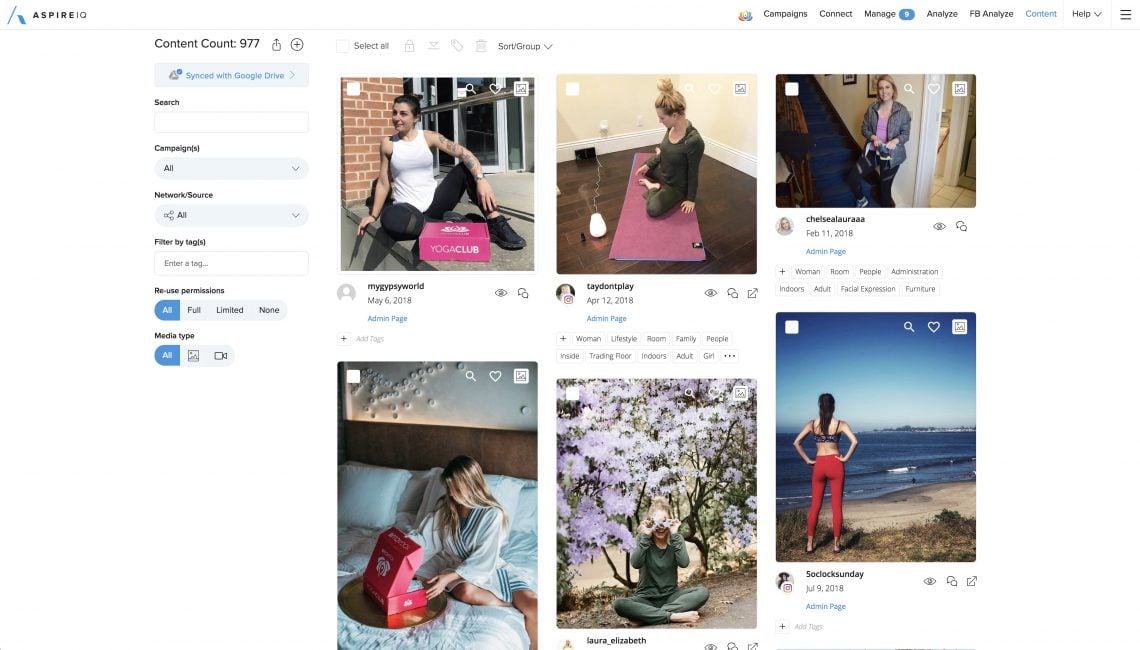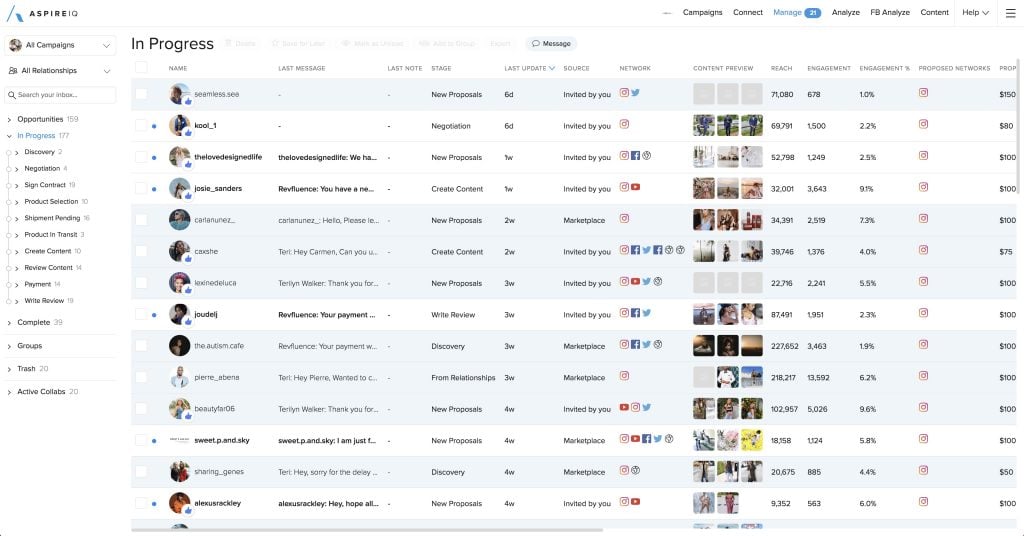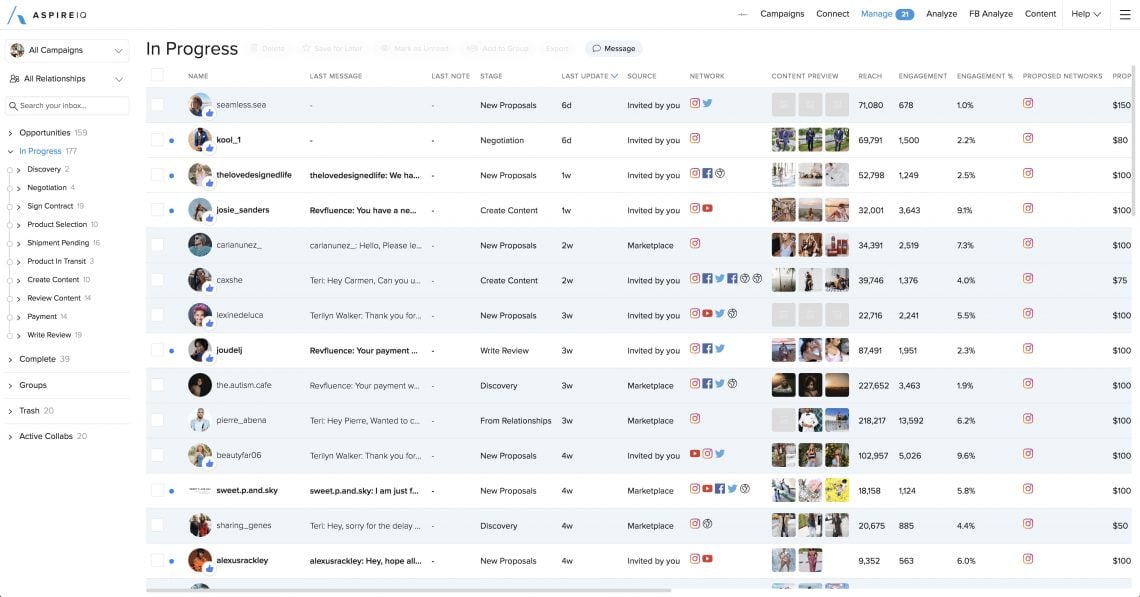 On the heels of this added functionality, Aspire also recently announced it's beta-testing a new Facebook Ads Dashboard. This will give you deeper insights into audience response than you get with Facebook Ads itself, as you can isolate the response based on the content and audience data (e.g. How did that caption do with women in Europe?) The more info you get about what works and what doesn't means your future ads only get more and more targeted and engaging—all using field-tested influencer content that's already been paid for and licensed.
---
Conclusion
A lot's clearly changed since we last looked at Aspire, and we can say conclusively it's all for the better. Beyond the new features and improved old ones, there certainly seems to be a shift in Aspire's focus. It's not a pivot—just a shift, and a very welcome one. All the standards of a marketplace are there—the discovery, activation, management, scheduling, publishing—and they're all done as well or better than their competitors.
It's the new attention being paid to what happens before and after a campaign, enabling marketers, brands, and agencies to get the most out of their budget—that's what's truly of note. Most marketplaces are only as good as the talent they're hosting, and that's the end of the story. But Aspire started there, and then just kept adding. The only question now is: what's coming next?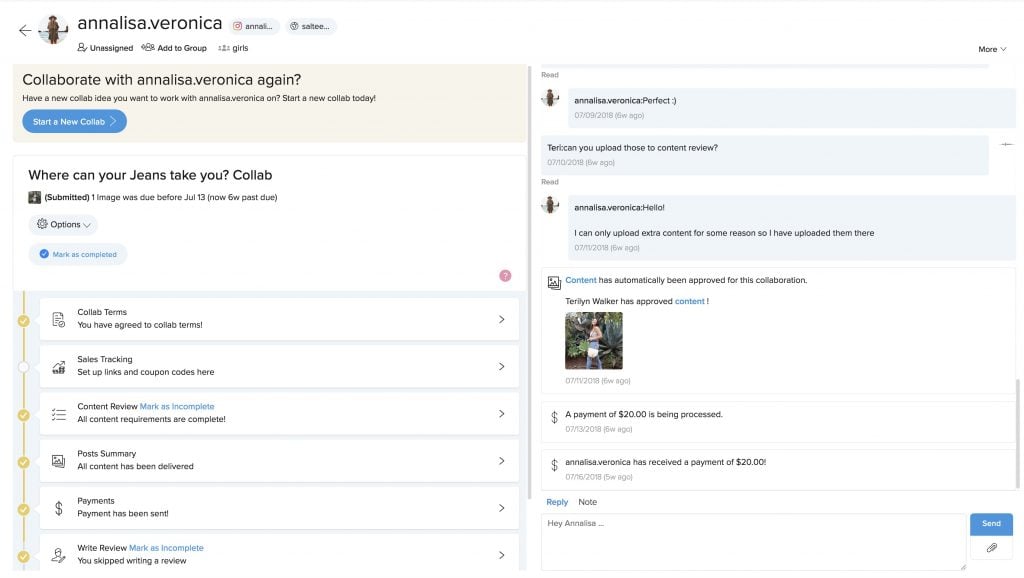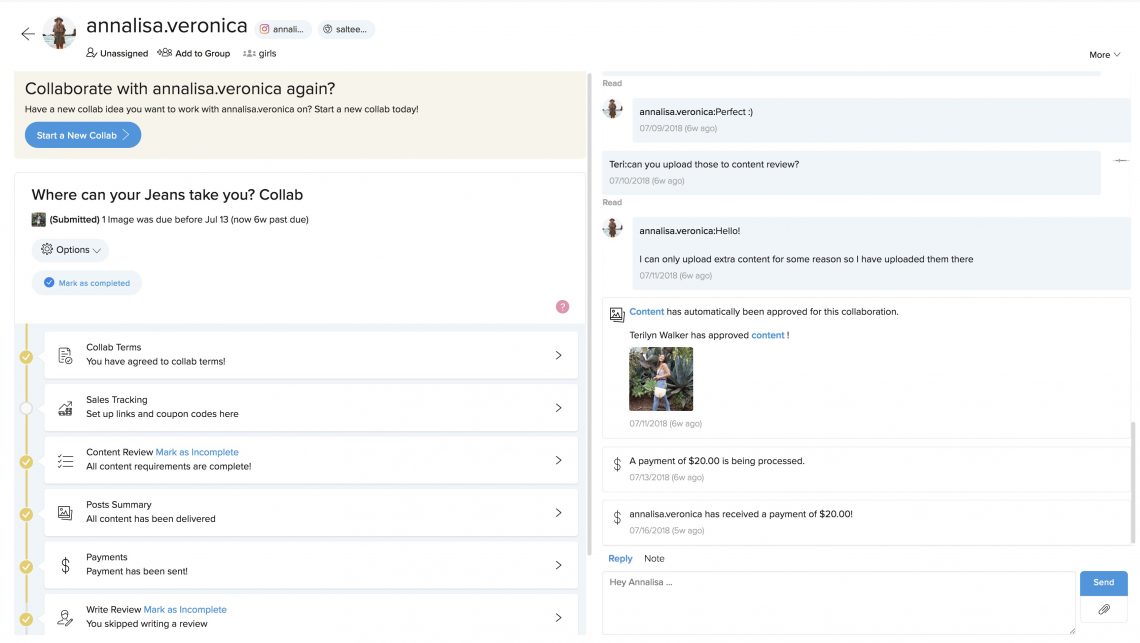 Aspire (formerly AspireIQ)
Features

Ease of Use

Reporting

Best for:
Large Brands, Agencies