Best for:
Small, Medium, and Large Brands, Agencies
Almost four years ago, Unilever's then Chief Marketing Officer, Keith Weed, declared influencer marketing broken, and said he had some ideas on how to fix it. The biggest problem he identified, was fraud. He vowed not to work with influencers who buy followers. Obviously, in a market where the number of followers determines the value (at first glance), it's no surprise that some companies question whether they should even engage with a particular influencer or not.
However, time has passed, and now a company doesn't only need to know whether an influencer account is fraudulent or not, it has to take more steps when launching its influencer marketing plan. It has to carefully plan out its campaign, select the relevant influencer, build solid relationships, analyze their audience, and observe their engagement rate along with other essential metrics. Aside from studying influencers, a firm must conduct thorough research on influencer market trends and competitors. The list doesn't end here, as there are many things a firm has to consider before deciding on the right influencer.
Similarly, HypeAuditor was pivoted from an IM marketplace to a fraud detection tool for social influencers on Instagram. And, as the global social influencer industry has changed and market demand has drastically evolved, so has the company. HypeAuditor has gone much further than just being a fraud detection tool from the past, becoming a full-cycle SaaS platform facilitating collaborations with influencers and assisting companies in obtaining more transparent influencer marketing analytics. Its ever-growing AI-powered influencer database amasses 36+ million influencer profiles across five major social channels and continues to grow daily. A campaign management tool can launch the most enthusiastic social influencer campaigns with personalized messaging, automatic influencer affiliate marketing metrics, competitor analysis, and various integrations (Shopify included). HypeAuditor provides brands and agencies with a toolkit capable of implementing creative approaches and automating manual tasks while giving detailed reports on influencers, their account metrics, and target audience information.
---
Summary:
---
Pricing
HypeAuditor is sold on a subscription basis. A free plan provides basic features, access to essential HypeAuditor data, and the "Influencer Discovery," "Campaign Management," and "Influencer Outreach" tools. A "Basic" subscription plan for $399 per month provides you with access to a range of premium features:
30 analytical reports per month;

Access to the Influencer Discovery tool with an influencer database of over 36 million Instagram, YouTube, TikTok, and Twitch accounts;

Campaign Management tools for influencer planning, managing, and monitoring campaigns;

The Influencer Outreach tool allows you to converse quickly with influencers and build solid collaborations;

Ability to create branded media plans for your influencer campaigns and share them with your clients;

Ability to check existing audience overlap between multiple Instagram influencers;

Instagram account comparison, where you can compare up to five influencers at a time;

Custom subdomain for sharing reports with partners and clients.
On top of that, clients can purchase Pro Add-Ons in addition to the Basic Plan and obtain access to more reports and features:
Pro filters in the Discovery tool;

More analytical reports per month;

Auto-tracking, post fraud analysis, and sentiment analysis in Campaign Management;

White-labeled reports to include brand or agency names and logos;

The market analysis tool provides access to the hot trends of popular social media channels, competitor comparison and analysis, and Mention Analytics;

Ability to export reports to PDF and CSV formats;

Custom integrations with existing software tools via APIs.
---
The Details
HypeAuditor positions itself as an all-in-one platform offering a concrete set of tools that significantly simplifies manual tasks and provides crucial data metrics for an influencer marketing campaign. Every feature that the developers add each month assists businesses in achieving the goals they have set and provides reports with the essential metrics. The platform opens up opportunities to analyze influencer profiles, dig deep into their target audience, and is generally on the lookout for data. For example, comparing the engagement rate and Audience Quality Score of content creators can serve as a deciding factor when building relationships.
Influencer Discovery Tool
One of HypeAuditor's primary features is the Influencer Discovery tool. The AI-powered tool analyses over 29 million Instagram influencers, more than 4 million YouTubers, over 5 million TikTokers, nearly 800,000 Twitch streamers, and more than 10 million Twitter influencers in databases that are updated daily. With the help of 23 filters and unlimited keyword queries, you can look up influencers in 253 countries in any niche.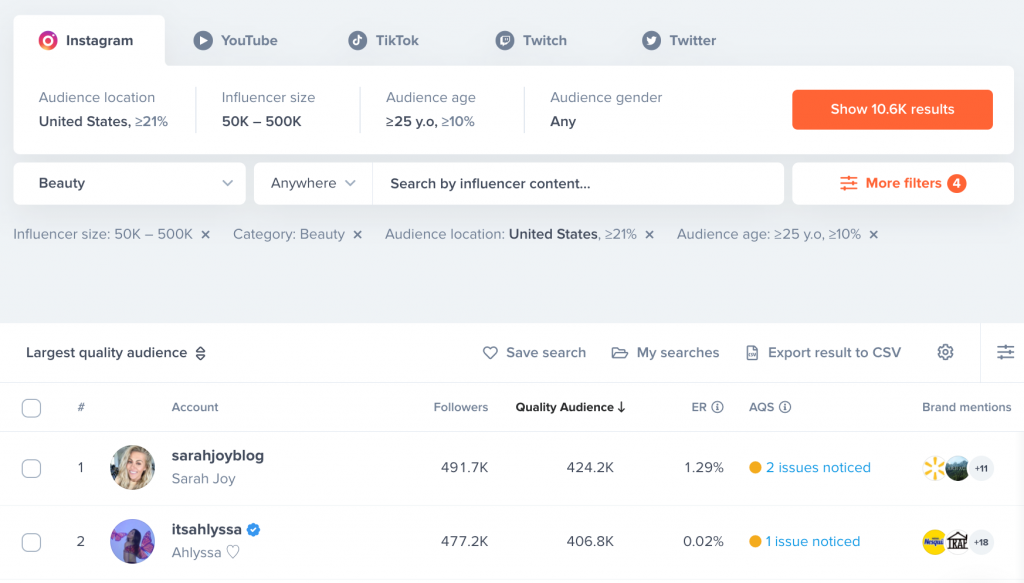 Influencer Discovery's uniqueness lies in its growth filter. It locates influencers whose growth rate for the past 7, 30, or 180 days has been between 10% and 100%. Chosen influencers may be transferred to Media Plans or Campaign Management. These tools help plan, manage, and track influencer campaigns.
While browsing the report of each influencer in Influencer Discovery, you may notice that the content for each is given a score/assessment. For example, the engagement rate shows the percentage of the audience engaging with the content posted by this influencer, including likes and comments. When receiving an explanation like this, you are also informed that this score is excellent compared to other similar accounts. Then you're shown real numbers detailing how much of it came from real people, bots, etc. You'll be able to review the essential data of the influencer's audience: location, gender, interests, authenticity, reachability, education level, etc. And you'll also get an assessment of how many of them are "quality" followers, giving you a more accurate forecast of that influencer's reach.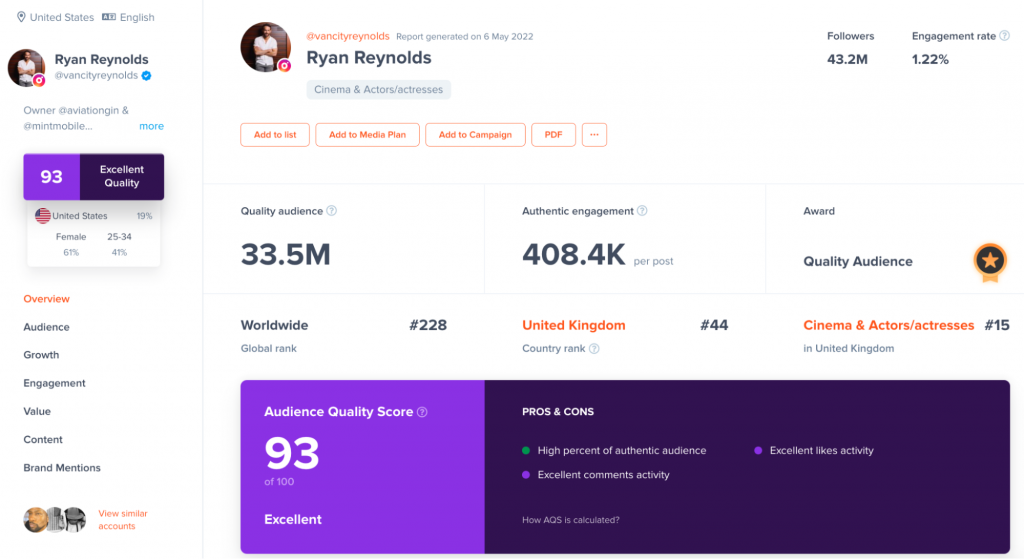 One of the more unique data points is "Audience Reachability." It shows the number of followers that follow less than 1,500 other accounts. The more accounts an influencer follows, the less likely the target audience scrolls past the sponsored content in the Instagram feed, as it can get lost among thousands of other posts, which is why this audience is less reachable.
Another essential worth mentioning is Brand Safety analysis. This metric helps you find influencer accounts suitable for placing sponsored content and ensuring that your product or service doesn't appear next to inappropriate content. The analysis shows how safe content is, based on multiple factors. Studying influencer content in terms of sensitive and off-limits topics will show whether it can cause damage to your brand's image. There are currently nine different negative content flags used to determine how secure influencer content is for a brand.
Overall, there are 35 different metrics and scores, giving users a thorough understanding of who they're dealing with. Yet, the first metric you start with is the Audience Quality Score (AQS). The Audience Quality Score is a compound metric based on a scale of 1 to 100 and measures the overall quality of an influencer. It is calculated based on several elements, including Engagement Rate, quality audience, follower and following growth patterns, and engagement authenticity. The higher the AQS, the better the quality of the given social influencer.
You can search for any Instagram account you want, and if it's not already in the database, you can easily add it. After that, the tool will analyze the influencer's information and eventually add them to the HypeAuditor database.
Branded Media Plans
Aside from searching the list of all influencers, you can also create branded media plans for campaigns on Instagram, YouTube, Twitter, or TikTok to share and demonstrate them to your prospective customers, colleagues, stakeholders, and management when preparing a successful business pitch. You can estimate how much the influencer campaign will cost by adding influencers to your campaign list. Campaign KPIs, like target audience percentage, engagement, CPE, EMV, and ROI will also be evaluated automatically.
Campaign Management Tool
With the Campaign Management tool, you can create and manage the progress of influencer campaigns, monitor their performance, and observe overall execution. The main advantage of the tool is its engagement authenticity check for sponsored content. HypeAuditor analyzes engagement growth and potentially fraudulent activity for each piece of sponsored content and provides an assessment of the findings.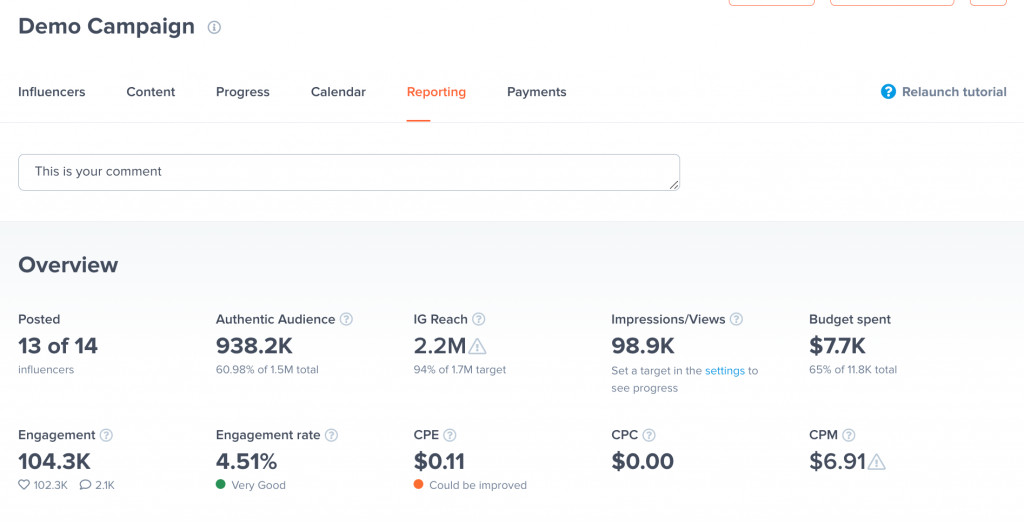 Another Campaign Management instrument worth mentioning is Influencer Outreach. Reach out to influencers straight from HypeAuditor. If you've ever wanted to reach out to multiple influencers with personalized messages and manage the entire list of potential candidates - all from one place - HypeAuditor provides such an opportunity. You can easily automate routine tasks, auto-populate email addresses, and focus on other important business tasks.
A great addition to Campaign Management that HypeAuditor released is the Shopify integration, allowing many businesses to connect their E-Commerce stores and observe the actual impact of their affiliate marketing plan. ROI, CPE, CPC, clicks, and sales of your store are automatically calculated right on the platform.
Influencer Comparison
Influencer Comparison is a feature that compares up to five influencers at a time and helps choose the most effective influencers for your marketing campaigns. Every entry will be supported by a detailed report on each influencer, allowing you to quickly review the most critical and essential metrics (mentioned in the Influencer Discovery tool) to choose the appropriate social influencer candidate.
Account Tracking
To get rich insights into an influencer's growth dynamics while comparing their progress against time and market rivals, you can use Account Tracking. It provides background information about a creator's growth, changes in audience quality, and engagement rate. HypeAuditor is also helpful for users to monitor their own Instagram accounts, and is a great way to monitor the overall health of their social presence. Navigate to the Account Tracking section from the Dashboard and connect your IG account to track its performance. You'll also receive weekly email updates giving a summary of your activity.
Market Analysis
Let's say you want to conduct market analysis or learn how other brands in your industry use influencer marketing. In that case, you can gain significant insight from HypeAuditor's Market Analysis reports. This is a collection of tools that will help you to complete the picture of the influencer marketing landscape to accelerate your brand awareness, acquire new customers, enter new markets, and optimize ROI.
Industry Analysis
The Industry Analysis report provides intelligent market data and industry insights that you can use to understand the ecosystem of influencer marketing in a particular country and business niche. You can easily choose the matching industry and analyze performance metrics to measure the effectiveness of other brands' influencer marketing campaigns. These include the value of influencer marketing activities, the engagement rate, key market players, and influencers they work with. Compare different brands, analyze the effectiveness of their campaigns, and discover the top-performing businesses in terms of their influencer marketing activities.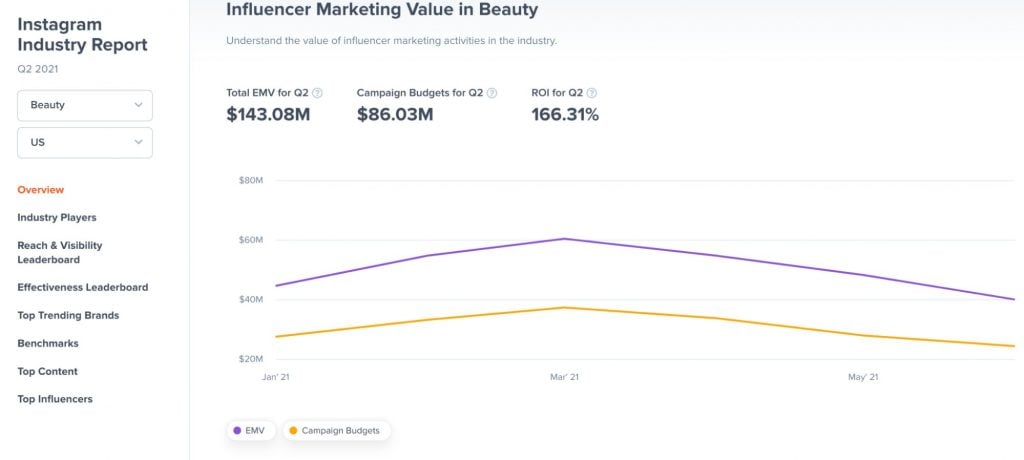 Competitor Analysis & Comparison
The Competitor Analysis report allows users to explore different aspects of other brands' influencer marketing campaigns, including their estimated campaign budget, target audience, and sponsored content. Various insights help you identify the most effective content featuring brand mentions and review a complete list of Instagram creators brands partner with. And if you need to compare multiple brands side by side, you can do it with the help of Competitor Comparison, which provides a report that compares up to five brands at a time.
Audience Overlap
Another feature in the Market Analysis section is Audience Overlap, which helps refine the influencer list for your upcoming marketing campaign. The report shows the existing overlap between the audiences of multiple Instagram creators. The tool lets you build a perfect influencer list and prevent potentially mixed-up target segments while aiming for the highest audience overlap to interact with the same followers from several contact points. At the same time, you can check the percentages of unique and repeated followers your brand and rivals are reaching with influencers.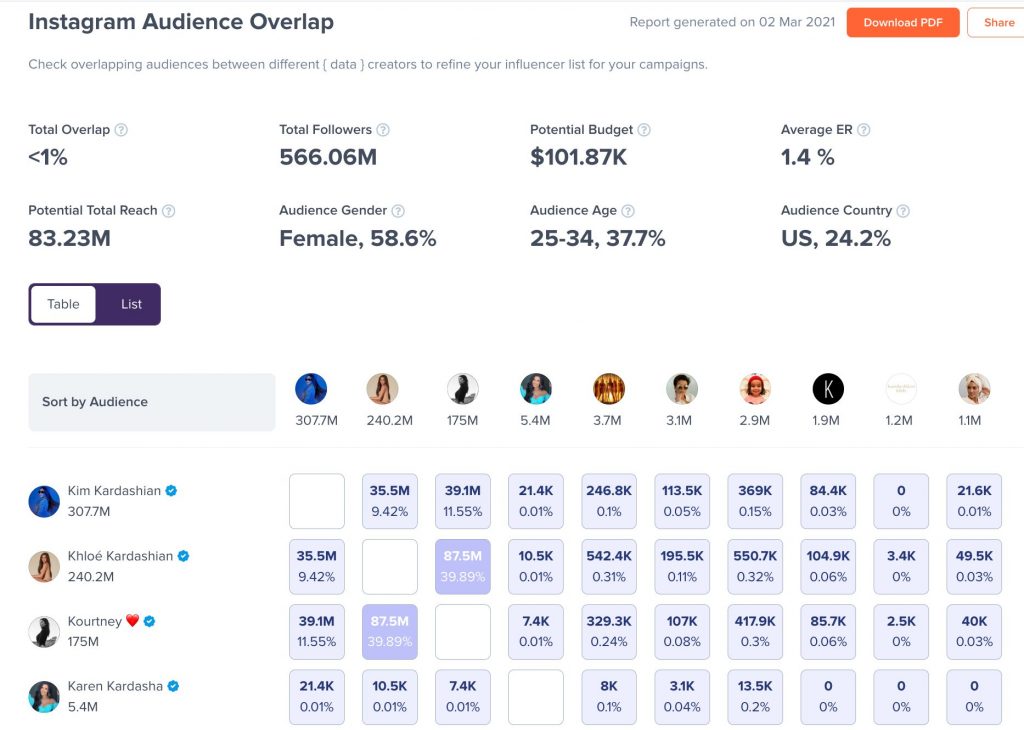 Content Analysis
With in-depth Instagram Content Analysis, users can analyze how the sponsored content of their competitors performs on Instagram and identify the most compelling pieces of content that best resonate with audiences. And as a result, create a data-informed advertising message that works for your firm.
---
Conclusion
HypeAuditor does have a few competitors. Yet, almost none provide a comprehensive and powerful full-cycle platform that operates with social influencers on five popular social media channels. Additionally, HypeAuditor focuses on how good the target audience of a particular influencer is. HypeAuditor is coming up with more answers than anyone else. The platform is very intuitive, you only need a few actions to understand how to manage and create campaigns and start collaborating with quality social influencers with an authentic audience.
HypeAuditor is constantly improving. It is adding ever-newer features to the list, improving existing functionality, changing layout design, etc. It's a pretty new tool, so it's safe to expect that these will become even more robust in the future. Initially, HypeAuditor was built for one thing - to determine audience quality. Now, it offers so much more than that, providing a space for all influencer marketers to excellently and confidently execute their job.
Frequently Asked Questions
How does HypeAuditor's pricing work?
Access to HypeAuditor is sold on a subscription basis. A free plan provides basic features and limited ability to pull HypeAudior data. Its basic subscription plan costs $399 per month and includes access to premium features. You can also purchase Pro Add-Ons in addition to the Basic Plan and gain access to more reports and broader functionality.
Which features are included in HypeAuditor's subscription plan?
The premium features include Account Analytics reports, the Influencer Discovery and Campaign Management tools, branded media plans for influencer campaigns, market and competitive analysis, Instagram account comparison, and Audience Overlap report.
Pro Add-Ons provide Pro filters in Influencer Discovery, auto-tracking, post fraud analysis, and sentiment analysis in Campaign Management; white-labeled reports, PDF and CSV exports, integration with Shopify stores, and custom integrations with existing software tools via APIs. If you get confused or experience an issue, you will also be able to access dedicated customer support.
What does HypeAuditor do?
In a nutshell, HypeAuditor acts as a set of tools for an influencer marketer to prepare a quality and rapid influencer marketing plan. It has everything for a business to create solid collaborations with suitable influencer candidates that can promote their products or services. Thirty-five different account metrics can help you better understand who you are working with. Using a 100-point scale, Audience Quality Score will give a quick way to evaluate the actual value of an influencer.
What are some of the advantages of using HypeAuditor?
When you analyze the Audience Quality Score (AQS) that the HypeAuditor platform provides, you'll discover the authenticity of the social influencer's followers and the level of engagement each candidate has on their profile. That fact alone will give you more substantial leverage to engage in a safe and confident collaboration and calculate realistic price estimations. Another significant advantage is that the platform's database has more than 29.7 million Instagram influencers, over 4 million YouTube video bloggers, over 5 million TikTokers, and nearly 800,000 Twitch streamers. Moreover, the HypeAuditor database is updated daily.
Is HypeAuditor any good?
HypeAuditor is an all-in-one platform that offers a wide variety of tools for influencer marketing. Almost every month new features are being added to assist in achieving the business goals the firm's clients have set and provide essential metrics for your purposes.
If you're an influencer, you can quickly check your social media profile to understand how to increase your engagement rate while looking for new companies to work with.
If you're an influencer marketer working for an established brand, you can quickly scale and automate your job with the help of HypeAuditor's numerous tools. Safely check whether your campaign has been successfully implemented with the calculated affiliate marketing metrics.
For agencies looking to collect a quality report on specific social influencer profiles for a client, HypeAuditor can provide massive assistance with that task.
What makes HypeAuditor different from other influencer marketing tools?
Initially famous for providing a solid fraud detection mechanism for social influencer profiles, the company is now much more than that. The platform has more than 35 metrics to examine the social media accounts of over 36 million influencers. HypeAuditor's AI mechanism includes suspicious audience growth and bot-generated engagements. While HypeAuditor assists with relevant data and targeting the right social influencers, the platform's experts ensure that they are top-tier quality for audience engagement.
HypeAuditor
Features

Ease of Use

Reporting

Best for:
Small, Medium, and Large Brands, Agencies