Best for:
Small, Medium, and Large Brands, Agencies
Several years ago, Unilever's former Chief Marketing Officer, Keith Weed, declared influencer marketing broken and said he had some ideas to fix it. The biggest problem he identified was fraud. He vowed not to work with influencers who buy followers. In a market where the number of followers determines the value (at first glance), it's no surprise that some companies question whether they should collaborate with a specific influencer.
As time has passed, companies need to know more than if an influencer account is fraudulent. They must also account for other factors when planning their influencer marketing campaigns. Companies have to carefully plan their campaigns, select relevant influencers, forge good relationships, analyze audiences, and track engagement and other metrics. In addition to assessing individual influencers, companies must also research current marketing trends and competitors. And that's just the tip of the iceberg since businesses have a lot more to resolve before settling on a particular influencer.
Just like companies have revamped their approach to influencer marketing, HypeAuditor also transformed the way it analyzed influencers. Whereas HypeAuditor was once a simple fraud detection tool for Instagram, now HypeAuditor is an all-in-one, end-to-end platform that provides coverage for the entire influencer marketing lifecycle. HypeAuditor empowers companies in their efforts to set up influencer collaborations and monitor key influencer performance metrics. HypeAuditor's AI-powered influencer database contains over 68+ million accounts across five major social media platforms, and each day this number is growing. From campaign management and in-depth reports to influencer outreach and e-commerce integrations, HypeAuditor provides the tools businesses need for successful influencer marketing.
---
Summary:
---
Pricing
HypeAuditor offers different plans that contain various core features. Special add-ons – such as Campaign Management and extra reports – can be attached to any plan to expand on HypeAuditor's core features.
---
The Details
HypeAuditor is an all-in-one influencer marketing platform that enables complete coverage for influencer marketing campaigns. HypeAuditor tools ease the campaign management process by simplifying or automating mundane work while providing actionable data and insights. New functions and capabilities are added each month so that businesses are better positioned to reach their marketing goals. All features are designed to enable a seamless marketing campaign management experience, and all data insights are meant to support strategic decision-making.
Influencer Recruitment and Discovery
One of HypeAuditor's primary features is Influencer Discovery. This AI-powered tool analyzes over 68M+ social media accounts across Instagram, YouTube, TikTok, Twitch, and Twitter. The database is updated each day. With the help of filters and keyword queries, you can look up influencers in 253 countries for any niche.
Influencer Discovery's secret sauce lies in its variety of filters. For almost any set of requirements, you'll be able to find influencers.
In addition to Influencer Discovery, HypeAuditor's influencer recruitment section also provides several other recruitment tools:
Lookalikes – Find influencers with similar performance and interests.

Social Listening – Track mentions to spot potential brand ambassadors.

Influential Customers – Identify influencers who already use your products.

Ambassador Landing Pages – Create custom landing pages and lead-capture forms for influencers to fill out.
My Network (Influencer CRM)
Once you've discovered an influencer you like, you can add them to the influencer CRM, My Network. My Network provides a complete, top-down view of where influencers are in your influencer management lifecycle. Accordingly, not only does it allow you to add, manage, and message influencers, but it contains all the necessary features that are needed for an influencer relationship management (IRM) system to thrive and successfully manage influencer relationships:
Influencer relationship management updates

Campaign management updates

Contract and payment statuses

Custom workflows

Bulk email outreach

Contact information

Automation (because who doesn't like work to be made easier?)
Users can even manage and share notes, data, and reports with other team members, as well as compare influencers to identify the best influencers for campaign's needs.
Analytical Reports
One other feature that makes HypeAuditor unique among influencer marketing platforms is Analytical Reports. Available for Instagram, YouTube, TikTok, Twitch, and Twitter, users of HypeAuditor can access reports that provide key details about an influencer's location, contact information, audience demographics, audience and account quality, engagement, growth, and fraud (if any).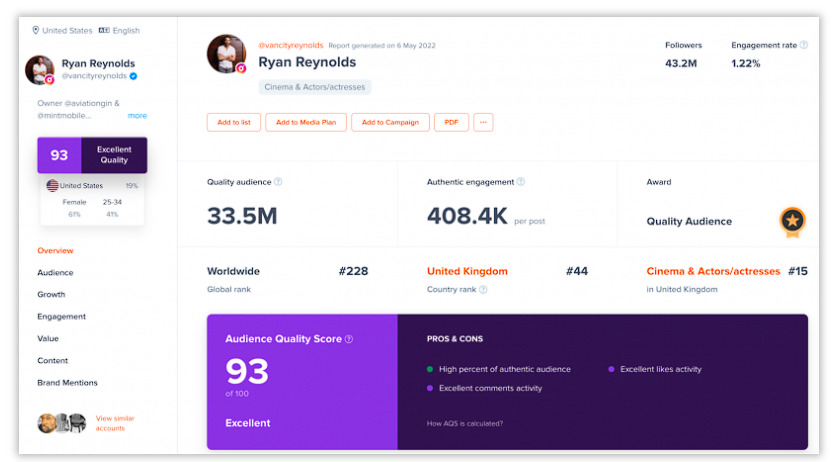 For example, brands and agencies can check out an influencer's "Audience Quality Score" (or "Channel Quality Score" for YouTube channels). Audience Quality Score (AQS) and Channel Quality Score (CQS) are HypeAuditor's unique, proprietary metrics that factor in the authenticity, engagement, and demographics of an influencer's followers. AQS provides enough insight that it can function as a "quick and dirty" approach to ruling out influencers from possible collaborations. Influencers with a low AQS are unlikely to achieve campaign goals. The majority of HypeAuditor users already rely on AQS to save hours of manual work.
Analytical reports also break down audience characteristics, such as audience demographics and audience psychographics. Knowing an audience's gender, age, location, language, and income help identify influencers whose followers match the target demographics, allowing you to enable the right partnerships. Audience psychographics provides insights into which content resonates with a target audience, making it easier to tailor content to meet their preferences.

HypeAuditor also enables Brand Safety Analysis. This helps businesses find influencers who are suitable for sponsored content, ensuring that products or services don't appear alongside inappropriate content. Brand Safety Analysis flags questionable content according to several different factors.
Overall, analytical reports provide over 35 various metrics that make it easier and more efficient to analyze a specific influencer. This allows brands and agencies to get a better understanding of the influencers they're considering.
Account Comparison
Companies can track multiple influencers to gather insights into their growth dynamics, performance over time, and market position compared to competitors. Specify a target audience, and Account Comparison will sort influencers based on how well their audience matches the target audience. Should the need arise to pick certain influencers, Account Comparison provides a direct comparison of them.
Influencer Outreach
Simplify the influencer outreach process with HypeAuditor's tools and content. Leverage custom, pre-made emails or entire email sequences to speed up messaging. Incorporate personalizations that help improve conversion and response. Track key email metrics such as open rates and click rates to monitor how well messages are converting.
Campaign Management
Complete all the groundwork necessary for creating a campaign from one location. Run, manage, and track influencer campaigns from start to finish. Campaign Management empowers full end-to-end coverage for influencer marketing campaigns with capabilities such as:
Reach out to whole lists of influencers at the same time.

Generate, negotiate, finalize, and sign custom contracts.

Manage content drafts.

Auto-track and review all content from one place.

Integrate Shopify, WooCommerce, and Magento e-commerce stores, and manage associated promo codes, affiliate links, and product seeding.

Calculate metrics like ROI, CPE, CPC, and store clicks automatically in-platform.

Manage influencer payments via PayPal or offline.
Reporting
Stay up to date on campaign performance with Reporting. Reports are generated automatically, and data is regularly updated. Access reports at any time during or after campaigns. Customize your reports by inserting logos, providing comments, and even adding or removing entire sections. Reports can be shared as a PDF file or via a permanent link. Sharing reports via links provides recipients with access to the latest reports.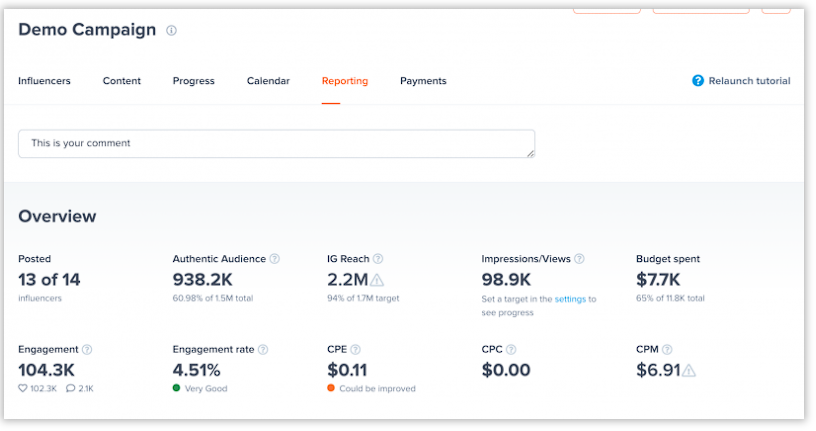 Branded Media Plans
Create branded media plans for campaigns. Estimate the potential results of future campaigns or present plans as campaign pitches to clients. Automatically evaluate campaign KPIs, such as target audience percentage, engagement, CPE, EMV, and ROI.
Market Analysis
Conduct market research and analyses into how other brands in your industry use influencer marketing. Use HypeAuditor Market Analysis reports to gain actionable insights that help you understand the influencer marketing landscape. Accelerate your brand awareness, acquire new customers, enter new markets, and optimize your campaign ROI.
Competitor Analysis
Gain a complete picture of the competitive landscape with the help of HypeAuditor's various data-driven reports, such as:
Industry Analysis – Receive market data and industry insights to assess the state of influencer marketing in a specific niche, industry, or country.

Competitor Analysis – See aspects of other brands' influencer marketing campaigns, including estimated campaign budgets, target audiences, and sponsored content.

Competitor Comparison – Compare up to five brands side by side.

Audience Overlap – View the number and percentage of followers who overlap between two influencers so that you ensure the widest reach or double-down on a specific target audience.

Content Analysis – Analyze the performance of sponsored content from competitors so that you see which messages are the most compelling and resonant.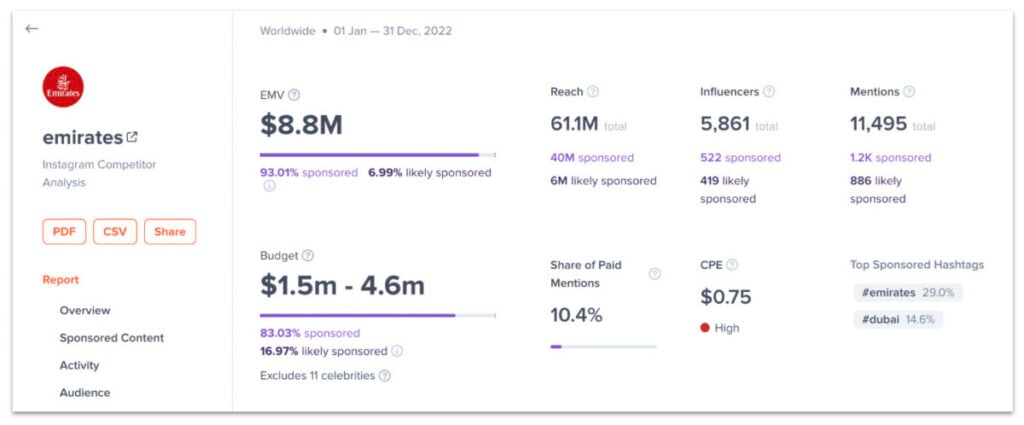 ---
Conclusion
Once upon a time, HypeAuditor was solely a tool that identified the quality of an audience. But since then, HypeAuditor has become a powerful end-to-end influencer marketing management platform that covers the full campaign lifecycle for multiple social media platforms. HypeAuditor is ideal for companies who are eager to simplify influencer marketing management while ensuring access to actionable, in-depth analytics. With new functions released each month, companies will be well-positioned to organize and run high-performing marketing campaigns.
Frequently Asked Questions
What is HypeAuditor?
HypeAuditor is an all-in-one influencer marketing platform that helps brands and agencies identify, recruit, and collaborate with influencers from around the world. HypeAuditor's various functions enable complete, end-to-end coverage of the influencer management lifecycle so that users can focus more on the content and less on the logistics.
How accurate is HypeAuditor?
HypeAuditor's influencer database grows each day as more influencers join social media. Data is also updated regularly, ensuring that all campaigns, reports, and other features work only off of the latest data. This helps ensure that HypeAuditor remains among the top influencer marketing management platforms on the market. For instance, HypeAuditor's fraud detection tool for spotting fake or fraudulent influencers consistently detects over 95% of fraudulent activity.
What is the price of HypeAuditor?
HypeAuditor offers different plans that contain various core features. Special add-ons can be attached to any plan to expand on HypeAuditor's core features.
What does HypeAuditor do?
HypeAuditor is an influencer marketing platform that provides a seamless, all-in-one campaign management experience. It has everything that businesses need to organize, manage, and facilitate collaborations with influencers. It also provides in-depth metrics and reporting capabilities so that you only spend your time and resources on influencers you want to work with.
What are the advantages of using HypeAuditor?
HypeAuditor is an all-in-one influencer marketing CRM that enables end-to-end coverage for influencer marketing workflows. Furthermore, its unique, in-depth metrics (Account Quality Score, Channel Quality Score, etc) allow you to discover the authenticity of an influencer's followers and the engagement they earn. This allows you to pay a fair price for collaborations without overpaying. HypeAuditor's database also contains over 58 million influencers, and you can use HypeAuditor's filters to narrow your search to find the influencers you want.
What makes HypeAuditor different from other influencer marketing tools?
Initially famous for providing a solid fraud detection mechanism for social influencer profiles, the company is now much more than that. HypeAuditor is an all-in-one influencer marketing platform. HypeAuditor's analytics cover more than 35 metrics to examine the social media accounts of over 68 million influencers. HypeAuditor's AI analyzes suspicious audience growth and bot-generated engagements. The platform also empowers users to discover top-tier talent for marketing. These are just some of the functions that make HypeAuditor a complete end-to-end influencer marketing CRM.
In addition to insight metrics like Account Quality Score, other features that make HypeAuditor unique in comparison to other platforms are our unique Market Analysis reports, Influencer Relationship Management functions, and Campaign Management capabilities. Together, they provide brands and agencies with full-service, seamless, end-to-end influencer marketing management.
HypeAuditor
Features

Ease of Use

Reporting

Best for:
Small, Medium, and Large Brands, Agencies