Best for:
Medium and Large Brands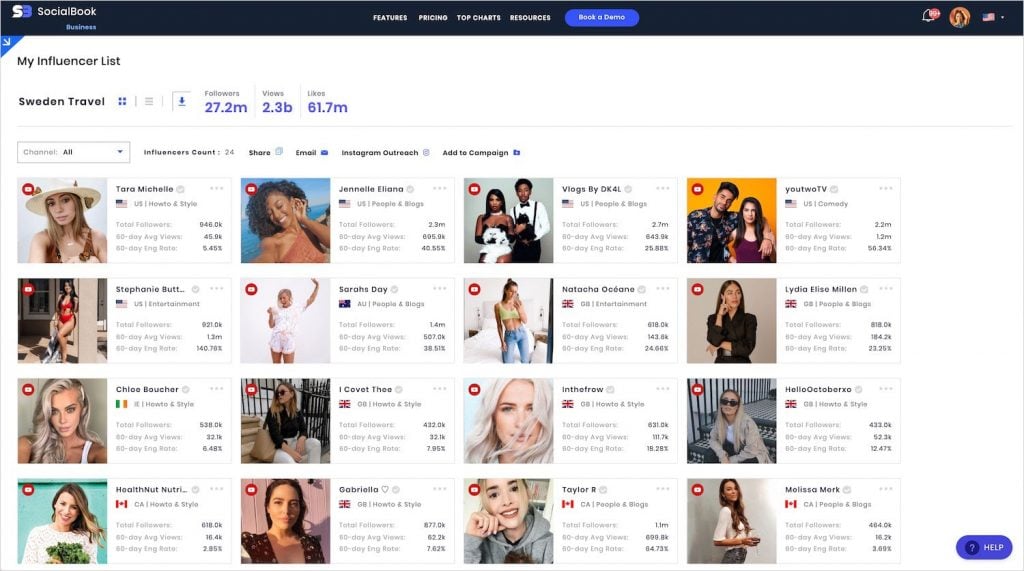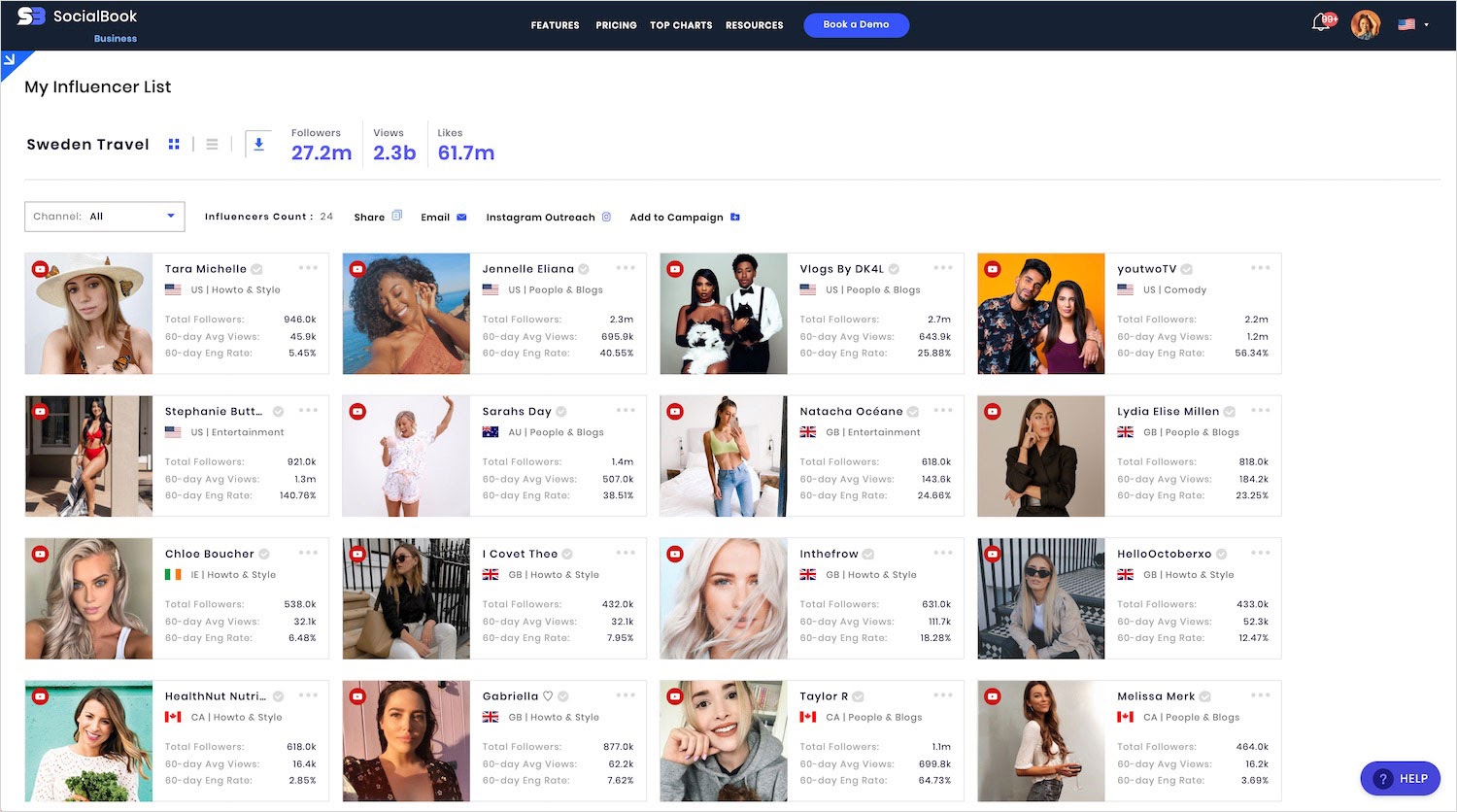 There are many platforms that include YouTubers/ in their database of influencers, but it's generally a hit-or-miss proposition. YouTube doesn't allow for third-party access into its user data at a level that would be considered useful. You'll get basic performance metrics around views and engagement, but that's basically it. To compensate for this, influencer platforms have come at the problem in a few ways:
Enticing influencers to register on their platform so they can grant access to the platform to pull what they need from their accounts

Using AI and predictive analysis to make informed guesses as to what the data might say

Giving you tons of data from the other channels they support and then hoping you don't notice their YouTube analytics are insufficient
There are some drawbacks to all three of these scenarios. In the first, platforms and/or brands have to put in extra work to get influencers to register and grant the access. For the second, it's not an exact science: while AI is still better than human intelligence at making educated guesses, it's still an educated guess. The issues with the third are basically self-evident.
With Socialbook, however, you get a nice hybrid of the first two options. Socialbook is one of a suite of products created by the company Boostinsider, which was founded in 2014 by Heidi Yu and Chen Wang. Neither Yu nor Wang have much background in marketing—she's got her MBA, he an MS in Computer Science—which makes them an unlikely pair to enter into the space. Indeed, when Boostinsider was first founded, it was to be a basic influencer marketplace. But some last minute feedback from a marketer compelled them to ditch the whole idea and rework it as something new.
That was a whole lot of work they scrapped in order to get it right, but the effort has paid off. Socialbook is still maturing—it's not a perfect solution yet—but it does a few things as well or better than many of its competitors. You've probably guessed that one of those things the analytics it provides for users, and there are enough other innovative features to have attracted over $3 million worth of VC funding over two rounds, it also impressed many of their clients, including DoorDash, Match.com, Fiverr, and Popsugar. Read on to see if your brand might be the next happy customer.
---
Summary:
---
Pricing
Socialbook doesn't publish it's pricing, but charges L like any SaaS product: billed monthly or annually at a discount with different levels of service.
Basic (Free) — This doesn't actually get you access to Socialbook proper. Instead, it's a Google Chrome extension that can be used to access basic data on any YouTube channel you might be looking at.
Business — You get the Chrome extension, 1 user login, 800 daily advanced searches for influencers, 500 monthly in-depth influencer profiles, 20 influencer lists (500 influencers per list), export to CSV, 3 compare lists (5 influencers per list), mass emails to 500 influencers per month, mass Instagram DMs to 500 influencers per month, campaign management, 3 social listening queries, dedicated account manager
Enterprise — All of the above, with each limit being customisable according to need. Also includes API access for integrations, and white labeling options
There's also an add-on purchase you can make at any time to buy what they call Boost Coins. It's $1 per coin, and these can be used in ways we'll describe below.
---
The Details
When you log into Socialbook, you're very quickly confronted with the platform's one major flaw: the interface. It's attractive enough, but the usability leaves something to be desired. Case in point: the navigation menu does not include any clearly labelled link to get back to the influencer search screen.
Upon login, you're brought right to the search screen. Add a keyword, select any other filters to search by, and the results load extremely fast. But to do a new search is cumbersome. There's no button to clear all the fields, so you'll be tempted to find the "Search" menu item in the navigation bar—except there isn't one. You can click on the Socialbook logo at the top right to do that, but it's not intuitive. You'll also notice that the navigation bar includes only a few items, and then you can click "More" to access the rest of the functions. There are nine more items in that—again, not very intuitive or well designed.
The search itself functions pretty well, albeit with some limited search criteria (for example, you can select a country to search in, but can't drill down to a specific city). Still, if ysorting your results by Relevance you'll get some good results to go through. Drilling down into profiles, however, and you can start to see where Socialbook really shines.
Accurate Data:
If you've reached your monthly limit on in-depth profiles you can buy Boost Coins to unlock more. The number of boots coins required to do this is determined by the popularity of the influencer. The more followers and engagement they have, the more Boost Coins you'll need to unlock.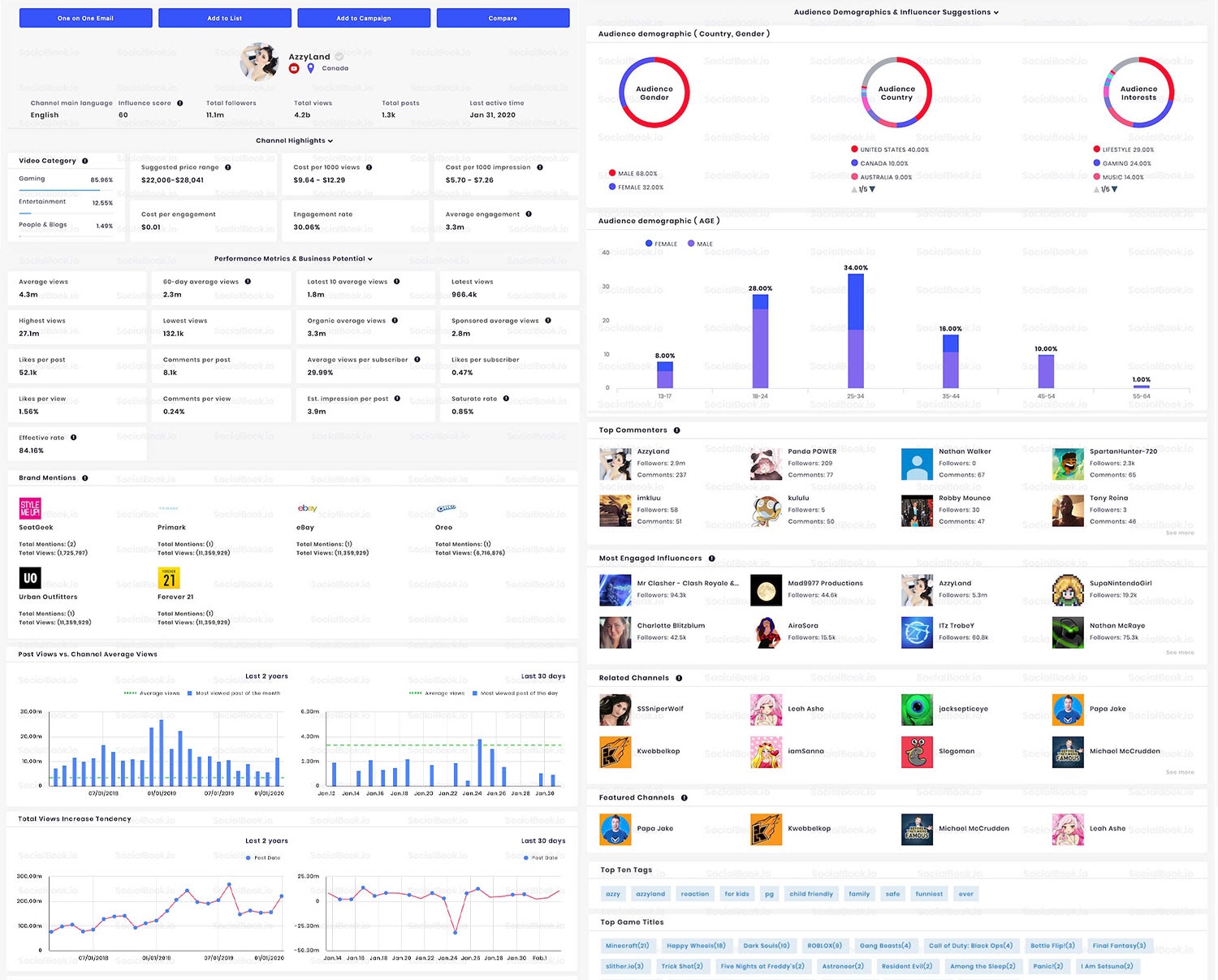 Only work with the right influencers who can deliver results. There's a treasure trove of data in those profiles, both at the account level and on individual posts. This is especially good news with YouTube and Instagram accounts as YouTube doesn't allow for third-party access into its user data at a level that would be considered useful and Instagram is paranoid about exposing almost any data since the acquisition from FaceBook. There are currently more than 3 million accounts indexed in SocialBook's database, and if you're looking for a specific influencer who's not already in there you only need to drop their profile link in the search box and SocialBook will pull all the public data down and start calculating all the analytics at real-time. That could take a while, depending on how much the AI needs to process, but you'll get an email notification when it's ready.
For any of the YouTube accounts that have been ingested through the algorithm, the data you'll see is the result of the AI's predictive analytics. So how accurate are those?
Very accurate, as it turns out. When a YouTuber registers with Socialbook and grants access to their data via the API, the predicted data is replaced by the actual data pulled in. In a post on their blog, Chen Wang shows the comparison between predicted and actual data on accounts that have registered—an analytic before and after comparison. The results are downright impressive.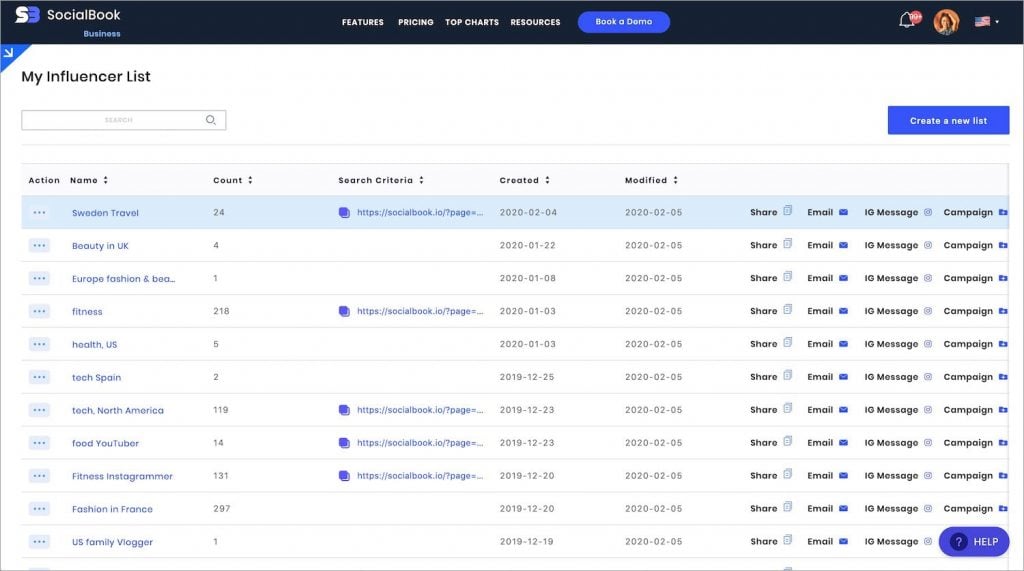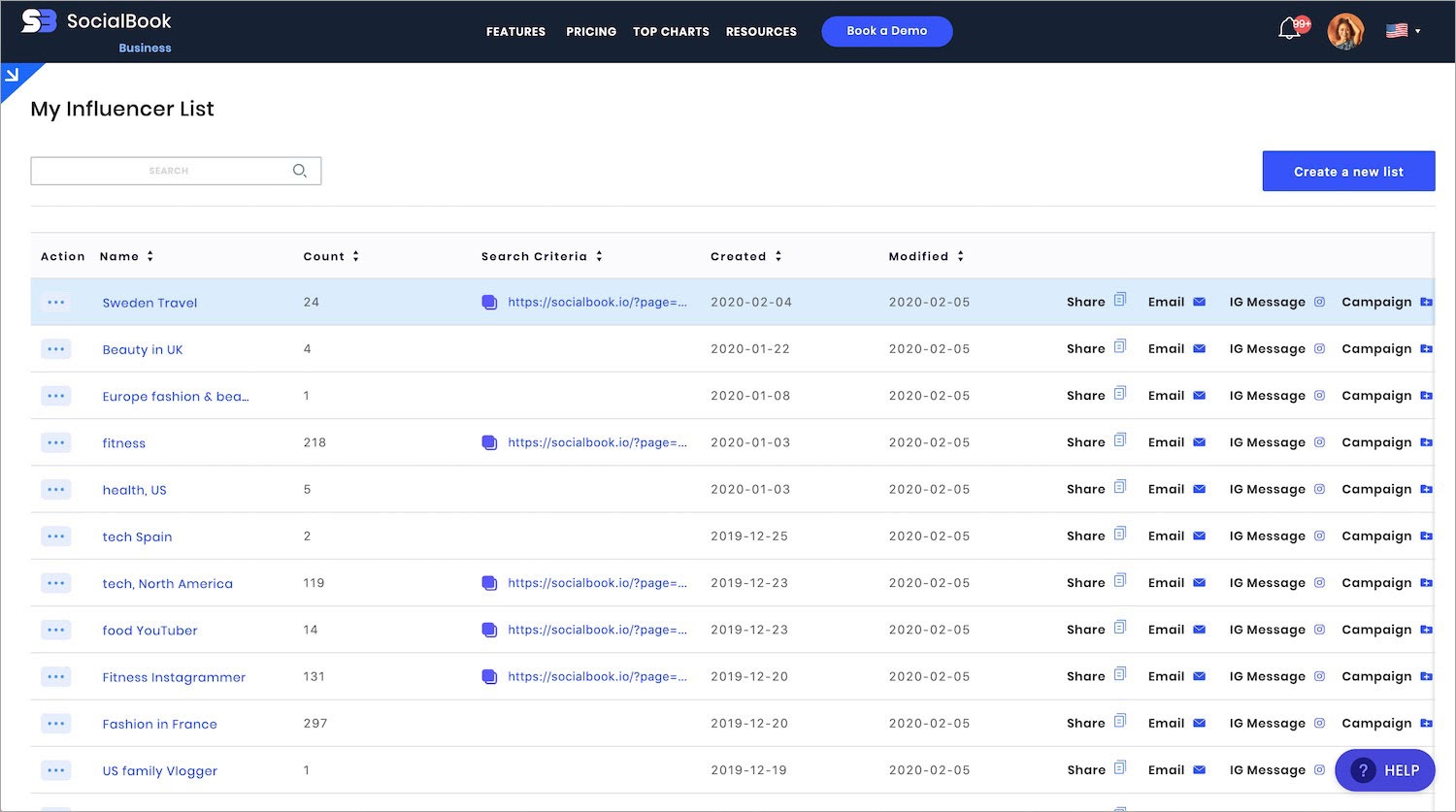 As you're searching through influencers, you can create and organise them into lists, and also create Compare Lists to pit up to five them against one another to see how they stack up. These comparisons show each influencer's audience demographics, their interests, and a sentiment analysis.
Activating these influencers is another key differentiator for Socialbook. The ability to send DMs directly to their Instagram accounts (on a mass scale) is a feature we've not seen on any other platform.For those with email addresses attached to their profile (and you can filter your searches to only look for those that have them), the Email Outreach section provides an excellent tool. Using templates that you create, you can send mass emails out to up to 500 of them at a time. Even better: you can set these up as a drip campaign, so that anyone who doesn't respond to your first invite will receive follow-ups according to a timeline you define. This is automation at its best, saving marketing teams the time and headache of trying to figure out who gets the subsequent emails.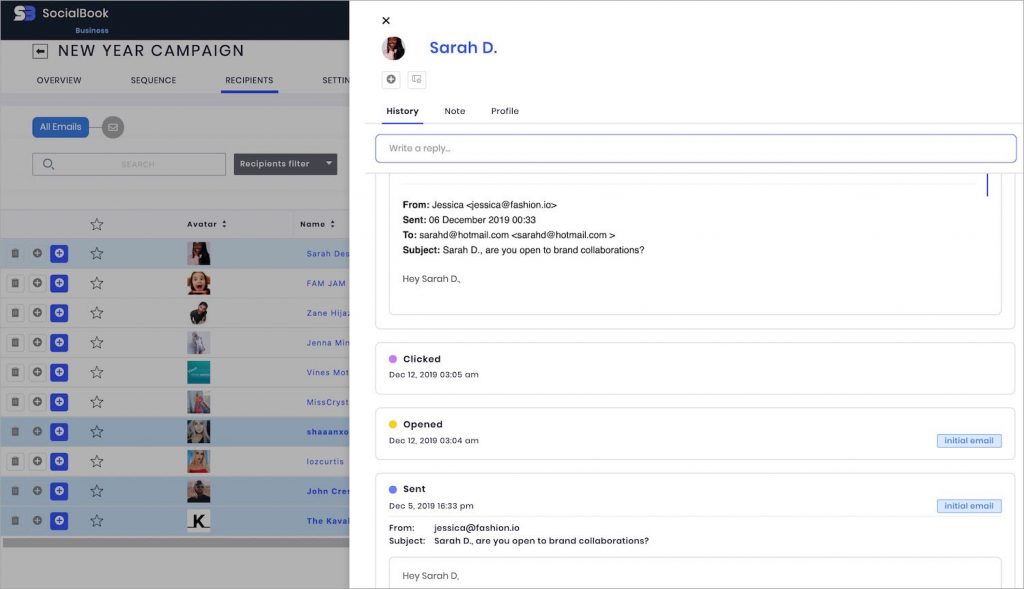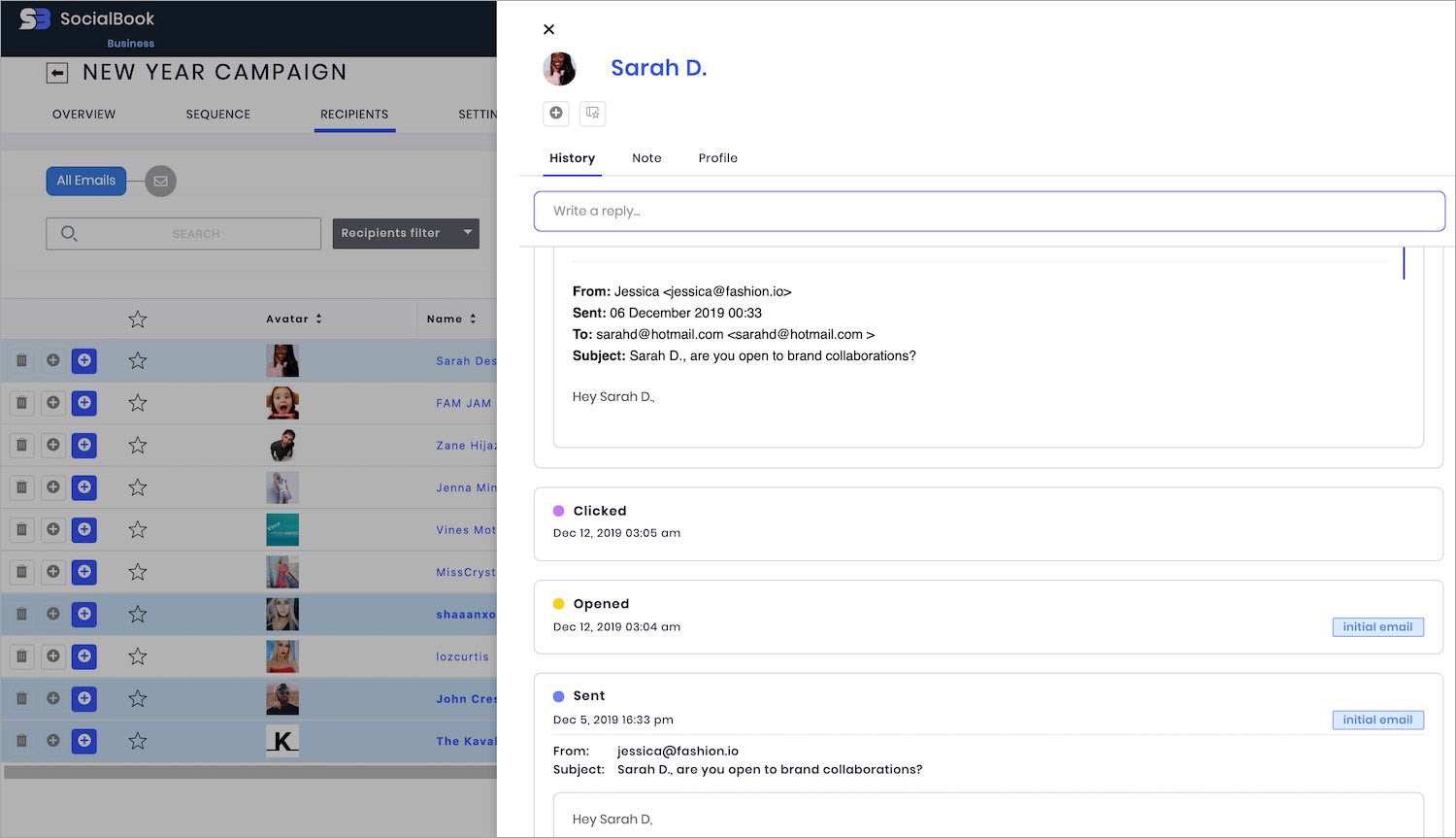 But what happens if an influencer doesn't respond and you really want to work with them? Well, that's the other use for Boost Coins: an incentive to get a response. Every influencer's profile page will have a "Donate" button, where you can throw as much or as few of the coins their way in the hopes of catching their attention. Influencers can cash out of these at the same rate you paid for them: $1 per coin. You can also do this right upfront when you invite them to participate in a campaign.
Once activated, you'll use the campaign management tab to—what else?—manage your campaigns, which can be run using either a flat-fee or cost-per-click model. Again, the deficiencies in the UI start make themselves known here. e a a campaign is live.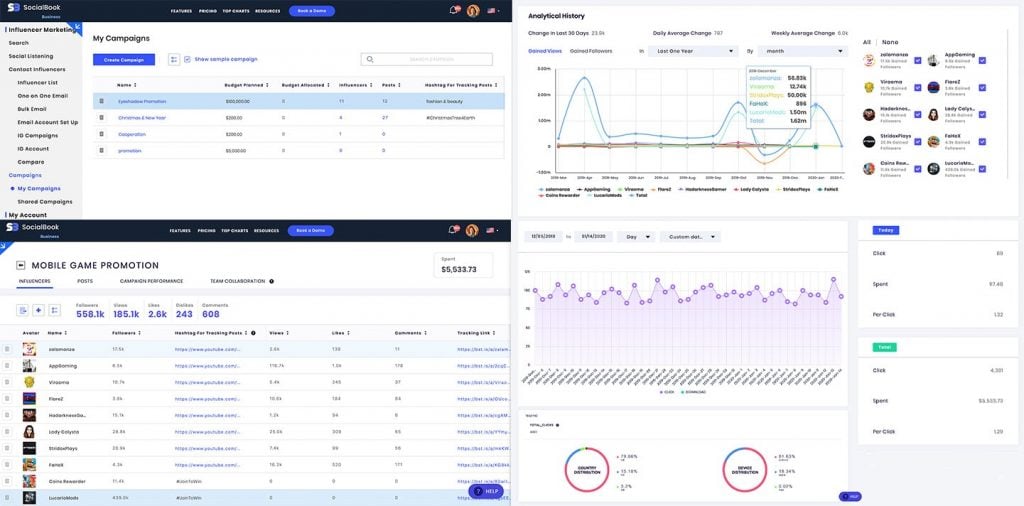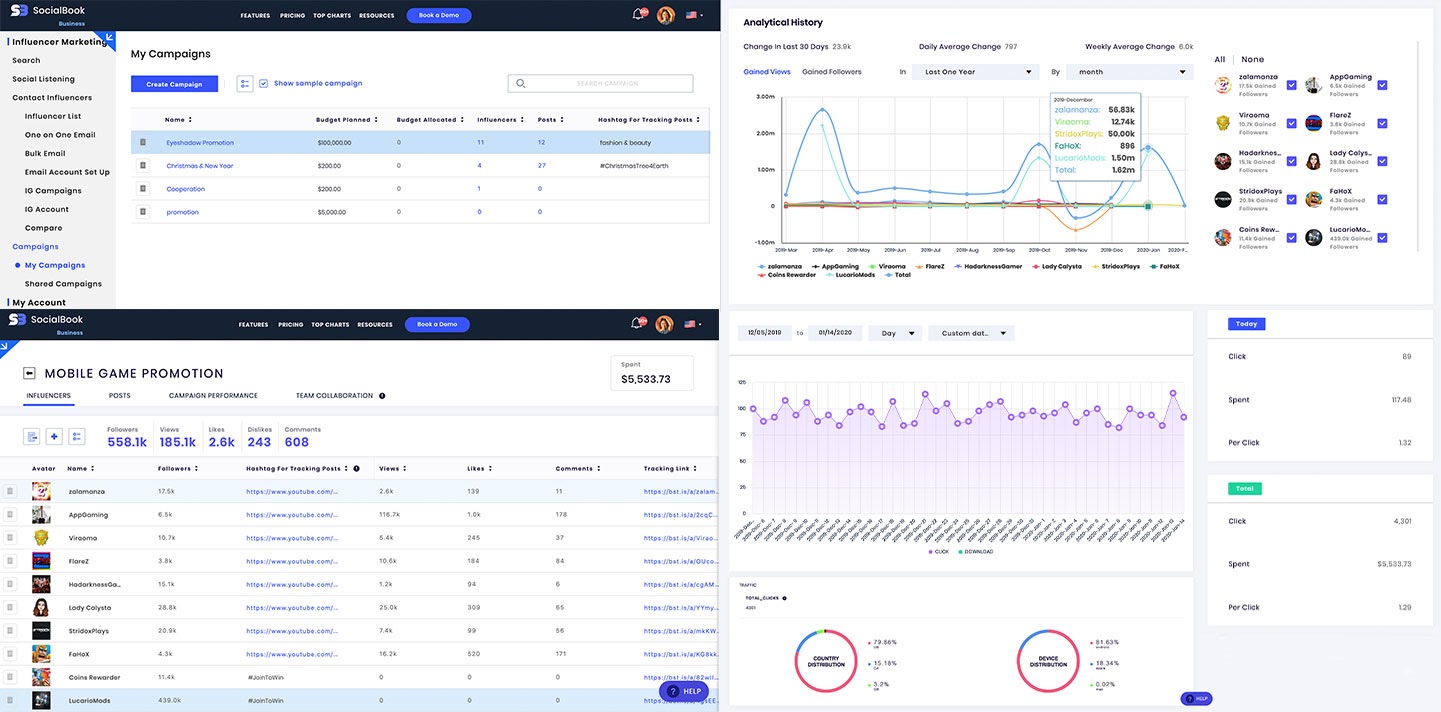 Looking at the breakdown of influencers participating, you'll notice that there are more columns than can fit on the width of your screen. That in itself is not a bad thing, as it means you're getting a lot of good information. The problem is when you scroll to the right to see what's not on the screen, the influencers name scroll right off—making it difficult to keep track of whose results you're looking at.
Finally, with respect to reporting, you'll get detailed information on overall and individual performance. In the reports, close attention is paid to the financials involved along with all the other metrics you'd expect to see as well.
---
Conclusion
Socialbook is still a developing platform. With innovative features like email drip campaigns to potential influencers and the flexibility Boost Coins afford you, the platform is clearly the work of people paying attention to the details. The analytics are solid, giving great insights into the influencers you've chosen to work with, their performance, and a breakdown of the costs. The Instagram analytics are on par with some of the strongest players in the platform landscape, while YouTube and Twitch data exceed expectations.
The issues with the UI end up being minor annoyances when compared to the things they got right—and minor annoyances are an easy fix. Let's hope they read this review and take that criticism to heart. With those issues squared away, Socialbook could develop into a force to be reckoned with.
Socialbook
Features

Ease of Use

Reporting

Best for:
Medium and Large Brands