Sentiment analysis tools use AI and natural language processing to examine data to determine whether it is positive, negative, or neutral. Many brand mention tools incorporate sentiment analysis. These notify firms when somebody refers to a selected brand online and the sentiment behind the mention. They often enable brands to be proactive, reacting to negative comments before snowballing and becoming significant problems. Sentiment analysis is sometimes known as opinion mining, as it "mines" your stakeholders' opinions to determine their real feelings.
Nowadays, people have considerably more opportunities to vent their feelings online. Although negative sentiment handled poorly can severely harm a brand, at least it gives the opportunity to discover how your customers truly feel about your product or service. While you could survey your customers to establish their feelings about your brand, this process can be time-consuming and challenging. Often, only people with extreme views (positive or negative) will make an effort to fill out a survey. Sentiment analysis tools can automatically do much of the work for you. In particular, you can use them to capture the views of those people who might opt out of a more formal customer survey.
If you search, you are likely to find a considerable amount of data online about your business. Your brand name may appear in news stories, social media comments, blog posts, forums, reviews, and other forms of online media. You might also appear in images and even videos. But mentions alone are of little importance. Instead, it is the quality of the mention where you should place your focus. Are your brand mentions positive, negative, or neutral? What do your customers think of you? Can you stop any company crisis before the effects become too widespread?
In this post, we look at some of the best sentiment analysis tools that will help simplify the process of finding and understanding mentions for you.
---
The 25 Best Sentiment Analysis Tools of 2021:
---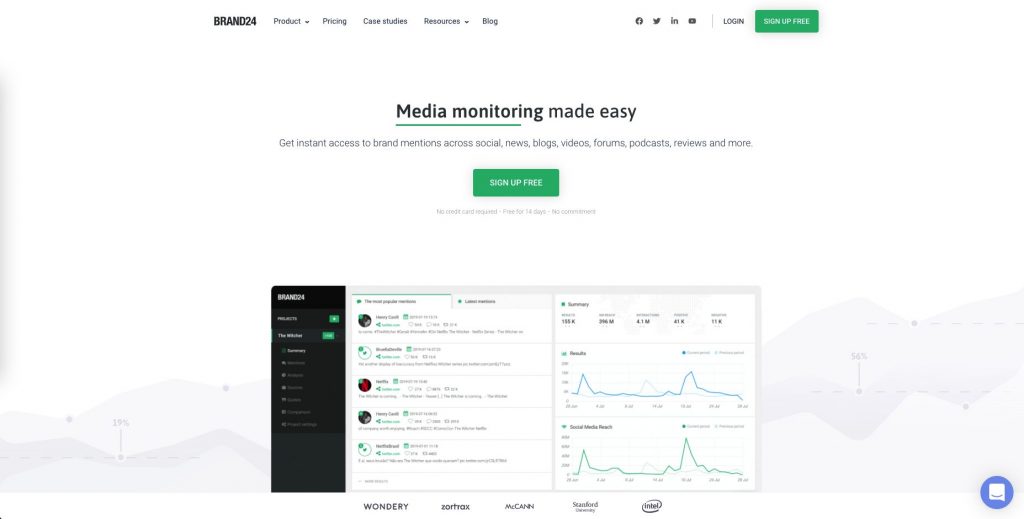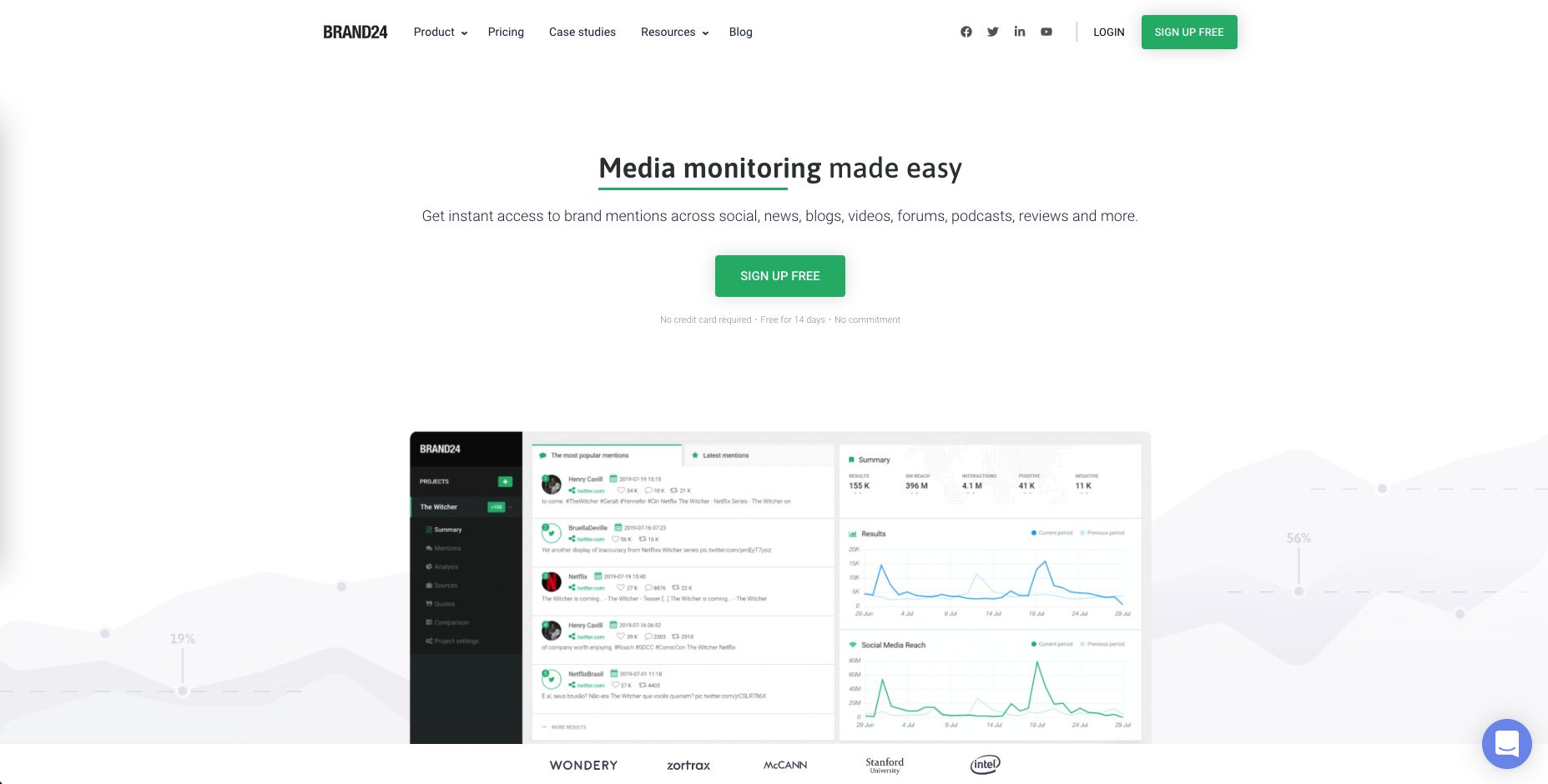 Brand24 has an ever-expanding list of features that make it more than just a simple monitoring tool. It provides you with the kinds of insights to improve your brand image and marketing strategy. The analysis tool doubles as both a powerful media monitoring platform and a powerful social media analytics platform. You can use its AI-driven sentiment analysis to protect your brand reputation, find marketing insights, and improve your customer service.
Brand24 doesn't just pull in mentions from social media. Instead, it crawls through the entire web, looking for every occurrence of your keywords. You can find this data by filtering in many ways, including sentiment.
Brand24 features a comparison tool where you can compare the results of all your projects side by side. This is particularly useful when comparing your brand mentions (and their sentiment) with those of your competitors.
---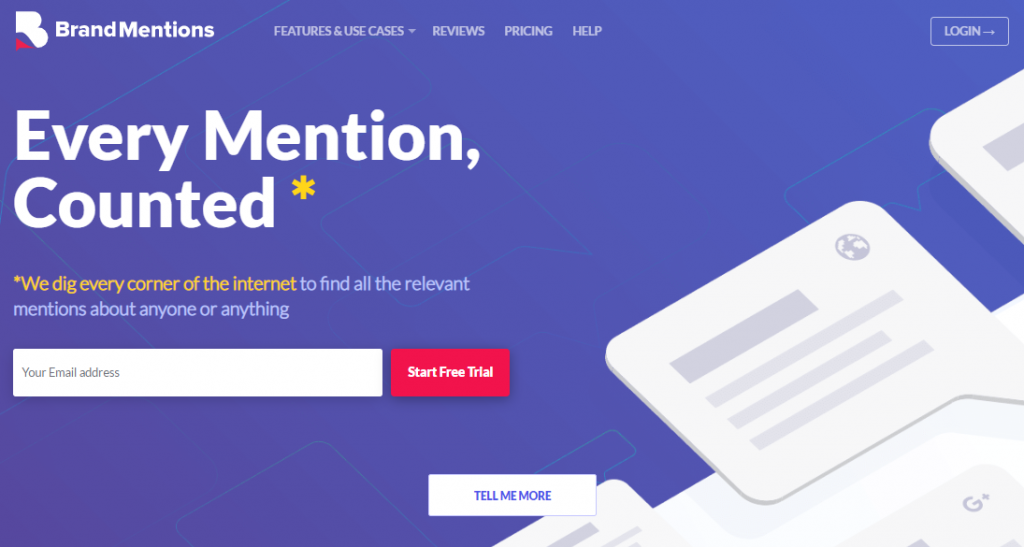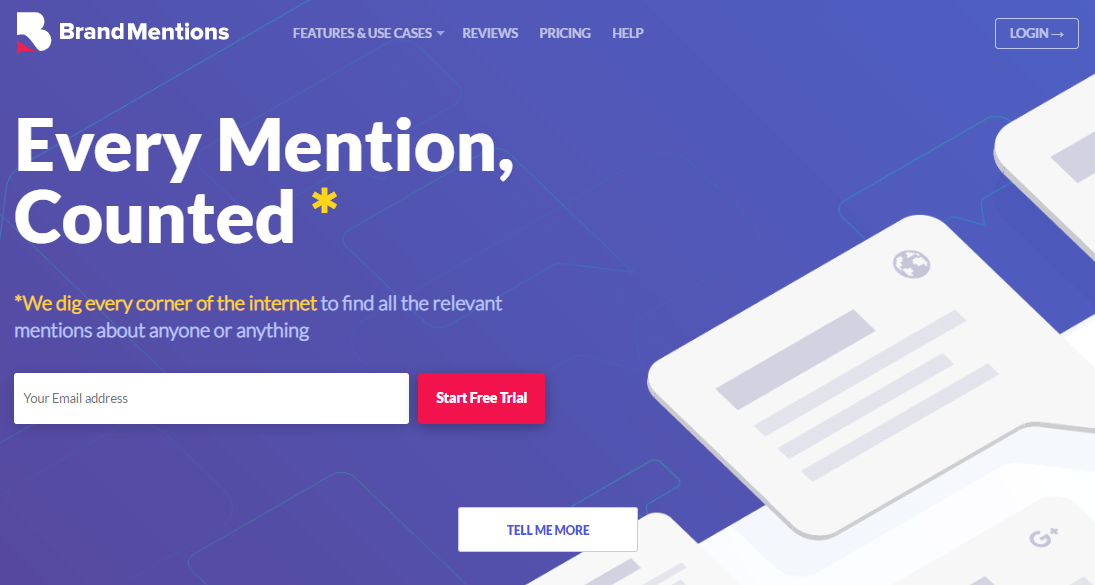 BrandMentions has indexed nearly 10 billion mentions on behalf of its 11,000 clients to date. It monitors every major social media platform and non-social website, including news sites, blogs, review sites, and more. You can save, organize, and report on your mentions, turning them into data points you can use for ongoing analysis and business intelligence.
The platform offers three pricing tiers, and you will find sentiment analysis included in all these plans. They carefully analyze each mention and let you know about their overall tone: positive, negative, or neutral.
---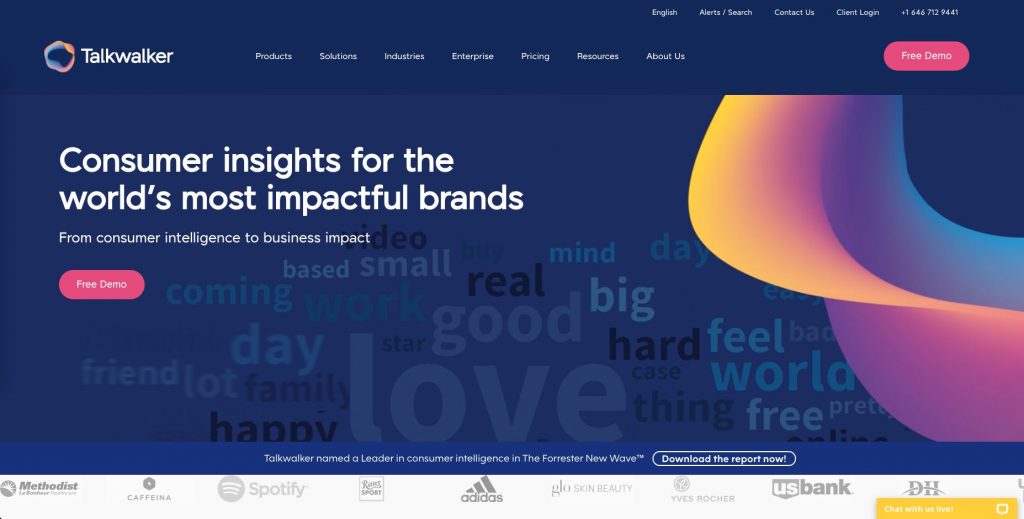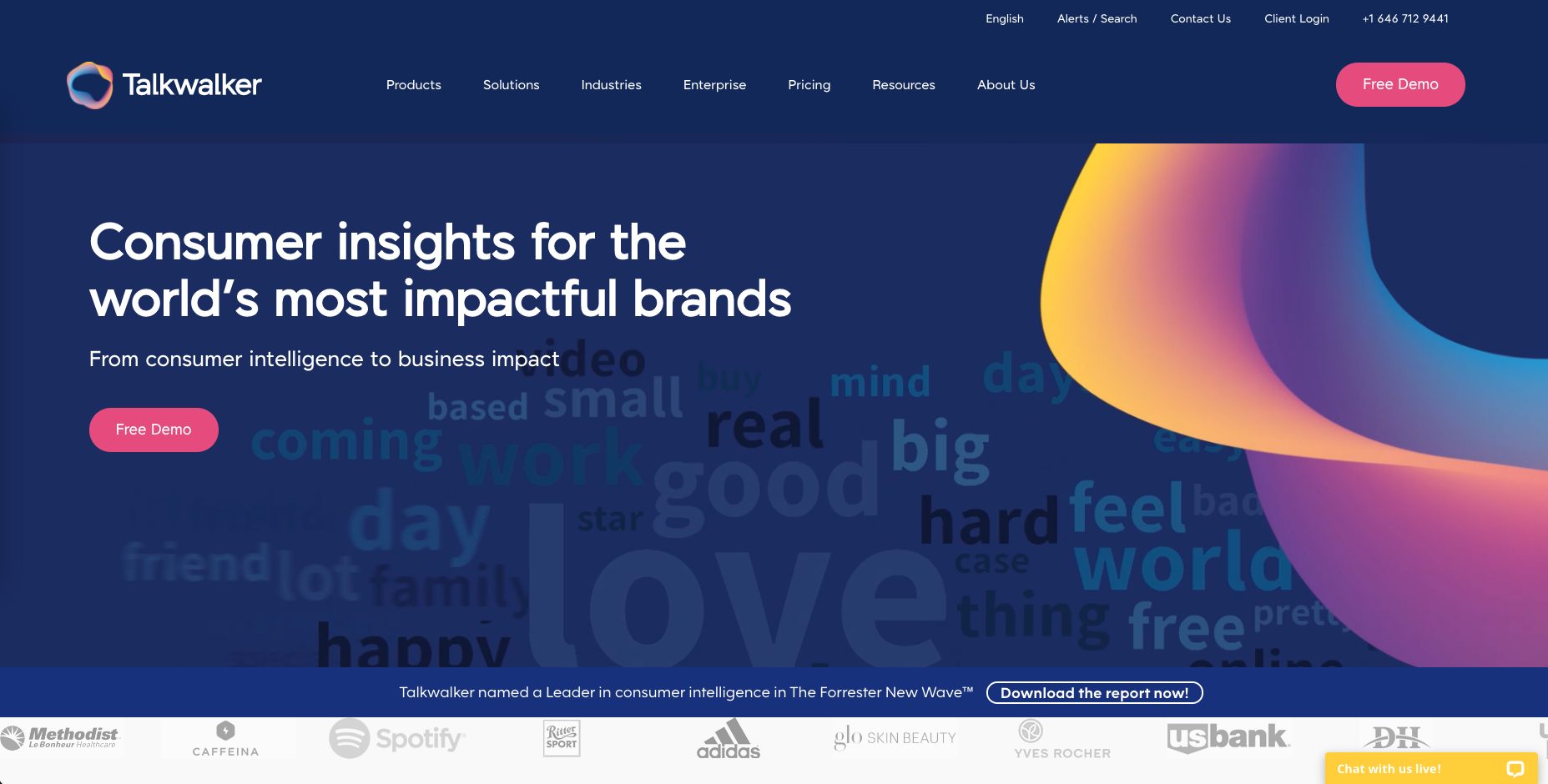 Talkwalker monitors, ingests, and indexes billions of data points daily from all the major social channels and over 150 million websites, forums, and blogs, covering 187 languages. You can track sentiment across 92 languages. They can even "listen" for any appearance of your logo in images and videos. Their ability to parse out visual data from videos is extremely rare. Their video recognition even extends to analyzing TV and radio.
It includes robust brand intelligence tools. You will find a clean breakdown of statistics relating to mentions, engagement, etc., and can drill down into any data point to uncover the content or comments behind that data. It shows a net sentiment score, along with positive versus negative sentiment currently. You can visualize sentiment about your brand over time.
---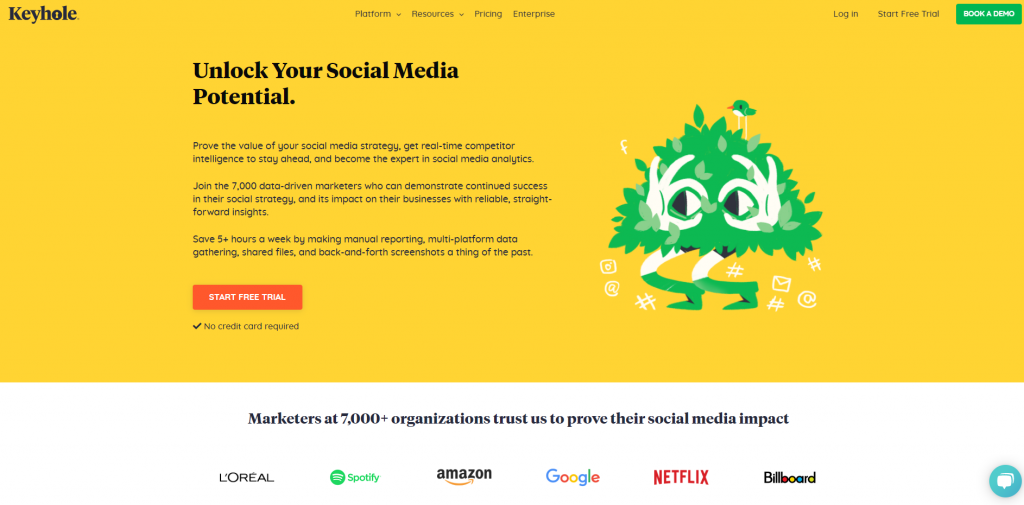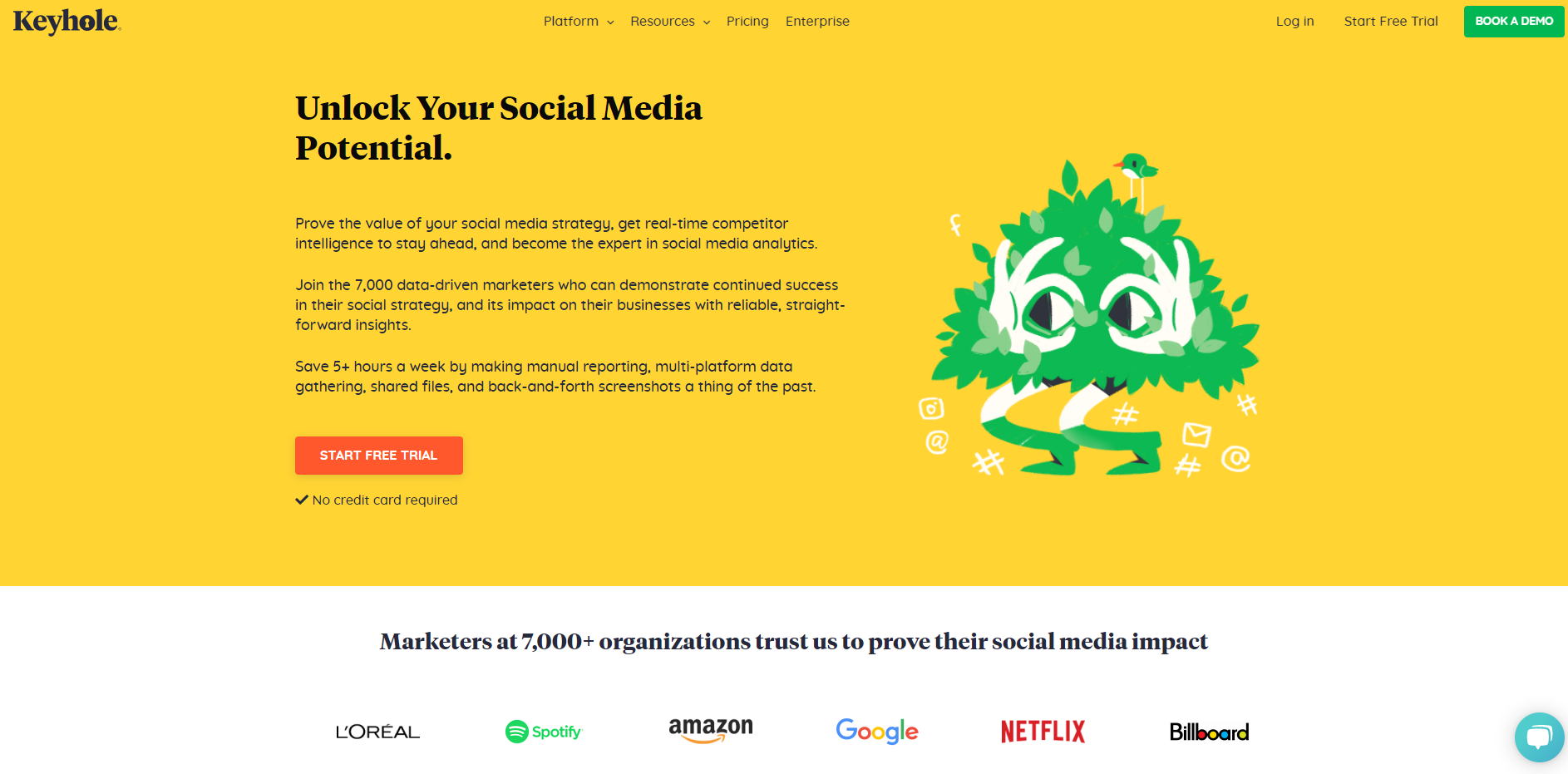 Keyhole is a tool for agencies and enterprises covering campaign monitoring, influencer marketing, brand monitoring, event monitoring, and market research. Part of this wide range of features includes sentiment analysis. It appears on the Dashboard of your Hashtag & Keyword Tracker. It calculates a sentiment score based on positive and negative posts: Sentiment Score = Positive / (Positive + Negative).
You can filter by sentiment (using a five-point scale of emoji) in the Posts tab. You can also edit that level of sentiment if you believe it necessary. For example, Keyhole acknowledges that its Machine Learning algorithm for Sentiment is still learning to detect sarcasm and industry-specific sentiment.
---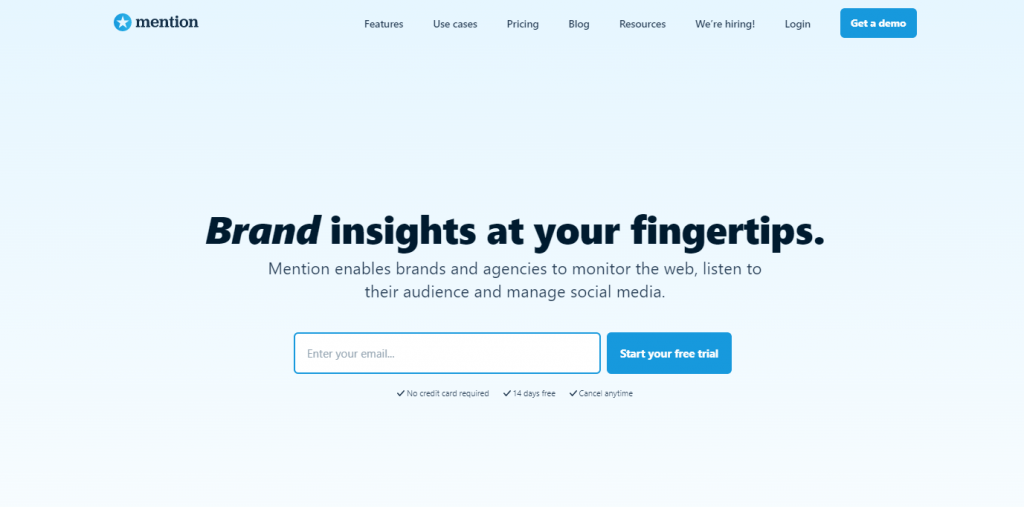 Mention offers real-time monitoring, along with competitive analysis, social media management, custom insights, and automated reports. In addition, it can be helpful for damage control, so you discover simmers of discontent before they become raging fires.
Although sentiment analysis isn't available in the lower-level Free and Solo plans, Mention does include it in the three higher tiers. It identifies positive and negative mentions of your brand and competitors around the web. Sentiment analysis is one of Mention's advanced filters, along with influence, source, and more. You can use sentiment analysis to identify who's talking negatively about you so that you can control the damage. Conversely, you can use social media sentiment analysis to find people saying nice things about you, share their comments, thank them, and spread the good word.
---
6. Social Mention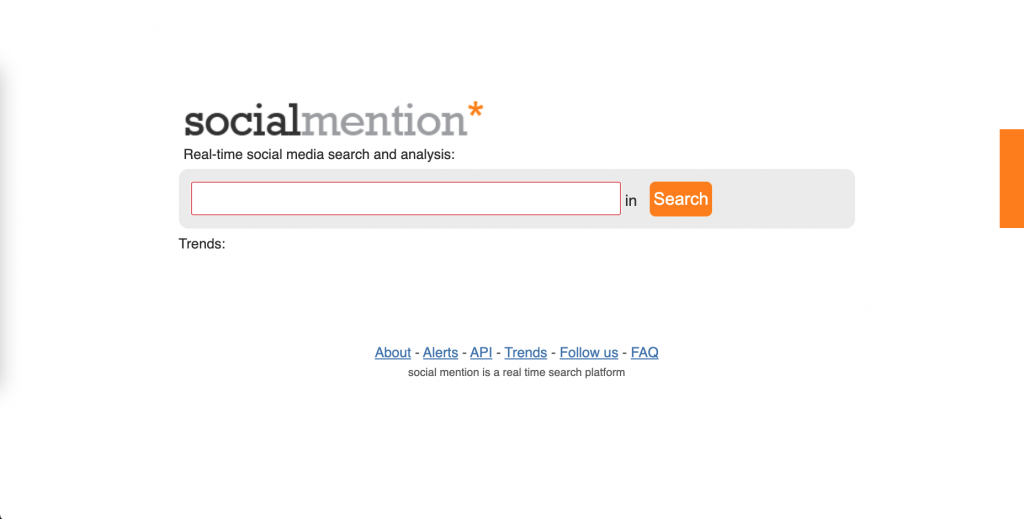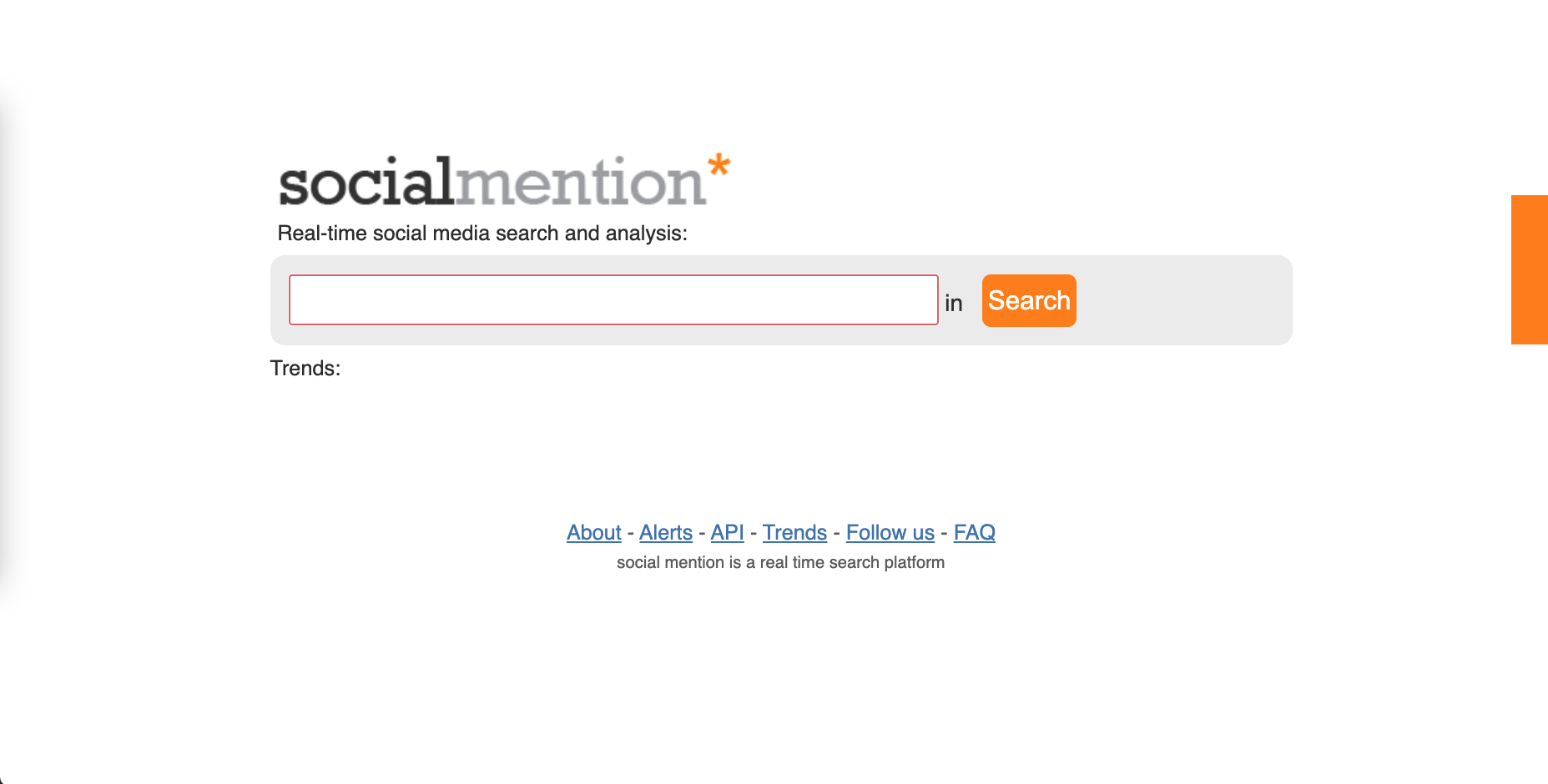 Social Mention is a social media search and analysis platform that aggregates user-generated content into a single stream of information. You can easily track and measure what people say about you, your company, a new product, or any topic across the web's social media landscape in real-time. Social Mention monitors 100+ social media properties directly, including Twitter, Facebook, FriendFeed, YouTube, Digg, and Google.
It focuses on four crucial factors:
Strength - the likelihood that your brand is being discussed on social media

Sentiment - the ratio of mentions that are generally positive to those that are predominantly negative

Passion - a measure of the likelihood that individuals talking about your brand will do so repeatedly

Reach - a measure of the range of influence
---
7. MonkeyLearn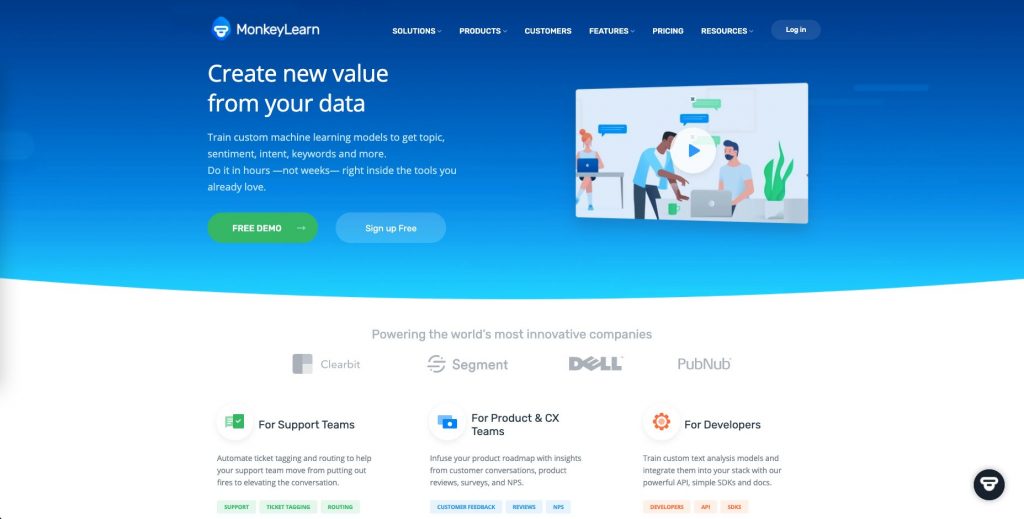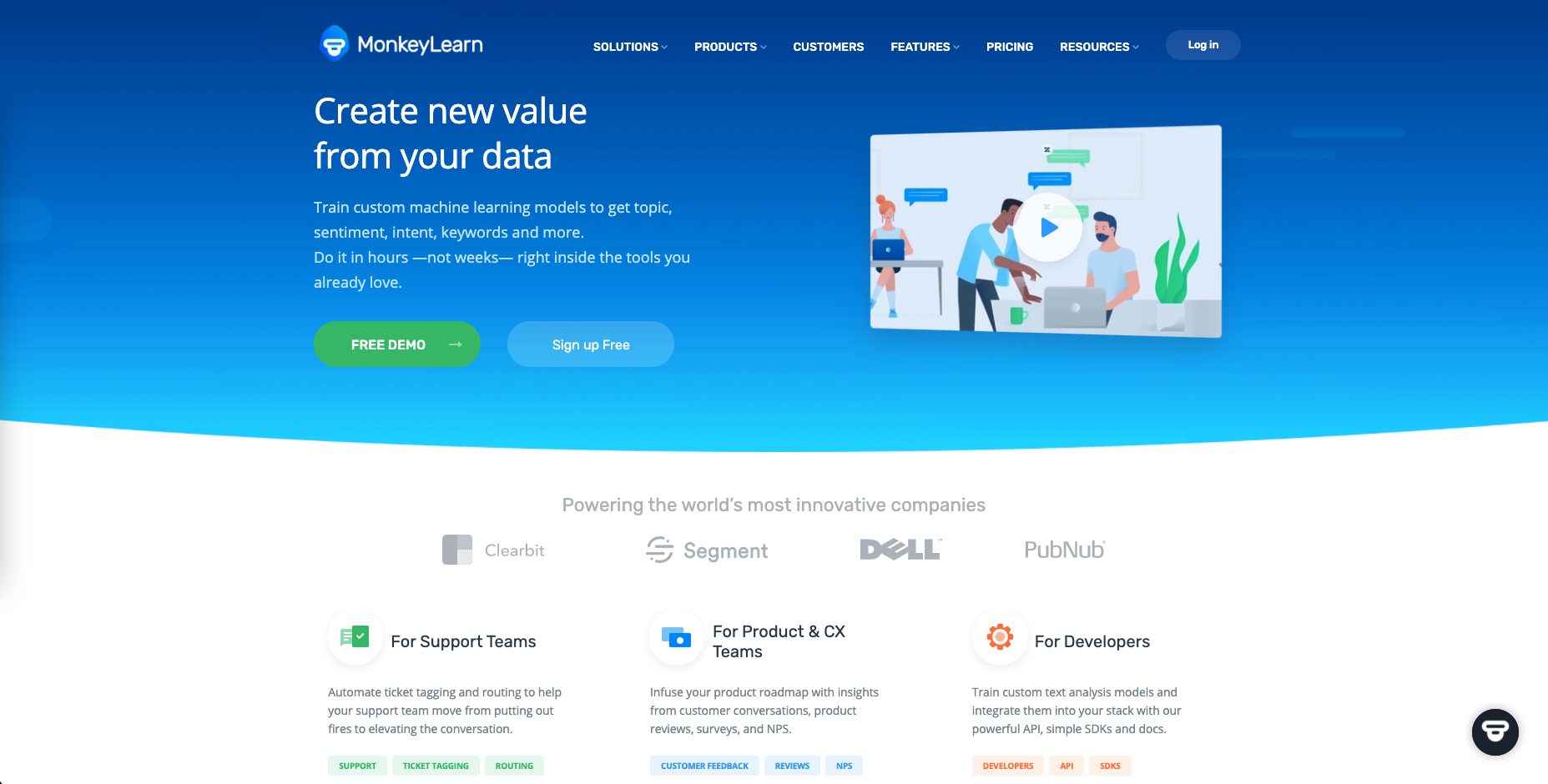 You can use MonkeyLearn to train custom machine learning models to get topic, sentiment, intent, keywords, and more. It has tools that target support teams, product and CX teams, and developers. MonkeyLearn offers models that you can use to analyze your text. Models can be used for categorizing text or extracting pieces of information, and you can combine them for complex processes. Sentiment analysis is one of the models.
There is a general Sentiment Analysis model that classifies texts in English. You can use it for all kinds of text.
MonkeyLearn has created a series of specialist sentiment modules, however. For example, the Tweet Sentiment module classifies tweets in English according to their positive, neutral, or negative sentiment. Similarly, you can use the Product Sentiment module to classify product reviews and opinions in English as positive or negative according to their sentiment. Other specialist sentiment modules include Hotel Sentiment, Restaurant Sentiment, Movies Sentiment, and Airline Sentiment.
---
8. Repustate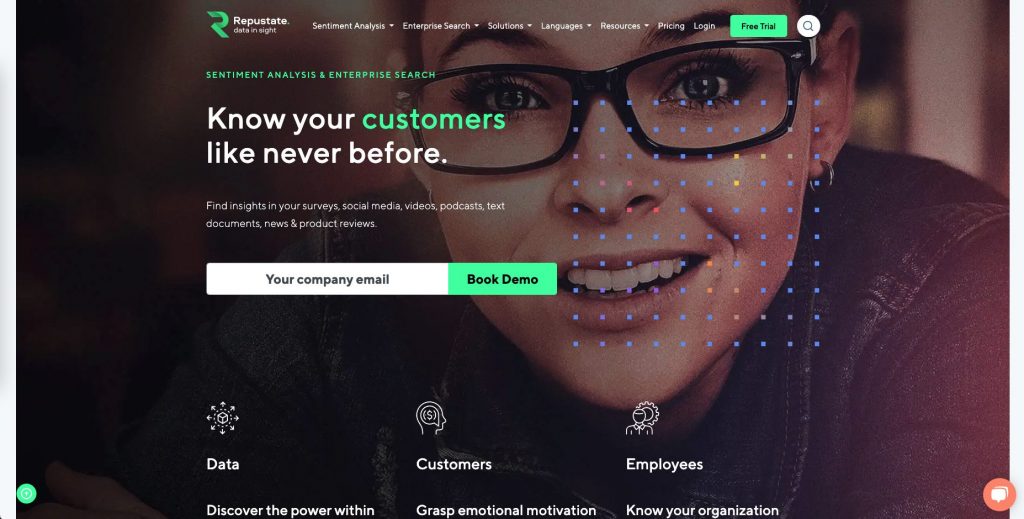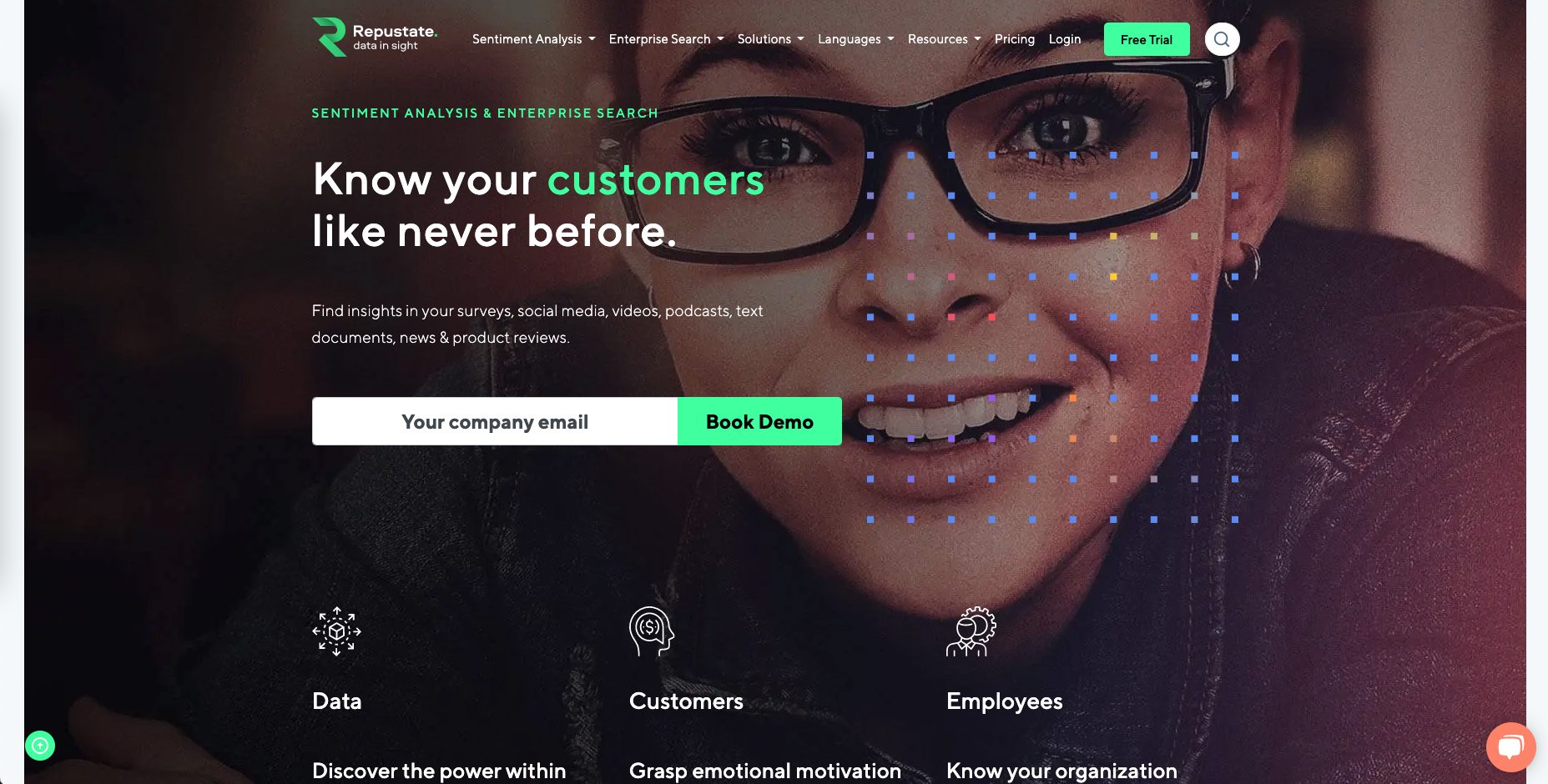 You can use Repustate to find insights in your surveys, social media, videos, podcasts, text documents, news, and product reviews. Their AI-powered API automates the manual task of extracting insights from unstructured data using semantic technology, helping you improve workflow and efficiency. You can use these insights to deeply understand the feelings and motivations of your customers.
You can also use Repustate internally to measure the perception of your organization and employee engagement, using their language analysis technology, and improve top talent retention, acquisition, and overall productivity. Their Sentiment Analysis API highlights emotion and intention hidden in language and data, providing tangible results and actionable insights.
---
9. Social Searcher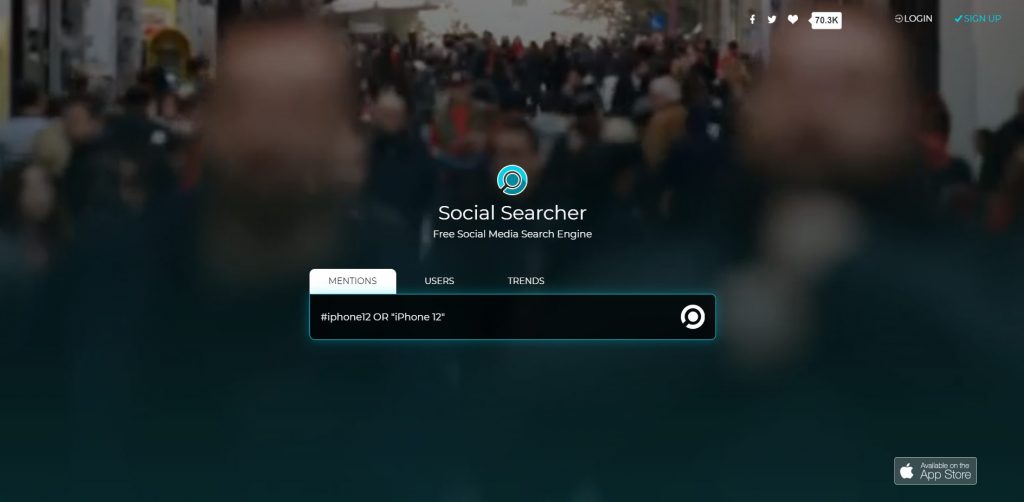 Social Searcher is a free social media search engine where you can input mentions, users, or trends, for a real-time search. The results show you mentions, users, and a sentiment level. In addition, you can look at more detailed sentiment results that indicate the ratio of positive to negative mentions on various social platforms. It also links to a selection of popular positive posts, popular negative posts, and popular neutral posts on your selected search term.
You can upgrade to a paid social monitoring service, where the various pricing tiers give different numbers of real-time searches/day, email alerts, monitorings, and saved posts/month. With these premium plans, you can monitor news, blogs, forums, comments, videos. It includes comprehensive analysis to create an efficient marketing strategy and track your social media progress: posts distribution by weekday and by hour, sentiment, post types, links, users, keywords, and hashtags.
---
10. Critical Mention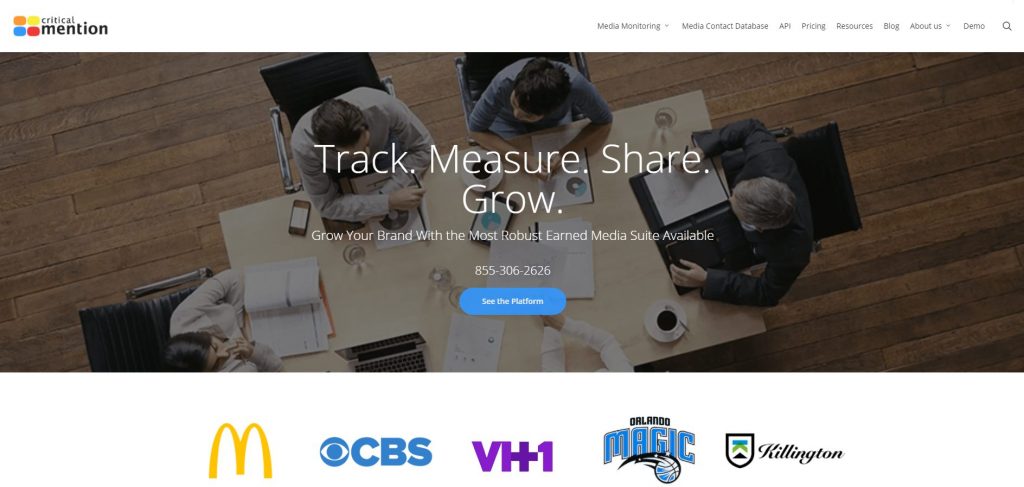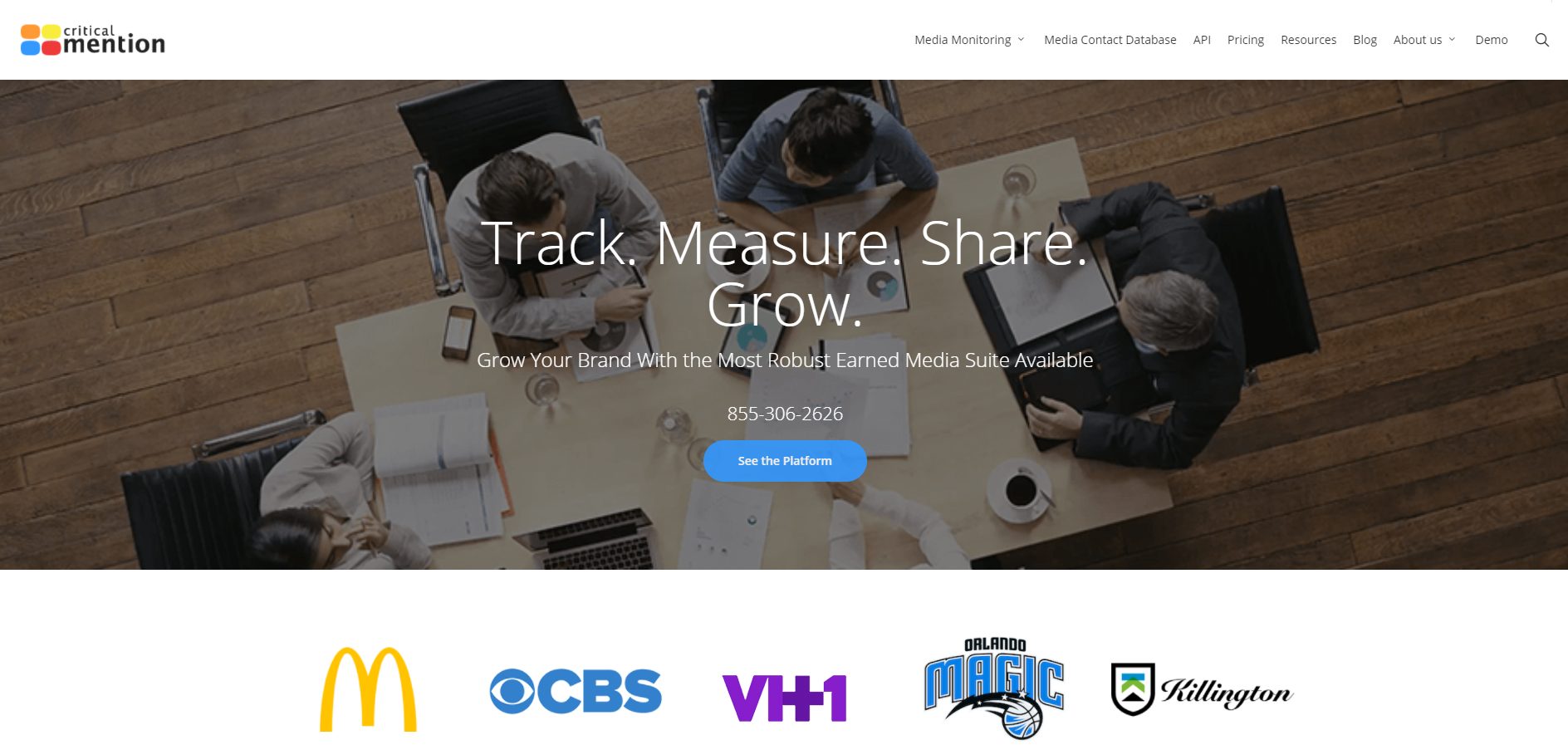 Critical Mention focuses on media monitoring and analysis. You can use it to track, analyze, and share your earned media coverage. It differs from many of these other tools focusing on earned media mentions rather than social media (although it does include some social media analysis). Its primary focus is monitoring TV and radio, online news, podcasts, and licensed content (paywalled and print sources).
Critical Mention helps you understand the context of your earned media coverage with sentiment analysis, indicating whether each mention is negative, neutral, or positive. This analysis applies as much to broadcast content as to print and online material. You can pull metrics like share of voice, sentiment, and publicity value.
---
11. Lexalytics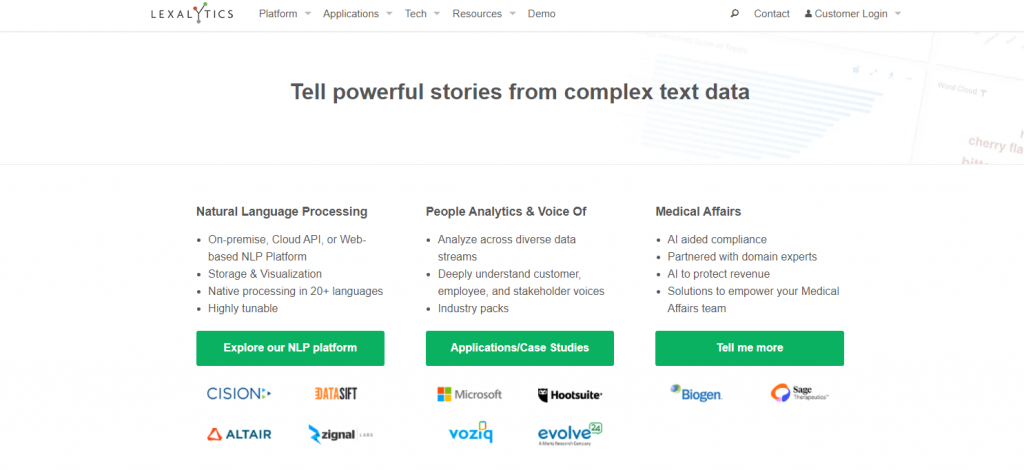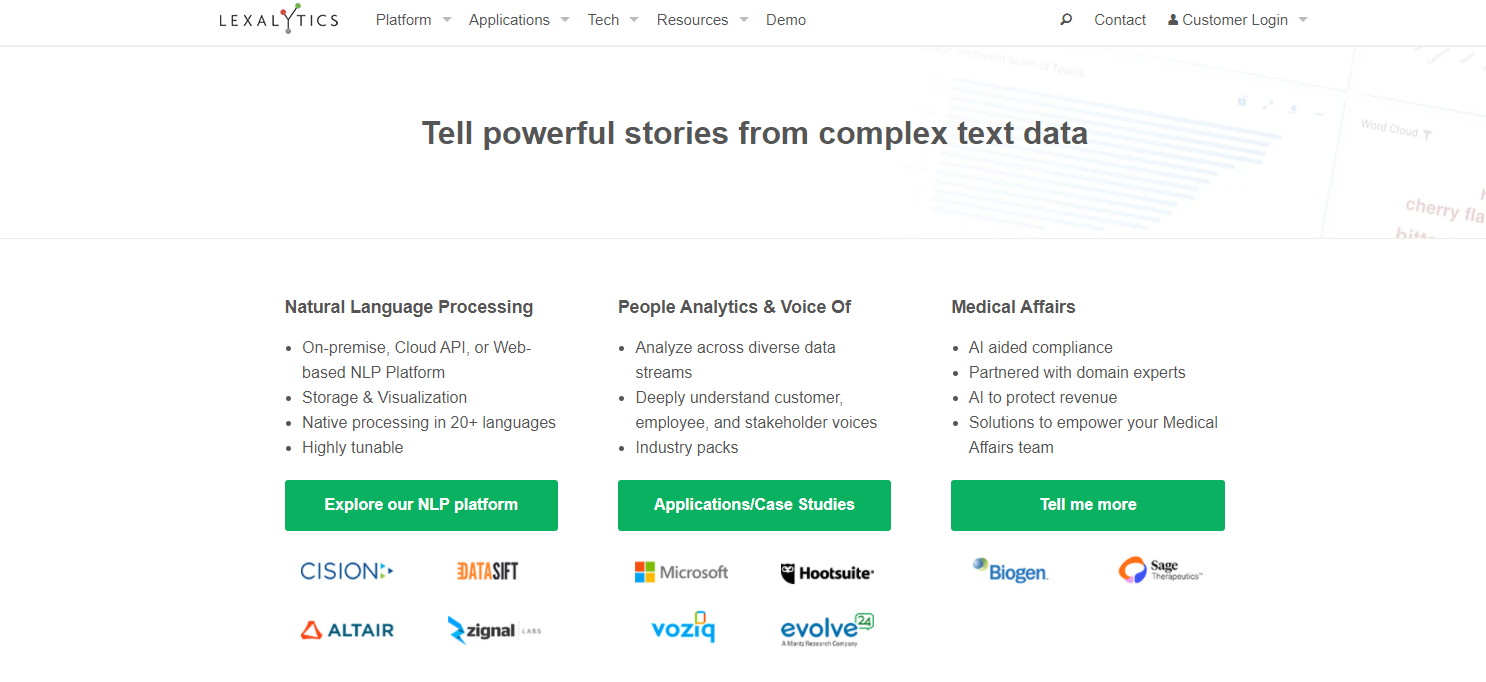 Lexalytics focuses more on sentiment analysis and less on brand mentions than many other tools included here. The Lexalytics Intelligence Platform targets businesses that process high volumes of text data (30,000+ docs/month), need on-premise security; to run the system behind your firewall, or want deep access to tune and configure your text analytics.
It recognizes that sentiment analysis is vital for social media monitoring (SMM). Lexalytics uses natural language processing (NLP) and machine learning to transform mountains of hashtags, slang, and poor grammar into structured data and valuable insights. The platform analyzes social text data to understand the conversations surrounding products, brands, people, and services.
---
12. Sentiment Analyzer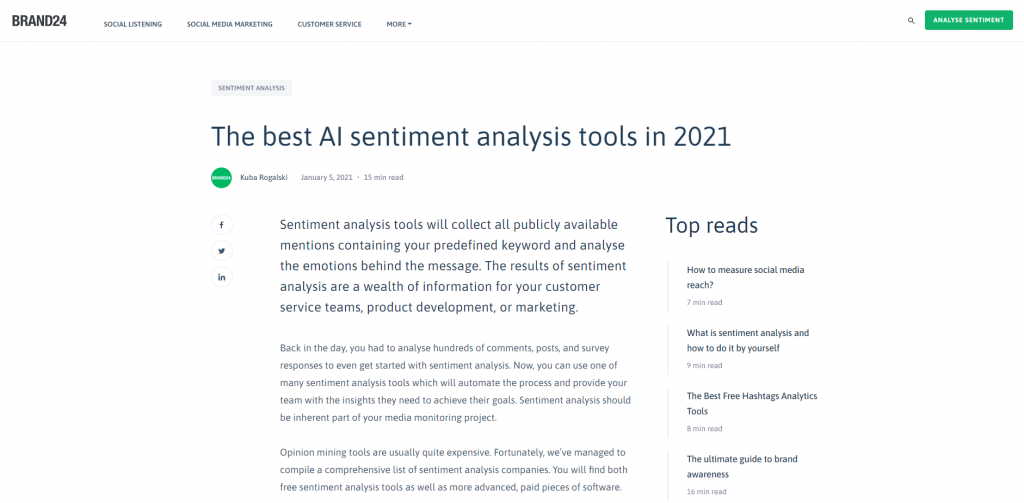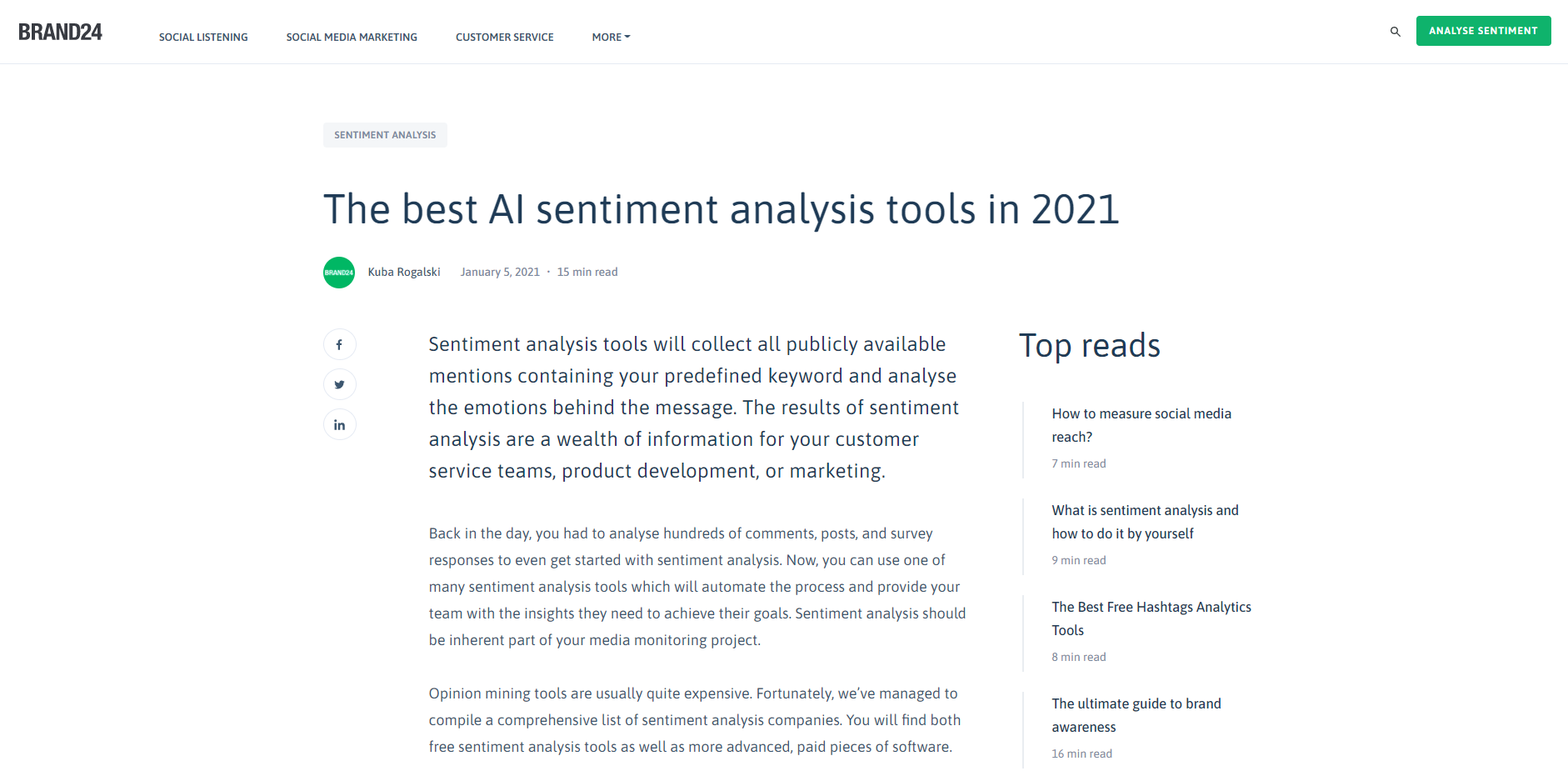 Sentiment Analyzer is a free tool that allows you to conduct sentiment analysis on virtually any text written in English. The system computes a sentiment score that reflects your input text's overall sentiment, tone, or emotional feeling. Sentiment scores range from -100 to +100, where -100 indicates a very negative or serious tone and +100 indicates a very positive or enthusiastic manner.
While this is a much simpler tool than the full brand analysis platforms, it is free and easy to use. You paste your selected text into a box on the page, and the software performs its calculations, then gives an interpretation.
---
13. Brandwatch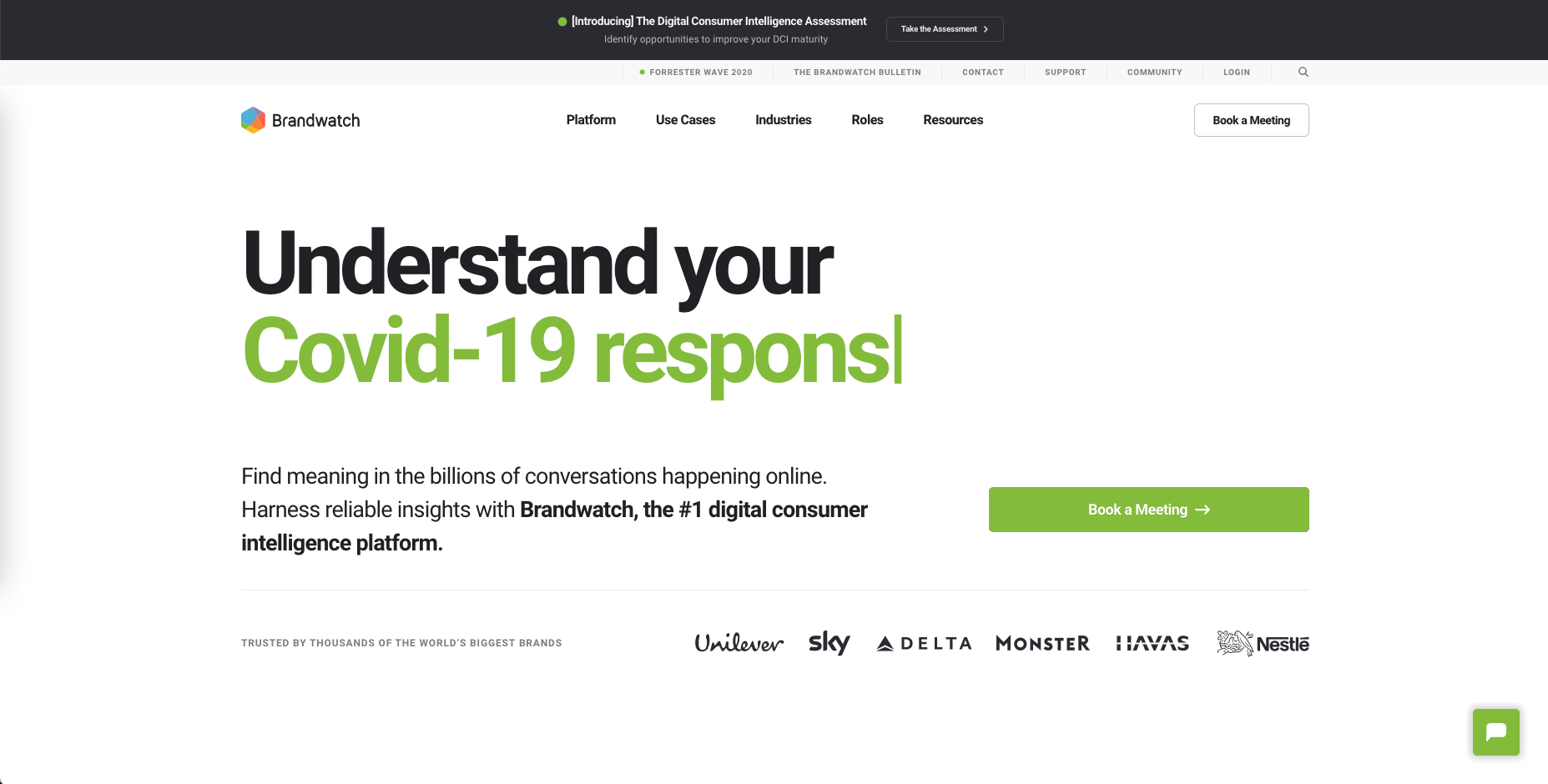 Brandwatch Consumer Research gives access to deep consumer insights from 100 million online sources and over 1.4 trillion posts. This figure increases by 496 million posts every day.
Brandwatch employs a rules-based process to better understand the ways context can affect sentiment. It takes all the words and phrases that imply positive or negative sentiment and applies rules that consider how context might affect the tone of the content. Carefully crafted rules help the software know phrases that are positive versus those that are negative. Users can redefine sentiment if they believe that it has been wrongfully categorized.
---
14. Rosette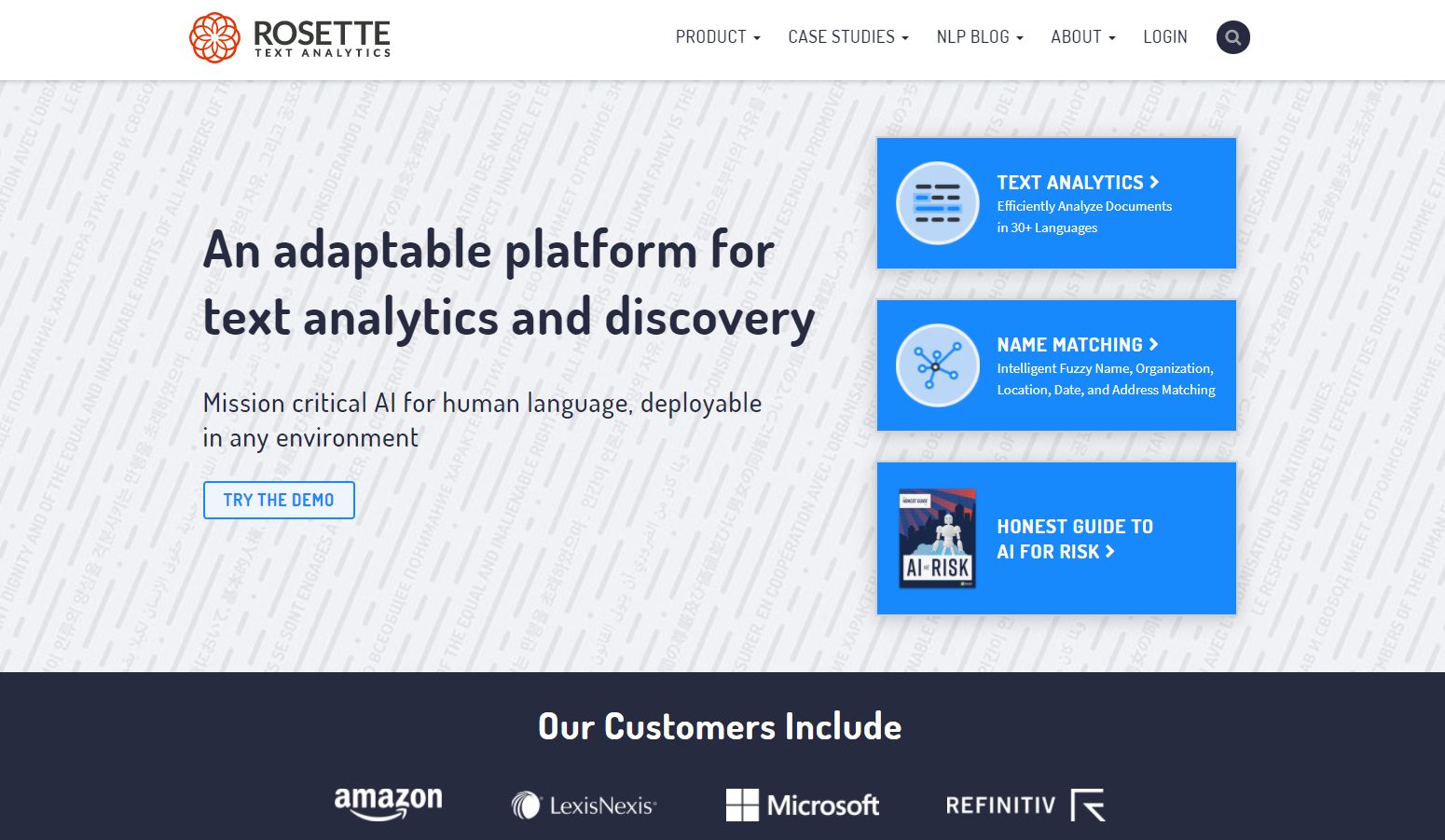 Rosette is an adaptable platform for text analytics and discovery. It has many AI-based linguistic capabilities and can efficiently analyze documents in more than 30 languages.
One of its specialized tools is a sentiment analyzer. You can use it to detect emotional hotspots in text about companies, people, and products. It has trained its machine learning models on tweets and reviews to detect strong positive and negative sentiment in a document overall and toward specific entities. Rosette applies entity extraction to identify products and determines the sentiment for each one by relating the sentiment expressed in a review to each product.
With the Rosette Classification Field Training Kit, which uses a set of hand-picked documents that best represent each sentiment, you can teach Rosette new domains (such as hospitality, beverages, and foods) or languages.
---
15. Meaning Cloud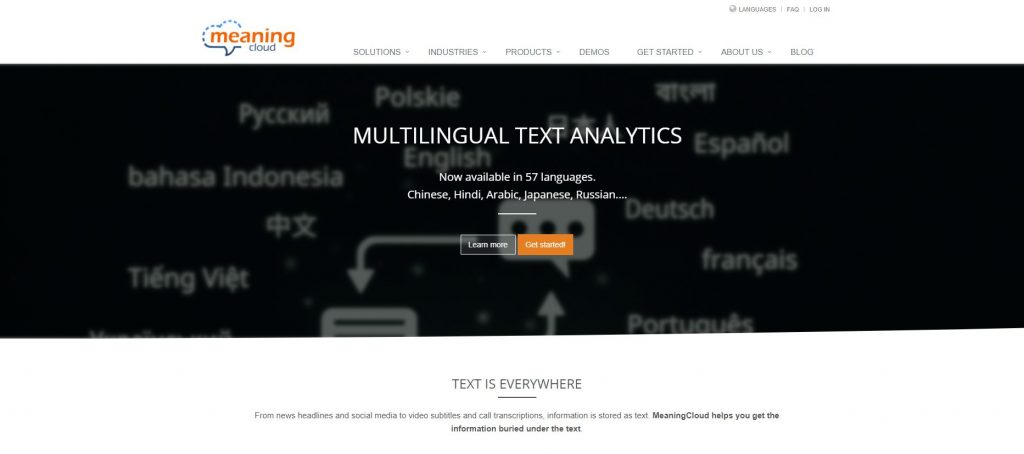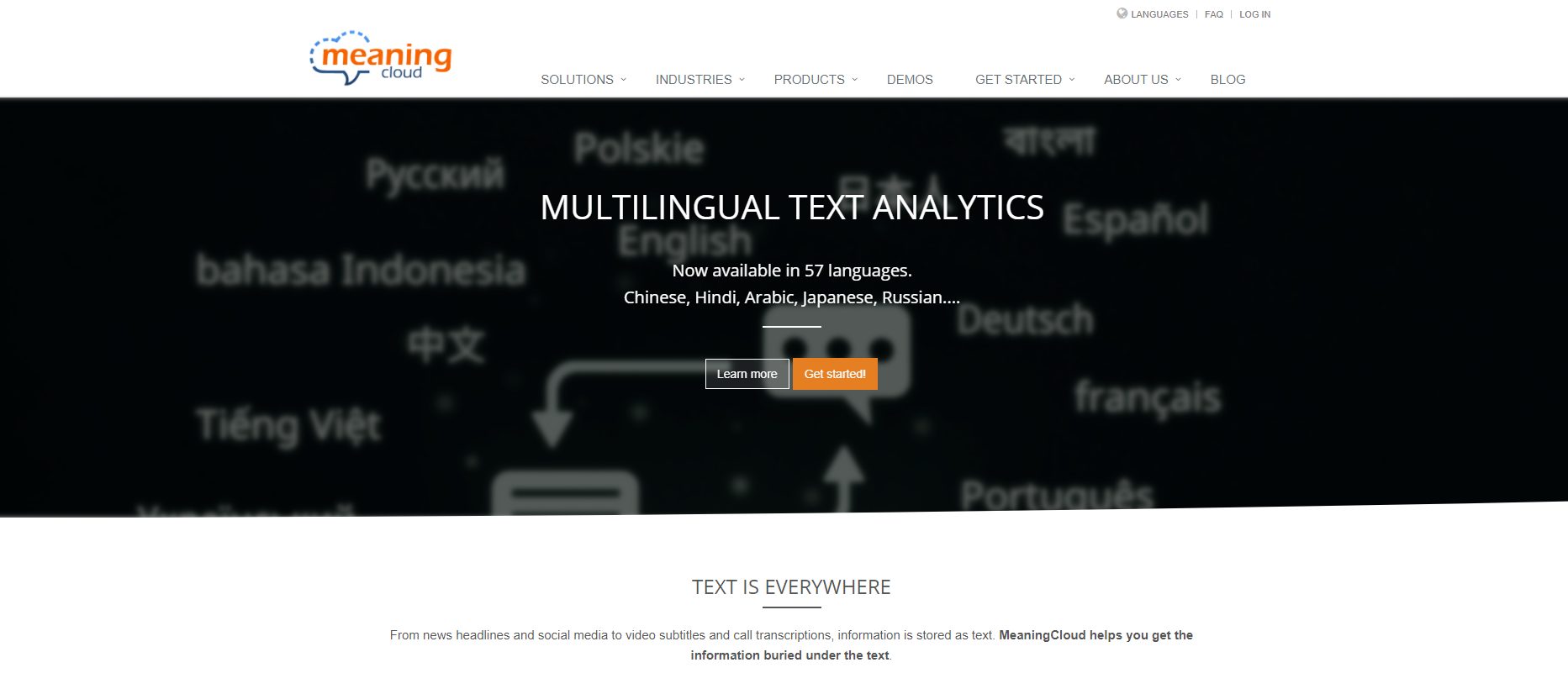 Meaning Cloud offers multilingual text analytics – from news headlines and social media to video subtitles and call transcriptions. One of its tools carries out sentiment analysis. Automatic sentiment analysis allows you to process high volumes of data with minimum delay, high accuracy and consistency, and low cost, which complements human analysis.
Their Sentiment Analysis API performs detailed, multilingual sentiment analysis on information from different sources. It analyzes selected text to determine if it expresses a positive, neutral, or negative sentiment (or if it is impossible to detect). It identifies individual phrases and evaluates the relationship between them. This results in a global polarity value of the text as a whole.
---
16. Clarabridge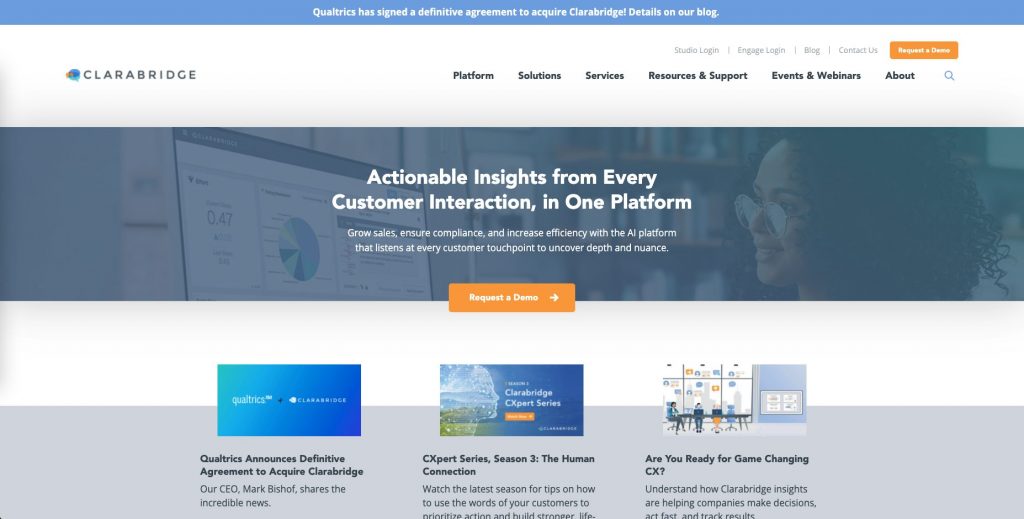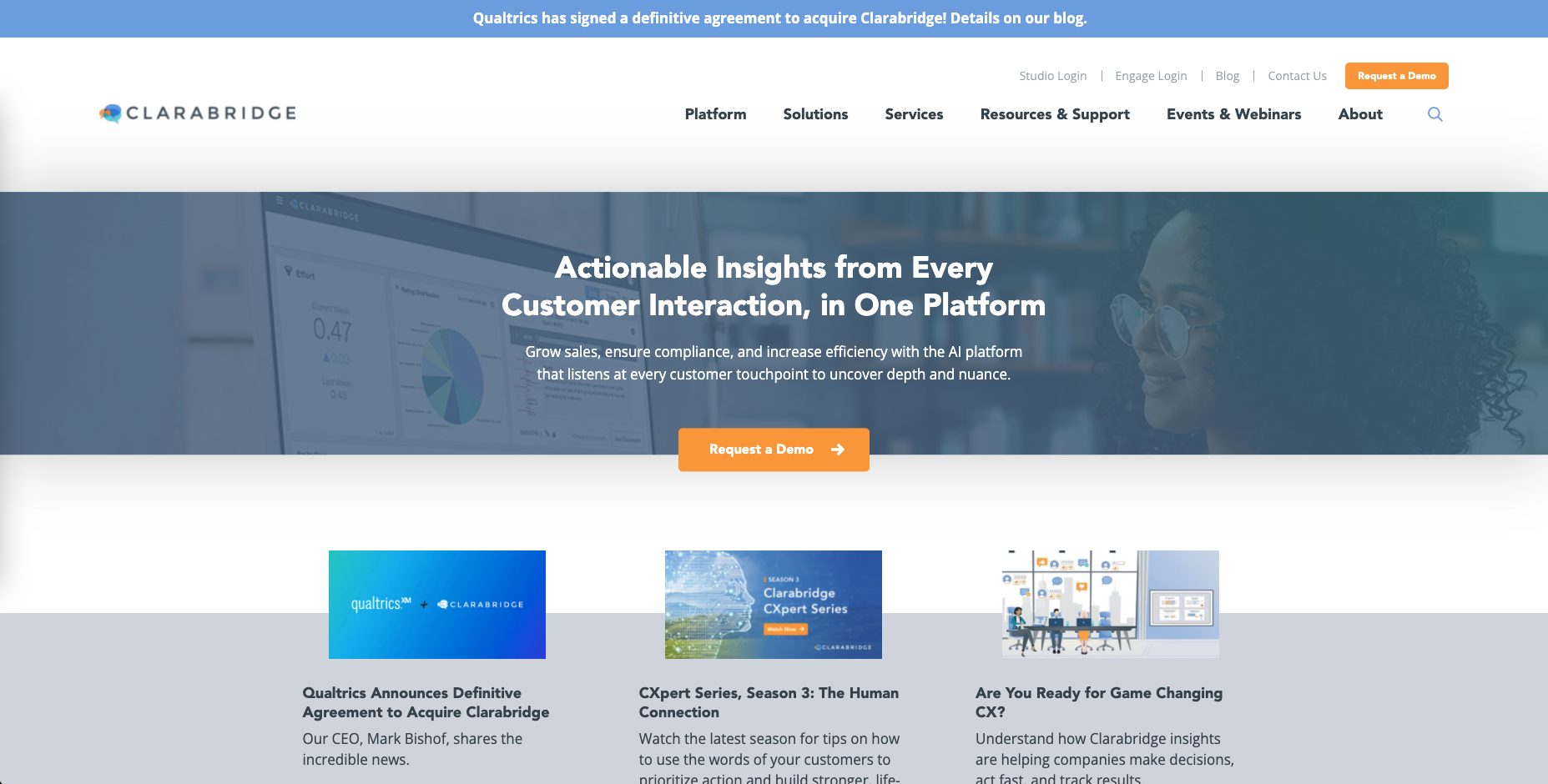 You can use Clarabridge to connect to all digital channels: Facebook, Twitter, Instagram, WhatsApp, SMS, WeChat, email, forums, blogs, and more. It analyzes this content, giving you real-time insights and understanding into customer effort, emotion, cries for help and queries using a best-in-class text analytics engine.
You can use Clarabridge Engage to automatically identify topics of social conversations and route mentions to the right agent at the right time.
Clarabridge uses text analytics to provide a highly effective means of considering what customers are saying, taking you beyond natural language processing to a more complex, contextual understanding of comments. It combines lexical and grammatical approaches to analyze sentiment at the clause level. It features an 11-point sentiment scale to handle the nuance of different contexts.
---
17. Awario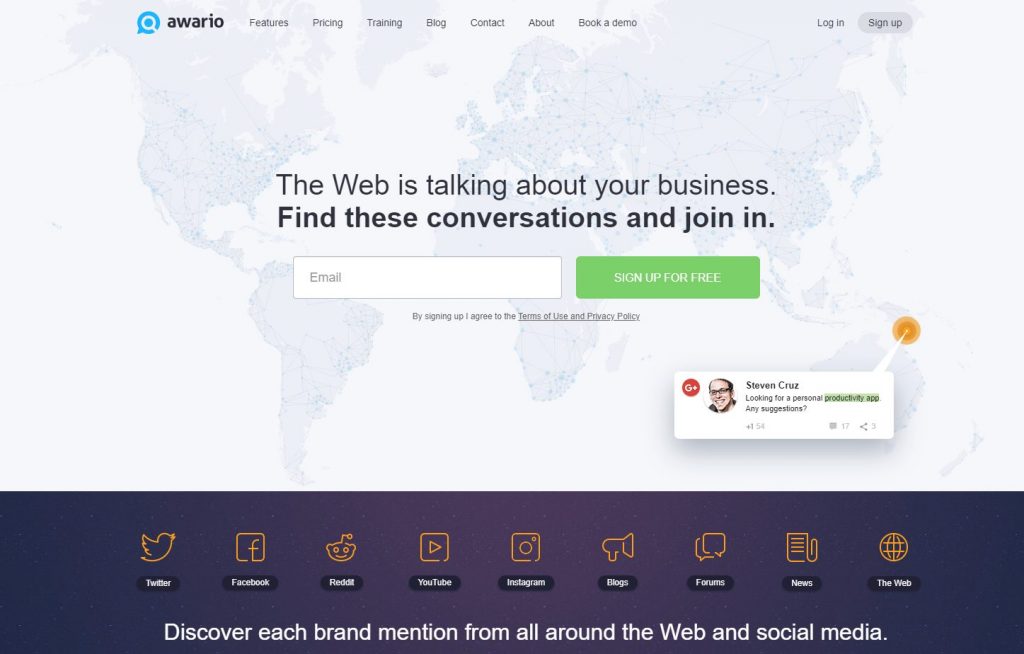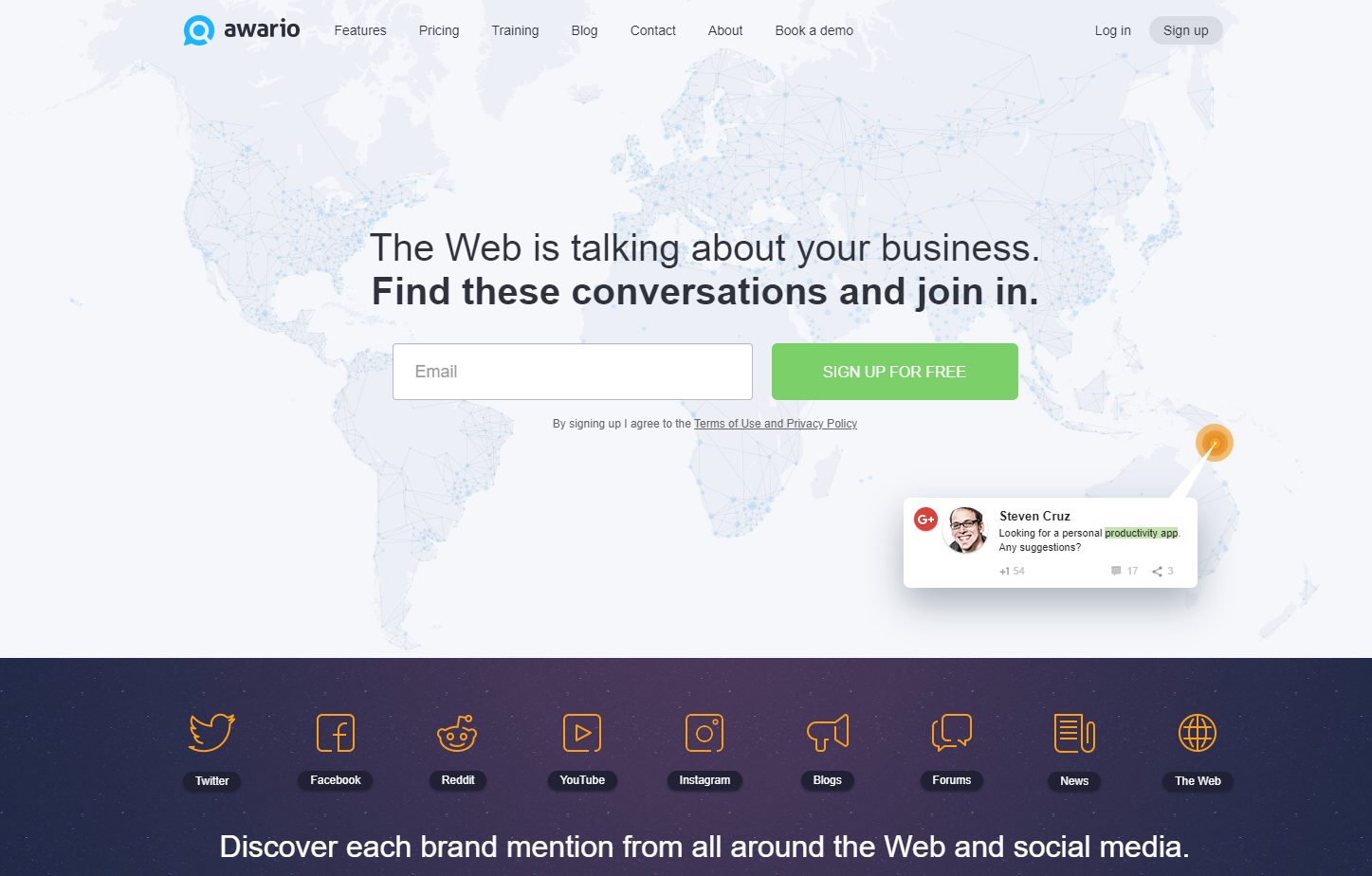 Awario is a brand mentions tool that searches for mentions of your brand across Twitter, Facebook, Reddit, YouTube, Instagram, blogs, forums, news, and the web. Awario crawls over 13 billion web pages daily, in addition to the APIs.
It incorporates sentiment analysis, which you can use to measure the tone of your mentions. Mention Statistics graphs the growth of neutral, positive, and negative sentiment. You can also watch social media sentiment on your Dashboard in real-time. Another practical use case for sentiment analysis on Awario is to create an alert to monitor your competitors' brand sentiment on social media. Then, you can create a sentiment analysis report that compares your brand to your competitors'.
---
18. OpenText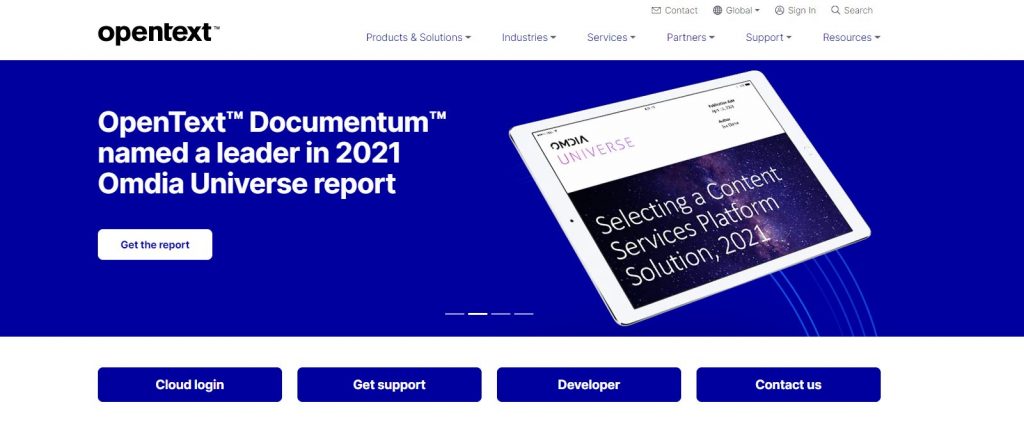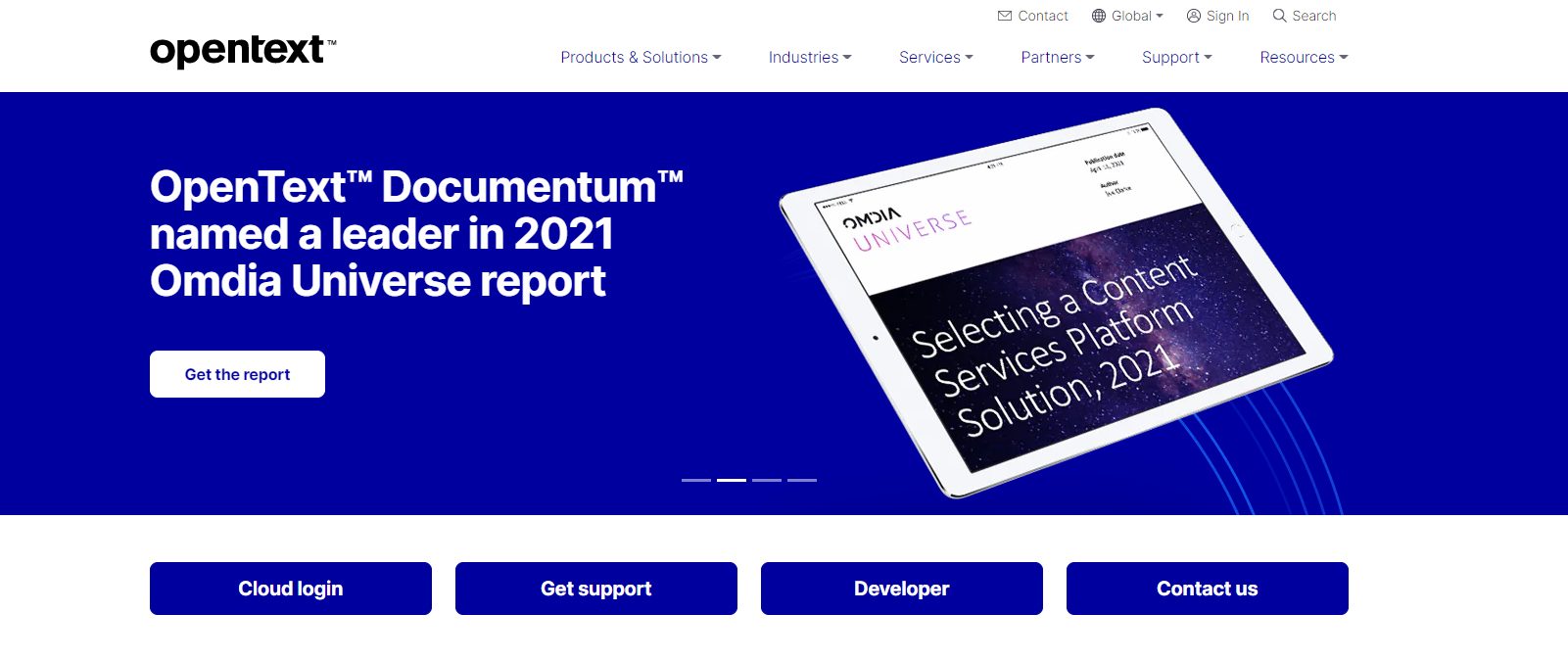 OpenText provides various tools to assist large businesses and enterprises with their information management, product and solutions, cloud management, and more. One of their AI and analytics tools is Magellan Text Mining. This enables you to make sense of text, millions of pages at a time. You can use it to analyze your unstructured text data, billions of pages of textual content and imagery from internal documents, emails, social media, web pages, and more. Its powerful algorithms analyze that content to determine what a given piece of text is about and assess its relevance.
The software detects if documents convey a positive, negative or neutral tone, are objective or opinion-based, the extent to which they express anger, anticipation, disgust, fear, joy, sadness, surprise, and trust, and the causal or business intent behind the message.
---
19. ParallelDots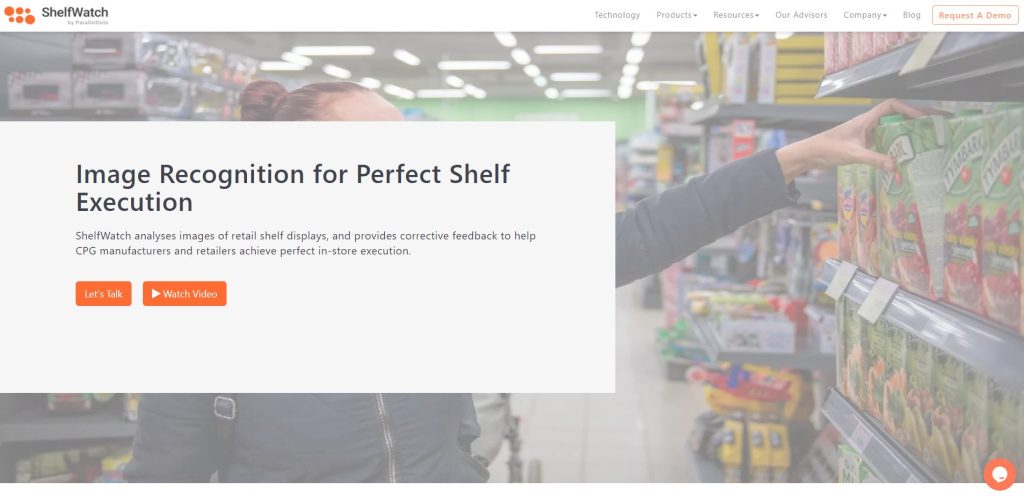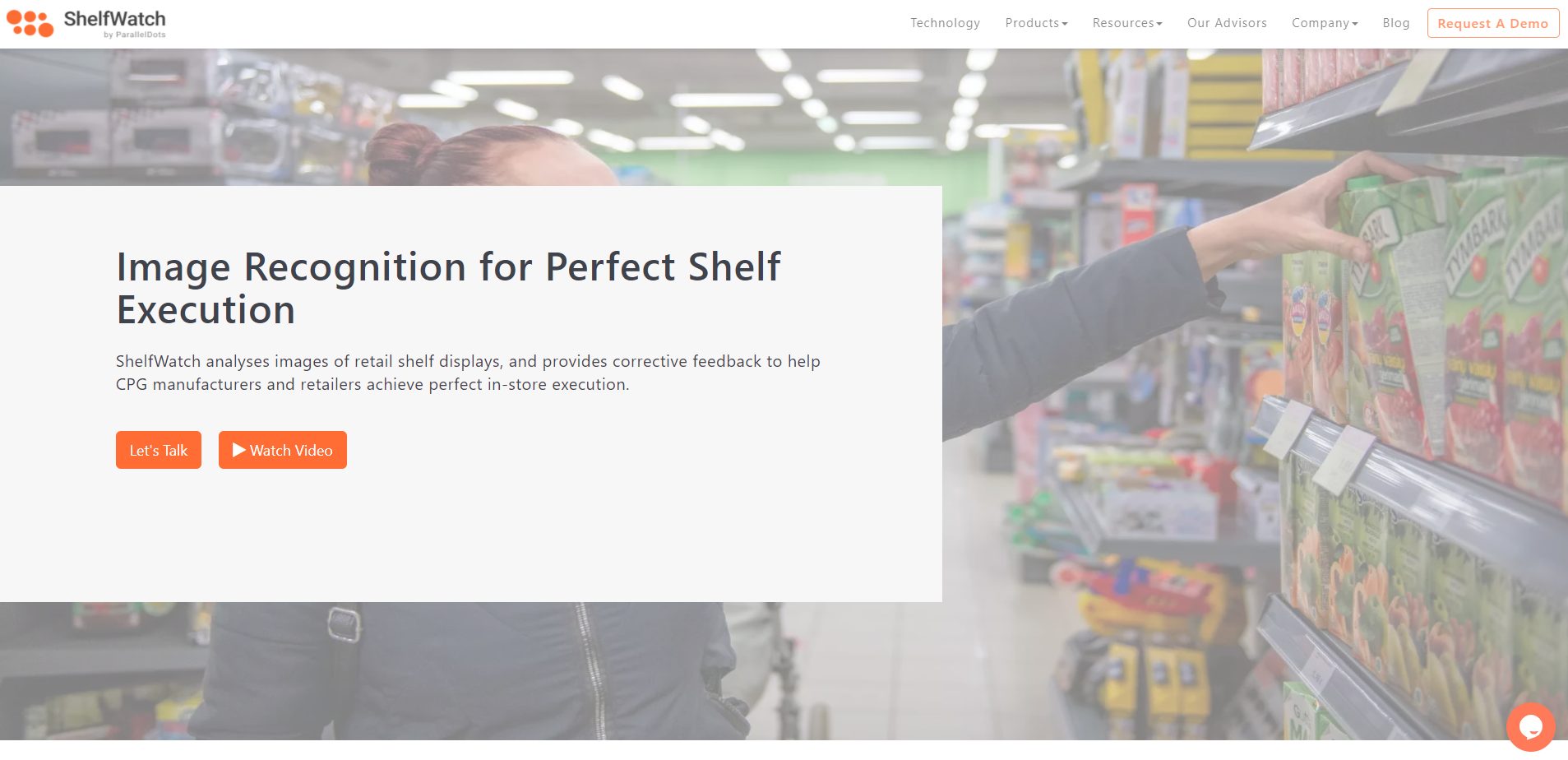 ParallelDots focuses on retail image recognition and text analysis. One of its solutions for retailers is SmartReader, an Excel-based SaaS solution. It automatically analyzes open-ended customer responses using artificial intelligence and classifies them into positive, neutral, or negative, based on the sentiment behind them.
SmartReader displays its insights in an interactive dashboard, and you can also download them in .csv format.
---
20. Hitech BPO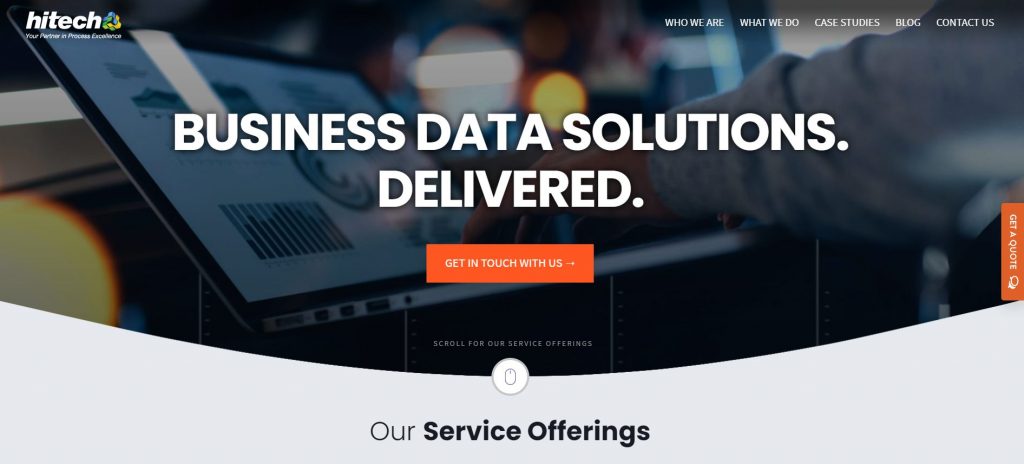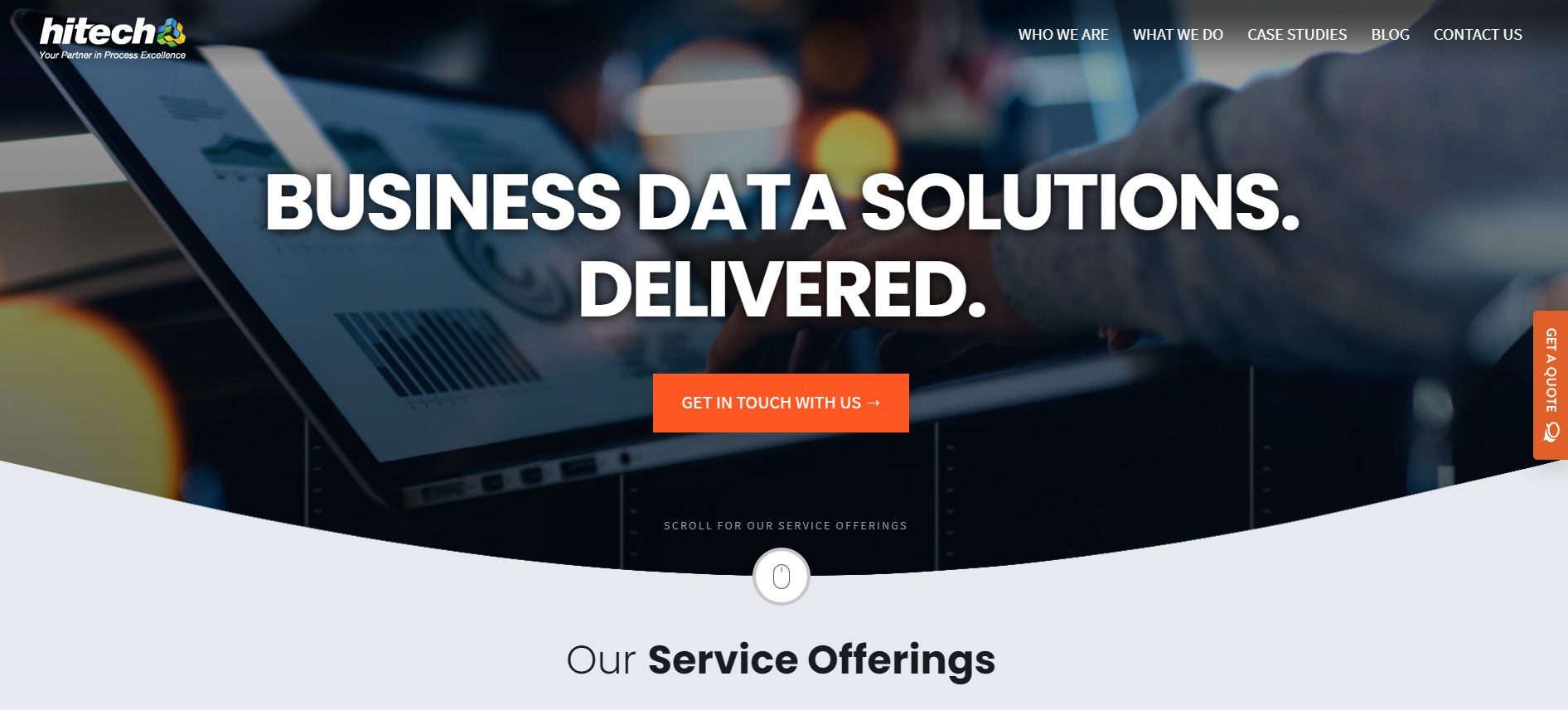 Hitech BPO offers a range of data collection, data processing, data cleansing, data analytics, and sentiment analysis services. It includes opinion mining, text mining, social listening, and social sentiment as part of its sentiment analysis.
The company combines natural language processing (NLP) and machine learning algorithms to perform sentiment analysis and extract meaning from product and service reviews in the form of text, speech, emoji, images, visuals, etc. They glean insights from feedback expressed as tweets, Facebook posts, comments in blogs or forums, and emails around brands, markets, employers, and more. You can extract, identify and characterize sentiments to set customers' moods right, and enhance your brand value.
---
21. Sentigem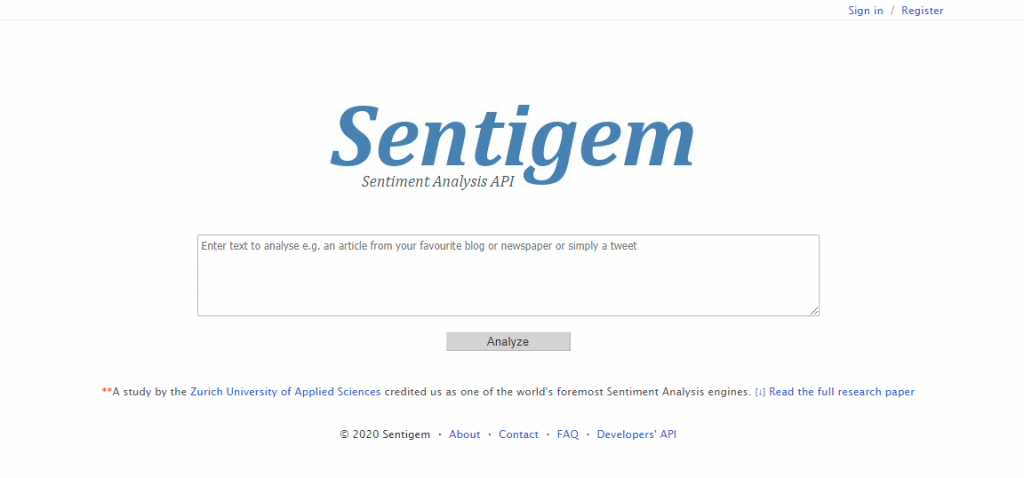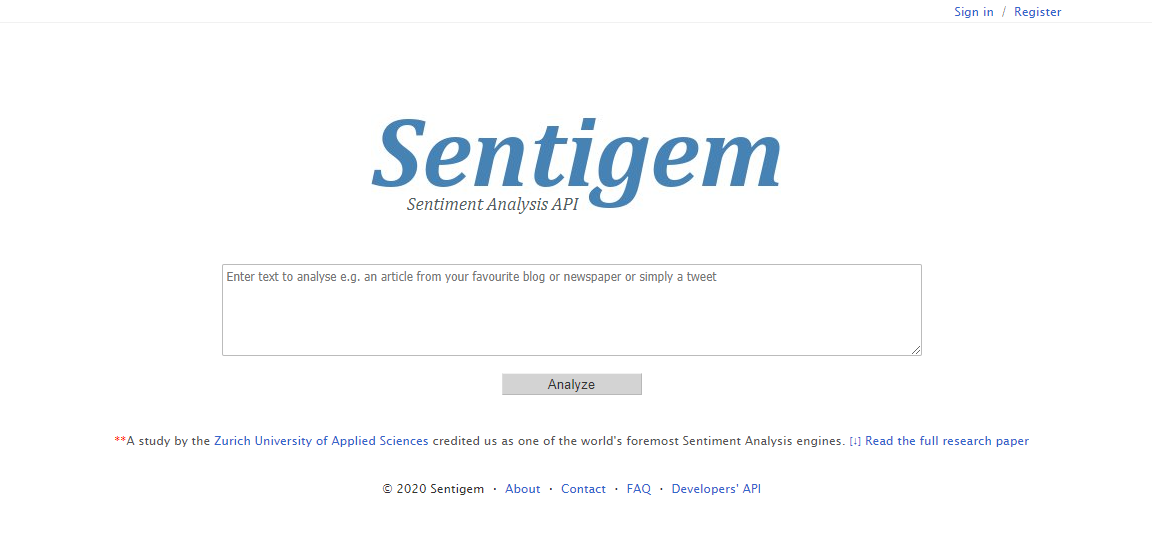 Sentigem is a platform that offers an easy-to-use sentiment analysis tool for English language-based documents or text blocks. It is free and straightforward to use. You paste the block of text you want to analyze into a box on the Sentigem page and click on Analyze. The software then tells you the overall sentiment and splits the text into sections, showing the sentiment: positive, negative, and neutral.
Sentigem suggests some typical use cases for their product. These include price movement predictions in the financial markets, reputation and brand management, product marketing and purchase planning, and entity polling.
---
22. SentiStrength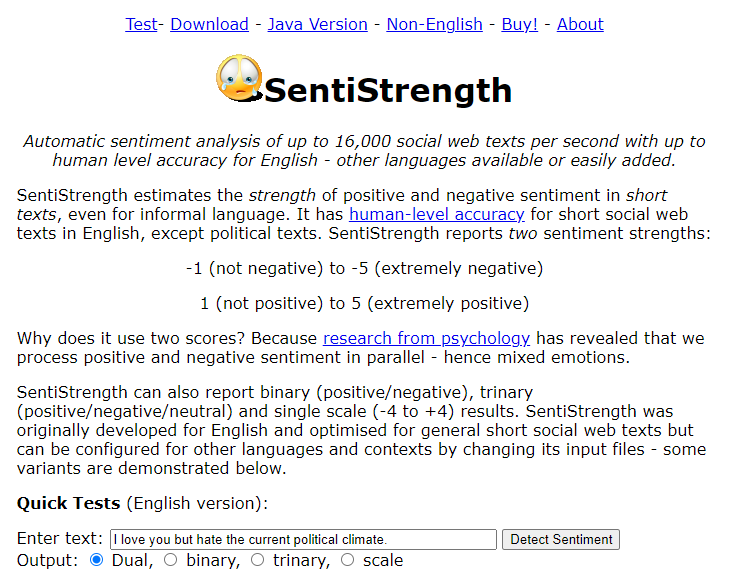 SentiStrength provides automatic sentiment analysis of up to 16,000 social web texts per second with up to human-level accuracy for English. It estimates the strength of positive and negative sentiment in short texts, even for informal language. It reports two sentiment strengths: -1 (not negative) to -5 (extremely negative), 1 (not positive) to 5 (extremely positive).
SentiStrength is free for academic research. A commercial license for SentiStrength is available for other uses.
---
23. NCSU Tweet Sentiment Visualization App


NCSU Tweet Sentiment Visualization App is an online solution that helps small businesses capture, map, and analyze Twitter data. Marketing teams can comprehend and visualize user sentiments across tweets through heat maps, topic clusters, narrative threads, affinities, and more. Businesses search specific keywords to automatically pull data on recent tweets from the previous week, visualize individual tweets in circles and analyze sentiments based on color, brightness, size, and transparency assigned to each post. Users can segment posts' sentiments into four categories: relaxed, happy, unhappy, and upset.
---
24. RapidMiner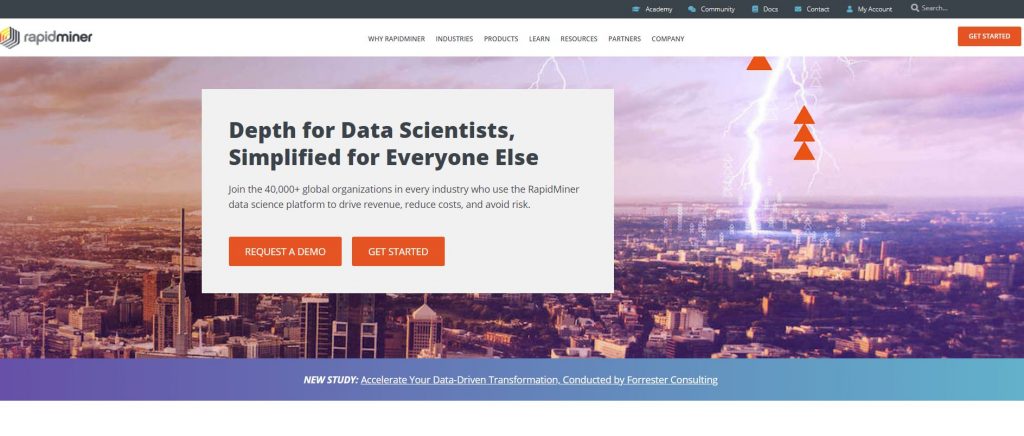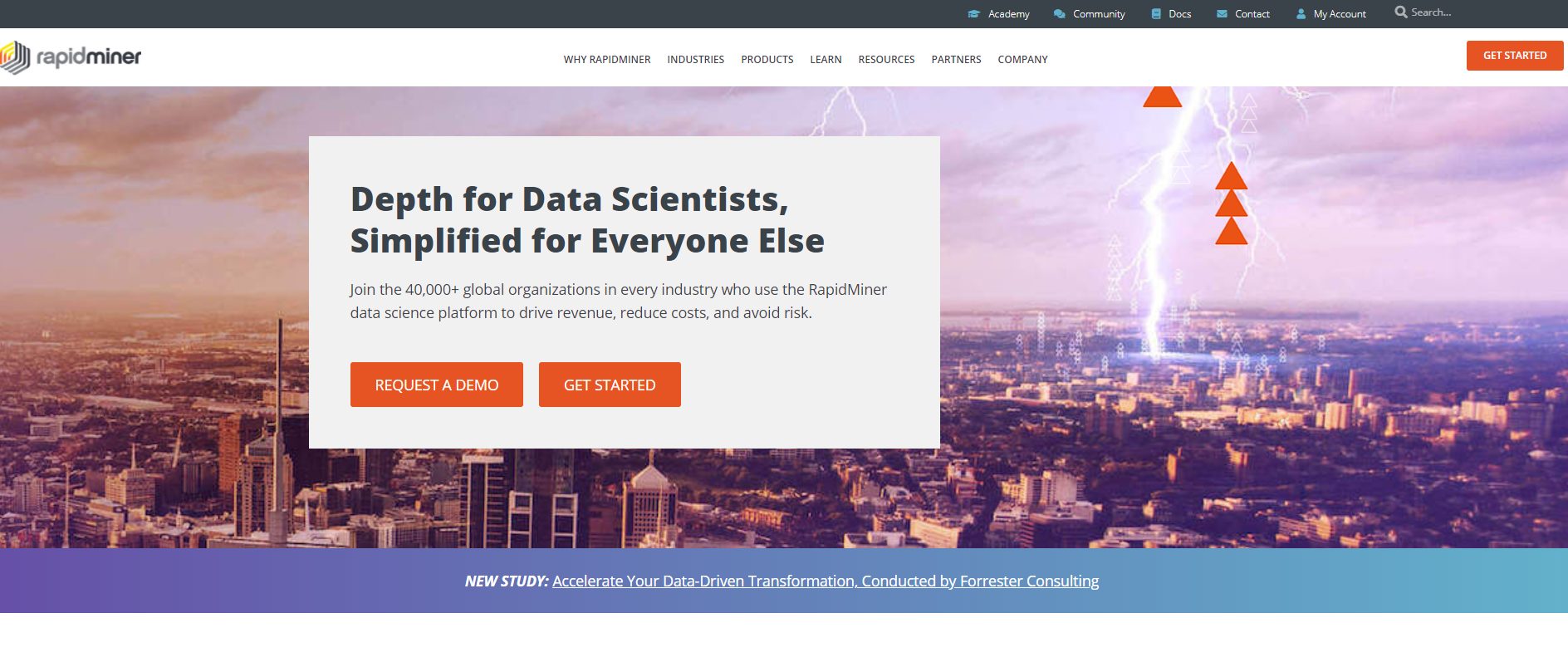 RapidMiner provides a data science platform to deliver transformational business impact. This includes text mining, where you can use insights from unstructured data to improve marketing, product development, risk management, and more. Online reviews, social media chatter, call center transcriptions, claims forms, research journals, patent filings, and many other sources all become rich resources that you can tap through data science to advance your business and organizational mission.
You can use RapidMiner's sentiment analysis to glean attitudes towards your brands, products, and services from what people are saying about you on social media and elsewhere. As a result, you can target your communications to adjust perceptions.
---
25. Hootsuite Insights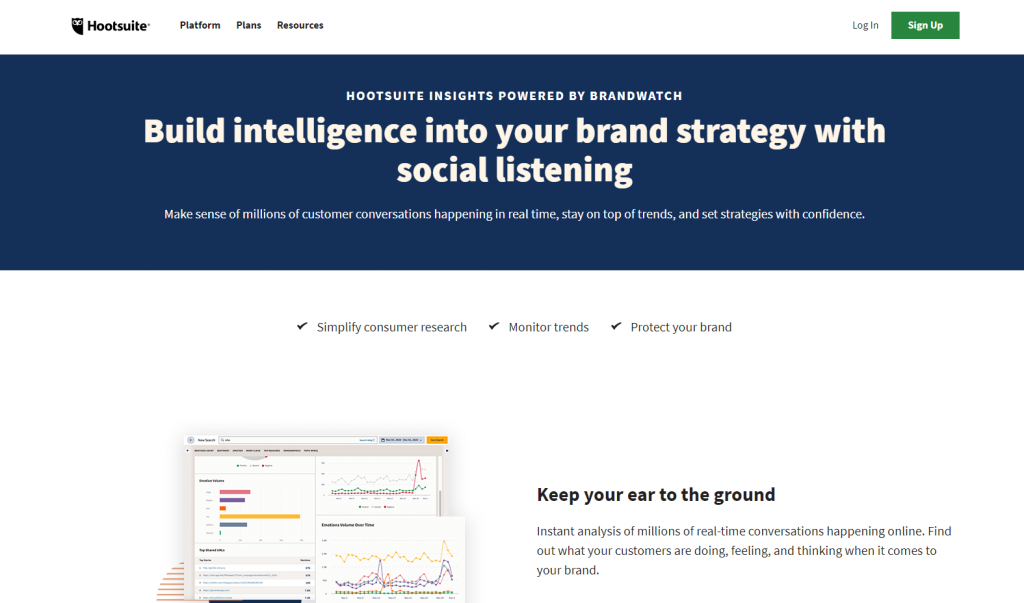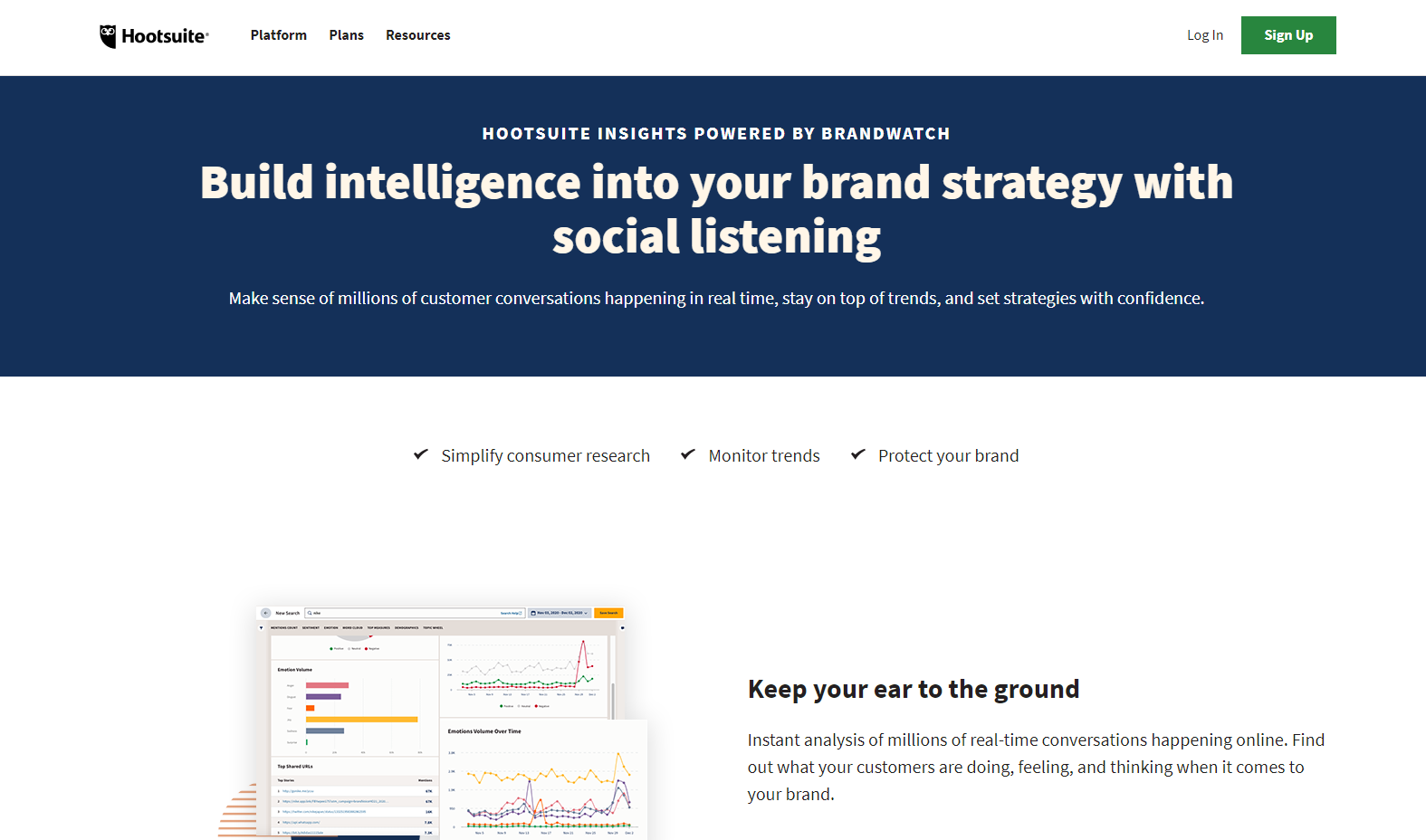 While Hootsuite is probably best known for its social media publishing platform, it offers several specialist social solutions, mainly targeting enterprises. One of these is Hootsuite Insights. This allows you to build intelligence into your brand strategy with social listening. Brandwatch powers Hootsuite's tool.
Hootsuite Insight provides instant analysis of millions of real-time conversations happening online. Find out what your customers are doing, feeling, and thinking when it comes to your brand. You can set alerts, meaning Hootsuite will notify you instantly whenever there are unusual spikes in volume or brand sentiment. You can measure risks and opportunities as you track brand sentiment in real-time.