Advertising Disclosure
Advertising disclosure:
Our partners compensate us. This may influence which products or services we review (also where and how those products appear on the site), this in no way affects our recommendations or the advice we offer. Our reviews are based on years of experience and countless hours of research. Our partners cannot pay us to guarantee favorable reviews of their products or services.
Understanding your customers is essential for your survival in the modern day. Luckily, there's no shortage of channels and mediums to facilitate customer communication. But considering that text conversations are forming the bedrock of many customer touchpoints, be it social media interactions, email exchanges, or chatbot conversations, the need to delve deep into the tonal nuances of these messages is greater than ever.
That's precisely why Sentiment Monitoring Tools exist. Sentiment monitoring tools offer unparalleled insights into the emotion, tone, and intent behind every piece of text-based communication on the Web.
At a fundamental level, Sentiment Monitoring Tools harness advanced algorithms and artificial intelligence to analyze and evaluate text data. But they don't just perform simple keyword searches or frequency counts. Instead, they scrutinize the subtle intricacies of language, identifying patterns, nuances, and undertones that might be invisible to the naked eye.
This analysis provides a quantifiable metric, often presented on a spectrum from positive to negative, sometimes neutral, and sometimes even delving into more granular emotions like joy, anger, or sadness.
Join us to discover the Top 10 Sentiment Monitoring Tools to help you truly understand how your customer feels about your brand.
---
Top Sentiment Analysis Tools
Top
sentiment monitoring tools
2024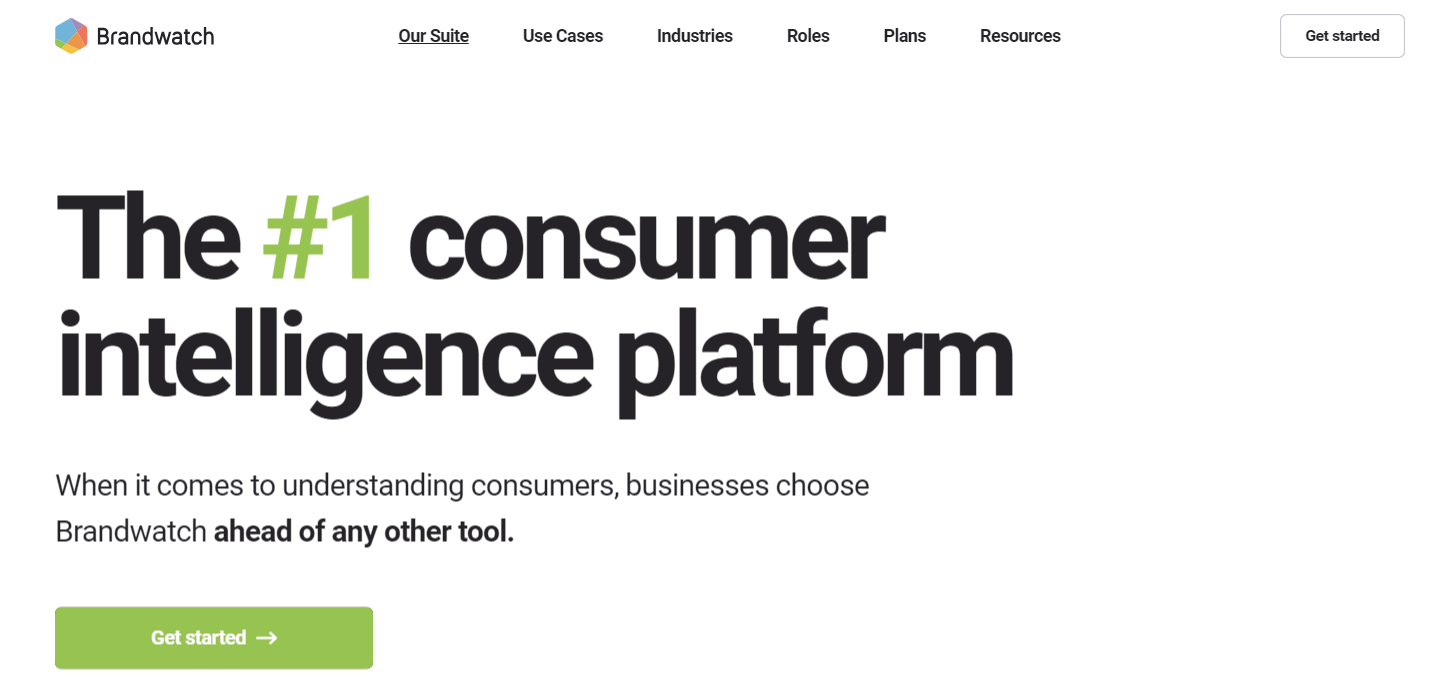 Best for: comprehensive linguistic analysis, hybrid sentiment interpretation.
Venturing beyond the realm of standard sentiment monitoring tools, Brandwatch introduces an intellectual touch to sentiment analysis. That's because Brandwatch's sentiment analysis team is comprised of PhD-qualified experts specializing in linguistic analysis and language processing.
Their tool stands out with a trio of unique processes: 'knowledge-based,' 'machine-learning,' and 'rules-based.' These processes ensure customers have the highest possible accuracy in sentiment analysis. Let's explore these processes a bit more.
The knowledge-based method identifies standard positive and negative sentiments by leveraging Brandwatch's exclusive rules created by its experts. Meanwhile, the machine learning process is tailored for language and industry specificity, ensuring context-aware sentiment detection. Lastly, the 'rules-based' approach allows users to craft custom rules for unique scenarios, especially when unpredictable events or brand-specific discussions arise, ensuring no sentiment goes unnoticed.
Furthermore, Brandwatch believes that while perfect accuracy might be elusive (never exceeding 80%), the depth of insight sentiment analysis provides truly adds value. Their commitment to continuously refining their techniques, incorporating new classifiers, and addressing evolving language trends assures users of top-notch, cost-efficient, and adaptable sentiment analysis.
Pricing: Specific pricing details are available upon request from Brandwatch.
---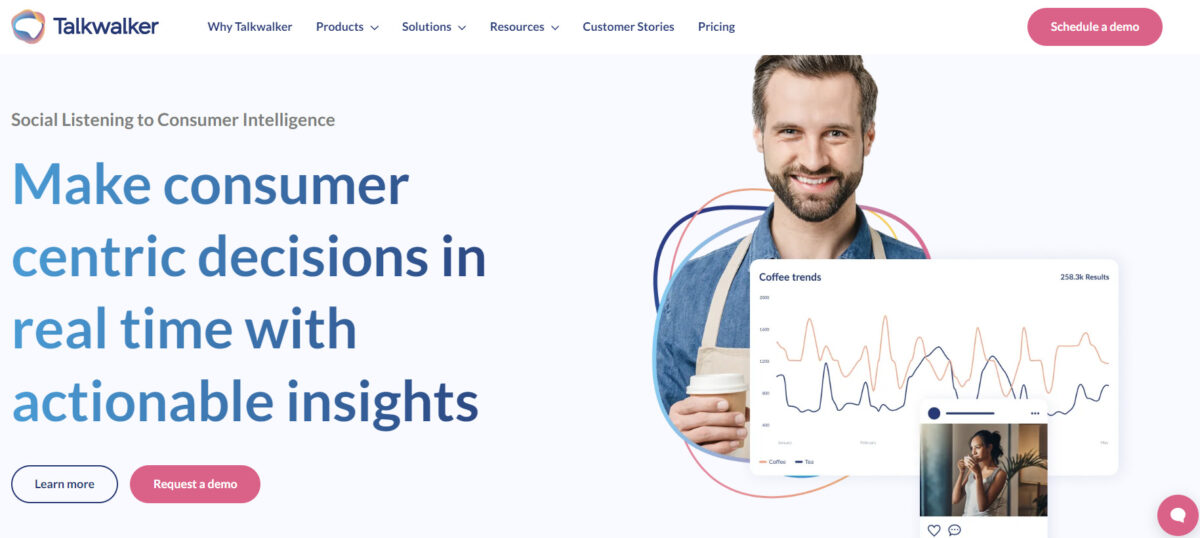 Best for: PR and marketing teams, brand reputation management.
Talkwalker is a sentiment-monitoring powerhouse that uses advanced AI to scan various platforms – from online reviews and news articles to social media responses and survey feedback. Its technology is agile and intuitive, promptly identifying high-risk posts in real time and alerting users.
Beyond just determining the sentiment, the tool displays prowess in catching even the underlying sarcasm in posts – ensuring that brands don't miss out on those sneaky, snarky comments that can make all the difference.
Despite that, the big takeaway is their sentiment technology. Talkwalker can detect industry and customer trends, allowing you to make far more informed product development decisions and ensuring products hit the right chords with their target audience. Whether it's understanding what features resonate with customers or which ones need tweaking, real-time social media feedback becomes invaluable for R&D teams aiming to keep a step ahead in the market.
Moreover, Talkwalker offers a sentiment classification feature, which lets brands compare essential product characteristics, offering even more feedback and information to your R&D teams.
Pricing: To better understand the pricing tiers and get a tailored quote, one would need to schedule a demo with Talkwalker.
---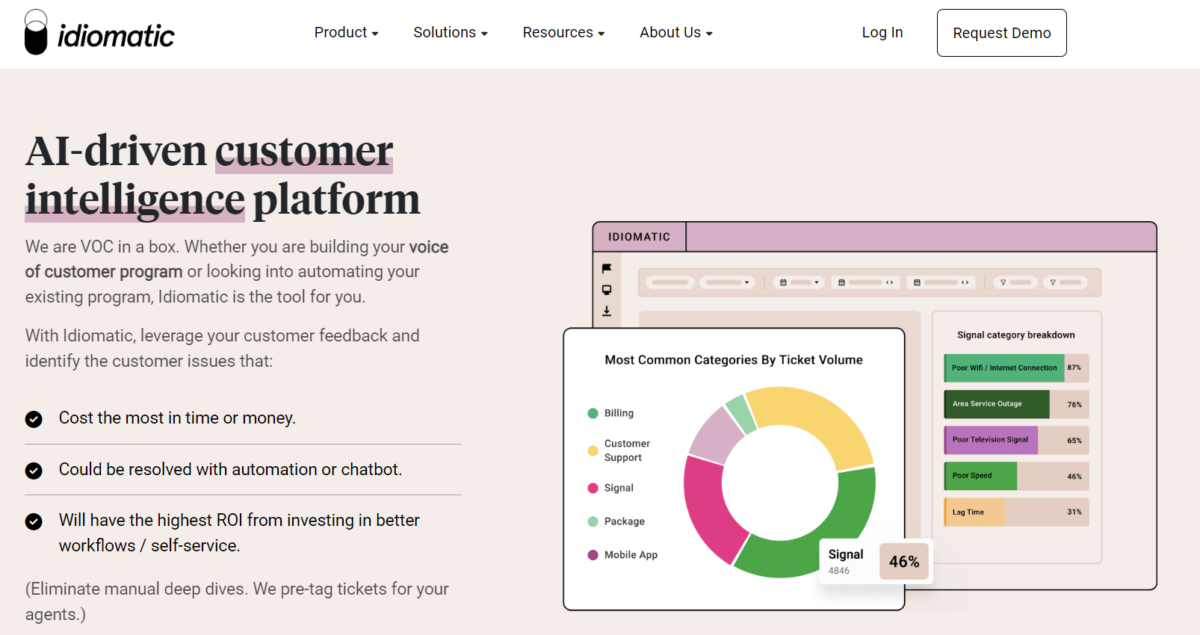 Best for: advanced AI-driven insights and channel-specific sentiment analytics.
Idiomatic isn't just another sentiment analysis tool; it's a powerhouse that transforms millions of customer comments into clear insights in minutes. Its AI-driven platform promises broad analysis and a keen understanding of the 'why' behind customer feedback.
A standout feature of Idiomatic is its custom sentiment analysis models, which can be adapted to specific channels to deliver unparalleled sentiment accuracy. It can even be calibrated for various feedback channels, such as app reviews or support tickets.
The platform can compile data visually, allowing brands to analyze trends more easily. Moreover, Idiomatic provides daily, weekly, and monthly insights. Regarding analyzing sentiment, Idiomatic has a powerful keyword search function capable of simplifying analysis and enabling users to hone in on specific topics, while the real-time bi-directional data integration ensures real-time label and sentiment updates within your helpdesk. 
There's also the 'Report Builder' feature, which allows users to construct and share custom reports directly from Idiomatic's dashboard.
Pricing: For detailed pricing, users are encouraged to request a demo from Idiomatic.
---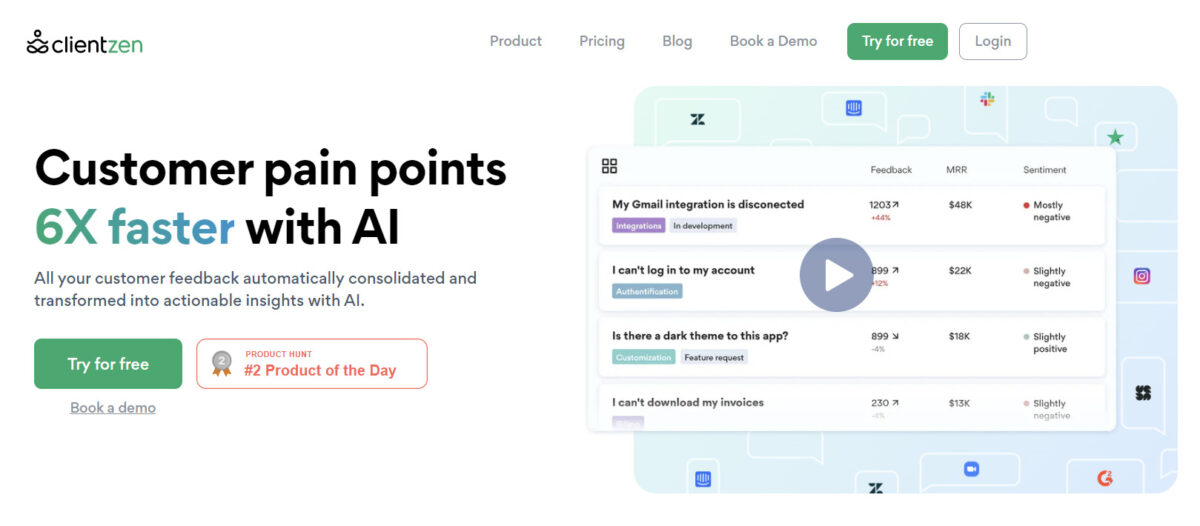 Best for: real-time client feedback monitoring, SaaS teams.
ClientZen offers a quick and intuitive solution to sentiment monitoring. The tool analyzes customer feedback, allowing you to pinpoint what clients are content or discontent about. You can easily paste customer feedback or any text, and the tool will instantly detect feelings and potential "pain points."
The tool boasts a fully automated tagging system that saves marketers a lot of time from having to manually search through customer feedback and complaints. This is particularly advantageous for companies that handle massive amounts of feedback data as it offers insights without needing to delve into thousands of pieces.
The tool boasts a seamless setup: provide it with your data sample and let its AI algorithm generate insights within minutes, saving you hours in the process. Integration is a strong suit for ClientZen as it smoothly syncs with platforms like Intercom, Hubspot, Gmail, Zendesk, and Zapier. 
Pricing: The starting plan, Essential, is priced at $109/month. The Pro plan is available for $536/month, and for larger enterprises, custom pricing can be discussed.
---

Best for: deep textual and video insights, collaboration on sentiment findings.
Dovetail stands out as an insights hub for analyzing text or video interviews, providing insights into the tone, intent, and emotion behind spoken or written words. One of its core features is its ability to auto-identify and tag sentiments in over 12 languages, making it versatile for multilingual data. Furthermore, it houses an advanced speech engine that transcribes interviews, catering to various accents and topics, ensuring speedy analysis.
The tool's advanced natural language processing (NLP) foundation, which allows it to handle large-scale sentiment analysis tasks with precision, makes Dovetail unique and different from other sentiment monitoring tools. When it comes to general sentiment identification, Its capabilities stretch beyond mere positive or negative; it's adept at capturing nuances and even sarcasm.
With integrations ranging from ZenDesk for customer support to platforms like SurveyMonkey for survey data, Dovetail offers a comprehensive sentiment analysis solution.
Pricing: The base plan, Starter, is set at $30 USD/month. Team package is available for $375 USD/month, the Business plan at $1,200 USD/month, and for extensive enterprise needs, one can contact their sales for a custom quote.
---

Best for: in-depth entity and aspect-based sentiment analysis, trend and predictive analysis.
NetOwl is a comprehensive sentiment analysis software powered by the NetOwl Extractor. This software pushes the boundaries of traditional sentiment analysis and introduces multiple advanced features, such as Aspect-Based Sentiment analysis and Refined Sentiment Ontology. The former can capture multiple conflicting sentiments within a single sentence and even distinguish between various entities, ranging from people to product prices.
On the other hand, the latter – Refined Sentiment Ontology – offers beyond a 'yes' or 'no' answer to sentiment analysis. Instead, it provides nuanced distinctions between different types of opinions, attitudes, intentions, and behaviors, enabling organizations to conduct an in-depth analysis of sentiments and actions.
NetOwl also provides a normalization feature that allows the classification, aggregation, and quantification of various sentiments in large datasets. Additionally, NetOwl is equipped with a multitude of unique features, such as rapid analysis and support for multiple languages, and even offers easy integration via REST APIs.
Pricing: The pricing details of NetOwl are available on request.
---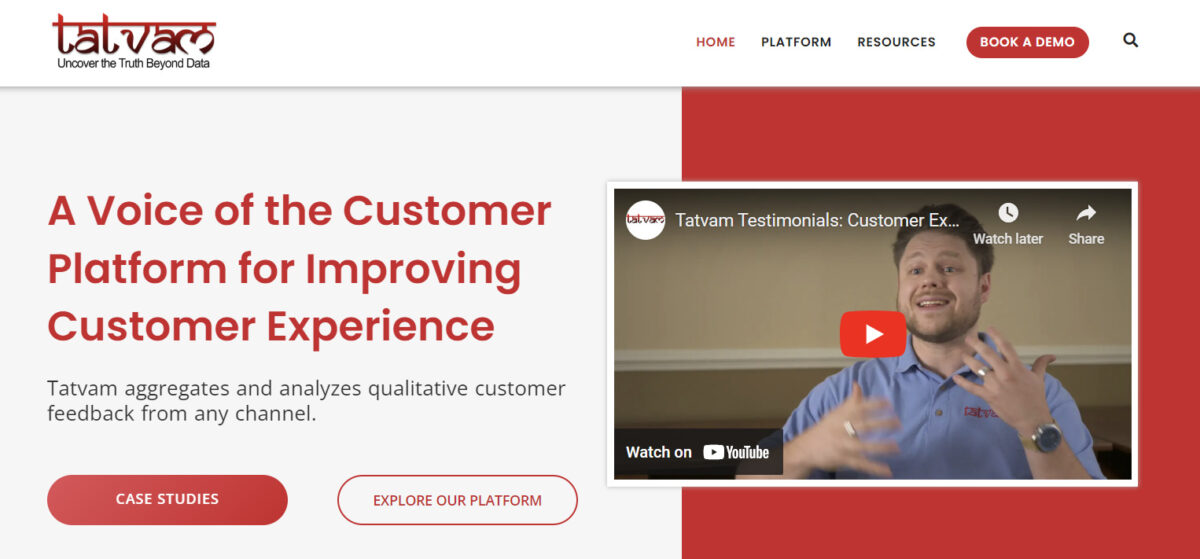 Best for: comprehensive customer sentiment analysis, competition sentiment tracking.
Tatvam is another sentiment analysis tool designed to help businesses understand and quantify customer sentiments toward their products or brands. The tool provides sentiment feedback that allows businesses to identify areas of disappointment, essentially providing a platform to correct their mistakes and drive sales growth by improving customer loyalty and long-term relationships.
A key feature is Tatvam's Perception Analysis, which identifies and targets keywords in reviews, feedback, social media comments, and other platforms. By using these keywords, Tatvam can conduct a perception analysis that reflects the positivity or negativity of a customer's sentiment.
The software also includes a unique rating system called the 'Tatvam Rating,' designed to monitor customer sentiment with significant precision. It can even offer topic-wise sentiment scores for more effective and detailed analysis of specific areas. 
Additionally, Tatvam provides a unique feature known as Competition Sentiment Tracking. This capability allows businesses to monitor customers' sentiment towards their competitors, providing insights to help them gain a competitive edge.
Pricing: Tatvam's pricing details are provided during a demo session.
---

Best for: improving customer experience through sentiment analysis of reviews.
Delving deep into the world of sentiment and social monitoring, Yext offers a sophisticated approach by leveraging the prowess of Natural Language Processing. The Sentiment Analysis functionality within Yext helps businesses discern customer feelings on specific aspects of their brand by studying keywords within customer reviews and assigning sentiment scores ranging from -90 to +90.
To further simplify this endeavor, Yext boasts a Sentiment Analysis Dashboard, which serves as a magnifying lens to pinpoint specific keywords, enabling businesses to fathom the collective sentiment surrounding different fragments of their consumer interactions.
Another standout feature is the Sentiment Analysis Collection, a bespoke tool that allows administrators to tailor collections based on grouped keywords, offering a structured view of sentiment metrics linked to those particular keywords.
Pricing: Yext's pricing structure is comprehensive, with plans like Emerging priced at $4/week, Essential at $9/week, Complete at $10/week, and the Premium package at $19/week.
---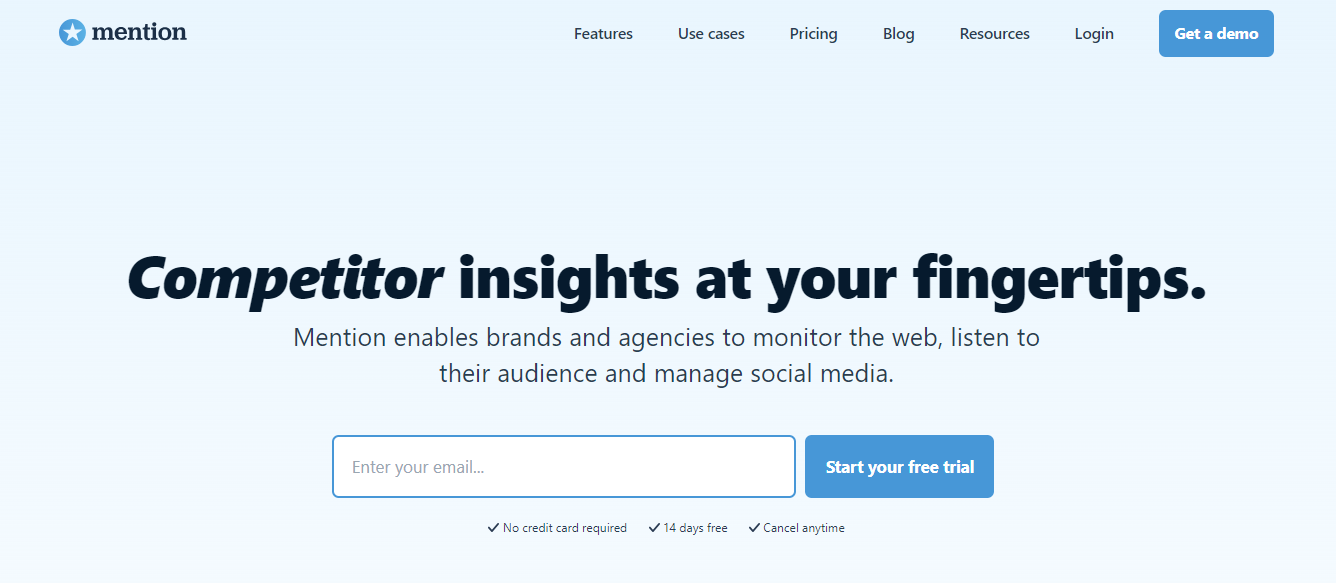 Best for: holistic online media monitoring and swift sentiment trend identification.
Mention brings sentiment analysis into sharp focus by allowing brands to recognize positive and negative mentions across the digital expanse instantly. This tool is designed to save users' time by streamlining the tasks of isolating social media crisis mentions, all thanks to their Advanced Filtering capabilities. Moreover, the feature can filter based on sentiment, source, influence, and more. 
If specificity is of the essence, Mention's Boolean Alerts ensure you receive alerts tailored to your exact requirements. The platform's seamless integration with key social platforms like Twitter, Facebook, and Instagram, combined with its Influencer Score feature, empowers brands to identify and connect with pivotal voices in their niche.
Furthermore, the tool's urgency alerts, christened 'Pulse alerts,' ensure brands are always in the know if their keywords surge in popularity, allowing for timely interventions or celebrations. From preventing crises by detecting negative trends swiftly to locating brand advocates and sharing their praises, Mention offers a panoramic view of brand sentiment across the entire web.
Pricing: Mention provides a range of packages to cater to diverse needs. The Solo plan is available for $41 per month, Pro at $83 per month, ProPlus at $149 per month, and tailored solutions for companies are available on request.
---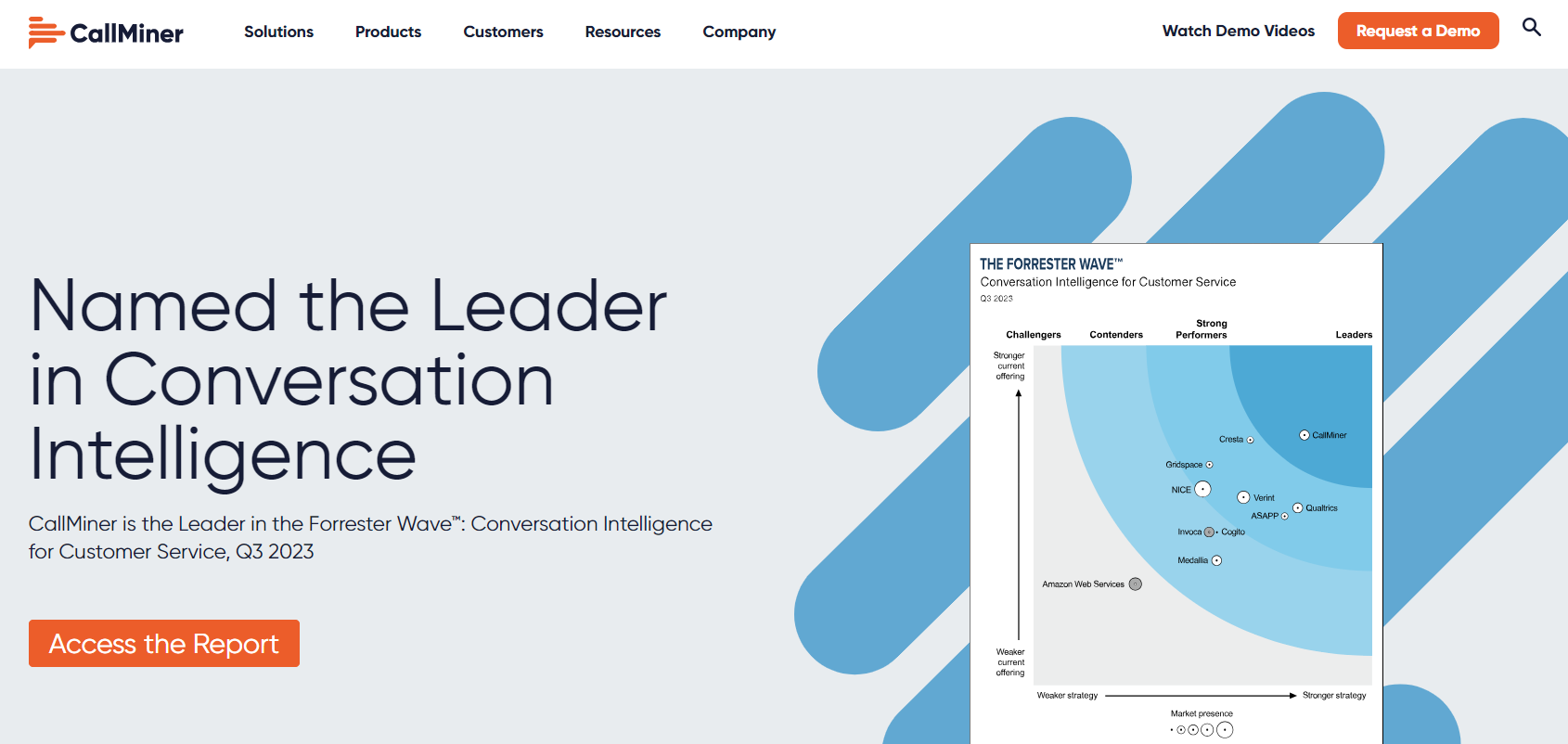 Best for: Call centers, holistic customer journey mapping.
CallMiner takes sentiment analysis to an auditory level. The Eureka conversation analytics platform by CallMiner is all about capturing and diving deep into customer interactions across multiple channels. It understands that sentiment isn't just about words; it's about how they are spoken. The platform gauges the acoustics in a speaker's voice and pairs this with the content and context of the conversation, ensuring a more profound insight into customer sentiment.
CallMiner taps into the comprehensive data from contact center conversations to offer a broader view. Automation is a crucial aspect of their offering; it allows companies to garner deeper insights without being bogged down by the intricacies of setting up. Furthermore, the platform is versatile, catering to multiple languages, providing demographic-based filtering, and ensuring omnichannel support. This versatility ensures that brands can have a holistic view of sentiment, whether it's a comment on a public forum, a blog post, or a direct customer call.
But CallMiner's sentiment analysis truly stands out because of its method of scoring interactions. It considers several vocal characteristics, such as voice stress levels and speech rate. This means brands can promptly pinpoint issues and address them before they escalate.
Pricing: For a detailed pricing structure, interested individuals or companies should request a demo from CallMiner.
---
How Sentiment Monitoring Tools Help in Identifying Emotional Tone?
For a marketing executive, the intricacies of sentiment become a cornerstone in strategic planning and execution. Understanding how audiences perceive a brand or product can drastically transform the clarity with which a business views its market position. Evaluations based on sentiment not only chart out brand positioning nuances but also drive robust strategies for damage control.
Yet, sentiment's role isn't limited to brand perception alone. It digs deeper into the realm of product feedback. While traditional reviews and ratings offer a surface-level view, sentiment analysis delves into the profound emotions of customers. It identifies whether they're thrilled, disheartened, or somewhere in between, serving as a compass for product enhancements and recalibrations.
Then there's the facet of campaign effectiveness. As businesses unfurl new marketing initiatives, sentiment tools emerge as a beacon, revealing real-time public reactions. This timely information becomes invaluable, enabling businesses to pivot strategies promptly when necessary.
---
Factors to Consider When Choosing Sentiment Monitoring Tools
Since the market is packed with Sentiment Monitoring Tools, each vying for attention with claims of groundbreaking insights, the onus falls on marketing executives to sift through the options with precision and astuteness. That brings us to the crucial factors to consider when choosing a sentiment monitoring tool. 
One of the factors is the tools' capability to navigate the intricate maze of emotions and contextual tones. Without this, there's the risk of misinterpreting sarcasm as genuine praise, resulting in misleading conclusions.
Scalability is yet another crucial factor. It's not merely about accommodating larger volumes but doing so while maintaining impeccable accuracy. Furthermore, in an era defined by its interconnected digital platforms, seamlessly integrating a sentiment tool with other enterprise systems, be it CRM or social media, is no longer a luxury but a necessity. Such integration fosters efficiency, knitting together various workflows and centralizing insights.
Beyond mere data analysis, the ideal sentiment tool caters to the business's unique vision. This entails customizing dashboards and reports, molding outputs to fit specific objectives and KPIs. And as technology's relentless march forward continues, the real value of a tool often lies not just in its current capabilities but in its commitment to adapt and evolve. Therefore, the final factor is consistent customer support and training.
---
Conclusion
Sentiment Monitoring Tools are not just nice to have but a critical asset for marketing executives seeking to navigate the intricate tapestry of customer sentiment. In selecting the right tool, an objective, thorough, and strategic approach will ensure that the insights gleaned are accurate and actionable.
Frequently Asked Questions
Are these tools suitable for large-scale and small-scale businesses?
Absolutely! While the scale and specific features required might differ, sentiment monitoring tools are versatile. They cater to businesses of all sizes, ensuring everyone from startups to multinational corporations can gain insights into their audience's sentiments.
How accurate are sentiment monitoring tools?
While no tool can claim 100% accuracy, especially given the nuances and complexities of human emotion, modern sentiment monitoring tools, especially those powered by AI, have significantly improved in accuracy over the years. They are now adept at catching even subtle tones, sarcasm, and context.
Can these tools analyze data in multiple languages?
Most top-tier sentiment monitoring tools offer multilingual support. However, it's always a good idea to check with the specific tool's specifications to ensure it covers the languages relevant to your target audience.
Do these tools only analyze text or can they handle voice conversations too?
Some advanced sentiment monitoring tools can analyze voice conversations by converting speech into text and then assessing sentiment. This feature is especially useful for businesses that have a significant amount of customer interactions over phone calls.
How do sentiment monitoring tools handle sarcasm or ambiguity in texts?
Modern AI-powered sentiment monitoring tools have become increasingly adept at identifying sarcasm or ambiguous sentiments, though it's still challenging. These tools typically rely on context, historical data, and complex algorithms to make the best determination.