Advertising Disclosure
Advertising disclosure:
Our partners compensate us. This may influence which products or services we review (also where and how those products appear on the site), this in no way affects our recommendations or the advice we offer. Our reviews are based on years of experience and countless hours of research. Our partners cannot pay us to guarantee favorable reviews of their products or services.
You can plan your social media content calendar to the second, quite literally. This, however, isn't the case with social media crises. They usually pop up when you least expect them and when you're the least prepared. And, if you're thinking that you're too small for causing a social media scene, that's no defense. All companies, irrespective of their size, can find themselves in the middle of a controversy.
To help your social media team deal better with negative comments and upset customers, you can check out one of the following 12 social media crisis management tools. Many of these tools include some form of automation that will help you to get a headstart. You'll still need human intervention, but you'll want to tackle online mentions that place you in a bad light as soon as possible before they snowball into an avalanche that can bring down your entire brand.
---
Top 12 Tools for When You Face a Social Media Crisis:
---
12 of the Best Social Media Crisis Communication Tools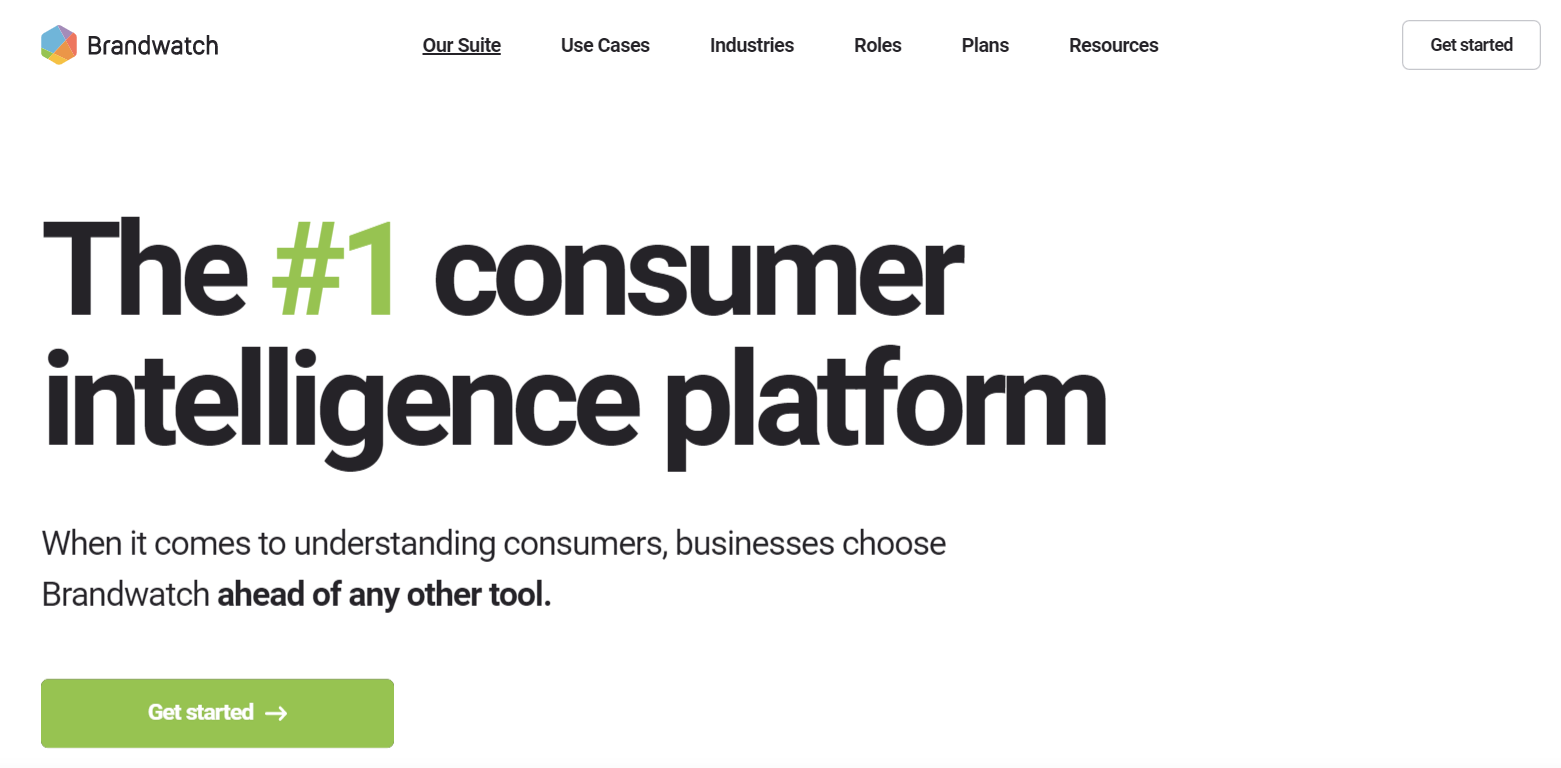 Included in Brandwatch's wide variety of use cases is crisis management. Not only will it help to ensure that you catch all important brand mentions, but it also provides the tools needed to deal with negative comments should they happen.
If there's any unusual activity, you'll be alerted and the relevant team member will automatically get notified. It takes it further by also empowering you to gauge sentiment. So, if there's a negative vibe surrounding your name, you'll pick it up.
As you'll see, many of the other tools on this list provide these features, or something similar. However, Brandwatch builds on these capabilities by also highlighting key audiences' reactions. This way, you'll know if it's an isolated case or if the repercussions can be much bigger.
For more proof of its capabilities, there are hundreds of online reviews that speak highly of its social media management features. It's especially its ability to initiate conversations with customers, helping brands to improve customer engagement, that Brandwatch users love the most.
Key features include:
Consumer intelligence
Social media management
User roles for content approval
Social listening
AI-powered analytics
Plans and pricing: For more info about Brandwatch's pricing, you'll need to contact them directly.
---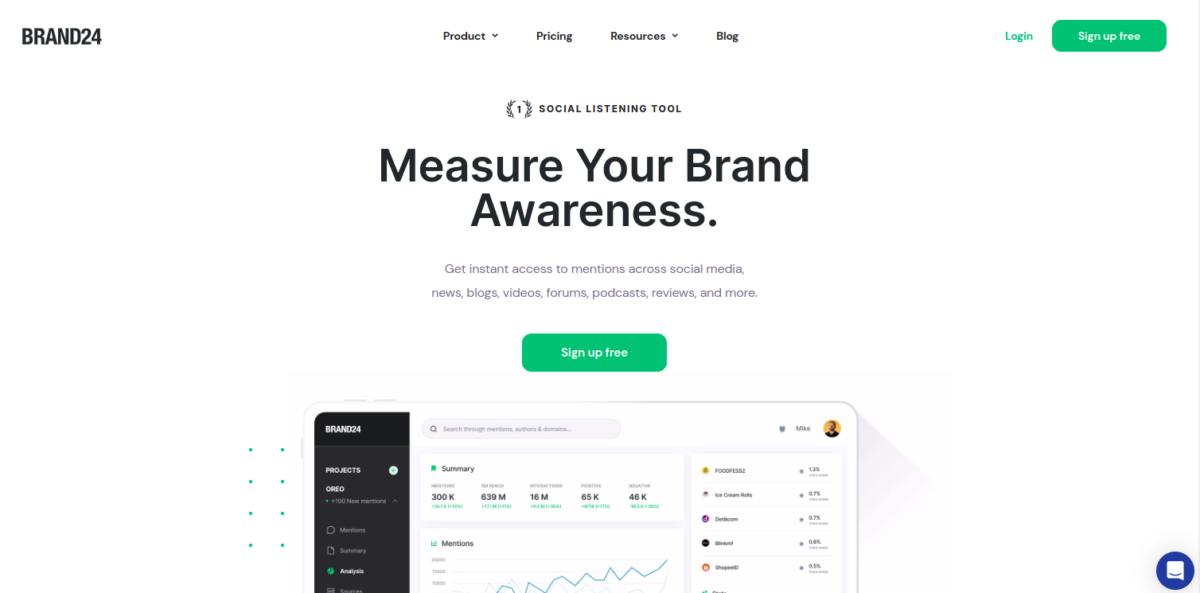 Not to be confused with Brandwatch, Brand24 is another leading tool that you can use to track and engage with social media users interested in your brand. It offers a wide range of features to help you with social media monitoring.
There's a mentions feed where you can find out more about what's being written about you online and from where you can also take action quickly. If there's a sudden change in the number of discussions surrounding your brand which could point to a potential crisis, the discussion volume chart will keep you two steps ahead. Combine that with its sentiment analysis and you'll gain much better insight into the general attitude towards your company and its offering.
It's best suited for small and medium brands and the reason for saying that is the fact that collaborative tools like commenting and sticky notes are missing in action. That being said, it does offer enterprise pricing and clients like Stanford University, Intel, and Mercedes-Benz have used it.
Key features include:
Automated PDF reports

Filtering

Customizable alerts

Sentiment analysis

Hashtag search
Plans and pricing: After a free 14-day trial (no credit card required), pricing starts at $79 per month, but if you prefer to be billed yearly you can get up to two months free.
---

NapoleonCat is a social media management platform that's aimed at digital marketers and online brands. It offers tools for Facebook, Instagram, LinkedIn, YouTube, Google My Business, and Twitter, helping you to monitor and analyze key actions.
To help with social media crisis management, it offers a social inbox. Thanks to its unified dashboard, you'll get a quick overview of the current situation across all your social accounts. This makes it easy to gain a holistic picture of customer complaints.
Then, to help your crisis response team get a grip on these conversations, it offers communication workflows, automated email notifications, and translation of comments, messages, and replies. You can also use NapoleonCat to set up automated replies based on specific keywords. This feature can be useful if there's a common problem that you need to address from time to time. In fact, according to their website, these features can help your team save nearly 70% of the time that they would otherwise spend on responding to reviews, comments, and messages.
Another way that NapoleonCat's auto-moderation features can help is by deleting comments. Going this route, though, isn't necessarily recommended. However, if you know that this is just the work of an internet troll and deleting their comments won't make the situation worse, it can help. Instead of deleting these types of comments, you also have the option of hiding them.
Key features include:
Team collaboration features like internal notes and the ability to assign messages to specific team members

Preset templates to apply auto-moderation rules quickly

Detailed analytics for social media profiles and pages
Plans and pricing: NapoleonCat uses a sliding scale that takes into account the size of your social media team, and the number of social media profiles. After a free 14-day trial, pricing starts at about $30 per month.
---

Talkwalker is trusted by thousands of the most impactful global brands. In addition to its client list, you can also find further social proof on online review sites like G2 where it has over 100 reviews praising its intuitiveness, support, and value for money.
It offers a powerful social intelligence product that you can use to access up to five years' historic data. While impressive, historical data is of little use when you have a potential social crisis brewing presently.
In addition to accessing historical data, Talkwalker can also monitor data in real time to inform you about a potential problem so that you can respond promptly to prevent it from escalating further. To do this, it offers Talkwalker Alerts. This way you can monitor keywords and with Boolean operators, you can keep your searches to the point.
Another feature that deserves special mention is that you can also use Talkwalker to set up alerts for when your tagline gets used or when your execs get mentioned. This can be especially useful for bigger companies.
Key features include:
AI-powered sentiment analysis

Image, video, and speech recognition tech

Automatic report creation

Customizable dashboards
Plans and pricing: Talkwalker offers a number of subscription plans aimed at SMBs and Enterprise clients. Pricing, though, isn't shared on their website, but all plans include professional onboarding, comprehensive customer support, regular strategy reviews, and continuous online training courses.
---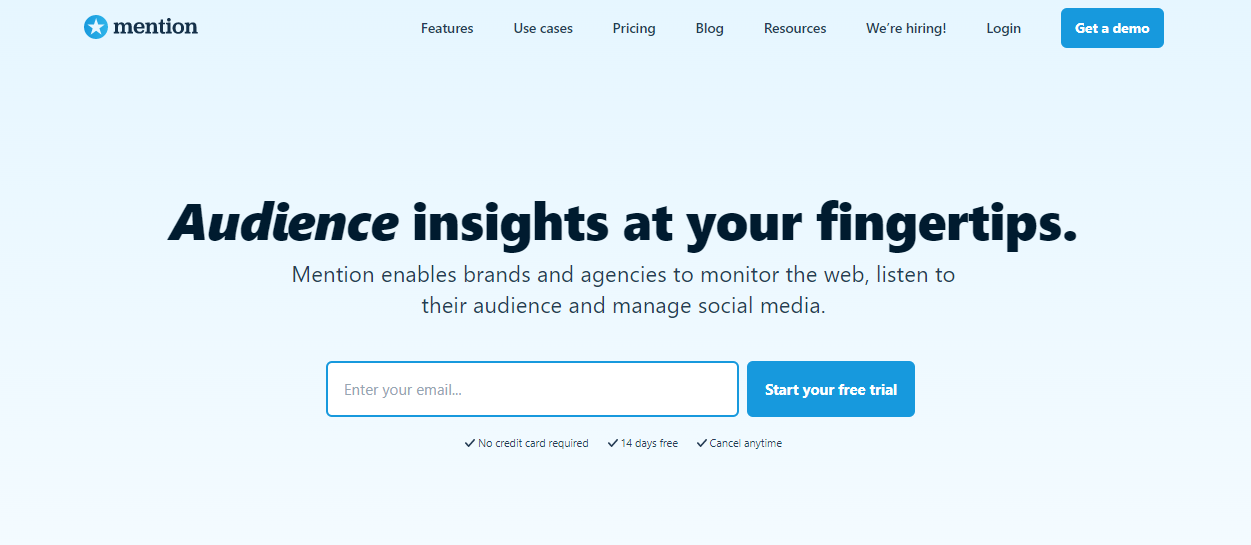 Mention makes it easier to find those critical conversations with the help of media monitoring and social listening. It integrates with Instagram, Facebook, and Twitter which means that you can respond directly using your accounts for these platforms. If you need more help responding to comments, you can share pulse alerts with other team members and assign them to specific tasks. In fact, it's better suited for agencies and it has helped a number of leading agencies like Ogilvy and McCann. If you need more social proof than client names like these, it boasts hundreds of positive reviews on online sites like G2 and Capterra.
What sets it apart from other tools is that it also helps you to find industry influencers that discuss an issue you're currently experiencing. You can then reach out to them for assistance on the matter.
Other standout features include its geolocation. This way, you can establish whether a problem is local or has reached a global audience already.
Key features include:
Detailed reports to show the extent of a problem and the effectiveness of your response

Sentiment analysis tools

Advanced filters

Boolean queries
Plans and pricing: After a free 14-day trial (no credit card needed), Mention's pricing starts at $49 per month. However, by paying yearly instead you can get two months for free.
---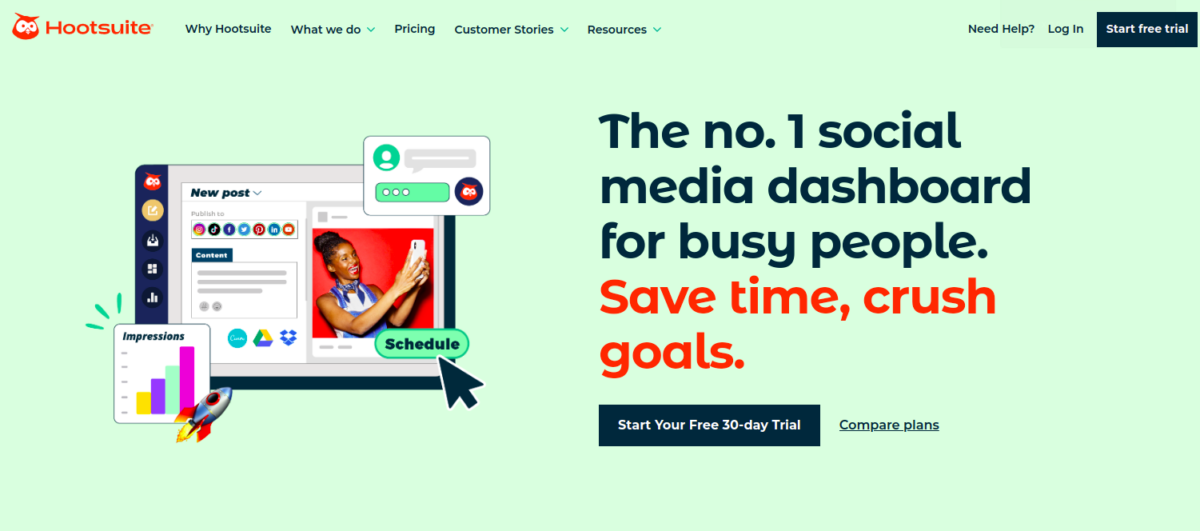 Regular readers of yours truly would be very familiar with Hootsuite and its suite of powerful features by now. One use case that you might not have explored yet is social media crisis management.
You can also use it for tracking brand mentions and measuring brand sentiment, functionality included in Hootsuite Insights, that's powered by Brandwatch. What makes this feature even more useful is that you can set it up in such a way that you'll get alerted when brand sentiment changes. This way, you can possibly prevent a crisis or at least be one of the first responders (quite literally).
In the event that a ball has been dropped and a bomb exploded, you can easily pause your scheduled social media content that you've lined up. All you need to do is click on the pause button and give a reason. In this case, Hootsuite Amplify can also come in handy. You can use it to post pre-approved company messaging that you share with the rest of your social team. This means that you'll be unified in your response and prevent any further brand damage.
Key features include:
Social listening

Industry and competitive benchmarking

An all-in-one social inbox

Dashboard notifications

Saved replies
Plans and pricing: After a free 30-day trial, pricing starts at $99 per month when billed annually. However, to access social listening, you'll need to sign up for the Business plan billed at $739 per month.
---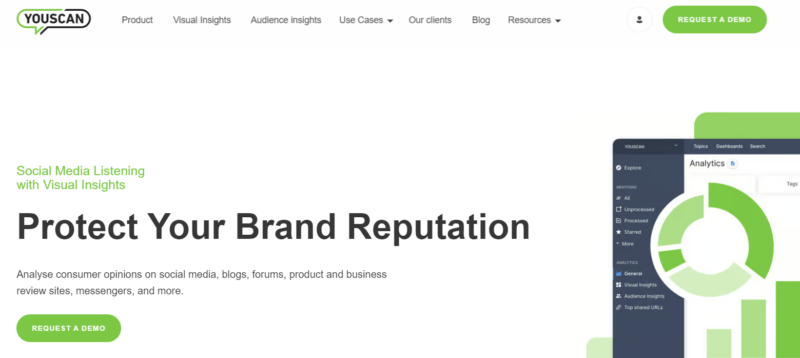 YouScan is a highly rated tool that you can use to keep tabs on online conversations, be prepared for important events, and reply to threats. What makes it such a useful tool for crisis management is that in addition to social networks, it can also gather text and visuals that mention your brand across hundreds of thousands of other data sources such as forums and review sites.
Thanks to customizable dashboards, it's also pretty straightforward to keep track of all this data. In fact, it's its ease of use, along with its customer service, that YouScan users rank the highest. You get to decide which metrics you care about enough to include in your dashboard. That being said, its interface is a bit boring, but you probably expected that after looking at its website.
Key features include:
Audience insights to understand your target audience better

Social listening

AI-powered image recognition
Plans and pricing: YouScan doesn't share any pricing on their website. You'll need to contact them directly or request a free demo via their website.
---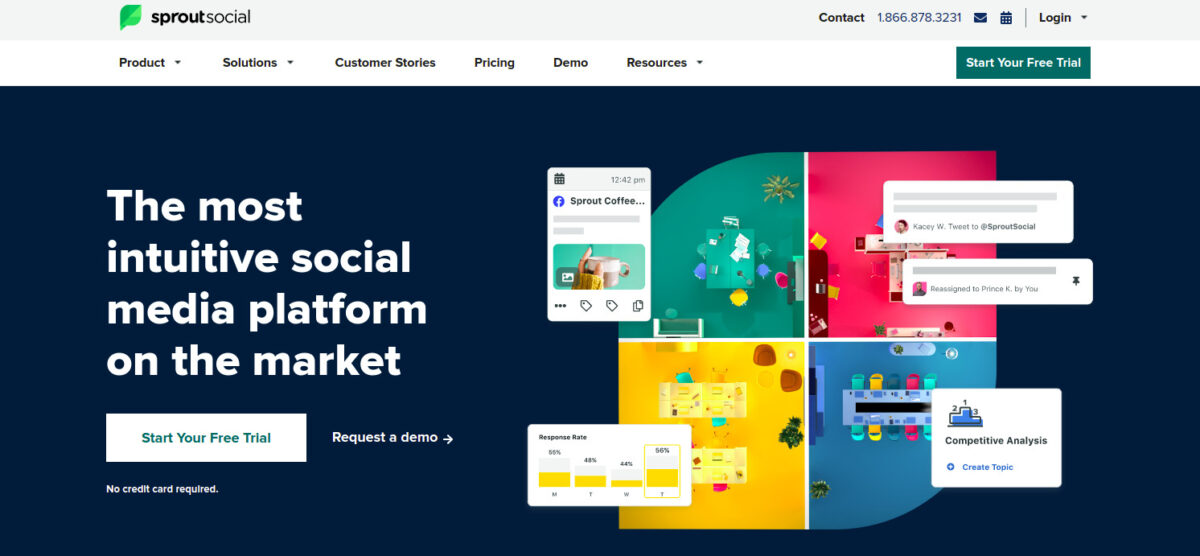 Sprout Social offers several features to help you prevent an online controversy or mitigate the effects should it happen. It will inform you if there's a sudden increase in engagement which could signal a possible issue. You can also use its social listening feature to monitor keywords, hashtags, and replies in real time.
Another feature that deserves special mention is its ability to pause automated posts. During a time of uncertainty, it can be best to stop regularly scheduled content. This will give you the time to review the content again to ensure that it won't serve as fuel for the current fire. Even if it's not directly linked to the crisis, irrelevant posts should also be avoided for the time being.
If you have more than one person that can help you with the crisis, you can also check out its Collision Detection tool. In short, it will improve efficiency by ensuring that only one team member is assigned to a specific response. Not only can this help to allocate human resources better, but it can also prevent the same message receiving two conflicting replies.
Key features include:
A unified social inbox

Message tagging

Custom workflows

Response rate and time analysis reports

Review management for popular review sites including Facebook
Plans and pricing: After a 30-day free trial (no credit card required), pricing starts at $249 per month. Social listening and premium analytics are available as add-on solutions to all plans.
---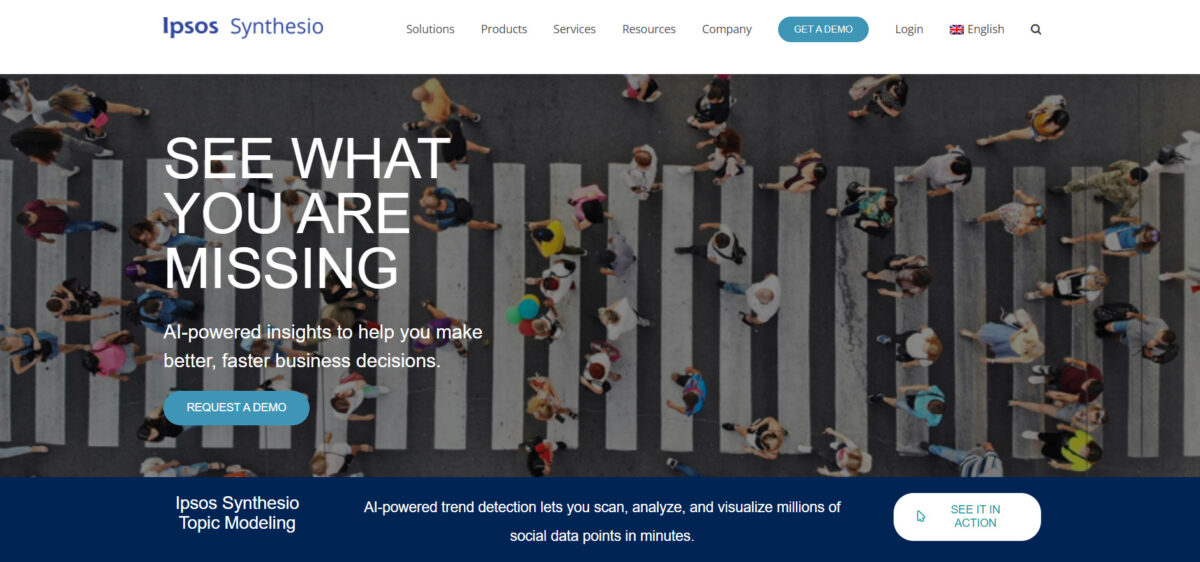 For an alternative to Brandwatch, you can try Synthesio. It's a social intelligence suite that can be used for various purposes like market research, customer sentiment, and crisis management. When used for crisis management, its social listening platform can be used for monitoring changing sentiment and post-event analysis.
Real-time notifications will inform you about significant changes in the number of brand-related online conversations or sentiment. Plus, with the help of the geographic data that it can provide, you get closer to the source of the concerns.
Then, to help you deal with the unfolding situation, you can use its command center, affectionately dubbed Beam. Here, you'll be able to track your brand's global standing, watch how your audience is reacting to your crisis response plan. Equipped with better insight into how your crisis plan is performing, you're in a much better position to change your tactics accordingly.
As mentioned, it can also be used when the dust has settled. Included in its list of features are proprietary metrics like a Social Reputation Score (SRS) for monitoring the health of your brand. You can also use it to find out on which social platforms your intervention generated the best results in terms of engagement and awareness.
Key features include:
Social listening dashboards

AI-powered trend detection

Reporting

Audience segmentation

Visual listening
Plans and pricing: For more information about their pricing, you'll need to reach out to Synthesio directly or schedule a personalized demo.
---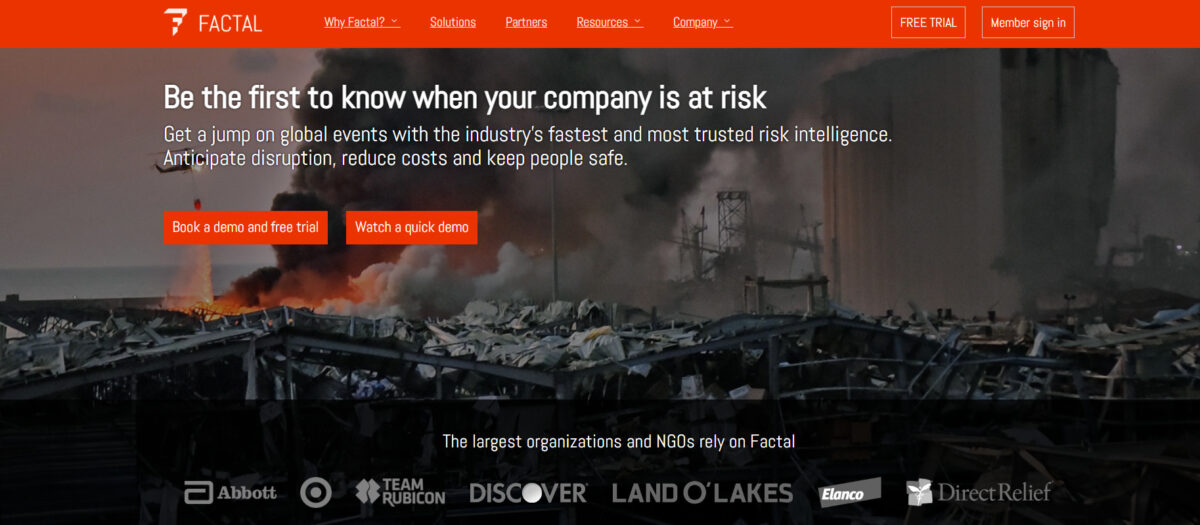 For something a bit different, you can also check out Factal. It's a risk intelligence and breaking news platform that gives you real-time facts to minimize disruptions. It does that by merging the power of machine learning and seasoned journalists. This way, you're presented with verified info helping you to respond faster. As a matter of fact, according to their website, their platform can speed up your average response time by as much as 28 minutes. Differently put, it's like adding two and a half extra employees to your team.
It will also give you a clear outline of how you're affected by a crisis, such as a data breach. In terms of social media platforms, its proprietary AI tech can draw from sources like Facebook and Twitter
Another reason why it can be a useful tool for crisis management is that it includes a built-in crisis collaboration feature. It connects different teams via a secure chat so that they can work together on international events.
Plans and pricing: Factal offers a free 30-day test drive. For more info about the pricing after the trial, you can book a tailored demo with them.
---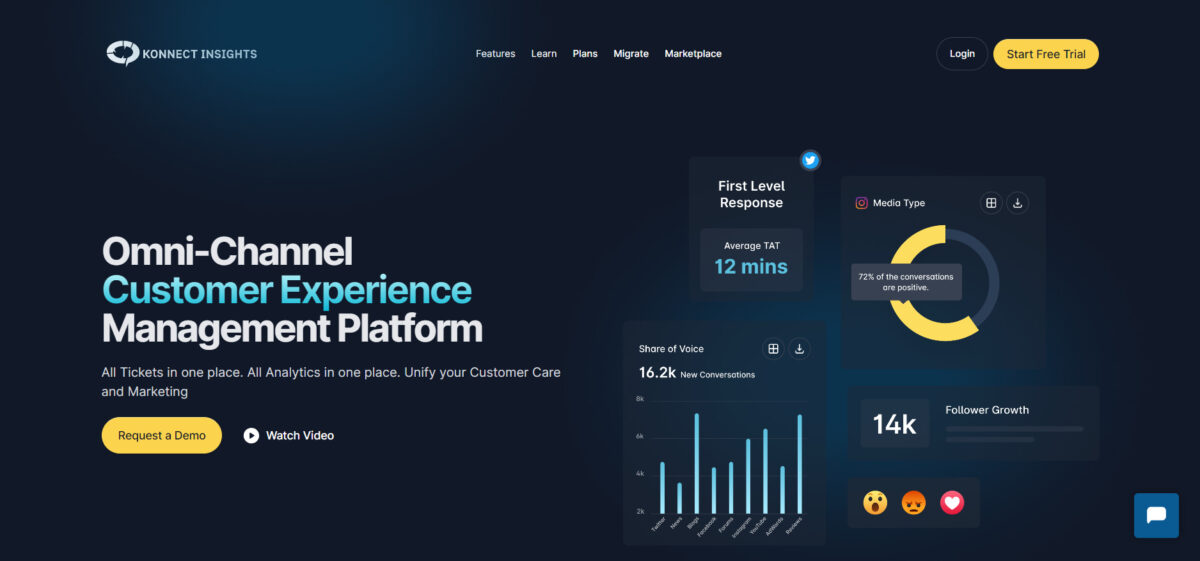 Konnect Insights is one of the top 10 incident and crisis management software solutions that can help you to listen to conversations on social media as well as the rest of the web. It describes itself as an omni-channel customer experience management platform that's used by global names like Volkswagen, Honda, and Decathlon.
Included in its list of features is social listening. It currently supports Twitter, Facebook, Instagram, LinkedIn, YouTube, TikTok, Reddit, Quora, and more. You can use it to analyze customer sentiment on social media. To streamline data processing and help you reach the right conclusions, it offers features like custom dashboards and customized charts.
Key features include:
Tickets management

Roles and permissions

Response management workflows

Social analytics
Plans and pricing: For more information about its different plans' pricing, you'll need to reach out to the sales team of Konnect Insights.
---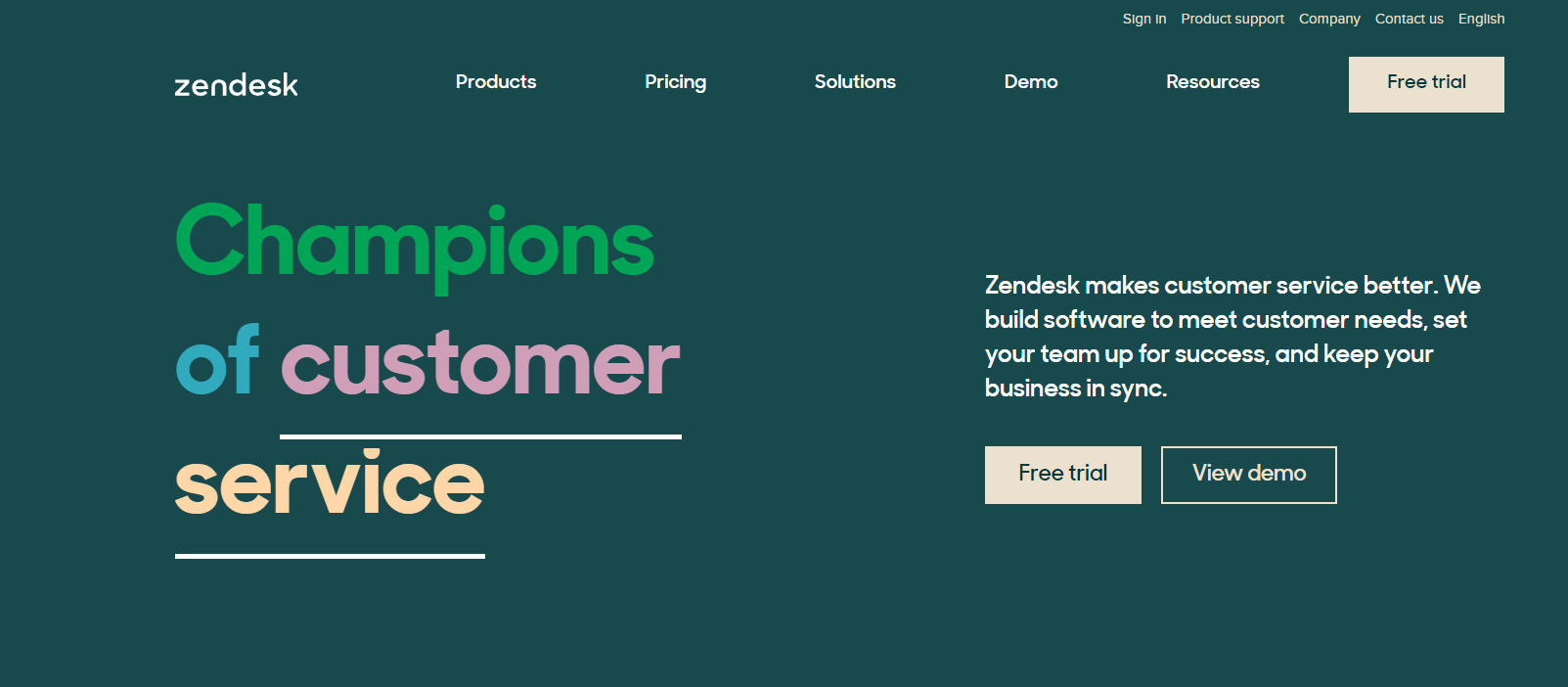 Customer service and social media crises are often intrinsically linked. Improve your customer service and fewer people will feel the need to resort to social media to air their grievances.
To help you in this area, there's Zendesk. Its comprehensive customer service solution is one of the most popular marketing tools for eCommerce and a great choice for brands with bigger teams. Trusted by names like Uber and Cotton On, it can help you provide conversational support on the platforms where your customers are the most active.
With Zendesk Support, all the conversations are displayed in a single location. These conversations can then be turned into tickets that get assigned to your customer support team. It also integrates with popular social listening tools such as Hootsuite and Sprout Social to streamline workflows.
For brands looking to embrace automation and AI to help prevent crises, there's also the Answer Bot. It can offer support round the clock helping to solve problems immediately. It also includes sophisticated AI to prioritize conversations, a key feature in times of a crisis.
Key features include:
AI-powered automated answers

A unified workspace for customer service agents

Automated conversations experiences across social
Plans and pricing: Zendesk offers a number of subscription plans, including plans for enterprise clients. After a free trial, pricing starts at about $50 per agent per month.
---
---
Wrapping Things Up
When you're crafting your social media crisis communication plan, make sure to include which tool you're going to use to implement it too. Sure, you'll want to create personalized messages for fear of making the situation worse (after all, the last thing an angry customer wants is an automated reply), but speed is also of the essence. For this reason, it's best to merge human intervention with crisis management tools.
If you already have social media management software in your MarTech stack (which we highly recommend you do), it probably already has some features like a unified inbox to help you in times of crisis. If not, use it as an opportunity to explore alternatives and upgrade to a more comprehensive solution.