Social media management can be a huge time suck for businesses. If you want to take advantage of all social media opportunities, you need to be proactive. You can't expect to succeed if you spend a begrudging ten minutes a week on your social accounts.
Enterprises with sizeable budgets and large marketing teams have an advantage. It is easier for them to find the resources you need for social success. Of course, their social activity often scales accordingly, and it may be challenging even for the largest companies.
Luckily, a vast range of social media management tools has sprung up over the last few years, to make the life of busy executives easier. Indeed many of them are free or have plans suitable for the smallest business or soltrepreneur. Likewise, many of these social media management tools are useful for agencies and freelancers, operating social accounts on behalf of multiple clients.
Not just businesses use these tools, either. Many of them are useful to individuals who take their social accounts seriously, including, of course, influencers. Often these tools make the life of influencers manageable – they allow influencers to concentrate on the parts of social media management they enjoy, by automating the routine, tedious processes. These social media management tools will enable you to run your social accounts at scale.
---
The Ultimate Guide to the Best Social Media Management Tools:
---
1. Hootsuite
Plans: Free, Professional ($29/month), Team ($129/month), Business ($599/month), Enterprise (Contact for pricing). Free 30-day trial
Hootsuite is one of the more mature social scheduling tools on the market. It caters for social users of all sizes – from individuals with a couple of social accounts up to enterprises and agencies with a team of people managing multiple social accounts.
It caters for Facebook, Twitter, LinkedIn, Instagram, and more recently Pinterest.
You set up a tab for each of your social accounts within Hootsuite. Then you select a range of Social streams for each tab. For instance, on your page for a Twitter account, you may choose streams for Home, My Tweets, Scheduled Tweets, and each of your lists. Hootsuite does give you many more options, and you can even set up streams using Hootsuite's advanced search capabilities.
As you go through your streams, you will probably see posts you want to share, like, comment on, or engage in some way. You can do this all within Hootsuite, making it easy to be part of social conversations across a range of social networks at the same time.
You can compose new posts/tweets/pins in a range of ways, including a relatively new intelligent posting page, and a bulk-posting tool.
Hootsuite also offers analytics at various levels, depending on your plan, so you can determine the effectiveness of your posts and try to replicate those that perform better.
Another useful feature for businesses that advertise on social networks is that you can manage social ads directly within the Hootsuite interface.
---
2. Buffer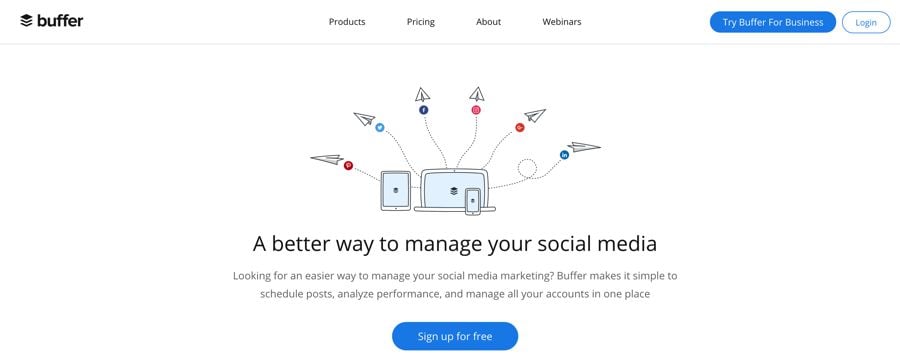 Plans: Free, Pro ($15/month), Small ($99/month), Medium ($199/month), Large ($399/month). Discounts for annual payments. Free 7 or 14-day trial depending on plan
Buffer is one of the better-known social scheduling tools, although its feature list is not as advanced as some of its competitors. Its main brief is to give you an easy way to schedule posts over your social networks.
As its name indicates, Buffer creates a buffer of posts, which it shares on your behalf at times best suited to your audience.
It has an extension to all of the major browsers, allowing you to add interesting posts you encounter to your social buffer, allowing you to share them at a suitable time in the future.
Buffer now supports your Twitter profiles, Facebook pages, groups, and profiles, LinkedIn pages and profiles, Instagram profiles, and Pinterest profiles.
Buffer has expanded its capabilities over time. Its core is still Buffer Publish, which allows you to build your content buffer and set publishing times. However, it now has two other modules: Buffer Reply and Buffer Analyze.
Buffer Reply allows you to respond to social conversations from within the Buffer inbox. It is reasonably robust, allowing you to use filters, tags, folders, and automation rules.
Buffer Analyze delivers your social media insights, providing you with useful tracking and sharing performance metrics.
While Buffer is not as feature rich as some of its competition, it has a simple learning curve and is ideal for people who only manage a few social accounts.
---
3. Sprout Social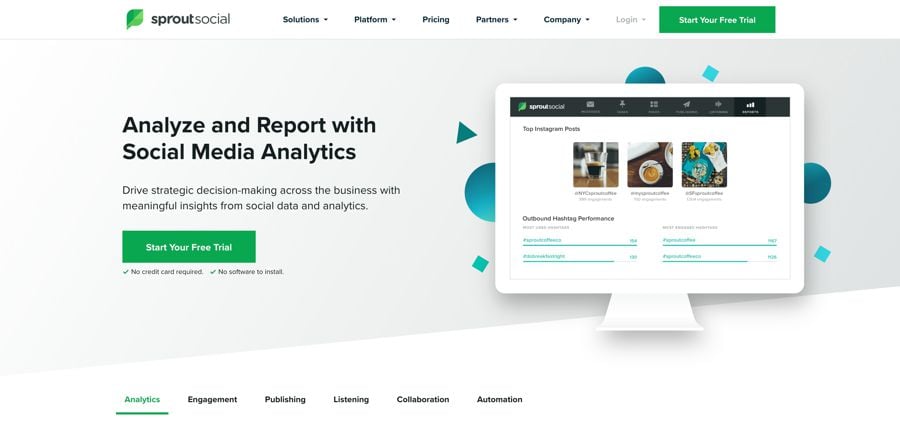 Plans: Standard ($99/user/month), Professional ($149/user/month, Advanced ($249/user/month). Free 30-day trial
Sprout Social is an industrial strength social scheduling and planning tool that has particularly strong team collaboration and multi-account facilities. It features social analytics, social management, social publishing, and social listening.
It offers solutions for users from small businesses to enterprises, as well as agencies covering multiple accounts.
Sprout Social describes its Standard plan as being an essential tool for professionals. This provides you with complete social media management in an all-in-one social inbox. You can work with up to five social profiles, from Facebook, Twitter, Instagram, and LinkedIn.
You can use it for real-time brand monitoring on Twitter, with keyword, hashtag, and location searches.
Sprout Social offers powerful monitoring and engagement facilities. You can access a range of customizable contact views across networks each time you reply. It keeps a complete conversation history, which you can refer back to if necessary. You can monitor and engage with comments on all your owned profiles. You can even track activity on your paid posts. It allows you to turn social messages into actionable tasks.
Sprout Social also features powerful planning and publishing features. You can collaborate with your team, viewing and managing social posts across your multiple social platforms. It offers numerous ways to schedule your posts intelligently. It includes Sprout Queue, allowing you to fill publishing gaps with a fully configurable system for automated scheduling.
You can build and save your drafts, including video and multi-photo posts. This includes sharing single image posts directly to Instagram without additional mobile workflow. You can even add filters, text, make adjustments, and optimize images.
All plans allow group, profile, and post-level reporting across Twitter, Facebook, Instagram, and LinkedIn. You can even create a cross-network group report to uncover trends in profile growth. Sprout Social also provides reports for each social network, even with its Standard Plan.
The higher plans add capabilities in each area. You can also buy add-ons to provide capabilities in social listening and sharing via Sprout's advocacy platform, Bambu.
---
4. TweetDeck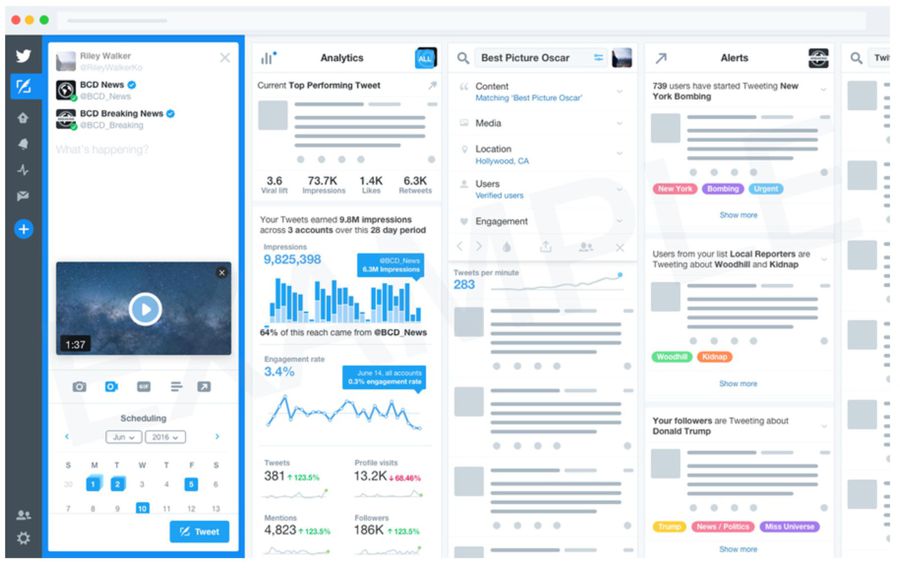 Plan: Free
If Twitter is your primary social platform, then TweetDeck could be ideal for your social media management. It looks very similar to pay products such as Hootsuite but limits itself to the Twittersphere. You can set up multi-column views of different streams from your Twitter account, and do virtually everything needed for your account directly from this interface.
TweetDeck is Twitter's official analytics and management tool. It can significantly improve your Twitter experience. It includes the ability to schedule your tweets, multiple user support, real-time updating, and an effective search and filtering engine.
TweetDeck allows you to customize your Twitter interface, with its customizable dashboard. You can build multiple custom timelines and monitor them from a single interface. You can create timelines for particular groups of users, for example, people who have sent you direct messages. You can also quickly filter out the tweets from people you don't want to see.
You can set up intelligent keyboard shortcuts to make it easier and more intuitive for you to browse through the TweetDeck dashboard.
TweetDeck allows you to schedule your tweets so that they are automatically posted at your preferred times. You can set up customizable alerts that provide you with notifications about certain types of activity.
---
5. AgoraPulse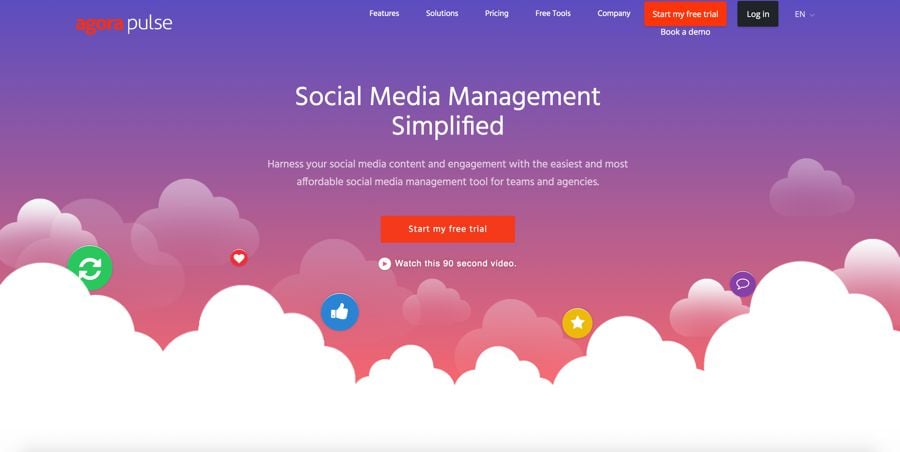 Plans: Small ($39/month), Medium ($79/month), Large ($159/month), Enterprise ($239/month). Discounts for annual payments. Free 14-day trial
You can use AgoraPulse to schedule social content for Twitter, Facebook, Instagram, YouTube, and LinkedIn. It gives you visual previews of your content, so you never have unexpected surprises.
AgoraPulse believes it can help you at all stages of the social media cycle: Publish, Engage, Listen, Report, and Collaborate.
In the Publish phase, you can use AgoraPulse to post directly to all of your social accounts. You can either place content in a queue, to be distributed at optimal times, or you can schedule posts for precise times. You can easily tweak your content to make it work best for each social network.
A useful feature of AgoraPulse is that you can build up a library of evergreen content that you can reschedule repeatedly.
With its Engage phase, AgoraPulse simplifies official media communication. You can quickly skim through all of your social conversations in one place. Likewise, you can simply tag, assign, and block messages. It also provides you with information about the people who engage with you.
You can use it as a social listening tool, too. AgoraPulse automatically sets up a range of pre-populated monitoring streams. It also makes it easy for you to find user-generated content with just a few clicks. A somewhat unusual feature for these types of scheduling tools is that you can use AgoraPulse to set moderation rules so you can squash any online trolls hassling your accounts. You can also tag chatter, and then concentrate listening only on the topics that most interest you.
AgoraPulse includes a full reporting module, which allows you to export your social stats with a single click. It shows you the trends in your social KPIs and gives you a deep analysis of your social accounts. You can easily see which posts give you the best ROI, and which are least popular, so you can replicate your most successful forms of content.
If you work as apt of a team, you can use AgoraPulse for real-time collaboration – you can see your team members' work as they do it. You can assign main roles to your team and manage their individual responsibilities. You can easily check on your team's progress, and even get reports on your team's response time.
---
6. MeetEdgar (aka Edgar)
Plan: Standard ($49 per month – one month free on an annual plan)
The name of this product can be confusing. Although the website is called MeetEdgar (at meetedgar.com) you need to take that name literally. You come to the site to "meet" Edgar, scheduling and social automation software.
You can use Edgar to streamline your social posting to Facebook, Twitter, LinkedIn, and now Instagram. Their website suggests that you will be able to use Edgar to post to Pinterest soon. You can either design your own schedule or use Edgar's recommended posting times.
Edgar lets you build an unlimited content library, where you can simply add new content items as you find or create them. Edgar pulls content from your library as part of its auto-scheduling. You can compose content directly in Edgar if you prefer. You can even create updates using RSS feeds from your favorite sites.
You can quickly sort your content libraries into color-coded categories. Edgar works with Bitly and Rebrandly, so you can easily top up your posts with shortened and less confusing links.
---
7. Tailwind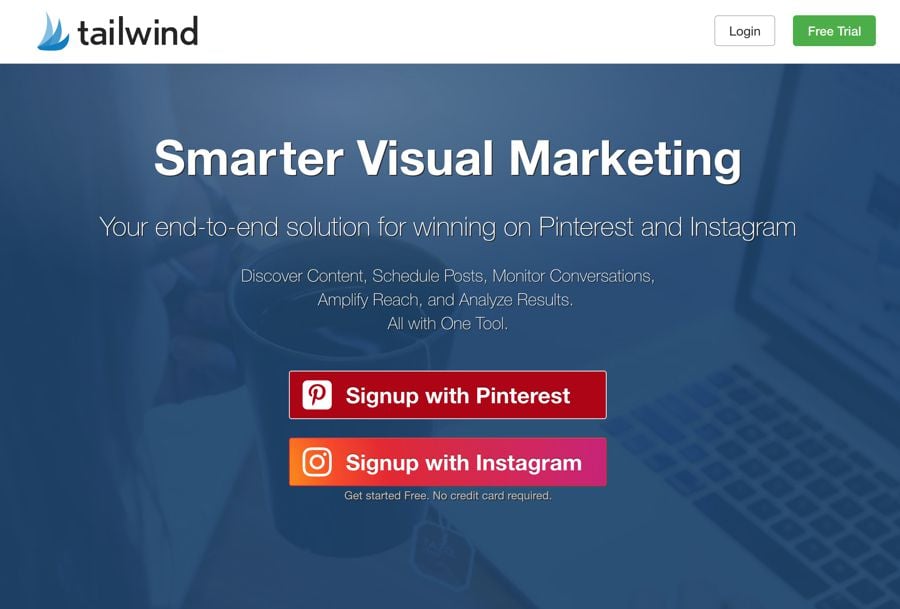 Plans: Plus - for Bloggers & Small Businesses ($15/month/account), Professional – for Large Brands and Agencies ($799.99/month), Enterprise (Contact for details). Discounts for annual payment for Plus plan. Free trial.
Tailwind helps you master your efforts on Pinterest and Instagram. You can use it to discover content, schedule posts, monitor conversations, amplify reach, and analyze results.
Its Plus plan is ideal for bloggers and small businesses with fewer than 25 employees. With the sizeable price difference between the Plus and Professional plans, companies with just a few more than 25 employees will want to take the free trial first, to consider it is a worthwhile investment for them.
You can only work with one Pinterest or Instagram profile if you are on either the Plus or Pro plan, but enterprises can work with as many accounts as needed. You can create additional accounts, however, on the lower two plans, at an additional charge.
If you pay for the Plus account, you can schedule 400 posts per month. If you pay for that plan annually or are on the Pro or Enterprise plan, you can have unlimited scheduling. You can personalize your post scheduling and bulk upload. Those on the Enterprise plan can schedule with auto-optimization.
You can track your brand's page and receive basic profile metrics. These include profile trend reporting, as well as virality and engagement benchmarks. The Pro plan adds in competitor benchmarks, and the Enterprise plan adds industry trends. If you have a Pinterest account, Tailwind provides primary board metrics and trend reporting.
You can also monitor your domain / organic activity on Pinterest, with a variety of analytics, with more being added at Pro and Enterprise levels.
Tailwind provides you with data to optimize your content strategy, restricted to analyzing your last 5,000 posts on the Plus plan, but with unlimited post analysis on the higher plans. It offers a few additional analytical tools on the Pro and Enterprise plans.
---
8. Social Flow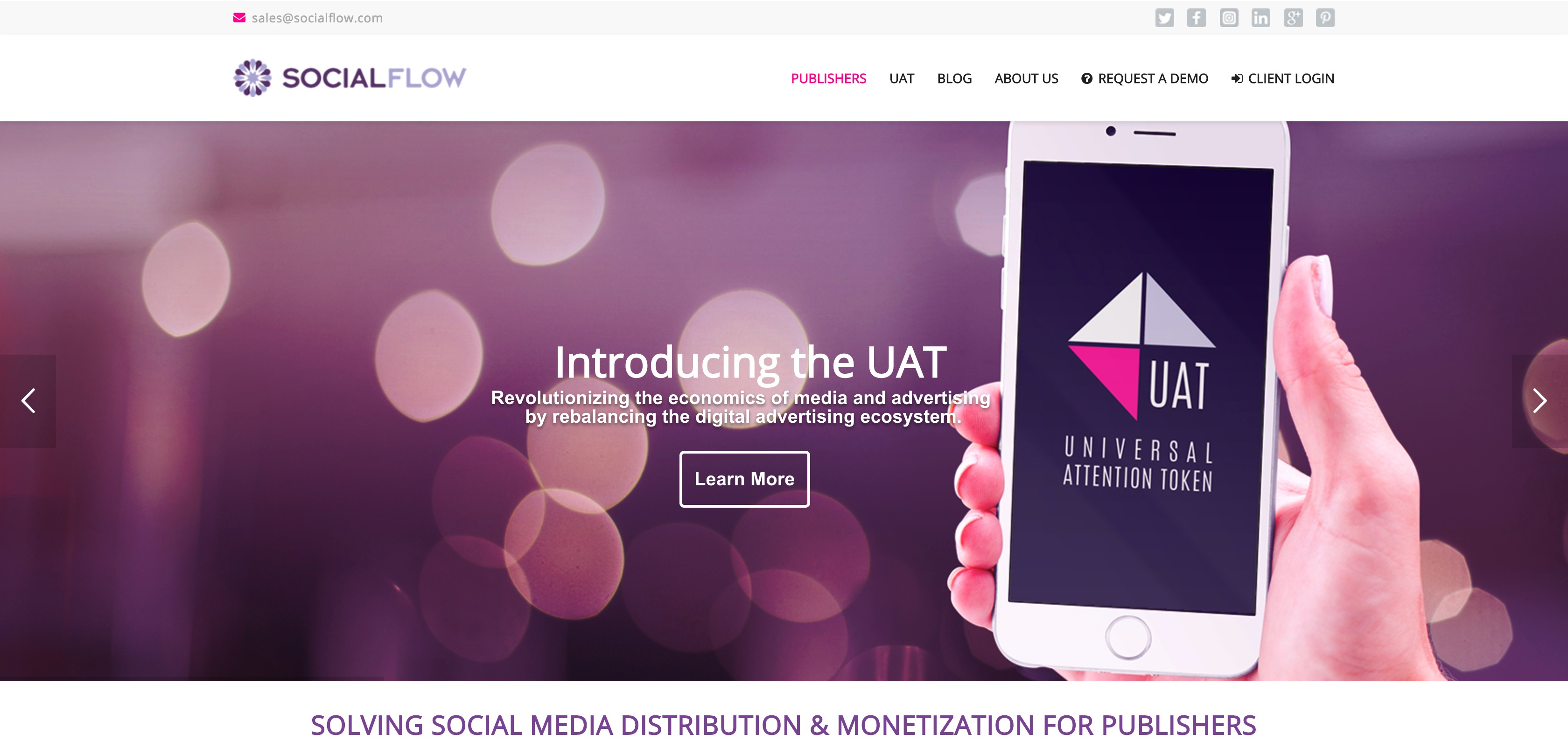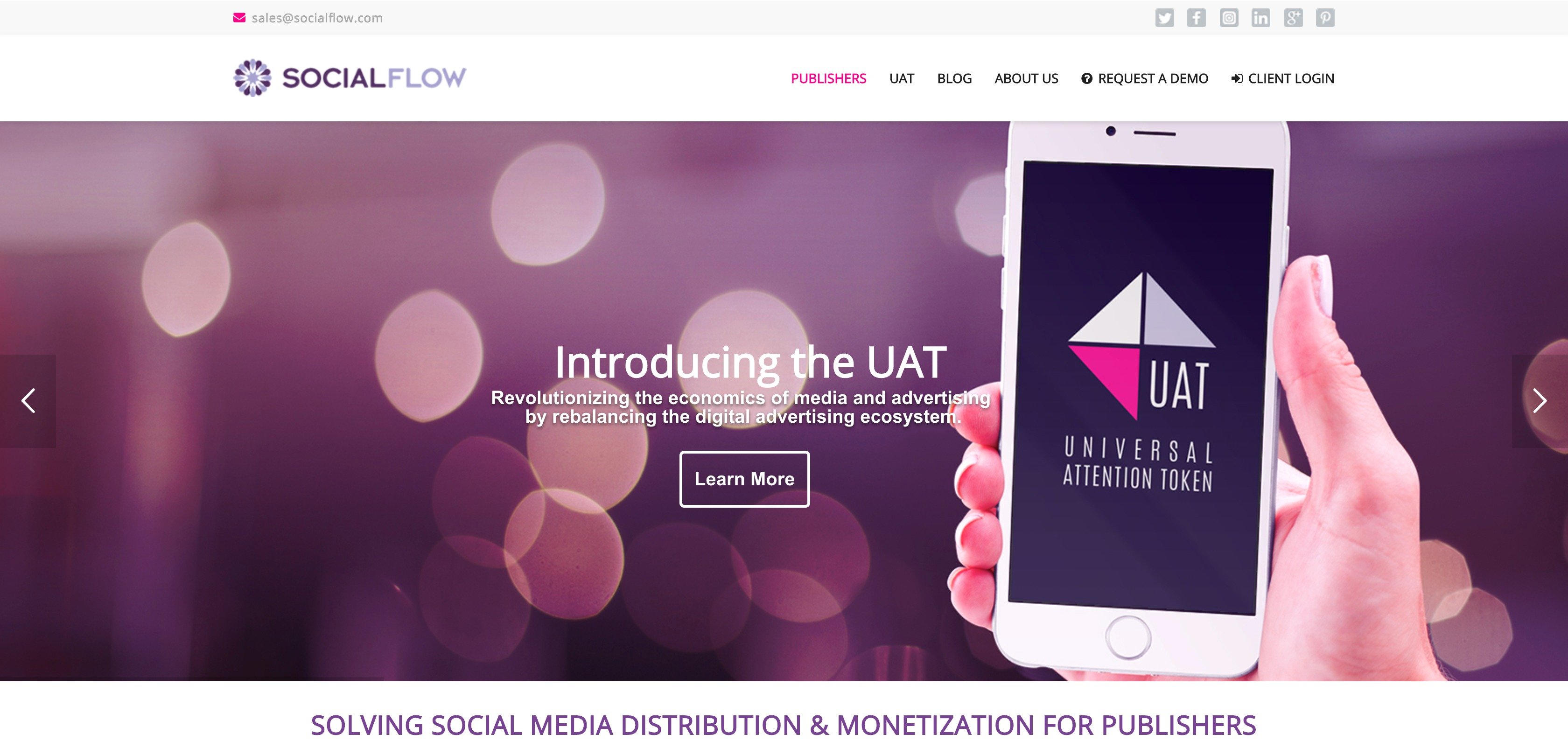 Plan: Contact Social Flow for plan pricing details
Social Flow describes itself as solving social media distribution and monetization for publishers. It lists quite a few prominent media companies as its clients. Social Flow enables their clients to more efficiently manage their day-to-day social distribution, monetization, listening and reporting needs at scale. It was purpose-built for publishers and media companies.
It uses smart algorithms to ensure the right content is published at the right time. It continually analyses content, allowing fast trending stories to be distributed immediately.
It provides visual alerts, making it easier to determine the high-performing posts that your business should re-share.
Social Flow uses integrated RSS feeds to permit content to flow seamlessly into their platform, and it then scores it for likely engagement. Teams can modify editorial controls, to ensure that it recognizes the best type of content to meet a publication's editorial rules.
In the last year, Social Flow has published 25 million Facebook, Twitter, LinkedIn, and Pinterest posts on behalf of their clients.
---
9. eClincher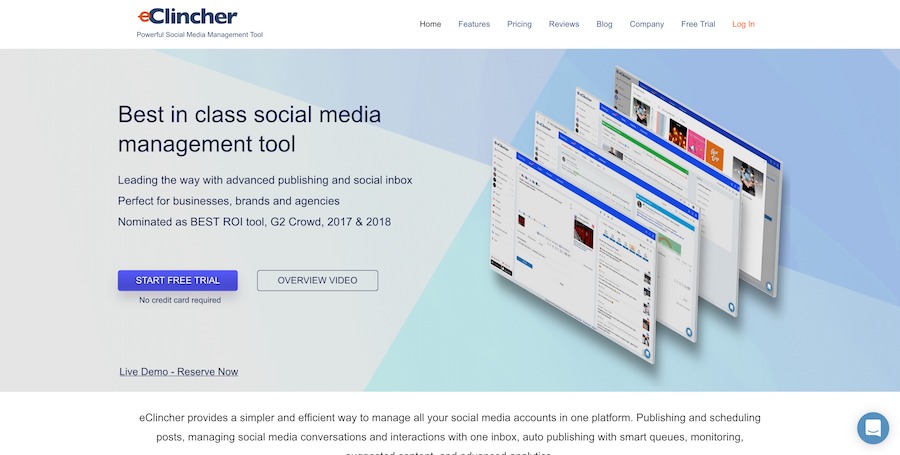 Plans: Basic ($49/month), Premier ($99/month), Agency ($199/user/month). Free 14-day trial
eClincher is a useful social management tool for managing your social publishing, monitoring, engagement, and analytics.
You can have 15 social profiles under the Basic plan, 30 under the Premier plan, and 10 brands, each with 10 profiles, if on the agency plan. eClincher works with Facebook, Twitter, Instagram, LinkedIn, Google My Business, Pinterest, YouTube, Yelp, and Google Analytics.
You can publish unlimited posts, including Instagram direct publishing, scheduling, and calendar entries. You can auto post from queues – maximum of 15 queues on the Basic plan, unlimited on the others.
You have a single social inbox where you engage, tag, assign, and complete tasks.
eClincher provides the means to monitor and listen for keywords, hashtags, and locations, with the number depending on the plan.
You can extract some form of analytics at all levels, with greater capabilities for the Premier and Agency plans. These higher plans also provide a media library where you can manage your creative work.
There is an additional $20/month add-on providing the capability to discover and engage with influencers.
---
10. Sendible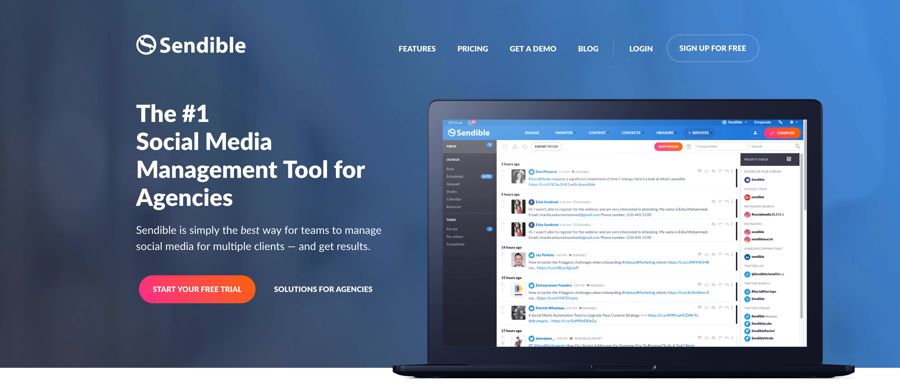 Plans: Micro ($29/month), Small ($99/month), Medium ($199/month), Large ($299/user/month). Discounts for annual payment. Free 30-day trial
Although Sendible has Micro and Small plans its true target market is agencies – where it targets its Medium plan. It claims to be the best way for teams to manage social media for multiple clients.
Sendible gives you a unified social inbox for each brand. It brings all the social messages from multiple profiles into a single filterable stream.
Sendible includes an intelligent content recommendation engine that analyses a client's profiles to determine the best content to resonate with their particular audience.
You can connect to nearly every social network and blogging platform, including Facebook, Twitter, LinkedIn, Instagram, YouTube, WordPress, Blogger, and Tumblr. It also has direct access to Canva, Google Drive, YouTube, and Dropbox.
Sendible allows you to schedule posts individually or in bulk. You can queue your best-performing content to repeat.
It also includes social listening capabilities. You can monitor keywords to know what people are saying about each brand. It highlights whether each mention is positive, negative, or neutral.
Sendible allows you to create detailed reports in minutes. It includes over 250 charts. You can either use one of their predesigned templates or customize your own.
It includes a CRM so you can treat your social interactions like leads. It shows your entire conversation history.
---
11. Social Pilot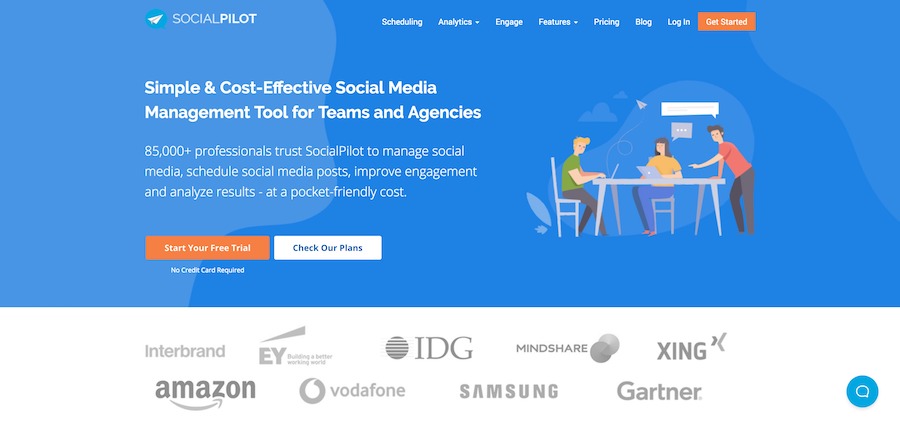 Plans: Professional ($30/month), Small Team ($50/month), Agency ($100/month), Enterprise (Custom prices). Discounts for annual payment. Free 14-day trial
Social Pilot is another tool designed to help you manage multiple media posts for all your networks in one place. It allows you to schedule Facebook posts, tweets, LinkedIn posts, Google My Business posts, Instagram posts, and Pinterest pins, as well as the less common Tumblr posts, VK posts, and Xing posts.
You can create your posts in advance and then schedule them, adding relevant hashtags and images, depending on the network to which you are posting. If you post on scale, Social Pilot includes a bulk-scheduling tool.
With Social Pilot, you can respond to messages, comments and posts across Facebook pages in real-time. Everything shows in one timeline, but you can filter things to focus on what really interests you.
It also includes comprehensive social media analytics and reporting module. There are analytics tools for each of the social networks. They help you understand your top content that engages your audience most. Audience insights let you know your audience better and analyze growth patterns to create an engagement strategy. It can help you discover top influencers who can drive engagement on your behalf.
---
12. SocialOomph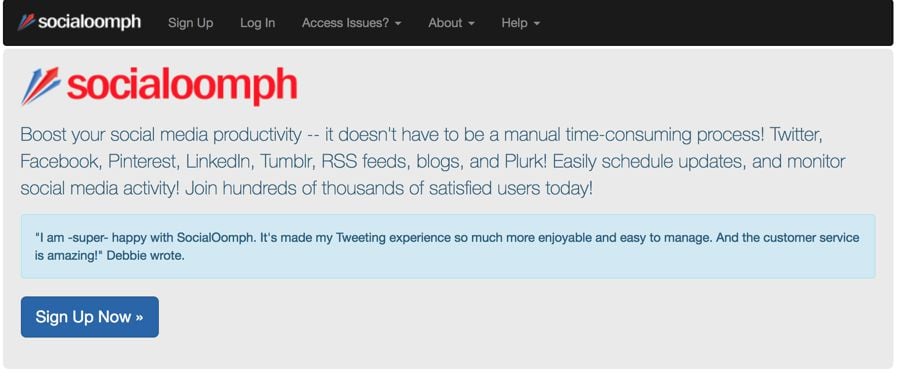 Plan: Free, Twitter Unlimited ($6.97 per two weeks), Professional ($17.97 per two weeks)
If you want a quality free tool to help you schedule your tweets, then SocialOomph should be of great value to you. Free SocialOomph provides a comprehensive range of features to help you manage up to five Twitter accounts.
You can schedule tweets for whenever you want them, so you don't have to be at your computer all of the time. You can save draft tweets, frequently used phrases, and URLs, and reuse them whenever you have a need.
You can use free SocialOomph to set up alerts and track tweets that use your selected terms. You can also monitor your @replies, and view your @mentions, and retweets.
SocialOomph allows you to view predefined Tweet interests' channels, zooming in on your interest.
If you operate more than five Twitter accounts, you can upgrade to Twitter Unlimited that permits you to carry out all of the above tasks on as many Twitter accounts as you want. Twitter Unlimited (and Professional) customers also gain access to a few other twitter related features. You can define your own channels and groups
You can manage many accounts in an integrated console with Tweet COCKPIT. This lets you integrate your timelines and even filter your timelines to show only tweets made by the people who genuinely interest you.
Of course, most firms and agencies, work with more than just Twitter. This is where SocialOomph Professional comes in handy. It takes the social activity you can do in the app to many other social networks - Facebook, Pinterest, LinkedIn, Tumblr, RSS feeds, blogs, and Plurk!
---
13. IFTTT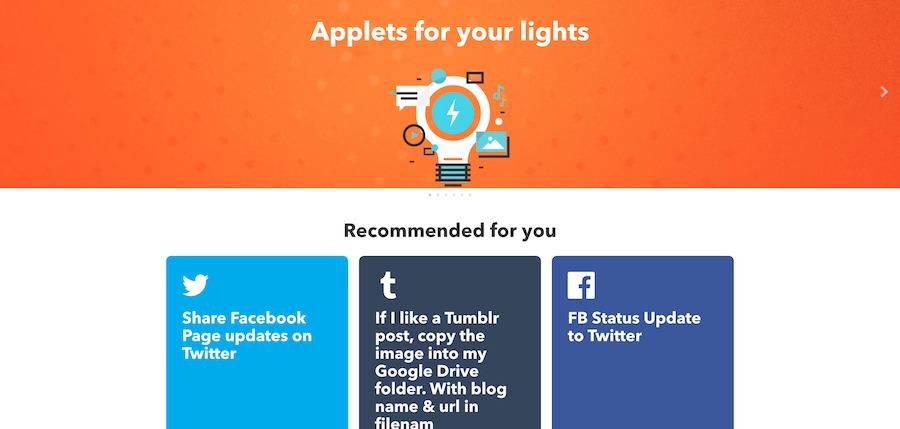 Plan: Free
Technically IFTTT is not just a social media management tool. There are thousands of things you can do using IFTTT. It is an automation tool that allows you to connect and automate various online tools to perform a series of tasks. It clearly has capabilities that can help your social media management. It operates in a similar way to Zapier.
It is free, so has particular value to people on a budget.
You use IFTTT to create recipes, i.e., you set up a recipe so that if some event happens in one program, then IFTTT follows through a series of steps in another program (or group of programs).
IFTTT's Discover page shows you a wide range of recipes, or alternatively, you can create your own if you have a custom purpose.
You could use it, for instance, to set up a sharing calendar for your Twitter account, i.e., you effectively create a recipe that states that at a particular time IFTTT will open up your Twitter accounts and share a specific post on Twitter.
One of the recipes on the IFTTT Discover page tweets your Instagram images as native photos on Twitter. Another automatically uploads your Instagram images to a Facebook Page album.
---
14. CoSchedule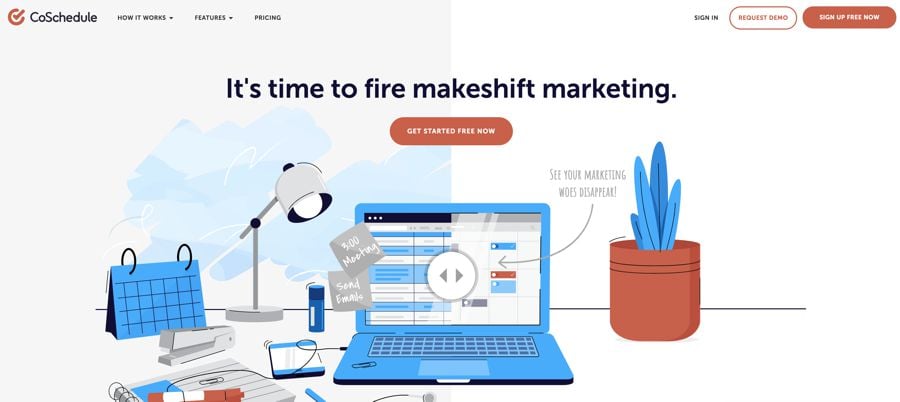 Plans: Individual ($49/month), Growth ($89/month), Growth + Agency ($239/month), Professional ($400/month), Enterprise ($1,400 per month). Discounts for annual payment for Individual, Growth, and Growth + Agency plans. Reduced rates for Individual + Referral Program. Free 14-day trial.
CoSchedule is renowned for its comprehensive social calendar, not to mention one of the best content marketing blogs on the net. Their product provides a clear and detailed way for you to schedule your posts, and create an all-encompassing content calendar.
If you use CoSchedule's tool and follow all of the salient advice from their blog, you have no excuse not to be a social marketing megastar.
CoSchedule's calendar includes all the typical publishing features you would expect. You can schedule content for Facebook, Twitter, Instagram, LinkedIn, and Pinterest.
They have plans covering everybody from soltrepreneurs to enterprises and agencies. The rates for individuals are particularly generous. You can receive a 10% discount on your subscription for every referral you make. Also, if you publish a review of CoSchedule on your blog or website you earn a 50% reduction in your subscription for a year.
The heart of CoSchedule is a centralized editorial calendar (although you will have a separate calendar for each client on the Growth + Agency plan). You can efficiently manage your entire editorial schedule with their drag and drop calendar. You manage and publish all your blog content and social promotion in one place. You can even centralize your email marketing from there.
CoSchedule has undertaken extensive research into the best time to schedule posts and social messages – indeed, we have linked to their research regularly in our posts. You can easily set up your content for best time scheduling.
If you add CoSchedule's extension to Chrome, you can easily curate content whenever you come across something worth sharing.
CoSchedule provides some social analytics, even for the cheaper plans.
If you have a business plan (Growth or higher), your content calendar becomes a full-scale marketing calendar. This allows you to see your entire marketing schedule at a glance. You can create a unified workflow for every project inside a collaborative, cross-functional calendar for social, content, email, events, and more.
With the professional and enterprise plans, you can go further and get a filtered view of your entire holiday campaign, multi-day tradeshow, or major press release in one centralized location.
CoSchedule also offers more advanced analytics with the higher level plans.
---
15. Hubspot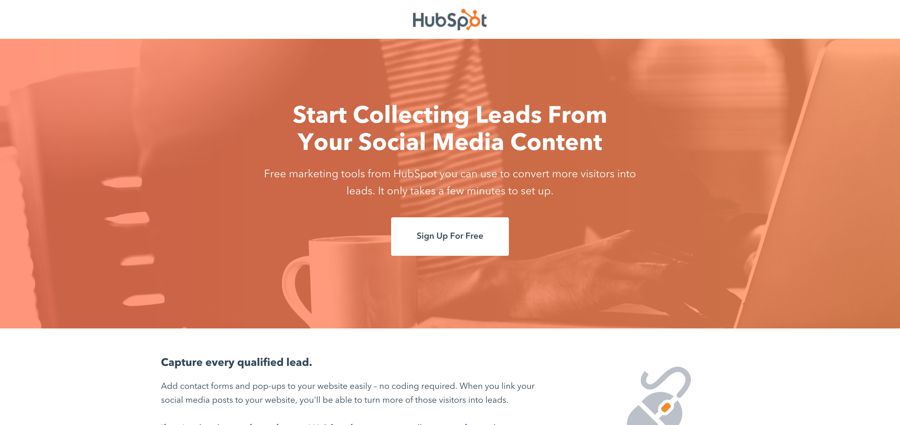 Plans: A range of plans for the various types of Hubspot software, starting with free plans. Starter plans start at $50/month, Professional plans start at $800/month, and Enterprise plans start at $3,200 per month. The Hubspot CRM is free.
Hubspot offers a full CRM, along with their Marketing Hub, Sales Hub, and Service Hub software. They also provide a comprehensive educational blog and website that can assist you in most areas of sales and marketing.
Social media management is, of course, only part of this mix. Hubspot's platform lets you monitor and publish social posts, and get closed-loop reporting data. This allows you to see what posts and channels drive actual leads and sales.
The core CRM functionality of Hubspot CRM is free, and you can add 1,000,000 contacts with unlimited users. Using the free or paid versions of the Sales Hub, you can connect Hubspot CRM to Gmail, G Suite, and many versions of Outlook.
---
16. Oktopost
Plan: Contact Oktopost for plan pricing details
Oktopost focuses on generating leads for business. Unlike most of these tools, which target many different types of social uses, Oktopost focuses on B2B. It provides solutions relating to social publishing, social engagement, social analytics, social advocacy, and social governance.
You can use Oktopost to effortlessly manage, organize, and schedule B2B marketing content across, multiple profiles, networks, and campaigns. You can coordinate every post relating to a specific social media marketing activity.
One user-friendly feature of Oktopost is its drag and drop editorial calendar, which makes scheduling posts across multiple campaigns exceptionally easy. It offers smart scheduling to ensure your posts are delivered at the optimal times, and to help fill gaps in your calendar.
Like a few of the opposition tools, such as Hootsuite, you can use Oktopost to curate content from across the web to share with your social audiences. You can coordinate every task from within Oktopost.
One of Oktopost's greatest strengths relates to social analytics. It allows you to measure the impact of every post, and campaign with rich social media analytics. You can track conversions from specific social posts, channels, profiles, and campaigns. You can isolate your top-performing links, keywords, multimedia, and hashtags, to optimize your content strategy. Oktopost generates powerful reports showing your social success.
You can also dig deeply into your data, and see how follower growth, mentions, and click demographics lead to new audience trends. You can determine which content drives clicks, comments, shares, and other types of engagement.
Oktopost goes further, however. It also offers a platform to assist with your social employee advocacy.
The third area where you can use Oktopost is in building social media promotions. It offers templates you can adapt to things like sweepstakes, contests, landing pages/forms, quizzes, polls, and coupons. You can either design assets yourself or work with Votigo's team of designers.
---
17. Crowdfire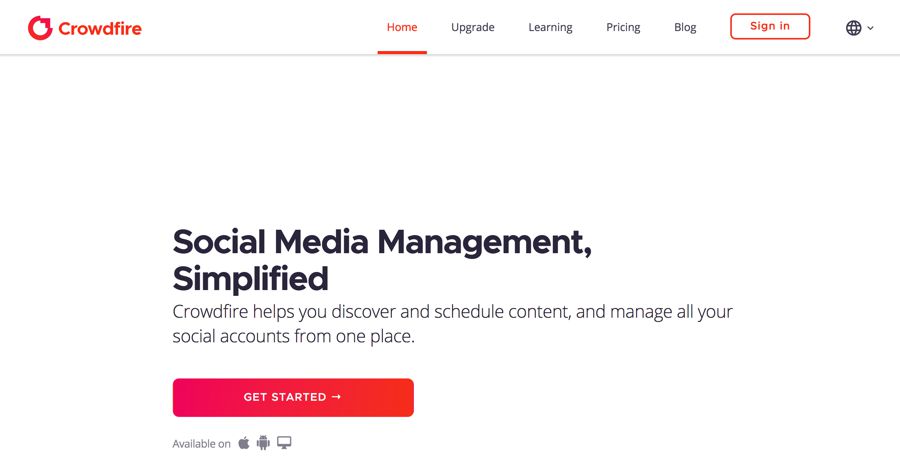 Plans: Free, Plus ($9.99/month), Premium ($49.99/month), VIP ($99.99/month). Discounts for annual payment.
Crowdfire is particularly suited as a social engagement tool, although it does include essential scheduling features.
You can easily curate content for your social accounts – both articles and images. You can add any RSS feed that you want to start curating articles right on your dashboard. It provides Image recommendations to curate shareable images for Instagram.
The Free plan is designed mainly for people wanting to try out Crowdfire's features. It allows one account per social network (excluding Pinterest) and will let you schedule up to 10 posts per account. It does provide most of the product's content curation features. It provides you with social and advanced analytics (but not post analytics) for one day.
You can use Crowdfire to schedule and publish content to Twitter, Instagram, Facebook Pages, LinkedIn, and Pinterest from one place. Each post is automatically tailored for each social network. It includes a queue meter that indicates whether your timeline is going to look active or not for the next seven days.
You can use Crowdfire to keep an eye out on your competitors' followers and follow them. You can also Follow accounts posting about your specific keywords of interest. It also tracks non-followers, monitors inactive accounts, and tracks all your followers who you don't follow back and engage with them by following them back.
It includes extensive analytics, including post-performance metrics, engagement metrics, and other advanced analytics.
Premium and VIP accounts also track mentions for your Twitter account in your team inbox. You can send replies to all the mentions with image and gifs.
---
18. Friends+Me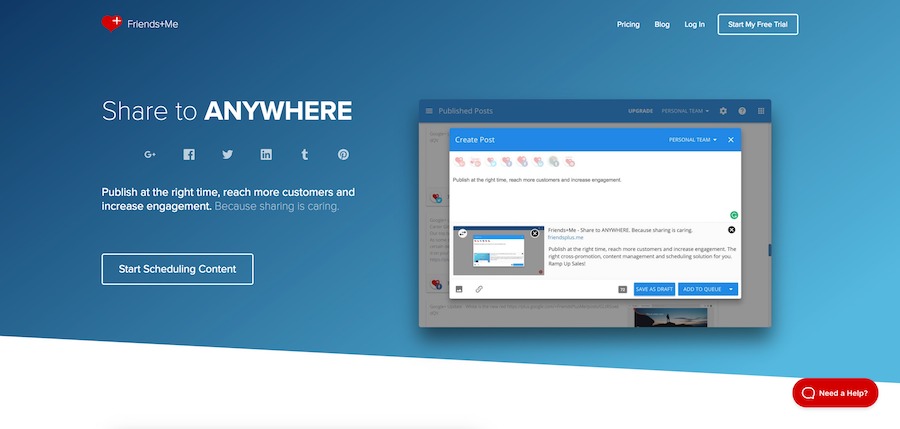 Plans: Free, Individual ($9/month), Small ($29/month), Medium ($59/month), Large ($259/month). Discounts for annual payment. Free trial.
Although Friends+Me initially had an active Google + focus, it has widened the range of social networks you can attach to it now that Google + has been signposted as being discontinued. You can still publish to there, while it exists, and in addition, you can schedule your posts to Facebook pages, LinkedIn profiles and company pages, Twitter, Tumblr and (on the paid plans only) Pinterest.
You can set queues to your publishing destinations (social network accounts), from two queues on the free plan up to 120 on the Large plan. You can place multiple posts in each queue. While you can only put five posts in each of your two queues on the free plan, this quickly jumps to 500 posts in each of five queues for the Individual plan, rising at each tier until the Large plan when you can schedule 5,000 posts in each of 120 queues.
To help with your posting, you can bulk schedule on all except the free plan.
Friends+Me provides a browser extension and both mobile and desktop apps that make it easy to add content to your queues.
---
19. Mav Social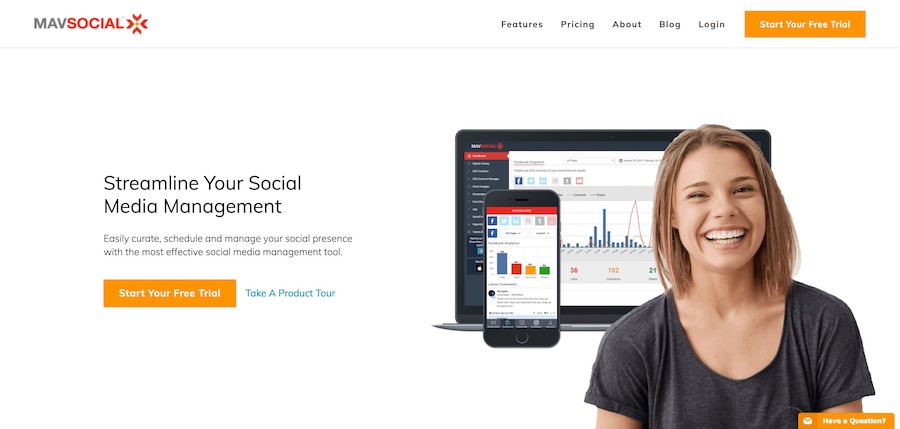 Plans: Advanced ($19/month), Pro ($78/month), Business ($199/month), Enterprise ($499/month). Discounts for annual payment.
Mav Social is a social media management tool that has a particular strength for handling visual content. In an unusual move, it calls its most basic plan, Advanced.
The Advanced plan permits one user and ten social profiles (across Facebook, Twitter, YouTube, Instagram, LinkedIn, and Tumbler). With the Pro plan, you can have here 3 users and 30 social profiles. The Business plan increases this to five users and 50 social profiles, and Enterprise permits 20 users and 70 social profiles.
You can use Mav Social to schedule your posts with an easy-to-use campaign calendar. You can reschedule your best evergreen content to maximize reach.
It has a social listening feature, where you can monitor trending topics to track the success of one of your campaigns.
Mav Social allows you to view all of your engagement history, messages, and comments, in one consolidated window. You can sort these how you want and respond directly from within the app.
Mav Social also provides you with detailed reports about your social performance. You can analyze your post engagement and share in-depth reports with your team members.
It includes a content curation module, helping you find content for your posts, with user-generated content or one of the millions of images that Mav Social has in their stock image market. You can create eye-catching visuals by adding effects, stickers, and filters to your photos.
---
20. Post Planner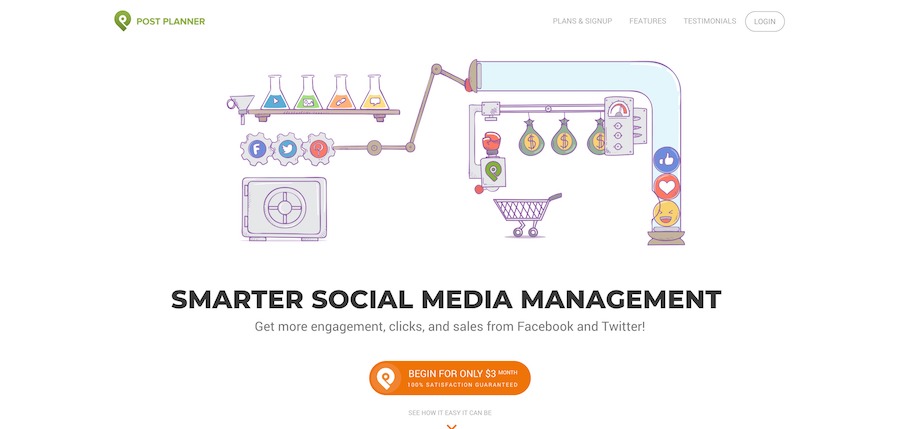 Plans: Starter ($3/month), Love ($11/month), Guru ($24/month), Master ($59/month), Agency ($125/month), Venture ($59/month). Discounts for annual payment.
Post Planner provides a simple way for you to plan and schedule your social posts. It has a range of plans, depending on your needs, ranging from the Starter plan for those with simple social needs (3 social media accounts, 30 posts a day to your Facebook page and Twitter profile, and 10 posts a day to Facebook groups).
The most popular small business plan is the Love plan that permits 10 accounts, 100 posts per day, and 1000 posts planned. Of the large plans, the most popular is the Agency plan, which permits 100 accounts, 1000 posts per day, and unlimited posts planned. The Agency plan allows access to 11 team members.
The core features of Post Planner are a content discovery engine that helps you build your queue of posts to share. It allows you to recycle your top content. You can create custom posting plans, sharing content at the best time for each social network. You manage all of your content from a centralized social management dashboard. Even the smallest plans allow you to evaluate the performance metrics of your social posts.
The higher plans add extra usability features. For instance, from the Love plan and higher, you can use the Canva Design editor to improve the design of your posts. They also give you access to a Smart Share bar to simplify your social sharing
The better plans also cater for bulk scheduling, organic post targeting and collaboration between your team members.