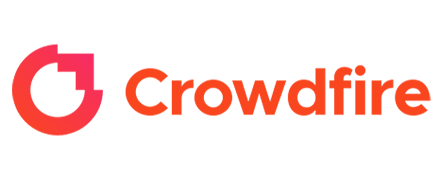 Best for:
Social Media Managers, agencies, brands, individuals, enterprises and startups
Crowdfire strongly focuses on its core social management function, with a strong emphasis on scheduling content across your social channels at the most suitable times. It adds social listening and competitor analysis at its higher subscription levels.
One of its greatest strengths is the easy way you can use it to post a wide range of content across all of your social channels. It also claims to be the first social media management app that supports posting to TikTok, which could be particularly useful to brands targeting a youthful audience.
You can use Crowdfire to post to virtually every social major social network, as well as sharing your material from a surprisingly large selection of blogging platforms, online shops, and video sites (YouTube and Twitch). It does this using a clean interface, making it straightforward to send a single post to all your selected social networks, yet customize your message for each account.
Crowdfire puts content curation at its fore (indeed, that is the first item in the top menu). You can select content to share from a series of articles, images, posts (yours, including YouTube videos), and RSS feeds. It recommends articles to you, and you can easily customize and refine the topics on which Crowdfire offers you content.
The free version of Crowdfire is quite limited, but it does give you a chance to test Crowdfire's core capabilities. If you wish to use it in any real regular capacity, you will have to buy a paid plan, although the plans are reasonably priced compared to much of the competition.
Although you don't get to see more advanced features like social listening and competitor analysis with the free or Plus plans, you do get offered a 14-day free trial of them, so you can decide whether you will have enough use to warrant the extra cost.
---
Crowdfire Review:
---
Pricing
As a SaSS platform, access to Crowdfire is sold on a monthly or annual basis. There are discounts for annual payments. Crowdfire offers a limited free plan and three paid plans.
Free

– 4 social accounts (1 each of Twitter, Facebook, LinkedIn, and Instagram), 10 scheduled posts per social account, article curation, image curation, multiple image posts, social and advanced analytics (1 day's data), ad-supported

Plus, $9.99/mo

– 10 social accounts, 100 scheduled posts per social account, connect 5 RSS feeds, custom posting schedule, multiple image posts, video posts, social and advanced analytics (30 days data), and post analytics

Premium, $49.99/mo

– 25 social accounts, 100 scheduled posts per social account, connect 15 RSS feeds, custom posting schedule, multiple image posts, video posts, basic, advanced, and post analytics, competitor analysis (2 competitors per social account), monitor and reply to mentions, schedule with calendar view, bulk schedule, can add & manage one profile and team member

VIP, $99.99/mo

– 250 social accounts, 800 scheduled posts per social account, connect 25 RSS feeds, custom posting schedule, multiple image posts, video posts, basic, advanced, and post analytics, competitor analysis (20 competitors per social account), monitor and reply to mentions, schedule with calendar view, bulk schedule, can add & manage two profiles and team members (and add further at $25/ additional profile or team member)
---
The Details
Crowdfire has evolved from a product called JustUnfollow. At that stage, the primary purpose was to assist you in following and unfollowing Twitter followers in bulk easily. At that time, there were a few other similar products available, like ManageFlitter. In 2018, Twitter cracked down on the industry, removing access to its API to most of these apps.
This meant JustUnfollow, like its competitors, had to change direction or die. They chose to become Crowdfollow and expand on their product's social media management capabilities. They also widened their coverage from just Twitter. The result is that although the product doesn't pretend to have such a wide-ranging set of features as some of the competition (that have always had their focus on being social sales and marketing platforms), it does its core features well.
As with most social media marketing apps, you begin by signing in. You can use your social accounts to help simplify this process.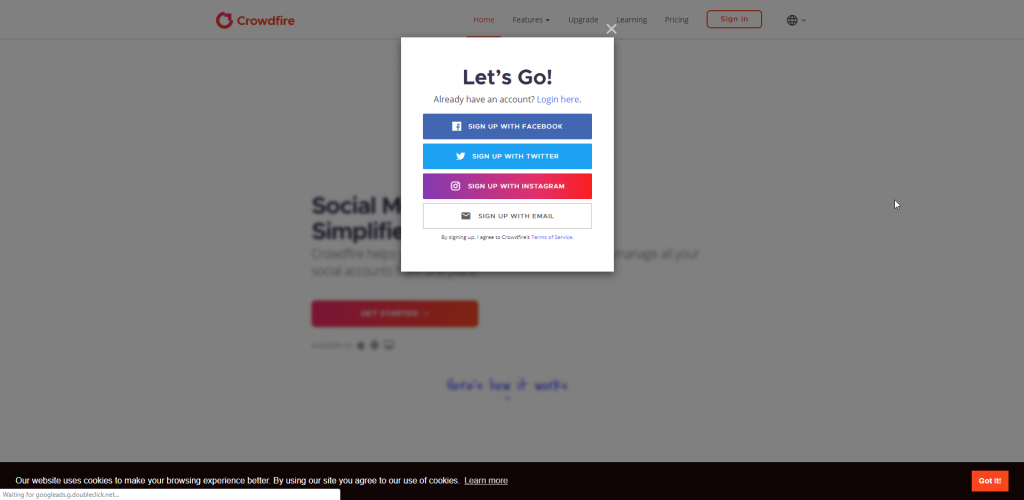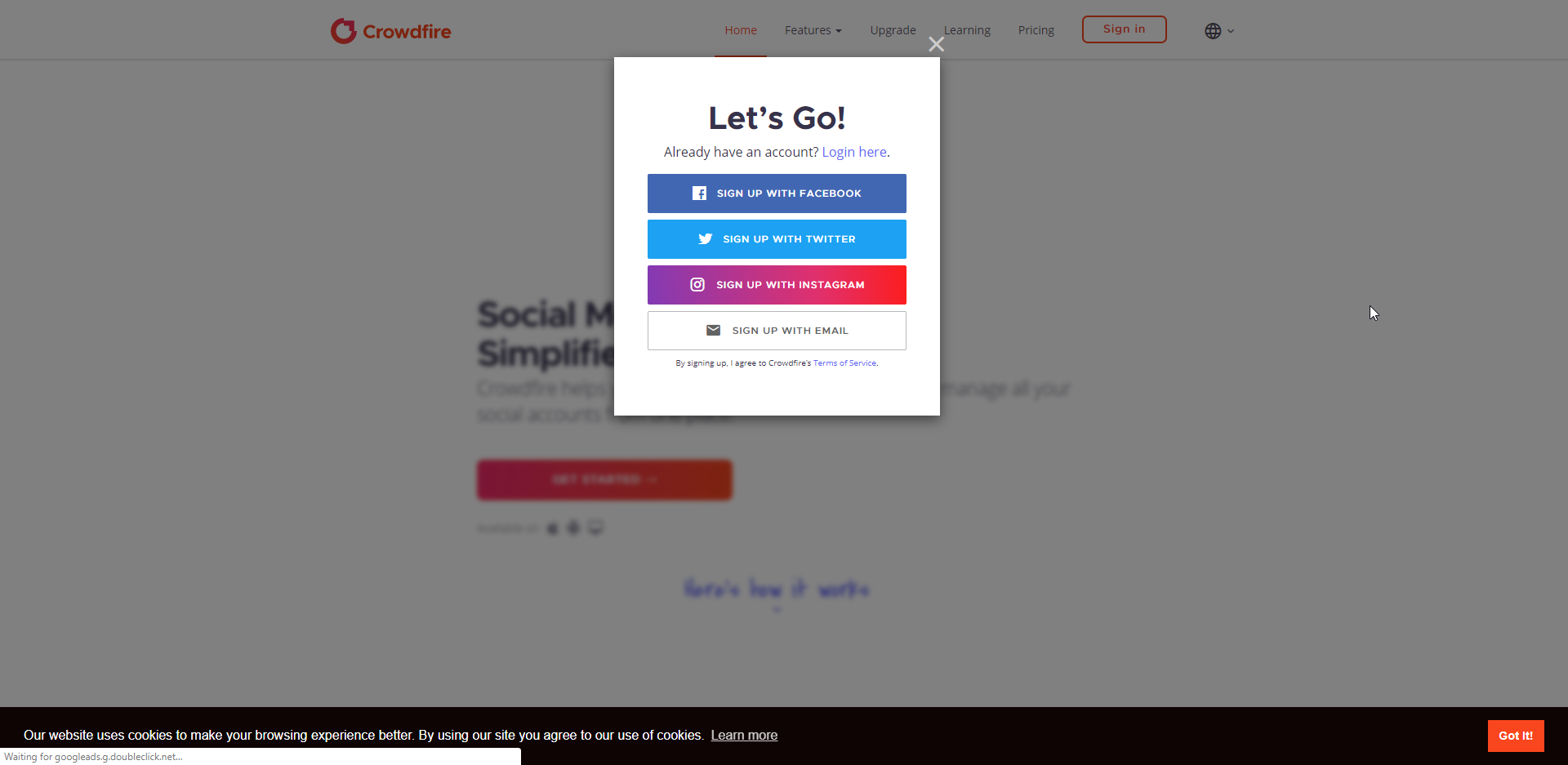 I did find that Crowdfire has one annoying quirk that can quickly become frustrating. It logs you out after a certain period of time and asks you to log in again. That in itself is no problem. Presumably, all these social media marketing managers do this eventually. But in Crowdfire, you see these Log-In reminders, even when your account names are still clearly visible. The main problem, though, is that the reminders to Log-In aren't clickable. Several times I kept circling through the app trying to find a way to log back in. In the end, I had to play with the URL to try and get back to a log-in screen. They certainly need to make this system more user-friendly and accessible.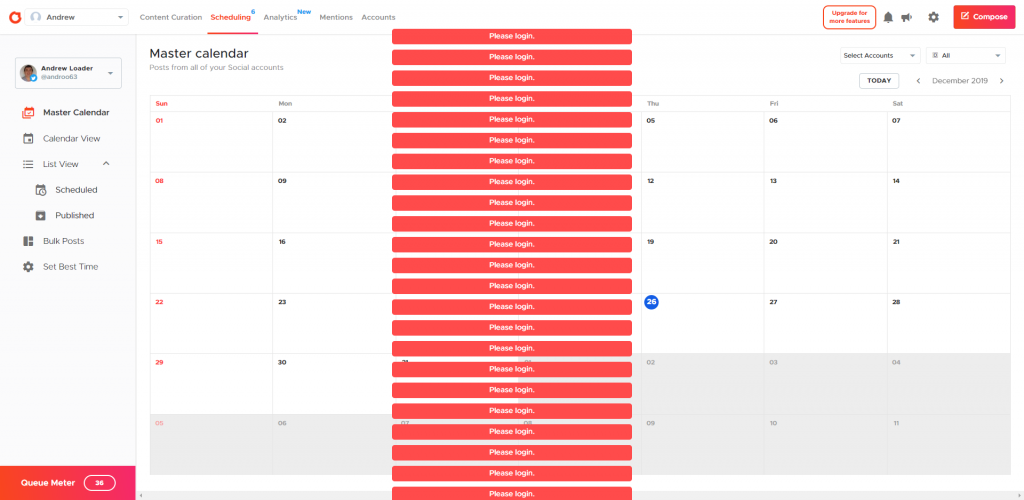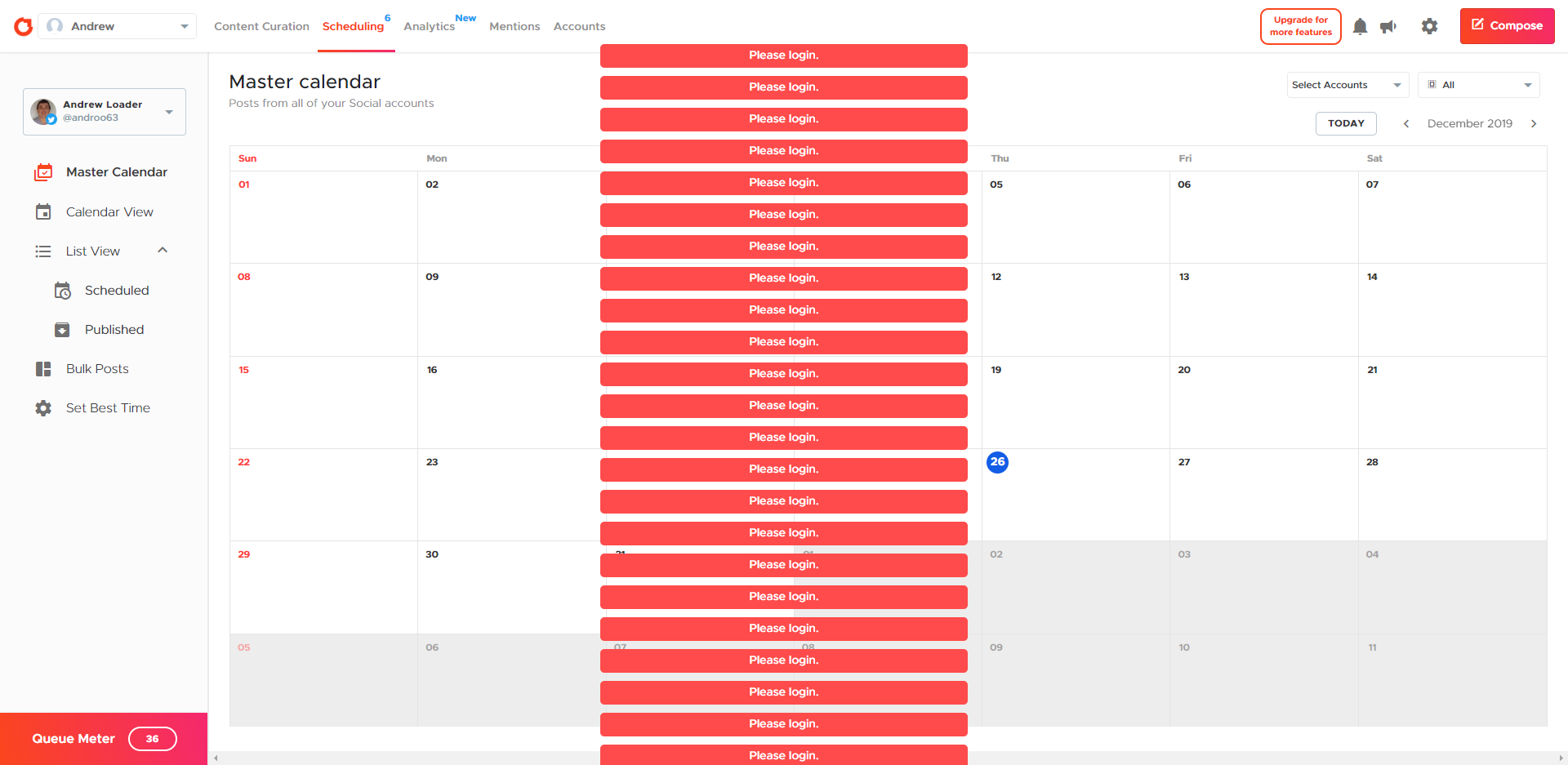 Once you are logged in, you begin by setting up your social apps. In Crowfire's case, you have a second group of connections to make as well – your blogs, online shops, YouTube, and Twitch channels. These are the places where you have content that you will want to share.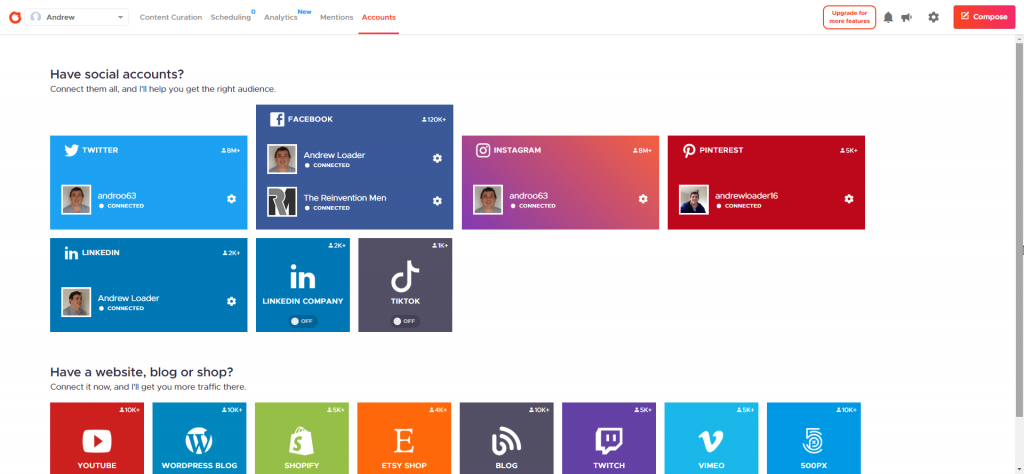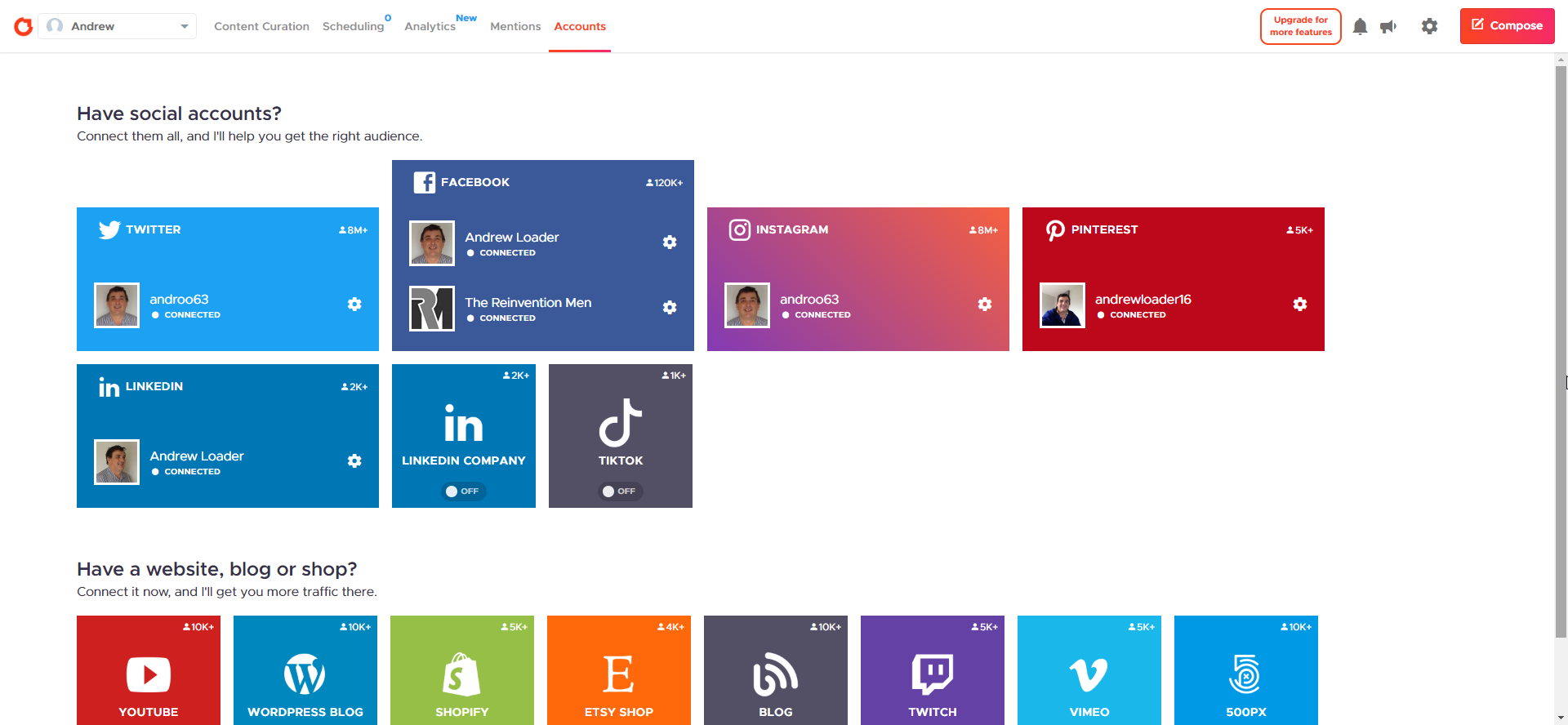 The most notable thing about this is the full range of accounts you can connect. Crowdfire has moved a long way from just working with Twitter. Their inclusion of TikTok is particularly notable, with the rapid increase in popularity of that platform.
Note that the WordPress blog option is for someone who operates a WordPress.com site. If you want to connect to a WordPress.org site (essentially a website hosted by anybody other than WordPress themselves), you should simply select the Blog option.
The top menu is very clear, and its sequence possibly emphasizes Crowdfire's priorities: Content Curation, Scheduling, Analytics, Mentions, and Accounts.
Content Curation is one of Crowdfire's strengths. There are four options shown in the left menu: Articles, Images, My Posts, and RSS. There is essentially a fifth option, in that you can download Crowdfire's Chrome extension, allowing you to share virtually any webpage you come across.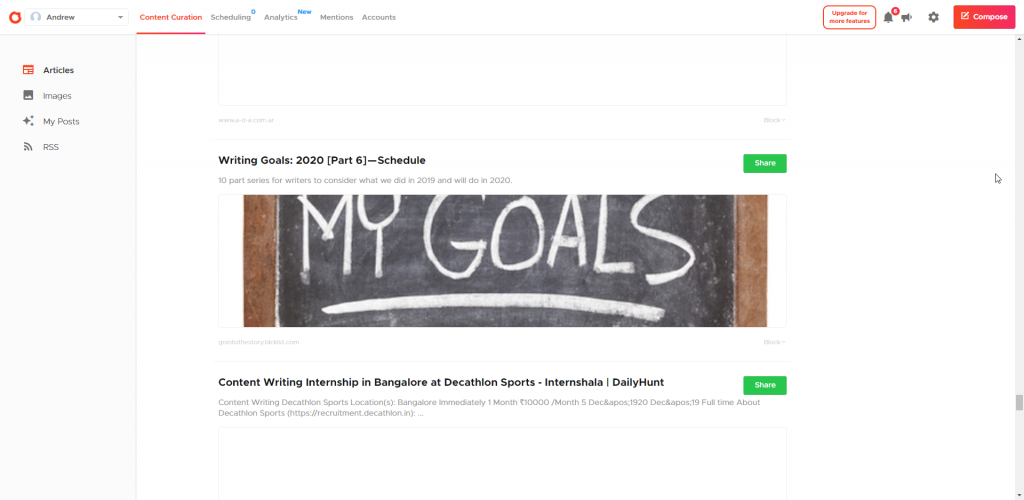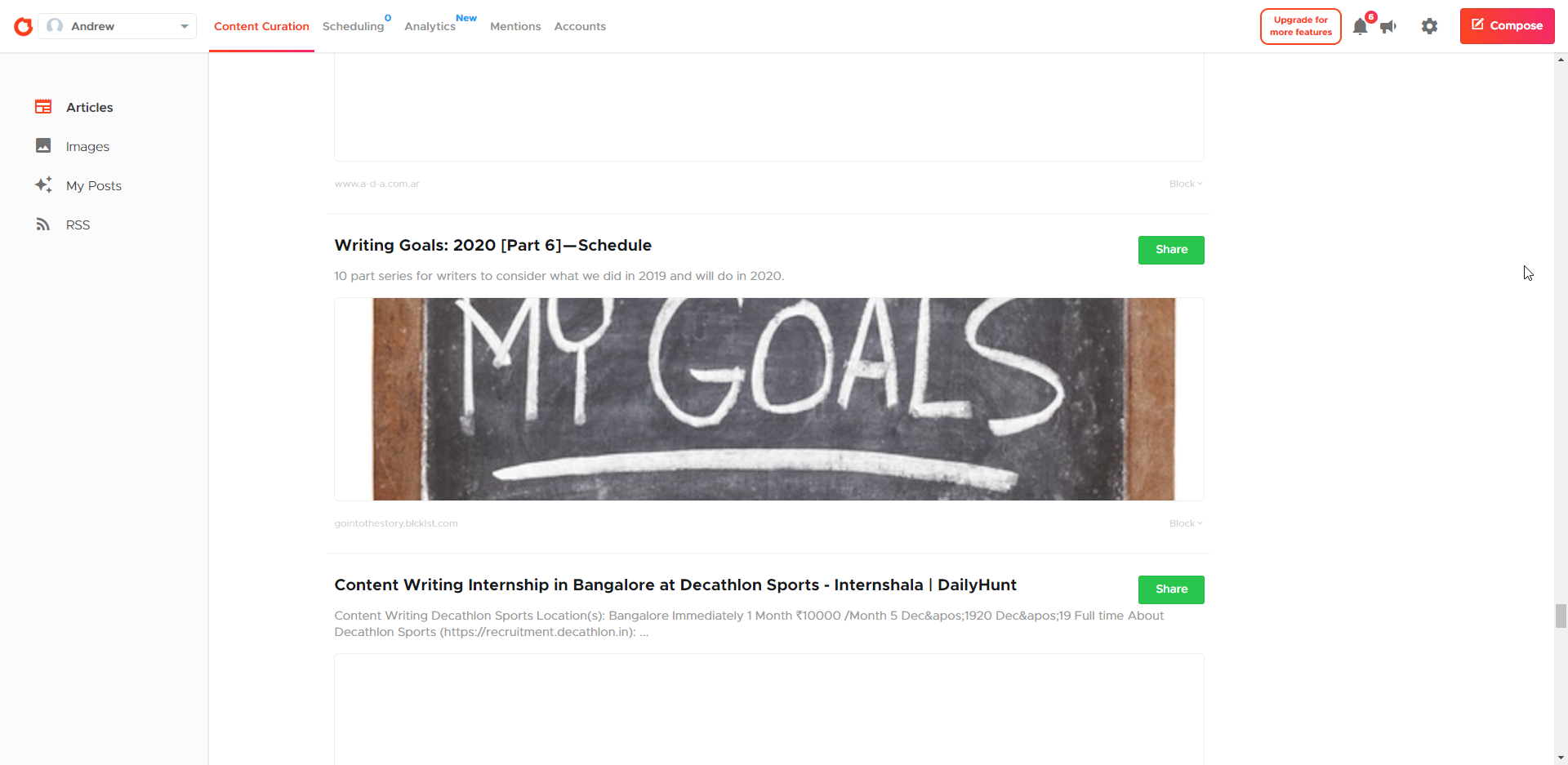 You can use these to create social posts, both from others' content (Articles, Images, RSS) and your own (My Posts).
The My Posts section goes to your connected blog, YouTube / Twitch channel, or online shop, and searches for any recent content. Crowdfire then creates potential social posts for each of your connected social accounts.
Crowdfire uses the Articles and Images sections to suggest suitable content that you can share (to Pinterest and Instagram in the case of Images). What is particularly lovely here is that they give you plenty of opportunities to refine your article/image recommendations. You can select topics at quite a granular level, and even signpost suggested content sites that you don't want as recommendations in the future.
When you do select an item of content to share, Crowdfire will come up with suggested social posts, that you can modify and customize for each social account.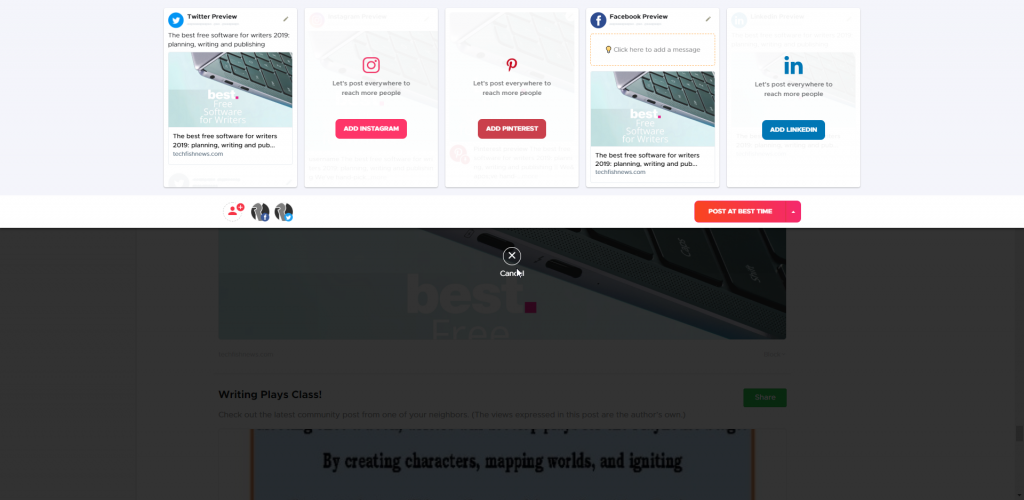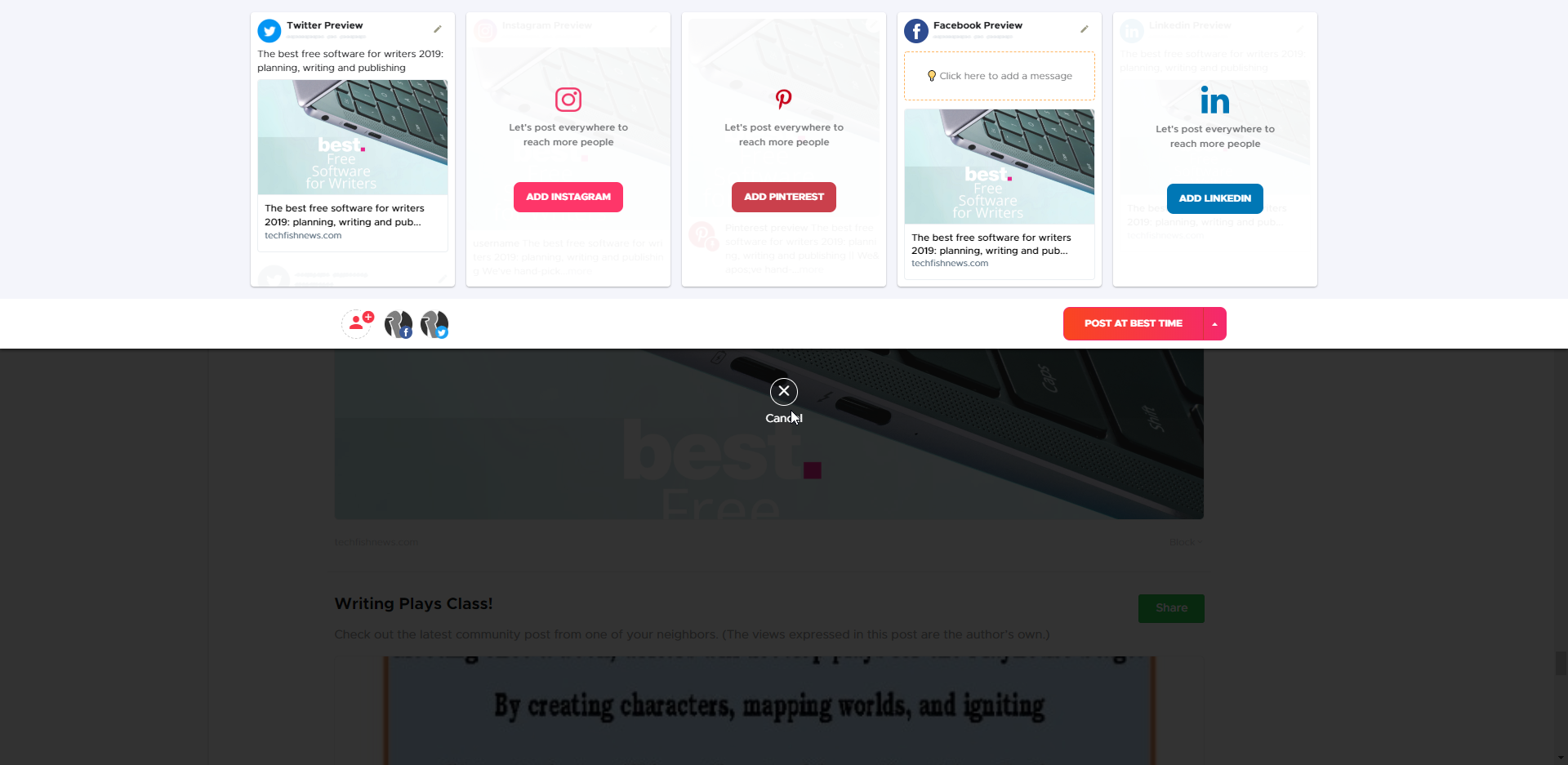 Crowdfire focuses on ensuring that you make your posts at the optimal times for your audience, so you won't generally think about precise posting time as you make your scheduled posts. You simply add posts to your queue.
However, if you know your social audience well, you may want to set the best times for each social network yourself. Crowdfire gives you the option to set your best times manually, network by network, and day by day. If you have previously discovered that your social audience engages well with tweets made at 4 pm on a Friday, you can easily set up your queue to ensure that you always have tweets made at that specified time.
You have a Queue Meter that indicates the number of additional posts you have yet to make for the next seven days. You can select your preferred amount of daily posts on each social channel. If your Queue Meter shows a positive number, you know that you still need to make/find additional content to share.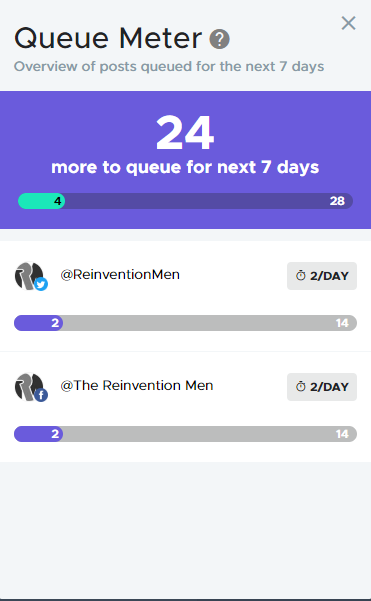 One of the more unusual "features" of Crowdfire is that you can only see a unified calendar of your upcoming posts if you have opted for one fo the two higher pricing tiers. The lack of this would be a real reason to avoid the free and Plus plans. The unified calendar is useful, although it is perhaps not as detailed as some of the competing apps. It doesn't feel as flexible, and if there is a way to show more than two posts a day without clicking on the day, it isn't immediately apparent. However, it does at least make clear if you haven't created content for particular days.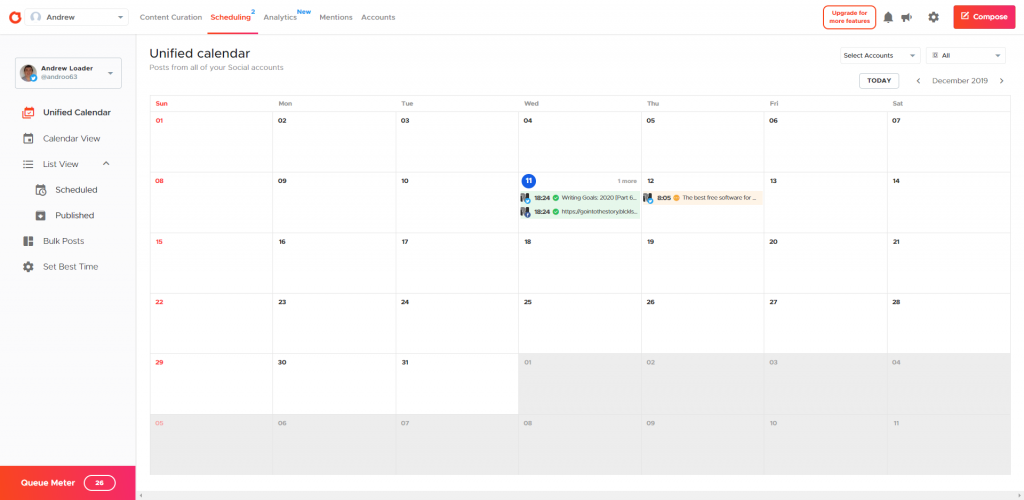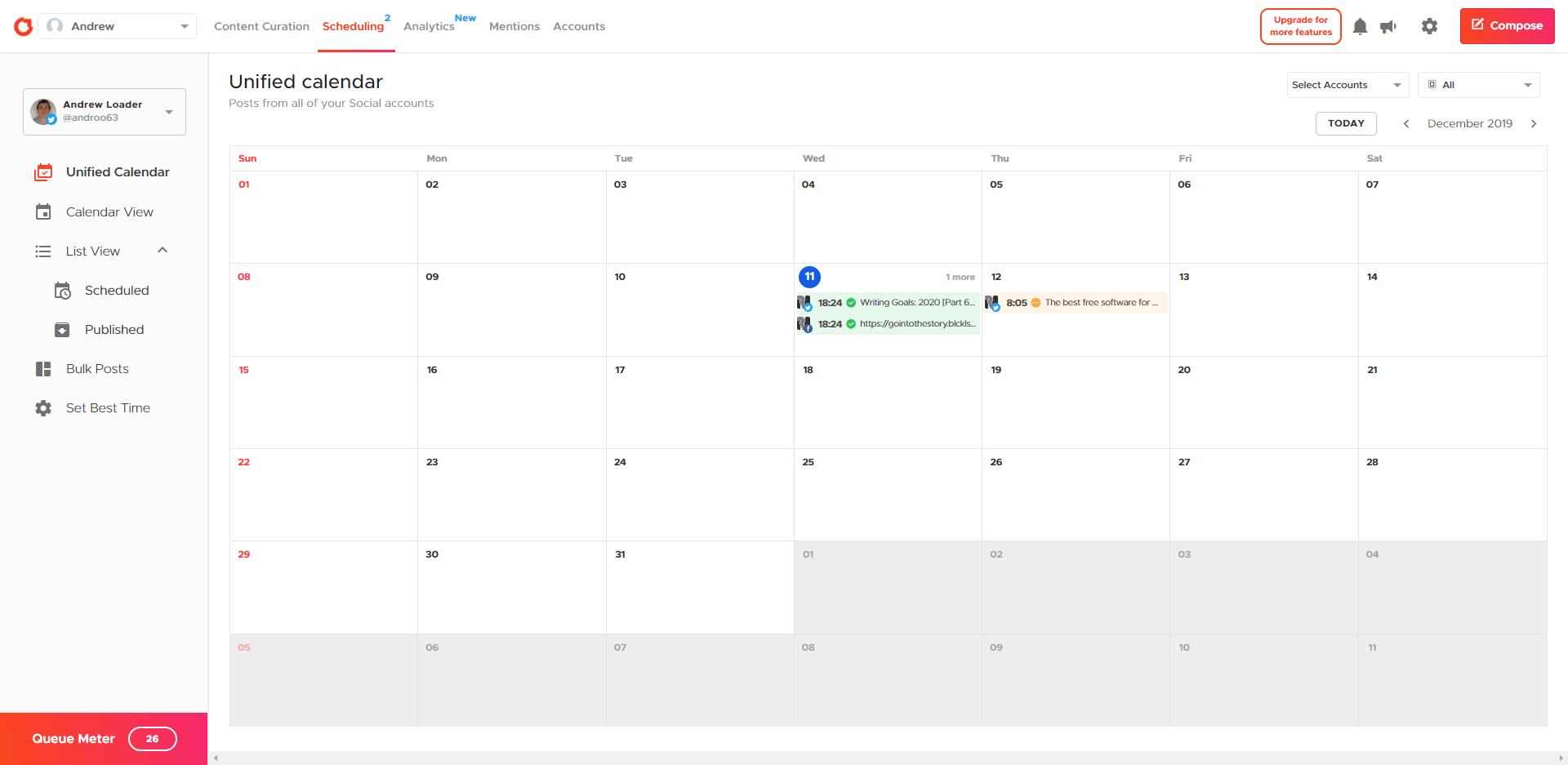 I never tested the bulk scheduling feature, but that has the potential to be of great use to power users who make many posts that aren't just links to existing content.
Crowdfire offers a selection of analytics, giving you a clear indication of your social success. This begins with an overview of all of your social accounts, showing the critical stats for each account. You can select to show stats for yesterday, the last seven days, or the previous 30 days, although not all are available on the lower plans. This overview is very basic, however. For example, the only Instagram stats Crowdfire shows here is the number of followers, posts, likes, and comments.
The Advanced Analytics section is more advanced in its scope. You have more options for setting dates and a broader range of stats. It also shows graphs of some key statistics.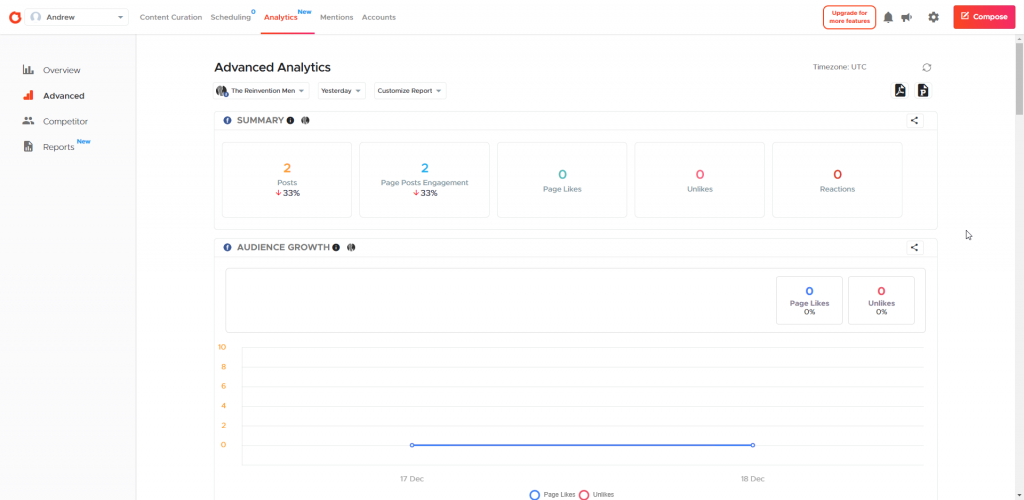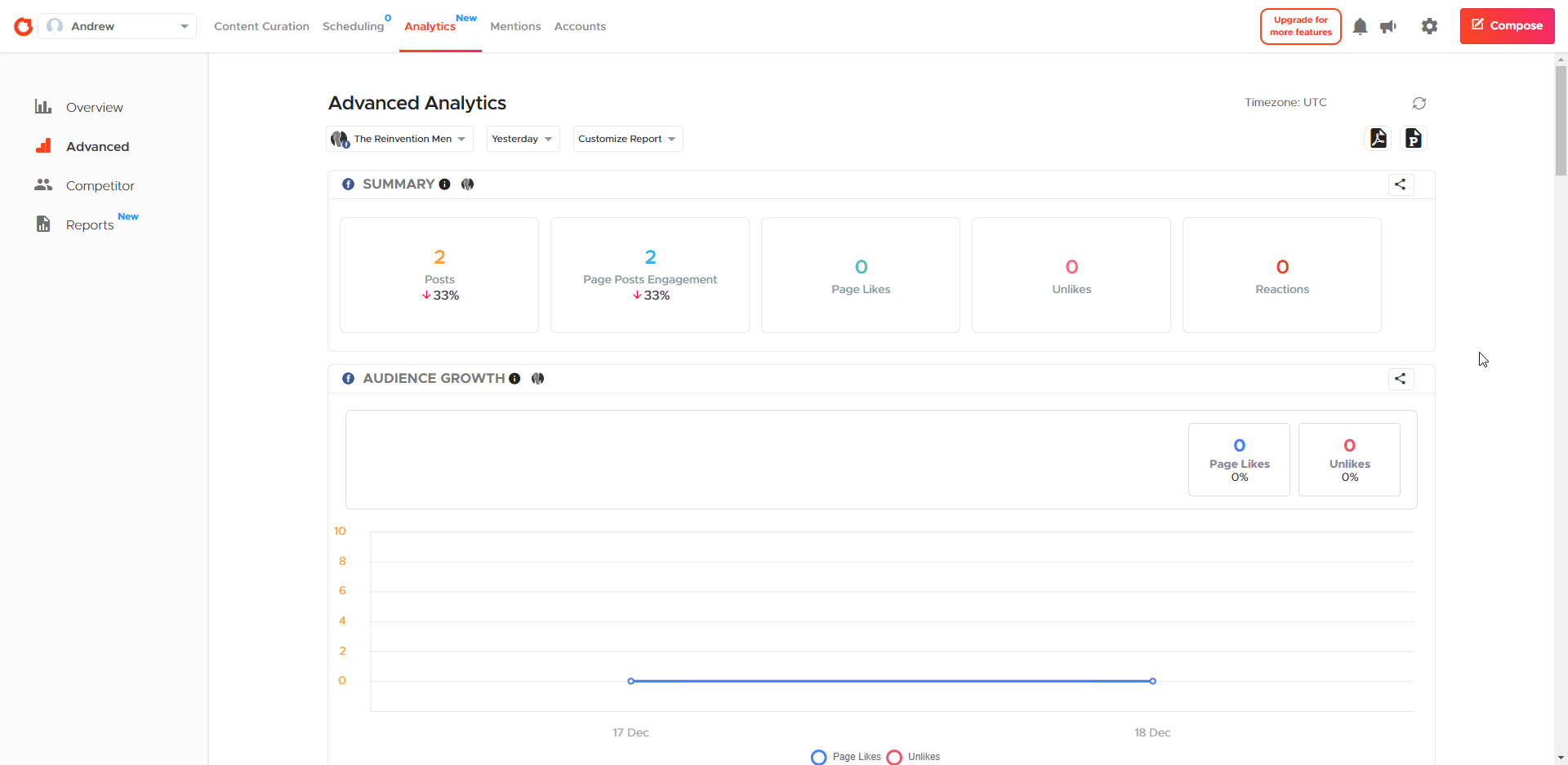 The higher plans also allow for both competitor analysis and custom report building. The custom reports looked like they could be of much use to firms trying to understand the performance of their posts.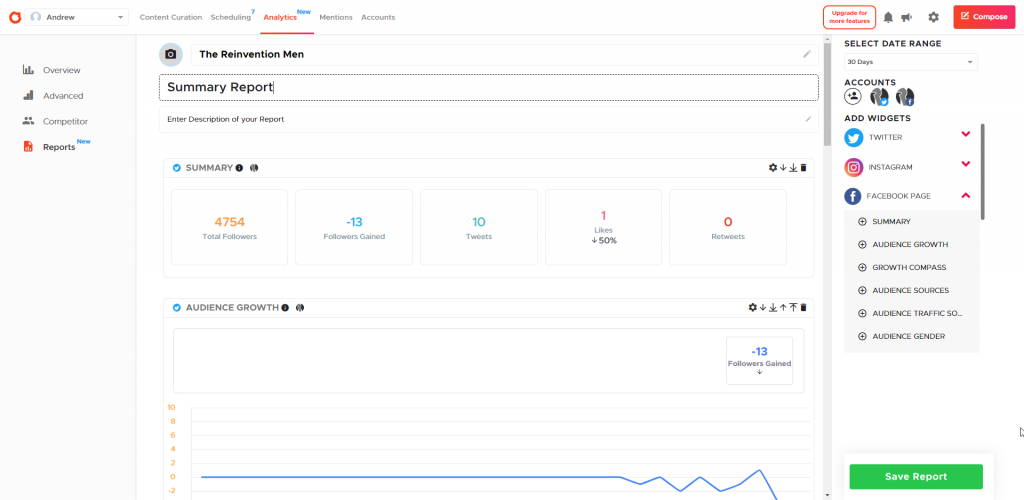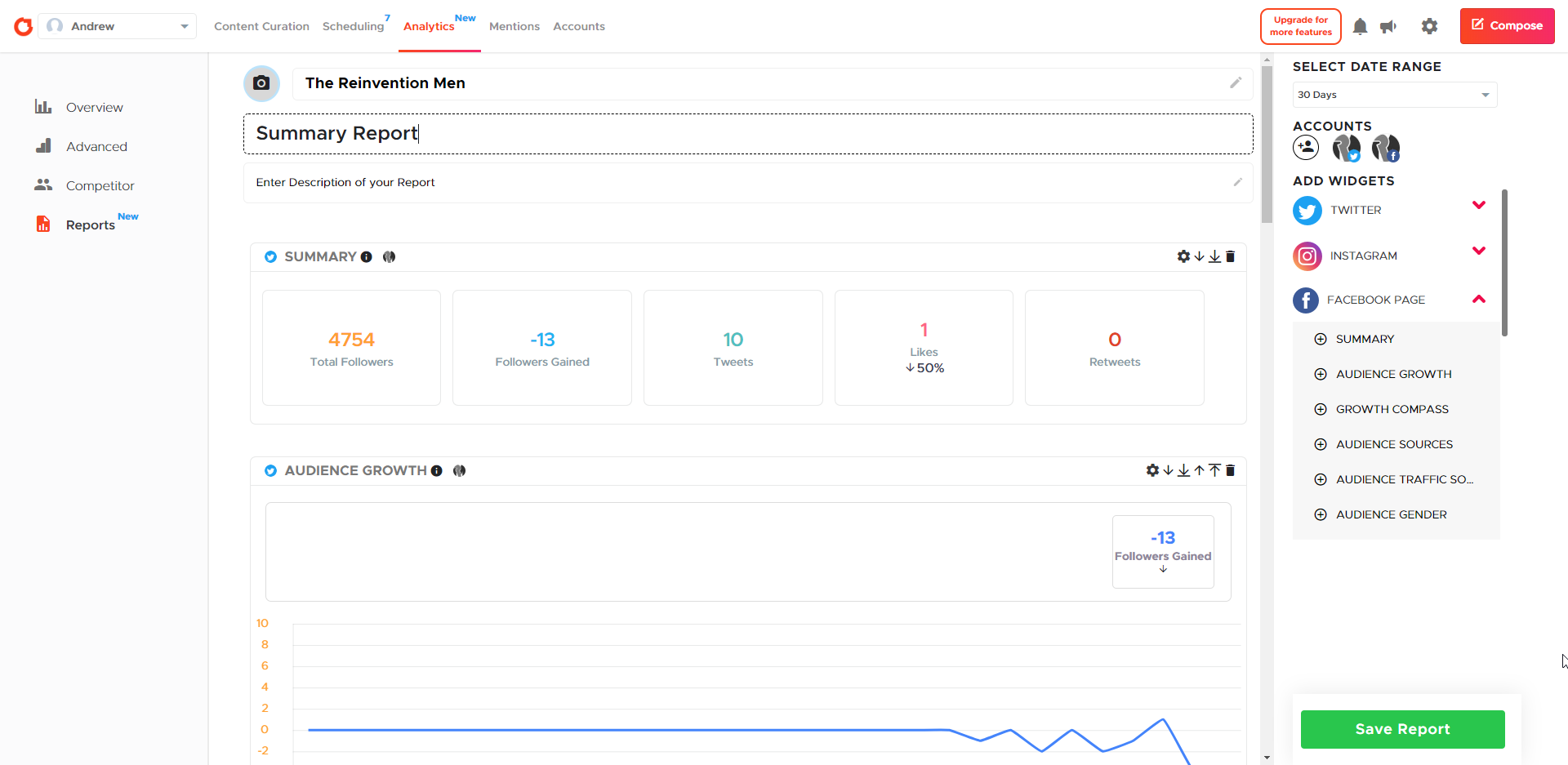 Another section restricted to the higher plans is Mentions. This is effectively a social listening tool, allowing you to keep track of the times that people mention your business or account in their social postings. Although not as in-depth as some of the specialist tools we have looked at, it could be of use to brands wanting to keep a general eye on things, and hoping to avoid a public relations disaster.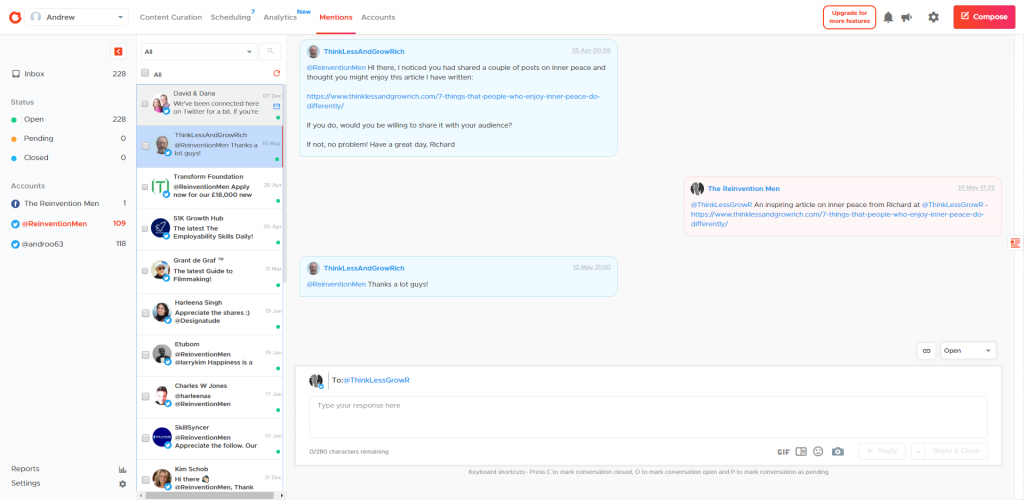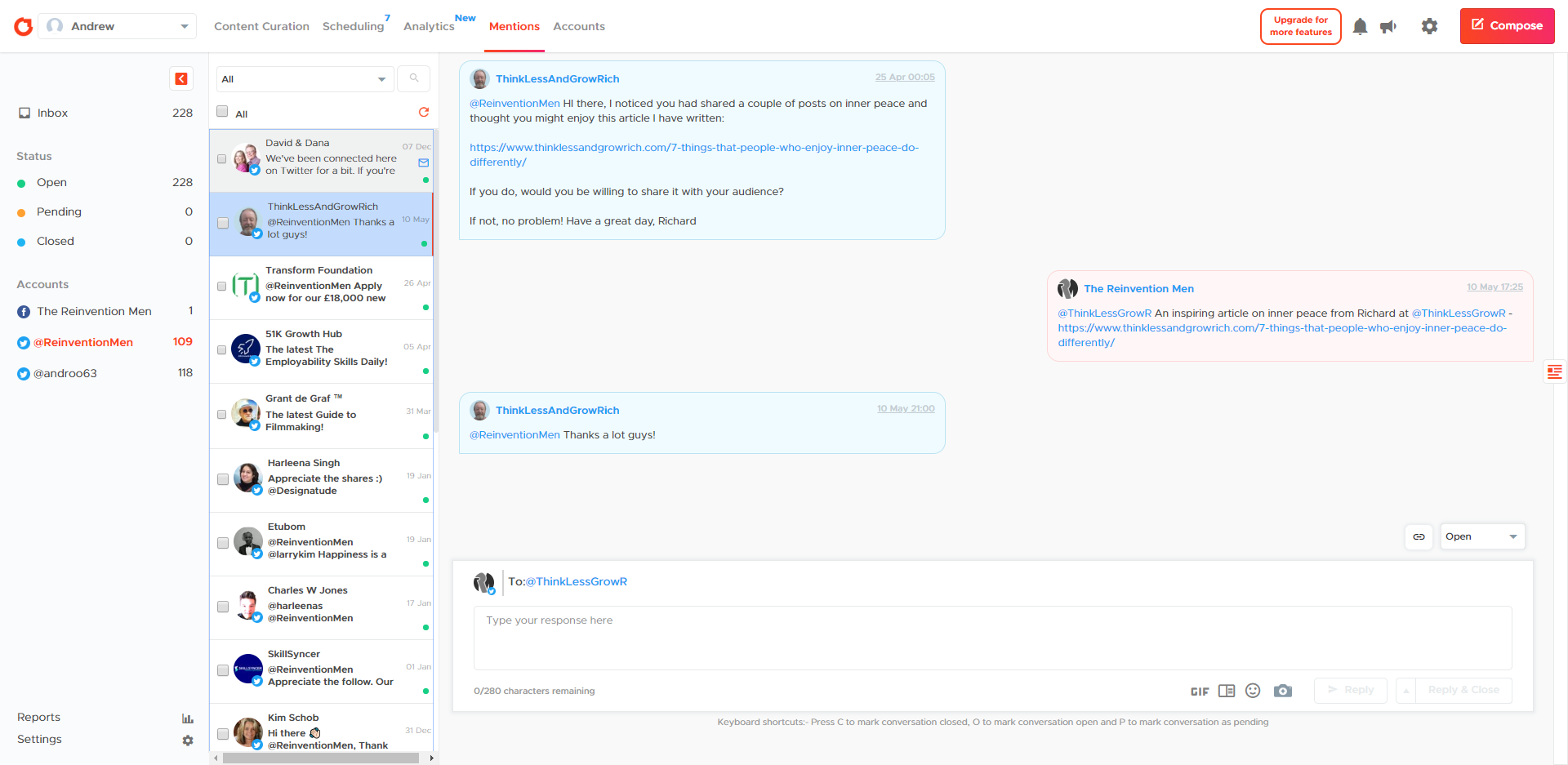 ---
Conclusion
I was impressed by Crowdfire's clean, easy-to-use interface. With one notable exception, everything seemed intuitive and clear, and it was certainly easy to use. The one area of concern comes once you time-out and have to log back in. They certainly make their reminders clear, but it is not at all evident as to how to log back in.
Crowdfire handles content particularly well. I very much liked the way you can connect virtually all of your content channels – websites, blogs, online stores, YouTube channels, Twitch streams, and more. Crowdfire continually looks for new content on these content channels and tries to draft posts, adapted to be suitable for each of your social channels.
I can imagine that it will be particularly handy for the organized social marketer. You can set your optimal posting times for each of your social networks, and then keep adding content, ready for Crowdfire to distribute posts across your selected times. And then, of course, you can intermingle your organization's content, with other curated content, both posts, and images.
Crowdfire also handles the newer social networks well. It may have grown out of a Twitter app, but it has widened to cater to new platforms such as TikTok. It also recognizes the inherent importance of images nowadays, with Instagram and Pinterest clearly provided for – far more than just an after-thoughts as they appear in some other apps.
While Crowdfirs lacks some of the detail of larger apps, such as Sprout Social or Agora Pulse, it covers a narrower feature set, where it performs well.
Frequently Asked Questions
What can I use Crowdfire for?
Crowdfire is a very powerful social media scheduling platform. You can use Crowdfire for content curation, scheduling, bulk scheduling, analytics, mentions and accounts. Content curation is one of its strengths. This feature will help you to prepare content for sharing and mixing in collated content from many sources. It focuses on helping you to post your posts at the best possible times. You can also use it to get an indication of your social success thanks to the selection of analytics and customized reporting.
Can I use Crowdfire for free?
Crowdfire does have a free version, but it is rather limited. For example, it does not include more sophisticated features such as competitor analysis or social listening. It is, however, good for testing the core capabilities that it offers. If you want to use Crowdfire's real capacity, you will have to sign up for one of its paid plans. The good news is that the prices of their paid plans are reasonable when you compare it to most similar software solutions.
How much does Crowdfire cost?
The prices are quite reasonable. Crowdfire offers one free plan and three paid plans. The paid plans are: Plus ($9.99 per month), Premium ($49.99 per month) and VIP ($99.99 per month). There are also discounts available if you opt to pay on an annual basis instead. It should be said that the free plan is limited. If you are unsure if you are willing to pay for one of the paid plans, you can take advantage of their free 14-day trial.
What are the cons of Crowdfire?
One irritating feature is that it logs you out after a certain period of time. Needless to say, this can become very frustrating. Also, once you have been logged out, it takes some time figuring out just how to log in again. A unified calendar of your upcoming posts is also only included in the Premium and VIP plans. That being said, even if you opt for one of these plans, the unified calendar is not that detailed and flexible.
What are some of the advantages of Crowdfire?
It offers a full range of accounts that you can connect. This includes TikTok which is quickly becoming more popular, especially among younger audiences. With Crowdfire, it is easy to post a wide range of content across all of your social channels. Its interface is also clean and intuitive making it very easy to find your way around the software.
Crowdfire
Features

Ease of Use

Support
Summary
Crowdfire is a highly capable social media scheduling platform, with a strong emphasis on collecting your content, making it ready for sharing, and mixing in collated content from a wide range of sources. Its customized reporting could be beneficial too.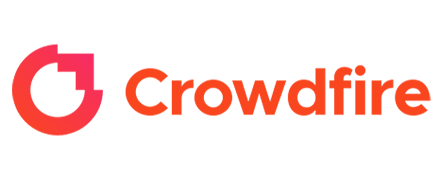 Best for:
Social Media Managers, agencies, brands, individuals, enterprises and startups