Services Offered: AnalyticsAutomated PublishingContent ManagementKeyword FilteringMulti-Account ManagementPost Scheduling
Channels: Facebook, Twitter, Instagram, LinkedIn, Google My Business, YouTube, Pinterest
Sendible was launched in mid-2008 by Founder and CEO Gavin Hammar. The initial offering was a platform with robust API integration capabilities. The idea was to give marketers the ability to manage all of their social media platforms and more from a central console. Back then, Sendible was able to integrate social, blogging, email and SMS.
Fast-forward more than a decade later, and Sendible is still going strong. They've evolved their solution alongside social media platform feature updates. For example, you can source influencers to help you grow your brand and integrate other important applications your business runs on (Google Drive, Slack etc) to streamline content access and your workflows.
They've also stayed true to their ethos of listening to their customers, focusing on the goals that matter, and most importantly, building their best social media management tool.
---
Summary: Quick Jump Post
---
Pricing
Free 30-day no-credit card trial available on all plans
Micro, $24/mo (billed annually) / $29/mo - 12 Services, 1 User, Content Publishing & Workflow: Unlimited scheduled posts, Up to 10 queues, Recycle evergreen content, Automatic RSS posting, Bulk scheduling; Engagement & Monitoring: Priority Inbox (1hr sync), Monitor keywords, Real-time Facebook search; Analytics & Reporting: Basic reporting, Influencer suggestions, Optimal posting analysis, Google Analytics integration
Small, $84/mo (billed annually) / $99/mo - 48 Services, 3 Users, Includes all Micro Plan features and the following:
Content Publishing & Workflow

: Assign and approve requests, Up to 30 queues, Social profile grouping

Engagement & Monitoring

: Priority Inbox (45m sync), Monitor keywords

Analytics & Reporting

: Exportable reports (CSV), Up to 6 custom reports, Access to 200+ charts
Medium, $169/mo (billed annually) $199/mo - 105 Services, 7 Users, Includes all Small Plan features and the following:
Content Publishing & Workflow

: Custom team workflows, Up to 70 queues, Save to content library, Bitly Pro integration

Engagement & Monitoring

: Priority Inbox (30m sync), Monitor keywords, Ads monitoring

Analytics & Reporting

: Scheduled report delivery, Up to 35 custom reports
Large, $254/mo (billed annually) $299/mo - 192 Services, 12 Users, Includes all Medium Plan features and the following:
Content Publishing & Workflow

: Permission groups, Up to 120 queues, Extended data retention, UTM tracking

Engagement & Monitoring

: Priority Inbox (15m sync), Monitor keywords

Analytics & Reporting

: Response time reports, Up to 60 custom reports, API access (up to 250 calls per day, for more calls please contact us)
White label solutions available for agencies.
---
---
The Details
Sendible's approach to social media management is a little unique compared to most. They make use of Services.
Understanding Services
Services are like channels or profiles that you create within your Sendible account. As with profiles and channels, both allow you to either push content to a social platform or pull content from it. Services, therefore, allow you to select which features you need from a social platform.
For example, if you're an agency with multiple accounts, you're able to provide custom services to each client based on what they need. You could have a client that only requires posting to an Instagram account, and offer incoming replies for a Facebook account belonging to another client.
This level of customisation also allows you to offer your clients better pricing as a result.
---
Platforms Supported
Sendible currently supports the following platforms and integration capabilities:
Social Platforms
Facebook
Manage Facebook Pages and Groups

Draft Dark Posts and use analytics to better understand your Facebook Page audience

Read and reply to incoming comments on your Facebook Ads with the Priority Inbox
---
Twitter
Schedule tweets

Monitor @mentions

Answer direct messages

Access Twitter Lists and use analytics for your Twitter accounts
---
Instagram
Publish photos and videos directly to Instagram Business Profiles

Schedule carousel posts with in-app notifications and monitor hashtags and analytics
---
LinkedIn
Schedule posts to LinkedIn profiles and Company Pages

Respond to comments and analyze your content performance
---
Google My Business
Schedule posts to LinkedIn profiles and Company Pages

Respond to comments and analyze your content performance
---
YouTube
Schedule videos

View analytics and reply to comments for your YouTube account
---
Pinterest
Post and schedule posts to your Pinterest boards.
---
Blogging Platforms
WordPress
Draft posts and publish them to your self-hosted WordPress account.
---
WordPress.com
Draft posts and publish them to your WordPress.com account.
---
Medium
Draft posts and publish them to your Medium account.
---
Blogger
Draft posts and publish them to your Blogspot and Blogger accounts.
---
Tumbler
Draft posts and publish them to your Tumblr account.
---
Tools Supported
Google Chrome Extension
Easily publish or schedule content you come across while browsing the web without having to open our social media tool.
---
Client Connect widget
Install our widget to let your clients securely connect their social profiles on your website.
---
Content Suggestions
Find high-quality content to share with your followers through our content tool, RSS feeds and Google Alerts.
---
Facebook Auto Moderator
Automatically remove comments and posts from your Facebook Pages that contain the words or phrases you specify.
---
Facebook Cover Photo
Upload and schedule Facebook Page cover photos to match your marketing campaigns.
---
RSS Feed Importer
Import your RSS feeds from an OPML file generated by readers such as Feedly.
---
Additional Integrations
Canva
Create social media graphics with Canva and schedule them to your profiles and pages without leaving Sendible.
---
Google Analytics
Analyze the impact social media has on traffic to your website or blog with our free Google Analytics report.
---
Dropbox
Attach images and video to your posts directly from your Dropbox folders.
---
Google Drive
Attach images and video to your posts directly from your Google Drive folders.
---
Slack
Choose to receive notifications about your social media activities in Slack channels.
---
Content Publishing & Workflow
Scheduled posts
Scheduled posts allow you to plan and schedule content either individually or in bulk. When creating a post, we found Sendible's character counter useful. Most social messages can be delivered in 240 characters or less, however, optimising content depending on your offer or post type and platform can directly impact the level of engagement a post receives.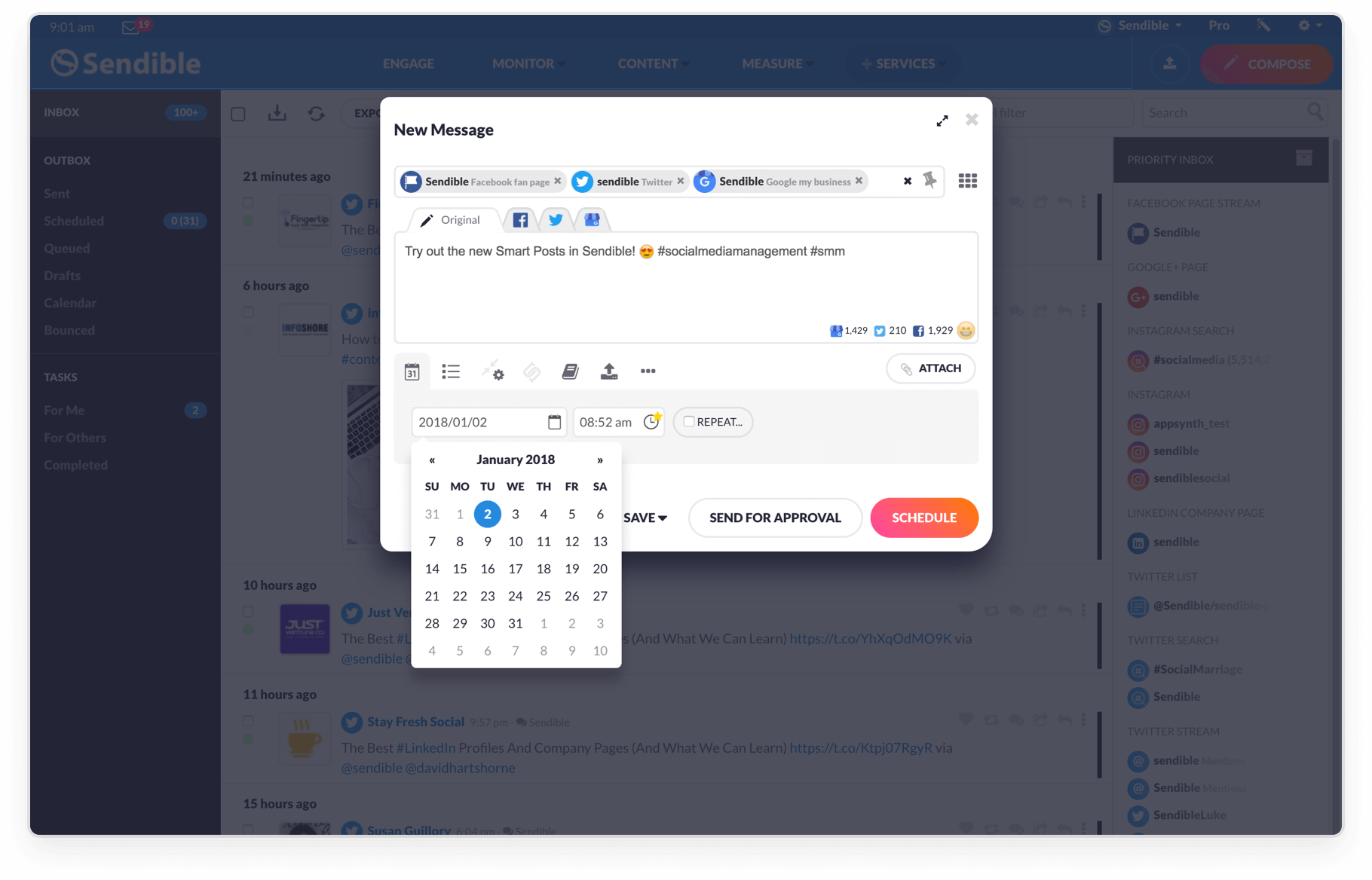 Sendible's scheduling feature allows you to deliver posts to all social network, incorporating images and video where required.
Bulk scheduling can be completed by importing CSV files. Once content is imported, Sendible presents it in a column view and shows the copy, send date, URL, image and other fields you've populated in your CSV file. You also have the option of editing each post.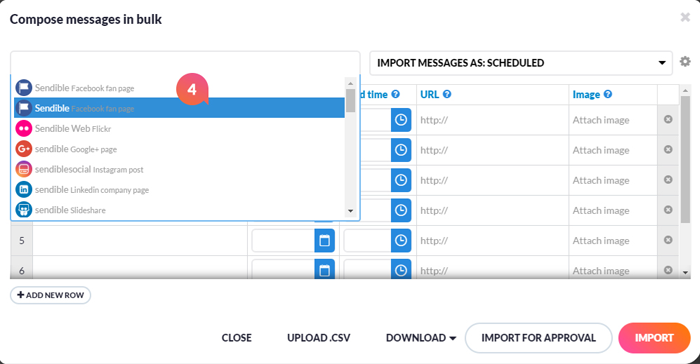 ---
Smart Queues
Message queues have become one of the most valuable services offered by social media management platforms. As a solution, they help users pick when to post content, and in Sendible's case, offer a little something extra.
Queuing a message in Sendible involves 13 steps. But don't let the number overwhelm you as the steps were created to give you a considerable amount of flexibility and they are also easy to complete.
Queuing allows you to:
Name a message queue

Post to each Service connected

Make your new queue recyclable (think evergreen content)

Assign team members who can contribute to your queue

Set times (same time each day or unique times for each day of the week)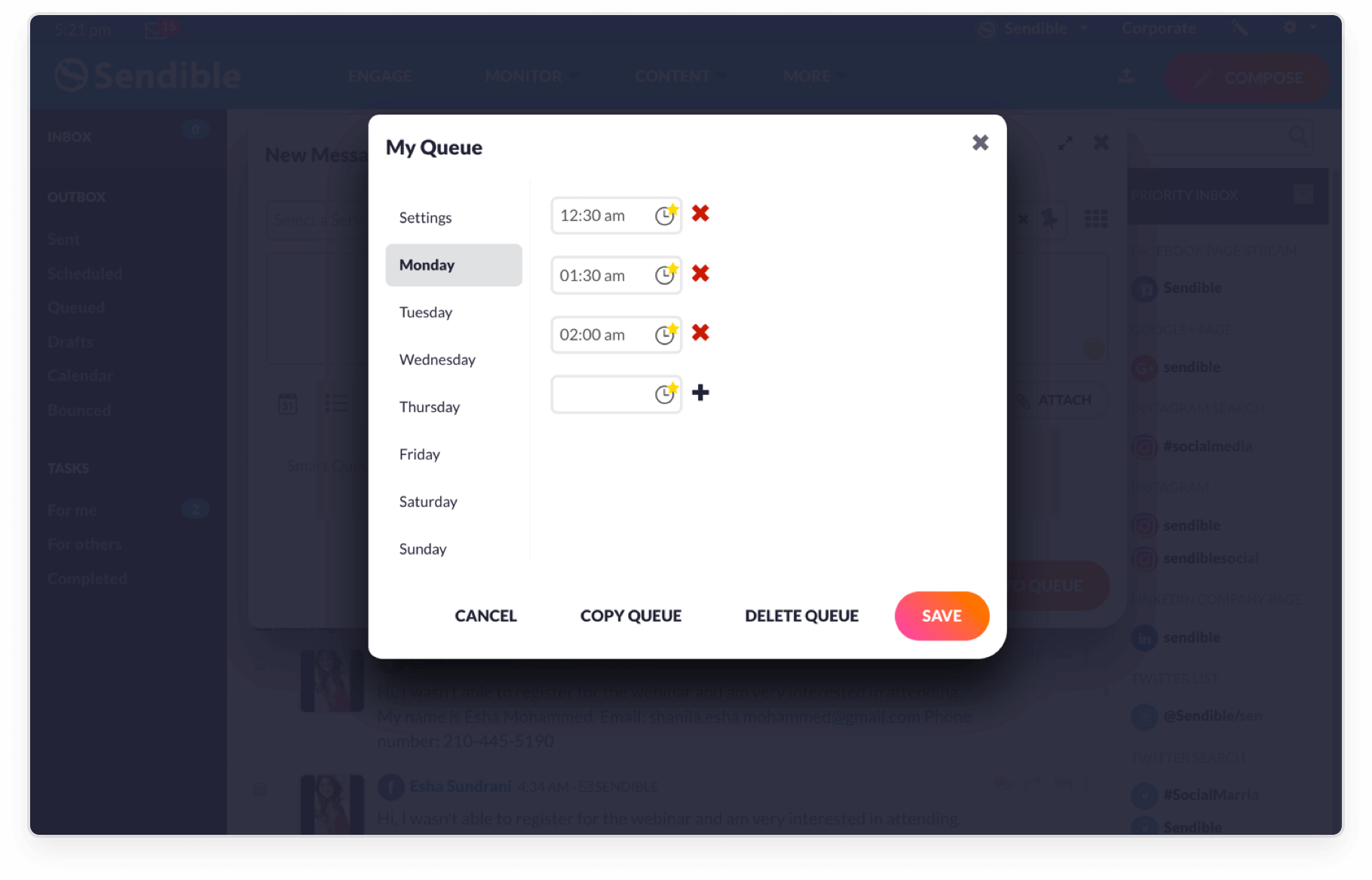 ---
Evergreen content
Evergreen content has become an important practice for brands as they manage offers and top-performing content to drive traffic and conversions. Sendible's approach to managing evergreen content comes in the form of Smart Queues covered above.
In addition to being highly customizable, you're also able to copy a queue and edit it for future campaigns.
Note: messages in a queue will only be recycled when all messages have been published and will continue to be recycled until the queue is deleted or you manually turn off the recycle setting.
---
Automatic RSS posting
Content curation is a common feature in social media management tools, however, there are nuances across the board. We found Sendible's Auto RSS posting functionality pretty handy, especially for busy social media managers with content gaps on their calendars.
The Auto RSS posting feature allows you to:
Select the number of posts to publish

Scheduled, queue or set posts as drafts

Set a frequency for the post publishing (starting at 1-hour intervals with the option of random posts ever 0-2 hours or more)

Get notified when posts are published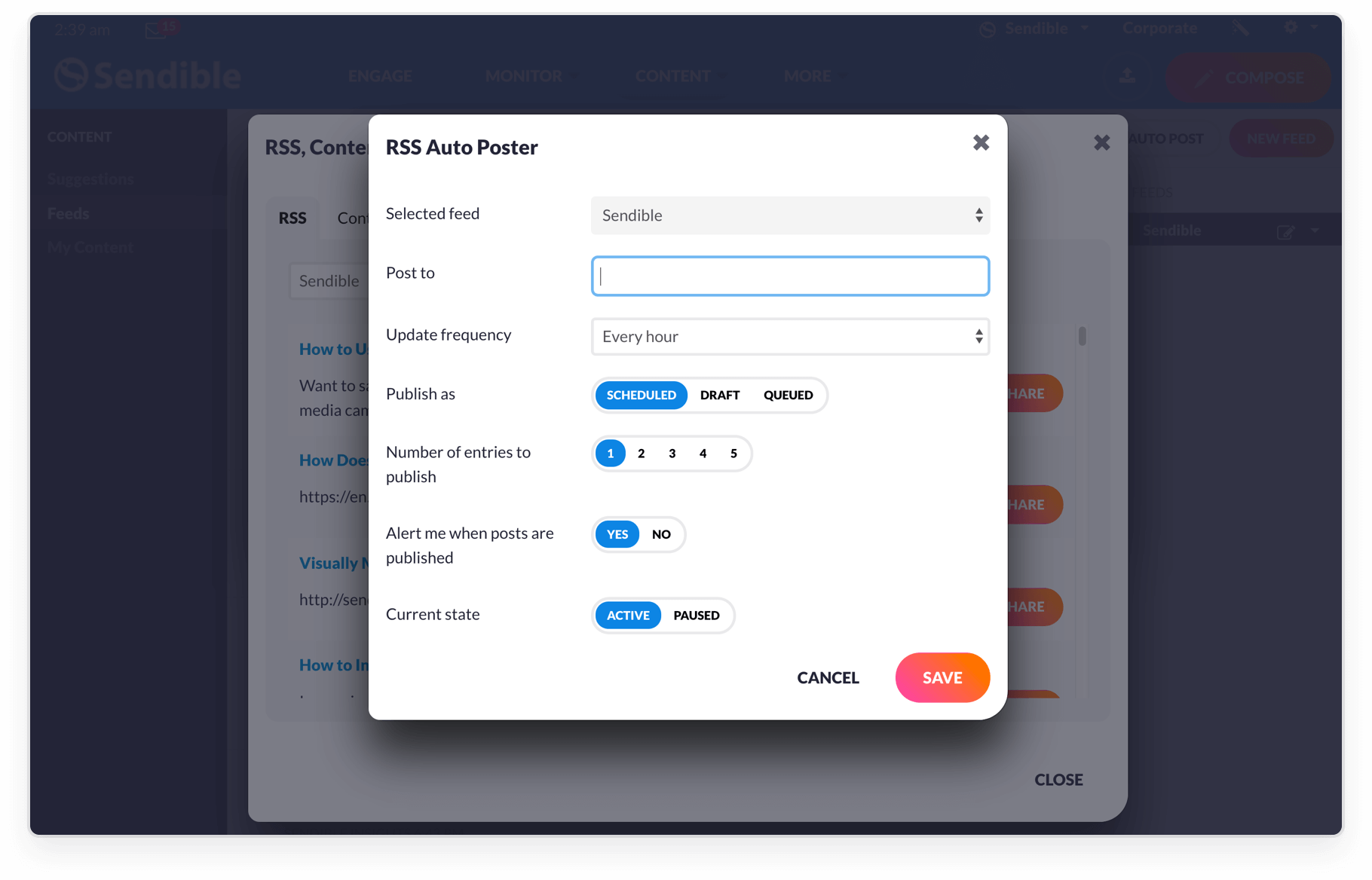 ---
Engagement & Monitoring
Priority Inbox
The Priority Inbox is what it sounds like, one inbox with all of your important messages. Sendible provides a view of all messages your brand receives that require responses, however, messages must be set up as alerts to appear in your Priority Inbox.
Here's a list of actions you can perform within your inbox:
Respond to messages

Determine the sentiment of messages based on Sendible's colour grading system. Grey represents Neutral, Green for Positive, Red stands for Negative.

Select all messages (use select all checkbox)

Archive posts

Refresh

Export content in a CSV file

Filter by time or social media channel

Search for a word or string of words across all messages in your inbox

View messages for specific streams to see engagement received (comments, likes etc.)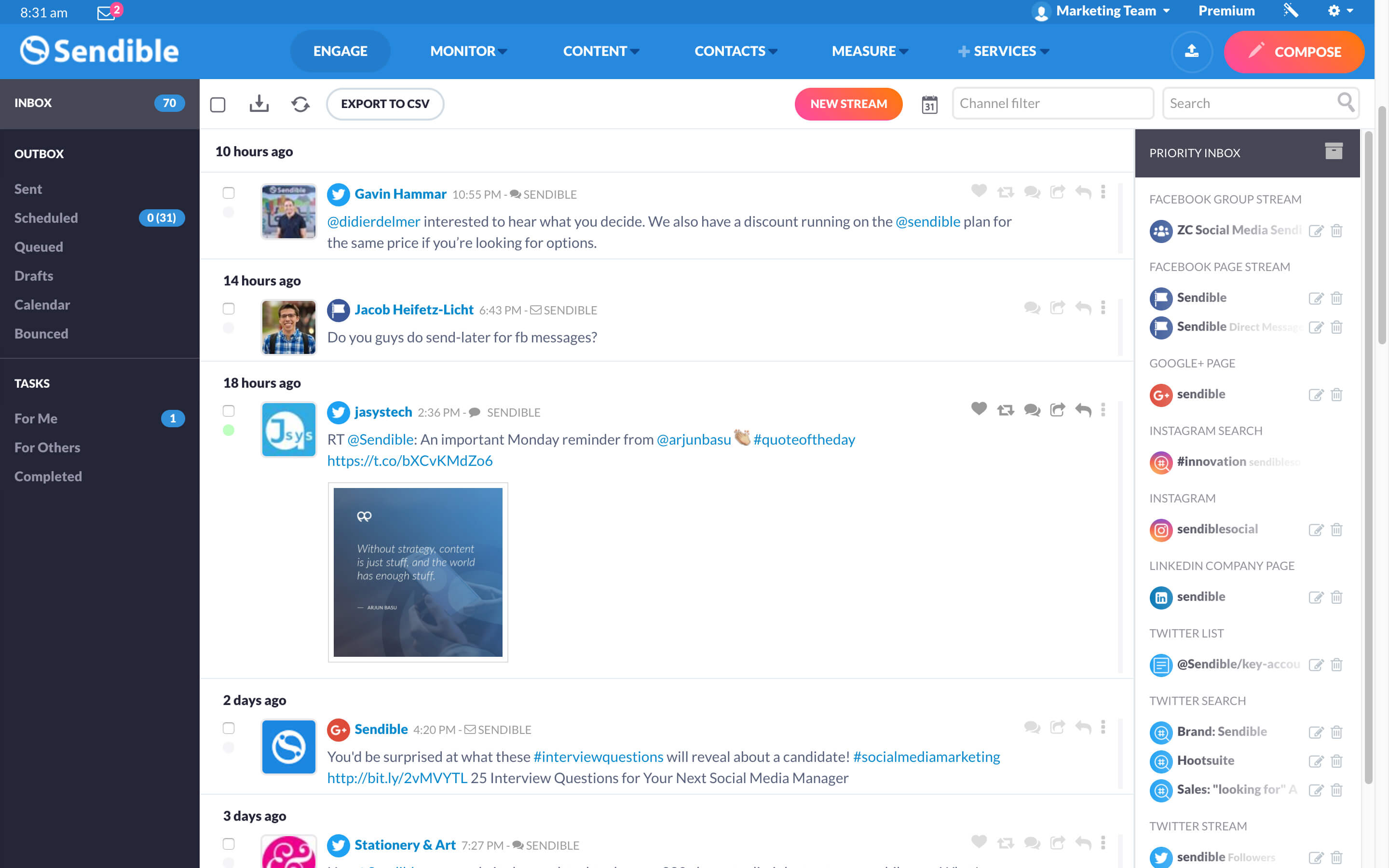 ---
Monitor keywords
Spotting trends can be a challenge and often requires a fair amount of data filtering to draw any meaningful insights. Sendible's keyword monitoring feature lessens the burden by giving users the ability to track specific keyword mentions.
This feature doesn't just make it easy to identify trends, it also allows brands to quickly respond to posts and commentary (both positive and negative) and spy in competitors.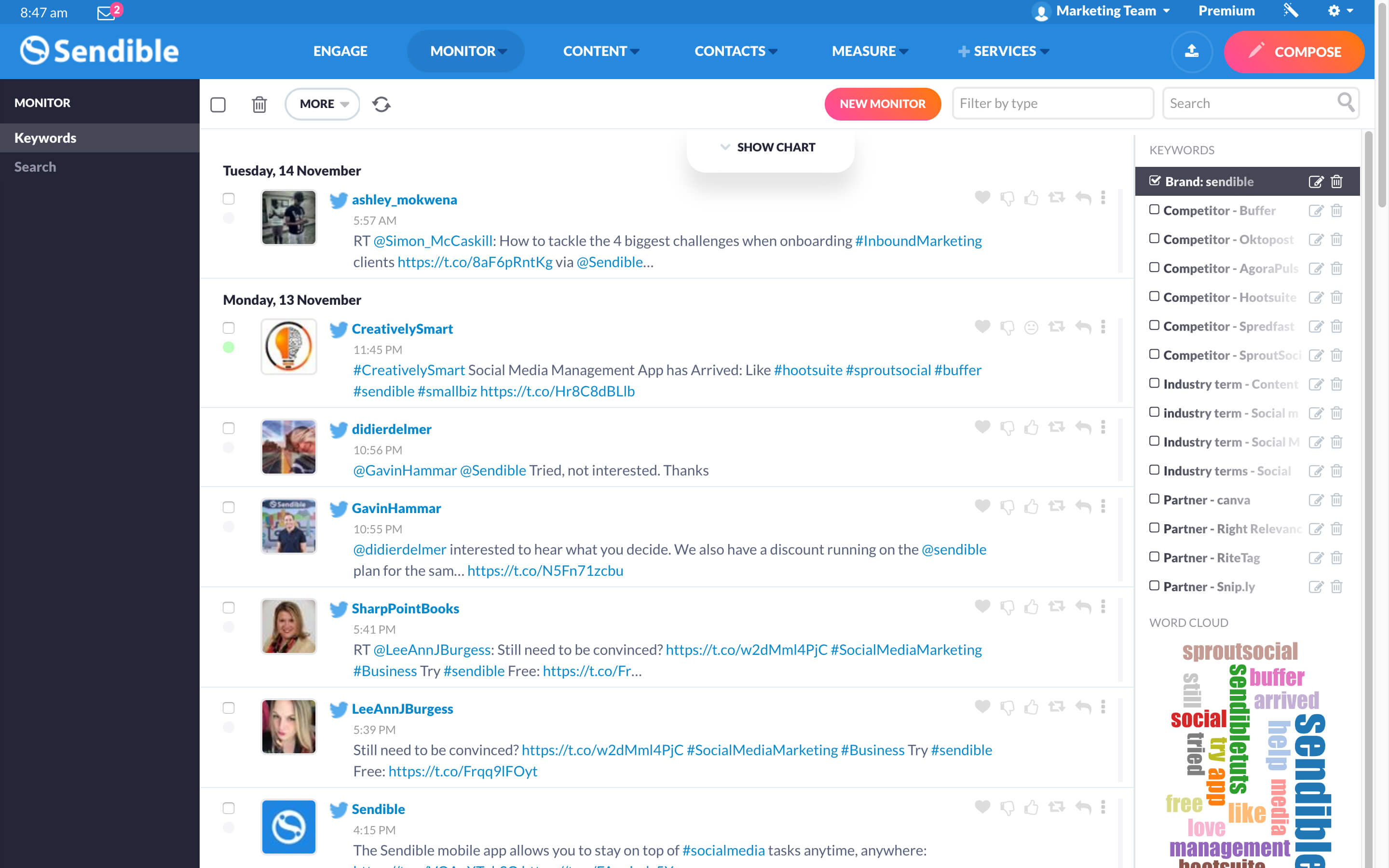 Found under the Monitor tab in the top navigation menu, users will be able to set up keywords to watch by clicking on the New Monitor button. Next, you'll need to add a keyword.
With your new keyword monitor in place, you'll be able to filter by:
Type

: Microblogs (social networks like Facebook and Twitter), blogs, news, videos or review sites.

Sentiment

: Search for posts with positive, neutral or negative sentiment to prioritize responses.

Search

: Enter user profiles and keywords in the top right search bar to narrow down your results even further.
Search functionality allows you to get more granular by offering these parameters:
Has one of these terms

Has any of these words

Doesn't have these words

Exclude mentions with curse words from results
Note: currently, monitoring data is stored for 30 days and this window can be extended to 90 days by contacting Sendible. Monitoring data can also be exported from a Sendible account.
---
Analytics & Monitoring
Reporting
Reporting is one of the most sought after features users look for in social media management tools as they can provide additional insights not typically available from social media platforms. And when it comes to reports, Sendible has set of 8 standard reports that would make any social media manager smile.
Standard reports include:
Engagement

: track performance engagement metrics across all accounts

Facebook Page

: identify audience behaviour and engagement trends

Twitter

: analyze and understand your audience and engagement

Instagram

: gauge the impact of your posts on your audience and engagement

LinkedIn

: track company presence

Monitoring

: know what's being said about your brand, track keywords, sentiment and influencers

YouTube

: track audience growth and which videos receive the most engagement

Google Analytics

: analyze the impact of social media traffic on your website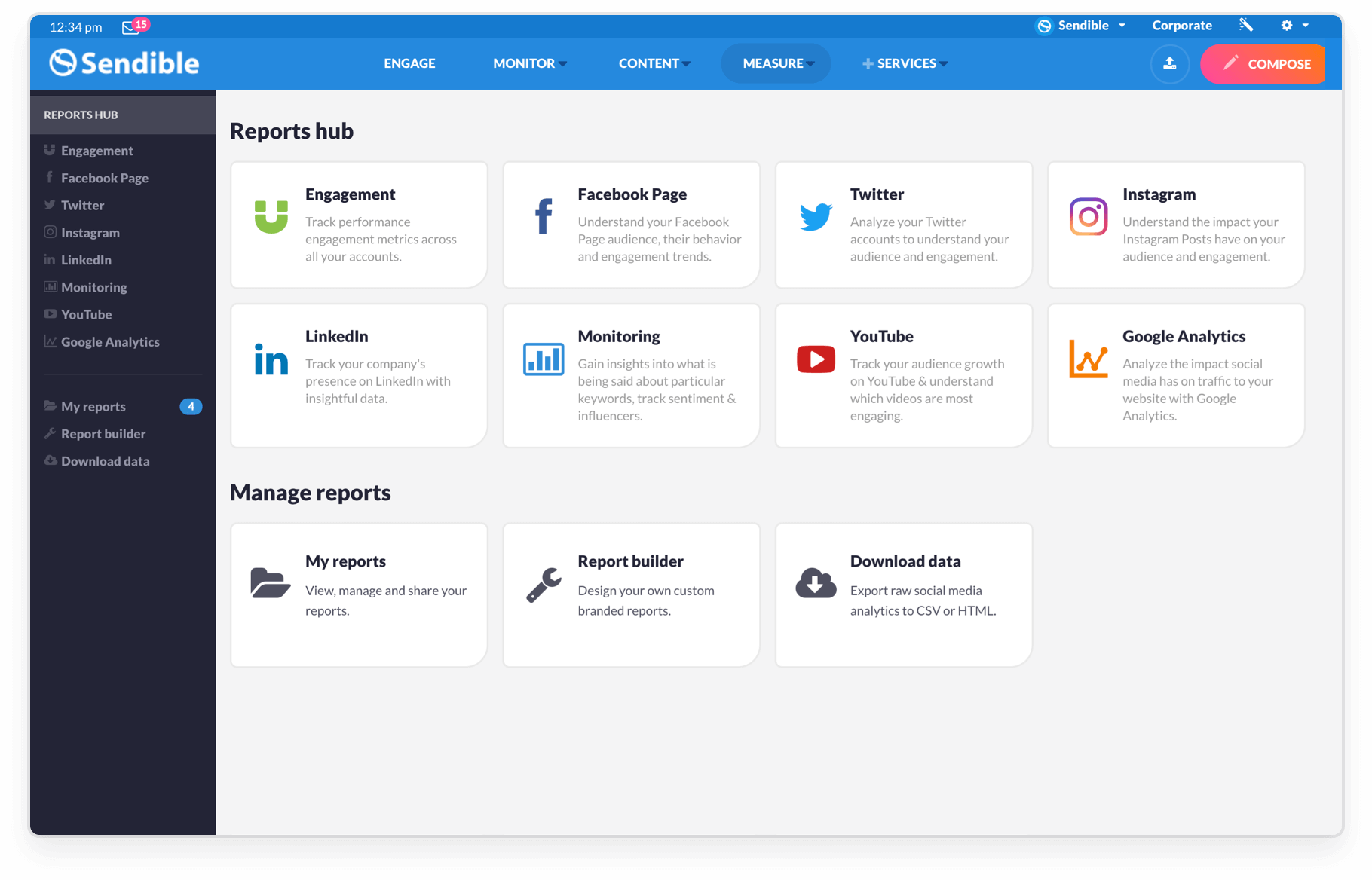 ---
Custom Reports
Sendible also offers custom drag-and-drop reports that can be tailored using any of their 250 modules. In addition, agencies will appreciate being able to design reports for clients from within Sendible. You can add a client logo and a description of the report.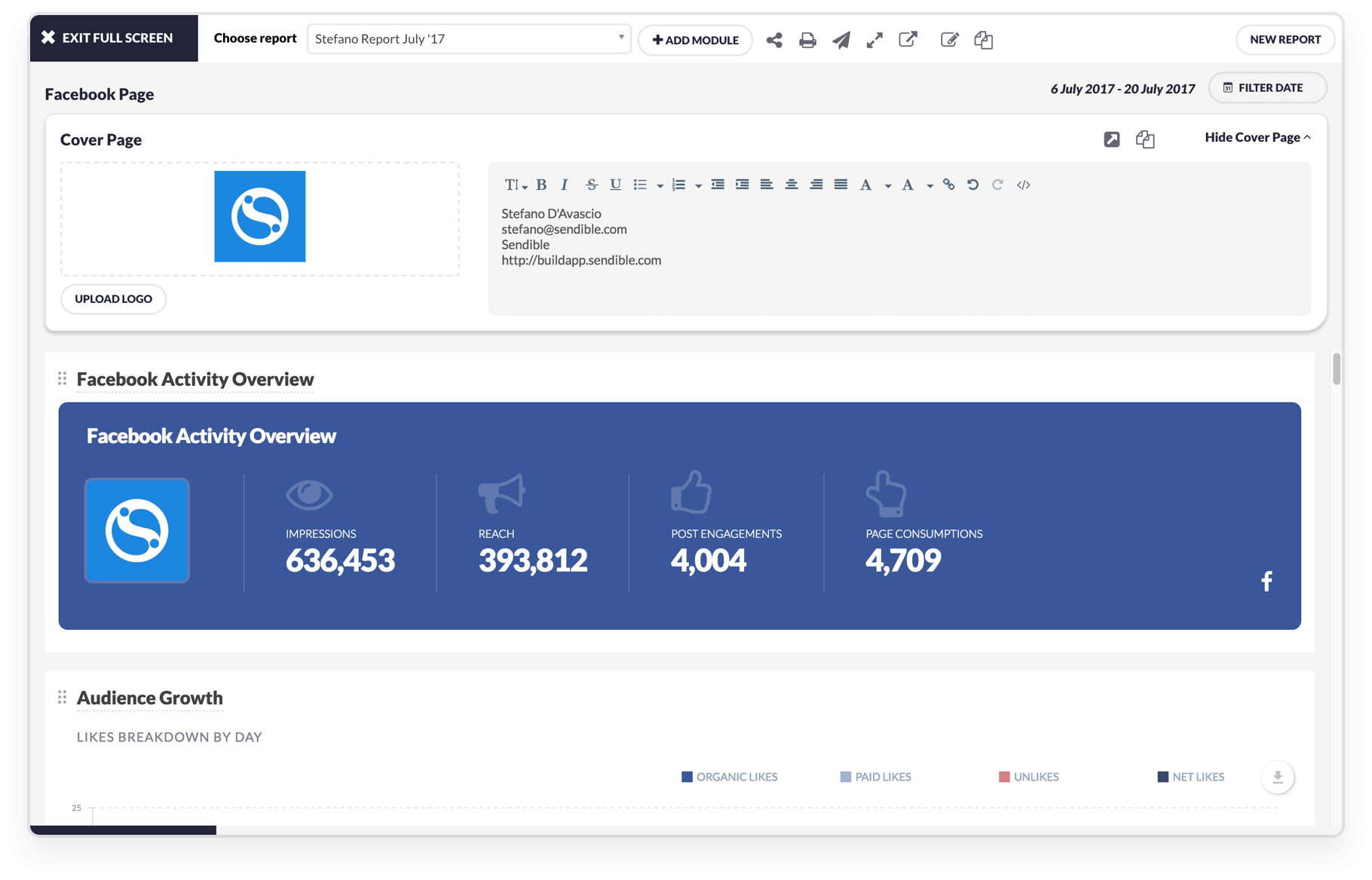 Reports can also be emailed directly to clients from Sendible and scheduled (with preset email body messaging and a unique cover page for each report).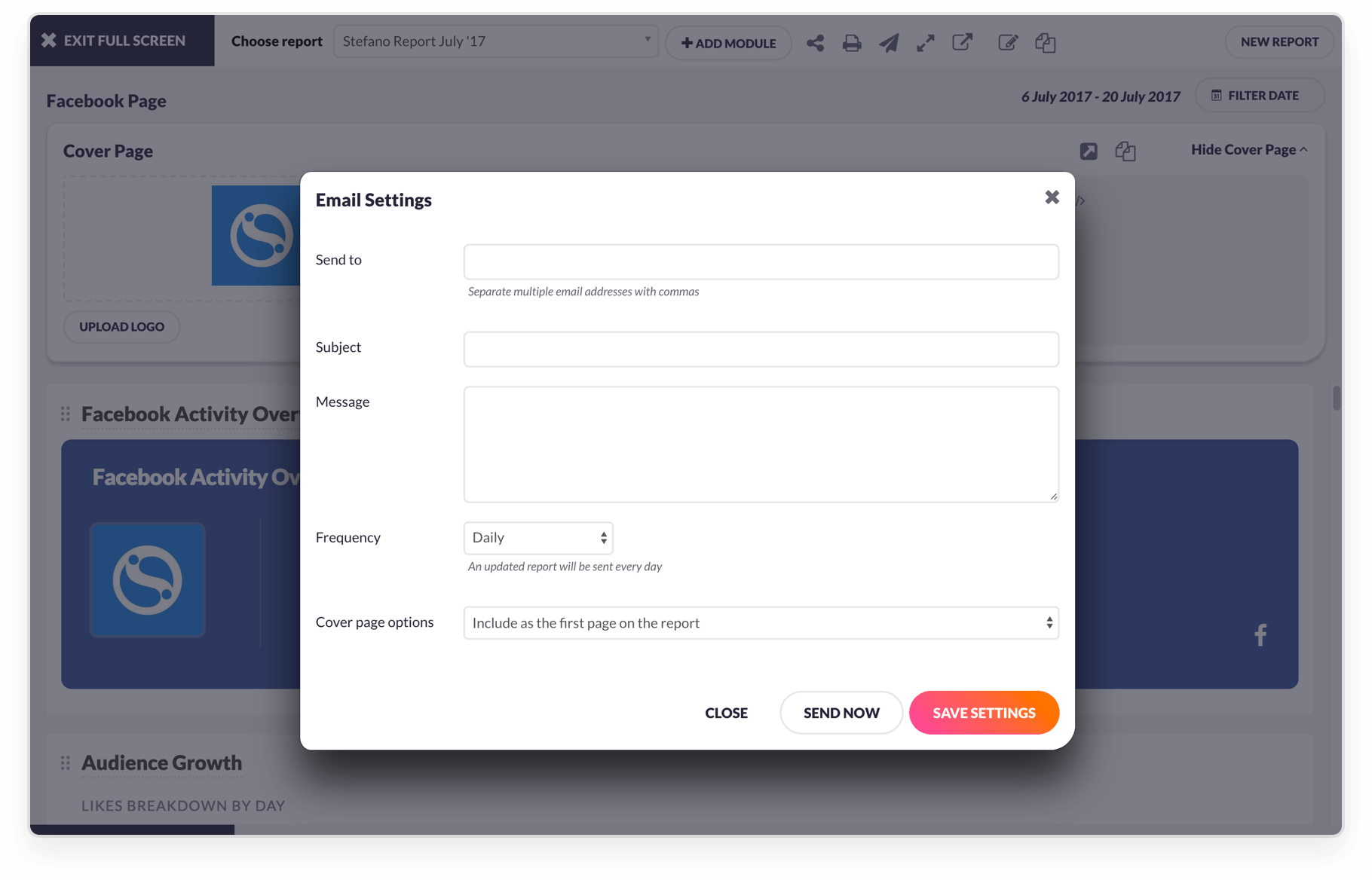 ---
Find Influencers
Finding influencers to help promote offers and strengthen client brands can be challenging. Sendible makes this easier through its integration with Majestic. Historically, Sendible used Klout to identify influencers, however, this proved to be a less accurate way to determine the extent of a person's influence.
At Klout, influence was determined by aggregating all social media account data (think shares, click etc.) without providing insight on how in-depth the content being shared by an influencer is, or how trusted the expert is.
Teaming up with Majestic, Sendible has leveraged the search engine ranking tool's capabilities to establish a Twitter account holder's Trust Flow (quality of referring sites pointing to an account) and Citation Flow (quantity of links pointing to an account).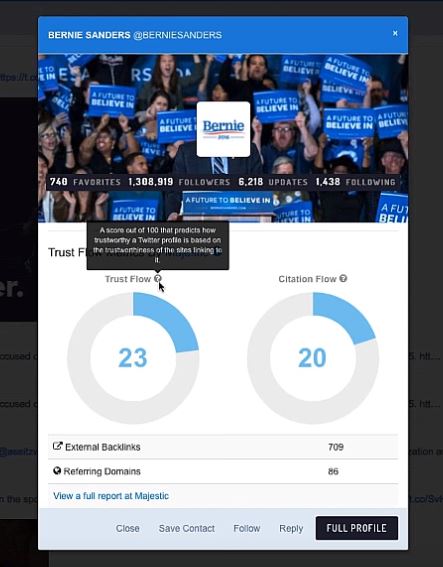 ---
Optimal posting analysis
Optimal posting analysis helps users determine when to post messages for the best engagement and reach. To make use of this feature, users will need to have published a certain amount of content for Sendible to gather insights on the optimum times and days of the week for future posts.
---
Conclusion
Sendible offers a unique approach to social media management through Services. While the idea of picking and choosing which Services to integrate can sound a little confusing initially, once you've created your first integration, you'll likely never think twice about the approach.
We like its Monitoring functionality and the ability to search even deeper using parameters. We also think that their range of integrations is ideal for users and agencies wanting to streamline workflows. Their reporting and analytics functionality also makes understanding social performance and sharing data with clients easy and convenient - something agencies will appreciate.
All things considered, we give Sendible two thumbs up and recommend that you consider this solution if you're in the market for a social media management tool.
---
Search Precision

Management Tools

Interface/Ease of Use

Reporting/Analytics

Services Offered: AnalyticsAutomated PublishingContent ManagementKeyword FilteringMulti-Account ManagementPost Scheduling
Channels: Facebook, Twitter, Instagram, LinkedIn, Google My Business, YouTube, Pinterest