Best for:
Businesses of all sizes and agencies
We first reviewed Sendible several years ago, so we thought it was time to revisit the platform and see what has changed since then. We were pleasantly surprised to see that Sendible has kept its focus on offering the core essentials of a social media marketing platform, focusing on becoming more user-friendly and further improving its most important features.
It's chosen to offer something for businesses of all sizes, making it extremely versatile. Whether you're a sole proprietor or freelancer, a small or medium business (SMB), an enterprise, or an agency, Sendible makes an excellent choice to help you manage your social media activity. It lacks some of the more tangential features offered by some of its competitors, such as sentiment and reputation management, but its comparatively cheap pricing reflects this. However, if you need these features, you can easily add another specialist platform to help you there, using Sendible to help you control your social media management.
Sendible has been assisting businesses with their social media since 2008. They've stayed true to their ethos of listening to their customers, focusing on the goals that matter, and most importantly, building their best social media management tool.
---
---
Pricing
As a SaaS platform, access to Sendible is sold on a monthly basis. Sendible offers 5 paid plans (plus occasional one-offs and specials), including a custom plan for large teams and agencies. The platform offers a discount of 15% for annual payments. The prices quoted below are for monthly plans. Sendible offers a 14-day free trial for the Creator and Traction plans. You can book a demo if you're interested in the higher-level plans.
Creator, $29/mo. – For freelancers
Allows 1 user and 6 social profiles. Offers unlimited scheduling, planning, and content ideas, monitoring and replying, and reporting.
Traction, $89/mo. – For startup agencies & brands
Allows 4 users and 24 social profiles. Adds team collaboration, assignment and approvals, client dashboards, and user management.
Scale, $199/mo. – For growing agencies, brands & resellers
Allows 7 users and 49 social profiles. Adds content library, Bitly branded links, cloud integrations, automated client reporting, custom branding and domain, and an account manager.
Expansion, $399/mo. – For large agencies, brands & franchises
Allows 15 users and 105 social profiles. Gives access to all features, customized number of users and profiles, optional SSO, and dedicated customer success.
Custom, contact Sales for pricing – For large teams and agencies
Build your plan with unlimited brands, SSO, white labeling, and more.
---
The Details
Sendible has always been renowned for its versatility, and that has never changed. Depending on the plan you've chosen, you can easily send content to multiple platforms (including blogs), customizing your posts for each one.
As with most social media marketing platforms, you begin each session on a calendar home screen.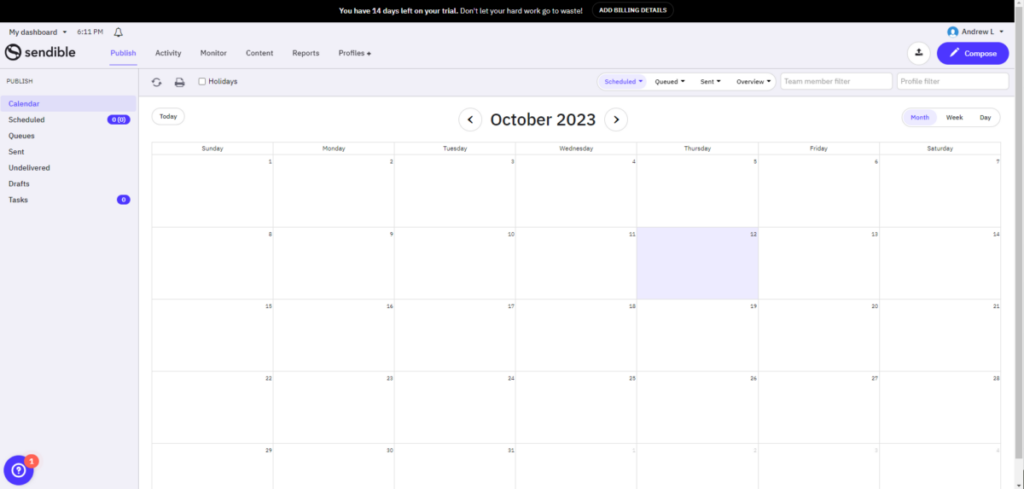 You can view your calendar in multiple ways. When you open the app, you'll see any scheduled posts. You can click on buttons to change this to show posts in your queue, posts you've sent (in a selected time frame), or a customized Overview. You can even select an option to show any holidays during your selected period (day, week, or month), giving you potential post-creation ideas.
You can use Sendible on the web if you're using a computer, or compose your messages in their mobile apps when you're on the go.
Setting Up Sendible
One of Sendible's strengths is its ease of set-up. If you click on your account name in the top right corner, you can set your time zone and preferences (personal settings, notification settings, publishing preferences, and system settings). You can also enter (and edit) your team, giving each member relevant permissions.
One of the first tasks you'll need to do is to attach your social profiles. Sendible gives you a particularly rich choice here. Options include:
Facebook - publish photos or videos directly to Facebook Pages and Groups, reply to comments on your posts and ads, and retrieve analytics.
TikTok - publish videos directly to TikTok Business and Personal Accounts. Pick a thumbnail from the video timeline and enable duets, stitches, and comments.
Twitter (they haven't yet updated their nomenclature to X) - schedule Tweets, and reply to @mentions, comments, and direct messages. Plus, access Twitter Lists and retrieve analytics.
Instagram - publish photos or videos, Reels, Stories, and image carousel posts directly to Instagram Professional Profiles. Monitor comments in real-time, schedule reminders for video carousel posts with in-app notifications, and retrieve analytics.
LinkedIn - schedule posts to LinkedIn profiles and Company Pages, respond to comments on Pages, and analyze your content performance with reports.
Google My Business listings - schedule updates to auto-post to Google My Business (GMB) listings.
YouTube - schedule videos, view analytics, and reply to comments on your YouTube account.
Blogs - post updates to your self-hosted WordPress and WordPress.com blogs.
---
Content Publishing & Workflow
Sendible gives you tremendous flexibility for creating and sharing posts. There are various ways you can do this, with the most straightforward being to create and schedule your posts from scratch.
Scheduled Posts
Scheduled posts allow you to plan and schedule content either individually or in bulk. You begin by creating a generic version of a post, select the social networks where you want to schedule it, and then make any customizations for each profile. When creating a post, we found Sendible's character counter useful. Most social messages can be delivered in 240 characters or less, however, optimizing content depending on your offer or post type and platform can directly impact the level of engagement a post receives.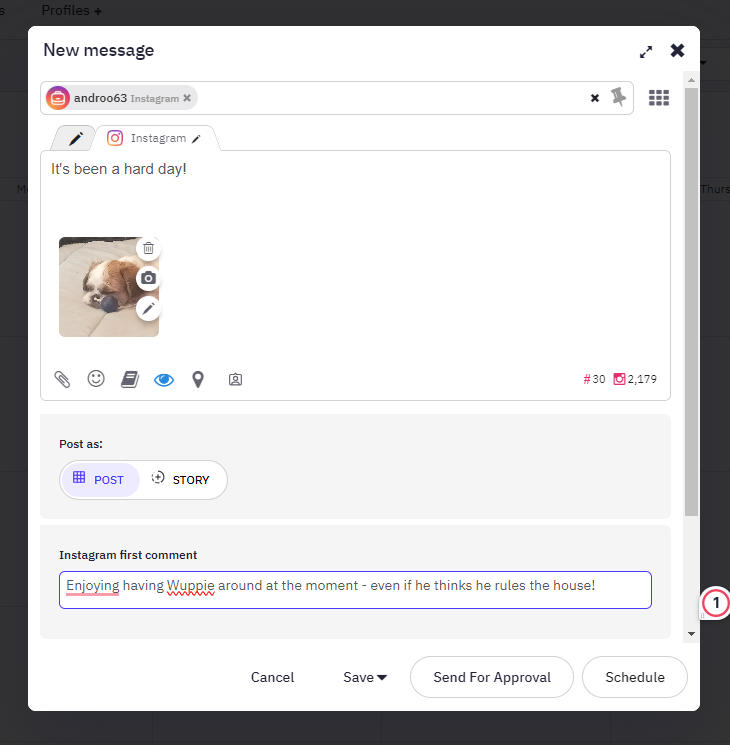 Sendible's scheduling feature allows you to deliver posts to all social networks, incorporating images and video where required. It checks to ensure that you've obeyed each social network's rules. For example, Sendible highlighted that the uploaded image in the above screenshot was the wrong shape for Instagram and offered to fix it for me.
Bulk scheduling can be completed by importing CSV files. Once the content is imported, Sendible presents it in a column view and shows the copy, send date, URL, image, and other fields you've populated in your CSV file. You also have the option of editing each post.
One of the hardest parts of social media management for a business can be coming up with ideas for posts. Many firms tailor their posts to reflect holidays, even some of the more obscure or jokey ones. Sendible helps with this by showing an extensive list of public holidays in the calendar. You can easily toggle these off if they crowd your screen, however.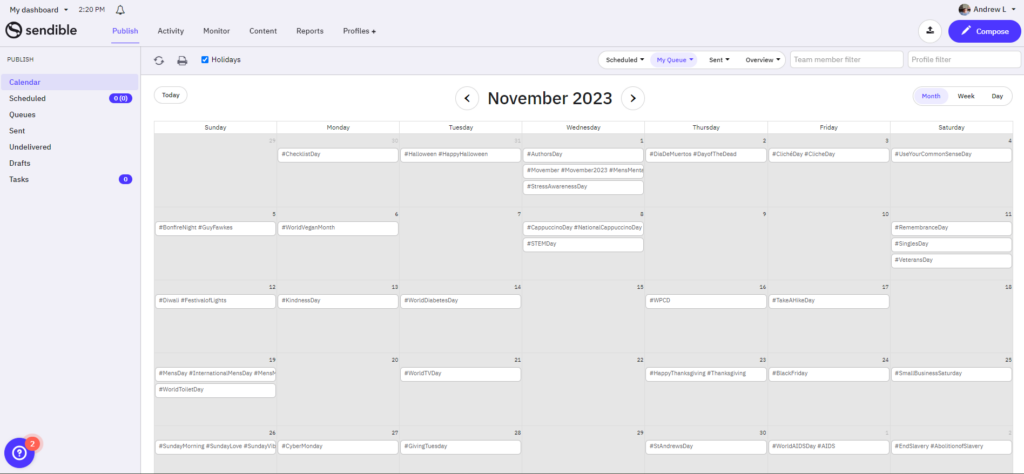 Sendible incorporates a built-in image editor, where you can crop images to suit each social media platform's requirements and add filters, text, and stickers. If you want to do more to your social posts, Sendible integrates well with Canva, meaning you can use that graphics software to create new graphics from within your Sendible dashboard.
If you prefer, you can fetch images from a URL to include with each of your posts. Sendible even includes integrations that make it easy to find images or GIFs on Pexels, GIPHY, and Flickr, available for license-free sharing to the public.
---
Using the Sendible Chrome Extension
If you're somebody who loves to share other people's content, then the Sendible Chrome extension makes this very easy. Indeed, unless you create 100% of your own content, I would almost call it a must!
It's easy to find. When you click on your profile picture, the Settings menu comes up, and a button to get the Sendible extension appears very prominently.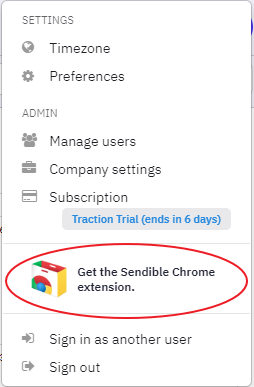 You then just follow the instructions to install the extension and to make its icon visible in Chrome's toolbar.

If you're on a page that interests you, and you want to schedule a post related to it, then click on the above Sendible icon and Sendible begins to create a post based on the page. You simply have to select your social channels, make any modifications you want, and schedule it for your preferred time.
---
Smart Queues
Message queues have become one of the most valuable services offered by social media management platforms. As a solution, they help users pick when to post content, and in Sendible's case, offer a little something extra.
Queuing allows you to:
Name a message queue

Post to each profile connected

Make your new queue recyclable (think evergreen content)

Assign team members who can contribute to your queue

Set times (same time each day or unique times for each day of the week)
It can be particularly useful to combine Sendible's queues with their Chrome extension. If you're on a page of content you wish to share, you click on the Sendible icon as usual. However, rather than scheduling your post now, you add it to your queue by clicking on the Queue icon near the bottom of the post.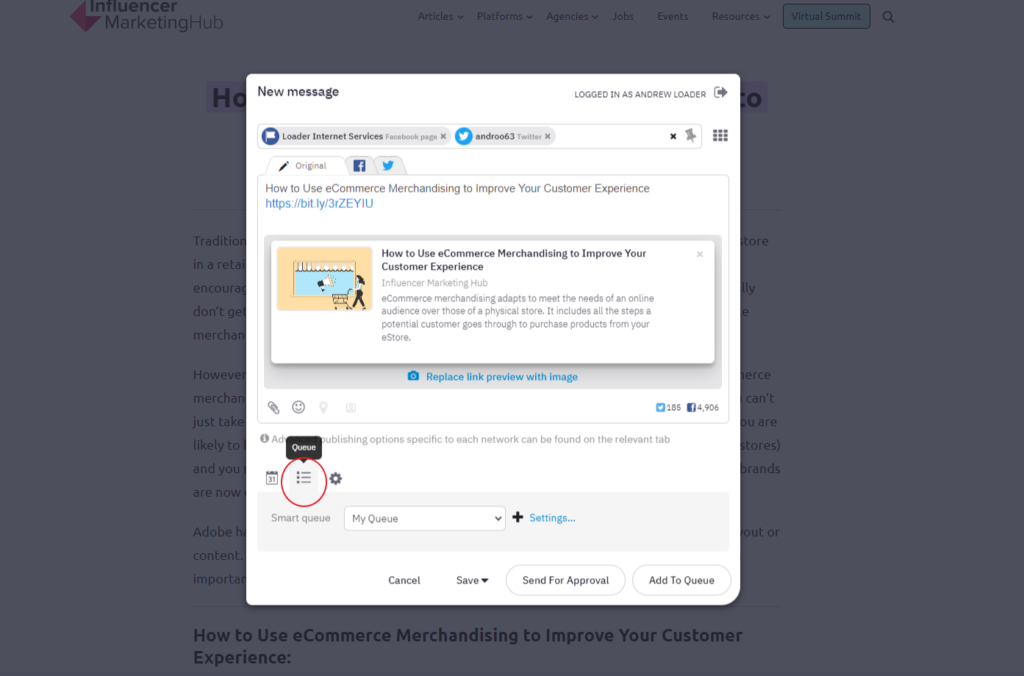 You can easily set the times you want Sendible to post items from your queue on each relevant social network.
Queues can also be a particularly easy way to share your evergreen content.
Clicking on Queues in the left menu shows you all the content you currently have allocated to queues.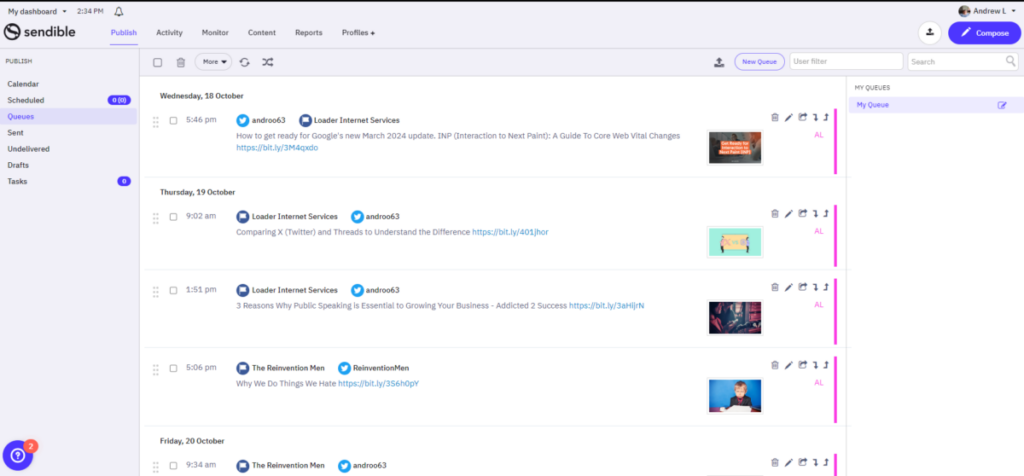 Sendible offers you a variety of ways you can use queues. You can create multiple queues for different purposes, edit posts in the queue, manually adjust the order of your queues, and even tell Sendible which posts to requeue (particularly useful for evergreen content).
Sendible keeps scheduled posts separate from queued ones on the calendar.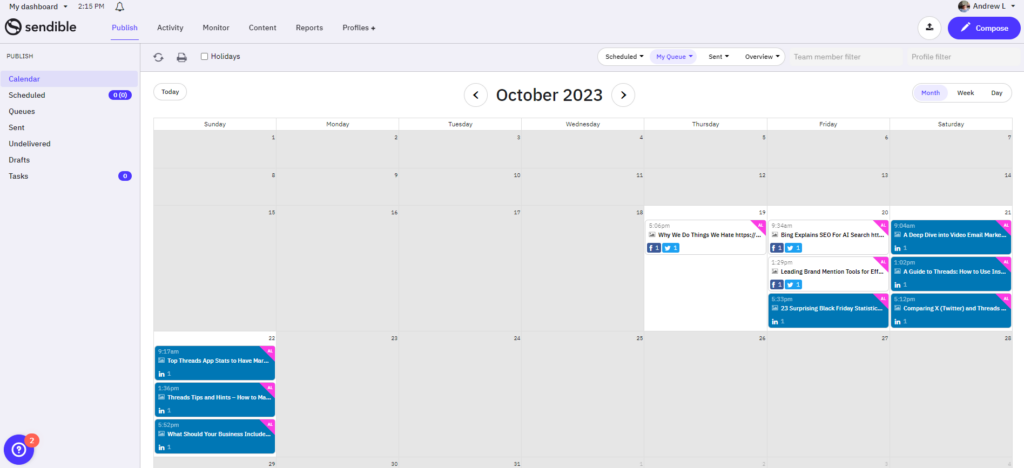 I found this post-separation somewhat confusing, as it seems to me that once you've queued content to display at predetermined times, you have effectively scheduled it, and would have preferred to have a view merging both scheduled and queued content.
---
Automatic RSS Posting
Content curation is a common feature in social media management tools, however, there are nuances across the board. We found Sendible's Auto RSS posting functionality pretty handy, especially for busy social media managers with content gaps on their calendars.
The Auto RSS posting feature allows you to:
Select the number of posts to publish

Schedule, queue, or set posts as drafts

Set a frequency for the post publishing (starting at 1-hour intervals with the option of random posts every 0-2 hours or more)

Get notified when posts are published
---
Saving Quality Reusable Content to Your Library
Another option with Sendible's higher-level plans is to store articles and social media posts in a content library to use later. You can share libraries you've created with others and allow them to contribute.
---
Sourcing Images
Another bonus for those on the Scale and expansion plans is that you can easily pull in images from Google Drive or Dropbox when creating posts.
---
Engagement & Monitoring
Priority Inbox
The Priority Inbox is what it sounds like, one inbox with all of your important messages. Sendible provides a view of all messages your brand receives across your social channels.
You can use your inbox to:
Respond to messages (on Facebook, Instagram, Twitter, and LinkedIn.)

Select all messages (use the Select All checkbox)

Archive posts

Refresh

Export content in a CSV file

Filter by time or social media channel

Search for a word or string of words across all messages in your inbox

View messages for specific streams to see engagement received (comments, likes, etc.)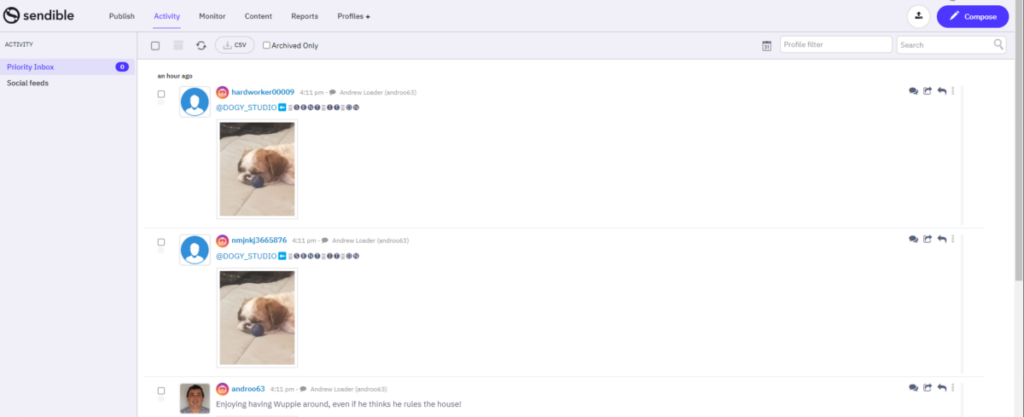 Sendible pulls in comments in real-time for Facebook Pages, Groups, and Ads, Twitter, and LinkedIn Company Pages. You can reply to these from your dashboard. You can also monitor comments on your Instagram Business Profiles and reply from your Instagram account.
---
Analytics & Monitoring
Reporting
Reporting is one of the most sought-after features users look for in social media management tools as they can provide additional insights not typically available from social media platforms. And when it comes to reports, Sendible has a set of eight standard reports that would make any social media manager smile.
You can access all your reports from Sendible's Reports Hub.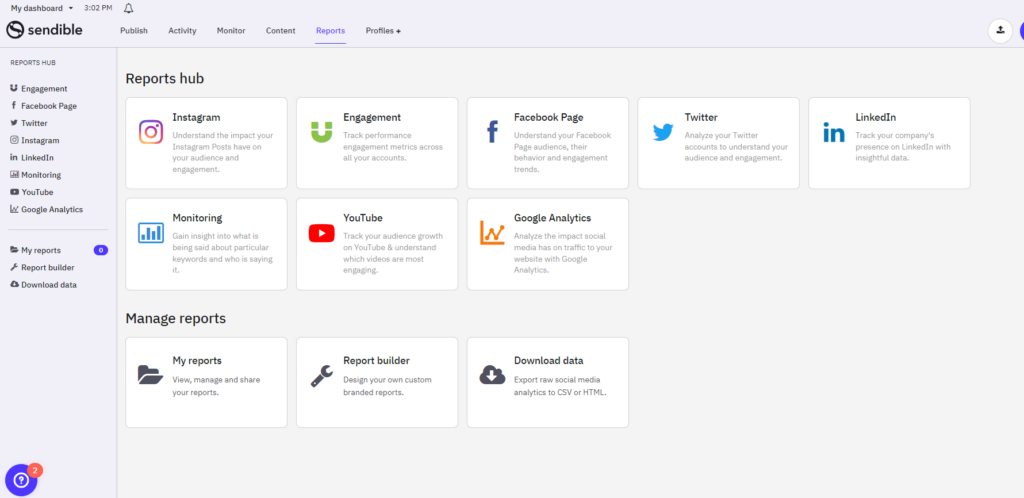 Standard reports include:
Instagram: gauge the impact of your posts on your audience and engagement

Engagement: track performance engagement metrics across all accounts

Facebook Page: understand your Facebook Page audience, their behavior, and engagement trends.

Twitter: analyze and understand your audience and engagement

LinkedIn: track company presence

Monitoring: gain insight into what is being said about particular keywords and who is saying it

YouTube: track audience growth and which videos receive the most engagement

Google Analytics: analyze the impact of social media traffic on your website
Each report covers a variety of metrics relating to your social accounts and posts. Sendible offers a handy PDF for each report, explaining each component of the report. For example, the following screenshot is from the PDF explaining the Engagement Report.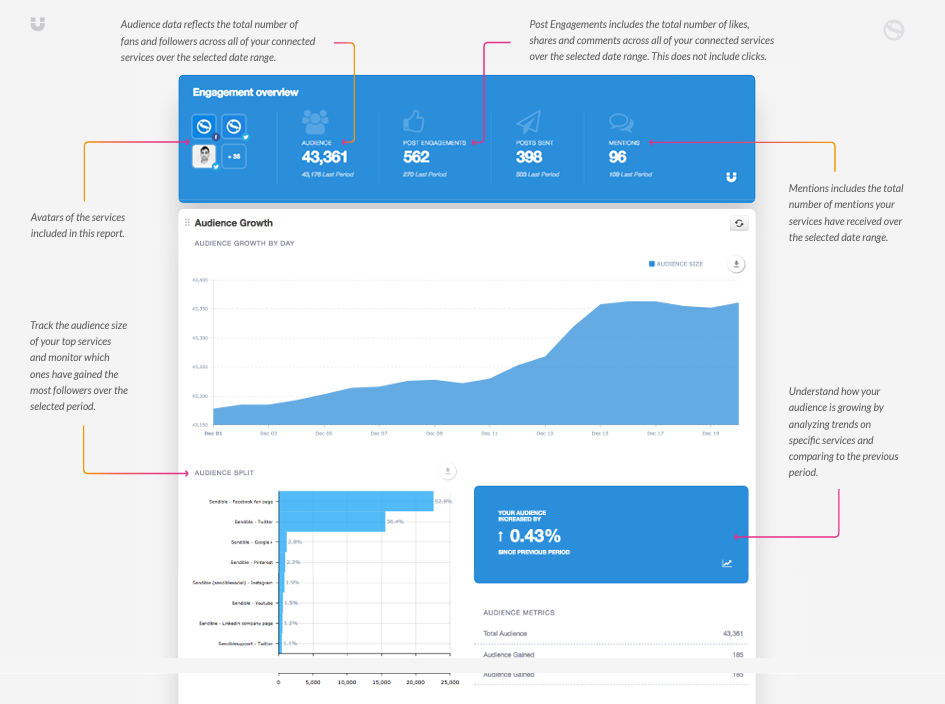 In addition, Sendible includes a Report Builder (on the Scale and Expansion plans) so you can design your own custom-branded reports.
---
Conclusion
If your focus is on social media management, without a need for bells and whistles like collecting reviews, sentiment analysis, reputation management, and the like, Sendible could be ideal for your needs. It has a smaller remit than some of the competitors reviewed here (and comes at a price to match) and clearly believes in doing its core tasks well.
Sendible's range of plans makes it suitable for businesses of any size that want to focus on making their social media manageable. Although large businesses and enterprises may opt to build a custom plan, there is currently another plan for them (and agencies) to consider. White Label + (at $750/mo. when billed monthly) caters to organizations with up to 100 users managing 300 social profiles. As its name indicates, it includes a white-label dashboard you can use to reinforce your brand and generate more revenue for your business. You can match your brand colors and logo, adjust system-generated email notifications, and use your web domain. You could create different service packages for clients and limit certain areas of the dashboard until you upsell them to a higher tier with more hands-on work from you.
In our last review, we gave Sendible two thumbs up and recommended that you consider this solution if you're in the market for a social media management tool. We double down on this view now. Sometimes simplicity is better, making for a more fulfilling user experience, without the distraction of modules that may be irrelevant to your needs.
Frequently Asked Questions
What can Sendible do?
Sendible offers robust API integration capabilities that allow marketers to manage all their social media platforms via a central console. You can also use it to source content and integrate other important applications such as Google Drive that your business uses to streamline content access and workflows.
Can I use Sendible for free?
No, you can't use Sendible free of charge. However, all its paid plans do offer a free 14-day trial that does not require you to share your credit card details. Their cheapest plan is their Creator plan which costs $29 per month, but if you prefer to be billed annually you can save $4 and get it for $25 per month.
How does Sendible work?
You can use Sendible to create and schedule posts, videos, and Stories to a wide range of social media and blogging platforms. You begin by attaching your social platforms and then begin to create and schedule content. You can also set up dynamic queues to collect evergreen content. These also work well when coupled with Sendible's Chrome extension. Sendible also offers a unified inbox to make it easier for you to stay on top of your social communication.
Which platforms does Sendible integrate with?
Sendible supports a large number of social platforms as well as blogging platforms. These include Facebook, Twitter, Instagram, LinkedIn, Google My Business, YouTube, and TikTok, as well as WordPress blogs. It also supports other tools and integrations. These include Google Chrome Extension, Client Connect widget, Content Suggestions, RSS Feed Importer, Canva, GIPHY, Google Analytics, Dropbox, Google Drive, and Pexels.
Is Sendible any good?
Sendible is a good tool for social media management. It is exceptionally user-friendly, making social media management a breeze. It offers a wide range of integrations and the ability to search using parameters to search deeply. The reporting and analytics are also helpful and will help you to understand social performance and share data with clients easily. Thanks to their level of customization, you can offer your clients better pricing.
Features

Ease of Use

Reporting

Best for:
Businesses of all sizes and agencies