Best for:
Social media users
On the surface, Socialoomph appears to be one of the lesser-feature social media management tools, but it provides some excellent scheduling and queuing power. However, you certainly need above average computing skills, because Socialoomph is far less user-friendly than much of the competition.
Socialoomph claims to have been providing scheduled social posting services since 2008. My first impression is to query whether they have altered their user interface in that time. It lacks the graphic touches and ease-of-use features provided by most of the competition.
Possibly it is not their fault but connecting Facebook accounts to Socialoomph is a mission. As I will refer to below, I never managed to do so successfully. Other social media management programs allow for a relatively seamless connection between your Facebook accounts and the app. You usually simply have to enter your Facebook log-in details and tick a few permission boxes, and everything else is seamless. With Socialoomph, however, you actually need to create a Facebook application and have it approved by Developers Facebook.com – not a simple task as I found out. You also need to create a LinkedIn app if you want to join your LinkedIn accounts.
Luckily it was much easier to connect my Twitter accounts – there is no need to create any form of an app with these.
However, once you have your social accounts connected you do have quite a few options to make running your social accounts simpler.
If you run social accounts for clients, you can smoothly run everything from the one account. Yet you can also partition each clients' accounts together. If you work with a team, you add associates to your accounts, giving each one of them appropriate permissions. You can easily ensure that the right people have the correct privileges for each social account.
Assuming you can connect your social accounts properly, you have some unusual options in Socialoomph. Apart from the usual (Twitter, Facebook, LinkedIn, and Pinterest), you can also use Socialoomph to post to Mastodon, Reddit and even Stick Twits. Instagram is notably missing from this list. You can also work with blog posts on a variety of platforms.
One of Socialoomph's great strengths is its queueing system. You have quite a few options of ways to automatically fill up "never-go-dry" queues to each social account. For example, I found it easy to set up for Socialoomph to make posts from a series of RSS feeds to one of my Twitter accounts. I set it to make a post every 4 hours until I choose to stop the process.
If you have developers available to customize your social feeds, you can set up things to go precisely how you want them. You can even use webhooks to automatically create social and blog posts from services such as ifttt.com.
Socialoomph has quite some power. However, it certainly isn't pretty, and beginners are likely to quickly lose their way.
---
Summary: Quick Jump Menu
---
Pricing
As a SaSS platform, access to Socialoomph is sold on a monthly basis. Socialoomph offers three paid plans, as well as a free plan. All paid plans can be paid on a monthly or yearly basis. They offer a 10% discount for annual payment on the paid plans.
Personal Suite, $0/mo

– 1 user (personal posts), 1 social profile, basic posting features, unlimited scheduled posts (max 3 per hr)

Advanced Suite, $15/mo

–1 user (personal and team posts), 1 social profile, 1 blog, 1 RSS feed, 1 queue, all posting features, unlimited scheduled posts (max 60 per hr per social profile/blog)

Professional Suite, $25/mo

–1 user (personal and team posts), 10 social profiles, 5 blogs, 5 RSS feeds, 5 queues, 1 webhook, all posting features, unlimited scheduled posts (max 60 per hr per social profile/blog), can pay to add additional social profiles, blogs, RSS feeds, queues, webhooks)

Business Suite, $55/mo –1 user (personal and team posts), 20 social profiles, 10 blogs, 10 RSS feeds, 10 queues, 1 webhook, all posting features, unlimited scheduled posts (max 60 per hr per social profile/blog), can pay to add additional social profiles, blogs, RSS feeds, queues, webhooks), $35/mo per additional associate, $5/mo per additional team
---
The Details
The first thing noticeable about Socialoomph is that it has a much more spartan interface than its competitors. Even the opening splash screen is text-based, listing the product's benefits. It couldn't be further from Later's graphical approach. I almost feel guilty for including screenshots that I could almost recreate in my word processing program.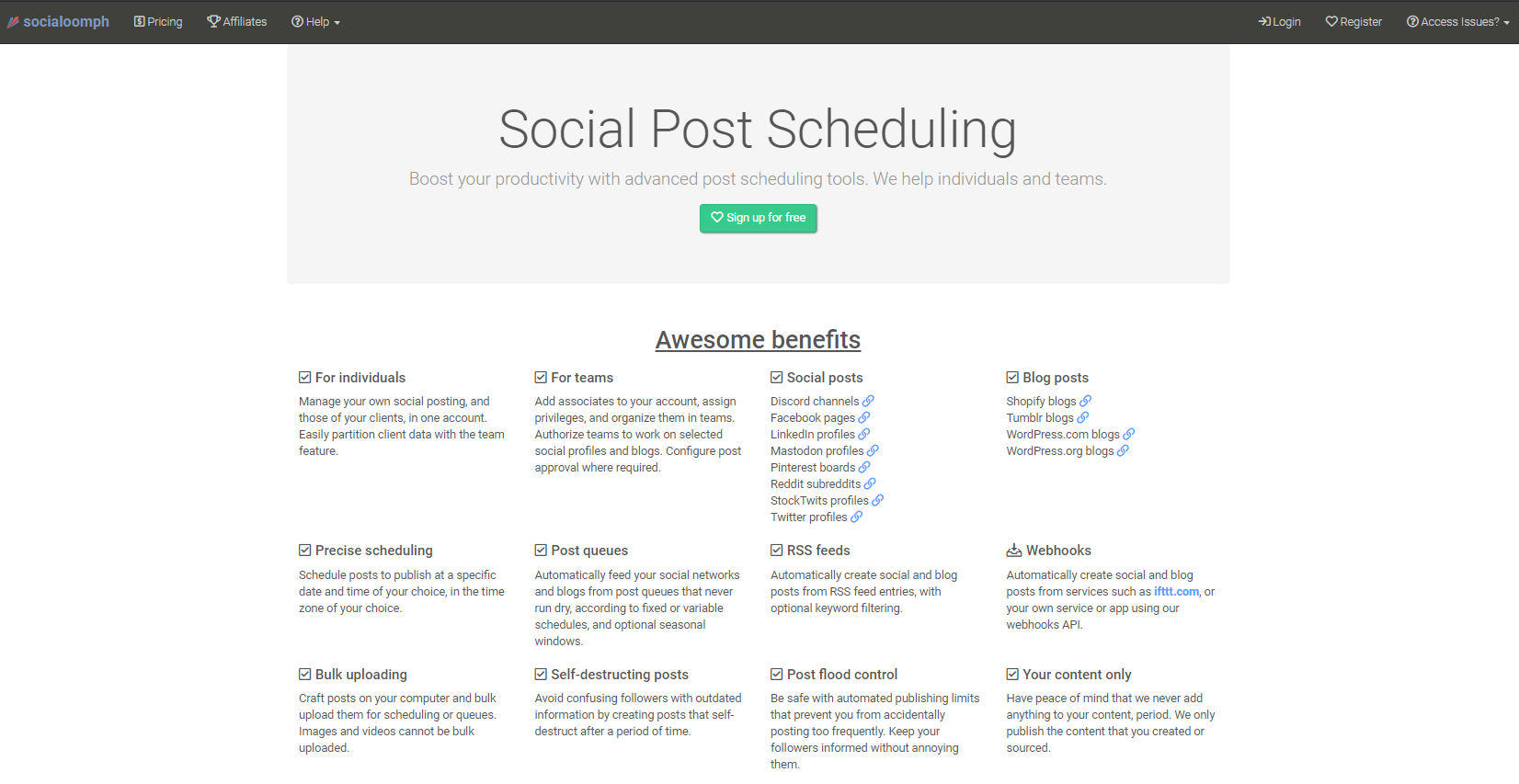 You will notice that Socialoomph does believe that their product offers many benefits (the list continues further down the screen). And that was something I was to find out – techies will love Socialoomph!
As with most of these apps, you can opt to sign up for a free trial first or jump straight into signing up for one of the plans. Even the most expensive Business Suite is reasonably process compared to competing apps.
Ironically, one of the most graphical screens on Socialoomph is the one where you enter your credit card details and activate your free trial.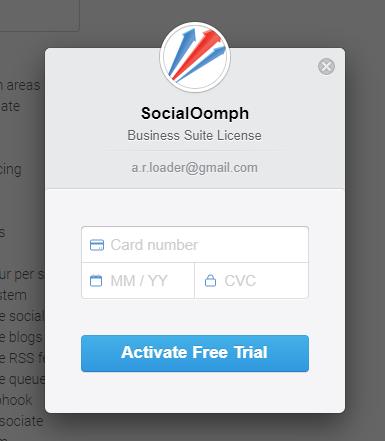 Once you've signed up, you return to a spartan-looking login screen. This refers to Socialoomph's customers having to go through an account migration from a previous version of the app. Clearly, the current look and feel of Socialoomph is a deliberate design decision.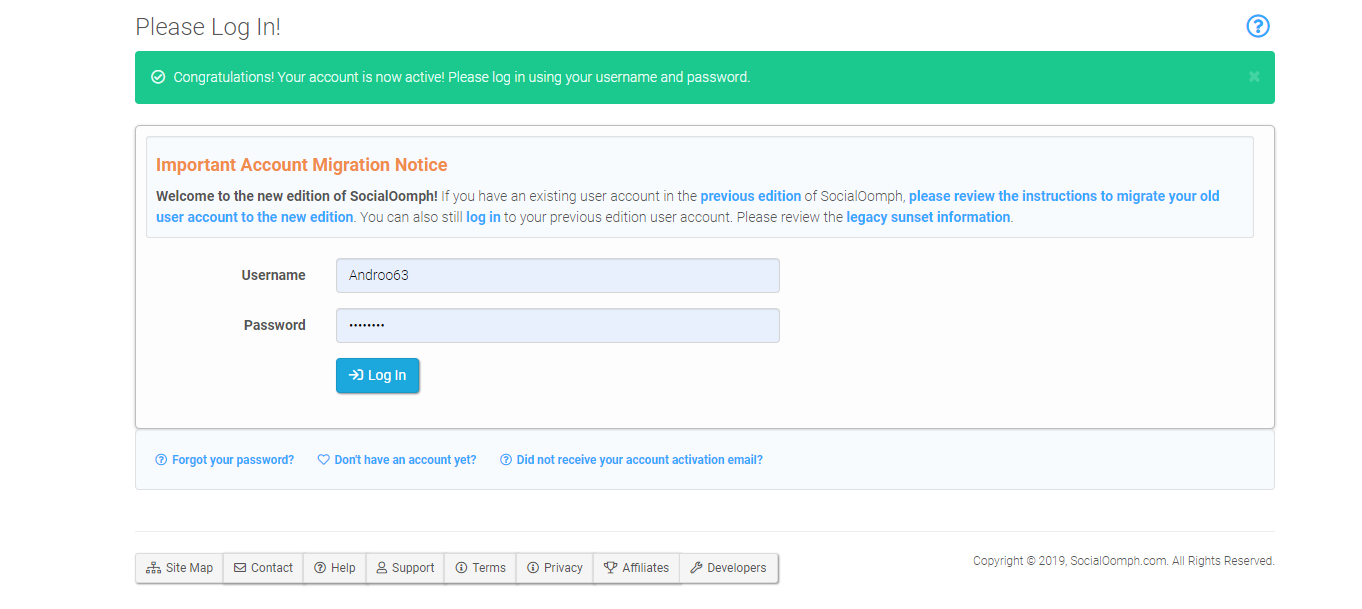 Again, this emphasizes the difference in approach between Socialoomph and the other apps. Most people will need to make use of the help files as setting up your social accounts is the most challenging part of the entire process.
You will notice a thin black bar at the top of the Socialoomph screen. This is their menu. There are many sub-menus off this, including an extensive range of posting options as shown in the screenshot below: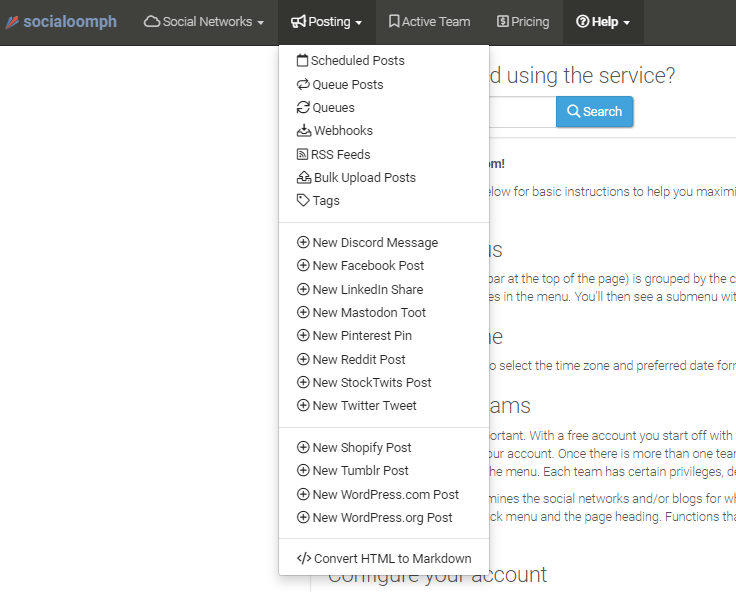 Socialoomph suggests you begin your account set-up by entering your time zone. This is a simple, but fundamental act, neglected by some of the competing apps. It can be incredibly frustrating putting together a social posting schedule when the program and you are working to different time zones.
A central concept in Socialoomph is that of teams. With a free account, you automatically have one team – called "My Account." If you buy any of the paid accounts, you gain a second team, and you can then Manage Teams. You can then alter the Team you are working with when scheduling posts etc. If you work with multiple clients, you can separate their profiles into different teams.
There are various times when Socialoomph will prompt you to set your active team.
As with all these apps you need to connect your social profiles before you can schedule anything. Socialoomph offers a wide selection of social accounts and blogs you can connect to.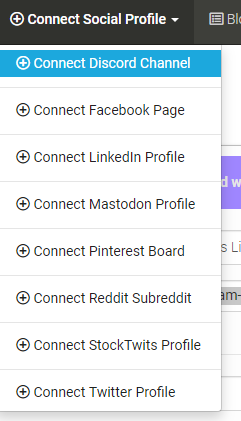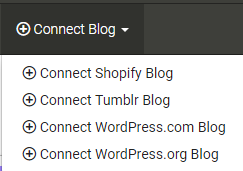 When you first go to your Social Profiles page, you are presented with a series of colored tasks and messages.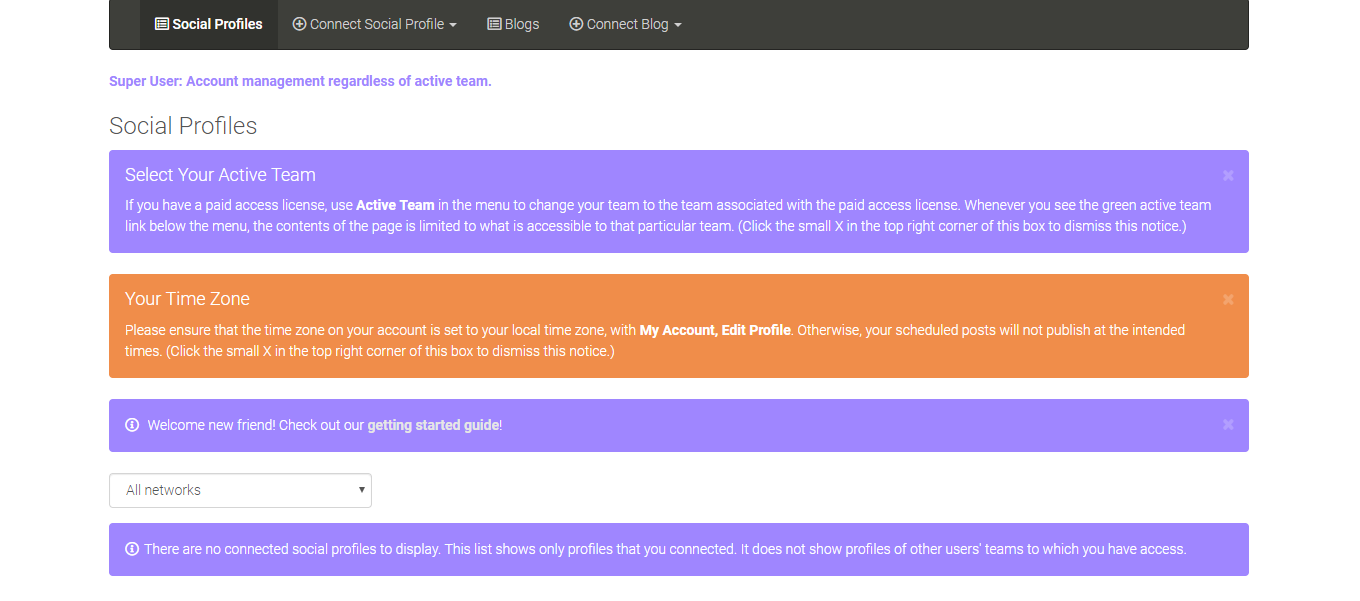 It must be said, that it is much easier to connect some accounts than others. For example, you can connect Socialoomph to your Twitter accounts as quickly as with any of the other social media management platforms.
You're presented with a screen asking for a few details.
This redirects you to typical Twitter permission screens, before returning you to Socialoomph, ready for you to schedule items to your Twitter account. As with all these apps, if you have multiple Twitter accounts, you will have to log into another profile before starting this process again to connect to your other Twitter accounts.
Connecting to Facebook is a whole new level of difficulty, however. Socialoomph doesn't give the option of connecting to Instagram, which is usually the more difficult network. The help files suggest that Pinterest and LinkedIn have similar requirements to Facebook, although I never tried this myself.
Socialoomph requires you to create a Facebook application to enable third-party integration between Socialoomph and Facebook. You then must register this application as a Facebook developer.
Effectively you are creating your own app for use with Facebook (although it is very much cut and paste and filling in forms – you don't have to code at all.) Nonetheless, this is substantially more complicated than simply saying yes to a few questions and giving permission, as you can with Twitter (and Facebook on most of the other social media management platforms).
You begin by clicking on the Add Facebook App button and get the following messages:

Luckily Socialoomph gives you direction through the process, although the latter stages were wrong when I tried this, meaning I "failed" in my attempt to register my app.
The help file on How Do I Create a Facebook Application contains 29 steps. This is before you submit your Facebook application for approval by Facebook (another 11 steps in the help files, probably more in reality now, as Facebook told me I missed some).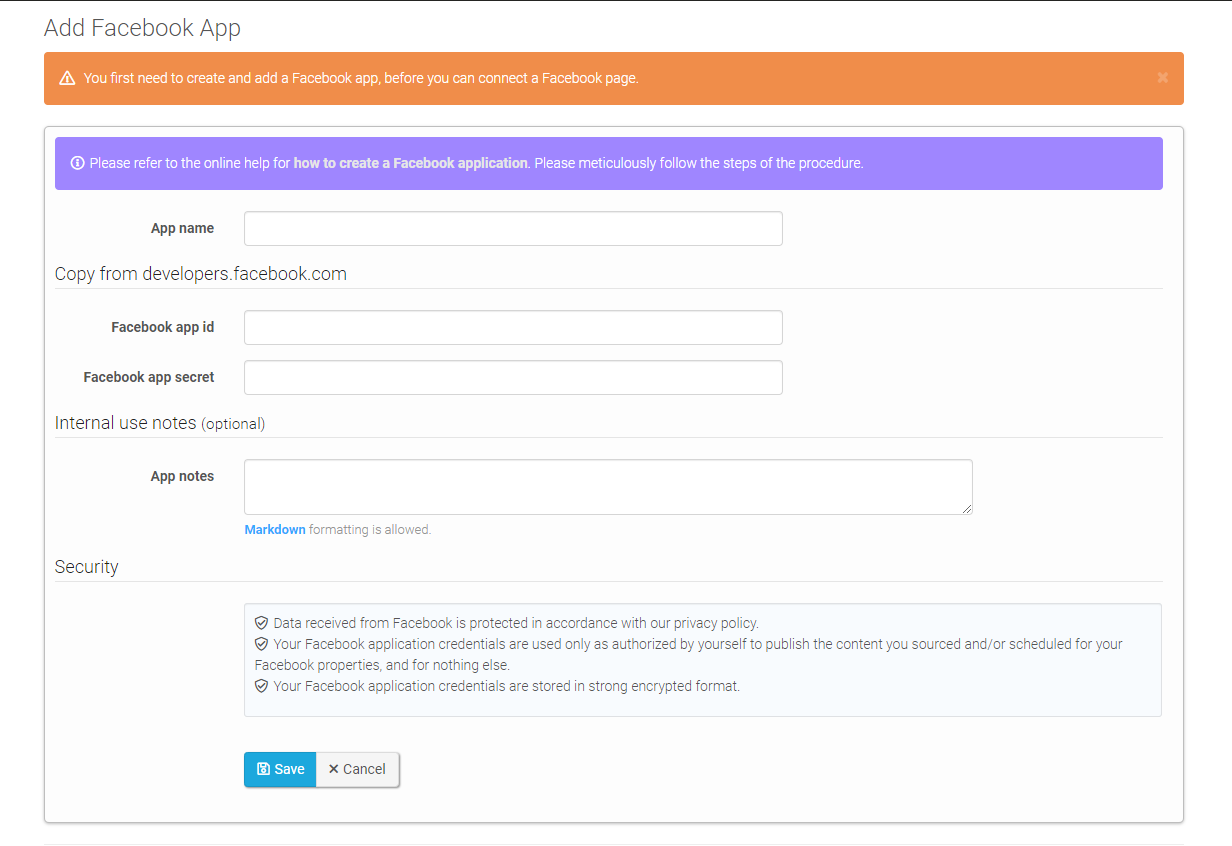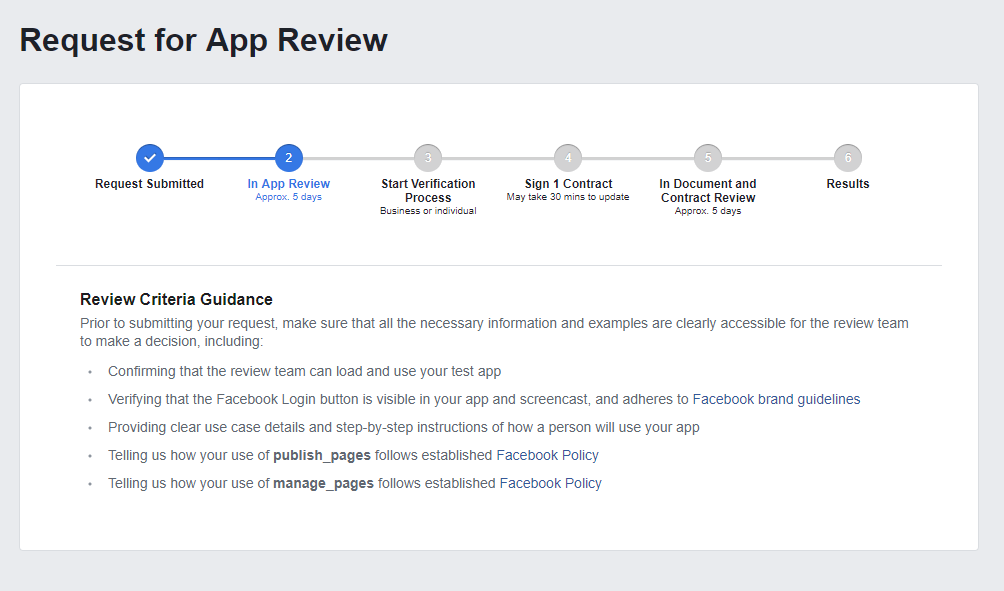 Included in these steps is the requirement to make a video of yourself using your app, talking through the process for the benefit of the person reviewing your app.
Alas, I failed. The Socialoomph instructions went astray towards the end of the process (Facebook has obviously changed the rules). I eventually got an email from Facebook refusing my request, because I hadn't given them log-in details so they could test the process as if they were me.
Notably, although I failed to register my app, it still looks like Socialoomph connects with my Facebook pages.
Once you've finally mastered the art of connecting your social accounts (assuming you haven't given up in frustration) you end up with a screen looking like this: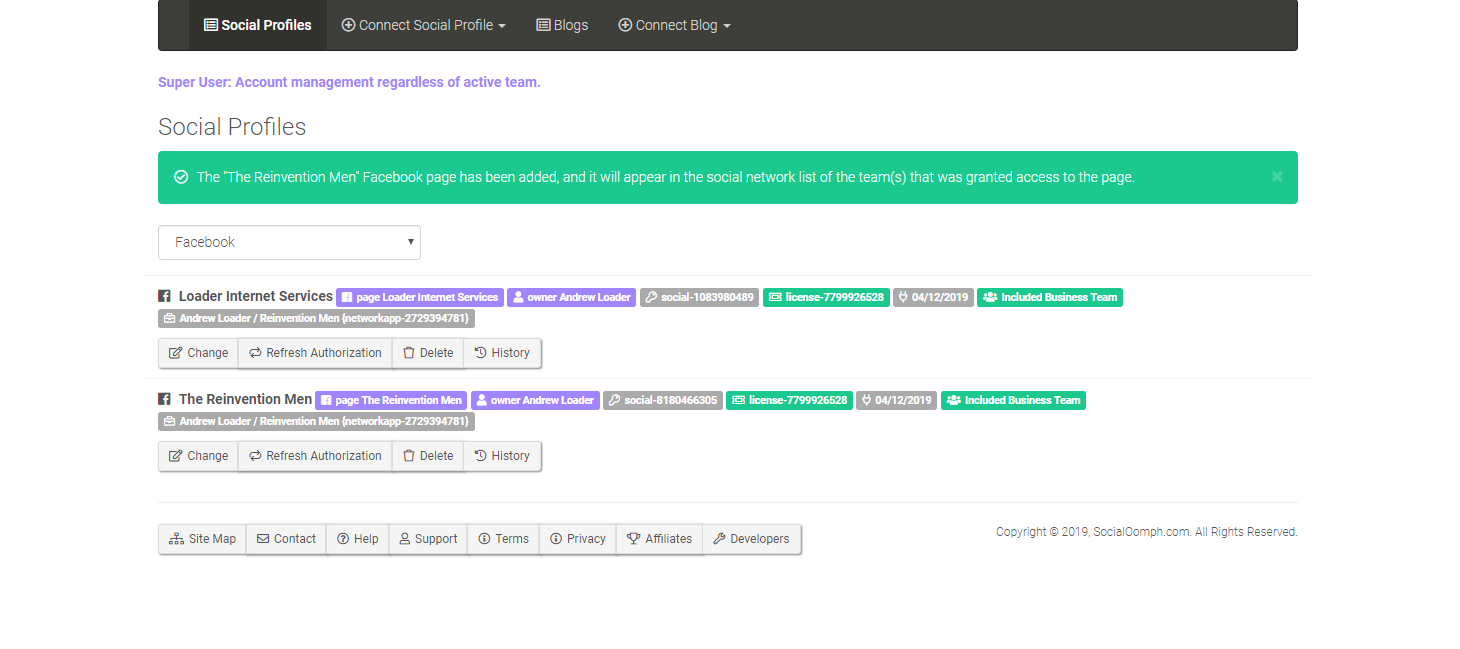 It lists for each of your social profiles, its name, owner, and licensing information.
It means that you can finally start to see some of Socialoomph's power and begin posting.
Socialoomph does offer quite a variety of ways to create posts. You can both schedule and queue posts. You can begin posts from scratch, you can bulk import them, and you can even set up various queues, and collect content from RSS feeds.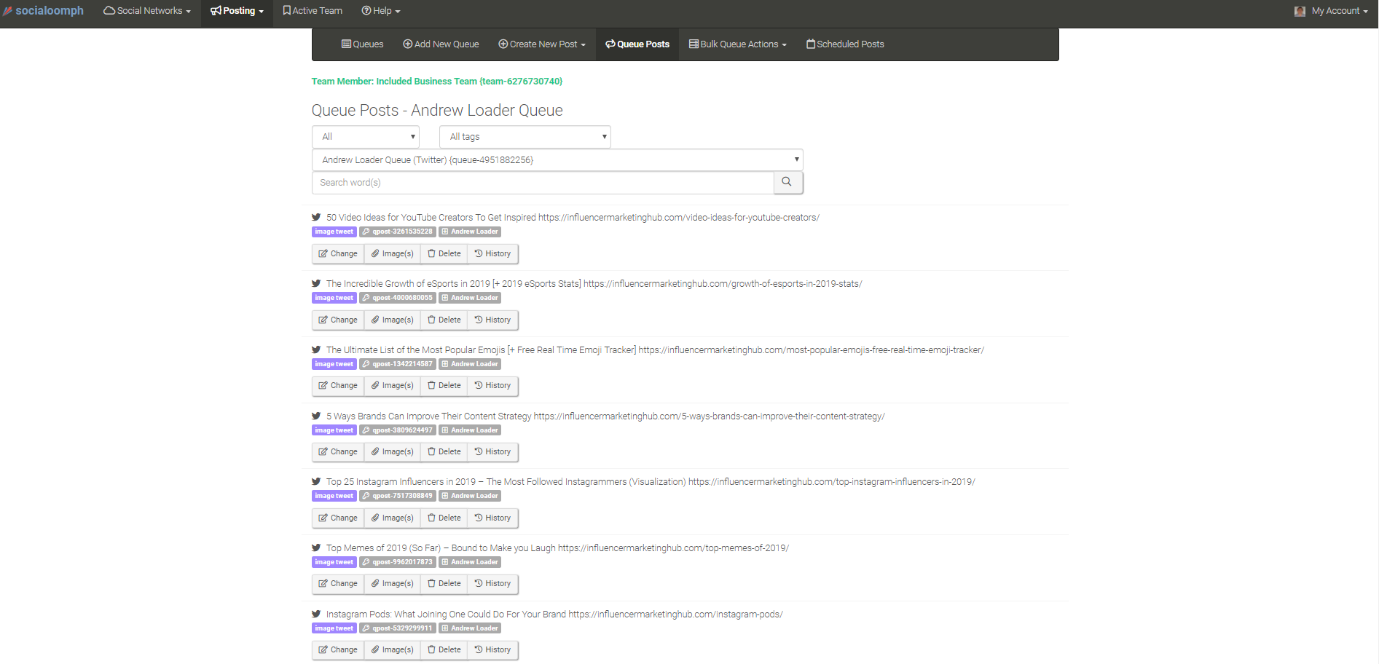 You have numerous options for each of your queues, including the team the queue is for (which in turns affects the social media channels that the queue will post to), the publishing schedule, a time zone for this queue, publishing intervals, and the precise days and times during which your queue will publish. You can set up seasonal queues, turning them on and off at will. You can opt to only use posts once, reuse them, or even auto-destruct posts. This is one of the most sophisticated queueing systems I have seen.
It is important to remember that you can also use Socialoomph to post to blog sites. This means that you can create content for your own blog and publish it at set times using Socialoomph's queue. You can then use another queue to publicize your blog posts across your social channels. Presumably, you could then use these posts as evergreen content and repost them in the future.
Techies can also set up webhooks to automatically create scheduled posts and queue posts. A webhook is a simplified API with a single purpose, namely, to create posts. This widens the source of content immensely; just limited by a developer's imagination.
---
Conclusion
My first impression of Socialoomph was not good. I saw a wordy, outdated interface, with complicated instructions, and a nightmarish way to connect standard social accounts, such as Facebook. This wasn't helped by the instructions being out-of-date (although in fairness to Socialoomph, the instructions did say to contact them should I find any differences between the instructions and reality).
Things weren't helped when I received the email from the Facebook Development team turning down my request to register my app (again, I will give credit that the email contained step-by-step instructions on how to remedy the problem).
However, when I started to use Socialoomph with my Twitter accounts, I began to see that it has tremendous power. You can source content in a wide range of ways and schedule it to a considerable number of places as well (with the notable exception of Instagram).
It will be a dream item of software for techies and those willing to persevere through its steep learning curve. However, it will disappoint people who prefer graphics and flashy interfaces and expect to work through a task with a minimum amount of behind-the-scenes knowledge.
It also focuses purely on social media content publishing. It makes no effort to help with engagement or social listening, nor does it provide any reports or analytics data.
Frequently Asked Questions
What does SocialOomph do?
SocialOomph is a social media management tool. You can use it for content management, conversion tracking, keyword filtering, bulk import and post scheduling. It connects with a very decent selection of channels that include: Facebook, Twitter, LinkedIn, Pintrest, Discord, Mastodon, Reddit, StockTwits, and blogs on a variety of platforms. All in all, it is reasonably priced, even its most expensive plan.
Is SocialOomph easy to use?
You will need above-average computing skills to use SocialOomph. Compared to other social media management tools, SocialOomph is significantly less user-friendly. It does not have all the graphic touches and features that you have come to expect. Connecting Facebook and LinkedIn accounts in particular is quite hard. Beginners will find it hard to navigate the software and the learning curve is steep.
Can I use SocialOomph if I work with a team?
Teams is a central concept in SocialOomph. Though, with the free plan you will have only one team. The paid plans give you a second team allowing you to manage your teams. You can add associates to your accounts and give each team member the level of permission that reflects their role. This way the right team members will have the right privileges for each social account. Also, if you work with various clients, you can separate their profiles into different teams.
What are the cons of using SocialOomph?
It is important to note that SocialOomph does not connect to Instagram and does not offer social listening or any reporting or analytics data. Another major con is that its interface is not pretty. It is outdated and wordy resulting in hard-to-follow instructions. A beginner will find it difficult to find their way around the software and the learning curve is steep. While it is easy to connect SocialOomph to a Twitter account, other accounts, especially Facebook, are much more difficult to connect.
Can I use SocialOomph for free?
Yes, you can use SocialOomph free of charge and if you do get stuck free support is also available. Their Personal Suite plan is free and offers one social profile, access to the personal area only, access to basic posting features, and unlimited scheduled posts (but you are restricted to no more than three posts per hour). For more functionality, you will have to sign up for one of their three paid plans, starting at $15 per month.
Socialoomph – Social Media Management Software
Features

Ease of Use

Support
Socialoomph
Socialoomph is a high-powered way to schedule posts to your blog or social platforms. However, it can be tricky to set up and has a high learning curve. Its interface is predominantly text-based. Those who persevere will find that they have a high level of flexibility in their scheduling and queuing capabilities.

Best for:
Social media users