Best for:
Small & Medium Businesses
Overview
Upon learning of their backgrounds, you might be inclined to wonder how e-clincher's founders—Gil Salamander and Tal Mikaelovich—ended up launching a SaaS marketing platform businesses and agencies. It's not totally out of nowhere. Leading up to e-clincher's 2013 founding, both were very successful in tech, and business, and the tech business. Marketing experience is nowhere to be found, though, at least not to the degree that they'd put it on their resumes or LinkedIn profiles. The same goes for the business end of social media. So how did the world of social media marketing call to these two men, and ensnare them in its potentially profitable embrace?
Well, if you're a tech-savvy entrepreneurial type living in the Silicon Valley area in the last 10 years, chances are you've heard of social media and the abundant opportunities that had sprung up in its wake. But if, like e-clincher's founders, you're a tech-savvy entrepreneurial type you're also aware of the ensuing problems caused by these opportunities. So in the early part of the '10's, brands and marketing agencies were catching on to what social media could do for them—and people like Salamander and Mikaelovich were catching on to the headaches that managing social media a social media presence could entail.
Absent that social media/marketing background, e-clincher could have just as easily ended up an opportunistic grab. So it says something about the founders and their ability to choose a good team. That's also a compliment to the excellent team that worked to build out e-clincher, which is as full-featured and well-executed as any of its competitors. e-clincher hasn't reinvented the wheel here, but they've put together an excellent suite of tools suited to small and large teams alike—all wrapped in a great looking and intuitive interface.
What they are doing very differently is support: namely, e-clincher offers 24/7 live support, even at its lowest tiered subscription. For small business owners, this is likely a godsend. They don't have time during business hours to monkey around with Facebook or Instagram. They're doing their social media management either late at night or early in the morning, and e-clincher is one of the very few companies available all day for their customers.
---
Summary: Quick Jump Menu
---
Pricing
Like most SaaS platforms, e-clincher has different subscription levels offering increasingly expanded features. There are only a handful of features turned off at the lowest tier, though; the differences between each level is usually in how much you can use a feature (e.g. 10 monitoring feeds vs. 50), not whether you can.
Basic, $59/mo — 1 user can manage 10 profiles; Inbox tool; unlimited scheduling and publishing; social & web analytics (3 accounts, including competitors); 15 auto-post queues; 3 auto-post RSS feeds; monitoring/listening (10 feeds); suggested hashtags; suggest content (3 keywords or topics); content curation (100 RSS & Atom feeds)
Premier, $119/mo — 3 users can manage 20 profiles; Inbox tool; unlimited scheduling and publishing; social & web analytics (10 accounts, including competitors); unlimited auto-post queues; 30 auto-post RSS feeds; monitoring/listening (50 feeds); suggested hashtags; suggest content (10 keywords or topics); content curation (100 RSS & Atom feeds); post approval workflow; content library (unlimited cloud storage); Zendesk integration; team collaboration (notes, tags, roles, assigns)
Agency, $219/mo — 6 users can manage 40 profiles; Inbox tool; unlimited scheduling and publishing; social & web analytics (30 accounts, including competitors); unlimited auto-post queues; 10 auto-post RSS feeds per brand; monitoring/listening (50 feeds); suggested hashtags; suggest content (10 keywords or topics); content curation (100 RSS & Atom feeds); post approval workflow; content library (unlimited cloud storage); Zendesk integration; team collaboration (notes, tags, roles, assigns)
Enterprise — This is an entirely custom plan with entirely custom pricing; call e-clincher to work out specific needs and pricing.
In all cases, customers get access to e-clincher's 24/7 live support and have the option of a few add-ons:
Influencer discovery and management, $20/mo
Additional 5 social profiles, $30/mo
Additional user, $20/mo
---
Ease of Use
It's got a pretty retro name: remember the 90's, when everything got the letter E in front of it and suddenly it was a technical marvel? Think: e-trade, e-toys, e-pinions—e-clincher's throwback name elicits memories of these, but that's about where the similarity ends. The interface itself is modern and clean, and everything works as a dynamic Software-as-a-Service platform should. The navigation menu is clearly spelled out, and every feature can be learned just by clicking through and seeing what they can do (on-screen tutorials offer more help if you're not clear on what's going on).
The interface isn't perfect, though: it could use a little more contrasting colors so that information isn't quite so hard to read: words are light grey set on dark grey or white background. There's an occasional splash of blue for an icon, or sometimes words are highlighted in red. But mostly you're scanning around a drab screen with bland visuals. It's not the worst aesthetic I've seen for a website, but it could use a little help.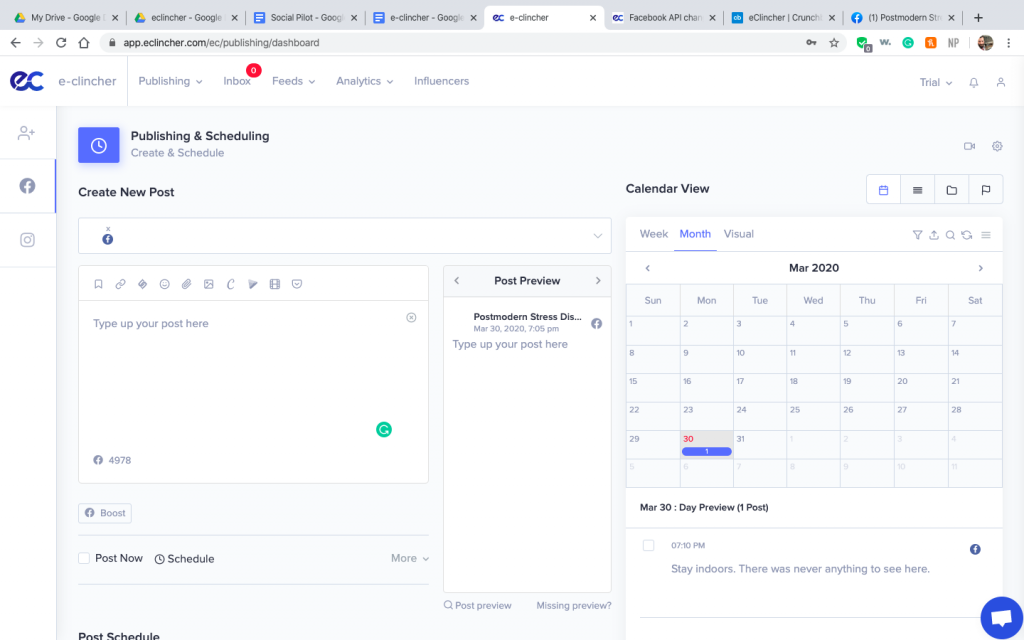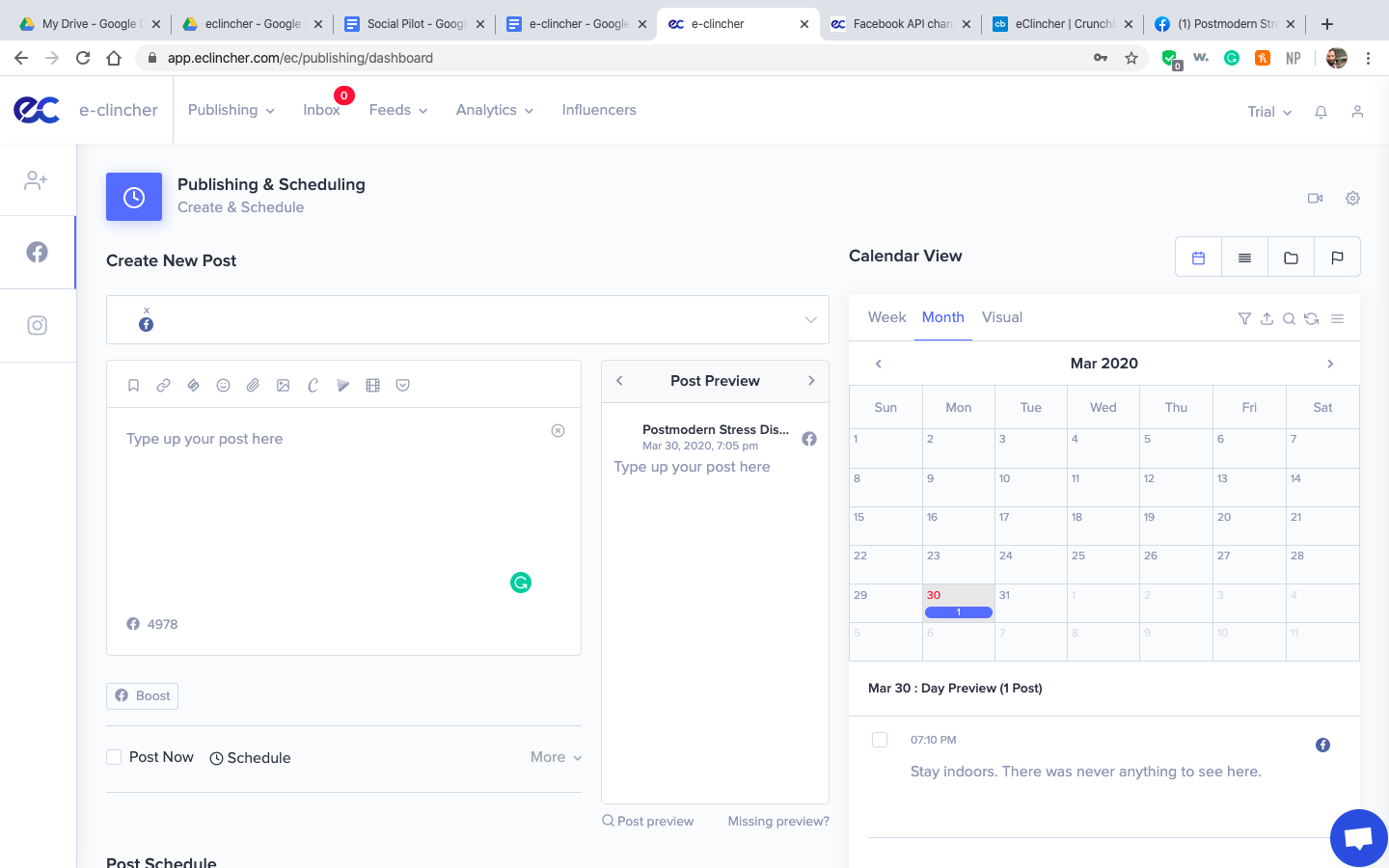 Getting set up is incredibly easy, as well. When you first log in, you're invited to add in all the social profiles you're going to want to monitor. Doing so is just a matter of entering your login credentials for each account on its associated social channel. It's quick and painless, with each profile added to a list before you're back setting up the next one. You don't get stuck waiting for each profile's data to ingest into the platform; that all happens in the background while you're setting things up. Once you've got your profiles all set up, you can start using the many features e-clincher has to offer.
---
The Features
Publishing and scheduling are excellent: this feature is a basic requirement of any social media management tool, and if you don't get it just right users are going to quickly start looking for alternatives. e-clincher nails it, and the first thing they've done better than most is their support for direct Instagram publishing. If this doesn't sound like a big deal to you, then you've likely never used another social media management tool. Most of them require a kind of Rube Goldberg process to post, where you schedule things in your web browser, then get a notification on your phone, which notification brings you to the platform's mobile app, where you can then copy and paste all the things you wanted to put on Instagram. None of that needs to happen, and we are all here for it.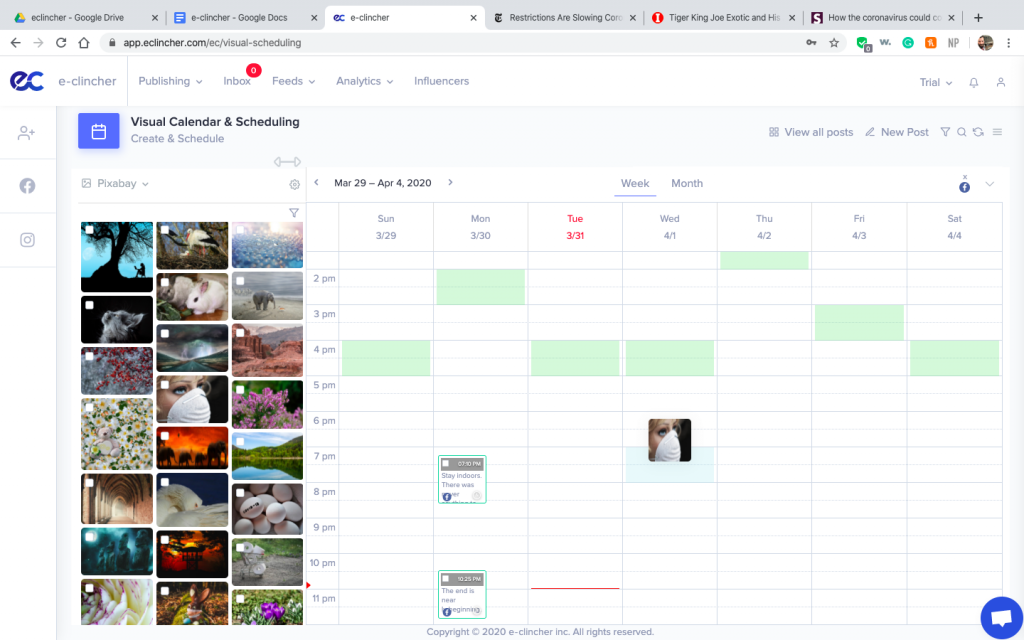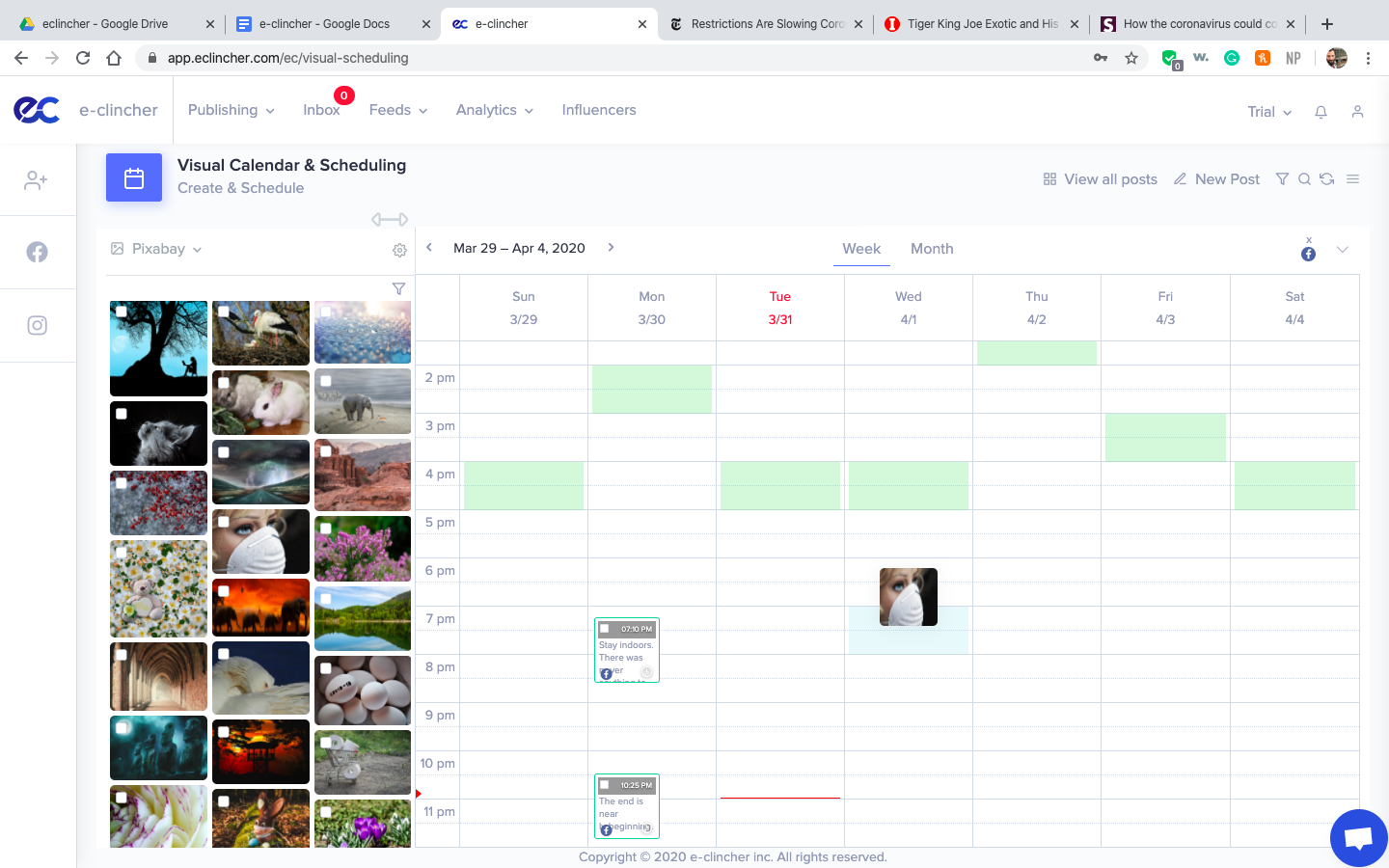 The Visual Calendar is another highlight. You schedule posts by choosing dates and times, and the calendar shows you a week at a time, and makes it effortless to see what you've got coming up for publication. Better than that, it allows you to just drag and drop anything you have scheduled from one date and time to another, rather than editing each entry and having to type in the information. There's also a way to comb through content from the calendar module so you can just drag an image on the calendar, which causes an overlay window to appear so you can create the rest of the post. The content can come from stock image services like Pixabay, or from your own content library.
There are plenty of features around content—from auto-posting entries from an RSS feed to creating a queue of posts that e-clincher will post for you, either at specific scheduled times or at intervals like "Every 12 hours." For evergreen content, you can set a queue to "recycle" posts, meaning that once it's reached the end of the queue, e-clincher will go back to the beginning and start again. For more selective/manual content curation, you can use one of the platform's curation tools to set up multiple feeds that you can scroll through to look for relevant content. This can be done by keyword or through RSS and Atom feeds. As you find good content, it's just a couple of clicks to add something to your queue or schedule it.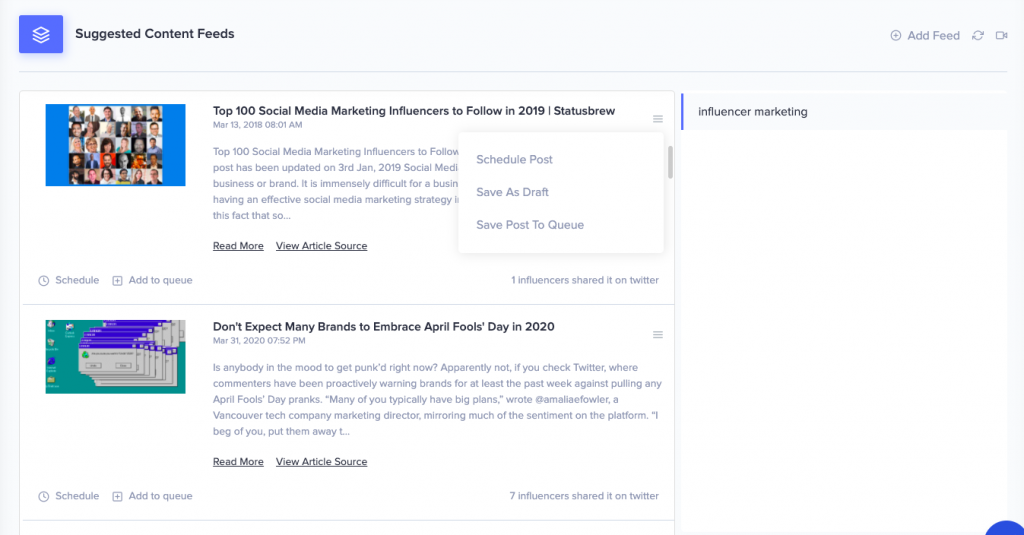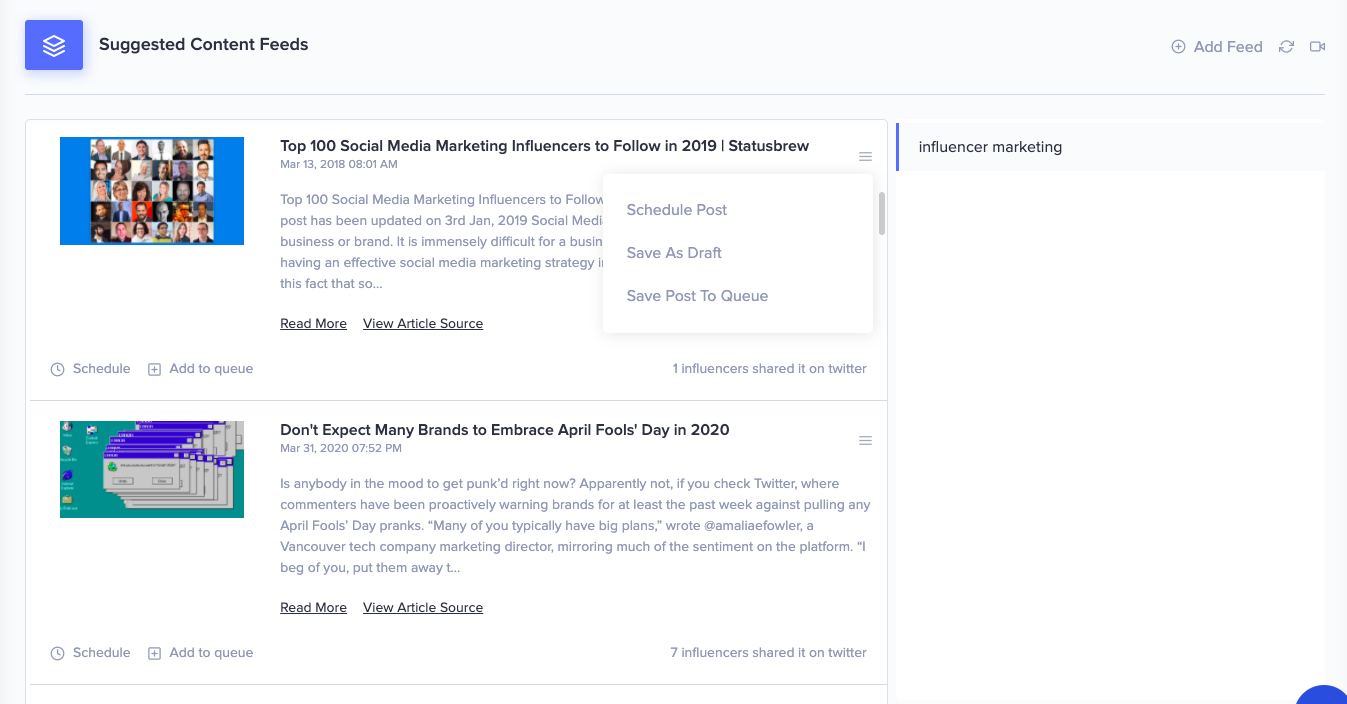 The one disappointing feature is e-clincher's monitoring/listening tool. Intended for use as a research tool that enables you to monitor competitors and trends alike, it's all just a bit too underwhelming and flimsy to be of much use. If you want to keep an eye on your competitors, you can only monitor their Facebook page, posts on which are presented in reverse chronological order. But here's the thing: you can do that on Facebook, too. Monitor a hashtag and things get even dicier. You'll get a much wider variety of content to look through, but then you're scrolling through a ton of irrelevant results. There's no way to specify a language, either: I set up a feed to monitor a hashtag, and anything English was way down the list. The first few results I got back were either Spanish or French, despite the fact that none of the social profiles I added to e-clincher to test—or e-clincher itself, for that matter—were in these languages.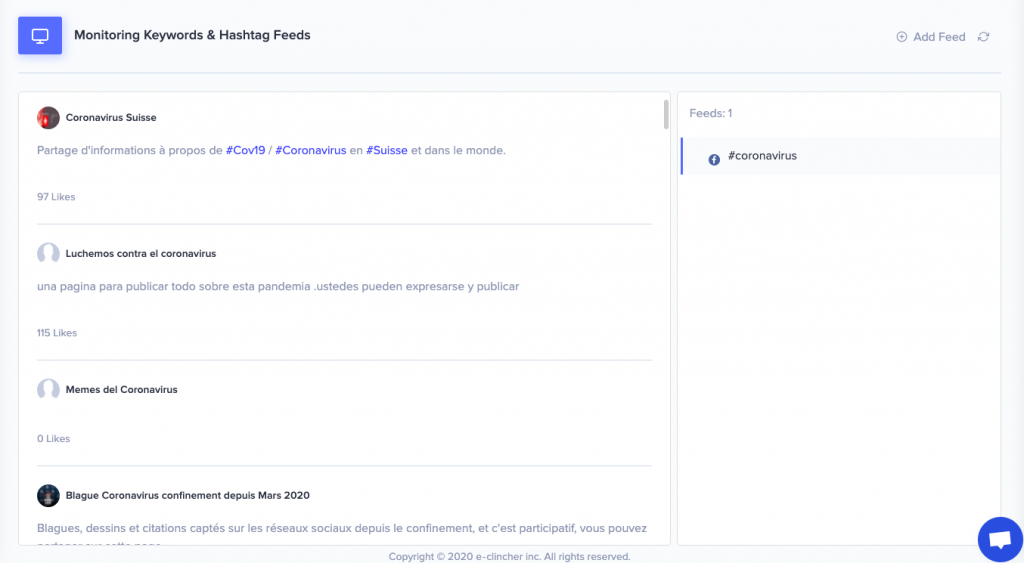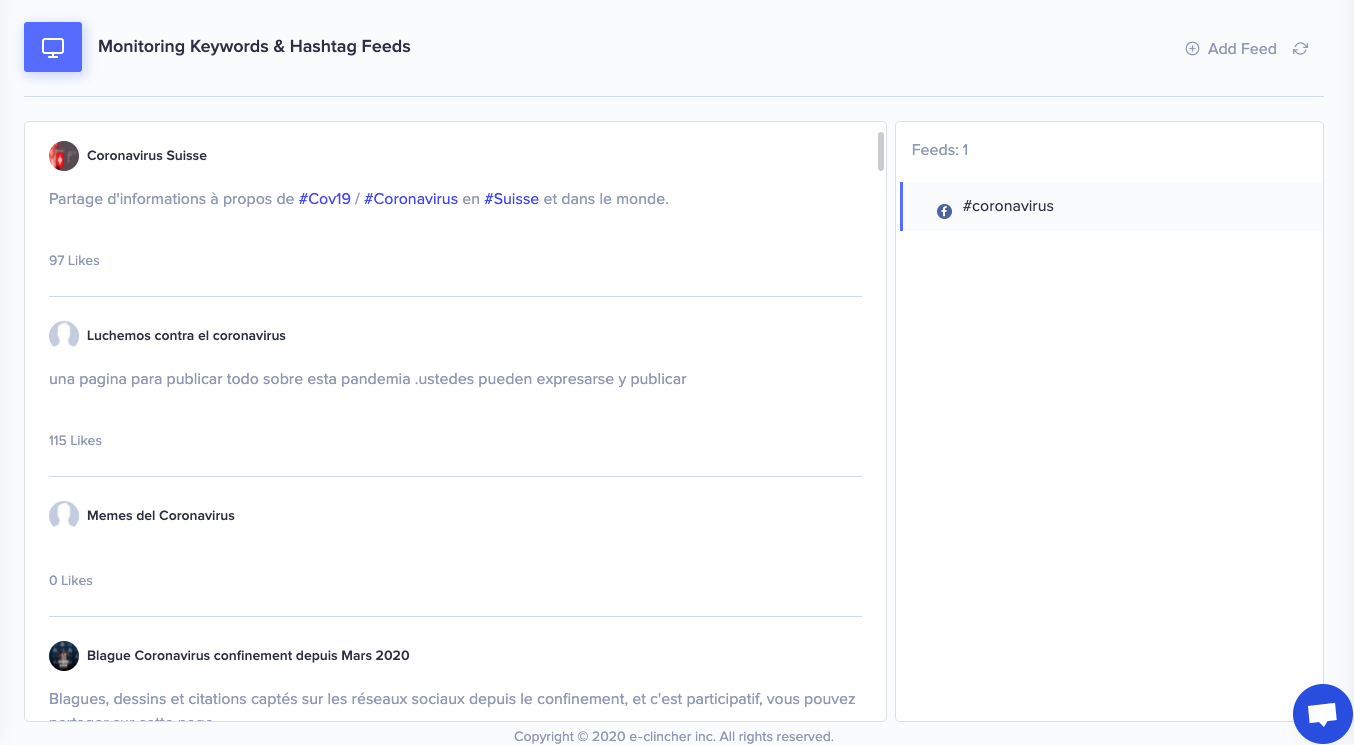 Finally, the analytics and reporting on the platform don't disappoint. They don't necessarily amaze you, either—you're not getting very deep data on the audience beyond some simple demographics—but the reporting tools are solid as a way of measuring social success and failure, and of how to optimise your efforts moving forward. And there are quite a lot of reports you can run.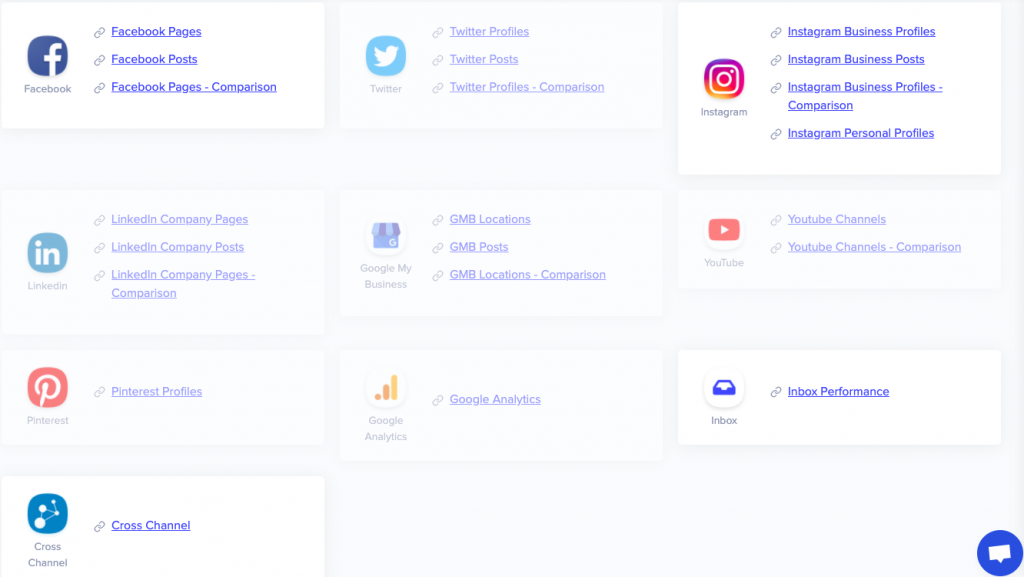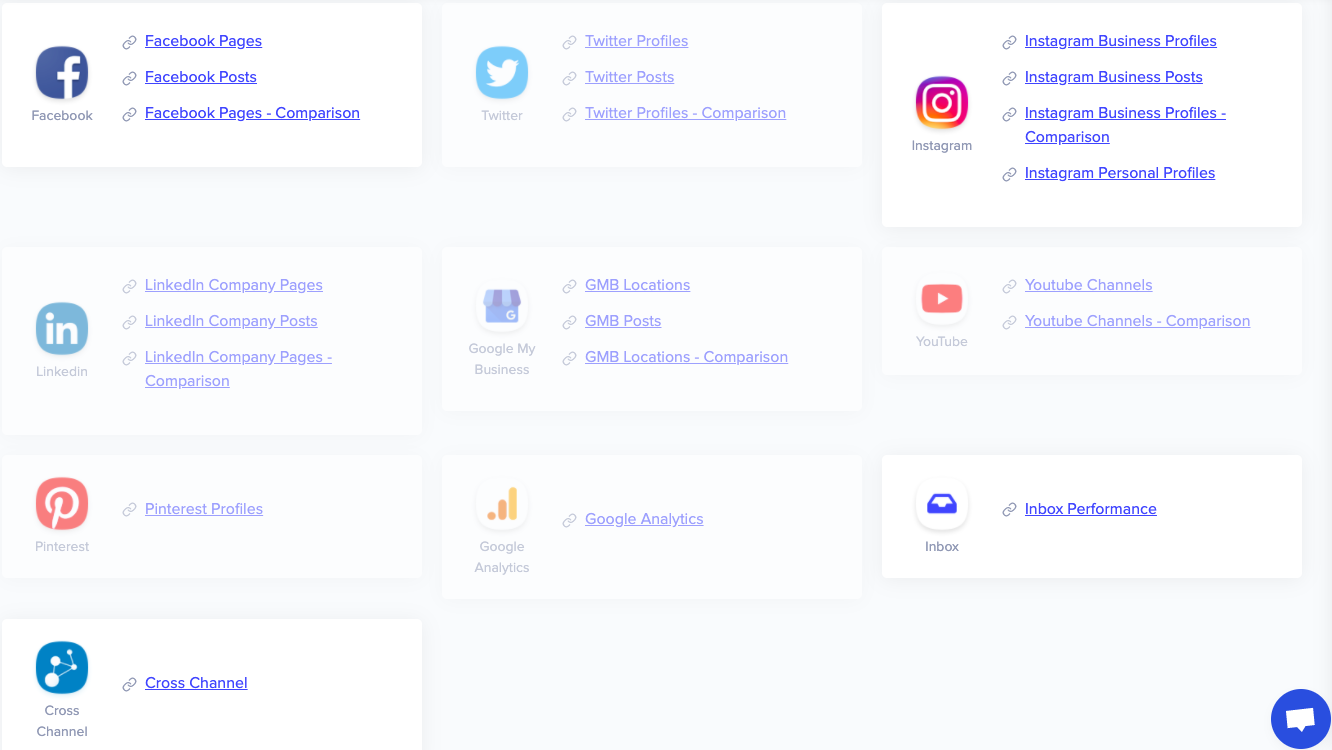 ---
Integrations
e-clincher has a good variety of integrations to round out the platform. These are mostly geared toward content curation and monitoring: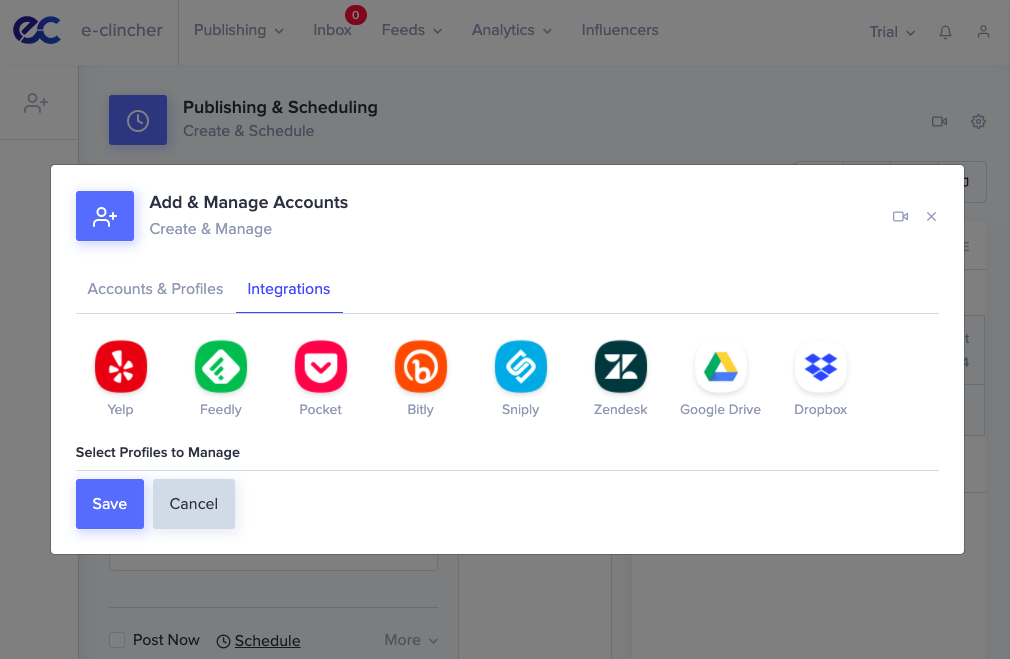 The Google Drive and Dropbox integrations are two more cloud storage options beyond the one that comes with e-cincher. If you've already got a library of images and videos going on one of these services, you're unlikely to want to use the built-in library storage. Good on the e-clincher team for recognizing this.
Pocket and Feedly are both news aggregators that give users another couple of options for content curation.
The Yelp integration allows you to monitor your (or your competitors') profile to stay on top what people are saying about you.
The platform comes with its own URL shortening tool; it automatically will shorten your any URL you add into content using either Google or Bit.ly, no intervention required. If you want to track link clicks, though, you can use the Bit.ly or Snip.ly integrations to connect your account.
Possibly the most important of these integrations is the one for Zendesk. With this enabled, you can turn any message, comment, or post from someone into a support ticket and then assign it to someone on your support team.
---
TL;DR (aka The Conclusion)
e-clincher isn't exactly the new kid on the block as far as social media management tools go. They've been doing this for awhile, and it shows in the features the platform offers. Its closest competitor is HootSuite and the e-clincher team seems to have their eye on overtaking them. This abundantly obvious when you look at the mid-level plans for both: they're almost identical in what they offer, but e-clincher comes in at $10 less per month. At that level, it's a toss up between the two, features-wise, but e-clincher definitely has a leg up with its interface—bland colors aside, it's just much easier to make sense of what's going on than with HootSuite. Then there's the matter of the 24/7 support, which HootSuite only offers at the upper levels of service.
On either side of that, though, e-clincher is a clear winner. HootSuite's lowest tier of service is just $29/mo, but is severely limited in features. And their top level is $599, which is $380 more a month to manage fewer profiles with a nearly identical set of features than e-clincher's Agency plan. For small businesses, there's probably no better option. And for large businesses, this is a great alternative if you aren't happy with what you're using now.
Frequently Asked Questions
What are the perks of using eclincher?
Even with its cheapest paid plan, you will get 24/7 live support. This is especially useful for owners of small businesses. Its publishing and scheduling features are fantastic, thanks to its Visual Calendar. Instead of having to edit each entry if you have made a mistake, you can drag and drop it from one date and time to another. In addition to the excellent support of Instagram publishing, it also offers a good selection of integrations that are mostly for monitoring and content curation.
What cons does eclincher have?
Its monitoring feature is a bit of a let down. It was designed to be used as a research tool for keeping track of trends and competitors, but it is feeble and overwhelming. You can use it only to keep track of a competitor's Facebook page and posts. With the analytics and reporting features, you also do not get very deep data. That being said, these tools are solid and do offer a number of reports. All things considered, it offers very close competition for Hootsuite.
How does eclincher's pricing work?
Like most similar tools, eclincher uses different subscription levels. These levels are: Basic ($59 per month), Premier ($119 per month), Agency ($219 per month) and Enterprise (custom pricing upon request). The difference between each level is not whether or not you can use a particular feature, but instead how much you can use that feature. It also offers a couple of extra add-ons. These are: influencer discovery and management ($20 per month), additional user ($20 per month) and 5 additional social profiles ($30 per month).
Is eclincher easy to use?
Its interface is clean and modern. That being said, a lack of contrasting colors makes it rather difficult to read. The navigation menu is also very clear. If you want to find out more about a feature, you simply have to click through and see what they can do. There are also on-screen tutorials available that provide more assistance. It is very easy to get everything set up (simply enter your login details for each account and the data will be ingested into the platform).
Which is better: eclincher or Hootsuite?
Two of the major advantages that eclincher has over Hootsuite are its interface and pricing.
While eclincher's mid-level plans offer almost the same features, they are slightly cheaper. For small businesses, eclincher is a much better option (especially seeing that you will also get 24/7 support which Hootsuite only offers to their more expensive plans). Bigger businesses will also find that eclincher is a good alternative worth considering. All things considered, it offers very close competition for Hootsuite.
e-clincher
Features

Ease of Use

Support

Best for:
Small & Medium Businesses