Best for:
Publishers, mid-stage startup teams, non-profits, higher education, sports teams, e-commerce, solopreneurs, businesses
At its heart, Buffer offers a straightforward service. You attach your social media accounts, then schedule content to post to each account. Whenever you find an item you want to share you add it to your "buffer," and the software publishes it on your behalf at an agreed time. However, if you choose to add on Buffer Publish and/or Buffer Analyze, then Buffer offers a more extensive list of features.
There are three Buffer apps: Buffer Publish, Buffer Reply, and Buffer Analyze.
The main app is Buffer Publish, where you create and schedule your posts. When people simply refer to "Buffer," they generally mean Buffer Publish.
Buffer Reply is their engagement tool, which enables teams to respond to social conversations within one simple inbox.
Buffer Analyze is still in development but will be available to Publish customers who are subscribed to the Pro or Business Plan.
Buffer's approach makes sharing content extremely easy. Once you've hooked up your social accounts, you can easily create a new post within the app. It lets you select the social accounts you want to use, automatically disallowing impossible combinations (for example, Twitter doesn't allow you to make an identical tweet to more than one account.
The higher plans also make it extremely easy to add content from other sources, such as your favorite blog.
Buffer is one of the more user-friendly social media management programs, with every action intuitive. As with all these apps, connecting your Instagram account can be slightly convoluted (thanks to Instagram's restrictions) but Buffer makes this easier than most of the competition.
---
Summary: Quick Jump Menu
---
Pricing
Buffer Publish
As a Sass platform, access to Buffer is sold on a monthly basis. Buffer offers three paid plans for Buffer Publish, as well as a free plan. All paid plans can be paid on a monthly or yearly basis. They offer a 17% discount for annual payment on the paid plans.
Free, $0/mo.

– up to 3 social channels, 1 user, 10 scheduled posts per channel

Essentials, $5/mo. –

Unlimited, $5/mo. per channel

, 1 user, 2000 scheduled posts per channel
Team, $10/mo. –

Unlimited, $10/mo. per channel

, Unlimited users, 2,000 scheduled posts per channel
Agency, $100/mo.

for 10 channels.

–

Unlimited, $1200/yr for the first 10 channels. Additional channels for $60/yr per channel

, Unlimited users, 2,000 scheduled posts per channel
---
Buffer Analyze
The features available within Analyze are the same across all plans; the only difference is the number of social accounts connected.
Various rates, from 10 Social Accounts, $50/mo. to 200 Social Accounts, $800/mo. (on top of Buffer Publish cost)
---
The Details
For the purpose of this review, I only had access to the main Buffer Publish product. Although I have not tested Buffer Reply, I would assume that it operates in a similar way to competing products, such as Sprout Social or Agora Pulse.
Once you have set up your Buffer account, the first thing you will need to set up and authorize the use of your social accounts. This is a relatively straightforward process, although if you are wanting to use Buffer with more than one Twitter account, you will need to sign in and out of each of your Twitter accounts in turn.
You can connect Facebook pages and groups, Instagram (both personal and business profiles), Twitter profiles, LinkedIn profiles and pages, and Pinterest boards (on the higher plans only).
If you want to schedule to your Instagram account in a similar way you do to your other profiles, you need to have an Instagram Business Profile. If you only have an Instagram Personal Profile, the best Buffer can do is to remind you to make the post yourself. These are rules set by Instagram, not Buffer.
If you begin using Buffer by trialing their free plan, you will notice that the main dashboard has a decidedly spartan look, with only three menu items – Queue, Analytics, and Settings along the top, and the social accounts you have attached on the left-hand side.

You may see Locked Social Accounts if you have previously added more than the free plan's permitted three social accounts when using a paid plan.
Your options on the free plan are limited, but you can still create (and schedule) up to ten posts. Although you have an Analytics tab, all it does is list the posts you have made over the last week. The free plan does not really give you a chance to see Buffer's queue at work, but it does allow you to schedule some posts.
Buffer's capabilities improve dramatically once you opt for a paid plan, however.
You can group your social accounts. I found this meant that I could keep related accounts together. This would be particularly useful for a large agency with multiple clients, wanting to keep client's social accounts separate.
The four Business plans allow you to add other team members, so you can collaborate and delegate the operation of specific social accounts to others in your team. To invite potential team members, select the Team Members option under the Admin menu.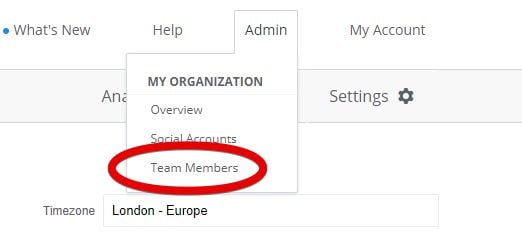 That will bring up a list of your existing team members, and a blue "Invite a New Team Member" button. Select that button, and you then come up with a screen where you enter relevant details for your new team members. Buffer automatically sends out an invitation to your new team members.
Buffer is flexible enough so you can pick different days and times or even simply opt to post at a specific time each weekday.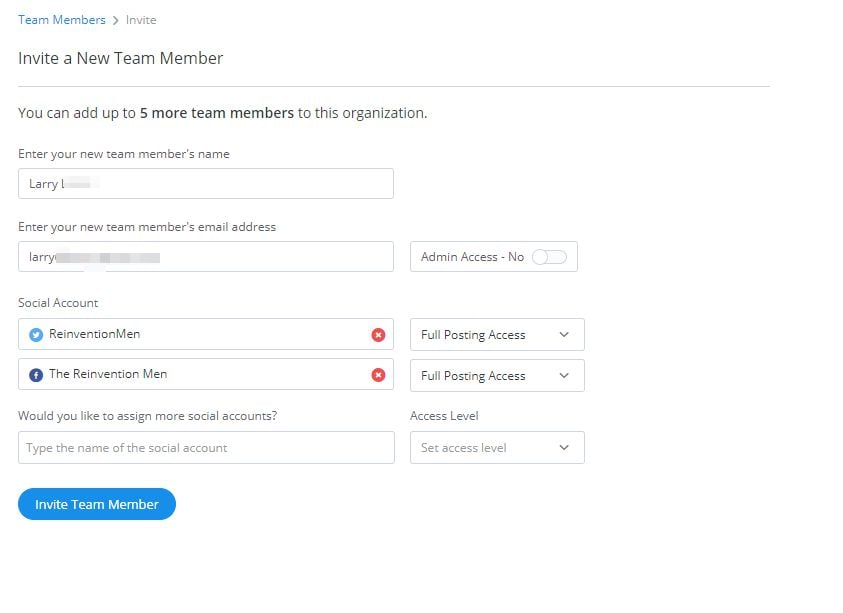 The paid plans give you a great deal of flexibility when it comes to creating posting schedules (which are essential for the buffer to work). You will want to set up a publishing schedule for each of your social accounts. This means that you won't need to think about post dates and times when you create posts – Buffer will automatically place new posts at the right place in the queue.
For example, you might choose to post every day at a set time to one particular social profile.

Once you add your new posting schedule you can refine the times further: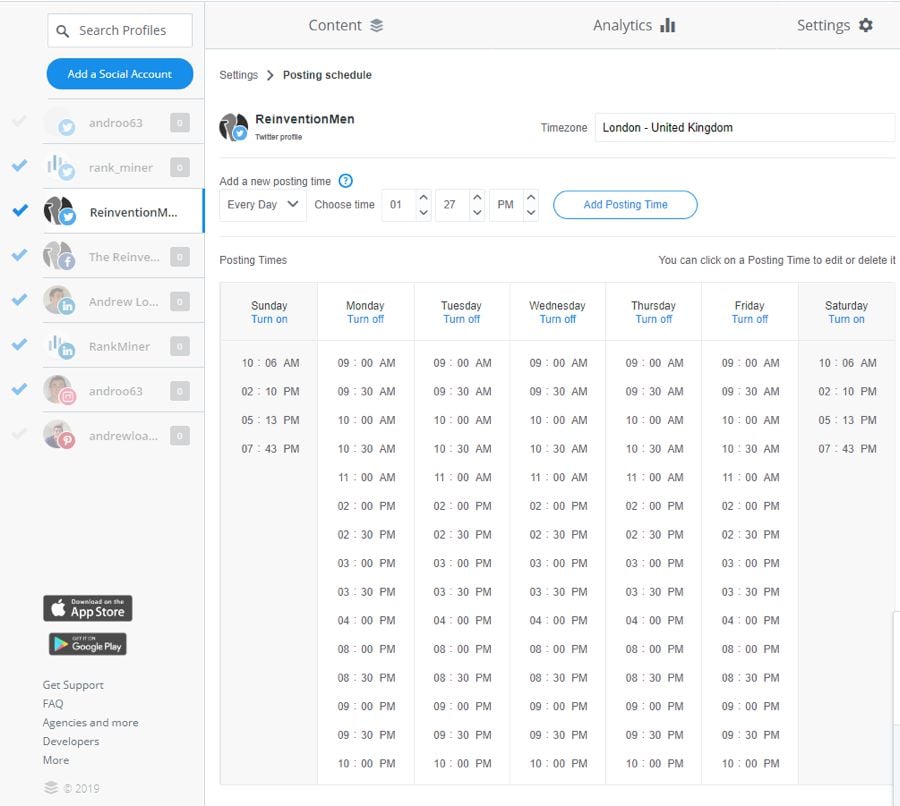 You can pick on any posting time to edit or delete it. These are easy and intuitive to use.
All this leaves is to create (or find) content that you can share with your followers, and again Buffer makes this extremely easy. You can source content several ways. For a start, you can create a post from scratch.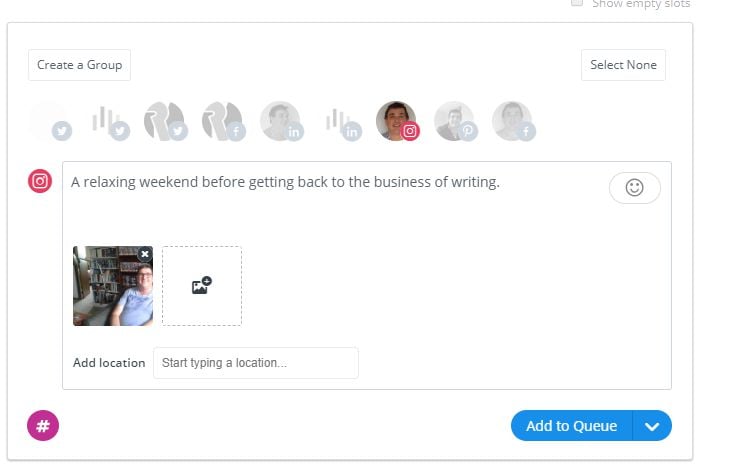 The exact details you add to each post will vary with each social network, but you can add any relevant text, images, videos, and links. Buffer keeps track of the number of characters you use and warns you if you exceed any limits or breaks any network rules. Once you've written your post, you can schedule it for a set time (including publishing now) or add it to your queue (buffer). You can share the same post to different networks, changing the text in each if you wish. One of Facebook's rules is that you need to type in the accompanying text yourself, so Buffer can't do this for you automatically.
Buffer distinguishes between Queue Posts and Pinned Posts. Any time you select Add to Queue or Share Next, Buffer will add your content to the selected profile's queue, ready to be delivered according to the scheduling rules you set. If you select Schedule Posts, however, you create a Pinned Post, which Buffer will deliver at the exact time you set.
Often, however, you will want to share content created by other people. There are several ways you can do this. One very useful method is using Buffer's browser extension. If you are on a blog post or some other piece of content you want to share, you can click on the browser extension in your toolbar to collect the page for you to share.

I found this particularly useful if you want to schedule a retweet (to which you can optionally add a comment). It adds an additional Add to Buffer button beneath your tweets. When you click on the button, it places the tweet in your queue. Twitter won't let you share a tweet on more than one Twitter account, however.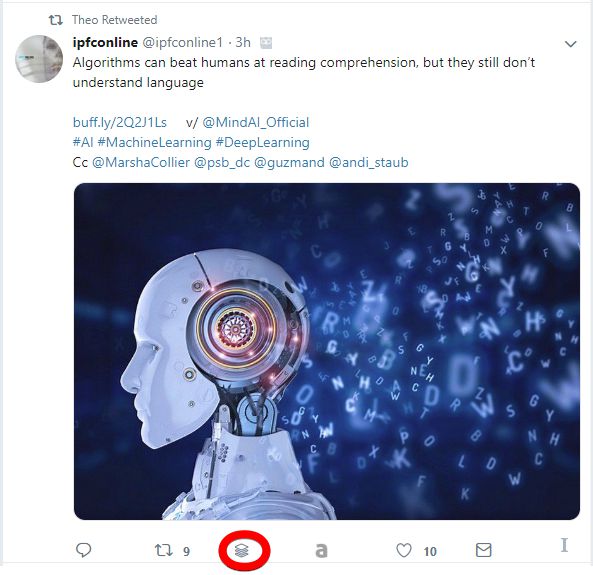 Buffer doesn't have a column of feeds, but it still much easier to use Buffer compared to Hootsuite in order to retweet (or many other social media management programs for that matter).
You can also import your favorite RSS feeds and add interesting and relevant posts from these to your queue for each network. Simply enter the appropriate RSS feed, and Buffer will do its best to find suitable posts for you to share.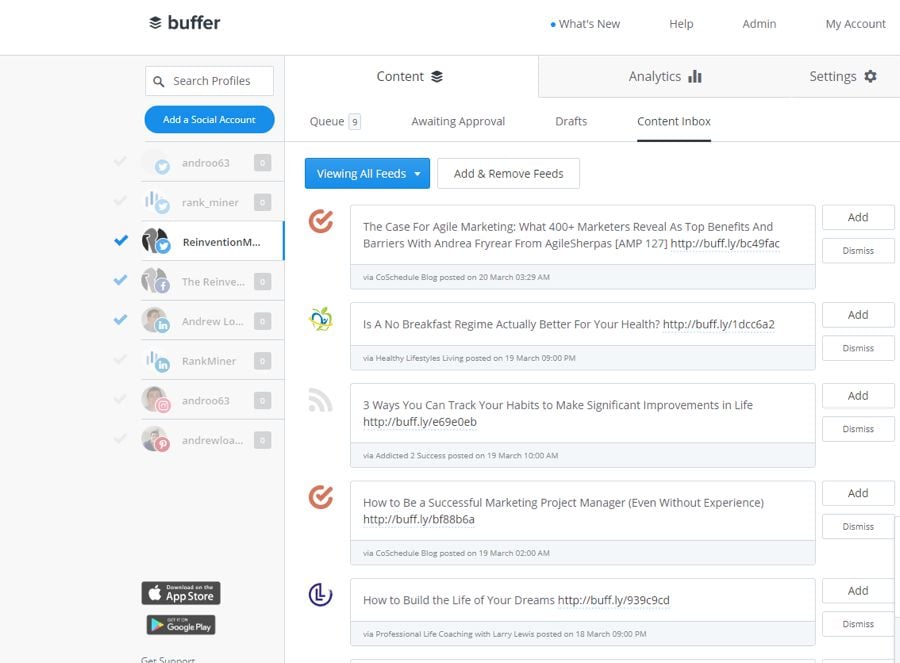 The combination of creating your own posts, adding content with the Buffer browser add-on, and uploading posts from appropriate RSS feeds, should provide plenty of material for your social accounts. You simply add things to your queue and wait for Buffer to deliver your posts at your scheduled times. I found that everything worked well, and the process was exceptionally user-friendly.
If you have a paid plan, you have access to Analytics relating to your posts and social accounts. Buffer Publish provides engagement stats for all your posts. Those with a Business plan can also access Overview, Analysis, and Influencer Reports.
The Posts Report shows all the posts you have scheduled during your selected timeframe, along with the quantity of each type of engagement on each post. Although this doesn't give you much of an overall look at your social performance, it does help you spot your best posts. There's also a handy button that lets you return successful posts back to your queue for future usage.
If you have one of the business plans you gain access to more useful analytics, showing how your accounts are performing overall.
More detailed analytics are included in the new stand-alone product, Buffer Analyze, although I have not tested this.
---
Conclusion
On the surface, Buffer appears to offer fewer features than some opposition social media management programs. However, in many ways, this is deceiving. Buffer has separated out several of the more specialist features – social engagement and in-depth analytics – into separate apps. This means that its core offering, Buffer Publish, concentrates solely on managing an organization's social media accounts. It does this well, with an extremely easy to use interface.
Buffer doesn't provide any form of social listening, however.
It is one of the most straightforward apps to set up. Some of the competition has clearly had difficulties convincing social networks to allow their automation, but Buffer doesn't seem to have had any problems.
The Buffer queues mean that you can create batches of posts whenever you have the time. You can set up an approval system if you need somebody to approve posts before they are delivered. If you let a queue run out of content Buffer sends you an email reminding you that you need new content. It's also useful being able to re-Buffer your successful content – effectively creating a supply of evergreen content.
I do miss having direct access to Twitter lists, as you have in Hootsuite, but there is a workaround because of the Buffer browser add-on.
Overall, I am highly impressed by the Buffer's capabilities and its ease of use.
Frequently Asked Questions
What does Buffer do?
Buffer is a social media management app. You can use it to attach your social media accounts, and schedule content to post to each account. Buffer will then publish the content on your behalf at a time that you have identified. In addition to automated publishing, it also offers multi-account management, reporting and analytics. The channels that it connects to are: Facebook, Instagram, LinkedIn, Twitter and Pintrest (but this integration is excluded in the free plan).
Is Buffer easy to use?
With Buffer, it is really easy to share content and add content from other sources. After you have connected your social accounts, it is easy to create a new post within the app. One helpful feature is that it will automatically disallow combinations that are not possible. All things considered, every action is easy to understand (even connecting your Instagram account that is notoriously difficult). It is definitely one of the more user-friendly tools in its category.
What are the advantages of Buffer?
As you can group your social accounts, you can keep related accounts together. If you are a bigger agency working with multiple clients this comes in handy as you can use it to keep the social accounts of your clients separate. You can also use it to add other team members so that you can collaborate effectively and delegate specific social accounts to other team members. It is also flexible allowing you to select different days and times for posting.
Can I use Buffer for free?
Buffer offers a free 14-day trial with all of its paid plans. After your trial has ended, you can also downgrade to their Free plan. That being said, the Free plan is very basic and offers only 3 social channels, 10 scheduled posts and 1 user. If you need more functionality, you can opt for annual billing instead of monthly billing which can help you to save as much as 20%.
How does Buffer's pricing work?
Buffer has one free plan and a few paid plans (which have changed as of writing this article) that can either be paid monthly or annually. If you are only interested in the publishing features, there are the following plans: Essentials (ideal for those getting started), Team (ideal for growing brands) and Agency (ideal for bigger teams).
Buffer – Social Media Management Software
Features

Ease of Use

Support
Buffer
Buffer is a simple-to-use, yet powerful, social media scheduling tool. You can take content from a variety of sources and schedule if to be shared whenever you want.

Best for:
Publishers, mid-stage startup teams, non-profits, higher education, sports teams, e-commerce, solopreneurs, businesses