Best for:
Small businesses, e-commerce, agencies, marketers, digital influencers
Overview
The social marketing and management platform market has exploded over the last decade. And with tons of entrants, it's hard to imagine features that could possibly offer your brand any degree of competitive advantage. Truth be told, many tools today include key features like analytics and reporting, and content publishing and scheduling are expected. There's also the benefit of helpful automations that improve productivity.
So what makes NapoleonCat worth your hard-earned budget? Loads. Sure, a lot of what's touched on above is part of this platform, but it also includes a little more. There's exciting integration that global brands will love, the platform has a beautiful look and feel, and it really is the kind of tool you can see yourself working in full-time.
Before we get ahead of ourselves, here's a little history on NapoleonCat. The company was born back in 2013. It is headquartered in Warszawa, Poland, and has under 100 employees. Since 2013, the team over at NapoleonCat has been hard at work perfecting the art of effective and efficient social media management. 
And for their hard work, NapoleonCat is able to help social media marketing teams win back as much as 70% of their time and energy. That's a big deal. Social media shouldn't take up your entire day, and if you're spending time on social media as a channel, it should at least be able to generate in-depth insights that make a significant impact on the way you serve your customers.
Something you'll also appreciate about the platform is its client list. With the likes of the World Wildlife Foundation, online South African marketplace OLX, insurance giant Allianz, global cosmetics company Avon, and more, NapoleonCat is clearly onto a winning product.
---
Pricing
NapoleonCat's pricing model is likely one of the most flexible available today. Most social media management tools offer a set of plans with the opportunity to upgrade. But sometimes, picking a plan that accommodates up to five or 10 users when you're fewer than a team of three kind of seems like overkill. And often, an upgrade to the next plan includes a significant bump up in pricing with potentially more features than you and your team may use.
NapoleonCat offers customers the option of selecting the number of social profiles that they would like to manage and the number of team members to support. Pricing is also available on a monthly or annual basis.
Are there any minimum social profile and user count requirements? Yes. Its lowest plan comes with three social profiles and one user account. And that's okay. Today, you're likely to be on at least three platforms as you try to reach your audience. Here's a closer look at pricing:
14-day free trial

– you'll appreciate that this is a no-credit card trial, giving you the flexibility to play the platform without feeling like you have to commit to it financially.

Standard, $31 per month (paid monthly)/$23.25 per month (paid annually)

– Social Inbox, Publisher, Facebook Adds Moderation, Analytics (home profiles & competitors), and 12-month data retention.

Pro, $64 per month (paid monthly)/$48 per month (paid annually)

– includes everything on the Standard plan with 24-month data retention, Instagram Adds Moderation, Automatic moderation, Auto translation (100+ languages), PDF reports, XLS did exports, Custom reports Branding, Moderate activity reports, Saving reply templates, email alerts, and SMS alerts.

Custom

– contact for pricing based on your unique requirements
---
Ease of Use
Social media marketing and management platforms should really be an extension of your daily workflow. This means that the user experience has to be as seamless as possible, helping customers easily find and use features. I was impressed by how neatly features are integrated into NapoleonCat, but more on that in a second.
Once you've signed up, you'll experience the standard process of setting up social media accounts. Here, there is nothing new to see. There is, however, an additional feature that serious social media marketers and managers will find terribly helpful. It's the opportunity to keep an eye on competitors. Unlike setting up your accounts, you won't require users and passwords to keep tabs on what you market. Simply locate the account you'd like to watch by name in the search bar and your watch list.

Setting up your team is simple. You get to choose from three types of users. These include standard users, administrators, and clients. You can assign different permissions for each type of account, giving you the flexibility to control everything from who can create and edit content and projects, your messages, or have access to reports and analytics. Users are invited from within the platform and you can assign their account permissions. When you're ready to add users, include a welcome message or simply send a blank invite.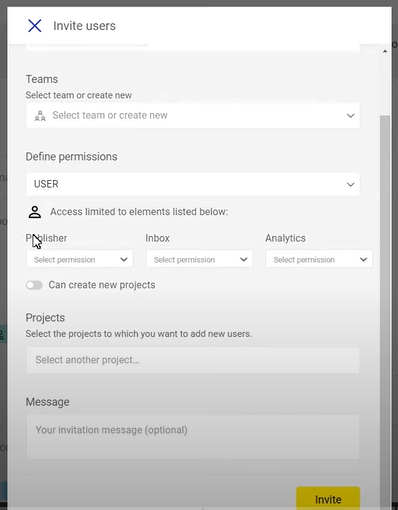 I mentioned that NapoleonCat has a beautiful look and feel, and I'm sticking to that position. You can't help but note that every feature feels in place. And when features give off an intuitive experience, that means you're poised for a productivity boost.
Other areas to pay attention to when using NapoleonCat include the top navigation menu and the right-hand margin of your screen. The top navigation menu comes alive when you're accessing various features. For example, if you're looking at analytics, you'll be able to see various metrics for a specific social media platform. This changes to a collection of options when you move to NapoleonCat's Social Inbox. You have the option to create new messages, view tasks, see hidden messages, look at archived messages, revisit deleted messages, and keep an eye on flagged messages.
The right-hand margin of the screen is where you'll see checkbox options. Like a top menu, checkboxes change depending on the feature you're exploring. For instance, when in NapoleonCat's Social Inbox and interacting with messages, the platform will give you the option to view your sender's account, advert comments, fan posts, profile mentions, private messages (shared between you and the account holder), and reviews they've posted online. These are all controlled by checkboxes. 
Why would you want to see this information? There are lots of reasons why. One really good reason is potential partnership opportunities. If you connect with someone who has a following that you'd like to promote content and offers to, that's an awesome influencer relationship opportunity. With access to helpful metrics, there is no need to go searching for any available information. You save precious time.
---
The Features
What does the rest of NapoleonCat look and feel like? Here is a breakdown of all the features you have access to:
Social Inbox
Social Inbox is a pride and joy of NapoleonCat's platform. And when you start tinkering with it, it's easy to tell why. Remember that special feature that I mentioned early on? The one that global brands will love? It's likely one of the coolest I've seen in a while. 
Picture this… You're the social media manager for an international brand. This means you're responsible for dealing with social engagement across different countries, some of which are not English-speaking. To add to the mammoth task, you only speak English. Your solution? Google Translate. 
But toggling between tabs isn't fun or productive. NapoleonCat knows this. To help international brands get a handle on social media messages for almost any language, it's integrated Google Translate. Google Translate isn't a perfect tool but helps get the job done. It enables brands to quickly and easily understand what the audiences are saying and deliver messaging fast.
Social Inbox also keeps track of all messages from all social media platforms in one place. That's everything from Facebook and Instagram to Twitter, LinkedIn, YouTube, and even Google My Business. You're also able to engage with comments made on adverts on Facebook and Instagram and filter your messages using tags. 
This is a feature I found particularly helpful. Social media is no stranger to spam. It is also where brands are exposed to praise and a fair amount of complaints. Often, it is not easy to get through it all effectively. Tags help by giving the option to assign labels for each type of message. While there are standard labels like spam, praise, and complaints, you can create your own custom tags too. NapoleonCat also lets you assign tags for message sentiment. This is helpful for tracking how effective your engagement and content are over time. 
Internal silos can hurt communication and be a serious roadblock, especially where getting an answer to customers is a concern. To help accelerate customer service, NapoleonCat has built its platform to support a more unified customer care model. Should you get a query that requires specialist knowledge, you can simply assign that query to a team or team member.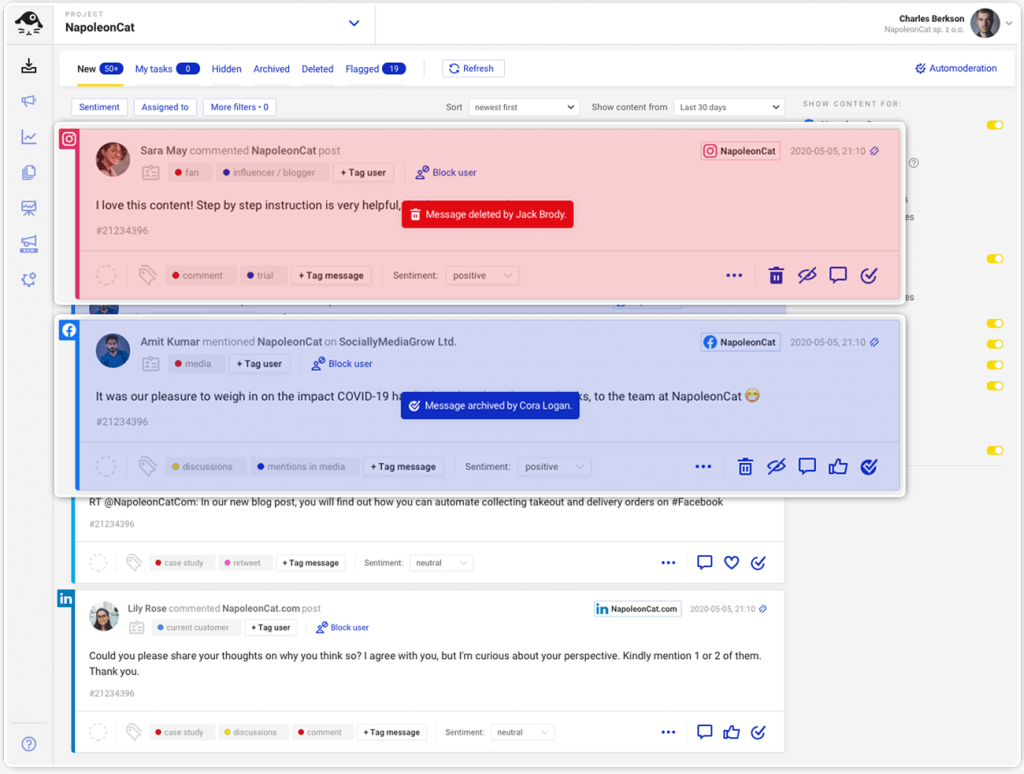 ---
Automation
Automation isn't a new concept in online platforms but it is one that can feel a little iffy if your'e thinking too long and hard about it. And when it comes to automating customer responses, you can't help but wonder if using automation is a good idea. How does it work, does it feel personalized, and will it help save time? These are all valid concerns. NapoleonCat's approach is based on "if-then" logic. If you have large volumes of repetitive conversations in your social media channels you can automate responses to them, offering quick feedback which can act as a buffer in a time of crisis.
Your automated replies to queries also run when you're out of office hours or when you're away. Plus, you can also set notifications.  A word of warning though, make sure you adjust notification rules to apply to serious issues. This will save you from losing sleep due to notifications triggered at odd hours of the morning.
But that's not all you can use automation for. Automation is also a powerful tool for pre- and post–purchase questions from your audience. The beauty of NapoleonCat's approach is that you literally get to choose the responses your audience receives.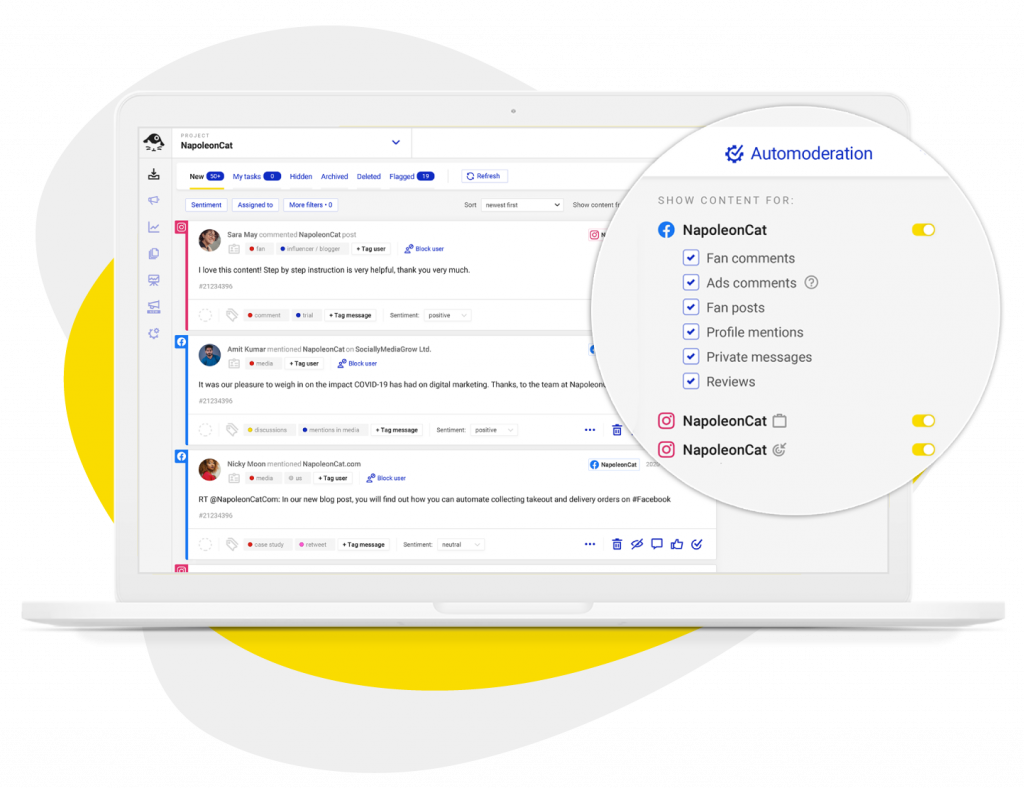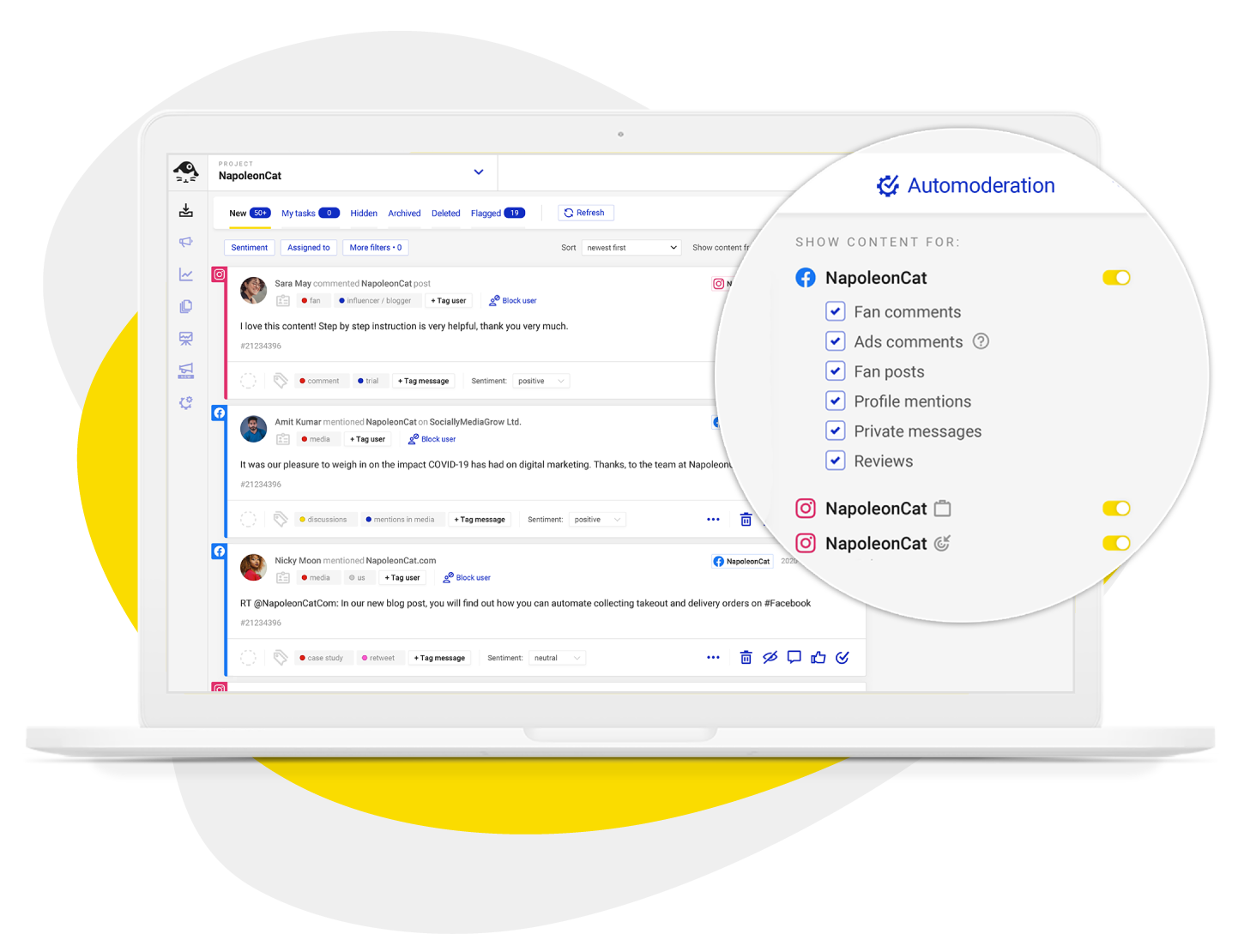 Automated moderation also takes care of spammers and competitors commenting on your ads. Typically, you have to go in and actually manually delete these types of comments, but with NapoleonCat, you can automate that process. How cool is that?!
---
Publisher
Publisher is where you will go to create and publish content for all social media platforms. As with native social media platforms, you can add images and videos. You can also schedule the first comment for social media posts. One of the more complex features to roll into social media management platform content is the creation of posts for different social media platforms. Each social media platform has its own limitation on character counts, image sizing, and comes with unique terms and conditions. 
Thankfully, NapoleonCat's Publisher interface accounts for all of it. You'll be able to create a basic message that can be tailored across platforms, and you can add important elements like call to action buttons, discount codes, and even Google My Business offers. And as with many tools in this category, you get a preview of your social media posts and ads as you create them.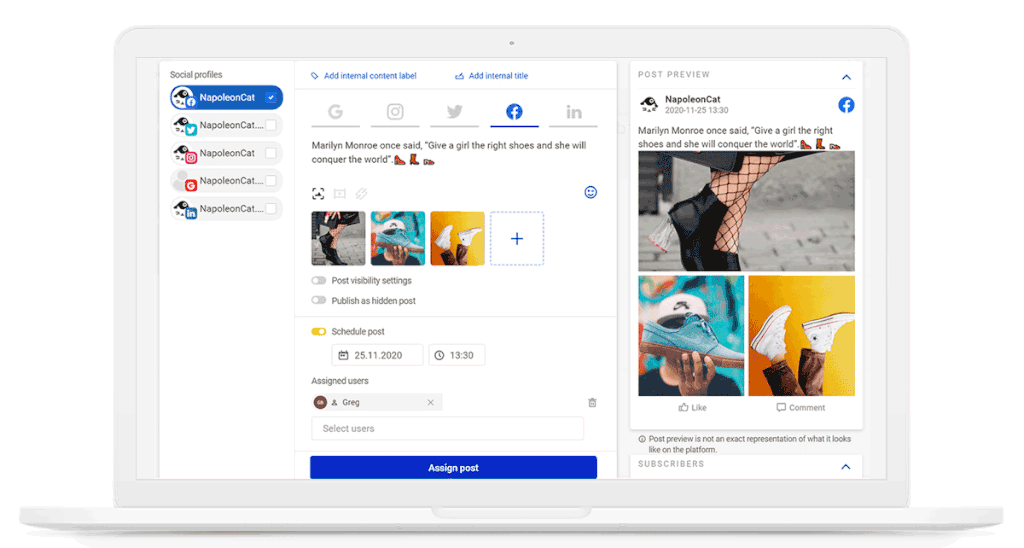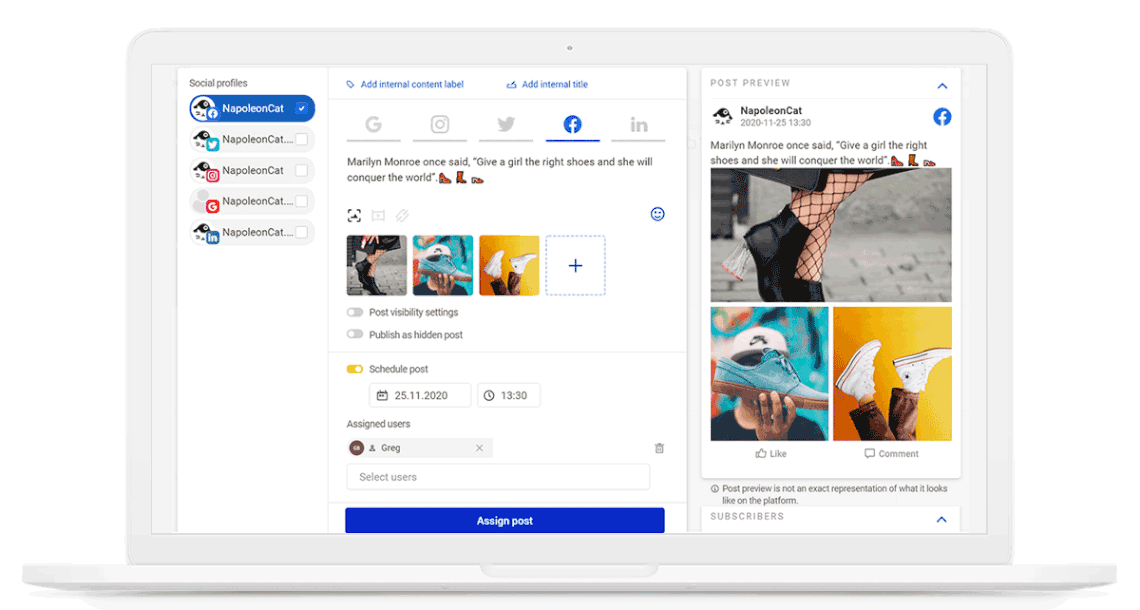 Scheduling in NapoleonCat is a breeze. You can schedule posts for individual platforms at different times or set a single date and time for all posts to be published. Speaking of posts, as far as content calendars go, NapoleonCat has done a stellar job of making this easy to read. It's color-coded labels make it easy to organize content into campaigns, and it's all laid out in front of you in a structured format.
Social media teams often have to contend with tight deadlines and large workloads. If your team has been on the losing end of figuring out the easiest way to complete tasks and streamline content products for your social media calendar, you'll love NapoleonCat's workflows. They allow you to assign content to different team members, create and save drafts, complete tasks, get notified of any changes to content, and exchange feedback through a dedicated discussion panel. This means you'll never have to worry about missing a thing while trying to balance your responsibilities. You can easily track what's happening with all your social content in one place.
---
Analytics & Reporting
It goes without saying that analytics and reporting are critical components of all social media management platforms. You can't improve what you can't track. NapoleonCat has pulled the best functionality into their Analyze feature. You're able to measure engagement across the social channels and compare benchmarks. You can track everything from reach, impressions, engagement, content, videos, hashtags, and influencers, depending on the platform and metrics that it supports.
Analytics doesn't stop there. You get a view of the top 10 most engaged posts along with engagement metrics for each. Need more detail? Drill down deeper to get a look at your daily activity. And if you'd like to know who your top influencers are, clicking on the Influencers tab in the top menu will give you a look at who they are along with post reactions, interactions, and more.
On the competitor front, you can also benchmark your brand against competitors. And this level of analysis is a game-changer. You can track any public social media page to figure out the strategies and tactics they're using, giving you an edge and the ability to start testing new ideas for better results.
When you're ready to share your analysis and reporting, NapoleonCat has downloadable PDF and XLS files. These reports can also be mailed directly to stakeholders and scheduled for delivery on a weekly, monthly, or quarterly basis. Something really cool about NapoleonCat's reporting is that you can generate reports according to your content tags. You'll be able to tell how many times a user was tagged, and so much more.


---
Integrations
If there was one thing that users may feel let down by, it's the lack of integrations. At the time of writing, NapoleonCat offers just one integration. This is with Facebook ManyChat Bot. For the uninitiated, ManyChat Bot is designed to help generate leads, increase customer engagement, and provide instant support using personalized conversations. In NapoleonCat, it serves as a handover tool, taking queries from your audience and resolving them where possible, or pushes queries that can't be handled to a person on your team. Definitely a helpful feature.
On the integration front, one we'd love to see is the option of potentially connecting a CRM tool. This may sound a little complex but it could add a helpful dimension to customer relationship management and engagement. Integration like this will help you get a better perspective of who your audience is, helping you deliver more effective campaigns and develop a life cycle of your customers from start to finish.
---
TL;DR (aka The Conclusion)
NapoleonCat is a powerful social media marketing and management tool. With it, you can manage content for Facebook, Instagram, Twitter, LinkedIn, Pinterest, YouTube, and Google my business. Its Social Inbox will likely be your most favorite feature of the tool. It makes life simpler by offering all the features you need to engage your audience. For example, integrating Google Translate makes it easier to communicate with the audience members using different languages. Social Inbox is also designed to streamline customer care. With the ability to assign queries to knowledge experts or teams, running a customer-centric operation becomes more manageable.
Publisher, NapoleonCat's publishing tool, is just as practical and easy to use, too. You can schedule campaigns and content across the social media platforms, without worrying about optimizing image sizes or post copy. NapoleonCat will guide you through the entire process.
Analytics and reporting are also well represented. You can dig deep for insights on your own content and your competitors' accounts. Automations are a major timesaver, helping you moderate content and reply to queries when out of the office. Reports are also super-helpful. They cover all metrics and can be set to go out to your team based on intervals that support your business strategy.
If you're on the lookout for a social media marketing management platform that is clean and a breeze to use, but still packs features that not only get the job done but offer helpful data insights, NapoleonCat is worth investigating. You get access to a no-credit card two-week trial, giving you enough time to explore the ins and outs of this amazing platform.
Frequently Asked Questions
Is NapoleonCat Free?
NapoleonCat offers a no-credit card 14-day free trial. When your trial period is complete, you can select a flexible plan with a minimum of three social media accounts and one user. Plans start at $27 per month (paid monthly) or $21 per month (paid annually).
Does NapoleonCat support Facebook?
Yes. NapoleonCat will let you exchange direct messages with users on Facebook and Facebook messenger and publish content to your Facebook page.
Does NapoleonCat support Instagram?
Yes. NapoleonCat will let you schedule and publish updates on multiple LinkedIn Company Pages. You can also monitor and reply to comments from one place as well as analyze and improve your content's performance.
Does NapoleonCat support LinkedIn?
Yes. NapoleonCat will let you schedule and publish updates on multiple LinkedIn Company Pages. Monitor and reply to comments from one place as well as analyze and improve your content's performance.
What are NapoleanCat's Features?
NapoleonCat's core features are:
Social Inbox: a tool for communicating through direct messaging
Social Automation: a way to automate tasks like responses to queries or moderate commentary on your Facebook ads or social posts
Publisher: a tool for creating and scheduling content to be posted onto your social media profiles
Analytic and Reporting: tools that provide insights on your content performance and that of your competitors.
NapoleonCat
Features

Ease of Use

Reporting

Best for:
Small businesses, e-commerce, agencies, marketers, digital influencers