Online shopping experienced unprecedented growth in 2020 due to the COVID-19 pandemic. Lockdowns across the globe forced consumers to turn to digital platforms to do their shopping, which boosted eCommerce in the United States. According to eCommerce stats, retail eCommerce sales aren't showing any signs of slowing down soon and it's anticipated that worldwide sales will exceed $7 trillion by 2025.
The eCommerce industry can be incredibly lucrative for sellers. However, because of the sheer volume of brands and businesses online, it could be hard for one to stand out. From social media to SMS marketing, here are some of the tools you can explore to bolster your eCommerce marketing efforts.
---
Top eCommerce Marketing Tools and Trends for 2023:
---
Top eCommerce Marketing Tools for 2023
---
---
---
---
---
---
---
---
---
---
---
---
---
---
---
---
---
---
---
---
---
---
---
---
---
---
---
---
---
---
---
---
---
---
---
---
---
Important eCommerce Statistics for 2023
As mentioned, eCommerce is projected to keep growing in the years to come. If you're a seller on an online platform, it's essential to take note of these trends and statistics as you map out your business decisions for the upcoming year.
1. Mobile eCommerce is expected to grow even more
The mobile eCommerce market raked in $0.97 billion in 2016 when it first started gaining traction. It grew exponentially from there, eventually hitting $2.91 trillion in 2020. It's estimated to be worth $4.5 trillion by the end of 2023.
2. 78% of consumers expect to see product photos on eCommerce platforms
eCommerce platforms thrive off visual content. Potential customers want to see what they are purchasing, so product photos are their top expectations from eCommerce stores. Ranked next are product reviews, product comparisons, testimonials from other customers, product demonstrations, and live chat with the brand.
3. 49% of consumers refuse to check out if the extra fees are too expensive
Security issues, complicated check-out processes, and account creation are some of the common factors why consumers abandon their shopping carts, but the most common is when extra fees are too high. The fees in question include shipping, taxes, and miscellaneous expenses.
4. eCommerce sales are expected to make up nearly a quarter of global retail sales by 2023
Because eCommerce is growing exponentially, by 2023, a little over 22.3% of global retail sales will be made through eCommerce channels. As more brands turn to the digital space, it's expected that the role of eCommerce in consumers' daily lives will become more prominent.
5. Nearly 8 out of 10 Americans use the digital space to shop
To give a clearer picture of how prevalent eCommerce or online shopping is, around 8 in 10 Americans patronize online shopping platforms. This was especially common during the height of the COVID-19 pandemic.
---
Important Categories for eCommerce Marketing Tools
Given the abundance of eCommerce marketing tools available, you may find it difficult to choose the best one for your needs. This list of eCommerce marketing tool categories will help you keep track of useful tools that cover important aspects of eCommerce for your business.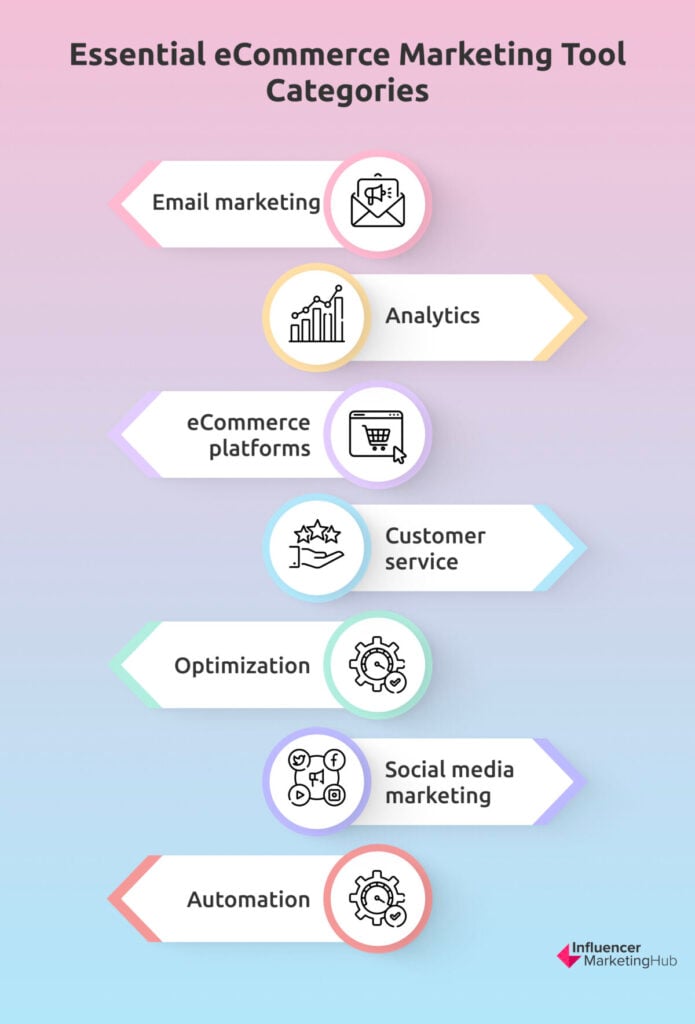 1. Email marketing
Email marketing is a tried-and-tested marketing strategy that, when done right, can improve user engagement, build relationships, promote customer loyalty, and drive sales. Email marketing is commonly used to promote your products or services and let your potential customers know about what you're currently offering.
It's one of the best tools for generating leads and boosting your site's traffic. But why is it so effective?
After phone calls, email is the most used communication method in the US. A massive 92% use email for either work or personal communication.
Email marketing is a powerful tool that presents a world of opportunities for marketers, provided that you get your messaging and targeting right. Often, what happens is emails aren't optimized, rendering them not interesting enough for recipients to open.
Aside from being easy to track, your email marketing campaigns can be automated, allowing you to save time and focus on other aspects of your business. Popular choices for email marketing tools include:
Omnisend
Mailchimp
ConvertKit
---
2. Analytics
Without analytics, your campaigns won't be as effective. Analytics tools use data science and let you gain data-driven insights on things like consumer behavior and market trends. You can use analytics tools to make sense of all the data you're getting so you can optimize your website or performance, opening it to opportunities for growth and innovation.
Applications of analytics tools include monitoring how visitors are engaging with your site, understanding what your customers need, and showing you opportunities for attracting more customers. Some of the key metrics to track include customer retention, conversion rates, customer engagement, and mobile adoption.
Analytics tools take the guesswork out of marketing strategies and let you create more targeted and optimized campaigns. Some of the best analytics tools include Moz and Semrush. Both of these are capable of going above and beyond analyzing customer data. They're also capable of letting you track brand mentions, optimize your website, use keyword exploring tools to find out what customers are searching for, and conduct backlink analysis.
---
3. eCommerce platforms or website builders
One of the most crucial components of any eCommerce business is having a platform or a website that lets you showcase your products, manage your online store, and get insights from the data you receive. Think of your eCommerce platform as your foundation—without it, you're practically treading on thin ice. Without an eCommerce platform, it's almost impossible for your business to compete and thrive online.
Note that the eCommerce platform you end up choosing will have an effect on your business's progress. Different platforms and website builders come with their own unique set of built-in tools, which are ultimately designed to help you scale your business. When choosing an eCommerce platform for your business, keep the following tools and features in mind:
PCI compliance

Excellent customer support

Built-in eCommerce features such as analytics and reporting

Mobile-friendliness

User-friendly interface (preferably with a drag-and-drop functionality)
The best way to determine whether or not an eCommerce tool is right for you is to start a free trial and ask the sales and support staff relevant questions. Furthermore, you can check out the websites of eCommerce platform providers so you can get a bird's-eye view of features and pricing plans.
While it may be tempting to go with popular options, sometimes, they're not always the right fit for your business. Consider if a particular platform is able to help you meet your desired outcomes and objectives for your business. To help you get started, you can check out the following eCommerce platforms:
---
4. Customer service
Customer service has the power to make or break a business. On the one hand, a positive customer experience can drive sales, boost your average order value, increase customer loyalty, and encourage customers to give your business a positive review. On the other hand, a poor customer experience can prompt customers to stop doing business with you. In 2022 alone, 58% of customers stopped patronizing a business because of poor customer service.
Make sure that you provide your customers with the best customer service experience by leveraging customer service or support tools like Zendesk and Groove.
---
5. Optimization
Optimization, whether you're talking about website optimization, product optimization, conversion rate optimization (CRO), or search engine optimization (SEO) is crucial for your business's success. By ensuring that all aspects of your site or business is optimized, you're helping your customers make the most out of what you're offering.
Furthermore, optimization is a crucial component for increasing conversion rates. By giving customers a more streamlined and seamless shopping journey, you're making it easier for them to convert. CRO, for example, lets you get more value from your customers while allowing you to enjoy lower customer acquisition costs.
Once you're able to optimize your conversion rates, you can start enjoying benefits such as increased revenue, more leads, and increased website traffic.
SEO, in particular, can help drive more customers to your site through organic search, promote brand awareness, and complement your other marketing campaigns. Best of all, you can track your performance so you'll know where you stand and come up with appropriate strategies to scale your business.
---
6. Social media marketing
Social media has become a large part of our daily lives and it proves to be a valuable marketing asset. Social media platforms let you find, connect, and engage with your target audience.
Social media marketing platforms help you find brand ambassadors, monitor their performance, create and manage content, and more. Some tools are also capable of enhancing your social reach, giving you insights for building your brand strategy, and helping you create optimized ad campaigns.
---
7. Automation
Automation covers a lot of ground, including ad automation, workflow automation, and task automation. We spend a lot of time on completing mundane or repetitive tasks that we often get distracted from doing other more important tasks. With marketing automation tools, you're able to operate more efficiently .
Automation tools can increase productivity, enhance employee engagement, enable you to tackle more complex processes or issues, and give you more opportunities to provide customers with a better experience overall.
---
eCommerce Marketing Trends That Will Shape 2023
Now that you know the tools and platforms you can use to enhance your eCommerce strategy, here are some of the marketing trends that you should take note of and look into adopting.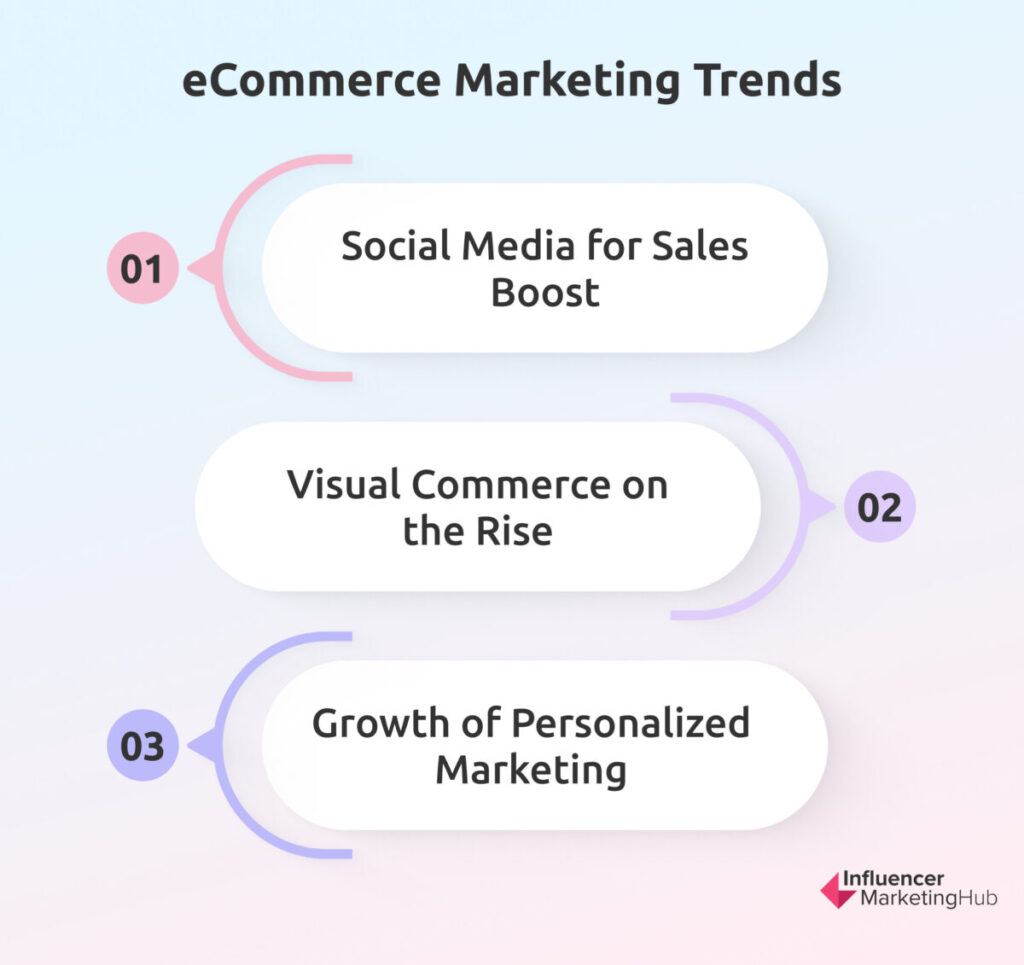 1. Social media platforms will be used to drive more sales
Social media platforms now have shopping tools that online sellers can use to list their products and services. This will allow consumers to purchase items without having to exit the app or visit a third-party site.
2. Visual commerce will be leveraged by more brands
The way that brands and businesses use visual media will be elevated. Instead of the usual product photos, brands will begin incorporating and utilizing different types of media like videos, user-generated content, and even augmented reality.
These types of media will further enhance consumers' shopping experiences and make an online store far more appealing. Additionally, it will liken the virtual shopping experience to an in-person one.
3. There will be an increase in personalized marketing strategies
Nowadays, customers are looking for a more personalized shopping experience, as this makes them feel that a brand cares about their wants and needs. By incorporating personalization into its strategies, a brand also makes it easier for customers to find things that they might want to purchase.
80% of consumers are more likely to purchase from a brand with a strong personalization strategy. Because of its effectiveness, roughly 89% of marketers are already using this tactic for retail businesses.
To create personalized marketing strategies, consider using a platform that enables you to monitor consumer purchasing behavior. Additionally, do deep research on your target audience to get a better grasp of what they look for in a product or service. This will help you understand your customers more, allowing you to create better personalized content.