Online shopping experienced unprecedented growth in 2020 due to the COVID-19 pandemic. Lockdowns across the globe forced consumers to turn to digital platforms to do their shopping, which boosted eCommerce in the United States by a whopping $183 billion.
Over the past year and a half, consumers in the US spent roughly $844 billion on eCommerce purchases. The industry shows no signs of slowing down, with the amount consumers spend on online shopping projected to grow next year. By 2022, the eCommerce market is expected to reach $1 trillion in sales.
---
The Top 30 Ecommerce Marketing Tools for 2022:
---
Important Ecommerce Statistics for 2022
As mentioned, eCommerce is projected to keep growing in the years to come. If you're a seller on an online platform, it's essential to take note of these trends and statistics as you map out your business decisions for the next year.
Mobile eCommerce is expected to grow even more
The mobile eCommerce market raked in $0.97 billion in 2016 when it first started gaining traction. It grew exponentially from there, eventually hitting $2.91 trillion in 2020. It's estimated to be worth $3.56 trillion by the end of 2021.
78% of consumers expect to see product photos on eCommerce platforms
Ecommerce platforms thrive off visual content. Potential customers want to see what they are purchasing, so product photos are their top expectations from eCommerce stores. Ranked next are product reviews, product comparisons, testimonials from other customers, product demonstrations, and live chat with the brand.
49% of consumers refuse to check out if the extra fees are too expensive
Security issues, complicated check-out processes, and account creation are some of the common factors why consumers abandon their shopping carts, but the most common is when extra fees are too high. The fees in question include shipping, taxes, and miscellaneous expenses.
Ecommerce sales are expected to make up nearly a quarter of global retail sales by 2023
Because eCommerce is growing exponentially, by 2023, a little over 20% of global retail sales will be made through eCommerce channels. As more brands turn to the digital space, it's expected that the role of eCommerce in consumers' daily lives will become more prominent.
Nearly 8 out of 10 Americans use the digital space to shop
To give a clearer picture of how prevalent eCommerce or online shopping is, around 8 in 10 Americans patronize online shopping platforms. This was especially common during the height of the COVID-19 pandemic.
---
Important Categories for Ecommerce Marketing Tools
Given the abundance of eCommerce marketing tools available, you may find it difficult to choose the best one for your needs. This list of eCommerce marketing tool categories will help you keep track of useful tools that cover important aspects of eCommerce for your business.
Email marketing is a tried and tested marketing strategy that, when done right, can improve user engagement, build relationships, promote customer loyalty, and drive sales. Email marketing is commonly used to promote your products or services and let your potential customers know about what you're currently offering.
It's one of the best tools for generating leads and boosting your site's traffic. But why is it so effective?
44% of people in the US and Canada check their personal email on a regular basis, between one to three times a day. On average, Americans spend approximately five hours a day checking their emails (work and personal). Email marketing is so powerful that 4 out of 5 marketers would rather give up social media than email marketing. In 2020, there was a 7% increase in marketers who thought that email was vital to their company's success.
Email marketing is a powerful tool that presents a world of opportunities for marketers, provided that you get your messaging and targeting right. Often, what happens is emails aren't optimized, rendering them not interesting enough for recipients to open.
Aside from being easy to track, your email marketing campaigns can be automated, allowing you to save time and focus on other aspects of your business. Popular choices for email marketing tools include Omnisend, Sendinblue, Mailchimp, ConvertKit, and EmailOctopus.
---
Without analytics, your campaigns won't be as effective. Analytics tools use data science and let you gain data-driven insights on things like consumer behavior and market trends. You can use analytics tools to make sense of all the data you're getting so you can optimize your website or performance, opening it to opportunities for growth and innovation.
Applications of analytics tools include monitoring how visitors are engaging with your site, understanding what your customers need, and showing you opportunities for attracting more customers. Some of the key metrics to track include customer retention, conversion rates, customer engagement, and mobile adoption.
Analytics tools take the guesswork out of marketing strategies and let you create more targeted and optimized campaigns. Some of the best analytics tools include Moz, SEMRush, and Ahrefs. All of these are capable of going above and beyond analyzing customer data. They're also capable of letting you track brand mentions, optimize your website, use keyword exploring tools to find out what customers are searching for, and conduct backlink analysis.
---
Ecommerce Platforms or Website Builders
One of the most crucial components of any eCommerce business is having a platform or a website that lets you showcase your products, manage your online store, and get insights from the data you receive. Think of your eCommerce platform as your foundation—without it, you're practically treading on thin ice. Without an eCommerce platform, it's almost impossible for your business to compete and thrive online.
Note that the eCommerce platform you end up choosing will have an effect on your business's progress. Different platforms and website builders come with their own unique set of built-in tools, which are ultimately designed to help you scale your business. When choosing an eCommerce platform for your business, keep the following tools and features in mind:
PCI compliance

Excellent customer support

Built-in eCommerce features such as analytics and reporting

Mobile-friendliness

User-friendly interface (preferably with a drag-and-drop functionality)
The best way to determine whether or not an eCommerce tool is right for you is to start a free trial and ask the sales and support staff relevant questions. Furthermore, you can check out the websites of eCommerce platform providers so you can get a bird's-eye view of features and pricing plans.
While it may be tempting to go with popular options, sometimes, they're not always the right fit for your business. Consider if a particular platform is able to help you meet your desired outcomes and objectives for your business. To help you get started, you can check out the following eCommerce platforms: Shopify, WooCommerce, BigCommerce, and Wix.
---
Customer service has the power to make or break a business. On the one hand, a positive customer experience can drive sales, boost your average order value, increase customer loyalty, and encourage customers to give your business a positive review. On the other hand, a poor customer experience can prompt customers to stop doing business with you. In 2020 alone, 40% of customers stopped patronizing a business because of poor customer service.
Make sure that you provide your customers with the best customer service experience by leveraging customer service or support tools like Zendesk and GrooveHQ.
---
Optimization, whether you're talking about website optimization, product optimization, conversion rate optimization (CRO), or search engine optimization (SEO) is crucial for your business's success. By ensuring that all aspects of your site or business is optimized, you're helping your customers make the most out of what you're offering.
Furthermore, optimization is a crucial component for increasing conversion rates. By giving customers a more streamlined and seamless shopping journey, you're making it easier for them to convert. CRO, for example, lets you get more value from your customers while allowing you to enjoy lower customer acquisition costs.
Once you're able to optimize our conversion rates, you can start enjoying benefits such as increased revenue, more leads, and increased website traffic.
SEO, in particular, can help drive more customers to your site through organic search, promote brand awareness, and complement your other marketing campaigns. Best of all, you can track your performance so you'll know where you stand and come up with appropriate strategies to scale your business.
---
Social media has become a large part of our daily lives and it proves to be a valuable marketing asset. Social media platforms let you find, connect, and engage with your target audience.
Social media marketing platforms help you find brand ambassadors, monitor their performance, create and manage content, and more. Some tools are also capable of enhancing your social reach, giving you insights for building your brand strategy, and helping you create optimized ad campaigns.
---
Automation covers a lot of ground, including ad automation, workflow automation, and task automation. We spend a lot of time on completing mundane or repetitive tasks that we often get distracted from doing other more important tasks. With marketing automation tools, you're able to operate more efficiently .
Automation tools can increase productivity, enhance employee engagement, enable you to tackle more complex processes or issues, and give you more opportunities to provide customers with a better experience overall.
---
The Top 30 Ecommerce Marketing Tools for 2022
The eCommerce industry can be incredibly lucrative for sellers. However, because of the sheer volume of brands and businesses online, it could be hard for one to stand out. Here are some of the tools you can explore to bolster your eCommerce marketing efforts.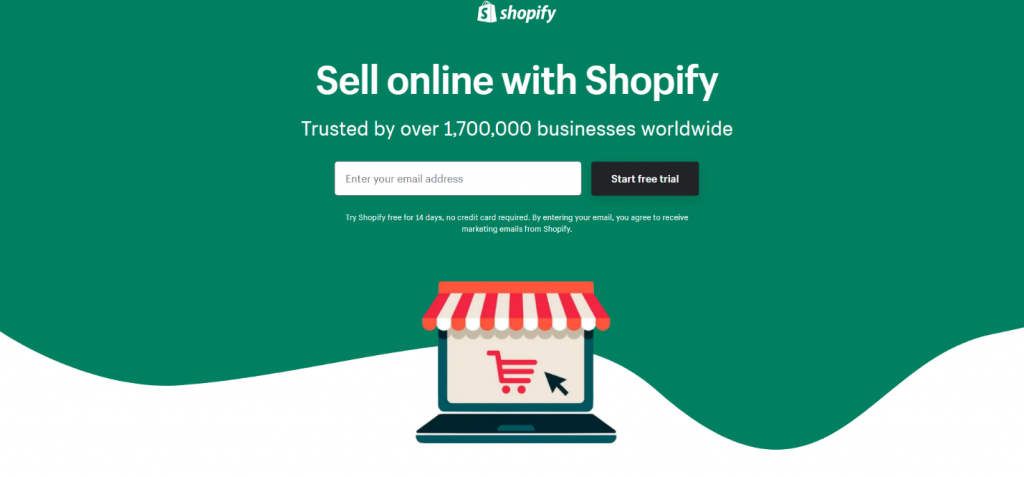 If you're just beginning to get into the eCommerce industry, building your online store using Shopify is highly recommended. The all-in-one eCommerce tool is easy to navigate, straightforward, and intuitive to set up. Additionally, it allows you to connect to external selling platforms and third-party apps.
Key Features:
Optimized for use on mobile devices

Website and shopping cart creation tool

Access to consumer data

Unlimited product inventory

Supports all popular modes of payment
Pricing:
Shopify has a free 14-day trial for those who want to explore the platform. You can also choose from one of its three plans, Basic, Shopify, and Advanced, which are $29, $79, and $299 per month, respectively.
---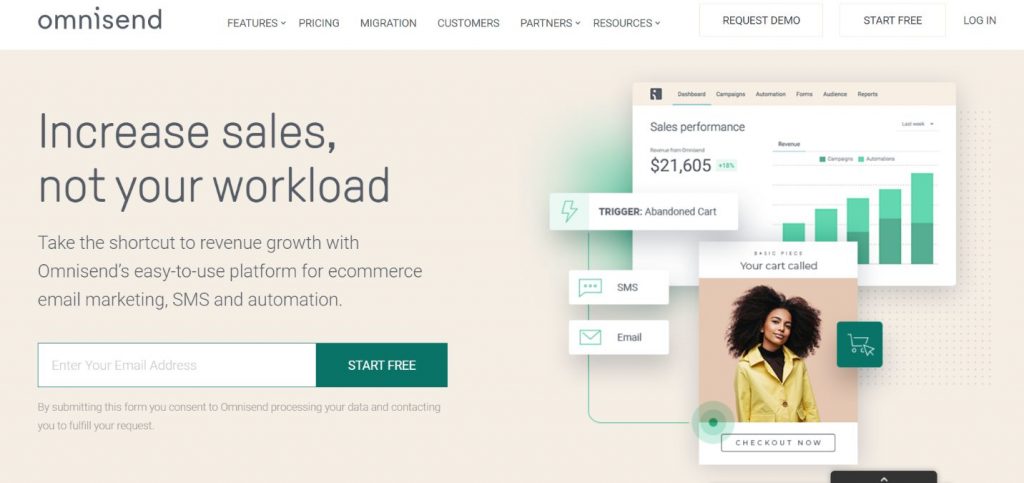 Geared toward eCommerce businesses, this marketing tool allows business owners to create marketing strategies that are proven effective for online shopping platforms. Using Omnisend, online sellers can use multiple channels to connect with their customers. They can also leverage Omnisend for precise targeting through personalized texts and emails.
Key Features:
Push notification

SMS notifications

Seamless integration with other eCommerce platforms

Easy automation
Pricing:
Omnisend has a free plan that allows you to use the software's most basic functions. Upgrade to the Standard plan ($16 per month) or the Pro plan ($59 per month) to enjoy more of its features. You can also try out both the Standard and Pro plans for 14 days, risk-free.
---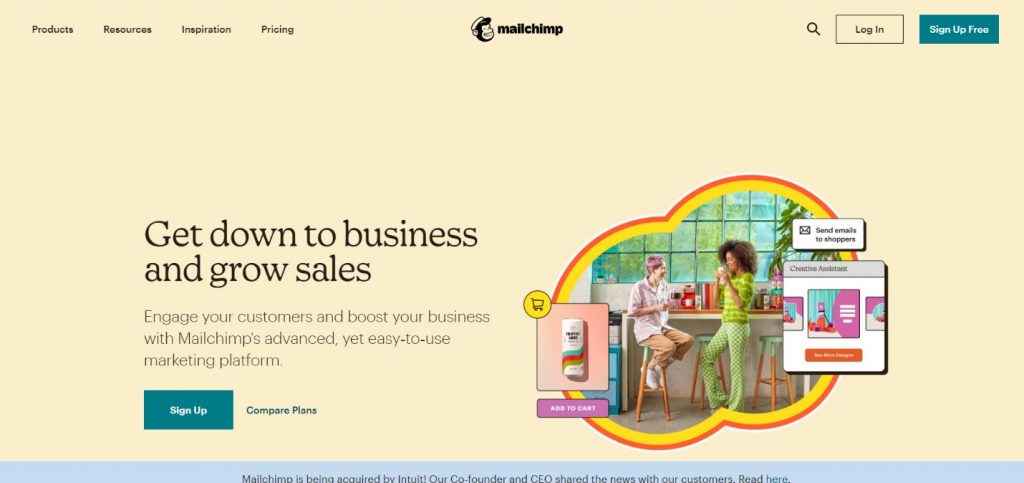 Boost your email marketing efforts with Mailchimp. This industry leader lets you automate email marketing campaigns, design emails, and connect with your audiences using personalized email content. You can also use the software to send reminders to customers who have abandoned their shopping carts.
Key Features:
Audience segmentation

Email designing function

RSS-to-email

Custom form creation

Campaign reports
Pricing:
For those who have a small mailing list or are starting out in the eCommerce industry, Mailchimp offers its services for free for up to 2,000 subscribers. If your mailing list is over 2,000, you can opt for one of its bigger plans. Prices will vary according to the number of subscribers you have.
---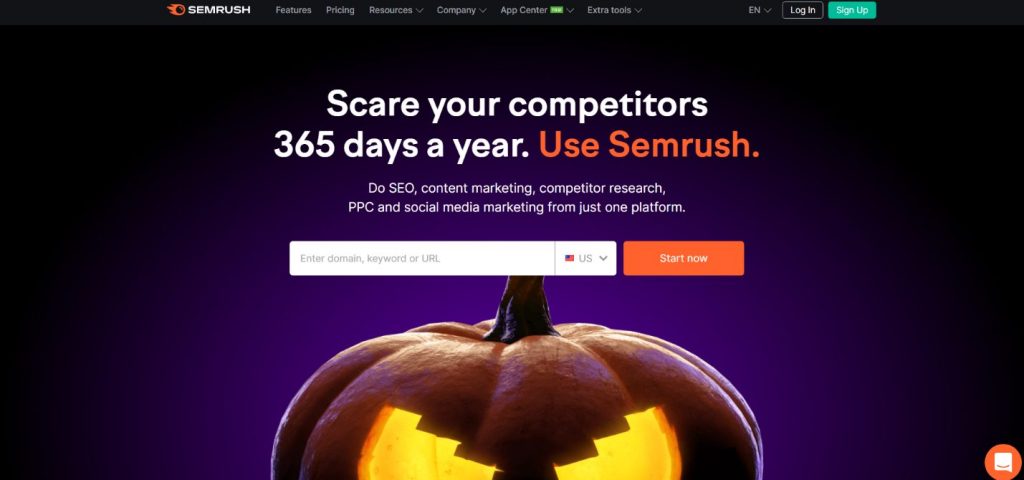 As an all-in-one marketing software, SEMRush allows you to manage your marketing campaigns and strategies on one platform. You can use it to boost your SEO strategy, track analytics, do keyword research, and automate your social media posts. The tool features a clean, seamless user interface for your convenience.
Key Features:
Built-in keyword research tool

Content analysis tool

Qualifies leads

Monitors website traffic

Content scheduling on social media platforms
Pricing:
Currently, SEMRush has three subscription models. You can choose between the Pro, Guru, and Business subscriptions, which are priced at $119.95, $229.95, and $449.95 per month, respectively.
---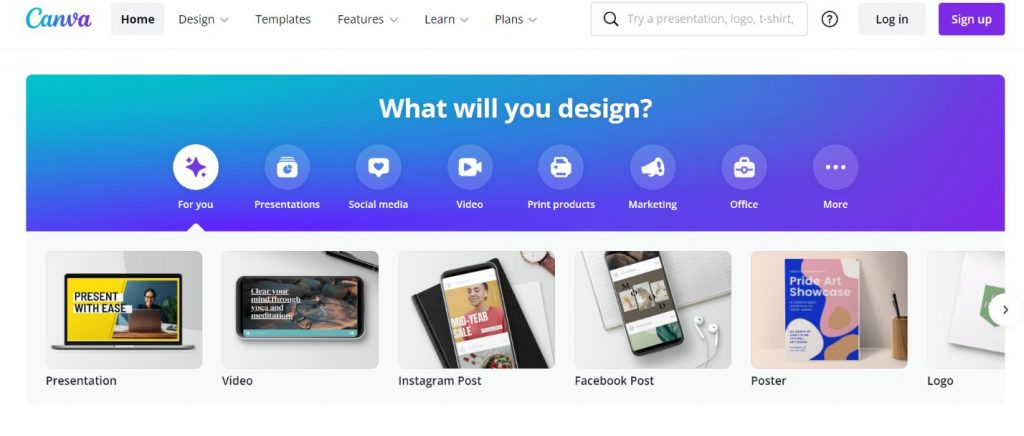 Consistent content production is one of the biggest challenges of brands across the globe. Canva, however, strives to make content creation more accessible and easier to do through its drag-and-drop graphic design platform. You can use its basic tools to create posts for specific social media platforms, and you can even make your own brand kit to maintain content consistency.
Key Features:
Plethora of photo editing and content creation tools

Short video creation tools

Automatic resizing for social media platforms

Custom content creation
Pricing:
Canva's free basic model grants you access to most of its features. However, more overlays, effects, and editing tools can be accessed through its Pro plan for $12.99 a month.
---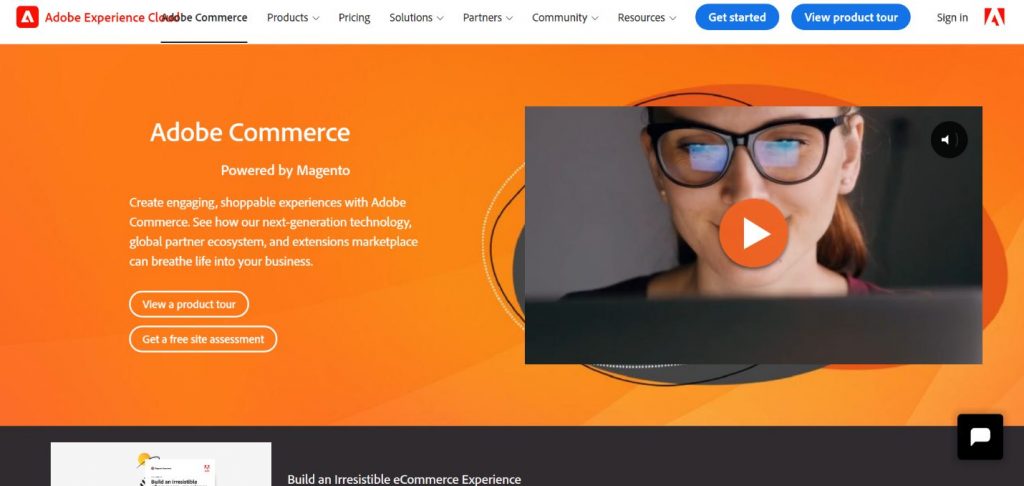 Manage your eCommerce store through Magento. The software allows you to build your store from scratch, track orders, and manage operations all on one platform. You can even get reports on insights and analytics to inform your marketing strategies, personalize consumers' shopping experiences, and optimize how you offer products and services online.
Key Features:
Built-in shipping solutions

Inventory management tools

Order management tools

Personalization features

Customer segmentation
Pricing:
You can try out Magento for free to see if it fits your requirements. However, you can also contact the platform's sales team to get a custom quote based on your business needs.
---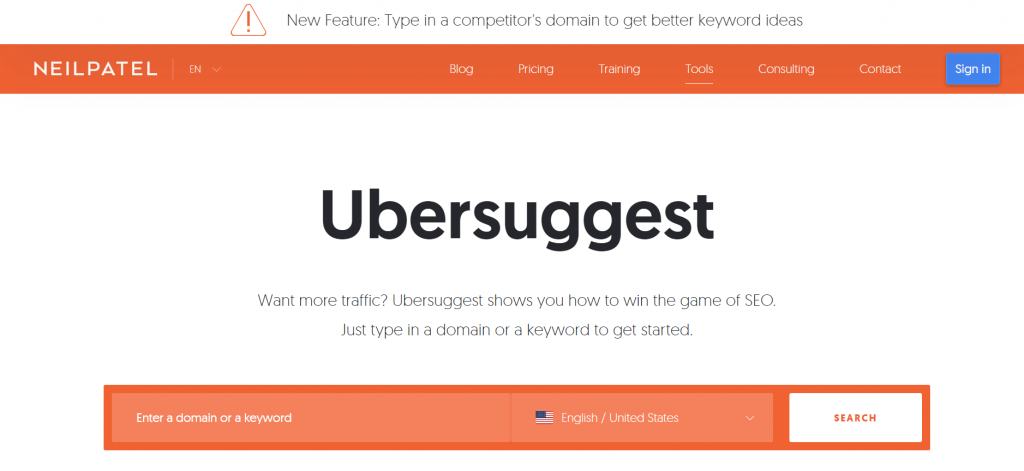 SEO is key to standing out on the web. Ubersuggest helps you boost your visibility on search engines, and it provides you insights into how your competitors are performing online. You can also use it to analyze marketing strategies and adapt accordingly.
Key Features:
Keyword research tool

Domain scoring

Content ideas

Backlink analysis
Pricing:
You can use some of Ubersuggest's features for free. However, for a more comprehensive SEO strategy, consider purchasing one of the software's paid plans. You can choose between the Individual, Business, and Agency plans, which cost $29, $49, and $99, respectively.
---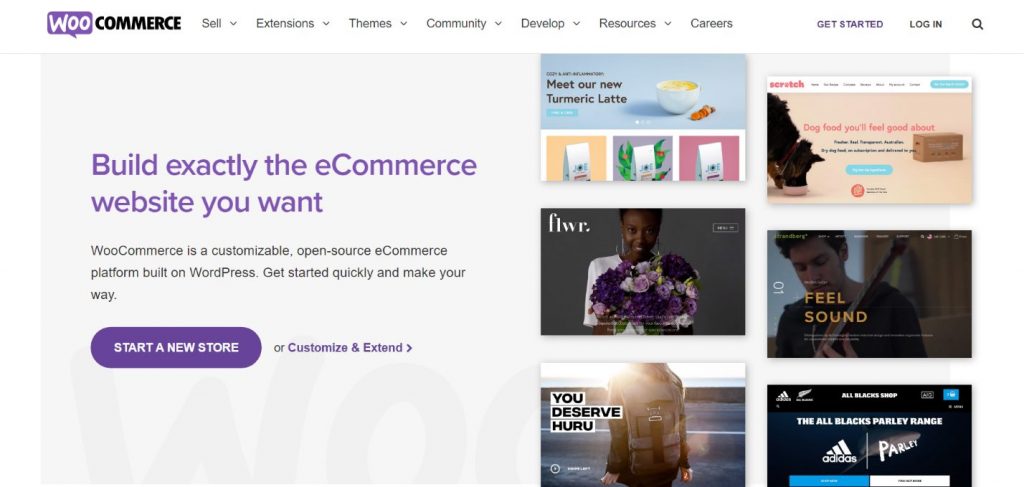 WooCommerce is designed for those who want to integrate eCommerce features into their WordPress sites. It is fairly easy to use and navigate, and it can help you drive more sales through your website.
Key Features:
Social media integration

Inventory management

Free and paid extensions

Seamless scalability
Pricing:
WooCommerce is free and open-source, which makes it a favorite for many eCommerce site owners.
---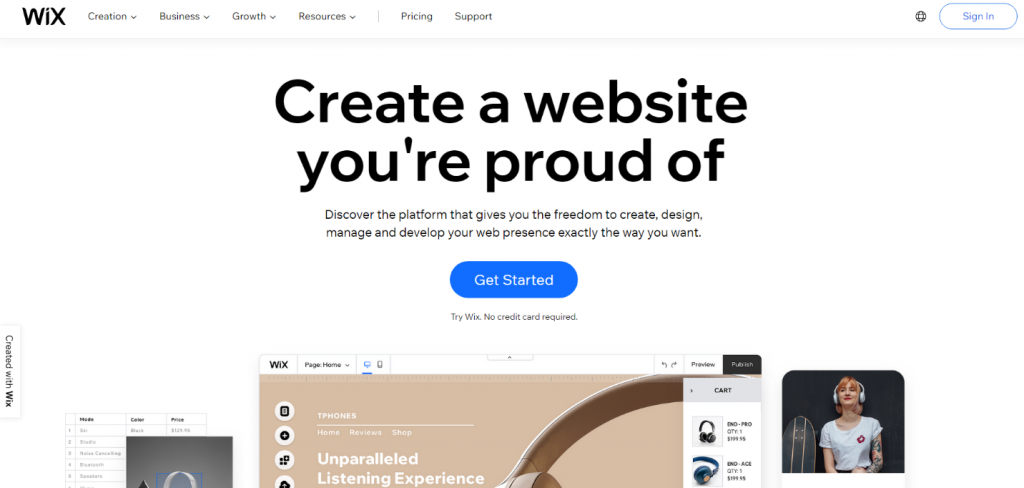 For a simple and easy website building experience, you can choose Wix. The platform requires zero knowledge in coding, and you can build a comprehensive website in minutes. Your created website is also fully optimized for mobile.
Key Features:
Automatic SEO optimization

Wide variety of templates to choose from

Supports dropshipping

Drag-and-drop tools
Pricing:
Wix's website plans start at $14 a month. However, if you want the ability to accept online payments, you need to upgrade to its $23 plan, $27 plan, or $49 plan. Larger enterprises can purchase a custom plan beginning at $500.
---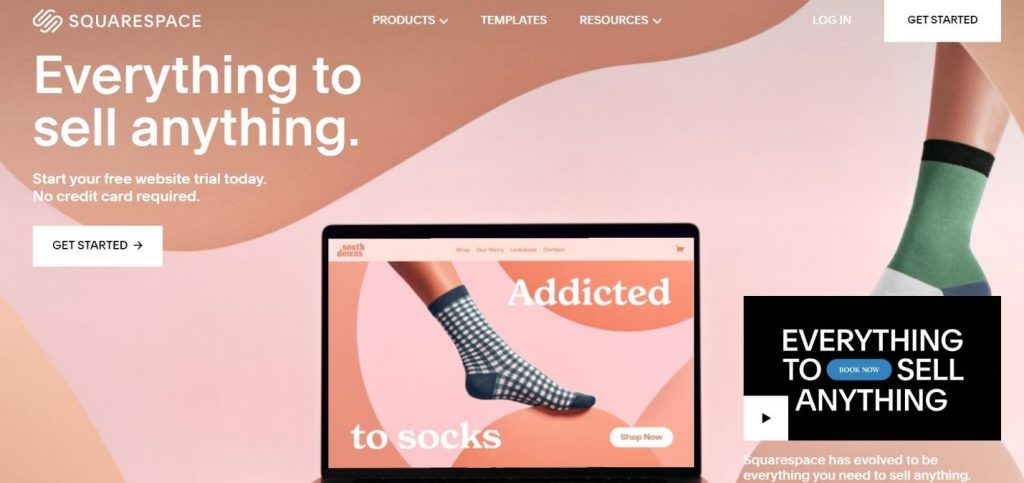 Like Wix, SquareSpace is an easy-to-use website building tool. However, all of its plans already have eCommerce capabilities and are set for online selling. Additionally, if you prefer your websites to have a more elegant and modern feel, this is the platform for you.
Key Features:
Easy integration with popular payment platforms

Best for portfolio creation

Shipping calculator feature

Inventory management tools

Unlimited product selling capability
Pricing:
SquareSpace has four pricing tiers: personal, business, basic commerce, and advanced commerce. The last three plans allow you to sell online, starting at $18 a month.
---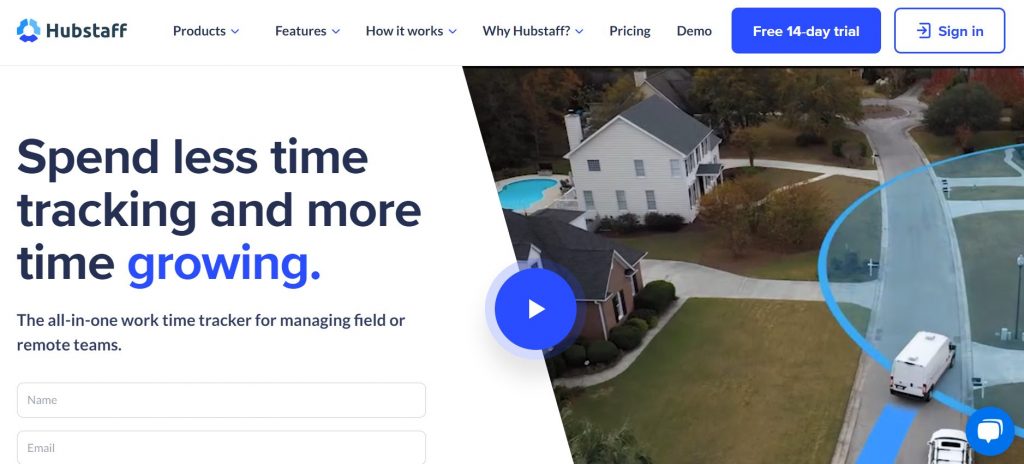 Doing repetitive tasks isn't just time consuming but it also causes you to miss out on other tasks that are crucial for growing your business. It lets you efficiently track time, boost team productivity, and save time on admin work with process automations. Hubstaff is an easy-to-use solution for teams that want to uncover and address productivity bottlenecks like inefficient processes.
Key Features:
Payroll management

Time tracking

Productivity monitoring

Detailed reporting

Online timesheets

GPS tracking
Pricing:
Hubstaff's paid plans start at $5.83 per user per month when billed annually.
---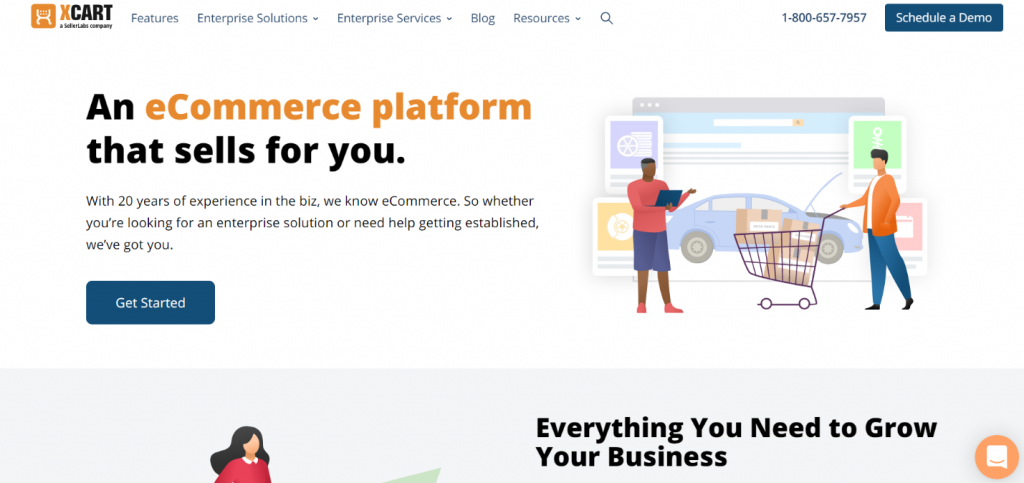 X-Cart helps you create a scalable online store. From conceptualization to execution, X-Cart lets you build a high-performing, optimized store that can be monitored in terms of its performance and marketing strategy.
Key Features:
Custom web design

Omnichannel eCommerce

Built-in analytics tool

Easy migration
Pricing:
X-Cart pricing varies depending on the size of your operations. Aside from a free plan, it also has a business package ($495 per month) and lifetime licenses.
---
Keep tabs on all of your customer concerns with Zendesk. This reliable tool helps you answer customer queries, create message templates, and streamline communications in one platform.
Key Features:
Automated responses

Extra chat features (e.g., ticket creation via chat)

Easy-to-set-up bots
Pricing:
Zendesk has various subscription models depending on your business needs. Its most basic plan begins at $19, while its enterprise plan begins at $150.
---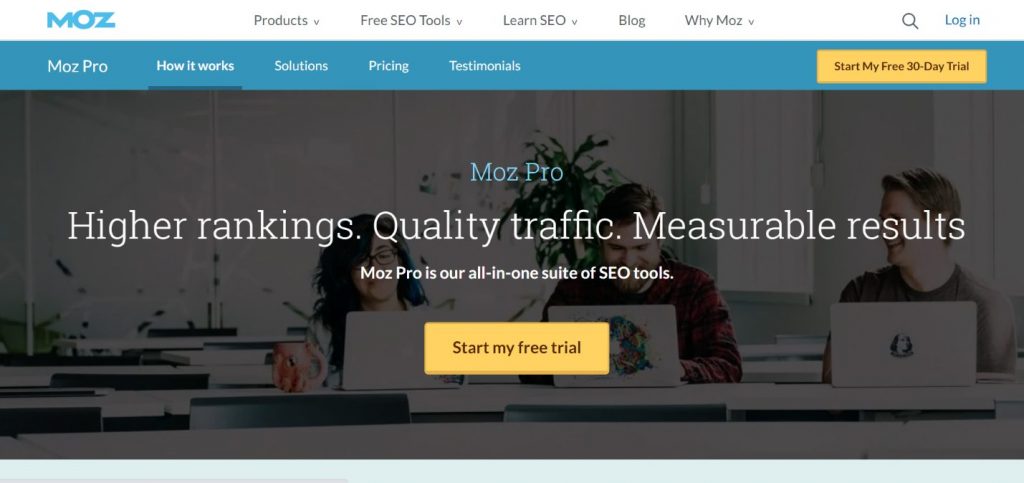 Another SEO enhancement tool, MOZ helps you analyze your site to see how it can rank higher on search engines. It is an excellent research tool as well, allowing you to analyze other websites' domain authority and do keyword analysis.
Key Features:
Keyword explorer tool

Rank tracker

Page analytics
Pricing:
MOZ provides a 30-day free trial. Once the free trial is up, you can opt for one of its paid plans, which range from $99 to $599.
---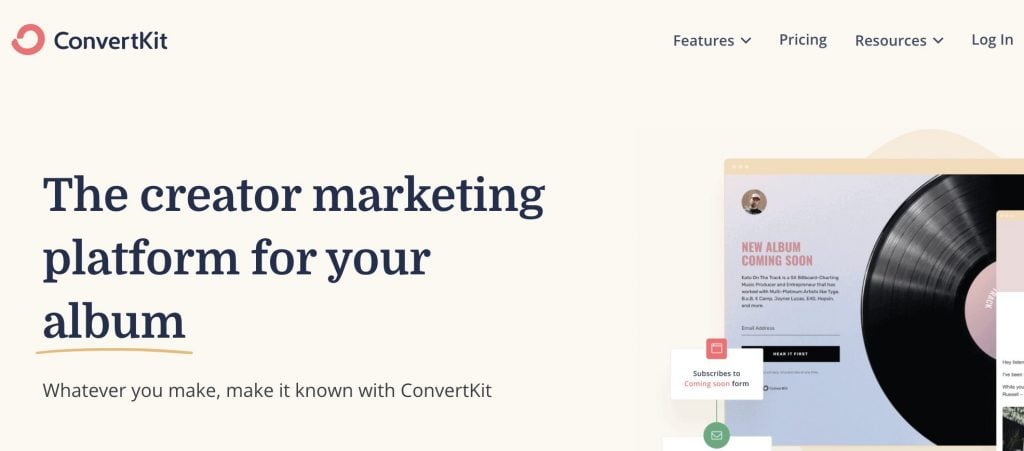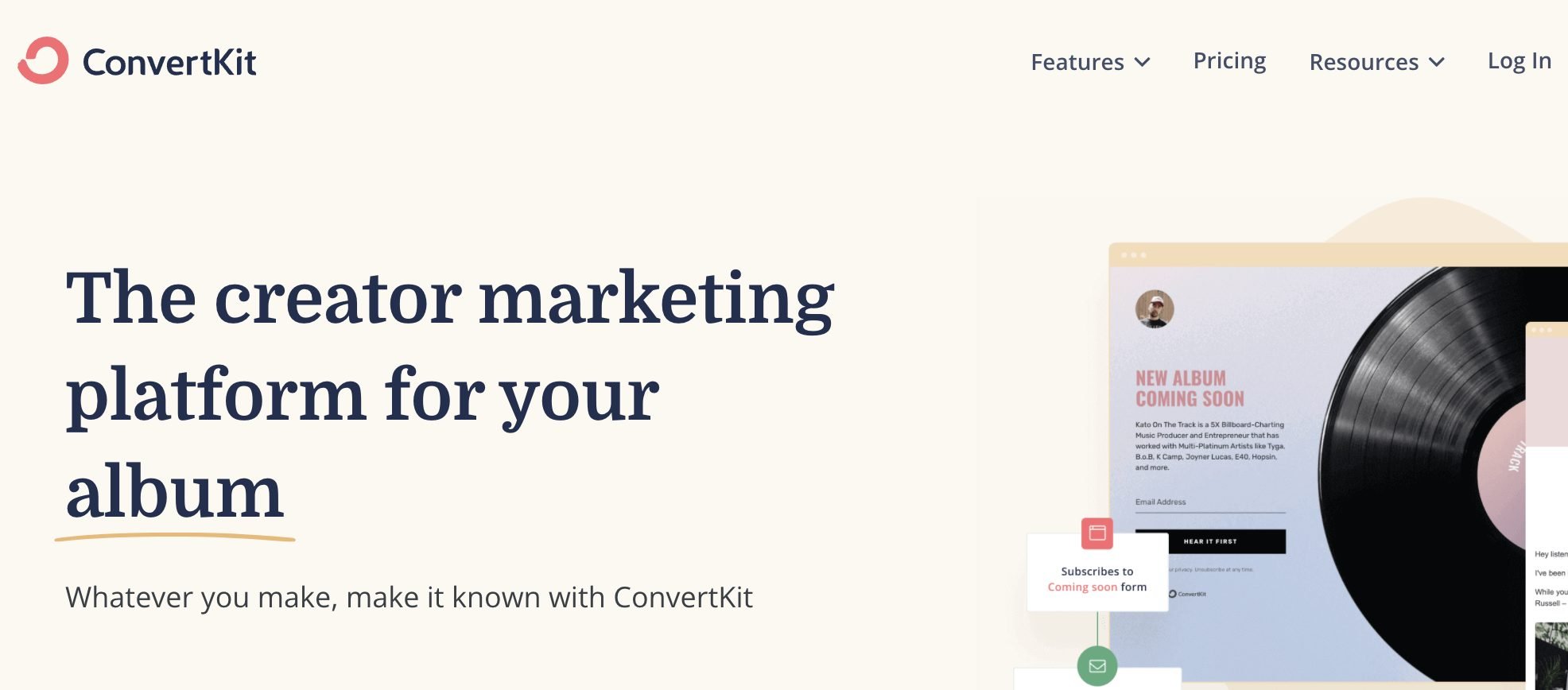 Designed for bloggers, creators, and eCommerce marketers, ConvertKit is a customizable platform for growing your audience, building your community, and generating revenue. It has a diverse range of tools for email marketing, landing pages, commerce, email sign up forms, email automation, and integrations. Its features include:
Key Features:
Customizable product pages

Comprehensive dashboard for sales

Integrated payment processing
Pricing:
ConvertKit is free to use up to your first 1,000 subscribers if you're a new creator. Monthly paid plans for growing and established creators start at $9 and $29, respectively, for up to 300 subscribers.
---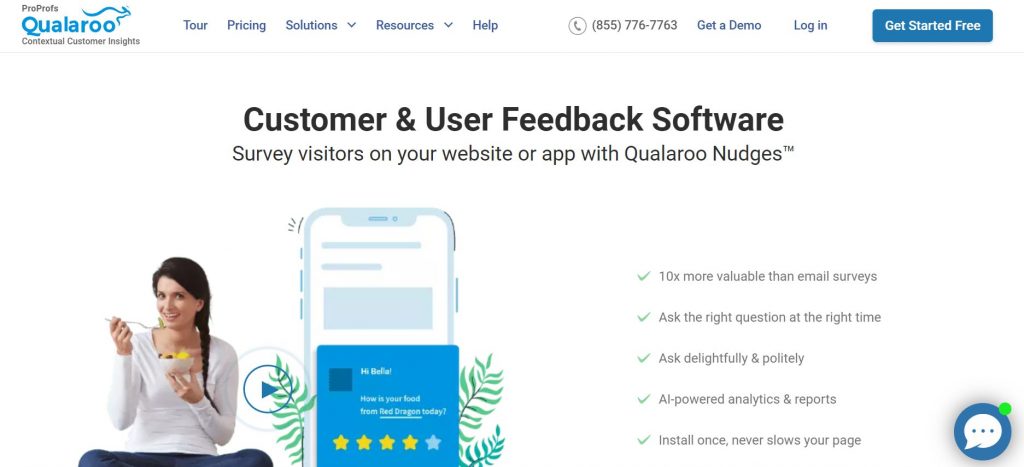 With Qualaroo, you can use quick surveys to deliver more personalized experiences for your site visitors. Qualaroo lets you access professionally designed questions and templates for user experience insights, feedback on website design and functionality, product feedback, and more.
Key Features:
AI-powered analytics (IBM Watson)

Support for HTTP and HTTPS

Simple and easy to use, doesn't require HTML skills
Pricing:
The Essentials plan starts at $80 per month when billed yearly.

---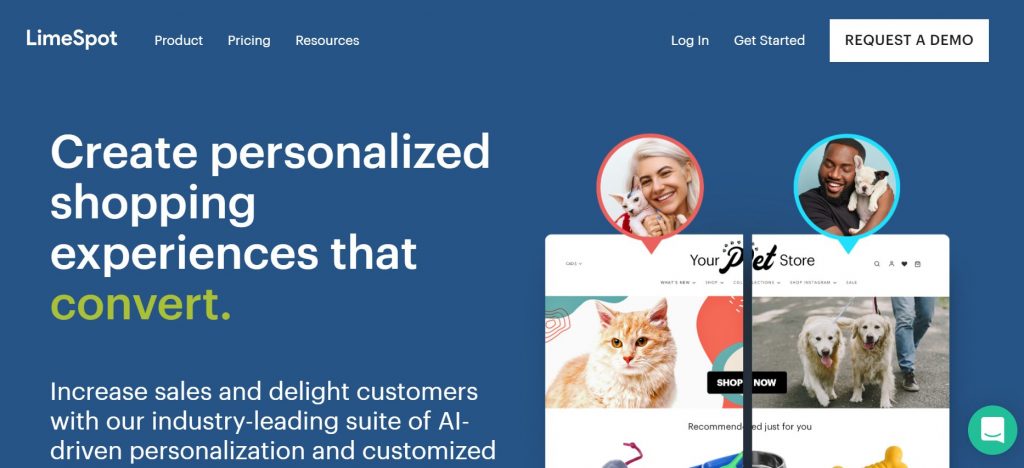 This eCommerce conversion platform helps you create unique and personalized shopping experiences that drive conversions. Its AI-driven platform lets you create a custom experience throughout every stage of your customer's buyer's journey and helps them find the right products at different touch points.
Key Features:
Fully automated AI algorithms

Templates for segmentation

Support for all major email service providers
Pricing:
LimeSpot's Personalizer pricing starts at $10 per month.

---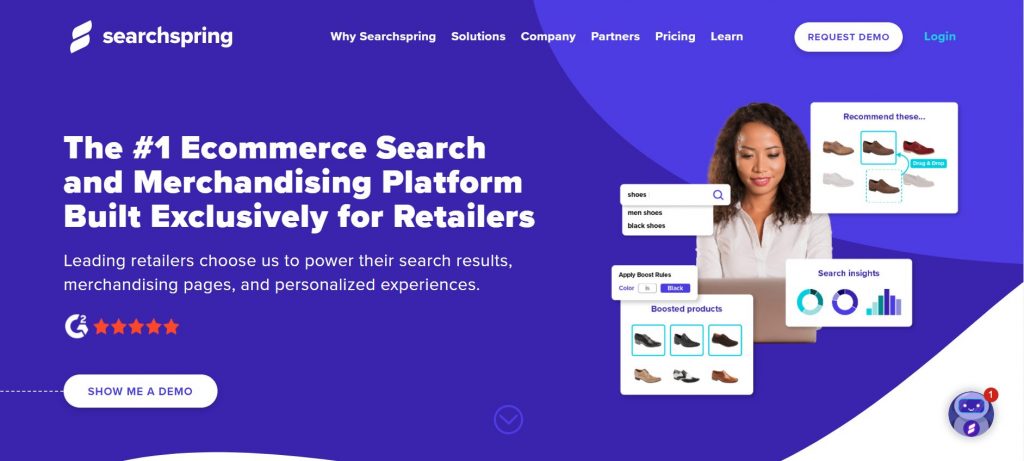 SearchSpring is a search and merchandising platform that offers intelligent site search, superior site navigation, and eCommerce reports. It helps your site deliver dynamic search results to your audience fast, without compromising personalization.
Key Features:
Deep analysis (indexing) of product data

Automated merchandising

Personalized product recommendations
Pricing:
SearchSpring's plans start at $499 when billed annually.

---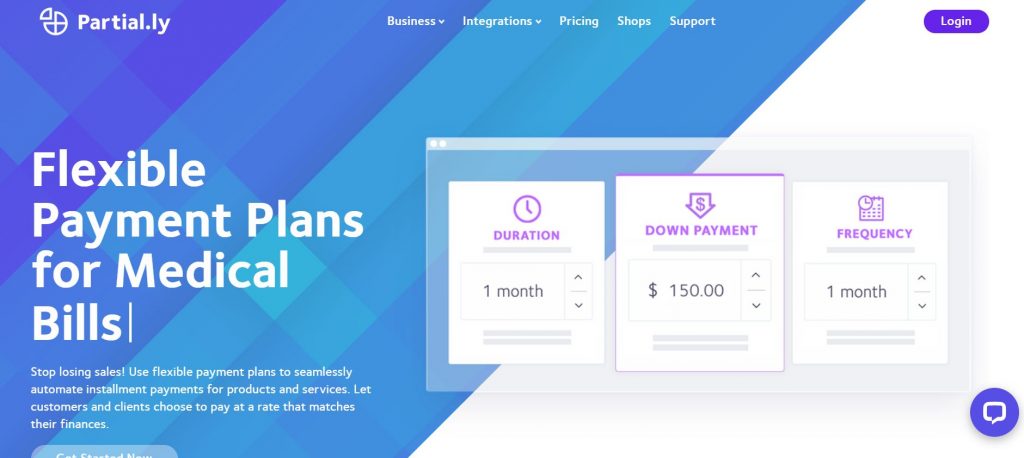 Partial.ly lets you offer flexible payment plans to your customers and give them the freedom to shop for what they want at installment terms they can afford. It also integrates with many popular e-commerce and invoicing platforms, enabling you to harness its power without abandoning your current stack.
Key Features:
Flexible manual payment options

Automated payments

Automated emails for both merchants and customers

Convenient merchant portal
Pricing:
Partial.ly charges 5% plus 30₵ per transaction. What sets it apart from other payment platforms is it implements the same pricing across over 135 currencies supported by Stripe.

---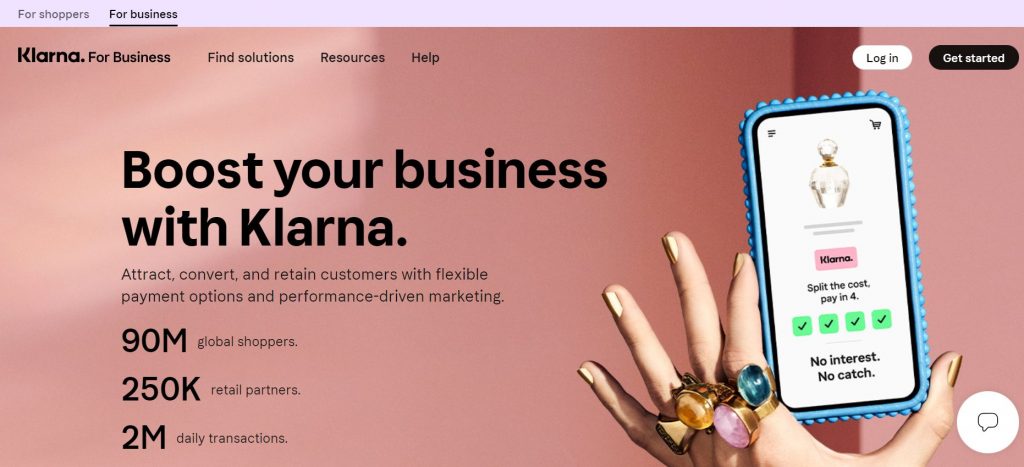 Klarna for Business is a payment platform that's designed to help businesses attract, convert, and retain customers by offering them flexible payment options and targeted marketing. For enterprises, Klarna employs AI-powered technology that'll help you create performance-driven marketing solutions for increased revenue and return on advertising spend (ROAS).
Key Features:
Faster checkout

Automatic and flexible payment options

Smooth integration

Marketing assets like On-site Messaging
Pricing:
Klarna's pricing varies depending on your customers' location. Click here to view its complete pricing scheme for small and medium businesses.

---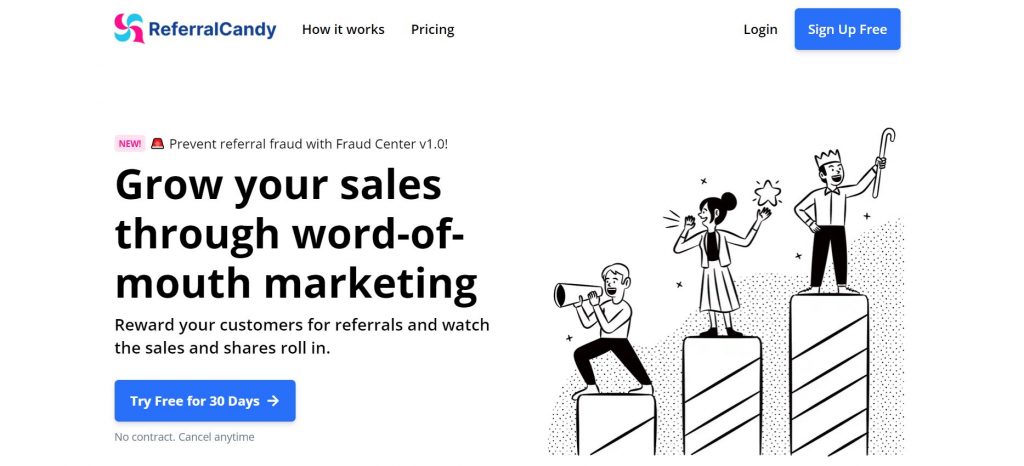 One of the best ways to ensure that more customers know about your business is through referrals. Referral Candy helps you create a referral program that rewards your customers for their referrals, while enabling you to track them for insights.
Key Features:
Easy to set up

One-click integration

Lets you manage referral fraud
Pricing:
Plans start at $49 per month plus commission.

---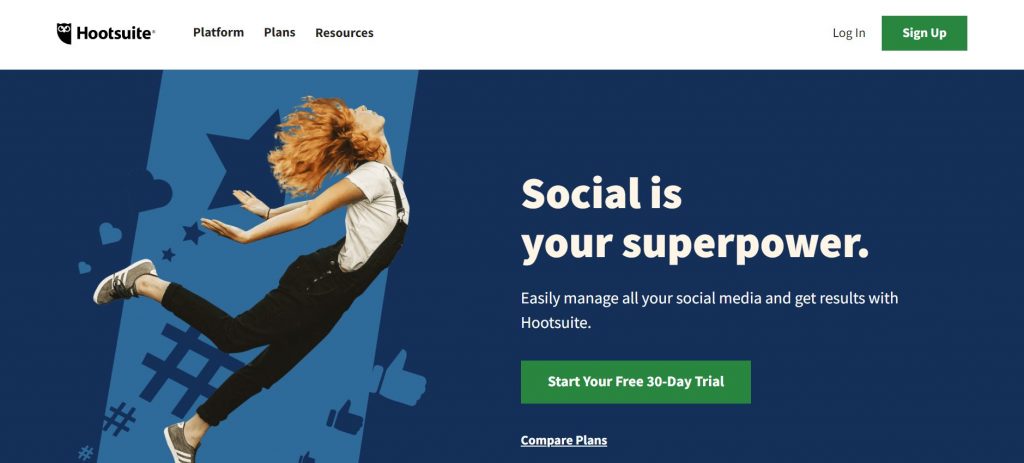 This social media management app that lets you create, manage, and share your content across multiple channels. Create and schedule posts, manage all your social media channels, plan your campaigns, collaborate in real time, and track your performance using a single stream.
Key Features:
Multi-channel functionality

User-friendly interface

Audience engagement tracking and analysis
Pricing:
Hootsuite plans start at $19 per month.

---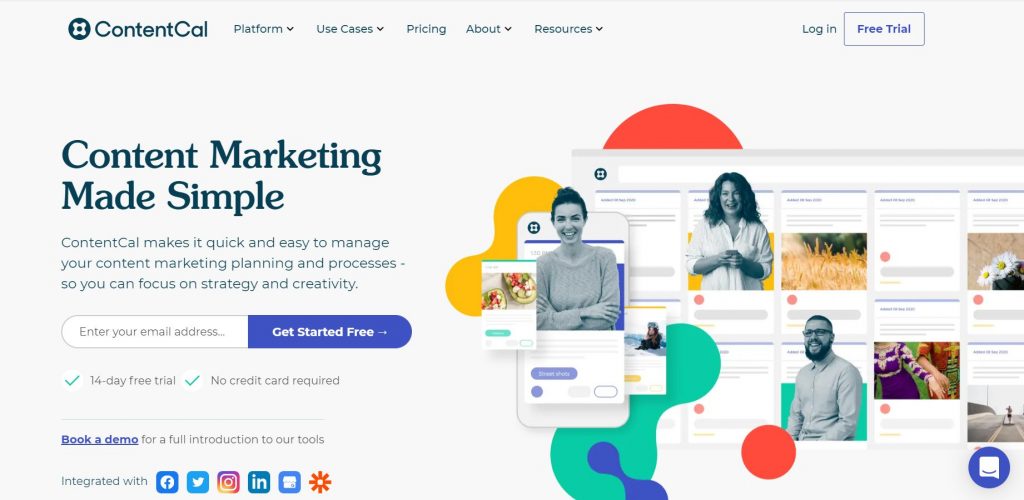 This feature-rich content marketing platform that lets you plan, create, manage, and analyze regional and global content or campaigns across multiple channels. It also lets you collaborate and connect with multiple teams, improving your communications.
Key Features:
Simple and intuitive interface

Approval workflows

Custom planning channels

Content hub for all your content
Pricing:
Plans start at $30 per month when billed annually.
---
A powerful social media management platform, Brandwatch is an all-in-one tool that lets you manage your social media channels, engage and communicate with your audience, track your performance, and more.
Key Features:
Comes with a social listening tool

Has sentiment analysis and reputation management services

Has one social inbox for all networks
Pricing:
Brandwatch currently offers two plans: Essentials at $108 per seat per month (billed annually) and Full Suite (price available upon request).

---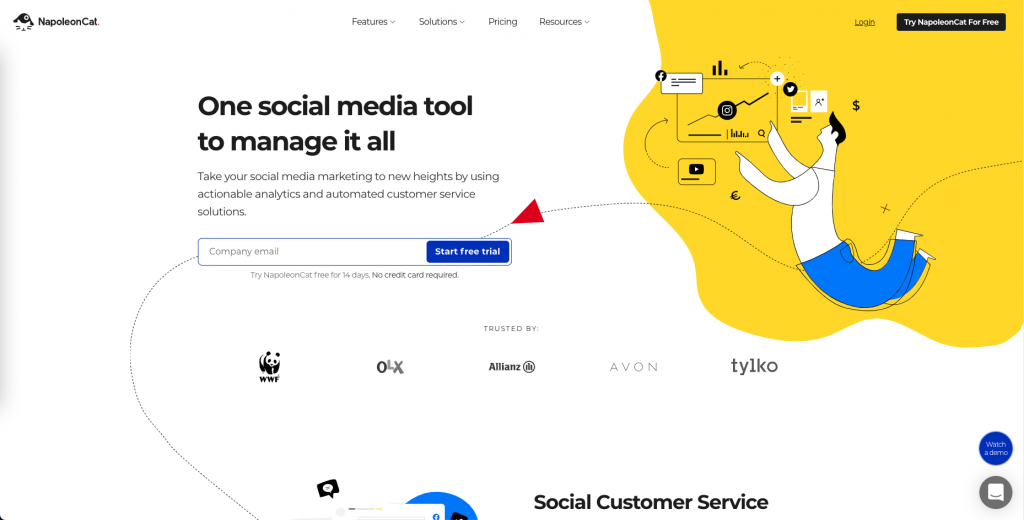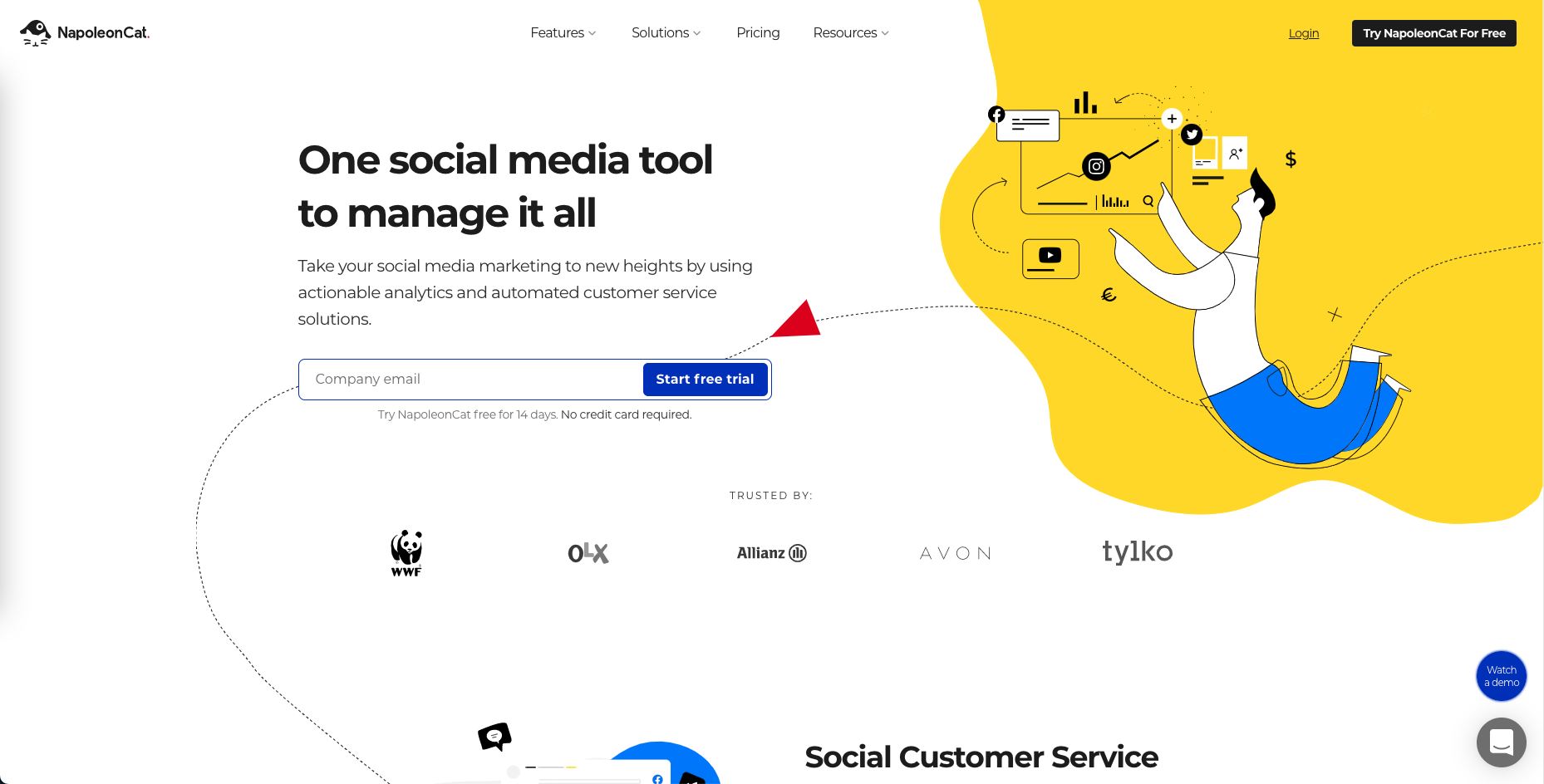 NapoleonCat is a social media marketing and management platform that's designed for small businesses, e-commerce businesses, agencies, and enterprises. It's capable of performing social customer service, scheduling, and automation for streamlining operations.
Key Features:
Social media analytics

Agency and team management

Engagement tracking

Competitor tracking
Pricing:
NapoleonCat has three paid plans. The Basic plan goes for $21 per month while the Pro plan costs $42 per month when billed annually. Both plans cover three profiles and one user. To purchase a custom plan, you need to get in touch with the NapoleonCat team.

---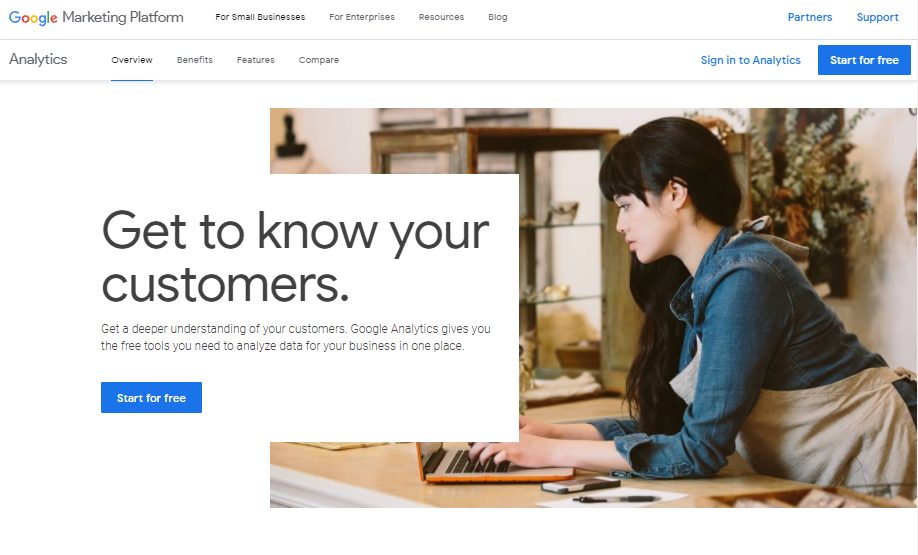 Google Analytics is a digital analytics software that lets you use free tools for data analysis for SEO or marketing campaigns. It's capable of monitoring the performance of your marketing, content, and products, among other aspects.
Key Features:
Simple and easy to use interface

Machine learning capabilities

Open to multiple data collection and data access options
Pricing:
Google Analytics is free to use. If you want to harness the power of Analytics 360, then you need to get in touch with Google Marketing Platform's sales team.
---
Kissmetrics leverages actual user behavior, giving you a more holistic approach to data. It also gives you an omnichannel glimpse of a customer's buyer's journey, letting you discover drop-off points for your site flow.
Key Features:
Sessions-digital analytics

Standard event tracking

Ecommerce funnel

Advanced BI reporting

User, role, and access management
Pricing:
Kissmetrics for commerce starts at $299 per month. It's designed for businesses that conduct most of their transactions via web or mobile, generate between $500,000 and $5 million in monthly sales, and have up to 5 million monthly tracked unique visitors.
---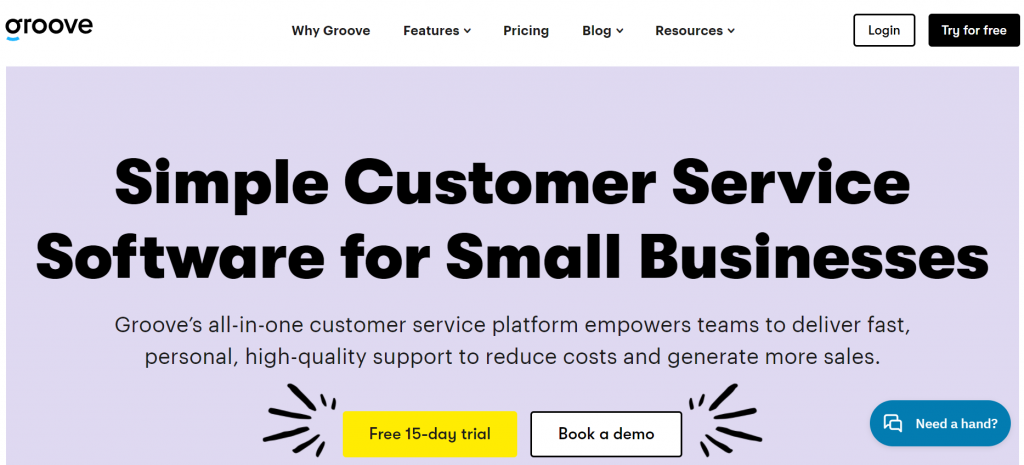 GrooveHQ is a customer service software that's designed for small businesses. It serves as your team's central hub for communication and collaboration, allowing you to collaborate using a shared inbox, respond faster to customer concerns or inquiries, and save time by creating your own 24/7 self-serve, responsive knowledge base for your customers.
Key Features:
Easy to set up

Email management capabilities

Internal notes

API access

Knowledge base features such as SEO settings and one-click SSL
Pricing:
GrooveHQ offers two affordable monthly plans: Standard at $20 per user per month and Pro at $35 per user per month.
---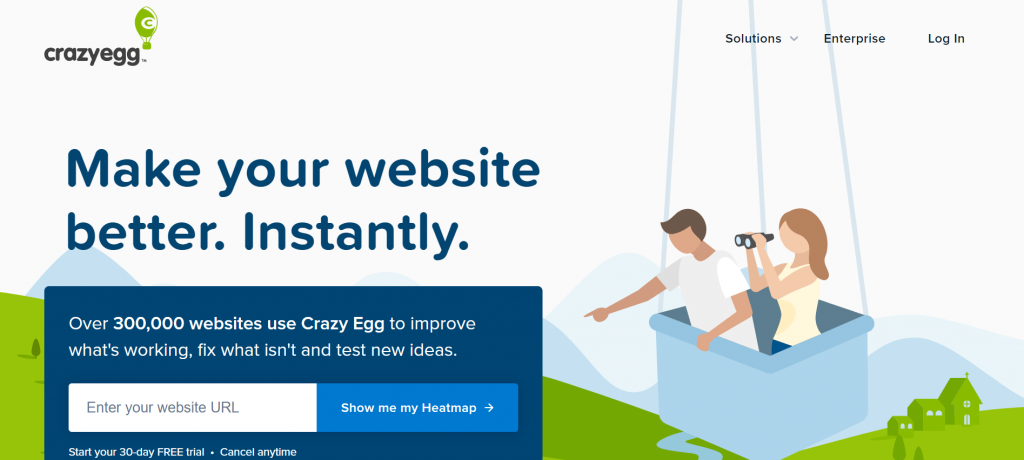 Want to keep track of your website's performance and find which areas you need to improve on? What about conversion or why visitors aren't converting? CrazyEgg gives you a glimpse of your site's performance and where visitors tend to click with heat maps.
Key Features:
UI/UX audits

Customer analysis

A/B testing
Pricing:
The basic plan costs $24 per month, while the Standard and Plus plans cost $49 and $99 per month, respectively. All plans come with a 30-day free trial.
---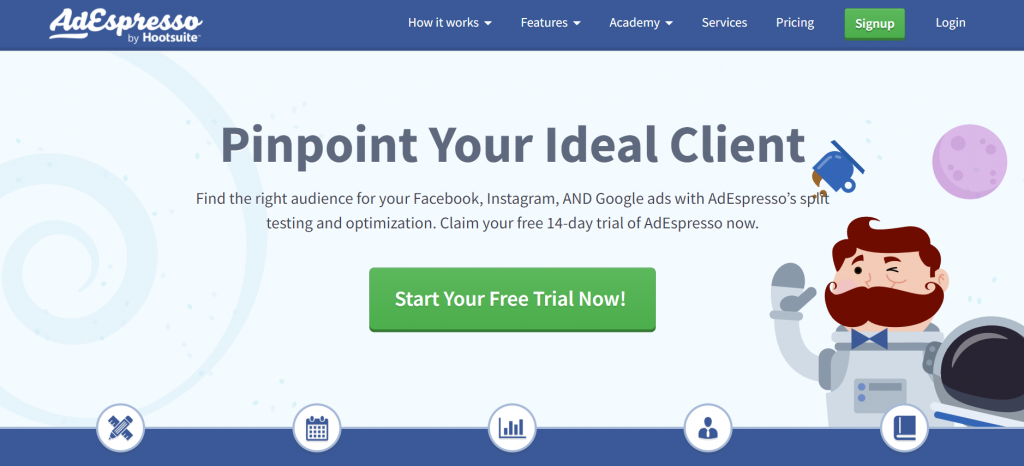 AdEspresso by Hootsuite lets you find the right audience for your ads through split testing and optimization. With it, you can create Facebook, Instagram, and Google Ads campaigns, manage your advertising channels efficiently, and collaborate with your clients.
Key Features:
Lets you control timing and placement of your ads

Quick setup

Split tests

AdEspresso University for improving your marketing skills
Pricing:
AdEspresso's Starter plan goes for $49 per month when billed annually and has an ad spend limit of $1,000 per month.
---
Ecommerce Marketing Trends That Will Shape 2022
Now that you know the tools and platforms you can use to enhance your eCommerce strategy, here are some of the marketing trends that you should take note of and look into adopting.
Social media platforms will be used to drive more sales
Social media platforms now have shopping tools that online sellers can use to list their products and services. This will allow consumers to purchase items without having to exit the app or visit a third-party site.
Visual commerce will be leveraged by more brands
The way that brands and businesses use visual media will be elevated. Instead of the usual product photos, brands will begin incorporating and utilizing different types of media like videos, user-generated content, and even augmented reality.
These types of media will further enhance consumers' shopping experiences and make an online store far more appealing. Additionally, it will liken the virtual shopping experience to an in-person one.
There will be an increase in personalized marketing strategies
Nowadays, customers are looking for a more personalized shopping experience, as this makes them feel that a brand cares about their wants and needs. By incorporating personalization into its strategies, a brand also makes it easier for customers to find things that they might want to purchase.
80% of consumers are more likely to purchase from a brand with a strong personalization strategy. Because of its effectiveness, roughly 90% of marketers are already using this tactic for retail businesses.
To create personalized marketing strategies, consider using a platform that enables you to monitor consumer purchasing behavior. Additionally, do deep research on your target audience to get a better grasp of what they look for in a product or service. This will help you understand your customers more, allowing you to create better personalized content.