One of the major online shopping trends that's expected to have a significant impact in 2022 and the years to come is the need for more payment options. By offering extra payment options for your customers, you just make it easier for them to pay for their purchases. After all, isn't that your goal to get people to buy your products?
Website traffic is great. Leads are also very helpful. Though, if you don't explore ways to convert these into paying customers, there's not much use to continue running your eCommerce website.
Providing various payment options is also one of the most effective ways to deal with shopping cart abandonment problems. Plus, by offering "newer" payment options like Klarna, you can also cater to a bigger audience that includes millennial and Gen Z consumers. As a matter of fact, more than a third of Gen Zers in the United States have used buy now pay later (BNPL) in the 2021.
In this article, we take a quick look at 18 of the biggest eCommerce websites that are currently offering Klarna as a payment option. Whether you need inspiration for your own website design or you're simply searching for places where you can shop and pay for your goods using flexible terms, continue reading.
Build a list of eCommerce & D2C companies based on attributes made possible for the first time with Commercepedia
---
18 of the Biggest eCommerce Websites Using Klarna:
---
How Does Klarna Work?
First things first, Klarna is a payment option that allows customers to buy now and pay for their purchase later. When using this option, the purchase will be split into four interest-free payments. If you don't want to use the pay-in-4 program where you pay four installments, you can also use it for direct payments or to pay after delivery. Not only does it offer great flexibility, but their instant approval process also doesn't impact your credit score.
As mentioned, though, not all retailers offer Klarna (there are about 250,000 merchants that offer it). It's also not available to all parts of the world.
That said, it's very popular. More than 90 million active customers use Klara, of which 15 million are based in the United States. What's more, according to their website, two million transactions get completed per day. So, you can rest assured that this payment option is reliable.
---
18 eCommerce Websites That Use Klarna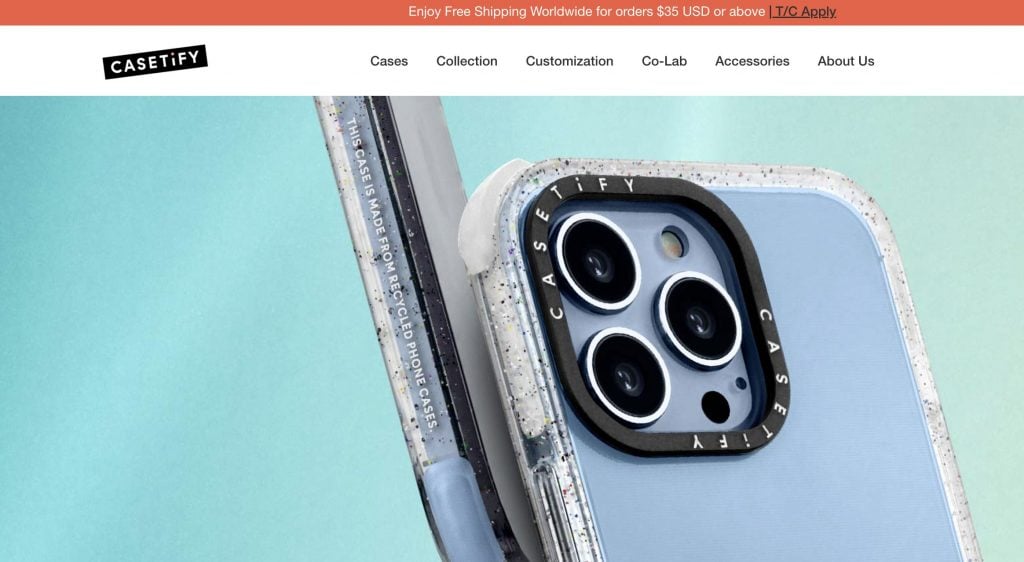 Casetify started as a straightforward concept. They wanted to allow users to turn their Instagram photos into custom phone cases. Fast-forward seven years and they've undergone a rebrand that includes a brand new logo and packaging. After all, if you're all about promoting self-expression, you have to ensure that you set an example.
According to their website, they're the fastest growing international tech accessories brand and reach one in seven millennials. They've not only caught the attention of millennials but also a number of big names. For example, they've collaborated with the likes of Sarah Jessica Parker and partnered with brands like Amazon and Nordstrom.
In addition to accepting all the major debit and credit cards for payment methods, they also accept Klarna for users from the United States, Germany, or the United Kingdom. Though, gift cards can't be bought by means of Klarna.
---
Based in California. Fitbit has basically reached the status of household name. According to info shared by Statista, over a span of six years, the company managed to increase their revenue from $5 million to over $2 billion. Though, they've experienced a period of decline and in 2020, their revenue declined to slightly more than $1 billion.
That said, just like their most loyal users, there are no plans of slowing down and definitely not stopping. The most recent stats available online show that more than 31 million people use their Fitbit device at least once a week.
Payment methods differ from one country to the next. So, depending on your location, you might be able to use online payment services like Klarna and PayPal. For more assistance with payments, you'll have to reach out to their customer support.
---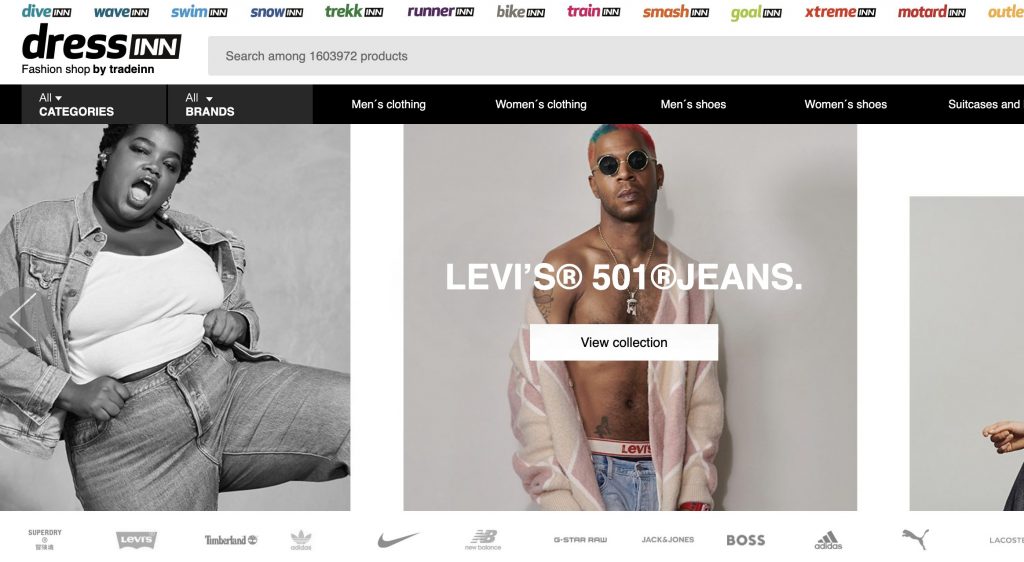 In short, Dressinn is an online store of clothing and shoes. From summer dresses to sandals, they offer a huge selection including well-known global brands like Hugo Boss and Lacoste. One of its attractions is that it offers exclusive and flash offers and outlet sales. And, if money is an issue, it includes Klarna in its main payment methods. After all, if there's a deal of a lifetime, opting for an instalment plan might not be such a bad idea.
Plus, when shopping on dressINN you don't have to worry about the security of your payments. All of their payment methods offered are assured by Adyen.
---
Ralph Lauren needs no real introduction. What started out as a company that sold neckties in the 1960s turned into one of the biggest fashion brands. Fast-forward a few decades later and the company now also concentrates on design and distribution of high-end lifestyle products.
They're also keeping up with the times and have used TikTok very successfully in their marketing campaigns. They've partnered with influencer Diana Silver to create TikTok engagement videos that tied in with the US Open Tennis Championship. Plus, by using the hashtag #USOpen, which attracted millions of views, Ralph Lauren could tap into two audiences: users searching for content about the grand slam and Silver's followers. Then, they added their own custom, branded hashtag #WinningRL to create their own off-court challenge.
Not only are they ensuring that they're keeping up to speed with the latest marketing trends, but they also ensure that they embrace the tech. Customers in the United States qualify to split eligible purchases that are less than $4,000 into four interest-free payments at checkout with the help of Klarna. When the order gets shipped, customers will be charged for only the first installment. The three remaining installments will automatically get charged to their debit or credit card bi-weekly. Gift cards, though, can't be bought with Klarna.
---
Under Armour is an American manufacturer of sporting goods that includes athletic apparel, casual clothing, and footwear. According to their website, the vision of Under Armour is to inspire their customers with performance solutions that they didn't know they even needed and won't be able to live without any more. Steve Jobs famously said something similar, when he commented that their job was to identify what the customers are going to want before they do. Considering that in 2021 Apple was ranked as the most valuable tech brand across the world, Under Armour might be onto something.
Looking at some statistics, it's clear that their own performance is quite impressive. Even though it was younger than other brands in its niche, it already generated the fourth highest sales of footwear, athletic apparel, and accessories across the world.
While you might be breaking a sweat with Under Armour, it won't be because of payment worries. Thanks to its partnership with Klarna, customers can split their purchases into four smaller payments.
---
Founded in the 1940s as just a single retail store, JOANN has grown to become one of the top fabric and craft specialty retailers in the United States. From fabric to frames, it offers a huge selection of products. Most recently, they've also added a new store in Myrtle Beach.
While they boast over 800 physical stores, their online presence is just as impressive. According to data shared by PipeCandy, their estimated web sales for the last 12 months amount to between $100 million to $250 million. With regards to website traffic, they attract nearly one million unique visitors per month. Based on their business models, features, and tech investments, PipeCandy has given them a proprietary competitiveness score of 86/100.
For shopping carts with a total of between $10 and $1,500, Klarna is available as a payment option. Alternatively, you can pay for your order with PayPal or credit/debit card.
---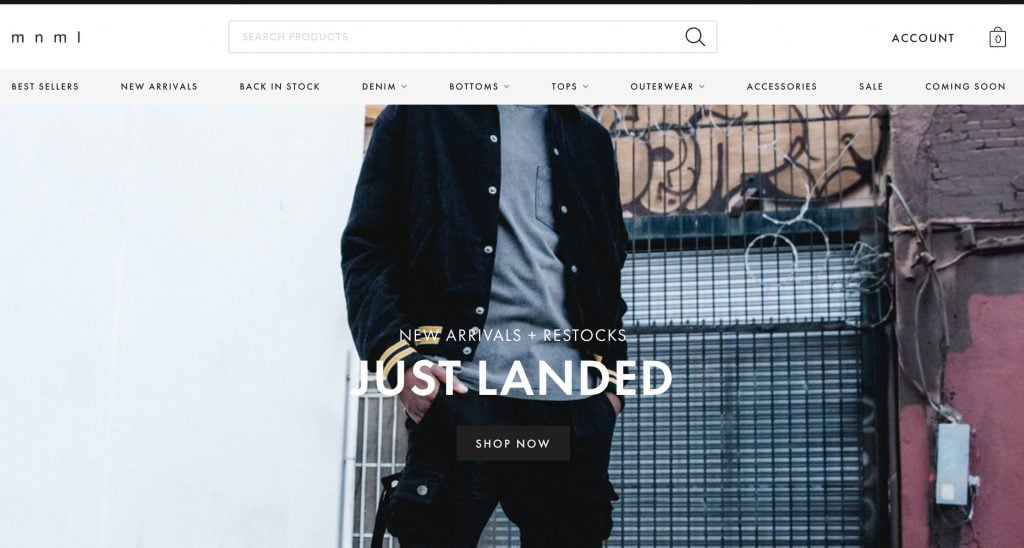 According to their website, mnml is all about simplicity. This is already evident as soon as you land on their homepage. The website design has ample white space, the typography is clean, and the black-and-white color scheme a classic.
From their studio based in downtown LA, they play around with fabrics. It's especially their range of denim products that's a favorite among its audience. Other items that you'll find in their catalog include cargos, sweatpants, chinos, and tanks.
---
Founded in the 1940s in New York, Coach is one of the leading international fashion houses. What was once a family-run leather goods company has grown to become a website that attracts more than 10 million visits per month. What's more, according to PipeCandy their web sales for the past 12 months are estimated at between $500 and $1 billion. Plus, thanks to the fact that they accept Klarna as one of their payment methods, it's not difficult to make a purchase online (even if you don't have the cash immediately).
Not only do they ensure that they stay up to date with payment options, but their marketing campaigns also include well-known celebs. For example, their newly released spring 2022 collection will feature the likes of Jennifer Lopez and Megan Thee Stallion.
---
If you thought that brands like Coach Outlet and JOANN were old, check this out – Columbia has been creating innovative outdoor gear and tech since 1938. Based in Portland, they're one of the most recognizable outdoor brands. Initially, it was named the Columbia Hat Company, but has since expanded it's collection to include shoes, jackets, accessories, you name it.
Needless to say, since 1938, payment options have evolved tremendously. Just like Columbia has expanded its clothing range, its payment options also include Klarna. Not only do they want to make it easier for their customers to pay for their goods, but they've also helped athletes financially. In 2021, they announced a multi-year sponsorship with USA Curling. This way they can promote their innovative product lines and performance tech while at the same time giving back to the community. Ultimately, consumers don't only care about their own convenience when shopping online, there's a growing expectation that brands need to do more, become more sustainable, and give back. So, it's a great example of how they're appealing to Gen Z shoppers as well by changing their corporate responsibility.
---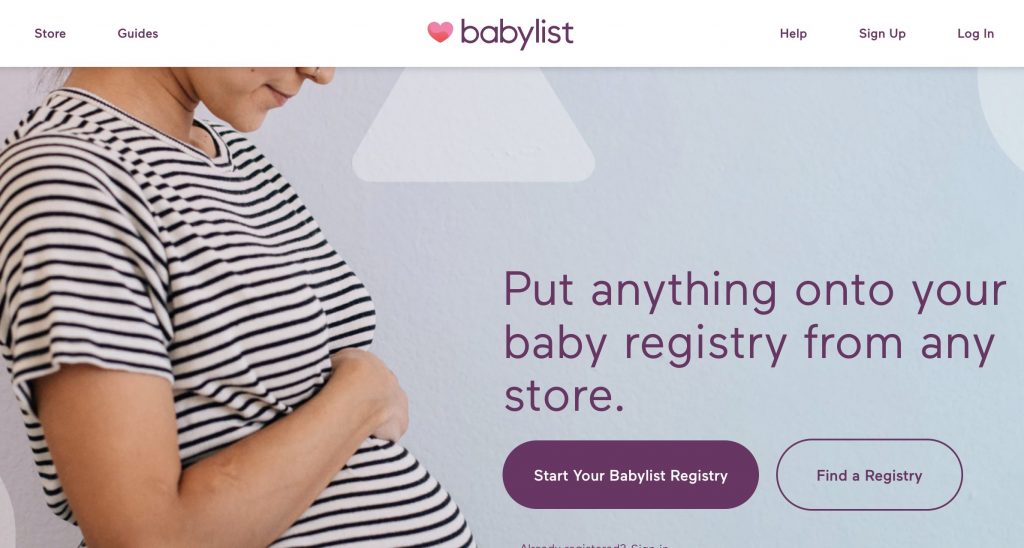 The goal of Babylist is to create parent-friendly baby registries. In short, it allows parents to add anything to their baby registry from any store (including unique gifts from indie shops). What's more, it doesn't have to be limited just to products. You can also request cash funds or add services and other favors, like walking your dog, that you'll need help with.
According to their website, 50% of first-time parents create a Babylist registry. So, while the "end user" might be tiny, the market is huge.
Then, in addition to the baby registry, they also have its store. According to PipeCandy, their web sales for the last 12 months added up to between $100 million to more than double that. From clothing to carriers to car seats, here you can find some of the best bay gear and pay with Klarna.
---
Backcountry.com is another top eCommerce store in the outdoor gear niche that includes Klarna in its payment options. Founded in 1996, their employees are some of the most experienced and educated in the industry.
With regards to their outdoor gear and clothing selection, they offer a huge variety that include kids clothing too. PipeCandy estimates that their web sales amounted to between $500 million and $1 billion for the last 12 months. Equally impressive is that their eCommerce site attracts nearly 2 million unique visitors per month on average.
---
CORSAIR is one of the top international developers and manufacturers for high-performance tech and gear for gamers and PC fans. In addition to its gaming gear, PC components, and streaming gear, they also sell premium studio equipment and accessories for content creators.
Considering that products in this niche don't come cheap, potential customers will be glad to know that they too include Klarna in their payment options. It's also not the only way that remove barriers. One of their core missions is to empower people (and not just by providing state-of-the-art gear), they also work with a number of nonprofit organizations and help to fund social justice programs.
---
The first Jimmy Jazz store was opened to help meet the demand for popular menswear in New York. Fast-forward 25 years and there are more than 170 stores across the US. They've also expanded their focus to include fashion for women and kids.
If you prefer to shop online, they also include the latest in-demand brands on their eCommerce site. In fact, their eCommerce shop design makes them one of the best Shopify stores that you can check out for inspiration. All in all the web design is simple, while the brightly colored product photos immediately capture the attention. What's more, the site gets updated each day and to make the whole shopping experience even more convenient, they also include Klarna in its payment methods.
---
Unlike some of the other eCommerce stores on our list in the clothing niche, Hot Topic offers a more unique selling proposition – music-inspired accessories. Founded in the late 80s, they expanded their product range to include items linked to underground cartoons, cult movies, and comic books. Fast-forward more than 30 years and they have over 600 brick-and-mortar stores that sell band-related accessories, fashion apparel, and licensed merch.
Alternatively, you can simply shop online. Not only can you pay with Klarna for extra convenience, but you can also pick up your items free in store. Other "newer" payment methods include Apple Pay and Venmo.
---
For over a decade, Costway has offered premium home goods at an affordable price. They've also branched out to eBay and Amazon and partnered with Walmart and Macy's.
Then, in 2015, it also expanded to the digital space and opened an online store. Unlike most other eCommerce stores, they offer free delivery for all items and no minimum spend is required.
According to their website, they serve 10 million customers per month. In February 2022, they updated their catalog by adding new, high-utility household products in response to the needs of their target audience. Jerry XIa, the general manager of the brand, explained that they want to become a one-stop online destination for all types of household products. They specifically want to focus more on fitness, furniture, and kitchen supplies in the coming year.
Not only do they offer free shipping on everything, but they also offer numerous discounts. In addition to Klarna, they also include Deo in their payment options.
---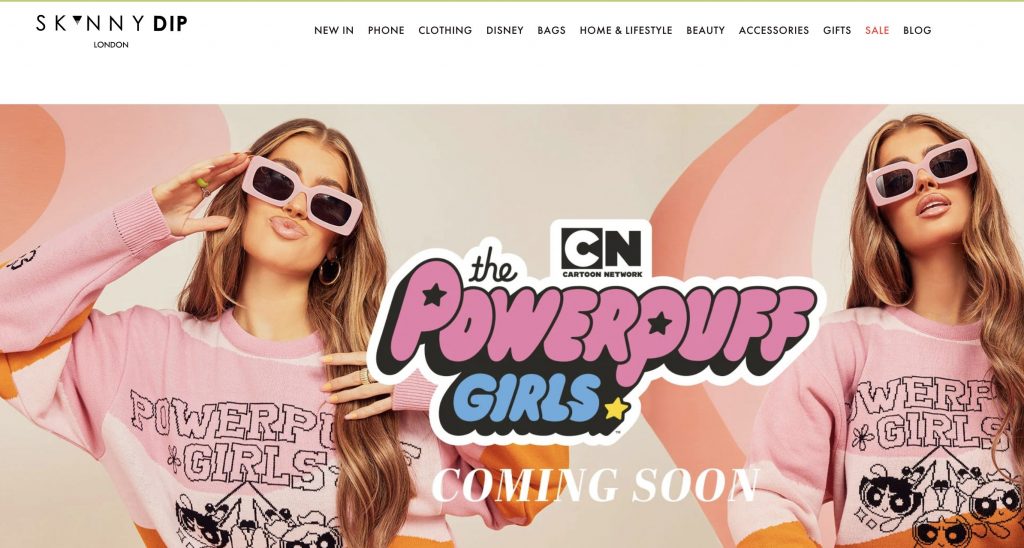 Skinnydip London has basically been around as long as the Apple iPhone. In fact, in their case, the arrival of the iPhone was a blessing in disguise. They initially focused on phone case designs, but then when the iPhone entered onto the scene, they came to realize that phone case designs were actually very limited. So, they've changed direction and now they're selling a wide range of quirky lifestyle products, clothing, and accessories. They've also partnered with a number of well-known names like Disney and The Simpsons.
Compared to many of the other eCommerce websites mentioned on our list, Skinnydip offers even more payment options. In addition to Klarna, they also include Amazon Payments and Apple Pay.
---
Founded in 2012, VICI's goal is to make on-trend styles available and affordable for all women. After all, one of the best ways to uplift women and give them a confidence boost is through fashion.
Not only are their clothing items affordable, but also easy to mix and match. As they believe that money shouldn't be an obstacle to feeling and looking good, they also include Klarna as a payment method. Though, electronic gift cards, international orders, preorders and orders that are for less than $35 or more than $1,000 don't qualify for Klarna.
---
If the name sounds familiar that's because they're affiliated with Dressinn. Their website is home to more than 110,000 items that you can take on your next trail run or hiking trail and their huge range of trekking products include well-known brands like Salomon, Garmin, and Columbia (which we also mentioned earlier).
If pricing is one of your concerns, be sure to check out their online store. Not only do they offer Klarna as a payment option, but they also include a lowest price guarantee. Plus, their daily deals and flash sales mean that you can get your hiking gear at a very good price.