Advertising Disclosure
Advertising disclosure:
Our partners compensate us. This may influence which products or services we review (also where and how those products appear on the site), this in no way affects our recommendations or the advice we offer. Our reviews are based on years of experience and countless hours of research. Our partners cannot pay us to guarantee favorable reviews of their products or services.
One of the advantages of using a specialist eCommerce platform over a bespoke website is that they generally include eCommerce website builders. You don't have to be an expert in HTML, JSS, JavaScript, and other coding languages to build your online shop.
The different eCommerce website builders do vary in terms of complexity, however. Some make it as simple as possible to create an online store at the cost of flexibility, custom design, and uniqueness. Others give you many options and advanced features, but they can be daunting for beginners and inexperienced eCommerce operators.
Each of the eCommerce website builders we cover in this post has features that make them the most suitable for particular types of online shops. Therefore, it makes sense to look at your specific needs and select the website builder that best suits your technical skills, experience, budget, and store type you wish to build.
---
Best eCommerce Website Builders:
---
Top
ecommerce website builders
2024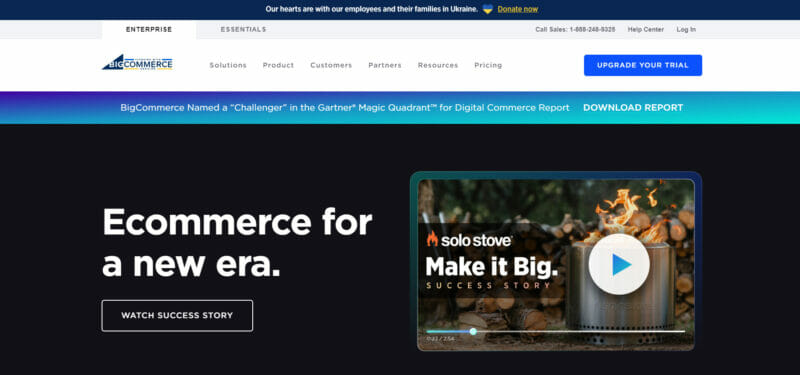 BigCommerce powers some of the best-looking and top-earning stores on the internet. These include Fitbit, Skullcandy, Nikon, Gillette, Ivory, Ben & Jerry's, and Toyota.
BigCommerce comes in two forms: BigCommerce Essentials and BigCommerce Enterprise (a more customized experience for larger customers). BigCommerce Essentials, in turn, comes in three plans. Prices are similar to Shopify's. The plans do have revenue caps, and BigCommerce charges you if you exceed them, so bigger shops obviously need to use the higher-level plans.
BigCommerce provides a straightforward step-by-step process for building your eCommerce website. It shows you where you need to start and what you need to complete. You begin by adding your products and only create your website after that. BigCommerce provides a sidebar navigation menu, each item on it linking to the appropriate section. It includes clear instructions about what information is needed and links to help files related to what you're filling out. BigCommerce even shows you precisely what third-party apps will help you expand your functionality.
---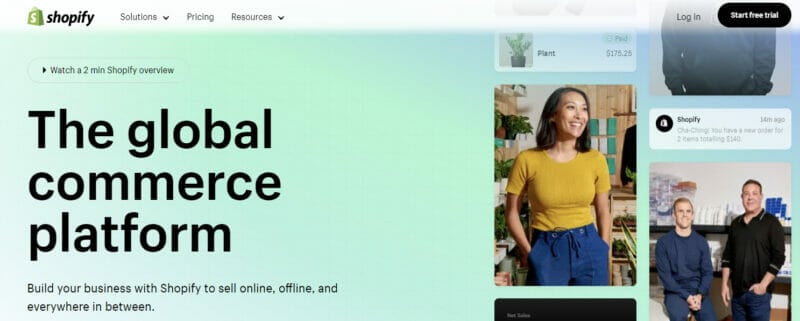 Shopify has become one of the most popular eCommerce platforms, currently powering more than 1.2 million online stores, because it makes it relatively easy to build a customized eCommerce store that stands out from the crowd, with a wide range of features.
It includes a detailed built-in CMS where you can easily build a database of all the types of stock you wish to sell. The CMS adds links to help your data entry and to cross-reference items across your site. You enter collections of similar products that link across your site.
One of Shopify's greatest advantages is its ability to work with more than 3,500 add-on apps, adding additional features to its core. While these can add to your overall cost, it does mean that small businesses don't have to pay for features they will never use.
The core Shopify includes nine free themes and offers a further 64 premium themes in the Shopify Theme Store. However, there are over 1,100 themes on third-party markets, all of which are customizable. You should never have to worry about your Shopify site looking too much like a standard template or resembling the competition.
---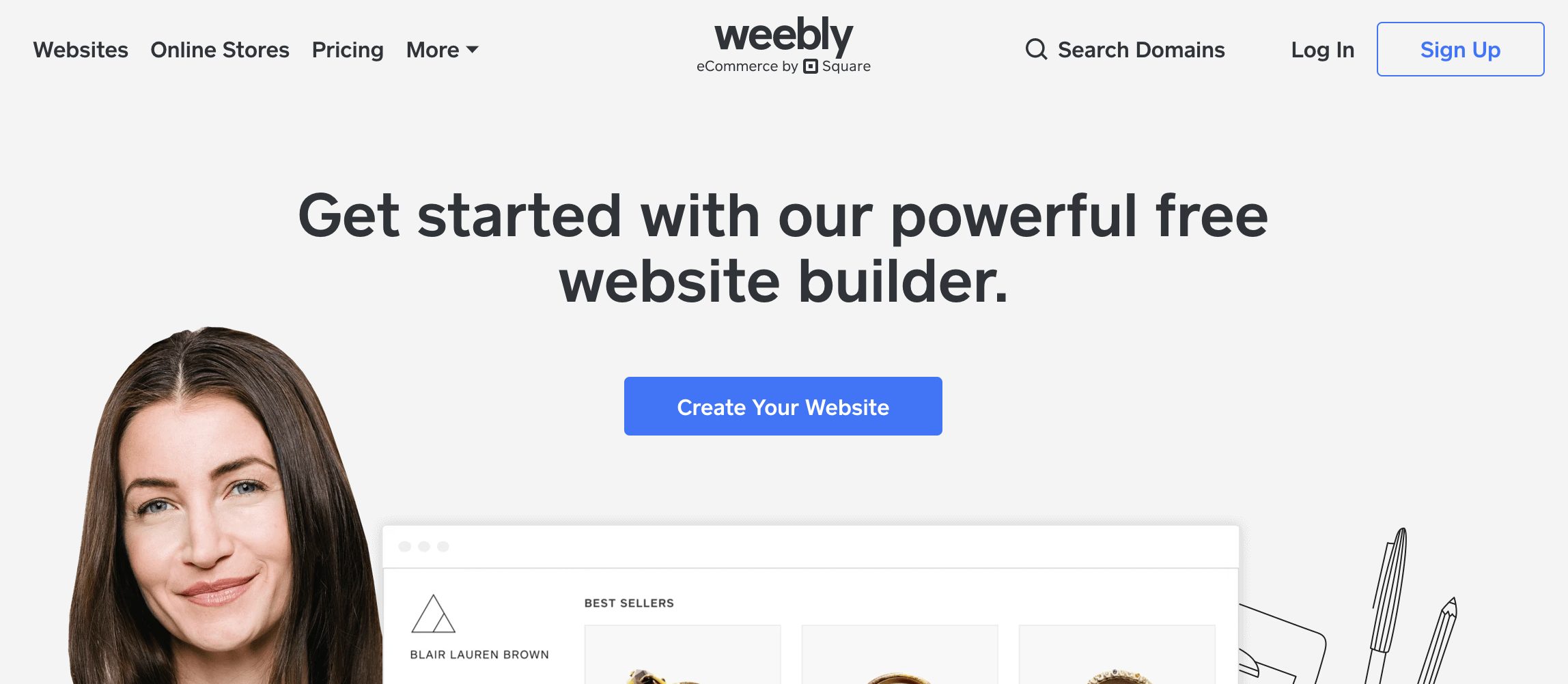 Weebly is ideal for small to medium-sized businesses. It even offers a usable free plan in addition to three levels of paid service. However, most serious companies will need at least the middle-level Professional plan to remove Weebly's ads from your eCommerce store.
Weebly is a drag-and-drop website builder, making it easy for non-coders to develop a site. Unlike Shopify and BigCommerce, Weebly doesn't solely build eCommerce sites – you can create any type of website using it. It does, however, offer all the essential features you need to make your online store.
Weebly lets you build standalone product pages for each of your products. You can include multiple images in a gallery for each of your products. It caters well for product variations, so you can sell different sizes or colors of the same product, for instance.
You can also build a Storefront page, where you can highlight specific products. Your shoppers can click on these to go to the relevant product pages.
Weebly includes a comprehensive toolset for online stores, although not as exhaustive as the specialist eCommerce platforms, Shopify and BigCommerce.
---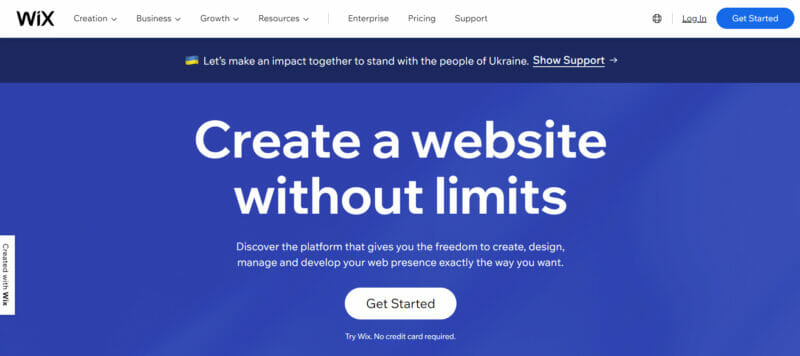 Wix is another drag-and-drop content management system that also includes eCommerce features. They have upgraded their eCommerce functionality over time, however, making significant improvements in 2020.
They offer eight pricing plans, four of which include eCommerce capabilities.
Wix takes a different approach to the initial setup of your site than most other eCommerce website builders. You begin by designing your site and only move into the eCommerce-specific parts (like entering inventory) later in the process. When you do enter your inventory, you will find it a simple and intuitive operation.
After you enter your inventory details, Wix guides you through the remaining steps, including setting up shipping parameters and payment methods. Wix's eCommerce offering has pretty much all the features you'd expect from a good quality platform.
Although Wix doesn't have an app marketplace, like Shopify, you can add more features through integrations with programs such as Avalara, Modalyst, KudoBuzz, and Smile.io.
---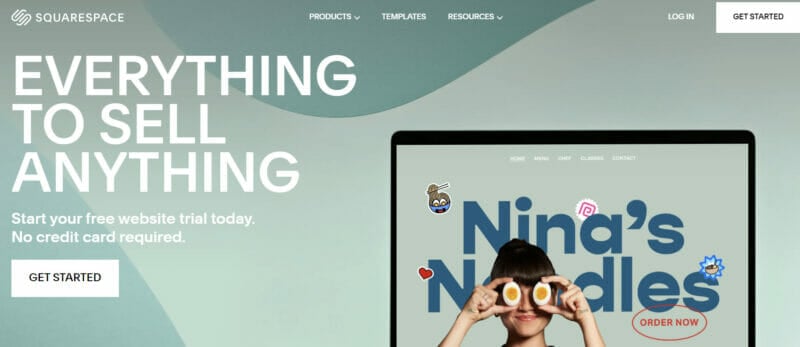 Squarespace Commerce is Squarespace's platform for online stores. It makes building an online store a five-step process:
Find an eCommerce template on Squarespace

Register or transfer your business's domain name

Set up your online store by adding products and connecting a payment processor

If you sell services, set up appointments through Squarespace scheduling

Customize your online store categories and content with the website builder

Grow your online store with email marketing and SEO
One of Squarespace's advantages is the quality of its design templates. All are designed to be customer-friendly, and you can set them up quickly using drag-and-drop. You can customize and personalize your website pages while at the same time giving all of your web pages a consistent look and feel. Each eCommerce template includes a Products page.
Unfortunately, Squarespace doesn't have an app store, so you are limited to its in-built features.
---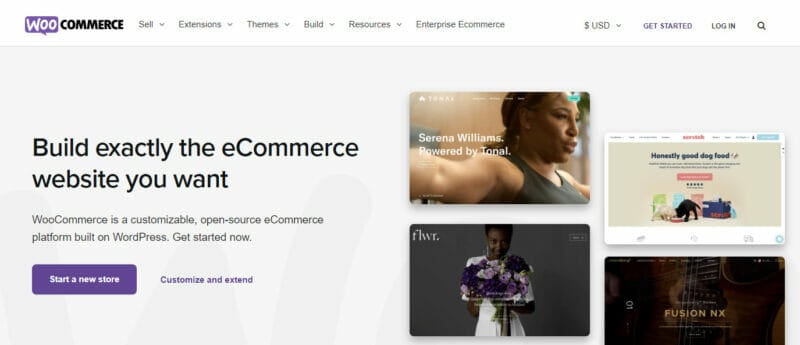 The most popular content management system is WordPress. However, the core WordPress installation doesn't include eCommerce features. If you want to create a WordPress eCommerce site, you're going to need to add a plugin such as WooCommerce, which is free, open-source software. You will have to pay for more advanced extensions, however. Also, you will typically have to pay separately for the hosting of your website, as with most WordPress sites.
With WooCommerce being a WordPress plugin, you will need to begin by creating your WordPress website. You will find numerous free or paid WordPress templates. Check that your theme is compatible with WooCommerce, however. You create pages and posts just like any other WordPress site.
You then install WooCommerce as a plugin. Adding products is relatively straightforward: you click the "Add New" button under WooCommerce's Product menu and fill in the details.
---

Square Online comes from Square, the payment processor. The company has also bought Weebly, and although both website builders are similar, they still function as separate products.
Square Online is easy to use. You can set up your eCommerce store using a general layout which you can adapt using your company's fonts and colors. The cost of this simplicity is that it is not as customizable as some of the other CMSs. You don't get a large selection of templates.
However, the design Square Online uses is suitable for eCommerce. The emphasis is firmly on your products rather than your store's layout and design.
You can easily add products to your store, including variations. It works particularly well when you use Square's POS and payments systems.
---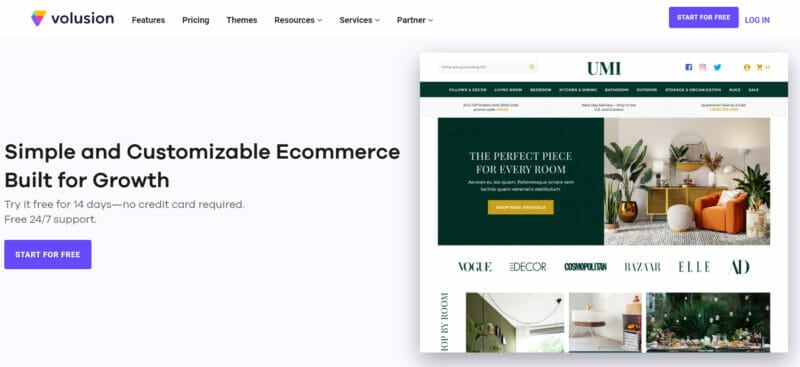 Volusion is one of the oldest eCommerce website builders, but it has recently updated to a new operating system, V2, to keep it up to date. It is more focused on data than web design, however. Creating a Volusion website is less intuitive than many of the other programs covered here. It does include 11 free and 30+ paid themes, however.
Volusion's eCommerce-specific features are generally very good, although you can't use them to sell digital products such as eBooks, courses, digital art, or music. You can include product videos, however, a feature that is unavailable on most other website builders.
You can manage your store from Volusion's mobile app, meaning you don't need to be stuck at your computer to check your inventory, update your prices or many other regular updates.
Volusion supports more than 1000 third-party apps, which you can add through Zapier.
---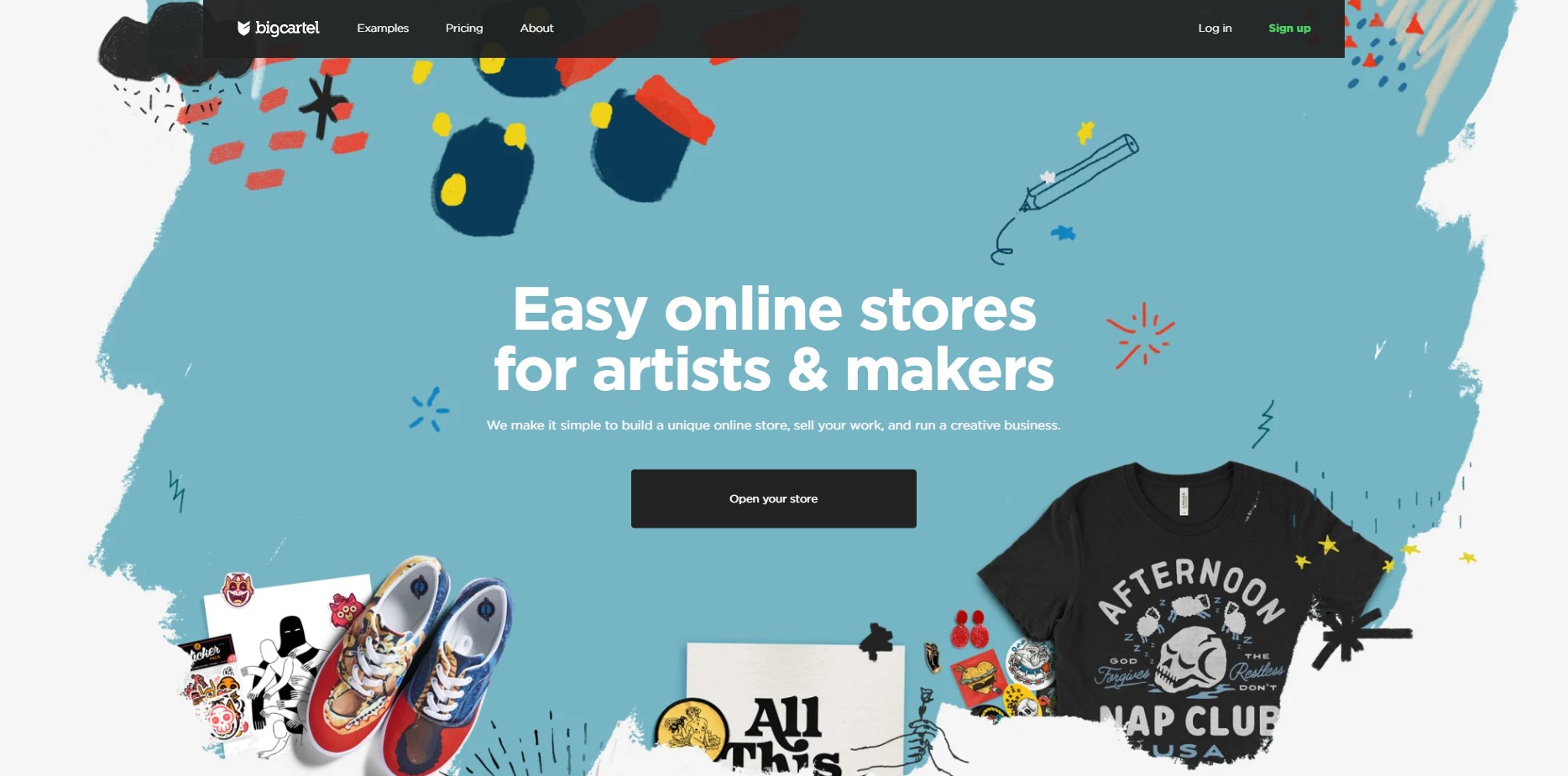 BigCartel is more straightforward than many of the other eCommerce website builders covered here, but could well be suitable for small businesses or people wanting to sell a few items. You can use it to make an online store for free.
Its free plan will appeal to those on a budget. Although it has a user-friendly interface, you will need to code if you want to make the most of its features.
It guides you through the onboarding process with helpful prompts, reminders, and tips. You can select a template, though they are basic and allow limited customization. To make much change to the templates, you need to code.
You can expand BigCartel's eCommerce capabilities by adding third-party apps. You will need to use these for selling digital products, creating promotional pop-ups, making dropshipping available, and more.
BigCartel offers four pricing plans, ranging from free to $19.99/mo. The three paid plans vary by the number of products you can sell, but the maximum number is 300 products on the Titanium Plan. With the free plan, you can only sell five products.
---

Shift4Shop was formerly called 3DCart. You can build your site with their website builder, choosing from dozens of professionally designed, industry-specific templates. You can then customize your site using their intuitive web design tool or edit the HTML and CSS directly. It currently includes 100+ free themes.
Shift4Shop offers an unlimited plan for free to US users of its payment processing. This allows you to set up a shop with unlimited products, unlimited staff users, unlimited bandwidth, no revenue caps, and an integrated blog. Other users can select from three plans from $29/mo. to $229/mo. Shift4Shop Enterprise also offers a custom eCommerce platform for high-volume online stores.
---
Frequently Asked Questions
What website builder makes the best website for ecommerce businesses?
One of the advantages of using a specialist eCommerce platform over a normal website builder is that you can build a great website for ecommerce businesses. You don't have to be an expert in HTML, JSS, JavaScript, and other coding languages to build your online shop. The best ecommerce website builders for your business include Shopify, BigCommerce, Weebly, Wix, Squarespace, WooCommerce on WordPress, Square Online, Volusion, BigCartel, and Shift4Shop.
What does it cost to hire someone to build a website for your ecommerce business?
Hiring someone to build a website for your ecommerce business can be pricey, depending on the website developer. eCommerce website developers can range in price, depending on the level of expertise and the extent of the work you need done. Expect to pay anywhere from $8,000 to $500,000 depending on the size of the work. It may even cost more, if you have a lengthy and extensive website.
The top American e-commerce platforms?
Here are the most popular and most visited American e-commerce platforms:
eBay
Amazon
Walmart
Etsy
Home Depot
Target
Best Buy
Wayfair
What website can you use to build an ecommerce website?
There are multiple platforms that can help you build your ecommerce website. The best ecommerce website builders for your business include Shopify, BigCommerce, Weebly, Wix, Squarespace, WooCommerce on WordPress, Square Online, Volusion, BigCartel, and Shift4Shop. Certain platforms, like Shopify, will get you up-and-running really quickly.
What is the cheapest ecommerce website builder?
When it comes to eCommerce website builders, price matters. You don't want to spend too much money on your website builder. Shopify offers a good balance of quality and performance with multiple free themes. Wix offers free websites, though you need to update for certain features. Weebly and Squarespace offer affordable plans as well.