The Google URL Shortener went the way of Google+ in March 2019, leaving internet users everywhere searching for another option. Fortunately, there seems to be no shortage of URL shorteners out there to choose from. But which are the best URL shorteners? And does it really even matter which one you use? In this article, we'll share why URL shorteners matter and close with a list of the 20 best URL shorteners available to fill the void left by Google.
---
20 Best URL Shorteners to Boost Brand Awareness and ROI:
---
What Is a URL Shortener?
A URL shortener, at its core, takes long links and turns them into shorter, easier to manage links. Some of the best URL shorteners offer other benefits too, like custom URLs, UTM parameters, link tracking, and analytics.
---
Why Do You Need a URL Shortener?
The right URL can have an enormous impact on SEO strategy, but that's not the only reason to use URL shorteners. Shorter URLs are also more likely to inspire confidence in your audience, increase your clicks, and get more eyes on your important content. Let's take a closer look at the five big ways you and your brand can benefit from a URL shortener.
Long Links Look Spammy
We've all come across long links that look like a bunch of random letters and numbers with no indication of where the link will take you if you click it. No matter what you do to it, a long link is just going to look spammy and untrustworthy. With a URL shortener, you can change that long, weird link into something that doesn't look like it's going to crash your computer when you click it.
Easily Track Your Links' Performance
Many of the best URL shorteners will provide a way for you to track that link's performance. This information can tell you who clicked your link, when, and where. You can fine-tune your reporting using UTM parameters to easily track where your traffic is coming from. If you want to get really fancy, you can use an analytics tool like Google Analytics to gain deeper insights.
You Can Brand Your Links
With a custom URL shortener, you'll be able to brand your links, increasing brand awareness. It's likely that you're going to have to pay more for a URL shortener that allows custom URLs but if you regularly create landing pages and custom URLs, why not spring for custom short URLs that keep your brand name out there.
Reduce Character Counts on Social Media
If you use social media as part of your marketing strategy, you know how important it is to keep your social media posts short and sweet. And you definitely don't want to use a lengthy URL that's going to make your social media posts look sloppy. Better to stick with a readable custom URL.
Short Links Are Easier to Remember
Finally, a custom short link is a lot easier to remember.
---
20 Best URL Shorteners
There are dozens of URL shorteners to choose from, even without Google's URL shortener. Here are 20 of best URL shorteners that will help you build customizable links that have analytics built right in.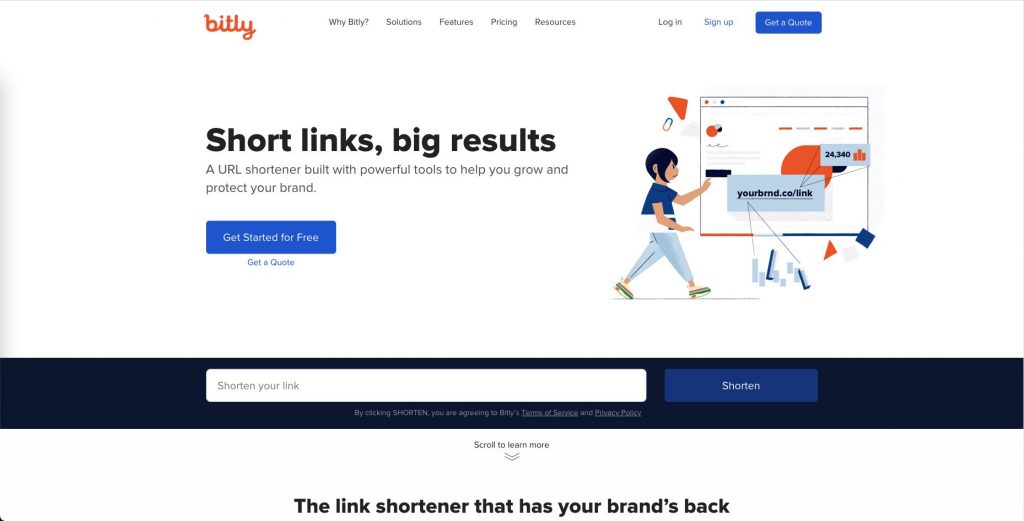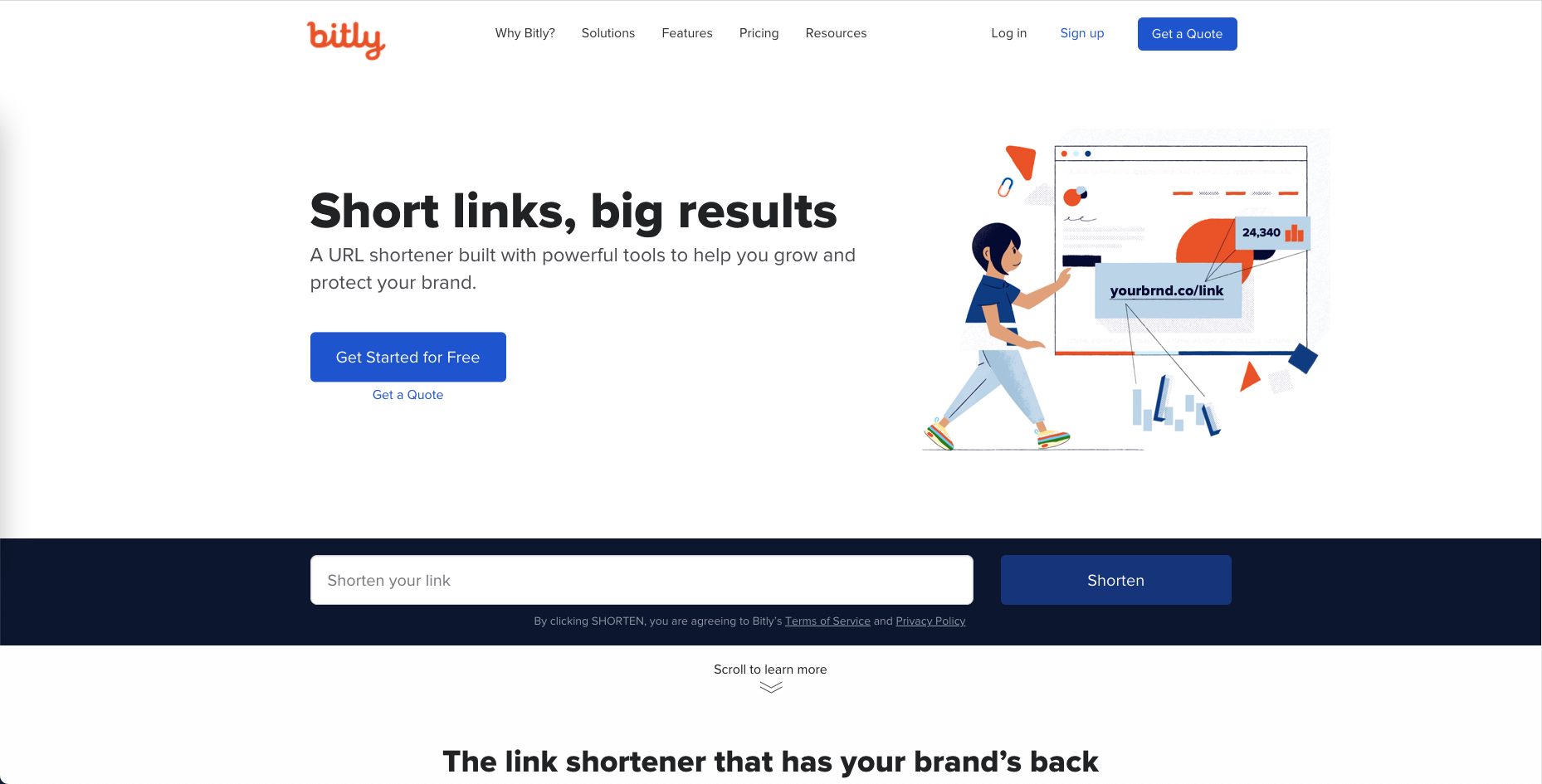 Bitly is one of the most popular URL shorteners around. It's a free service that lets users shorten links using the Bit.ly domain. If you want to use a custom domain name, you'll need to upgrade from a free to premium plan. Bitly's paid version includes link retargeting and can even provide analytics for your marketing campaign performance.
Pricing:
Free with limited features. Paid plans start at $29/month.
---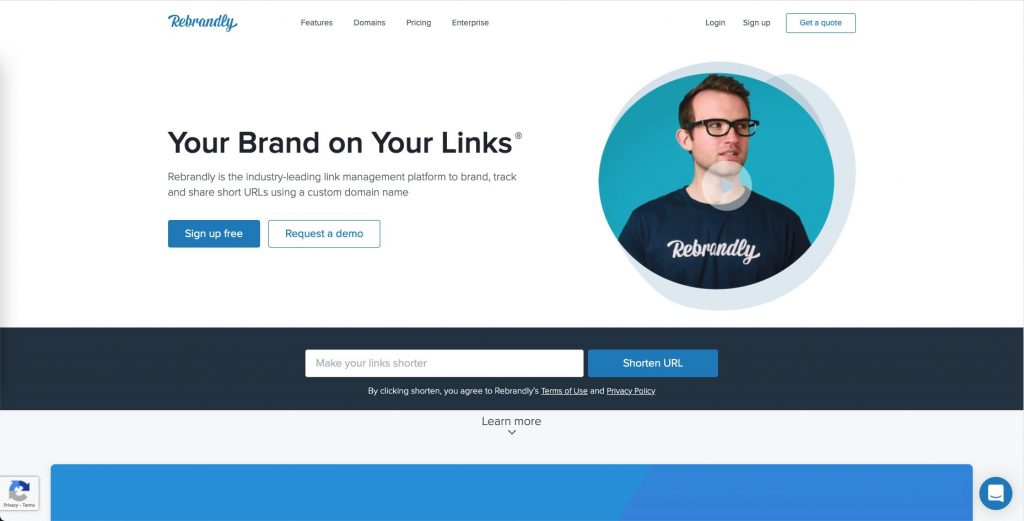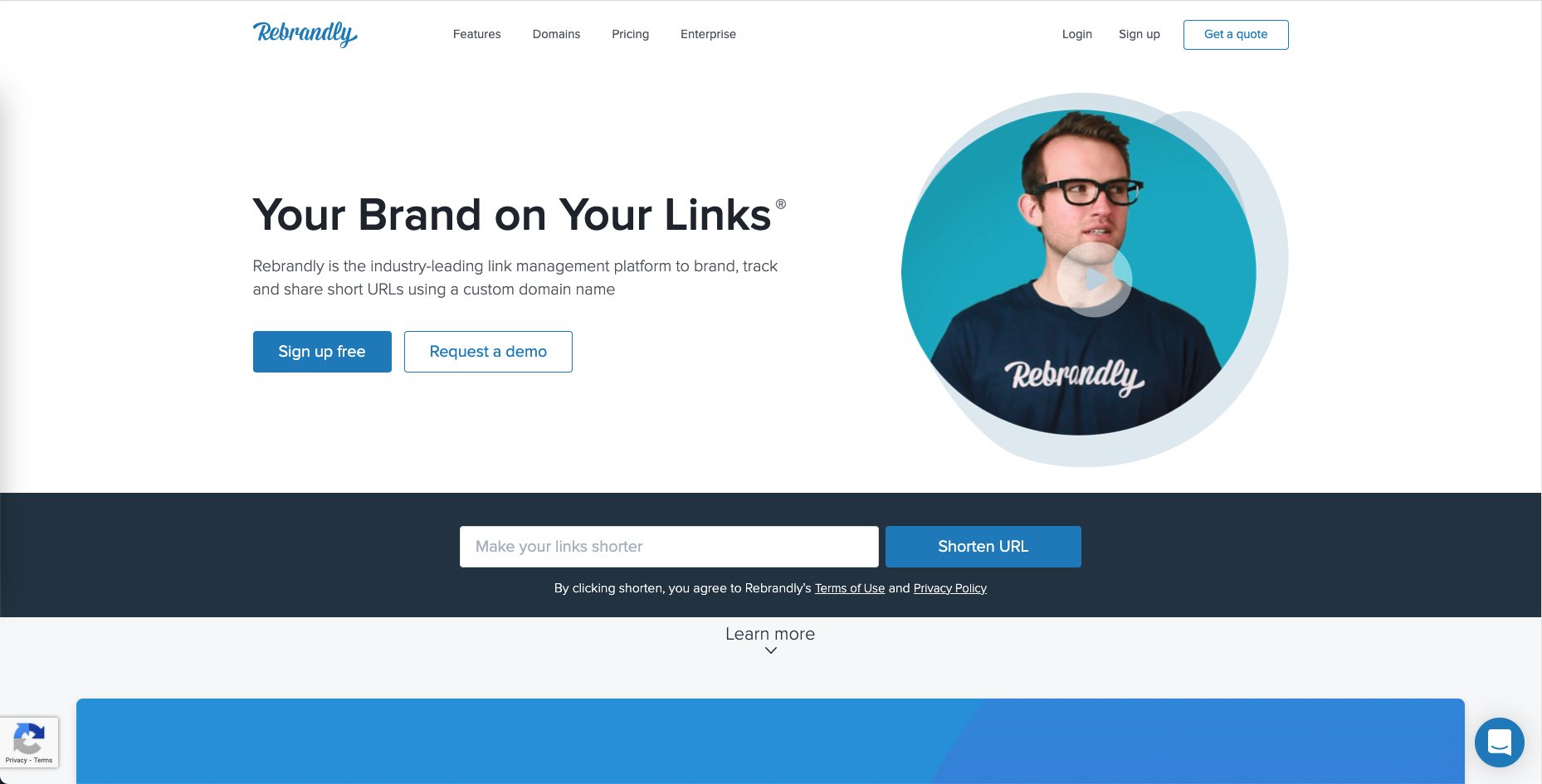 Rebrandly, as the name suggests, firmly believes in the power of branding. Fortunately, that also translates into their features. Their free plan provides up to five custom domains for brands to use. Rebrandly's features include tracking link popularity as well as automatic QR code generation.
Pricing:
Free plan available. Premium plans start at $29/month.
---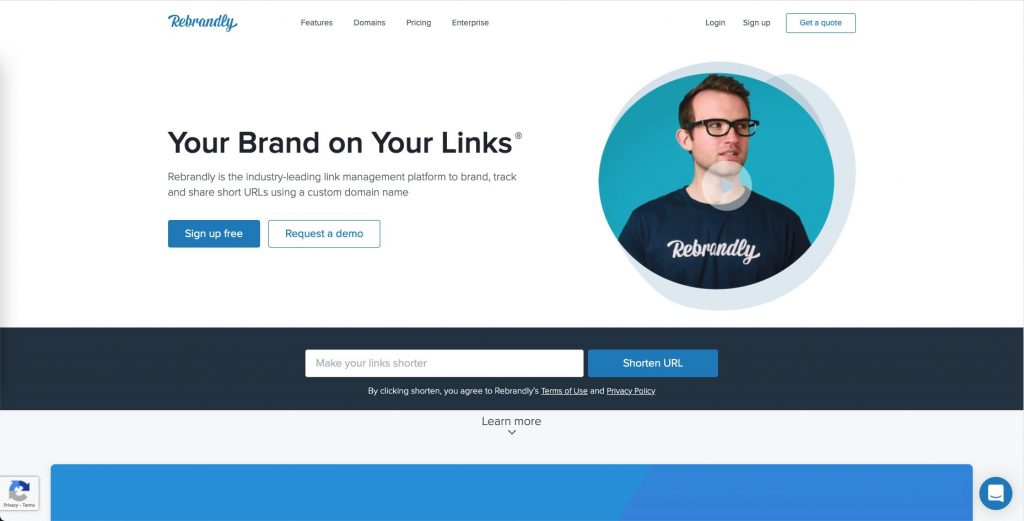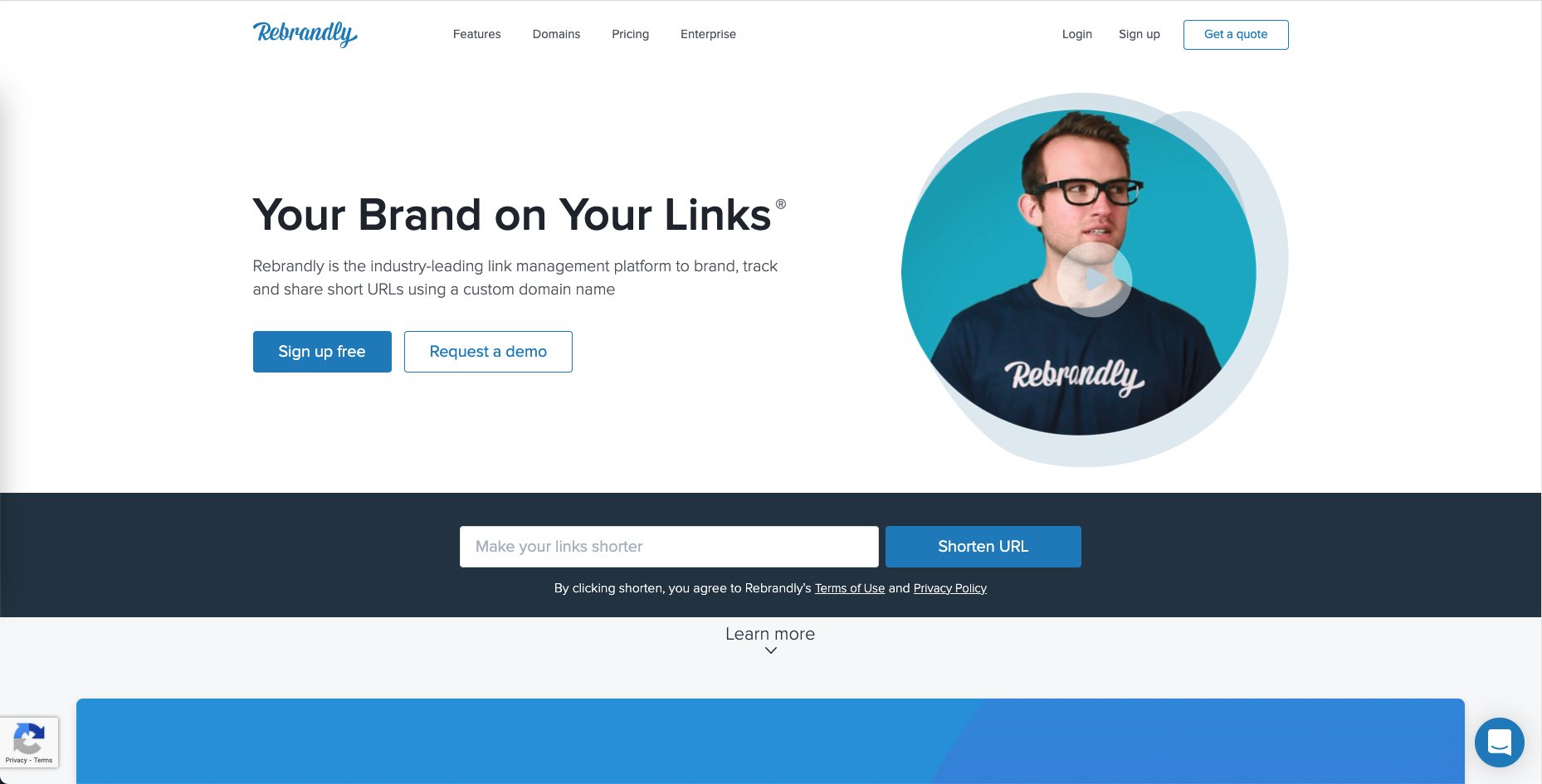 Owly is offered by Hootsuite and is integrated into the Hootsuite platform. The free version of Hootsuite gives you unlimited access to the Ow.ly link shortener so you can shorten links, measure traffic, and demonstrate social ROI right inside the Hootsuite dashboard.
Price:
This URL shortener is free with even the free version of Hootsuite. Paid plans start at $29/month.
---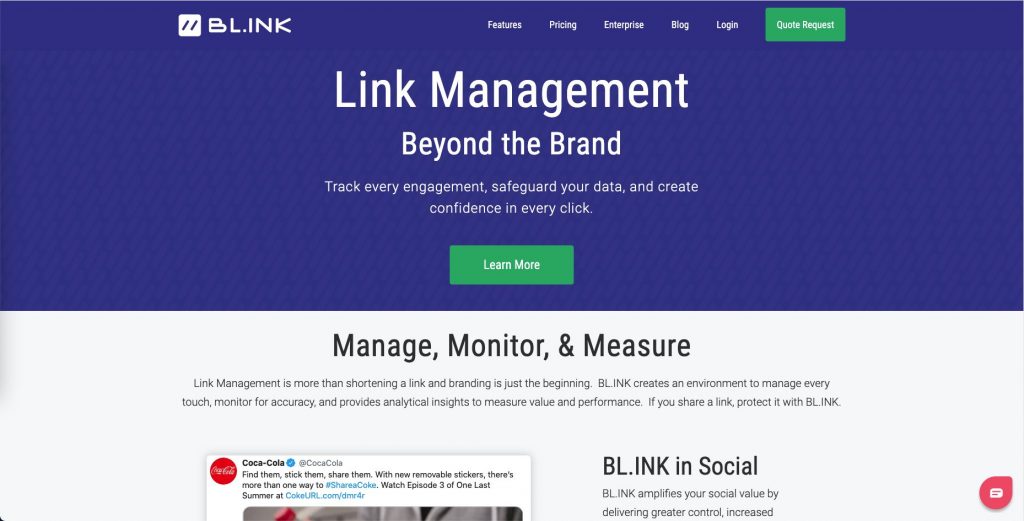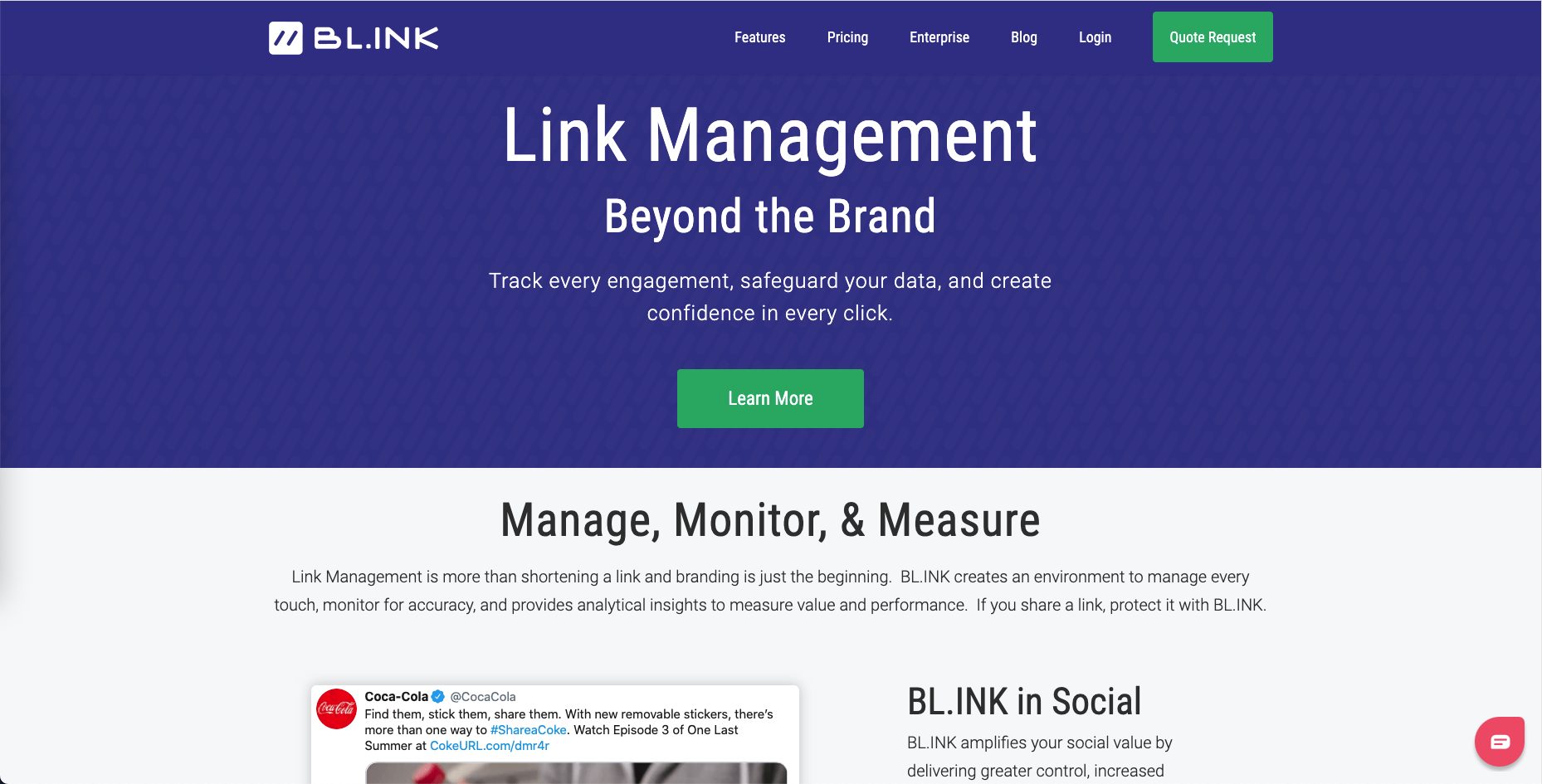 BL.INK is one of the more powerful URL shorteners available, offering smart branded links that let users create custom links with relevant keywords (great for SEO) instead of random characters. The platform also provides reports so you can track link clicks by date and time, language, device, referred, and location. You can also integrate with analytics tools like Google Analytics.
Pricing:
Plans start at $48/month. BL.INK offers a 21-day trial.
---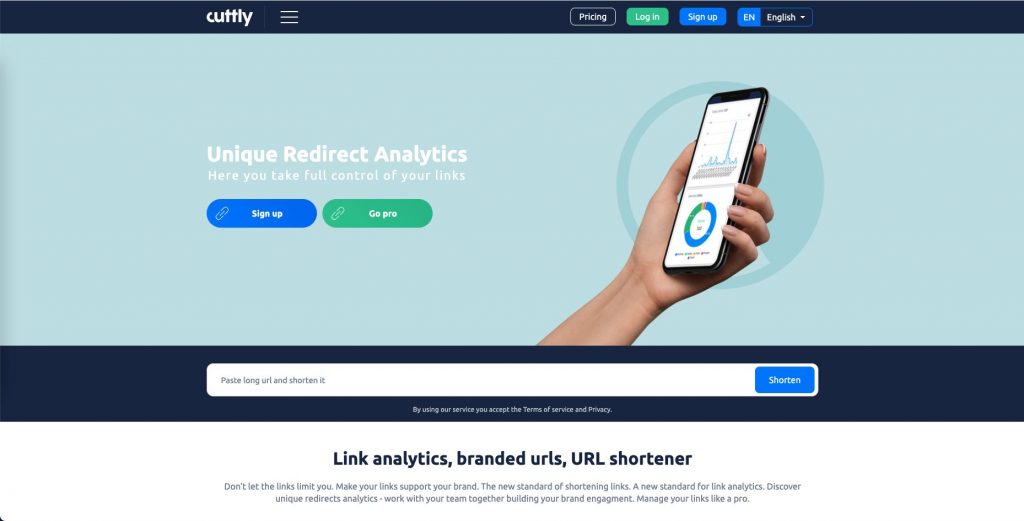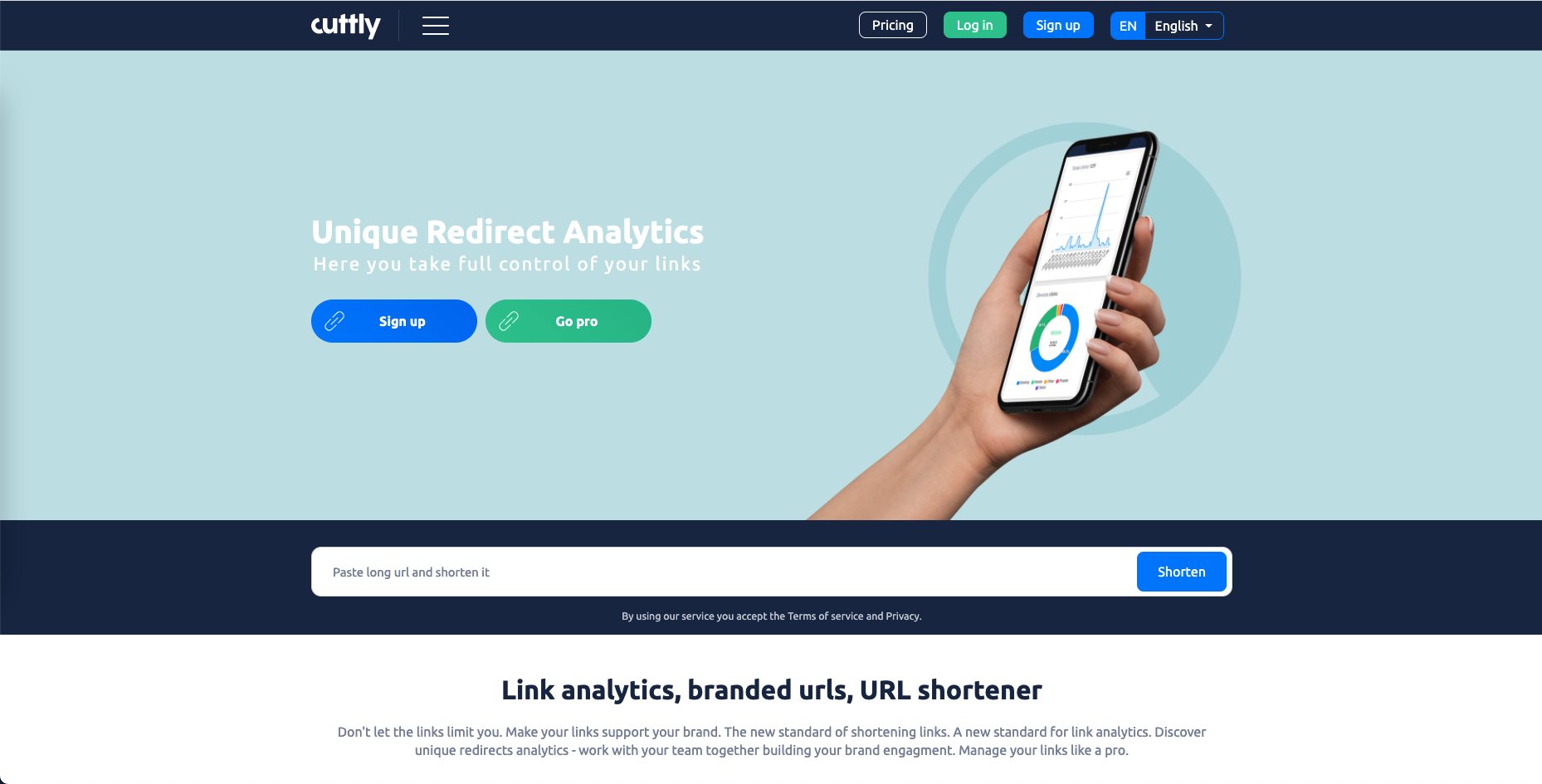 Cuttly is a URL shortener that offers several useful features like link shortening, branded links, and excellent analytics. Plus, Cuttly is free to use! You can track your links' performance in real time and the platform even includes a UTM code generator for registered users.
Pricing:
Cuttly has a nice free plan. Paid plans start at $25/month.
---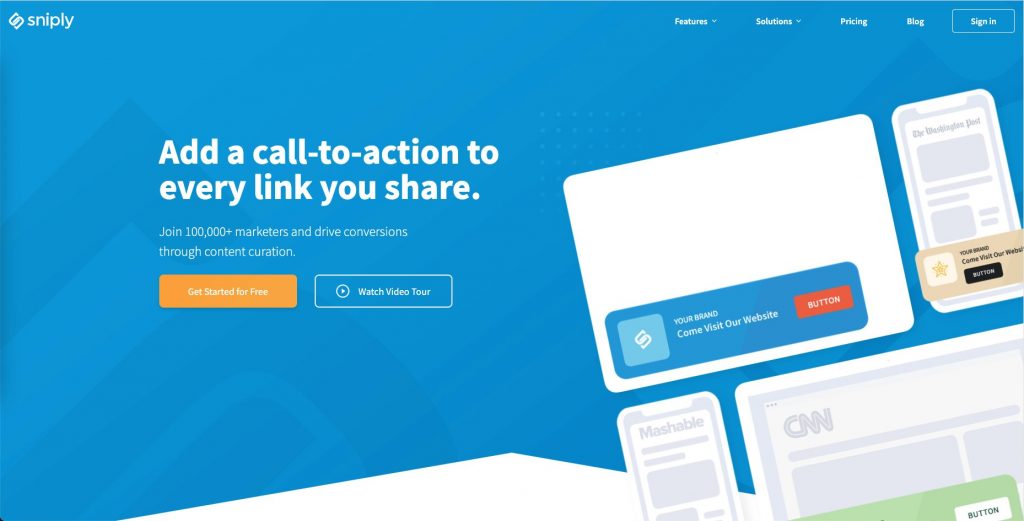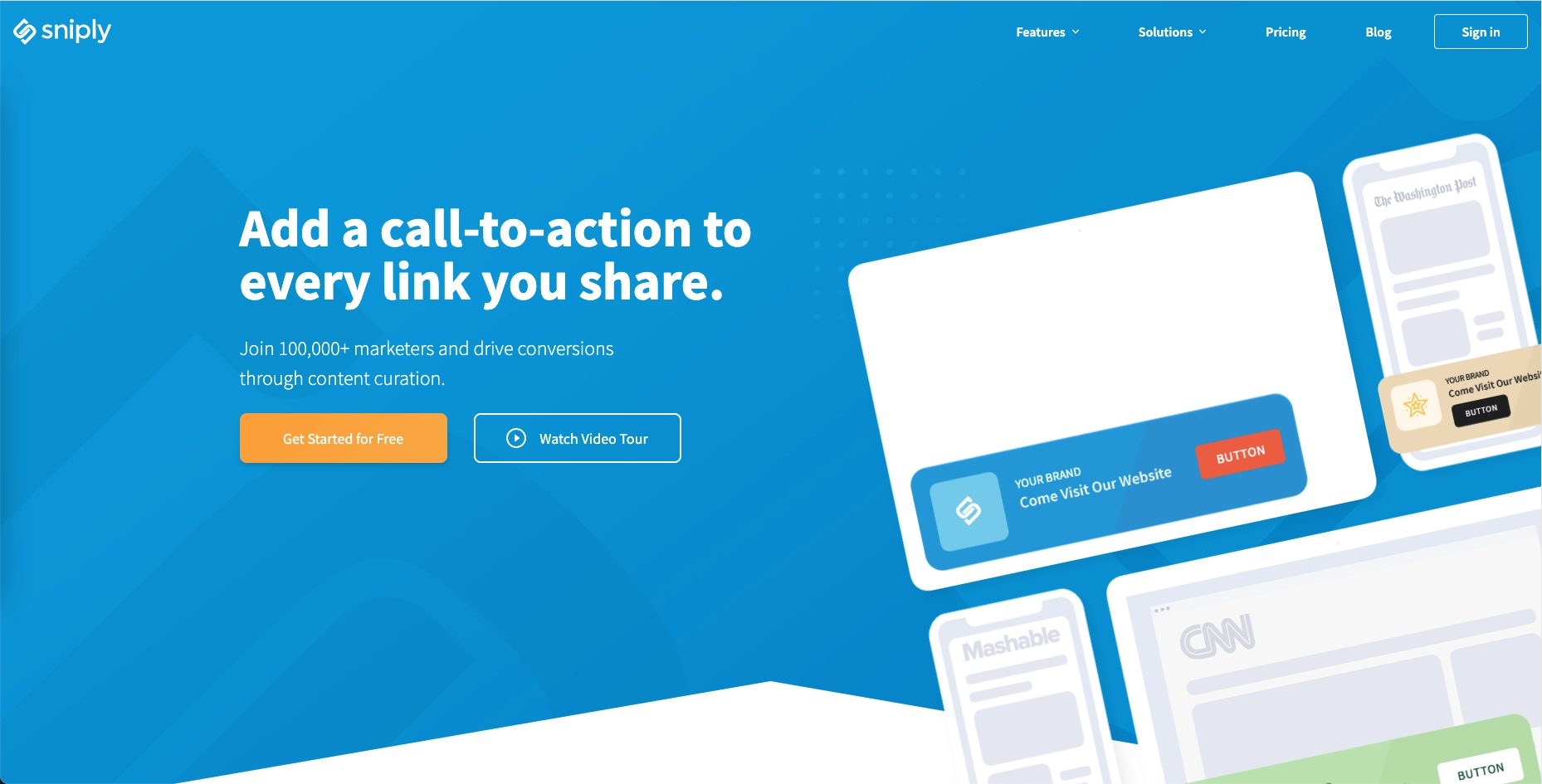 Sniply is one of the best URL shorteners if you use CTAs in social media campaigns. Every link you share with Sniply includes a call to action so you can advertise your website or whatever else you want on every single link. Sniply tracks analytics on both links and CTAs, making it easy to track the ROI on your campaigns. With the addition of Sniply's browser extension (available on Chrome or Firefox), you can easily integrate the platform with Facebook, Twitter, LinkedIn, Hootsuite, and a lot more.
Pricing:
Sniply offers a 14-day trial. Paid plans start at $25/month.
---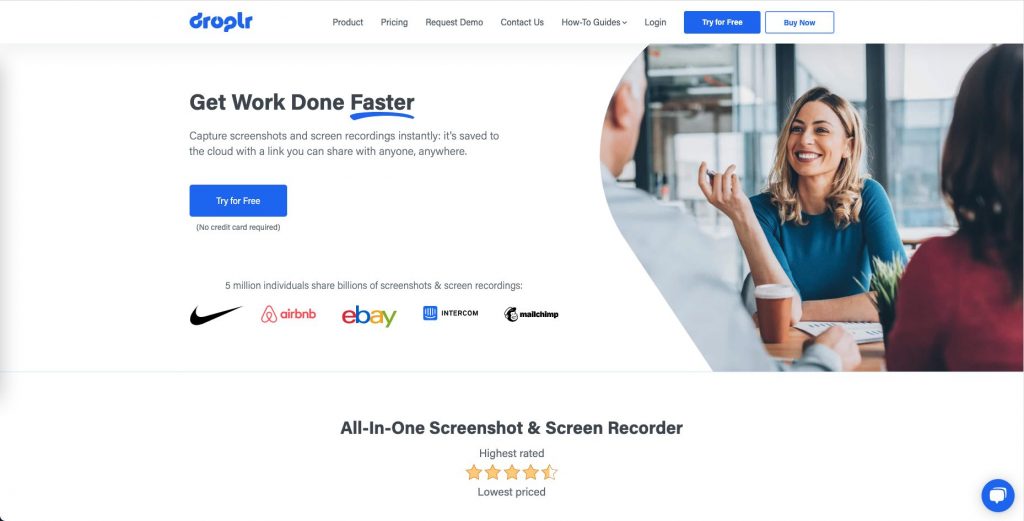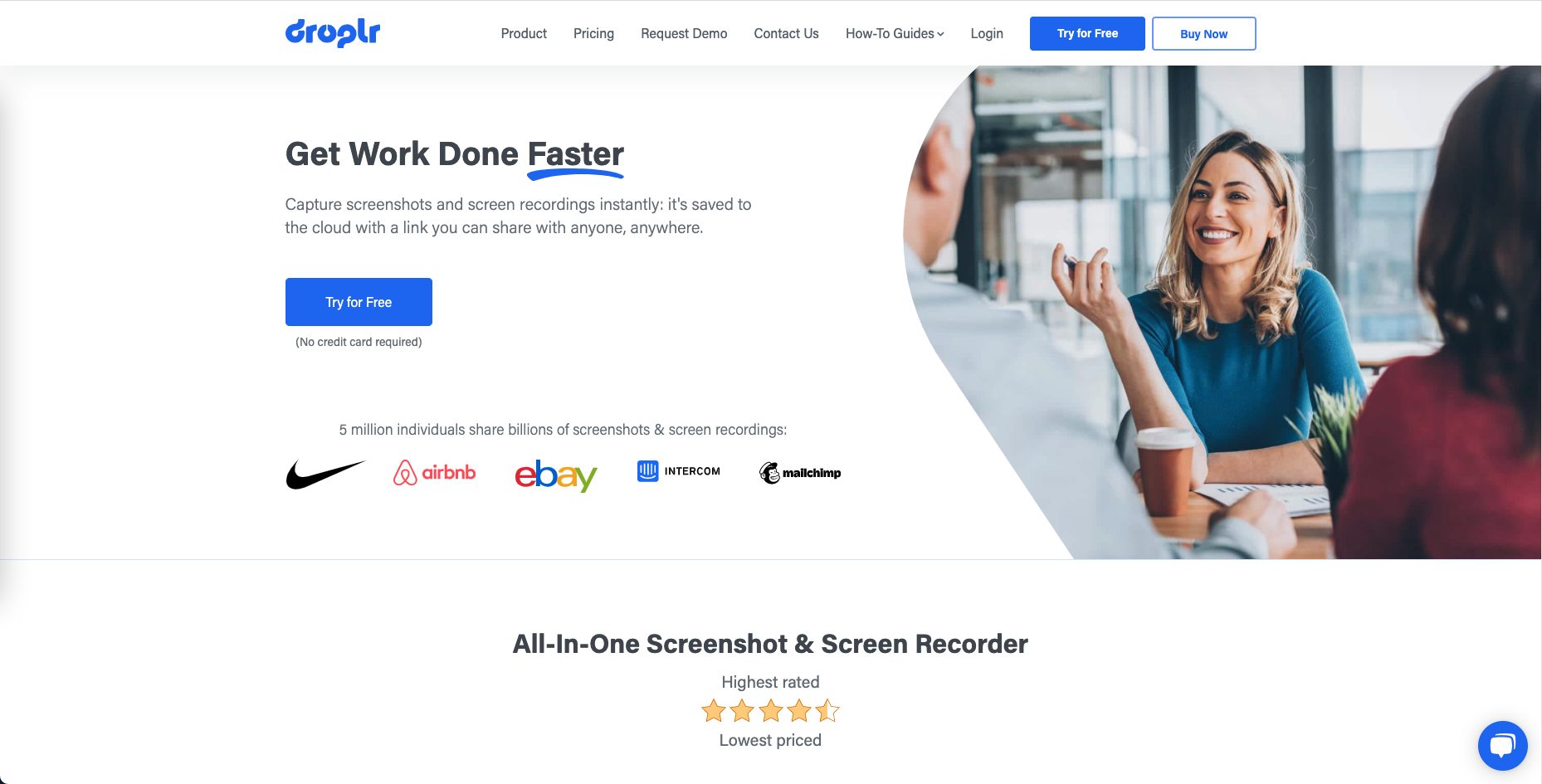 If you're looking for a link shortener that includes security, Droplr is one of the URL shorteners you should check out. It not only includes a URL shortener but a screenshot and screen recording tool, too. There's also annotation tools. Droplr's short links will include previews on apps like Slack and Discord as well as on social media.
Pricing:
Pricing starts at $7/user/month.
---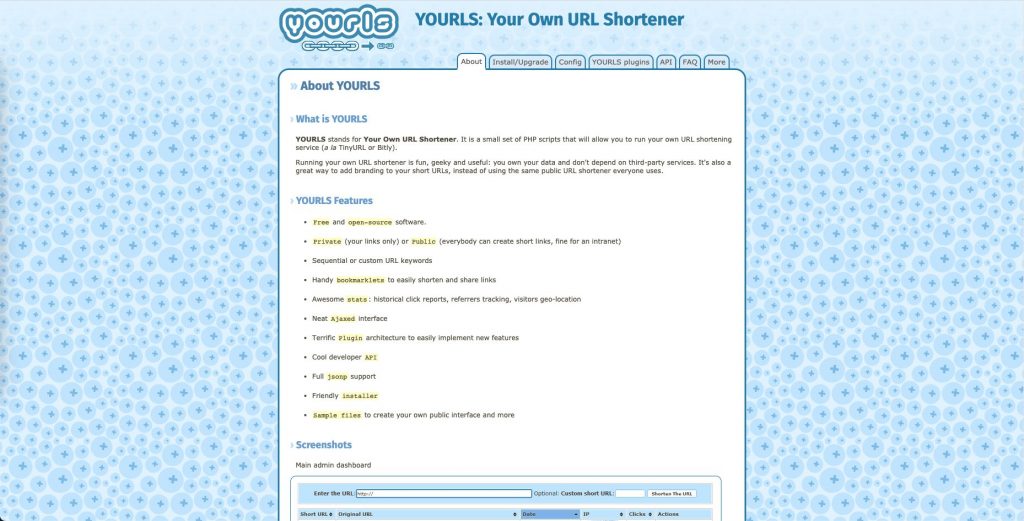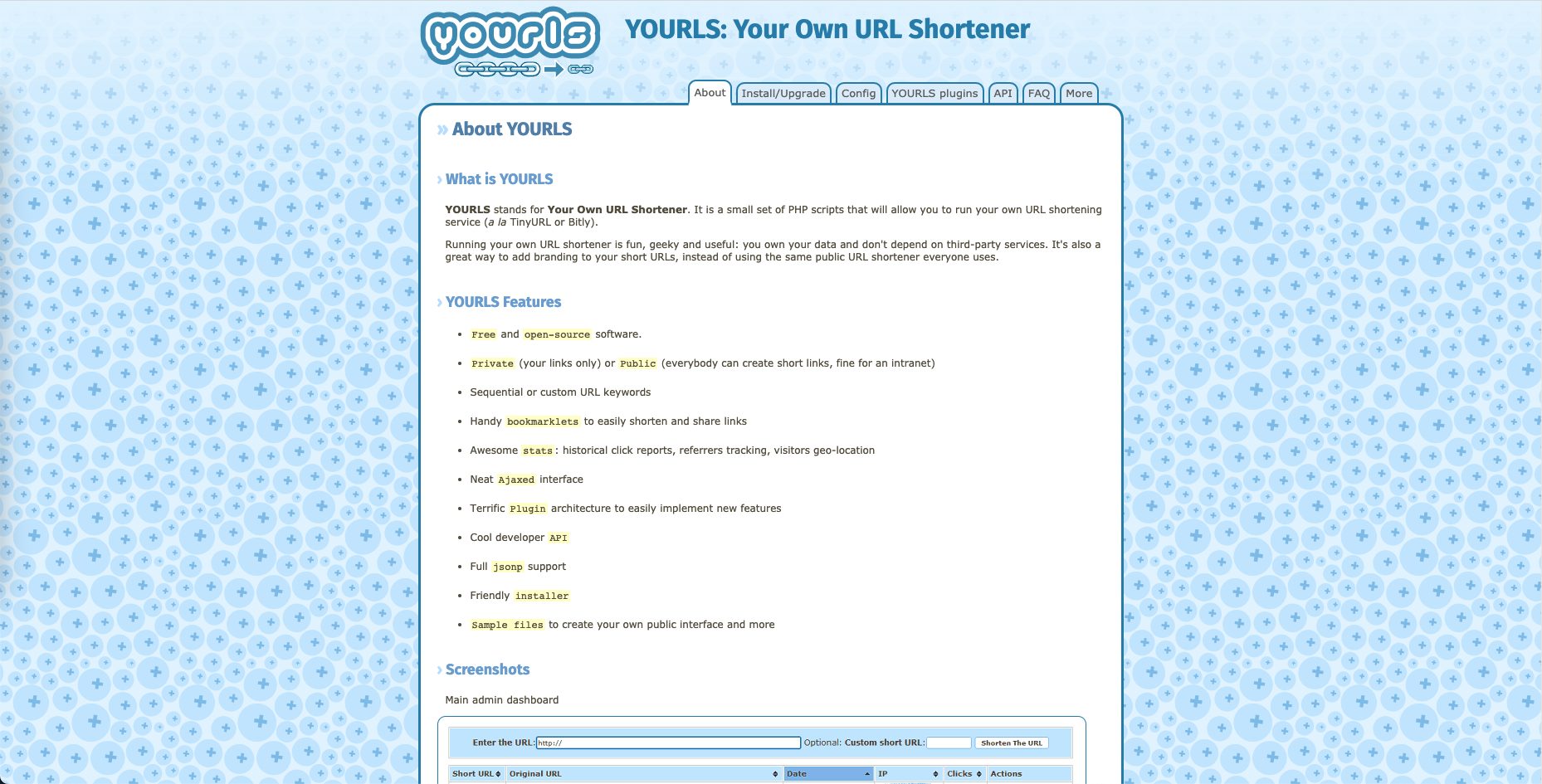 YOURLS is a free custom URL shortener that lets users design their own custom URLs, set links to public or private, control your data, and more. For each shortened URL, you can track things like traffic location and referral source.
Pricing:
Free and open-source.
---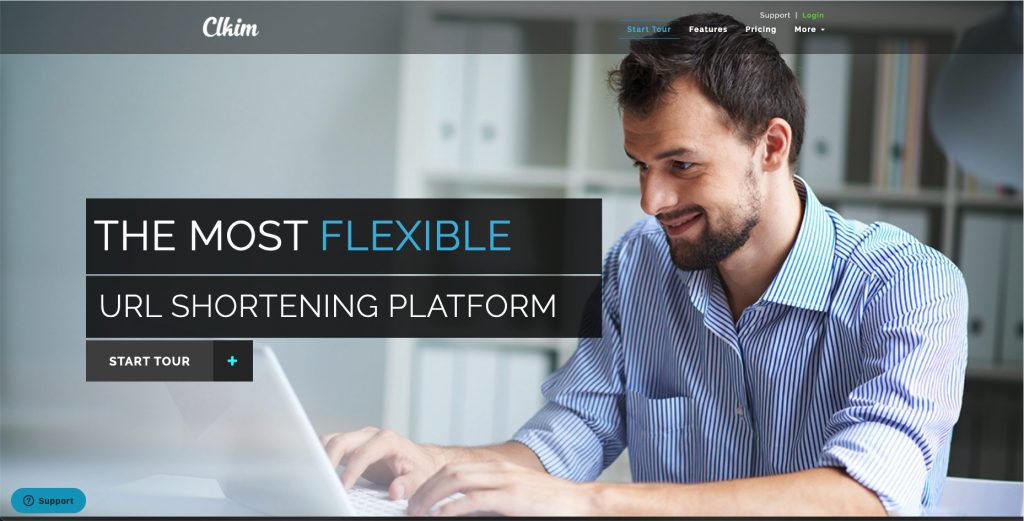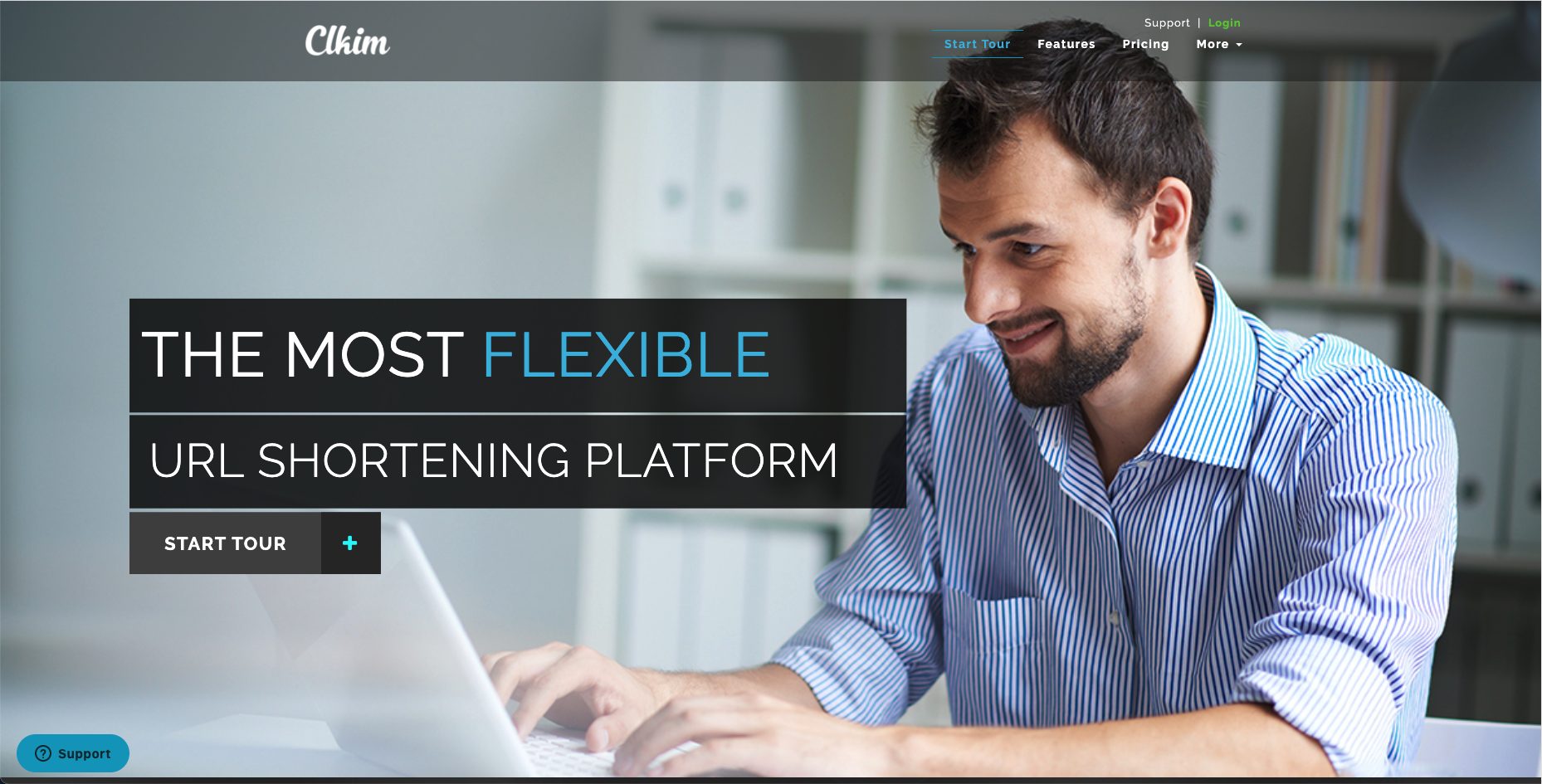 Clkim is a flexible URL shortener that offers short, branded URLs, smart redirects, retargeting, and link monetization. It takes just a couple of minutes to get set up and the platform provides detailed analytics.
Pricing:
Plans start at $10/month.
---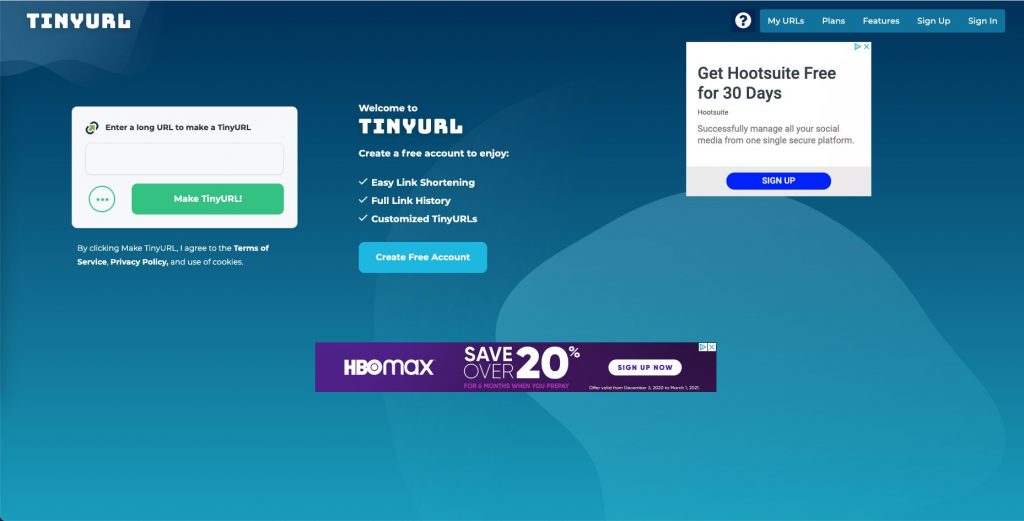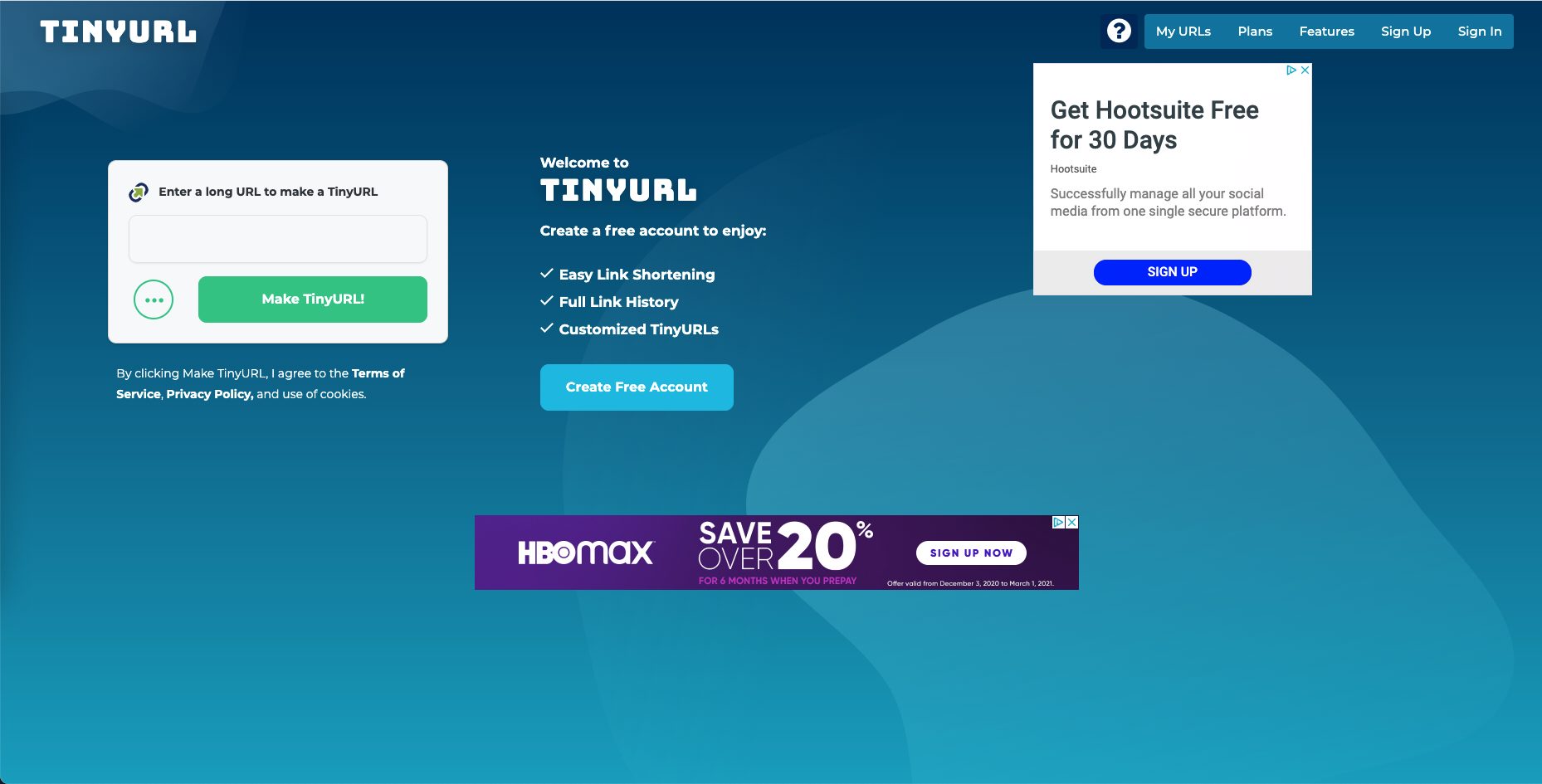 TinyURL is one of the best URL shorteners if you're looking for anonymous use since you don't have to register for an account in order to use the platform. Even so, you can still customize your shortened URL. Be warned, though, the anonymity also means that you won't be able to view analytics. You can register for an account and pay for an upgrade if you want analytics.
Pricing:
Pricing starts at $7.99/month.
---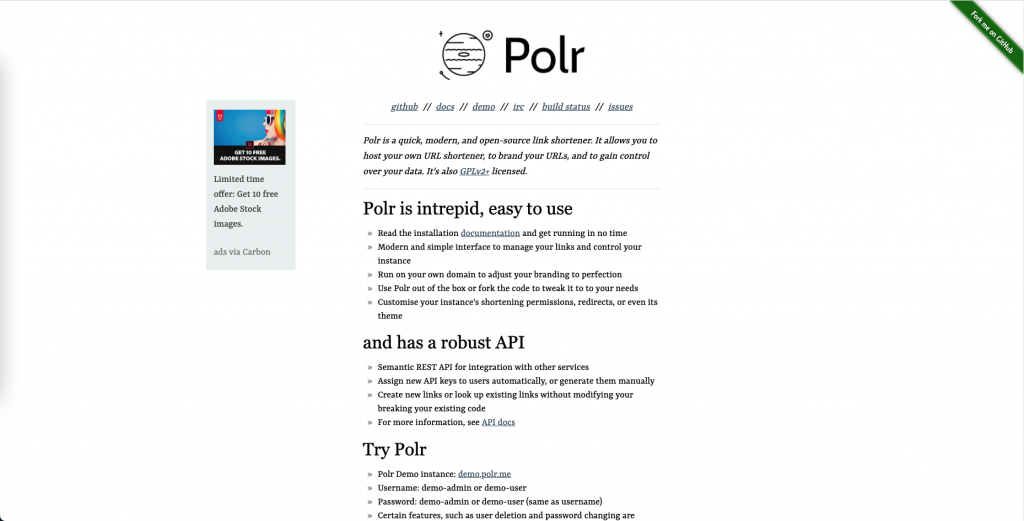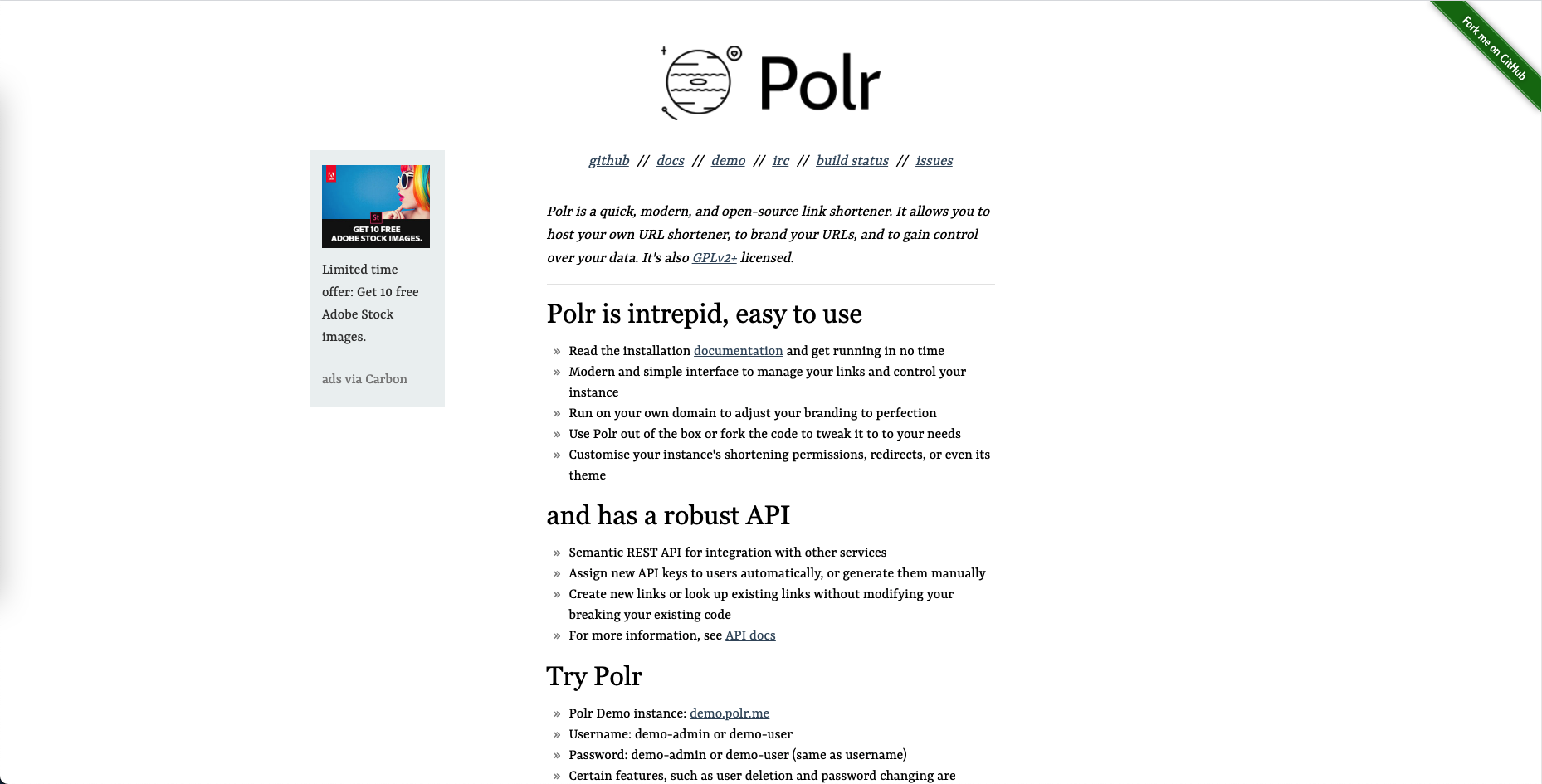 Polr is another open-source URL shortener that is great for people with a little technical prowess. You can access the tool via GitHub and either use it as-is or fork it. Polr, unlike the other open-source URL shortener on our list, YOURLS, has a much sleeker design.
Pricing:
Free and open source.
---
Twitter comes with a built-in URL shortener that will automatically reduce long URLs down to 23 characters. Any link shared on the platform will be changed to a t.co URL, allowing Twitter to record metrics and boot spammy or dangerous sites.
Pricing:
Free.
---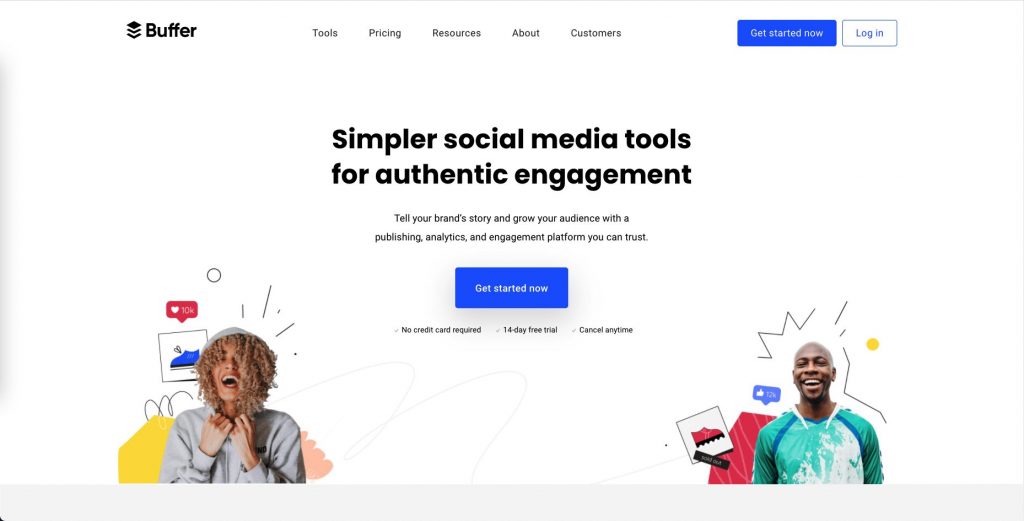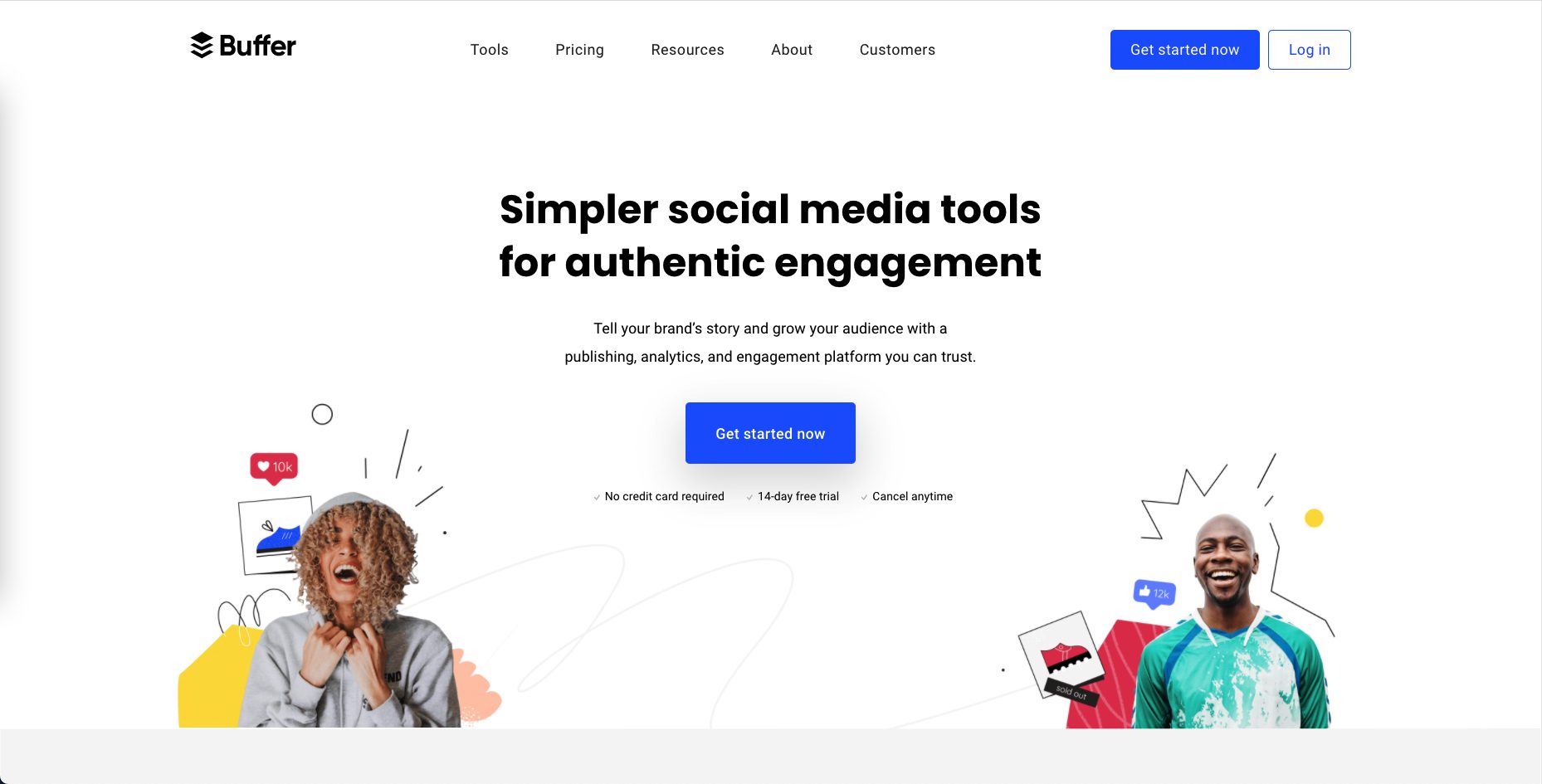 Buff.ly is integrated into the social media management platform, Buffer. With this URL shortening tool, you can shorten, customize, and distribute links to your social media platforms through Buffer and track their performance right in the platform. If you already use Buffer, Buff.ly is the logical option.
Pricing:
Free in Buffer.
---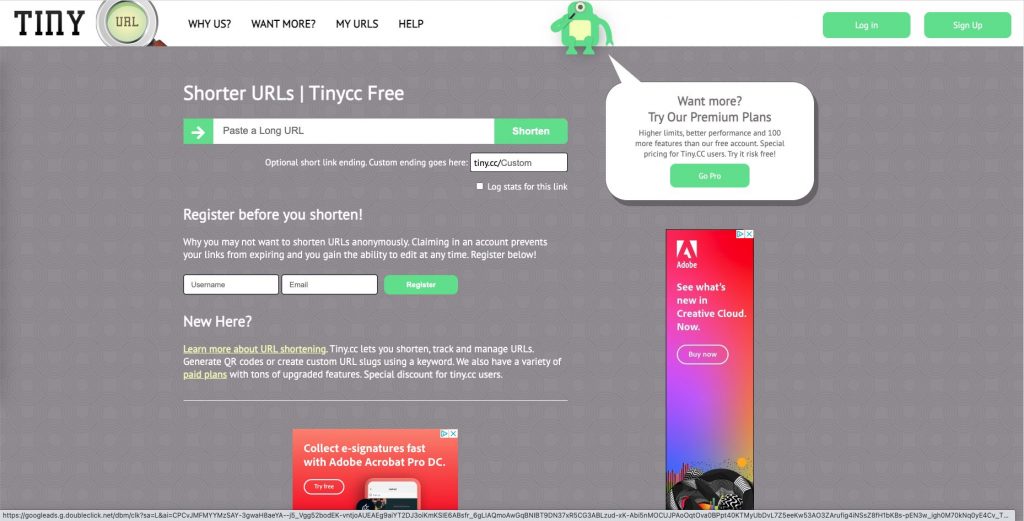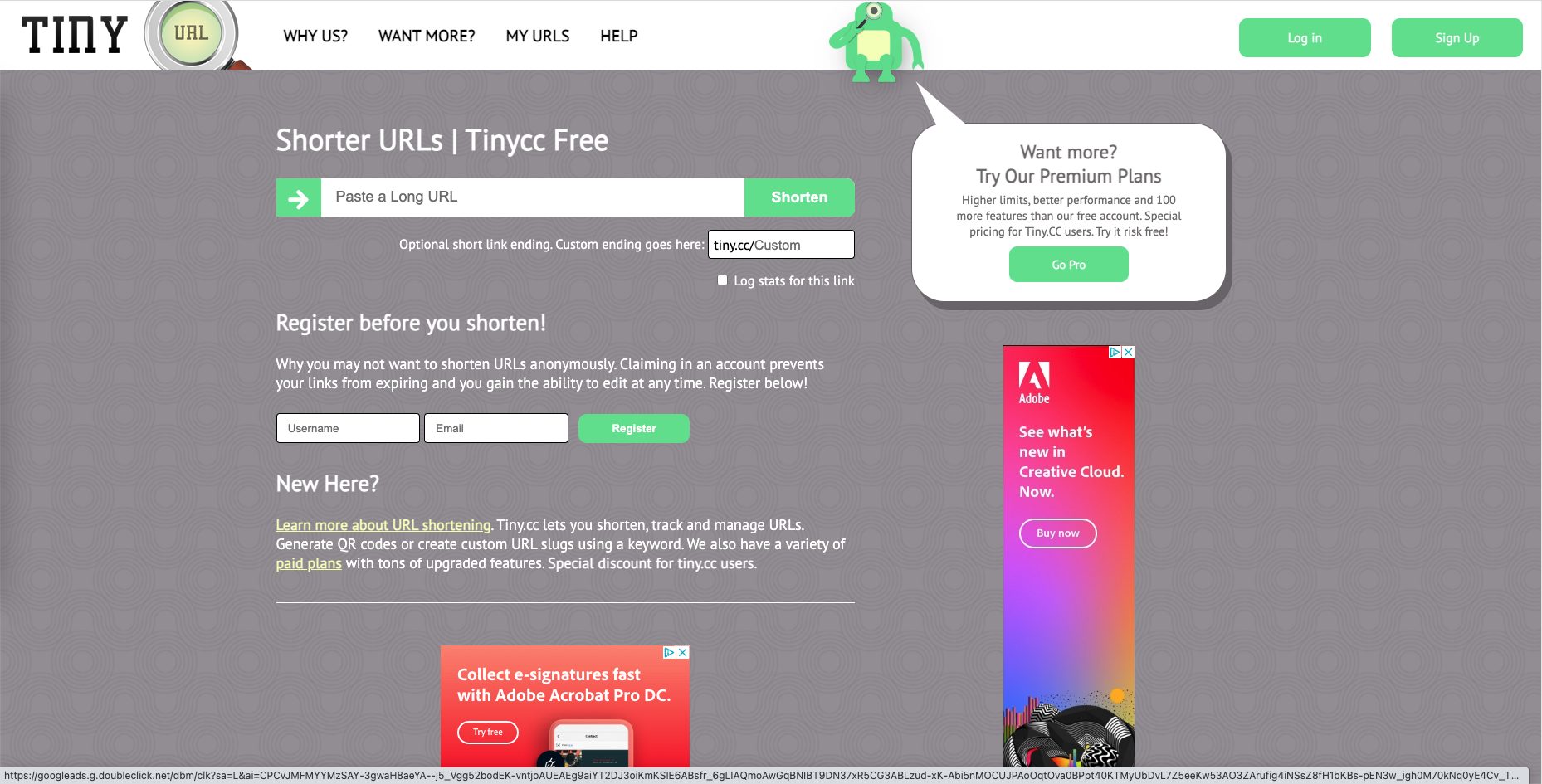 With Tinycc, you can shorten, manage, and track URLs and get the data you need like new vs. returning clicks, browser, location, and more. Tinycc requires that users create an account but that also means that you'll be able to view your link history and manage them using filters and tags. Want to shorten links using a custom domain? Tinycc does that, too.
Pricing:
Pricing starts at $55/year.
---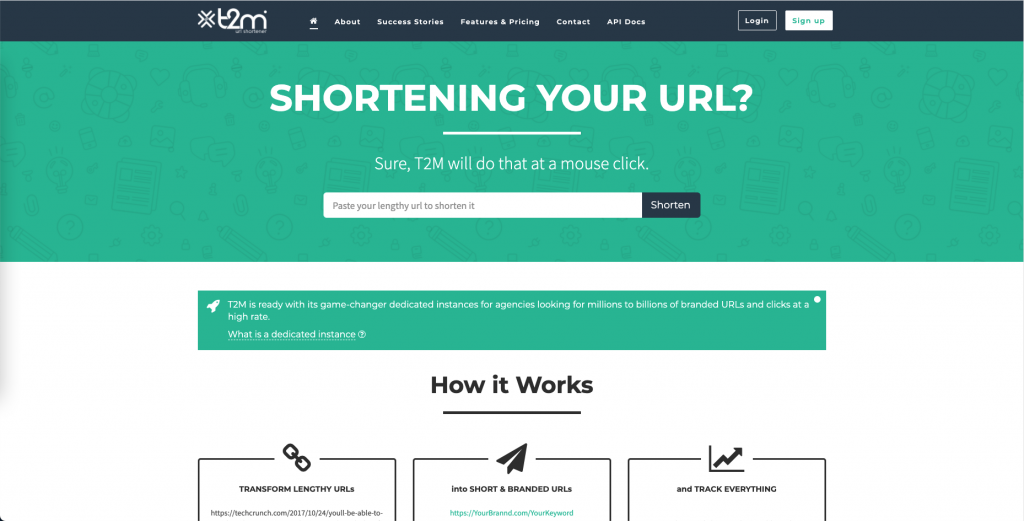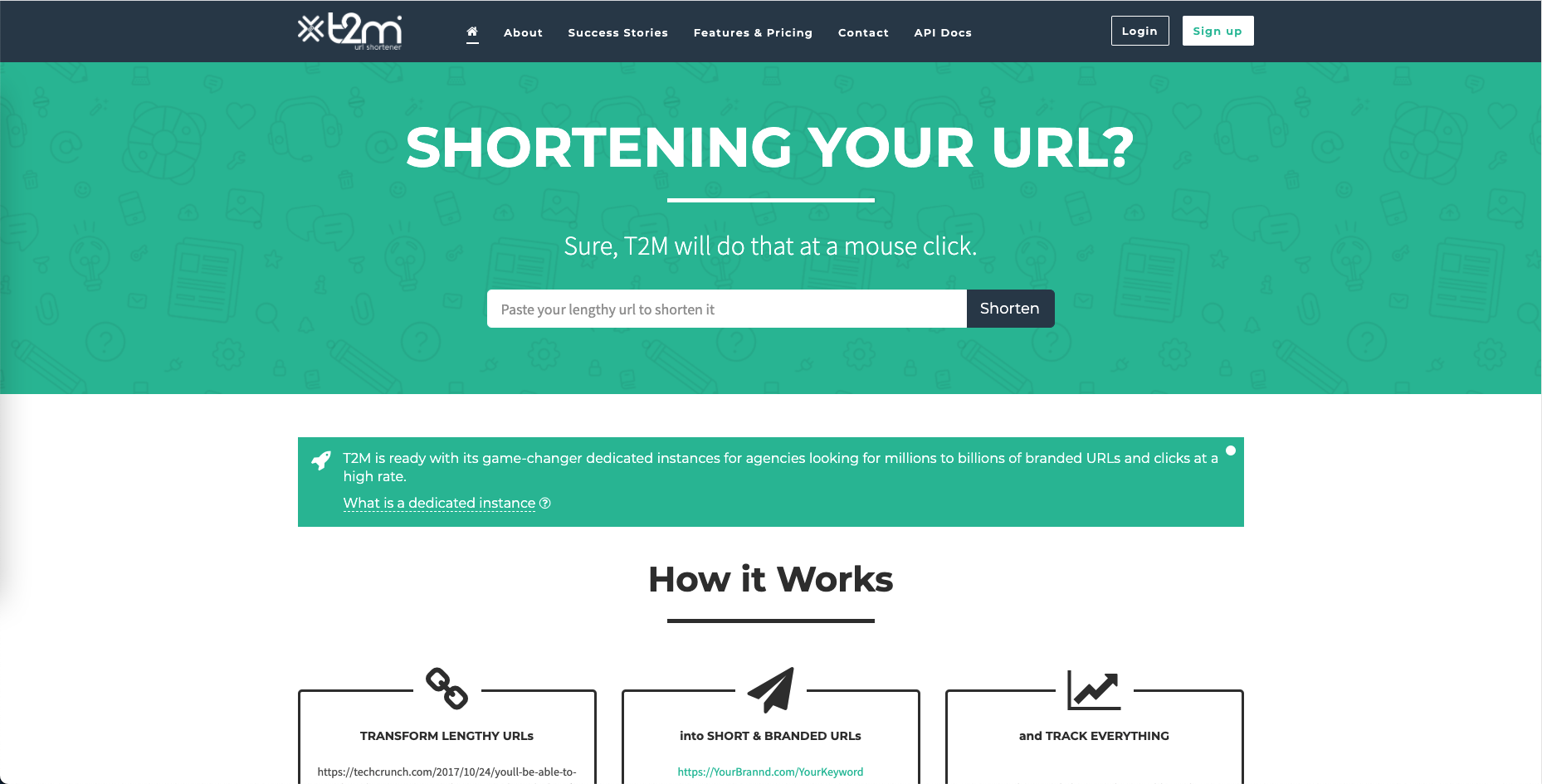 T2M makes URL tracking easy through the use of two dashboards, one for location and the other for device. The platform also has a QR code generator. Since T2M has dedicated instances, the server response is dedicated to a single user, making redirection to your full URL fast. You can also use this URL shortener to create branded URLs and even, with paid plans, password-protected URLs. T2M has full-scale analytics, bulk URL creation, unlimited API, one-click domain mapping, and more.
Pricing:
Basic is a one-time fee of $5 (for verification). Paid plans start at $89.91/year.
---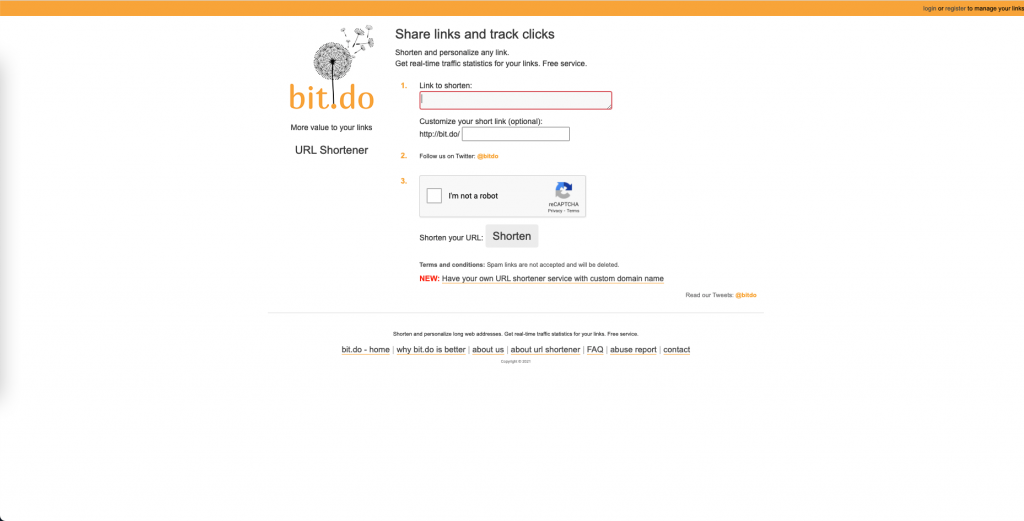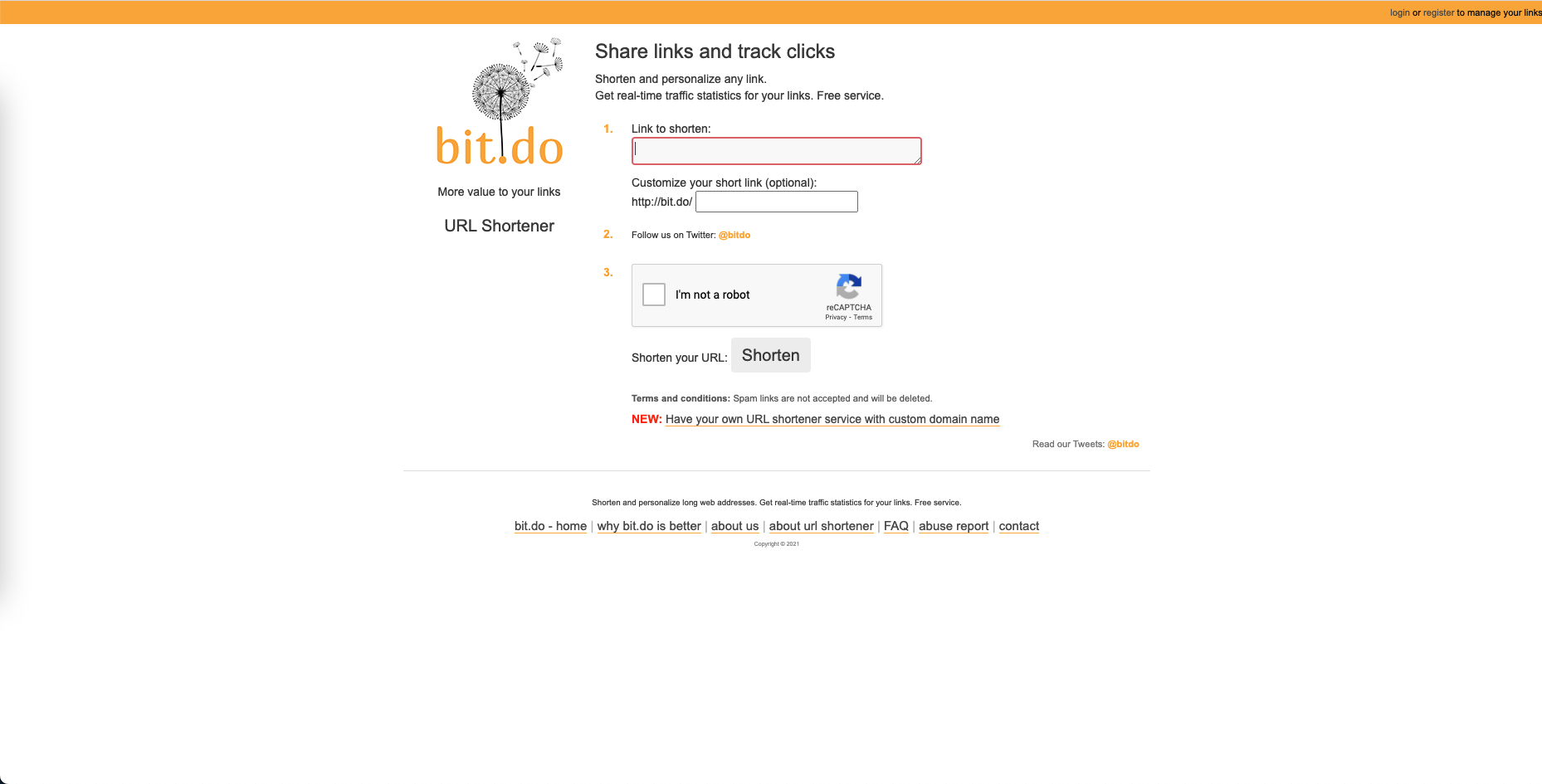 Bit.Do is a very simple URL shortener option that gives users the option to customize, view stats, and generate QR codes. If you're looking for branded domains, you'll probably want to choose another option. While Bit.Do does offer branded domains, it's a bit pricey.
Pricing:
Free plan available. Paid plans start at $85/month.
---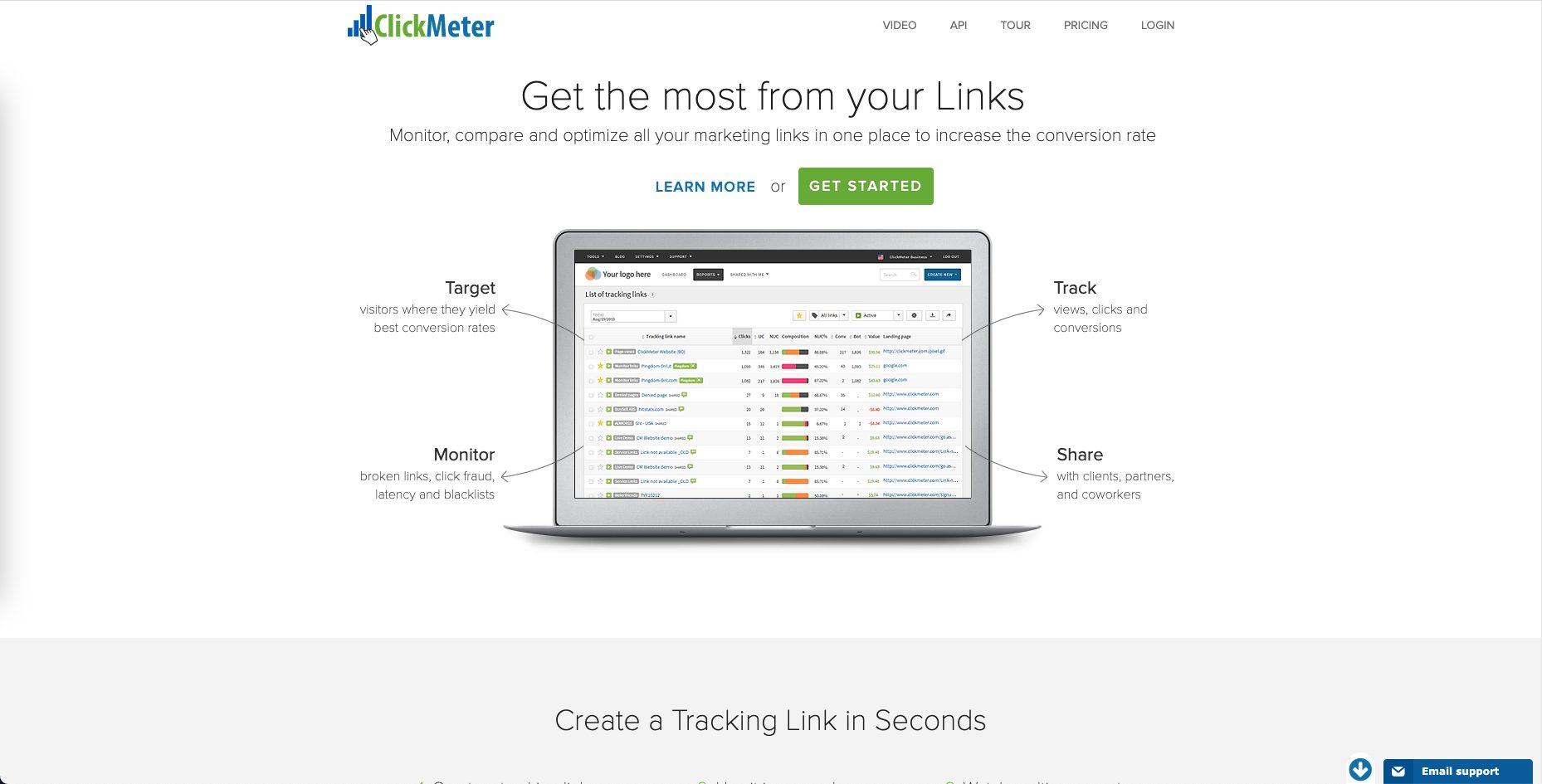 If you're an advertiser or agency that uses Google Ads or another advertising network, ClickMeter provides the click-rate optimization tools you need. It offers integrations with some of the top content management platforms as well as location-based targeting and in-depth analytics. ClickMeter's features include URL encryption, bulk link creation, multiple API keys, Google Analytics UTM support, device-based targeting, and more.
Pricing:
ClickMeter offers a 30-day money-back guarantee. Pricing starts at $29/month.
---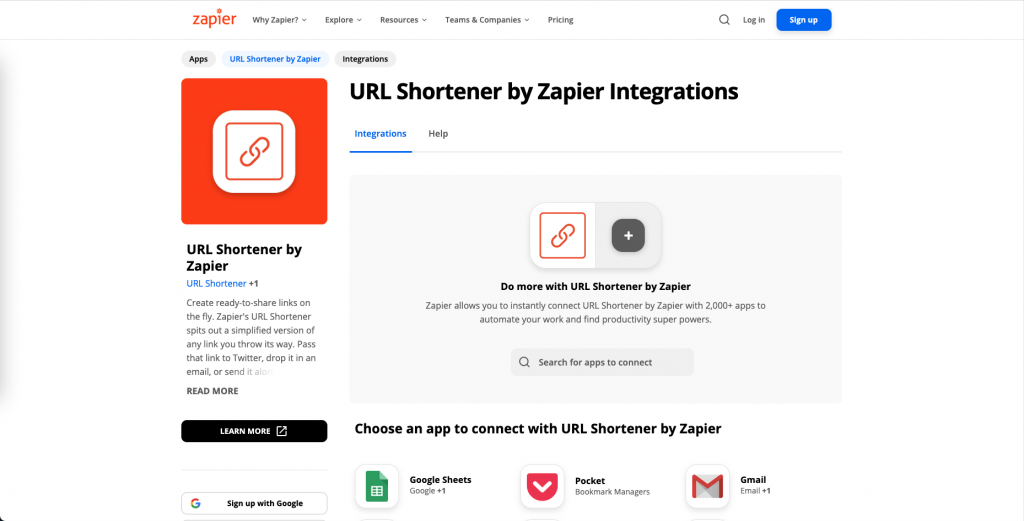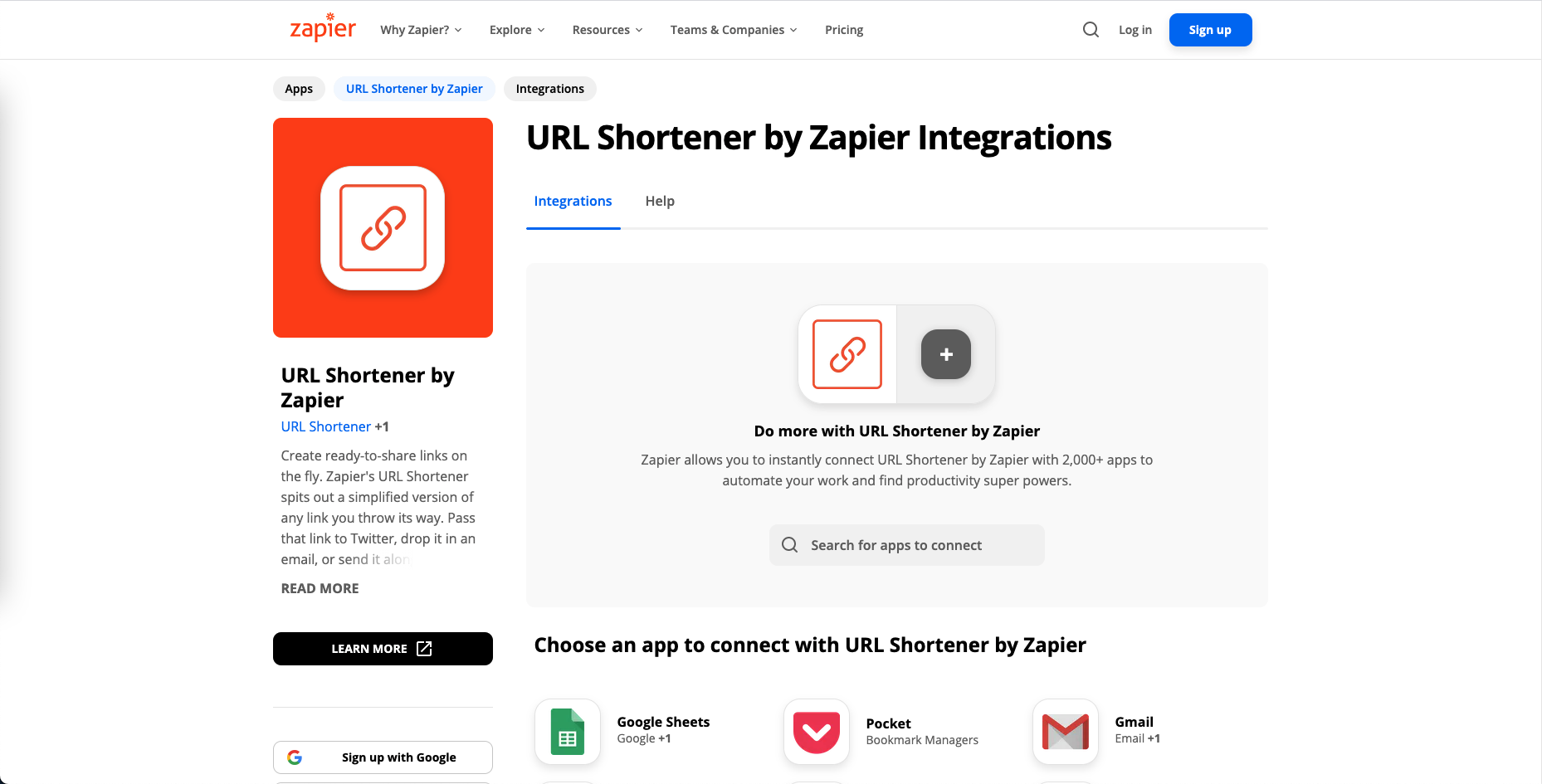 Want to create a shortened link automatically, depending on a specific action you take? Zapier can do that. This URL shortener offers hundreds of integrations—just as you'd expect from Zapier.
Pricing:
Zapier offers a free plan. Paid Zapier plans start at $19.99/month.
---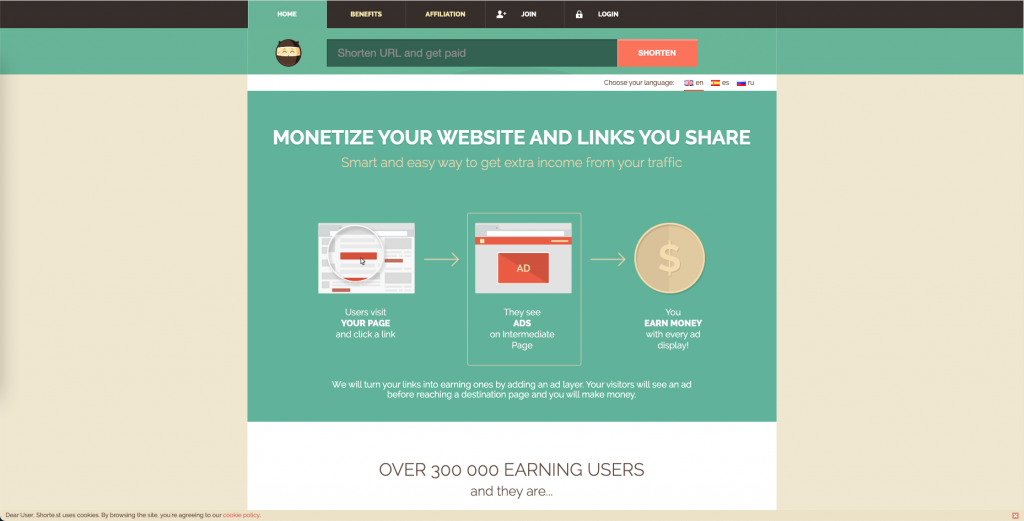 Shorte.ST is one of the more unique URL shorteners on our list as it pays you to shorten your links with them. Why? Ads. When you shorten a URL with Shorte.ST, you're agreeing to show visitors an ad that appears between them clicking your shortened URL and being redirected to the full URL. Shorte.ST also offers features like statistics, website scripts, social widgets, publisher tools, API, and affiliate marketing.
---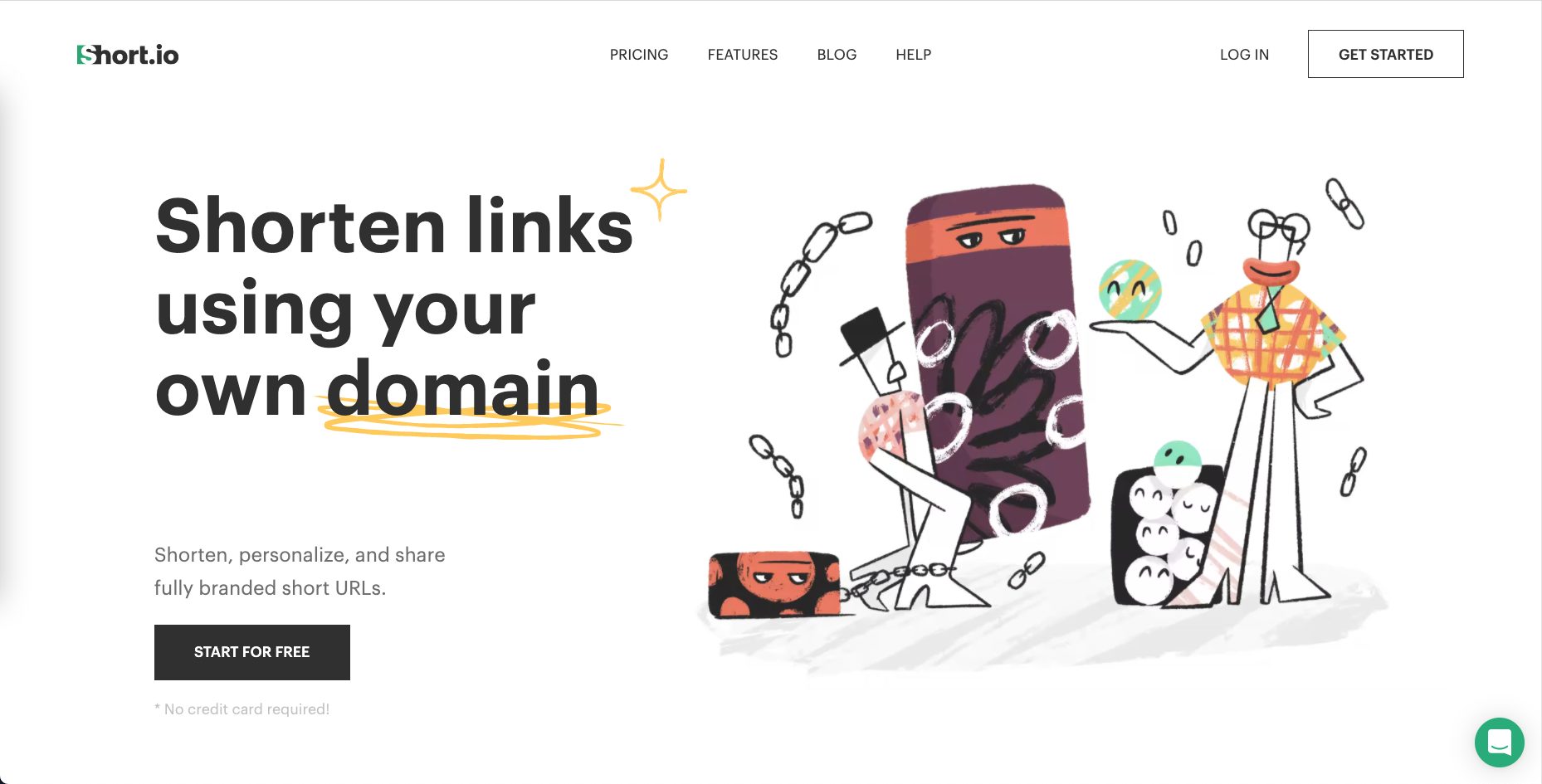 Wrapping up our list of the best URL shorteners is Short.io. With this URL shortener, you can use multiple custom domains, personalize URLs, and track every click. Short.io also offers detailed analytics as well as an option to set up the platform for your entire team. Users will love being able to create branded links, mobile links, link cloaking, QR code generation, and more.
Pricing:
Free plan available. Pricing starts at $200/year.
---
Link Better With the Best URL Shorteners
If you regularly create and share links (creating landing pages, using Google Forms, and the like), you'll enjoy having a URL shortener to help you shorten those URLs into something that's easy to remember, makes sense, and doesn't take up tons of space in your social media posts. Any of the URL shorteners on our list will have you shortening and customizing links in no time.