Best for:
Small, Medium, and Large Businesses
Overview
If you were a grown adult in the early 90s, you likely had your mind blown when you learned about e-mail. It seemed the pinnacle of human communication, instant transmission of a written message to anywhere around the world for the price of a local phone call (and, if you were not an adult in the 90s, you probably have only heard stories about the price difference between local and long distance calling—email seemed like a miracle, I assure you). Of course, by the end of the first decade of the 21st century, text messaging and social media overtook email as the preferred forms of communication.
Despite this, e-mail has never fallen out of favor with one particular group: marketers. And why do they still love it? Because it works. And the fact that it works tells us there's another group of people who still love email: everyone else. Just because it's not the shiny new thing doesn't mean it's not useful. When done correctly, email marketing can generate a huge return on investment, as much as $36 for every $1 spent. 
Mailchimp has been helping marketers do things correctly since 2001, a veritable eternity in tech years. The service started out as a little offshoot of a web design company targeting big corporate clients called Rocket Science, founded by Ben Chestnut and Dan Kurzius. The web design thing was going well enough, but the email marketing product was much easier for them: at least, it wasn't Rocket Science. The email product was focused on small businesses, and Chestnut and Kurzius just like working with those customers more than the stuffed shirts over Big Corporate. They were probably making more money with Mailchimp, too, since good business decisions are rarely driven only by what "sparks joy" in the owners. 
In its two decades in business, Mailchimp has grown to own 62% of its market with more than 12 million active users—its closest five competitors have a combined market share of 17%, so it's safe to say that Chestnut and Kurzius bet on the right horse. Or chimp. Whatever proverbial animal they bet on, it paid off in the form of a $12 billion sale to Intuit in September of 2021. This sale came within a few years of Mailchimp announcing its intention to branch out from a strict email solution to becoming a full featured marketing platform. With this new direction and new ownership, it's tough to say what the future holds for the company. It's fair to guess that they're not going to expand at the expense of their strength. And, as we said, if you're doing email marketing correctly, it's very effective.
---
Pricing
One of the keys to Mailchimp's success has been its fairly progressive freemium model of pricing. Offering an entry-level free plan is nothing new, but offering one that's actually useful in the long term is pretty rare. Freemium pricing plans usually exist to dangle all the useful stuff in front of you, just out of reach, to entice an upgrade. That only takes you so far, though, as if a prospect can't fully use a product to see if it works for them, it's a 50/50 shot as to whether they get frustrated and leave or enticed to stay. No such issue with that using Mailchimp. Their idea seems to be: you'll be so successful on the free plan, you'll have to upgrade to handle your growth.
Note that for any of the paid plans, the monthly price listed is a minimum, based on the number of contacts. As you add more people to your audience, you'll pay more to store their contact information.
Free, $0/mo —

1 user can store up to 2,000 contacts and send up to 10,000 emails per month (the daily limit is 2,000). You get 1 audience, though targeting is made possible through tags and segmentation. Additional features include: audience dashboard; surveys; behavioral targeting; content studio with basic templates; access to the Creative Assistant; multichannel publishing to emails, landing pages, Facebook ads, social posts, snail-mail postcards, pop-up forms, and a marketing calendar; basic reporting and insights. Email support is available for the first 30 days, then you're on your own with online guides and tutorials.



Essentials, $11/mo —

3 users can store up to 500 contacts and send up to 10x the contact limit per month (so, 5,000 emails a month for 500 contacts). Additional contacts may be added in gradually increasing increments, maxing out at

$299/mo

for up to 50,000 contacts. Create up to 3 audiences, each one segmentable. All of the Free plan's features are included, plus: Mailchimp branding is removed, email scheduling, basic automations, and A/B testing. Includes email and live chat support.



Standard, $17/mo —

5 users, up to 500 contacts, up to 12x the contact limit for sending emails. Additional contacts available, up to 100,000 for

$605/mo

. Create up to 5 audiences, get all the features of Essentials, plus: advanced audience insights, custom coded design templates, downloadable designs from the Creative Assistant, social post scheduling, retargeting ads, advanced automations, advanced campaign insights

Premium, $299/mo —

Unlimited users, up to 10,000 contacts, up to 15x the contact limit for sending emails. Additional contacts available for custom pricing. Unlimited audiences, advanced segmentation, everything in Standard, plus: comparative reporting, multivariate testing, and phone support.
All of the plans include a CMS for creating and hosting a website, and e-commerce features for hosting a store. There's no limit on bandwidth, or pages, or products, and advanced features like abandoned cart emails and appointment scheduling. 
Additionally, their pricing page lists three additional services that can be purchased as an add-on. One is for a custom domain, and pricing for that works like any other domain registration. The other two—transactional emails and advanced scheduling—appear to be part of the included website and e-commerce features, so it's unclear whether they just haven't updated the site yet to reflect this. It's worth asking, because this isn't the only page that needs an update. The "Our Story" page on the Mailchimp website still boasts about the company being 100% founder owned, which—as you might have intuited—is no longer the case.
---
The Details
Getting started with Mailchimp can seem like a daunting experience at first. After you've created an account and are logged in, you're presented with a brief checklist of how to proceed, though it doesn't really cover it all—or do it in order, for that matter. You're invited to create a campaign with an email before you've even entered your first contact, so when you get to the end of the process and it asks you to select an audience, you'll find you don't have one.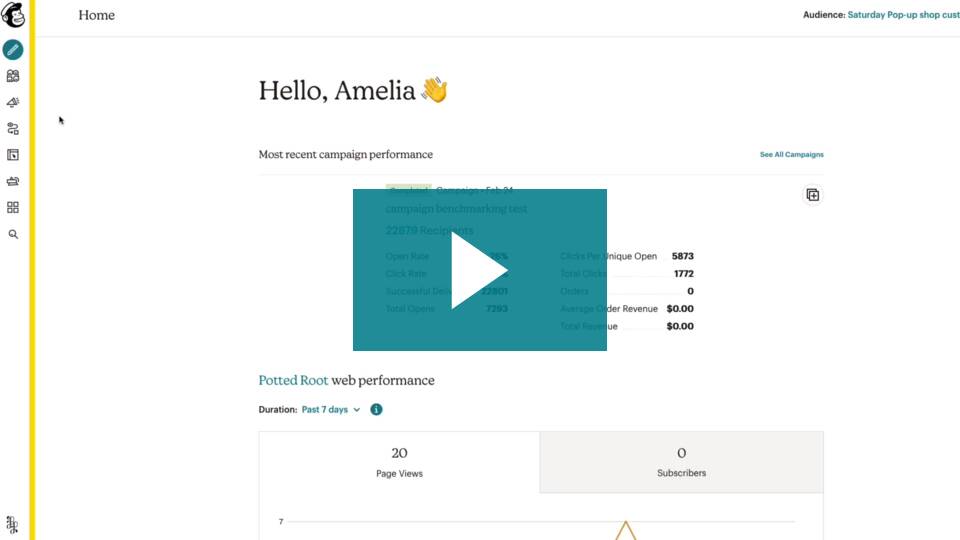 Getting Started with Mailchimp | Mailchimp
Creating the audience isn't necessarily difficult, add a few nuggets of information about it and then  move on to populating the list with contacts. This can be done by bulk import or one at a time, and as part of the process, you'll also be shown the tools for creating a signup form that can be embedded on your website. Once your audience is set up, you can get into the task of tagging everyone and creating different segments, giving you a couple of ways to slice and dice your audience list and target your emails to the most relevant people. Once someone's been added to your audience, they get an individual profile, much like in a CRM. The profile shows basic info—address, phone number, birthday—assuming you've gotten your customers to provide that info, and it also gives their history of engagement with your emails.
If you're migrating from another service, you may have a list of contacts that's bigger than is practical for tagging and segmenting individuals. Also, how could you possibly know all your customers well enough to start categorizing them? The Surveys feature gives you an automated way to do this, as you're able to have Mailchimp create tags on the fly according to the answers people give. It's one of several ways the platform can automate tasks and take a lot of the headaches of marketing off your plate. 

With Behavioral Targeting, Mailchimp can automate the sending of emails—or a series of emails—based on actions that your recipients actually take. These can be actions taken with your emails and surveys, like opening them or clicking a link. If you connect to another app via API, you can create your own events that trigger an email, like a purchase from your website or whether they registered an account with you. Automations don't need to be based solely on customer actions, though—they can be triggered by inaction, as well. If someone hasn't purchased in awhile or isn't opening your marketing emails, these can trigger an automation. Mailchimp calls these automation "Journeys," but we won't hold that against them. There are a number of prebuilt Journeys you can employ, and you can also build your own.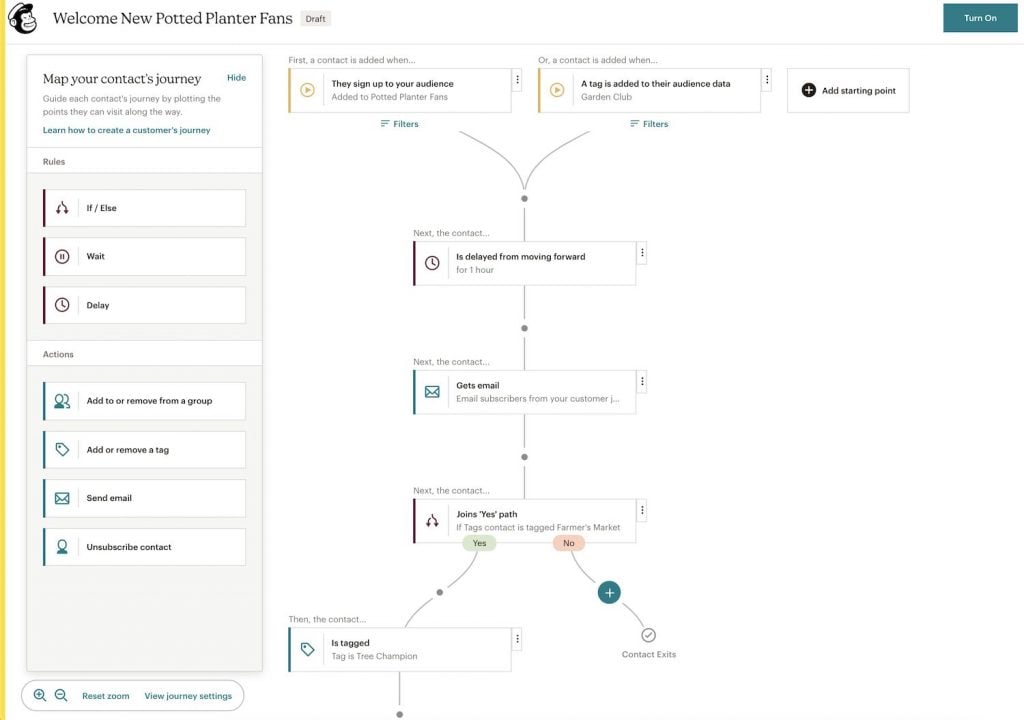 Another cool feature, and certainly unique to an email marketing platform, is "Postcards," which sends actual IRL postcards to people's mailboxes. You design what the card will look like, identify which audience or audience segment will receive them, and then Mailchimp handles the printing, stamping, and sending.
But what if your design skills aren't up to snuff? Mailchimp's built-in "Creative Assistant"—described as an AI engine that creates custom designs based on your brand's look—can help with this. It also can help with designing the emails you send, and any social posts that you create. It's unclear whether AI is really involved here, the resulting designs look like they could just be made from templates and filled in with colors that match your brand aesthetic. But they're not bad looking, and are definitely better than what someone with no design skills or experience could muster up.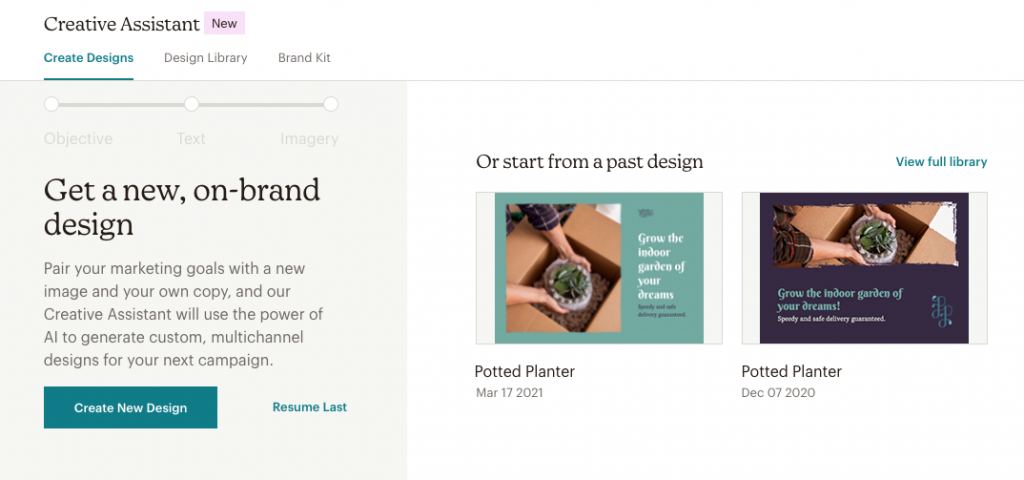 Whether or not it's true AI designing your emails and promotional materials, there's no doubt as to the intelligence that powers a lot of what Mailchimp does. You'll get recommendations on when the best time to send something is and tips on optimizing your subject line. Emails can have dynamic content, too, meaning that the messaging can be tweaked based on who's receiving it. If you're opening a brick and mortar outpost, for example, your announcement can switch from something generic to a more personalized "We're coming to your town" for anyone who lives in the same zone. The AI can even add personalized product recommendations for each recipient based on their past purchases. And with A/B testing features, you'll be able to see what's performing best to make better decisions about future campaigns. 
---
Integrations
With as much that went into the creation of Mailchimp, it should be no surprise that the platform integrates with over 200 other apps. It can be used with e-commerce solutions like Shopify and Stripe and Squarespace (among others). If you're running an IRL business, it also connects with a number of Point of Sale solutions: Square, Shopkeep, and Lightspeed (again: among others). Integrations with LiveDesk, Zendesk, and Livechat can enhance the customer service you give, with automated follow-up emails. The list goes on and on, covering a number of different categories: Forms & Surveys, Accounting, Marketing, Payments, and Loyalty (say it with me: among others!). If there's an integration you're looking for, chances are they have it.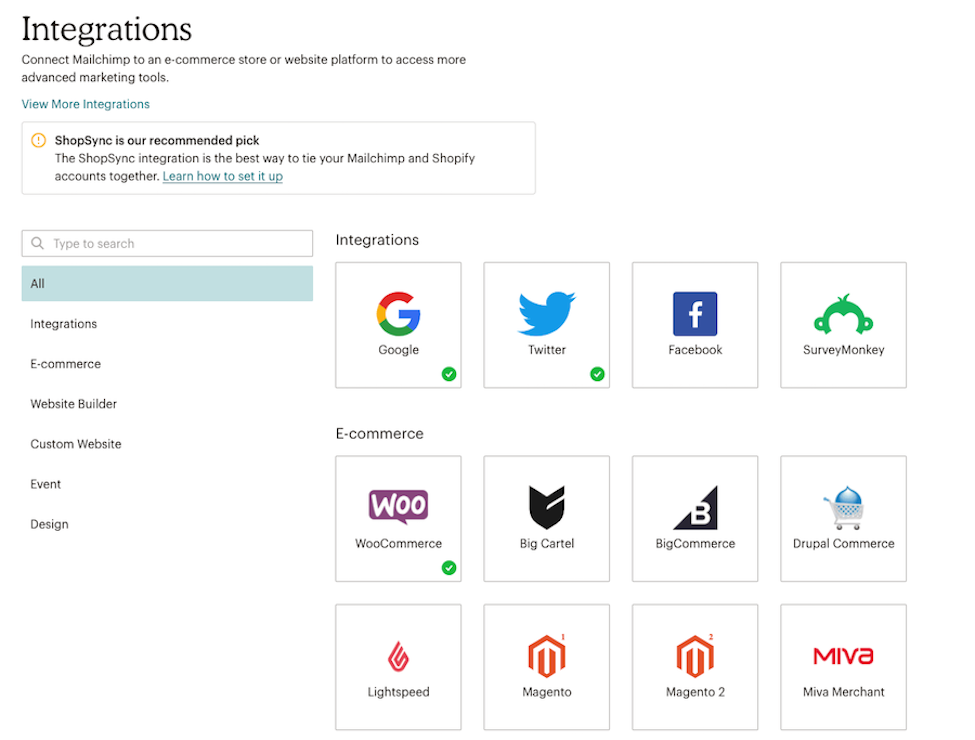 Unless it's a CRM integration you're looking for. Those do not exist. This is likely because Mailchimp fancies itself a CRM on its own, and that's technically true. It does provide mechanisms for contact management as well as some basic information/insights into each person. But larger companies are going to want more functionality than that. And, yes, Mailchimp was created to be a small business solution, but that's obviously not their sole focus at this point. As a rule, small businesses don't need to send emails to 200,000 people all at once. There are exceptions to that rule, but companies that have that many people they need to market to directly are likely going to want more CRM features than what's available natively in Mailchimp.
---
Conclusion
With 20 years of history in its rearview, and 12 million plus users taking them into the future, Mailchimp doesn't need any more good reviews to recommend it and spread the word. But here we are doing it anyway, because—well, would you take the E-commerce Tools section seriously if we didn't review the most popular email marketing solution available?
The bottom line is there's a reason for Mailchimp's longevity. It handles all the email marketing tasks you'd want smoothly and efficiently. And it does so much more than that, too; the platform's intelligence functions as a marketing expert, guiding you through and helping your marketing to be as effective as possible. Small businesses with little marketing experience or expertise will love this. And large businesses that don't need the guidance will certainly benefit from the time saving nature of the automation processes. We don't see Mailchimp being knocked down from its perch any time soon.
Rating
Features

Ease of Use

Reporting

Best for:
Small, Medium, and Large Businesses