Brick-and-mortar stores can rely on their physical location to attract attention. And, if they do not get enough foot traffic, they can always move to a better location where they compete with a finite number of other stores. Though, what do you do if you have an online store? How can you ensure that your eCommerce business stands out and that enough customers visit your store?
Without a physical location to fall back on, you will need to rely solely on marketing strategies to grow your online presence. In this guide, we list the different types of eCommerce marketing and tips for making the most of your marketing strategy. If you need new ideas for how you can market your brand, you are on the right page.
---
A Comprehensive Guide to eCommerce Marketing:
---
What Is eCommerce Marketing?
In a nutshell, the goal of eCommerce marketing is to generate awareness about a business that sells its services or products online. Instead of the focus being on marketing the services or products online, eCommerce marketing specifically zooms in on marketing an online store. From search engines to social media, there are various strategies that are used to boost online sales and generate more website traffic.
---
The Most Common Types of eCommerce Marketing
Effective marketing strategies are dynamic. They change in response to the latest eCommerce trends and algorithms to ensure that your ROI remains as high as possible. The following are some of the most common types of eCommerce marketing that will help you to drive traffic to your website and scale your online business.
Social media marketing
There are more than 3.8 billion active social media users. That is a huge audience! What is more, social media also has a significant impact on the buying decisions of consumers. According to statistics about the behavior of social media users, 76% of American customers bought a product after seeing a brand's post, while 39% of customers trust brands only if they have interacted with them on social media.
It is clear – all eCommerce businesses must have a presence on multiple social media platforms. At the least, you should be active on the platforms where your target audience spends most of their time. Instagram, in particular, can be a useful platform as it is more visual than other platforms like Twitter which helps you to showcase your products better.
Whichever platforms you decide to use, ensure that you have a strategy that will help you to strike the right balance between sharing promotional content and other types of content that your audience will find relevant and useful.
All in all, it is a great way to help you build relationships with your target audience and gather reviews. So, be sure to include links to your social media profiles on your store's website and encourage visitors and customers to follow you on social media too.
---
Email marketing
While email marketing is not as new as social media marketing or influencer marketing which we'll look at later, it is still extremely effective. In fact, email marketing still delivers a better return on investment than any other marketing channel.
What makes email marketing so great is that your subscribers have chosen to sign up to your list. Thus, your list of email subscribers is an extremely valuable tool and you should actively try to grow this list from the get-go.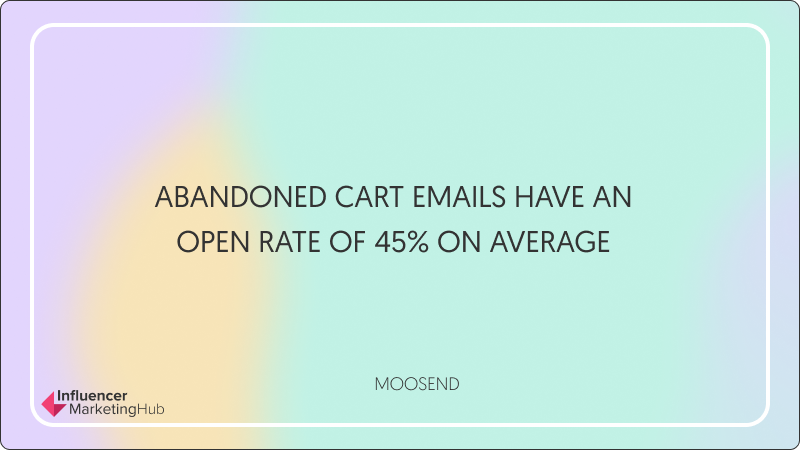 In addition to sending promotional content from time to time, you can also use it to follow up on abandoned shopping carts or the purchases that they made. These types of emails can show that you care, but also offer you a golden opportunity to gather product reviews and feedback on their shopping experience.
---
Influencer marketing
According to our influencer marketing survey, 50.7% of brands that work with influencers run eCommerce stores. As influencers are followed by a community of consumers who trust them, it is much easier for them to gain trust around your store and its products. Plus, as these influencers have already gained the trust and attention of their followers, your promotional content will come across as more authentic and less in-your-face than other types of eCommerce marketing.
---
Affiliate marketing
In short, affiliate marketing refers to using businesses or individuals to help sell your products. If you managed to make a sale by means of traffic that they have referred to your website, the affiliate will receive a commission. The commission rate is a percentage of the sale price and can be anything from as little as 5% to 30%. These sales are traced by means of affiliate links – a unique web link to your eCommerce site.
One of the advantages of using affiliate marketing is that you pay only after a sale has occurred. While affiliate marketing is similar to influencer marketing, you do not have to be an influencer to work as an affiliate. For example, bloggers can also become an affiliate marketer.
---
Content marketing
In short, content marketing refers to creating valuable content for your target audience to help boost engagement, generate leads and build a relationship with them. It can also be part of your SEO marketing strategy as it can help to create authority. The following are a few examples that you can try:
Your eCommerce website
Content marketing should start with your store's website. It is a vital part of your content marketing strategy. Before you start a blog or write guest posts for other relevant websites, first see to it that you have optimized your product pages. So, double-check that you include the right keywords in your page titles, image alt text and headers.
In addition to creating optimized product pages, it can also pay to add a FAQ section to your website. Here you can include long-tail keywords to help drive traffic and build authority for your website. Not only can a FAQ page become a marketing tool, but it also helps you to improve the customer experience, while reducing your workload.
Blogging
In addition to starting your own blog, you should also make a concerted effort to write guest posts from time to time. If there are websites that rank for keywords that relate to your online business and its offerings, reach out to them and ask if you can create content for them. You can either offer to write a guest post from scratch or flesh out one of the website's existing posts by adding more up-to-date content or statistics in the form of an engaging infographic. Not only will writing a guest post introduce more consumers to your store, but search engines will also view your website as more reliable and authoritative.
Podcasting
People mainly listen to podcasts to learn new things. So, this can be a great way to teach your target audience about how to use your products and the benefits that they can offer. You can also invite guests and experts onto your podcast.
If hosting your own podcast sounds too daunting, you can simply create an advertising arrangement with a few podcasts that your target audience will find relevant or reach out to other podcasts asking them if you could appear as a guest. One of the added advantages of using podcasting is that you can also repurpose your podcast content by, for instance, creating a blog post or summarizing the main points into an infographic.
Videos
Video works! According to Animoto's 2018 State of Social Video Marketer Trends report, 93% of businesses have attracted a new customer by simply posting a video on social media. As a matter of fact, the same report found that video ads are the most common way for consumers to discover products and new brands.
Not only do the video marketing statistics show that it works, but there are also a good selection of videos that you can create. From product demonstrations to unboxing videos, it is a great way to connect with your target audience and grow excitement about your product range.
---
Search engine marketing (SEM)
An effective eCommerce marketing strategy should also include paid advertising like pay-per-click campaigns and display ads. With a PPC campaign, you will only be charged after a user has clicked on your ad making it more cost-effective than other types of paid advertising. To make the most of your PPC campaign, you should focus on using high-performing keywords.
---
Considerations for Creating Your eCommerce Marketing Strategy
To use these different types of marketing successfully, your business needs to consider its approach carefully. For starters, you need to identify clear objectives and specific goals such as increasing your website visits, click-through rates and conversion rates by a certain percentage.
Secondly, it is best to start with just a few strategies. Consider your target audience and which strategies would be easier for your business to use and then write specific activities for these channels. For example, if you cater to millennials, concentrate on the social media channels that they use the most. It is better to keep it simple and ensure that you use a few strategies effectively, before you include more strategies in your plan.
---
4 Easy-to-implement eCommerce Marketing Tips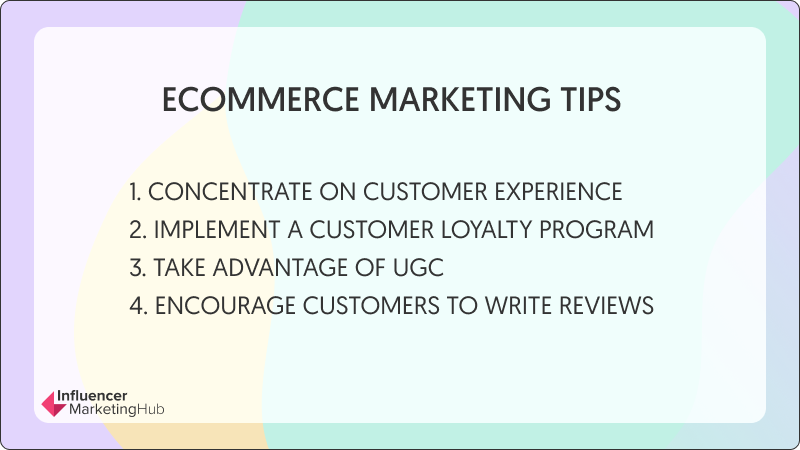 1. Concentrate on customer experience
To succeed in eCommerce, you need to surpass the expectations of your target audience. Offering a first-class customer experience is no longer a nice-to-have feature. In today's day and age, it is compulsory. Without paying special attention to customer service and customers' overall experience when browsing your website, your products simply won't sell. It should be easy to shop via your site and, if a customer should need more help, your response time should be fast. Chatbots can be really helpful to ensure fast response times and improve the overall customer experience.
In addition to expecting a seamless experience, consumers have also become accustomed to an element of personalization. So, be sure to tailor your marketing efforts to the needs of your customers. You can, for example, include the customer's name in the email's subject line or share blog posts based on their most recent purchases.
2. Implement a customer loyalty program
By creating a loyalty program, you can grow your base of long-term customers. Whether you prefer to use free gifts, offer free shipping or reward your customers with discounts, there are various types of loyalty programs that you can introduce. You also do not have to limit the rewards simply to how much they spend. You can, for example, also reward them for sharing your content on social media. While this approach might not necessarily mean a sale, it is a great source for referrals and user-generated content (UGC).
At the end of the day, effective marketing remembers to continue focusing on the customer even after he/she has made a purchase. Thus, you should continue to engage with your previous customers if you want to build a network of loyal customers.
3. Take advantage of UGC
Not only can UGC help you to increase your store's website traffic, but it can also help you to grow an authentic support base. As mentioned earlier, you can, for example, use your customer loyalty program to create UGC by rewarding loyal customers for sharing your content on channels like Facebook or Instagram.
Competitions also work really well. For example, in exchange for sharing their creative uses for your products on social media, customers can be given an entry into your competition. In short, to encourage your followers to create and share content about your store and its products, you need to dangle some type of carrot.
4. Encourage customers to write reviews
There are a number of ways that you can motivate your customers to write a review. One of the easiest ways is simply to send them a follow-up email asking them to rate your service and the product that they bought. While online shopping is convenient, it robs customers of the opportunity to inspect the product in person beforehand. As a result they often turn to reviews of the business and the product to avoid buyer's regret.