The past few years have been a wild ride, with COVID-19, logistical and transport crises, and the world economy in meltdown. We'll show you exactly how things have played out with these eCommerce stats.
Have COVID-19 and other recent crises had an impact on shopping and eCommerce? You already know they have.
The trick for the future is learning how to use the lessons we've learned over the past few years and apply them to your eCommerce digital marketing efforts to disaster-proof your eCommerce business. Let's dive right into the eCommerce statistics you need to know in 2023 and beyond.
---
130+ eCommerce Stats You Need to Know :
---
General eCommerce Statistics
1. Singapore was the fastest-growing eCommerce market in the world in 2022. (eMarketer)
2. There are over 2 billion digital buyers in the world. (Statista)
3. It is estimated that in 2022 there were possibly as many as 24 million eCommerce sites across the world. (WPForms)
4. Less than 1 million eCommerce sites sell more than $1,000 per year. (WPForms)
5. eCommerce grew to account for nearly 30% of all UK retail sales in Q3 2021. It is forecast to reach 38% by 2025.
6. Online sales are expected to account for 24% of all retail sales worldwide in 2024. By the year 2040, Nasdaq estimates that 95% of all purchases will be through eCommerce.
7. The Future Shopper Report 2022 found that 57% of spending is currently online, and consumers predict they will still spend 54% online in a post-COVID-19 world.
8. The revenue from eCommerce in the United States was expected to add up to over $900 billion in 2022. At its current annual growth rate (CAGR) of 13.48%, US eCommerce revenue should reach $1.7 trillion by 2027. (Statista)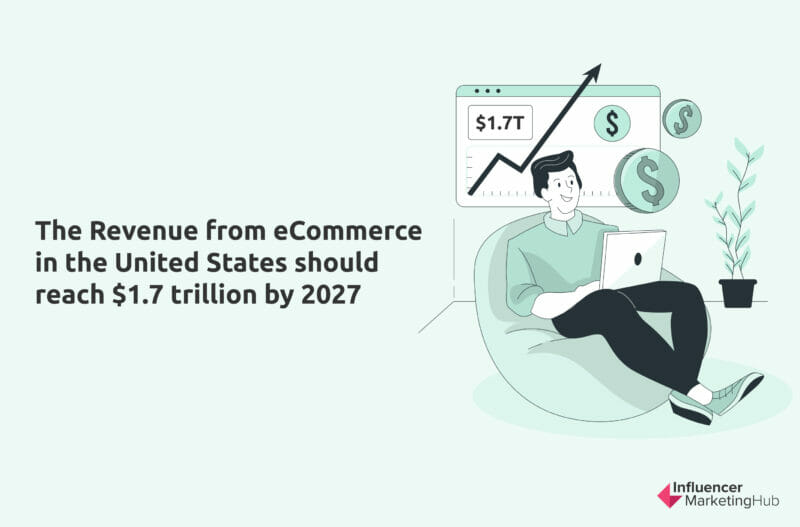 9. However, despite the overall success of eCommerce over the past decade, much of the world is now suffering a severe economic slowdown, and this has had a significant impact on major eCommerce players. The average share price of 26 major eCommerce players dropped by 55.2% between July 2021 and July 2022. This included major falls in the stock prices of Wish (88%), Farfetch (87%), Wayfair (84%), Boohoo (81%), Asos (81%), and Jumia (80%). Even Amazon suffered a 35% drop in its share price in that timeframe. (Statista)
10. Also, for the first time, eCommerce growth was negative in 2022, due to the global financial crisis. Discretionary segments such as Electronics have been hit hard, although those serving essential needs, such as Food & Beverages are still performing well. Previously, global eCommerce revenue for 2022 had been estimated at $4.229 billion, but the Digital Marketing outlook revised its view in July 2022. They now predict 2022 global eCommerce revenue to be $3,748 billion, 2.5% lower than 2021's $3,843 billion. (Statista)
11. Despite this short-term negative growth in eCommerce, global retail eCommerce sales were still predicted to reach $5.7 trillion in 2022 and rise to $8.1 trillion by 2026. (eMarketer)
12. Online orders which were placed via an Android device had an average value of $98.54 in Q3 2021. iPhone users spent more, however, with the average value of online orders made from an iOS device coming to $121.38. (Statista)
13. In the United States, the online shopper conversion rate is about 2.3%. (Statista)
14. 36% of online shoppers start their product search on the lead marketplace in a region, e.g., Amazon in the USA, UK, much of Europe, and India. Mercado Libre is more popular in South America, with 71% of Argentinians choosing to search there first. In 2021 61% of consumers in the US started their search on Amazon, and 56% in the UK. In 2020 these figures were over 80%. They now, both stand at 48%. Consumers in some countries are now using a much broader range of channels from which to start their search. (Wunderman Thompson)
15. Price takes priority over sustainability as cost-of-living soars. Nosto's 2022 sustainability report found a movement away from being willing to pay for sustainability compared to two years prior. Although most people (57%) still want the fashion industry to become more sustainable, 61% say they're more concerned about price as the cost-of-living crisis continues. Just 39% say they'd pay more for sustainably made versions of the same fashion item. (Nosto)
16. However, there is still a reasonable interest in sustainable delivery. 54% of the online fashion consumers surveyed say they wouldn't mind having slower deliveries if it allowed companies to cut the number of truck/van journeys, reducing carbon emissions. (Nosto)
17. Of those who want fashion to be more sustainable, 68% say they'd pay more attention to what other shoppers say than the brands. Indeed, 54% say they don't trust the claims that fashion brands make about their commitment to sustainability. (Nosto)
18. A fifth of consumers used the internet daily to get local business information in 2021. This is quite a drop from the 34% doing it in 2020. However, 35% say they use the internet to find out about a local business multiple times per week, and 99% of consumers have used the internet to find information about a local business in the last year. (Bright Local)
19. On average, 69% of customers are open to the use of artificial intelligence to boost experiences, up from 60% in 2020. That being said, 72% have indicated that they're worried about the unethical use of AI, while 54% are worried about bias in AI, also up from 2020 figures. (Salesforce)
20. On average, about half of online stores offer omnichannel capabilities. (Oberlo)
21. The average visit duration is more than six minutes for the world's most popular eCommerce and shopping sites, nearly eight minutes in the case of Amazon.com. (Similarweb)
22. Visitors view more than seven pages per visit on average when browsing the world's most popular eCommerce and shopping sites, more than ten pages per visit in the case of Amazon.com. (Similarweb)
---
eCommerce Market Share Statistics
23. China is the largest eCommerce market in the world and was expected to generate $1.54 trillion in eCommerce sales in 2022. Second-place the USA, is well behind, expecting to reach $875 billion in eCommerce sales. (Oberlo)
24. The five biggest eCommerce markets have stayed the same since 2018.
25. It's predicted that China, the United States, the United Kingdom, Japan, and South Korea will remain the top five markets till 2025. (eMarketer)
26. When you compare retail eCommerce share to total retail sales, China is again the largest eCommerce market in the world at 45.3%. Perhaps the greatest surprise is that the UK holds second place with 35.9% in 2022, followed by South Korea, with 30.1%. The USA only holds 6th place here, as retail eCommerce only accounts for 15% of the US's retail sales. (eMarketer)
27. By 2023, it's expected that retail eCommerce sales in Asia-Pacific will be more than the rest of the globe combined. This can be attributed to advancements in tech and rapid urbanization, alongside more than 85% of new middle-class growth residing in APAC, and government and private-led initiatives in China. (Shopify)
28. As of May 2022, Amazon was the most popular eCommerce website across the globe. It accounted for over 13% of desktop visits. eBay was in second spot with 3.2%. (Statista)
29. While the United States might not have the biggest eCommerce market, the average revenue per online shopper is the highest in the US. It's just over $1,800, followed by the United Kingdom ($1,629). (Invesp)
30. It's anticipated that by 2027 there will be 290 million online shoppers in the United States. To put this into perspective, it's about 84% of the country's population. This is smaller than earlier estimates, due to the effects of the current global recession on spending and supply chains. (Statista)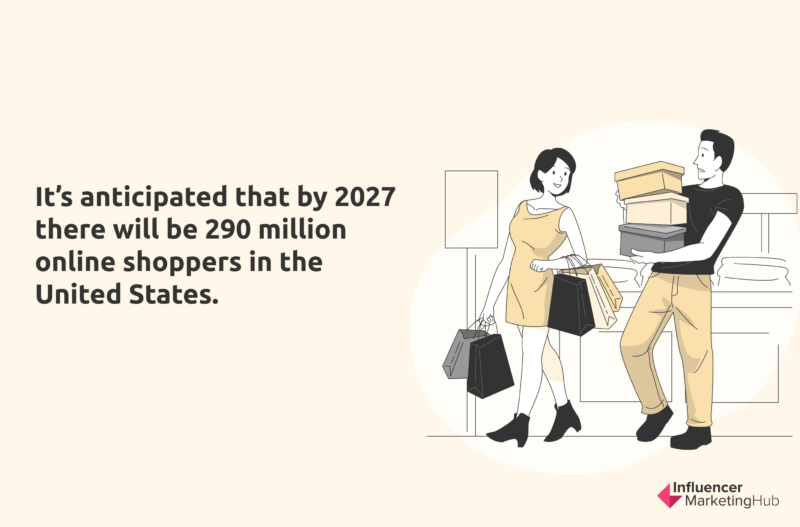 31. Fashion, toys and hobbies, and electronics are currently the most popular online shopping categories in the US. (Statista)
32. Research suggests that in 2023, an estimated 17% of B2B sales will be generated digitally, up from 13% in 2019 (Statista).
33. Projections for 2022 indicated that marketplaces would be more relevant in B2B eCommerce. By the end of the year, the value of transactions achieved through marketplaces was expected to amount to $130 billion worldwide, up from less than $25 billion in 2020. (Statista)
34. Amazon, Alibaba, Rakuten, Mercateo, Global Sources, Walmart, and IndiaMART are the major players in the global B2B eCommerce market. Amazon Business's net sales in 2021 were $56.5 billion. Alibaba, with a share of about 30% in China, is now expanding its operational base to India, Europe, and the U.S. (Statista)
35. B2B eCommerce sales in non-Western continents account for 84% of all global sales. Asia Pacific has a market share of almost 78% (Statista)
36. B2B eCommerce is attracting a lot more attention than B2C eCommerce. When you compare the two markets' total annual value, there's a difference of nearly 500%. (Statista)
37. It's expected that the B2B eCommerce market will expand by 19% from 2023 to 2030. (Grand Review Research)
---
Consumer eCommerce Statistics
38. The number of regular online shoppers over the age of 55 tripled in 2020. (Waitrose) However, the main categories favored by older shoppers were home goods and electronics, compared to younger shoppers who purchased more beauty supplies and fashion, alongside their electronics. (ClearSale)
39. Millennials aged 25–34 were the largest group of online buyers in the US in 2020 with those aged 35–44 making up the second largest group.(FinancesOnline)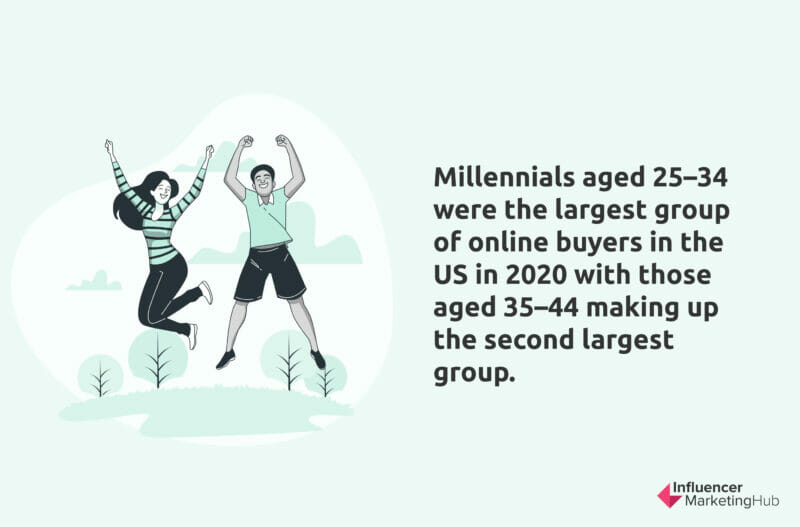 40. Somewhat against stereotypes, men shop online more than women, and that difference is increasing. 30% of men shop online once or twice a week, with a further 25% shopping online every two weeks. In comparison, 24% of women shop online every week, and 23% shop every two weeks. In addition, 44% of men reported that their online shopping has increased over the last six months, compared to 36% of women. (ClearSale)
41. Less than 15% of people who shop online in the United States are 65 or older. (Oberlo)
42. However, seniors are becoming more used to buying via social channels. 34.3% of those aged 65+ who use at least one social channel purchased that channel in the year to May 2021. (eMarketer)
43. 52% of customers now say they generally trust companies — up from 48% in 2020. 64% of consumers trust most companies to meet their needs and expectations. (Salesforce)
44. 46% of consumers have become more comfortable with the idea of buying expensive items online. (Baymard Institute)
45. 75% of US consumers say they are shopping omnichannel (both online and in-store), compared to 20% who shop in-store only and 5% who shop online only. This is best demonstrated with restaurant food delivery, buying online but picking up in-store, grocery delivery, and curbside restaurant pickup/delivery. (McKinsey & Company)
46. Nearly half of consumers actively pick businesses and brands that are environmentally responsible. (Wunderman Thompson Commerce)
47. Almost 50% of online shoppers go straight to a big eCommerce marketplace. (Oberlo)
48. 88% of customers say the experience a company provides is as important as its product or services — up from 80% in 2020. (Salesforce)
49. 80% of customers will forgive a business for a mistake after receiving excellent customer service. (Salesforce)
50. 56% of customers expect offers to always be personalized. (Salesforce)
51. 58% of customers currently use chatbots for basic customer service, up from 43% in 2020, while 65% have used self-service account portals. (Salesforce)
52. 66% of customers have indicated that they've stopped supporting a business whose values didn't match their own, up from 62% in 2020. 88% of customers expect companies to clearly state their values, although only 50% of customers say they do. (Salesforce)
53. Nearly 80% of online shoppers prefer to purchase products with info in their own home language. What's more, 65% would prefer poor-quality content in their native language over content in another language. (CSA Research)
54. The same research study has found that as much as 40% have indicated that they will never buy from an online store in other languages. (CSA Research)
---
Shipping and Cart Abandonment eCommerce Statistics
55. Consumers name fast shipping speeds (76%) as the top indicator of a positive online shopping experience. (Marketing Charts)
56. The average shopping cart abandonment rate is around 70%. (Baymard Institute)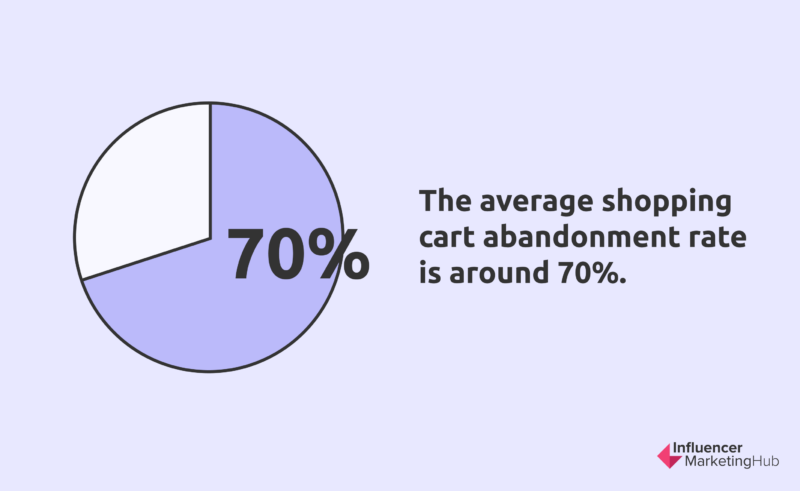 57. Extra costs like shipping, tax, and fees are the main reason for cart abandonment during checkout. (Baymard Institute)
58. Almost 60% of shoppers abandoned their shopping carts within the last 90 days because they were just browsing. (Baymard Institute)
59. The majority of online store owners expect that their customers will receive their orders within 14 days of shipping the order. (BigCommerce)
60. Free delivery is the main feature that encourages consumers to purchase online via one store over another. (Wunderman Thompson Commerce)
61. To add to the previous stat, according to Oberlo, the main reason why people shop online is free delivery. They prefer free delivery over other factors such as coupons and discounts, reviews from other customers, an easy returns policy, a quick and easy checkout process, and next-day delivery.
62. Free returns is the main thing that consumers would change about online shopping. (Wunderman Thompson Commerce)
63. Between 2020 and 2022, the share of customers to use curbside pickup nearly doubled, from 31% to 60%. (Salesforce)
---
Social eCommerce Statistics
64. Online retailers with a social media presence get an average of 32% more sales than those that don't. (BigCommerce)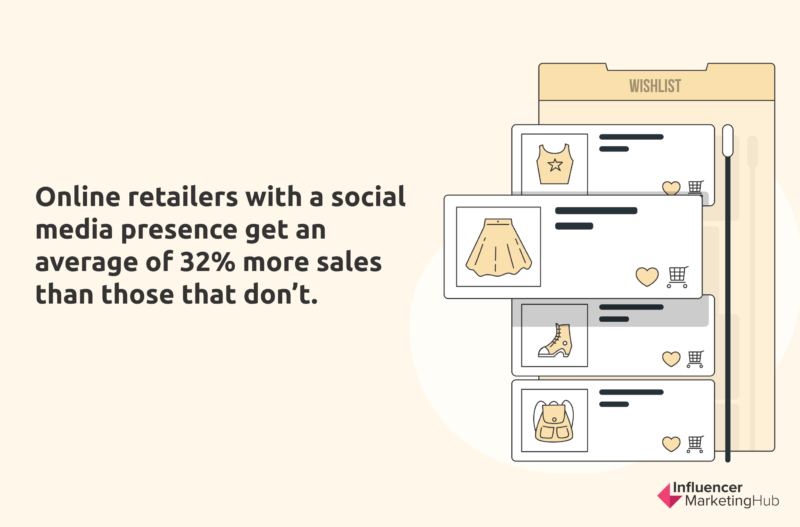 65. The average eCommerce retailer publishes 4.55 posts each week on Facebook. (BigCommerce). However, the Global State of Digital 2022 (October Update) report takes a different approach and notes that Facebook pages make on average 1.68 posts per day on average. 52.5% of these posts are link posts, 28.8% are photo posts, 17.1% are video posts, and just 1.8% are status posts. (Hootsuite)
66. Nearly 90% of online retailers in the United States have their own Facebook fan page. (HubSpot)
67. On average, the Facebook community of an eCommerce site grows by 8% per month. (BigCommerce)
68. Nearly 60% of Facebook users expect that they will get exclusive promos or deals when they become a fan. (HubSpot)
69. 54% of social media users use social media to research products and 71% are more likely to purchase products and services based on social media referrals. (Search Engine Watch)
70. 61% of consumers make use of search engines to find out more about a product before buying it. (HubSpot)
71. Almost 50% of Gen Z and millennial shoppers indicated that they think social platforms are better places than online searches to get more info about new products. (Statista)
72. Almost 40% of Twitter users revealed that they've bought a product as a direct result of a Tweet from an influencer. (USP)
73. The highest channel for product discovery is searching the internet (44%), followed by television ads (42%), and retail stores (42%). Social media follows with 36% of HubSpot's US survey participants discovering new products there over a three-month period. For Millennials, that number reached 50%, and for Gen Z, it topped out at 57% (HubSpot)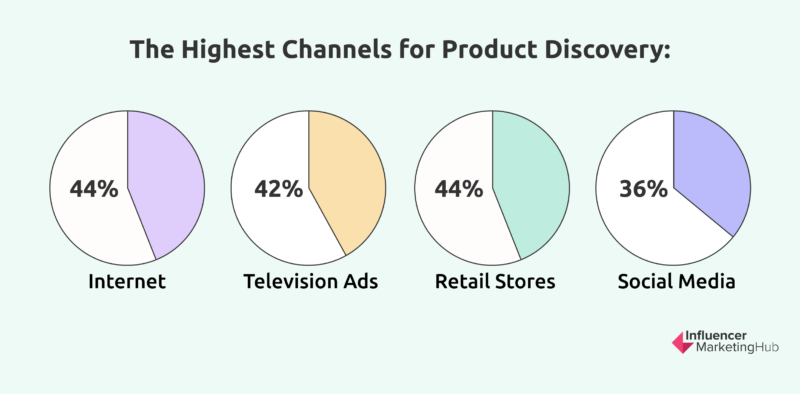 74. 28% of Gen Z and Millennials bought a product on social media directly in the app during the past three months. (HubSpot)
75. Millennials also get the most use out of social media as a customer service channel, with 24% using social media direct messaging for support. (HubSpot)
76. 84% of millennials state that user-generated content (UGC) from strangers has some impact on their spending habits. (Search Engine Watch)
---
Mobile eCommerce Statistics
77. In Q4 2022, mobile devices (excluding tablets) created just over 60% of global website traffic. From 2017-2020, this number consistently hovered around the 50% mark but rose notably over 2021-2022. (Statcounter)
78. Between Q3 2021 and Q3 2022, mobile network data traffic grew by 38%. (Ericsson)
79. It's anticipated that 5G networks will carry nearly 70% of the globe's smartphone traffic by 2028. (Ericsson)
80. It is forecasted that mobile commerce will account for more than 10% of all retail sales in 2025. (Statista)
81. More than 10% of all retail sales in the US are expected to be generated by means of mobile commerce by 2025. (Statista)
82. Mobile eCommerce revenue reached $3.56 trillion in 2021, accounting for more than half of total eCommerce sales. (Business of Apps)
83. 78% of customers have indicated that they've used multiple devices to begin and complete a purchase. (Salesforce)
84. Almost 80% of millennials use smartphones to find store info. (Comm100)
85. Advertising that targets consumers using mobile phones and devices is expected to account for 70 percent of all digital ad spending by 2026. (StockApps)
86. Global tablet conversion rates equal desktop conversion rates (3%) but exceed conversion rates on mobile phones (2%). (Kibo)
87. Bounce rates globally are lowest on tablets (35%), compared to mobile phones (41%) and desktop (44%). They have increased across the board over the last twelve months. (Kibo)
88. Mobile page views in the US and UK were flat over the 12 months to Q2 2022 but were down in most other places. (Kibo)
89. Globally, the average order value by tablet in Q2 2022 was $99.92. This compares to $97.72 by mobile phone and $146.05 by desktop. (Kibo)
90. Nearly 80% of smartphone users have made a purchase online via their mobile device in the last six months. (OuterBox)
91. The chances that a potential customer will leave a mobile web page increases by 32% when the web page takes longer than a second to load. (Oberlo)
92. If a customer has a negative experience on a mobile website, 40% of users will go to a competitor in the future. (OuterBox)
---
Email Marketing eCommerce Statistics
93. Email is still a popular channel (57% embrace it as a preferred channel), however, Phone took over as the most preferred channel (59%) in 2022. (Salesforce)
94. People are spending less time reading brand emails. In 2020, the average time spent reading brand emails was 11.8 seconds. In 2021, it dropped to only 10 seconds. (Statista)
95. Businesses see Increasing Engagement is the greatest email marketing challenge, followed by Measuring Performance/ROI. (Marketing Charts)
96. On average, nearly 10 billion emails are sent per day in the United States of which 8.61 billion are spam emails. (Statista)
97. It's anticipated that by 2025 the number of daily emails that will be sent globally will be more than 376.4 billion. (Statista)
98. Approximately 45% of cart abandonment emails get opened, nearly half. (Moosend)
---
Marketing and Advertising eCommerce Statistics
99. Digital search accounted for approximately 40% of total US ad spend in 2021. (Statista)
100. Video marketing is the category that has grown the fastest. (Hook Agency)
101. Nearly half of companies are spending between 4–10% of their revenue on advertising. (Hook Agency)
102. More than 50% of companies have stated that the highest ROI activities are search-related (which includes content marketing, paid search, and SEO). (Hook Agency)
103. In 2021, Google helped to generate more than 2.4 billion direct connections for American businesses per month. (Google)
104. The number of advertisers that use Facebook has more than doubled in the last 18 months. (Wordstream)
105. The average CTR for a Facebook ad is 0.9%. (Wordstream)
106. The average cost-per-click (CPC) for a Facebook ad is $1.72. (Wordstream)
107. The average conversion rate for a Facebook ad is 9.21%. (Wordstream)
108. It's anticipated that eCommerce ad spend in the US will exceed $38 billion by the end of 2024. (Statista)
109. 64% of all display ad designs in 2022 were animated. 35% were static, and the remaining 1% classify as Audio and Video. (Creatopy)
110. The most popular display ad size in 2022 was 300x250. Although smaller than 2021's 336x280, it is approximately the same shape. Both these sizes have been proven to be effective. The 300x250 size, in particular, displays well on mobile and desktop devices and performs well within text content or at the end of an article. (Creatopy)
111. 54% of brands working with influencers run eCommerce stores. (Influencer Marketing Hub)
---
Payment and Payment Gateway eCommerce Statistics
112. The two most popular credit card companies are Visa and Mastercard. Mastercard and Visa dominate the purchase card market, both in the United States and worldwide. Other leading credit card companies are Chase, American Express, and Discovery. (Statista)
113. 55% of Americans carry a balance on their credit cards from month to month — including nearly one in five who owe more than $20,000 (Inside 1031)
114. PayPal is the preferred payment method among online shoppers worldwide with 40% of online shoppers using it. For example, in the United States nearly 90% have used it in the past 12 months. (Statista)
115. Venmo, a US-based digital wallet service that's owned by PayPal, boasted a payment volume increase of 57% year-on-year in Q2 2021, although by Q3 2022 year-on-year growth was down to 6%. (Statista)
116. In 2020, credit card debt dropped for the first time since 2013. However, since 2021 credit card debt has started to rise again as financial conditions have worsened for most people. Overall, credit card balances jumped 15% in the third quarter of 2022, which was the largest year-over-year increase in more than 20 years. (Experian and CNBC)
117. The average credit card balance for US consumers was $5,589 in Q4 2021 but had increased to $6,004 by Q3 2022. (Forbes)
118. Buy buttons save consumers 148 million hours each year when checking out online. Checkouts via a buy button took just 68 seconds, on average, in Q2 2022 — 17% faster than they were in Q4 2020 (Pymnts)
119. Buy buttons enjoy significantly higher popularity among small eTailers than large ones. 87% of small online merchants support at least one buy button, while only 73% of large merchants do the same. (Pymnts)
120. Almost 20% of retail sites offer the Amazon Pay buy button, although this is a distant second to PayPal's 76% adoption rate. (Pymnts)
121. 30% of online merchants surveyed in Q2 2022 required customers who check out using buy buttons to provide personal information — nearly three times as many as did so in Q4 2020. (Pymnts)
122. The average website can boost its conversion rate by more than 35% by just improving its checkout design. (Baymard Institute)
123. It's anticipated that mobile payments (like PayPal, Apple Pay, and Amazon Pay) will grow by nearly 30% by 2027, based on the current trend. (Mordor Intelligence)
124. It's expected that the global mobile coupon industry will grow by nearly 68% by 2027. (BusinessWire)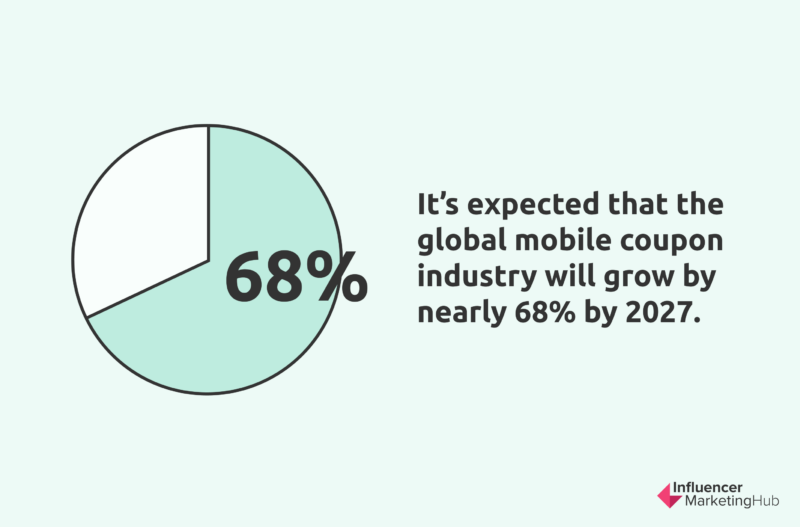 ---
Black Friday and Cyber Monday eCommerce Statistics
125. About 25% of consumers in North America revealed that they already started searching for Black Friday and Cyber Monday deals in early October in the hopes of getting a head start. (Statista)
126. Cyber Week drove $35.3 billion in sales as discounts surged across categories including toys, electronics, computers, televisions, and apparel. $11.3 billion of this occurred on Cyber Monday. (Adobe)
127. In 2022, Germany was the country where consumers showed the highest eCommerce purchase intent during Black Friday. (Statista)
128. While Germany might have shown the highest purchase intent, the US still accounted for the highest online search interest for Black Friday. More than 20% of all the search volume came from the US. (Statista)
129. In 2022, men were slightly more likely to say they'll be hitting the Black Friday sales, with 55% of men saying they'll be bargain hunting compared to 52% of women. (Finder)
130. 75% of those Gen Z surveyed by Finder said they planned to shop the Black Friday sales. This compares to 63% of Gen Y, 45% of Gen X, and 38% of Baby Boomers. (Finder)
131. Approximately 60% of those surveyed by Finder say that they've bought a sale item only to regret it later, with the average amount spent on a regrettable item coming out at $233. (Finder)
---
Wrapping Things Up
While COVID-19 gave online shopping a bit of a boost in 2020, much of this momentum continues today. Although online shopping wasn't exactly a secret before 2020, Covid changed people's thinking about shopping, and things look unlikely to ever return to the old norm. While we've learned not to try to anticipate what the future might have in store for us, there's no doubt that eCommerce will continue to hold strong.