In a world where digital transactions are the new norm, there's a pulsating discourse about the role of technology and innovation in shaping the future of e-commerce. Some advocate for a more human-centric approach, while others champion the power of artificial intelligence and machine learning. Regardless of the perspective, one thing is clear - e-commerce is not just about transactions; it's about creating unique, personalized experiences that resonate with consumers. E-commerce has witnessed exponential growth, and while factors like convenience and wide product range play a significant role, they don't entirely encapsulate why e-commerce has become so indispensable. At the heart of this value lies the ability to cater to the evolving needs of consumers in real-time, providing them with a seamless shopping experience. This commitment to customer satisfaction and continuous innovation is what sets the e-commerce industry apart in 2023. According to McKinsey, the future of B2B sales is hybrid, with hybrid selling expected to be the most dominant sales strategy by 2024 due to shifts in customer preferences and remote-first engagement. This approach drives up to 50% more revenue by enabling broader, deeper customer engagement and unlocking a more diverse talent pool than more traditional models. Winning B2B organizations are actively shifting towards a more hybrid sales force by implementing four key actions that support success.
---
Key 40+ eCommerce Stats That will Blow your Mind in 2023 (UPDATED) :
---
| | |
| --- | --- |
| | |
| What is the projected growth of e-commerce sales in the United States? | |
| Which country is leading in global e-commerce in 2023? | In 2023, China is set to lead global eCommerce with projected sales of $3 trillion, followed by the US at just over $1 trillion. |
| What is the future forecast for e-commerce by 2025? | E-commerce spending is expected to surge past $7 trillion by 2025, indicating a promising future for the industry. |
| Is e-commerce a viable industry in 2023? | Yes, eCommerce is not only viable but thriving in 2023. The global retail e-commerce sales are expected to exceed 6 trillion USD in 2023 and the e-commerce share of total global retail sales is expected to be more than 20%. |
| Which countries are experiencing the fastest growth in e-commerce? | |
E-commerce Revenue Growth Globally
First off, let's take a look at the bullish strides in e-commerce revenues. The e-commerce market in the United States is forecasted to continuously increase between 2023 and 2027 by a whopping 509.4 billion U.S. dollars (+54.19 percent). Inching closer to the peak, the revenue in 2027 is estimated to reach 1.4 trillion U.S. dollars - a new high.
The e-commerce growth isn't limited within the United States. Turning our sights across the borders, Brazil is leading the e-commerce growth race with a 14.6% compound annual growth rate (CAGR) between 2023 and 2027.Additionally, the fastest-growing e-commerce countries based on online sales are the Philippines and India, where e-commerce sales are forecast to increase by more than 25 percent in 2022, further highlighting the global expansion of e-commerce."
Argentina and Turkey are not far behind- they are among the fastest-growing e-commerce markets globally with an impressive CAGR of over 14%. Catering to such rapidly growing markets can form a key pillar of global e-commerce strategies.
For the first time in history, global e-commerce sales are predicted to exceed $5 trillion in 2023. Surprisingly, these figures account for more than a fifth of overall retail sales! With spending expected to surge past $7 trillion by 2025, the takeaway for businesses is clear–unlocking growth opportunities in e-commerce calls for an invigorated focus on creating unique and immersive shopping experiences.
---
General eCommerce Stats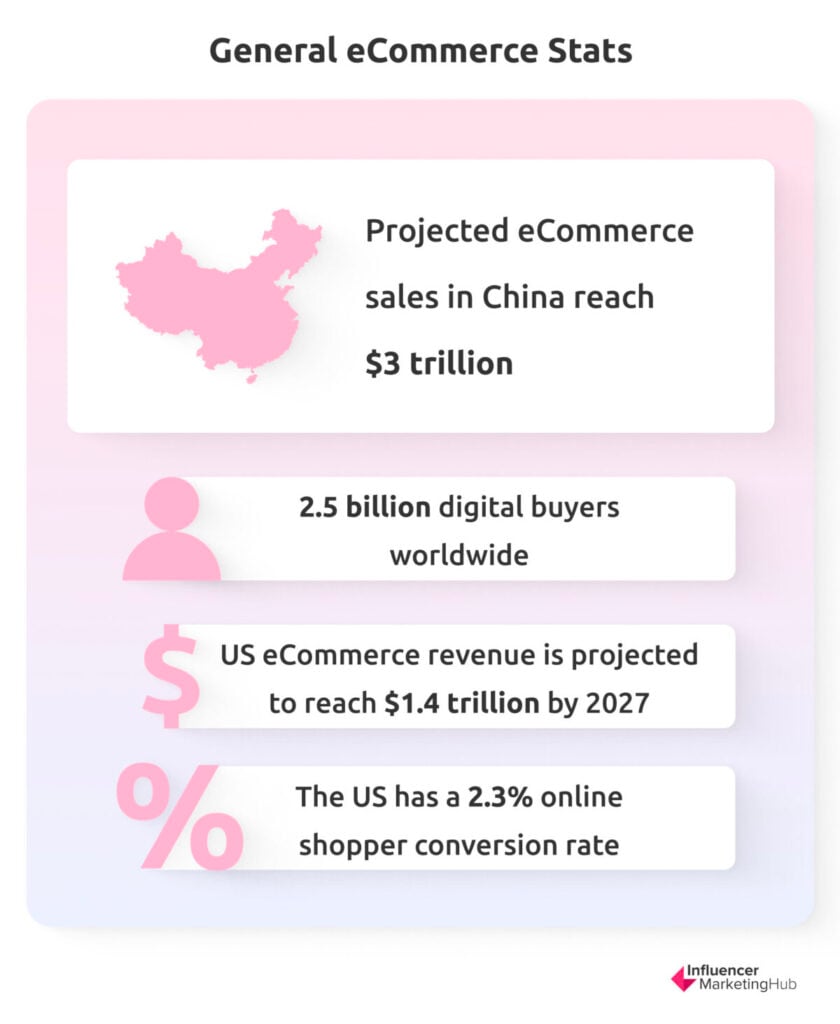 ---
B2B eCommerce Stats
The rise of B2B e-commerce has presented an enticing opportunity for big players to capitalize on. Amazon Business's net sales in 2023 reached a remarkable $75.2 billion - a palpable growth from 2021's $56.5 billion, illustrating the vast potential in B2B e-commerce.
Alibaba too is flexing its power in China's B2B e-commerce market, although a slight decrease is predicted to 28% in 2023 from 30% in 2021. The company has also expanded successfully to India, Europe, and the U.S. Its international commerce retail business generated a sturdy $7.2 billion in the first quarter of 2023.
The message is clear - treading the B2B e-commerce path can unlock enormous growth possibilities for businesses.
Notable B2B eCommerce Statistics: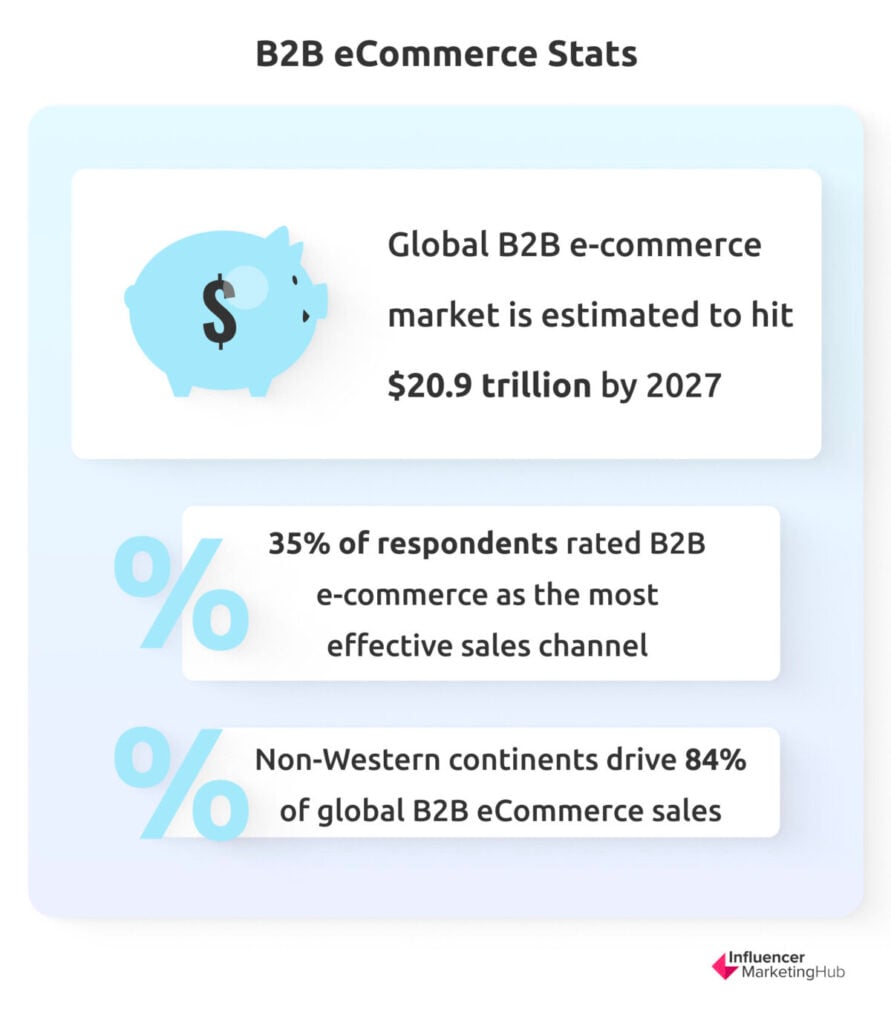 ---
B2C eCommerce Stats
A closer look at the global B2B e-commerce market reveals exciting prospects. The global B2B e-commerce market is projected to hit the colossal figure of $20.9 trillion by 2027. Its growth at 17.5% CAGR from 2020 to 2027 further underscores the possibility that the future of e-commerce lies beyond B2C. It's gradually tilting towards B2B. However, nevertheless is B2C eCommerce evolving in such a fashion that markets simply have to keep evolving skills to operate new eCommerce technologies.
Notable B2C eCommerce Statistics: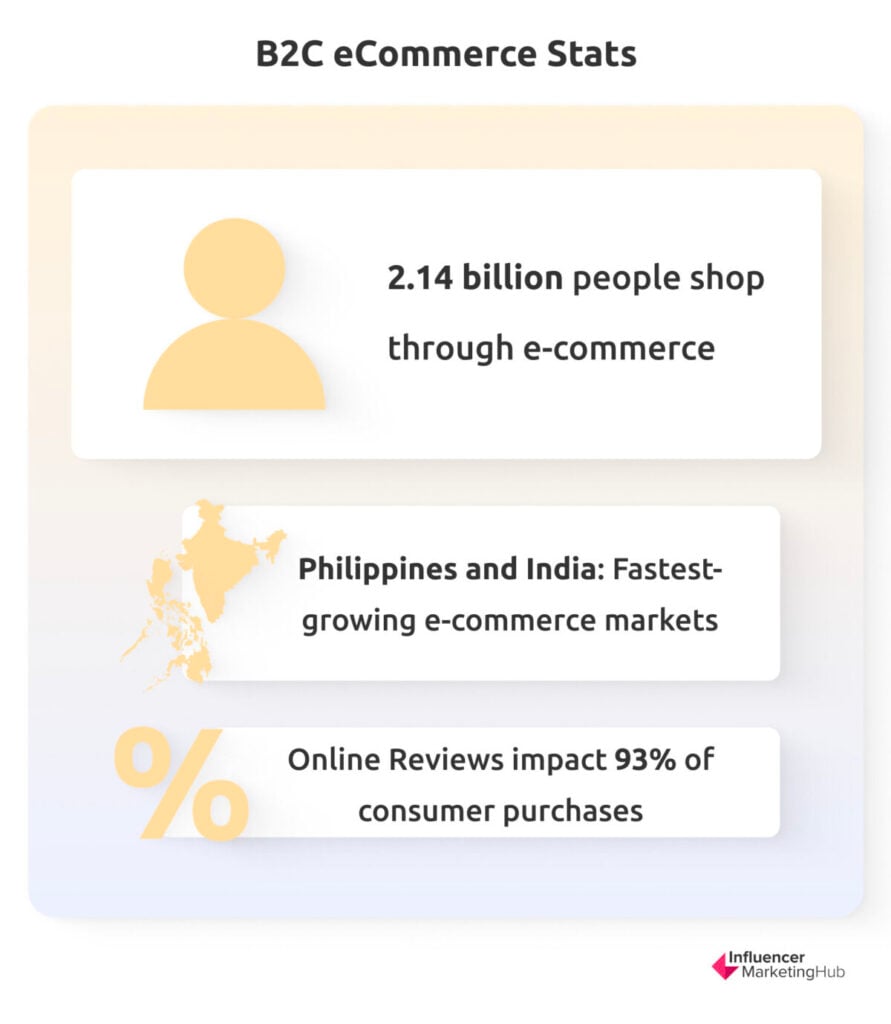 ---
eCommerce Marketplace Stats
According to Forbes Advisor, e-commerce sales are expected to grow 10.4% in 2023. Since 20.8% of retail purchases are expected to take place online in 2023, it's no surprise that e-commerce sales are supposed to increase as well.
Research completed by eMarketer and Statista shows that online retail sales will reach $6.51 trillion by 2023, with ecommerce websites taking up 22.3% of total retail sales. Although retail has had it tough since 2020, every national market covered by eMarketer saw double-digit ecommerce growth.
The global retail e-commerce sales are expected to exceed 6 trillion USD in 2023 and the e-commerce share of total global retail sales is expected to be more than 20%3.
Notable eCommerce Marketplace Statistics: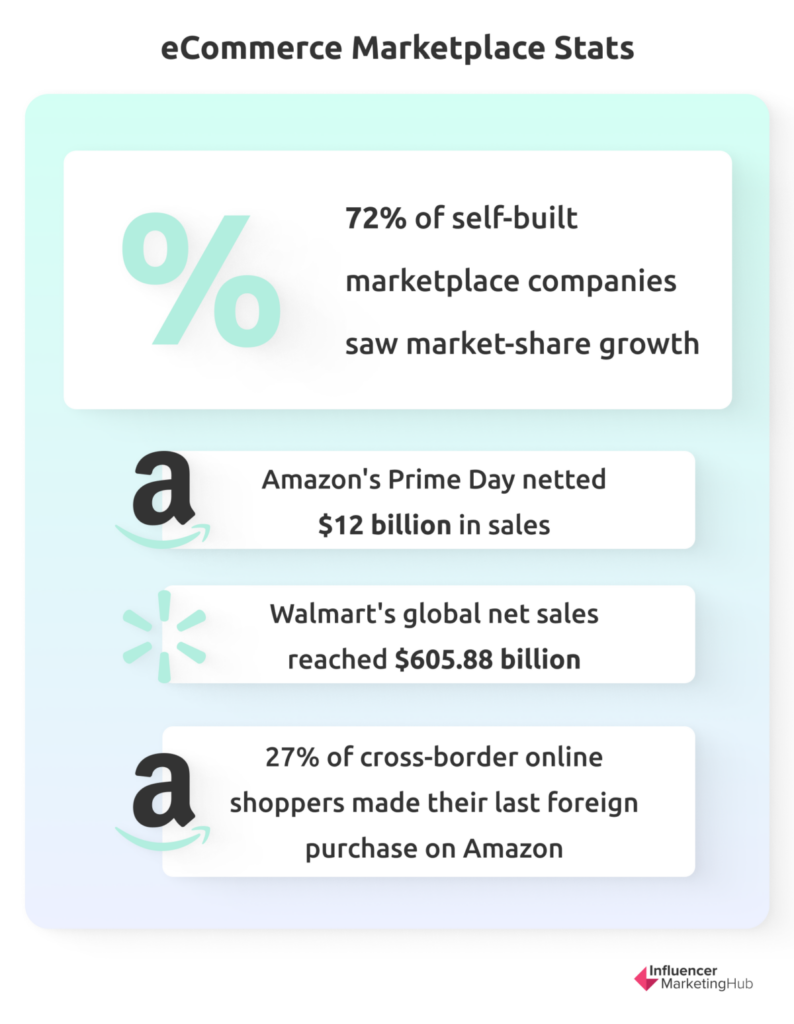 ---
eCommerce Behaviour Stats
It's fascinating to observe the global shifts and trends that are shaping the way consumers interact with online marketplaces. The digital revolution has not only transformed the way we shop but also the way we perceive and engage with brands. In particular, the grocery sector has seen a significant surge in online shopping. A staggering 96% of Chinese grocery shoppers are now purchasing their groceries online, closely followed by 93% in India, 89% in South Korea, and 77% in the Kingdom of Saudi Arabia. This trend underscores the growing comfort and reliance on digital platforms for everyday necessities. Moreover, the effectiveness of multi-channel marketing strategies is becoming increasingly evident. Marketers who utilized at least three channels in their campaigns witnessed a 28% higher purchase rate compared to their counterparts who relied on single-channel marketing. This highlights the importance of a diverse and integrated approach in reaching out to today's digital-savvy consumers.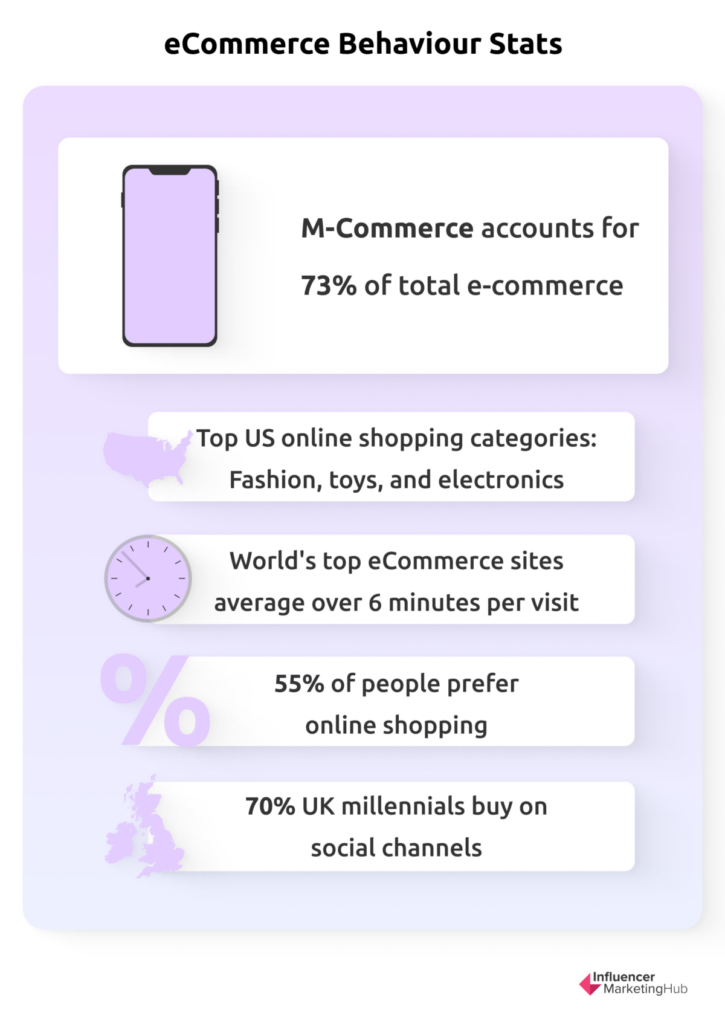 ---
The Power of Technology: Shaping E-commerce Trends
Businesses striving to seize these e-commerce growth opportunities should harness the transformative power of technological innovations. From Augmented Reality (AR) to Artificial Intelligence (AI), technology is overhauling the way businesses interact with consumers.
Utilizing AR for providing immersive shopping experiences, leveraging AI for personalizing user experiences, and harnessing the power of big data for creating personalized shopping experiences are some of the cutting-edge trends businesses should capitalize on.
---
To Surf or Stumble on the E-commerce Wave?
As we journey further into 2023, the e-commerce landscape will continue to evolve, riding on the trends of expanding cross-border growth opportunities, rising focus on B2B e-commerce, and technological disruptors.
With this wide canvas painted for 2023, every e-commerce business-owner must ask, "How can I leverage these trends to redefine my business strategy? How am I preparing to pivot effectively to harness these opportunities and navigate potential challenges?"
Your answers to these questions chart the course for your e-commerce venture's success, far beyond 2023!
The e-commerce journey is ever-evolving, and so should our strategies. Hop onto the e-commerce wave, and enjoy a thrilling ride towards success and innovation.