2021 was riddled with metaverse news, supply chain issues, and data privacy changes. Still, retail e-commerce sales worldwide reached an estimated $4.9 trillion, and experts predict that this will grow by 50% more over the next four years.
This year, the projected reach of e-commerce sales is $5.4 trillion with a 53.8% market penetration. 2022 will be the year of local e-commerce platforms, hyper-personalization, direct-to-consumer (D2C) marketing, and micro-segmentation.
Whether you're a newbie or a pro, these tips will help you increase your engagement, convert your traffic into sales, and grow your bottom line.
---
30 E-commerce Marketing Tips to Drive Sales This 2022:
---
Strategies for E-Commerce Marketing
1. Gather first-party data
Google's move to eliminate third-party cookies from Chrome by 2023 will be a huge blow to advertisers. While this development is for the protection of customer data and privacy, marketers will lose access to customer behavior data. This will make audience targeting impossible, thereby decreasing the effectiveness of ads.
2022 is the year for mitigating these potential losses. A past study has shown that first-party data initiatives (collecting data directly from your audience) can increase sales by up to 2.9 times. Leveraging gated reports in exchange for users' email addresses is one way to gather first-party data. Other ways include offering discounts and exclusive content and conducting surveys and quizzes.
---
2. Accept digital currency on your online store
The interest around the metaverse in recent years has drawn fervor around cryptocurrencies and blockchains. Thanks to pandemic-induced lockdowns, NFTs and play-to-earn platforms have grown. The value of the crypto market rose to $2 trillion in 2021, with digital currency increasing by 70%. Blockchain innovations, which offer transparency, security, and financial flexibility, are even more valuable in 2022.
For one, PayPal and Visa allow customers to buy, sell, and hold digital currency in their accounts. Meanwhile, Meta has launched its own cryptocurrency. Accepting digital currency on your website can quicken transactions and provide cleaner consumer data. You can accept payments through a personal wallet or a third-party service.
---
3. Sell directly to consumers
With more consumers shopping online, D2C e-commerce sales are becoming more popular. Without third-party platforms like Amazon or eBay, D2C brands have more control over consumer engagement, reduce costs, and directly access customer data. eMarketer predicts that e-commerce sales for the D2C market will reach $151.20 billion this year.
An example of a D2C brand is Nike. The footwear company ditched Amazon in 2019, opting to entertain consumers through its website instead. In 2021, Nike increased its D2C sales by 30% from the previous year. Like Nike, you can start D2C marketing by listing your products to your own website, writing relevant and informative content, and partnering with influencers.
---
4. Drive SEO traffic faster to your site
In the past, it can take weeks for search engines to discover a website's new content. But with Bing and Yandex' IndexNow, businesses can now engage with their audiences as soon as they hit the publish button. A free ping service, IndexNow alerts search engines to index any new and updated website content immediately, improving potential traffic, customer engagement, and even sales.
Large companies like eBay and LinkedIn are already adopting this new protocol, while Google is currently testing it. Smaller businesses are likely to follow suit. IndexNow works by generating a key on your server and then submitting a URL to the search engine as soon as you create, update, or delete content.
---
5. Manage your affiliate marketing campaigns
A 2016 survey reveals that over 80% of advertisers run an affiliate marketing program. This year, the affiliate marketing industry will be twice its worth in 2015, while expenditure is due to reach $8.2 billion in the United States alone.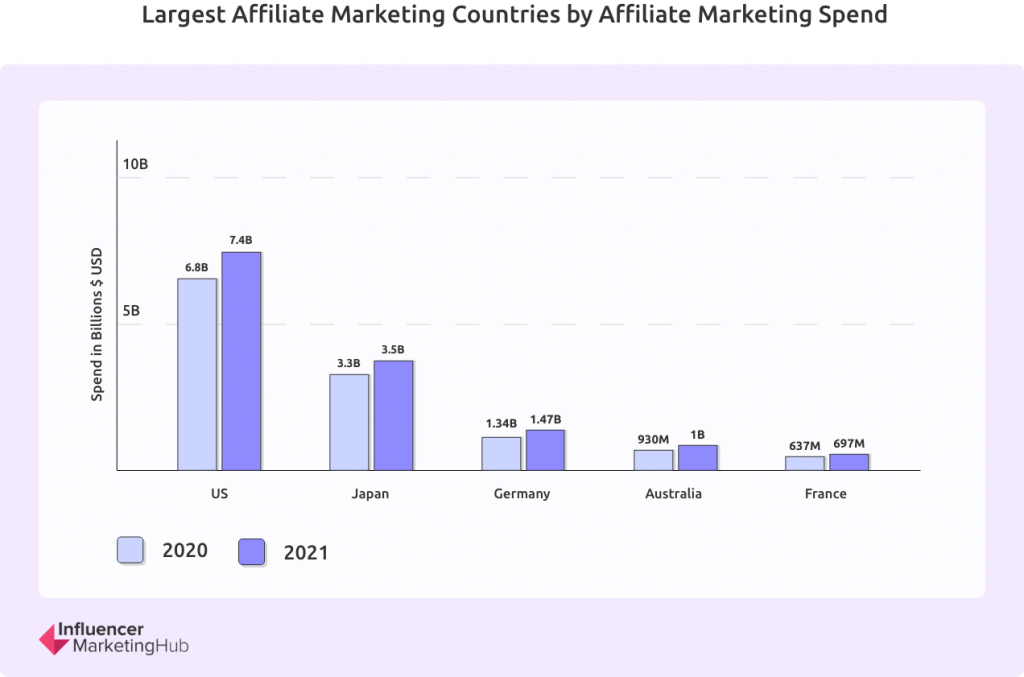 Affiliate marketing software helps maximize affiliate programs by managing, tracking, and growing campaigns. Finding the right platform depends on the needs of your brand. Some of the factors that you should consider are software interface, real-time tracking reports, SaaS integrations, and pricing.
---
6. Develop fast and flexible shipping options
As people get more used to buying essentials online, the demand for faster doorstep delivery is huge. 67% of UK consumers want the option to decide where, when, and how to receive an order. Thus, companies are innovating creative ways to deliver their products most efficiently.
Food delivery services have seen massive gains since April 2020. Instacart introduced two shipping options for delivering groceries in a crisis, while Amazon offers freight and overnight shipping, among others. Start by offering free shipping or unmodified UPS rates. From there, you can take it up a notch with software-assisted delivery and super-optimized supply chains.
---
7. Go green with sustainability
Now more than ever, customers are conscious of their expenditure impact on the environment. A 2021 study has shown that 50% of consumers worldwide rank sustainability as a top 5 value driver. Moreover, 39% of Gen Z's and 42% of millennials are willing to pay for more sustainable products or services, ranging from a business model to product packaging.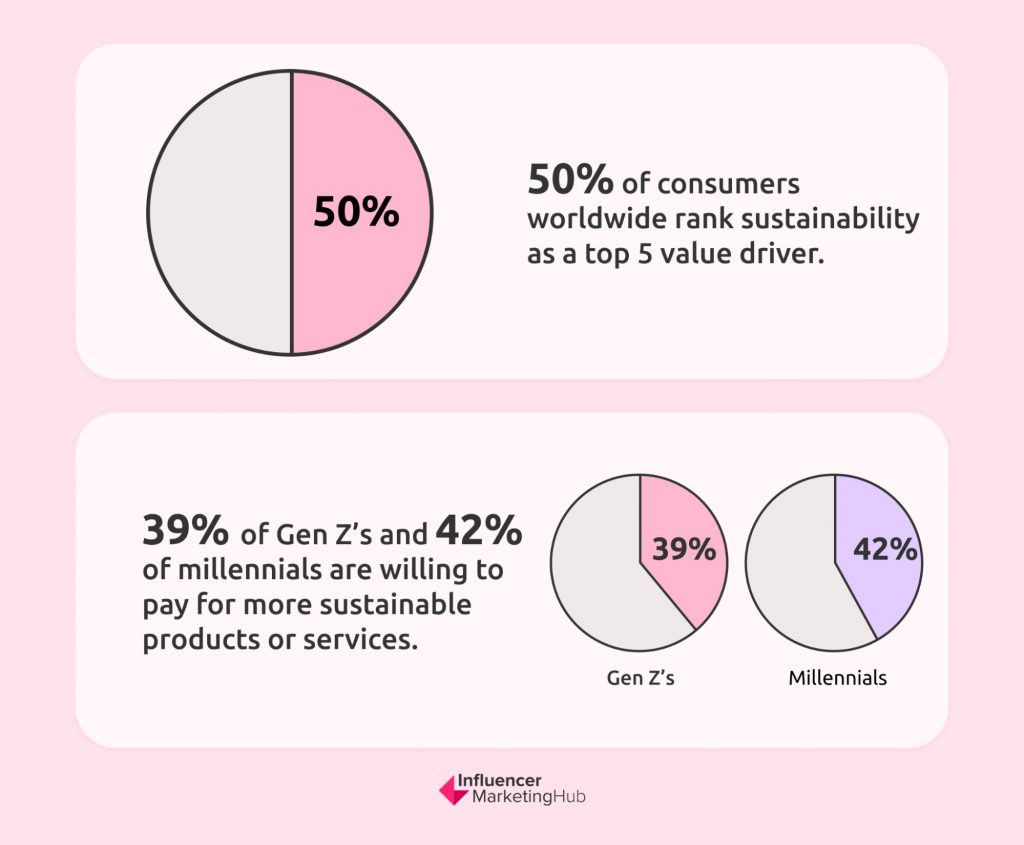 Offering sustainable shipping options, using recyclable packaging, and sending out informative e-newsletters are some ways to go green. Vienna-based jewelry studio Sheyn, for example, ships its products in an eco-dispatch box of 80% recycled materials. H&M shopping bags can double as a clothes hanger, while DHL's GoGreen initiative promotes the CO2-neutral transport of shipments.
---
8. Upcycle your products
With this year's focus on sustainability, selling upcycled, secondhand, or vintage items will be a profitable e-commerce trend. In fact, according to ThredUp's 2020 Resale Report, clothing resales will be one of the fast-growing sectors over the next eight years.
Online fashion platform Zalando features secondhand items, while secondhand clothing platform Poshmark continues to see consistent engagement growth. On the other hand, Bestbuy offers refurbished deals for electronics. Capitalize on this trend by partnering with upcycled products suppliers or providing similar options.
---
9. Invest in quick commerce (Q-commerce)
These past two years, increased shopping activities have fueled demands for more efficient and flexible home deliveries. A 2021 survey found that 68% of consumers would place an order because of fast shipping.
Q-commerce, which is already prevalent in the online food delivery market, is branching out to other platforms as well. For example, DoorDash and beauty retailer Ulta Beauty have paired up to offer same-day delivery services. Having your own delivery network can also give your brand a competitive edge. Gauge if it's a valuable service for your audience now and how much they're willing to pay for it.
---
10. Offer voice commerce shopping
Voice assistants increase customer engagement, ease online shopping, and gather consumer information. Forecasts show that digital voice assistants will outnumber the world's population by 2024. Moreover, a survey by Narvar reveals that 43% of voice-activated device owners use their tech for online shopping, while 51% use them to research brands.
Voice commerce works well for simple goods like food and home items. For example, drivers can now use Alexa to pay for gas while driving. Some companies have replaced their web or mobile features to accommodate voice search. You can also integrate voice commerce functionality on your store through conversational commerce solutions or Amazon's Alexa skill.
---
11. Improve your inbound marketing strategy
Inbound marketing essentially refers to all activities that help you attract traffic and improve your online visibility. That includes blogging, creating social media campaigns, and uploading videos. These strategies are not only 61% less expensive than outbound or traditional strategies but also deliver higher returns.
Staying updated with the latest inbound marketing campaign gives you a competitive edge and boosts your business growth. For 2022, the inbound marketing strategies you need to focus on are micro-influencer partnerships, voice search, artificial intelligence (AI), and chatbots.
---
12. Set up a conversational AI
According to a study, 40% of consumers don't care whether they're talking to a human or a bot, as long as somebody answers their inquiry about a product or service. Chatbots can improve customer trust and loyalty, drive customer service, and reduce cart abandonment. Business leaders have claimed that AI-powered chatbots have increased sales by 67% on average. Brands like Spotify use the Facebook Messenger bot to help audiences search for, listen to, and share a song. You can even get a recommended playlist based on your preferred genre or mood. There are plenty of chatbots for any industry. Consider setting up one for your shop using MobileMonkey, Facebook Messenger's chatbot.
---
13. Optimize social commerce
In 2021, half of US adults purchased a product through social media. This year, Insider Intelligence predicts that the retail sales for social commerce will rise to $45.74 billion or almost 25% more than last year. With millions of active and engaged users, web traffic referrals, and shareable content, social sites have evolved into viable business platforms.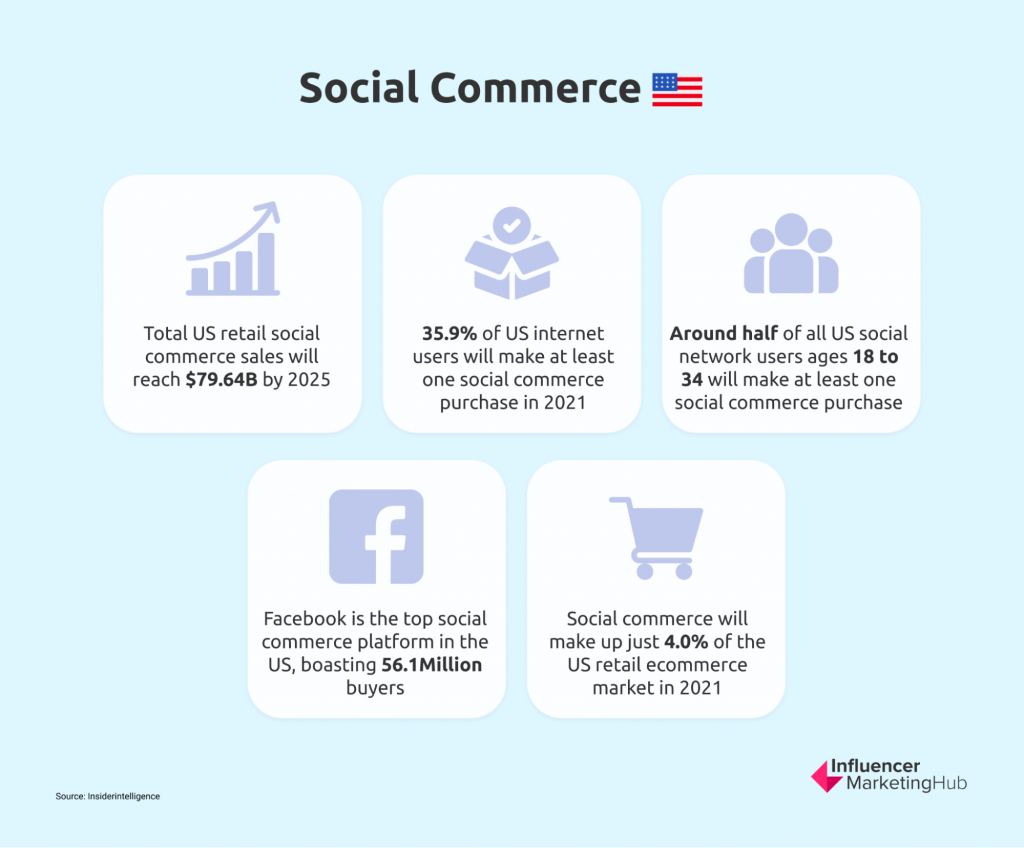 In the past three years, Snapchat and Instagram have allowed influencers to create shoppable content, while TikTok has recently partnered with Shopify to unveil its new in-app shopping feature. To optimize social commerce, identify your brand's strongest platforms and use native analytics to personalize your audience interactions. Partnering with an influencer would be a great start as well.
---
14. Create an augmented reality (AR) experience
The AR market is flourishing within the metaverse. It not only offers a unique shopping experience for consumers but also reduces the risk of misleading sales. Snapchat's 2021 Global Report on Consumer AR finds that 94% of consumers will use AR at the same level and more when shopping in 2022. A projected 101.6 million consumers will be using AR at least once a month this year.
Many home and fashion brands have integrated AR technologies to promote their products. IKEA, for example, allows users to test its product in real-time using realistically looking and true-to-scale 3D products. AR platform Spark AR Studio can help you create a similar immersive experience in your shop without hacking a single code.
---
15. Engage audiences on various channels
86% of shoppers hop across two channels. This means that businesses can no longer rely on single-channel engagements. Omnichannel essentially unites all engagement efforts under one strategy to provide a seamless customer experience. So, whether it's on social media, their website, or offline stores, marketers don't risk alienating potential customers and losing conversions.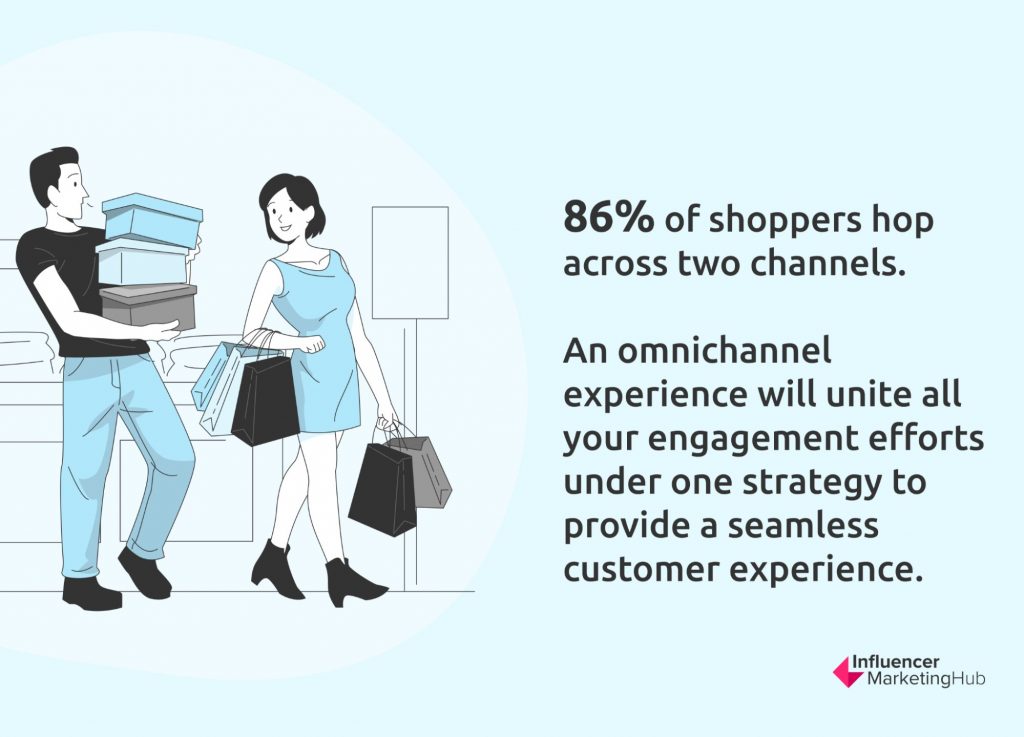 One brand that has mastered the omnichannel experience is Disney. It engages customers on its mobile app, website, and Magicbands so that they can conveniently book tickets and hotels without standing in a queue. Using customer data can help you understand your audience more and create better experiences for them.
---
16. List your product in marketplaces
When online shoppers want to purchase a product, 48% head straight to an e-commerce marketplace first. Global lockdowns have increased consumers' reliance on platforms like Amazon, eBay, and Etsy. They're not only convenient but also offer a variety of options for the consumer. Last year, online marketplaces accounted for almost 50% of e-commerce sales.
Listing your products in these marketplaces can increase your traffic and customer engagement, diversify your online channels, and boost your digital presence. Take advantage by driving visitors to your website and offering limited edition items or product promos there instead. You can even convert your website to a marketplace format or launch your own marketplace altogether, like Best Buy Canada.
---
17. Expand into local marketplaces
It's natural to think about global marketplaces like Amazon and eBay when selling a product. But venturing into other country's local marketplaces can expand your audience reach and stave off the competition. One of the most exciting regions for e-commerce, Southeast Asia (SEA) expects to grow its internet economy to $300 billion by 2025.
2022 is a great opportunity to expand into overseas marketplaces as massive SEA e-commerce platforms like Shopee are penetrating India and Latin America. As the leading SEA marketplace, Shopee reached a revenue of $1.5 billion for the third quarter of 2021, a 134% boost from the same quarter of the previous year.
---
18. Add a personalized touch
In the wake of the pandemic, the e-commerce market is saturated with brands that are either new or making the online shift. This makes personalization more important than ever. Personalization increases customer loyalty and helps businesses gain valuable audience insight. Additionally, 80% of consumers are more likely to buy from a company that offers a personalized experience.
Segmenting your audience and knowing what they're interested in are some ways to create a more personalized approach. An example to draw from is Netflix. The streaming service uses an algorithm that recommends products based on the user's viewing behavior. The algorithm has been successful so far, as 75% of what Netflix users watch comes from those recommendations.
---
19. Automate your email marketing campaigns
During the global lockdown restrictions of April and May 2021, the average global email open rate grew to 20% year-on-year. Automating your email marketing campaign lets you automatically send an online newsletter to your subscriber using pre-formatted commands. Effective email automation can increase investment returns by 80% and generate over 26% more leads and 86% higher open rates.
Email marketing automation tools can help you grow your email list, track and monitor your email campaigns in real-time, and nurture your leads. Choosing the best platform for you depends on several factors, such as consumers behavior and past email campaign performances.
---
20. Interact with customers live
The popularity of influencer marketing has led to the livestream selling boom. Now, 78% of businesses use live commerce to connect deeper with audiences. Moreover, companies report that conversion rates from live commerce are up to ten times higher than in traditional commerce.
Customer interaction is live selling's biggest highlight. Additionally, it comes at little to no cost. Simply log on to a platform like Facebook, Instagram, and Amazon and select the livestream feature. Fashion retailer Nordstrom launched its livestream shopping channel to host live selling events, while skincare company Demalogica have demonstrated their products on Facebook Live Shopping.
---
21. Offer diverse payment methods
Convenience is a key driver in today's e-commerce market. Offering different ways to pay for your product creates a seamless and unforgettable customer experience. This, in turn, reduces cart abandonment and encourages consumers to buy more.
Credit and debit card payments are standard modes of payment, but shoppers are looking for more flexibility. Knowing your audience's location and cultural shopping habits can help you narrow down other modes to include on your e-commerce platform. Furthermore, this helps eliminate channels that your customers might not trust.
---
22. Run on mobile
79% of smartphone users have made an online purchase using a mobile device in the past six months. In 2021, a third of all online purchases during the holidays were from smartphone users. Focusing on mobile commerce this year can generate more sales and connect with customers across different channels.
Some of the trends for mobile commerce this 2022 include one-click ordering, voice shopping, AR, and progressive web apps (PWA). Starbucks's PWA, for example, enables customers to access their menu on their device and make an order even without a stable internet connection.
---
23. Prepare a video marketing campaign
A huge part of inbound marketing, video marketing is now a necessary investment. At the height of the pandemic, video content reach increased across all social media platforms. 91% of advertisers have claimed that videos are now more important for brands, thanks to the pandemic. Experts predict that 80% of all traffic this year will consist of video.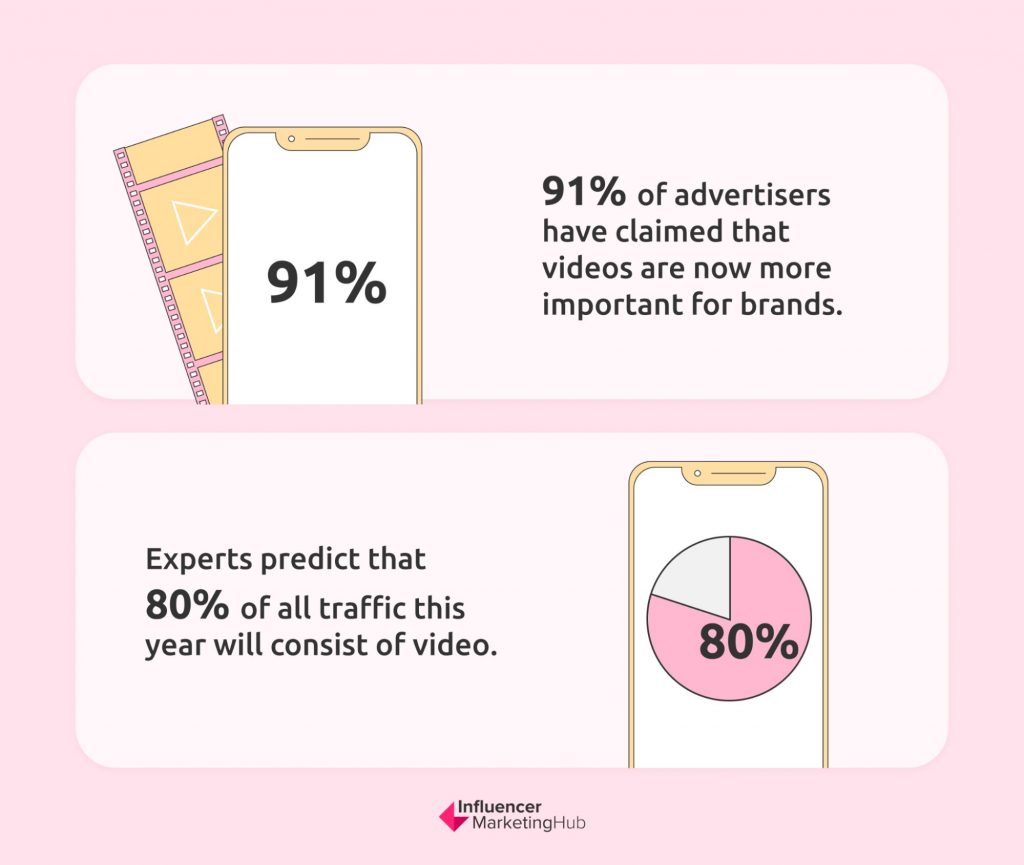 In 2022, short-form video content a la TikTok and Instagram Reels will dominate the video marketing industry. Other trends include shoppable content, interactive features, and livestreams. Your audience's preference should always come first when choosing a platform and format. A good rule of thumb is to always optimize your videos for search engines.
---
24. Capitalize on business-to-business (B2B) transactions
In 2022, B2B e-commerce will accelerate towards a more digital platform. 80% of B2B buyers have no plans of returning to in-person sales even after the pandemic. This year, sales are predicted to increase by 12% more from 2021.
The primary goal for B2B brands this year is increasing brand awareness. A majority of B2B marketers are investing in influencer marketing. Meanwhile, half are seeking to create case studies and learn from other businesses. It's important to remember that there's no one-size-fits-all in B2B e-commerce. Communicating how your brand can help another will be crucial to your B2B strategy.
---
25. Adopt a more resilient supply chain
2021 was the year for recovering from 2020's supply chain disruptions; 2022 is the year for future-proofing supply chains. From a low-cost supply chain, almost 90% of companies are planning to invest in resilience within the next two years.
Some of the strategies that businesses are considering include elastic supply chains (flexibility to meet demands at any given time) and supply chain as service, which offers a virtual supply chain team. Greener supply chain management will also emerge to address consumer preference for sustainable businesses. Likewise, circular economies will be on the rise to mitigate environmental impacts.
---
26. Leverage Google Local Inventory Ads (LIA)
Thanks to Google LIA, local sales grew in 2021. These Google Shopping ads increase companies' visibility to consumers who are ready to buy within their vicinity. Potential buyers can simply click a business' LIA and have the option to purchase either in-store or directly on their website.
To leverage LIA, increase bids for shoppers near you. This will help you attract customers within a 25 to 35-mile radius. You can even add store pick-up options and increase bids both during and after store hours. These will be convenient options for shoppers, who can choose when they can buy your product.
---
27. Focus on Profit on Ad Spend (POAS)
A recent buzzword in the e-marketing industry, POAS essentially measures the returns on a company's advertising cost, leading to more accurate and data-driven reporting, transparency of profitability, and stronger product optimization. Ultimately, these insights can help businesses calculate their product's profitability and lower their ad spend if necessary.
To get started with POAS marketing, determine the difference between your internal costs and your Google Ads costs. Next, compute your gross margins in a pay-per-click management software tool. Assign your gross margins to your Ads to see your profitability potential. Finally, apply Google's bidding strategies to improve your profit bidding and grow your net margin.
---
28. Segment your audience
Because of Apple ID for Advertisers' (IDFA) tracking restriction, tracking IDFA data now requires user consent. While this move yielded negative effects for marketers, companies can still reduce the consequence through user engagement and retention. A key to this is segmentation. It not only allows brands to understand their customers' needs by 60% more but also draws 77% of marketing returns.
To create proper customer segments, use your audiences' demographic information, lifestyle, and concerns. Each segment should have fundamental differences. Understand each category's demands and identify your KPIs for each. The type of data you gather will be useful in user onboarding, selling, or upselling, A/B test data exportation, and targeted messaging.
---
29. Tap a wider audience with influencer marketing
Word-of-mouth is still one of the most effective advertising methods. The coronavirus pandemic allowed social media platforms to flourish, making influencer marketing an attractive option for brands. Marketers will likely grow their influencer marketing spending by $4.14 billion this year. Moreover, the projected industry growth will be 17% more from 2021.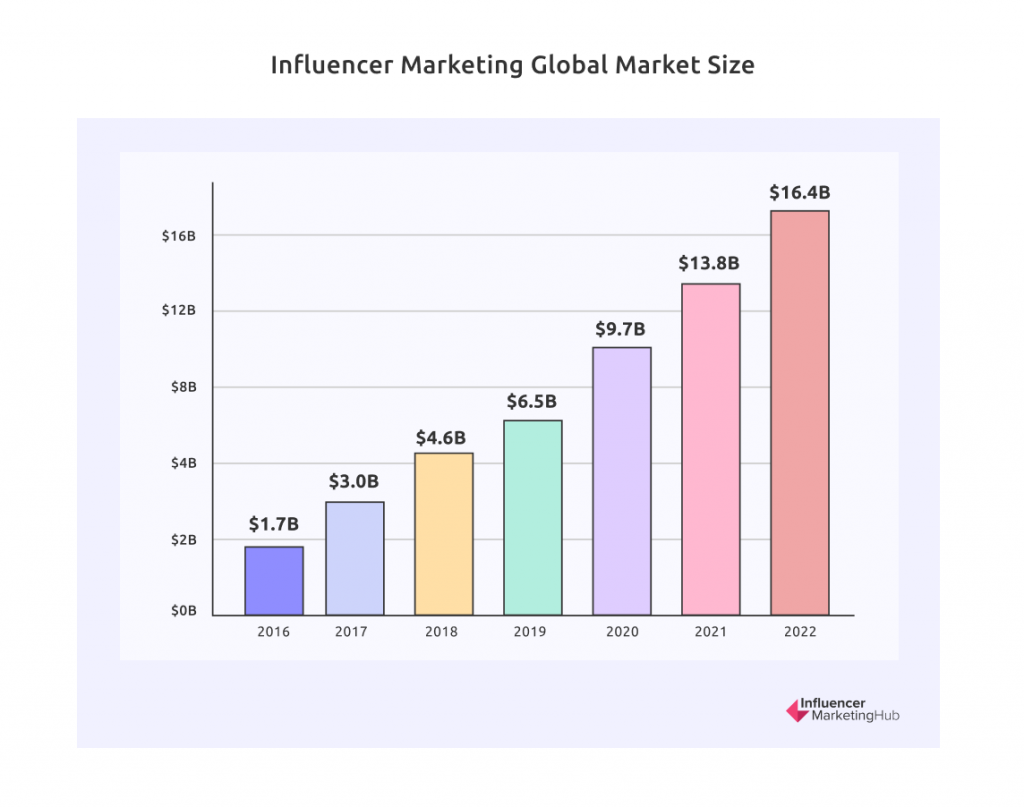 One platform to tap for influencer marketing this 2022 is TikTok. As the social media platform gains more and more cross-generational appeal, it's expected to take over most of the market share this year. On the other hand, Instagram released Collab last year. The feature doubles a brand's reach by allowing them to publish a single content to both their and their influencer's account without the need to repost.
---
30. Evaluate your sales data with A/B testing
A/B testing or split testing allows brands to compare two versions of their webpage and gauge the performance difference. This allows them to evaluate their conversion funnel. Statistics show that A/B testing can increase the average revenue per unique visitor by more than 50%. An industry that grows each year, it will likely be worth over a billion dollars by 2025.
You can use A/B testing on various parts of your website, from product descriptions to promotional content. Consider adding social proof signals, links to successful companies you've worked with, achievement stats, and testimonials. These will improve your trust rating among consumers, most of whom rely on social reviews.