Advertising Disclosure
Advertising disclosure:
Our partners compensate us. This may influence which products or services we review (also where and how those products appear on the site), this in no way affects our recommendations or the advice we offer. Our reviews are based on years of experience and countless hours of research. Our partners cannot pay us to guarantee favorable reviews of their products or services.
While the year might almost be in full swing, it is still not too late to create a content calendar if you have not done so yet. Each year presents a long list of opportunities that will help you to achieve or even surpass your marketing objectives. 
For example, did you know that there is a World Naked Gardening Day? It is the naked truth. Each year, usually at the beginning of May, gardeners and non-gardeners do some "skinny-digging". Now, if you do not make the time to draw up a content calendar, there are many holidays and other events that you will fail to maximize. 
Become a Partner:
if you are looking to partner with us
click here
.
If your business can't afford to sign up for a paid tool at this stage, there is a good number of free content calendar templates that you can download. After all, sometimes all you need is a good old Excel spreadsheet to create some structure. 
---
Why Should You Use a Content Calendar?
Experienced marketers know that to be effective you need to post strategically as opposed to impulsively. While better planning is one of its primary advantages, the advantages offered by a content calendar goes far beyond just planning. 
Better organization
By using you a content calendar template, there is much less rushing around like a headless chicken trying to come with content. Instead, it helps you to get your things in order and plan well ahead in advance (even months if you want to). All in all, it helps you to stay much more productive. 
Better customization
The best approach is to write custom posts for different platforms instead of simply copying and pasting the same message. With the help of a content calendar template, it becomes much easier to plan your specific posts for the different social media platforms on which you are active. 
Better tracking
A content calendar can give you a good overview of what you posted and where. With information available at a glance, it makes it much easier to get an accurate idea of the bigger picture which allows you to track and analyze your marketing efforts more accurately.
---
Top Content Calendar Templates and Tools
Top
free content calendar templates
2024
Hootsuite is one of the top social media management tools and offers robust features. You can use it for virtually anything relating to social media management, but if you are specifically searching for a tool to help you with the content side, it offers automated publishing, content management, keyword filtering, multi-account management, post scheduling, and multi-user collaboration. You will find that this tool is more cost-effective if you use it to collaborate with only a few fellow marketers. 
On their blog, they offer a free, customizable week-by-week content calendar template that you can download to plan and schedule your content ahead of time. It focuses on the four main social media platforms – Facebook, Instagram, Twitter, and LinkedIn. Though, as it is very customizable, you are welcome to tweak it to include the platforms that you mostly use. 
One of the useful features of their template is that they include a tab for evergreen content. This is for timeless blog posts that perform well throughout the year. 
---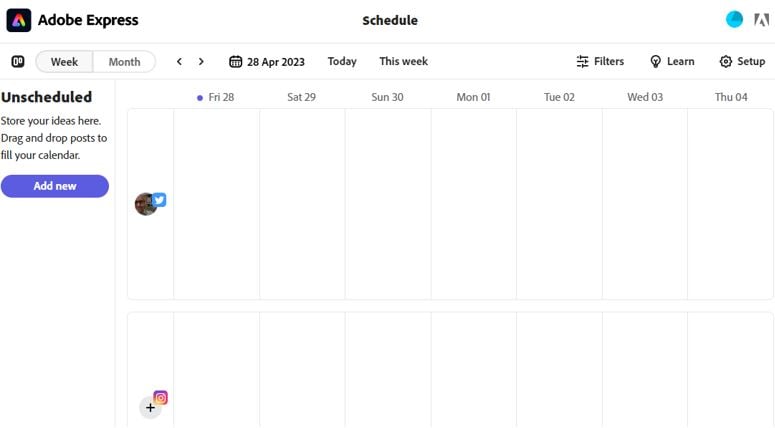 Adobe Express is a social media management platform with a heavy focus on planning and scheduling content. With regards to content scheduling, its calendar is one of the best as the posts are placed in a big format so that you can read the caption easily and view the images clearly. It also uses color-coding which helps you to categorize your different posts and two rows for additional labeling. The one row specifies the campaign, while you can use the other row for writing down notes for different members in your team. Speaking of which, if you are working with a small team, it is also one of the most cost-effective tools.  
On their website, they offer a free content calendar template as a lead magnet. After you have downloaded the template, you need to answer four questions. Your answers will then be used to generate your template automatically. 
One of the attractive features of this template is that it asks you to identify your content goals for the year. From increasing traffic to getting more leads, by adding your specific goal it will help you to remember what it is that you wish to achieve. They also suggest that you restrict it to five social channels. This will help you to remain focused and make it easier to keep tabs on how your content performs on each platform. 
After you have answered the four questions, you need to copy the colored boxes at the top of the Excel sheet into the calendar. Now, you will be able to see your content goals, target platforms, types of content you want to post and how often you plan to post. 
---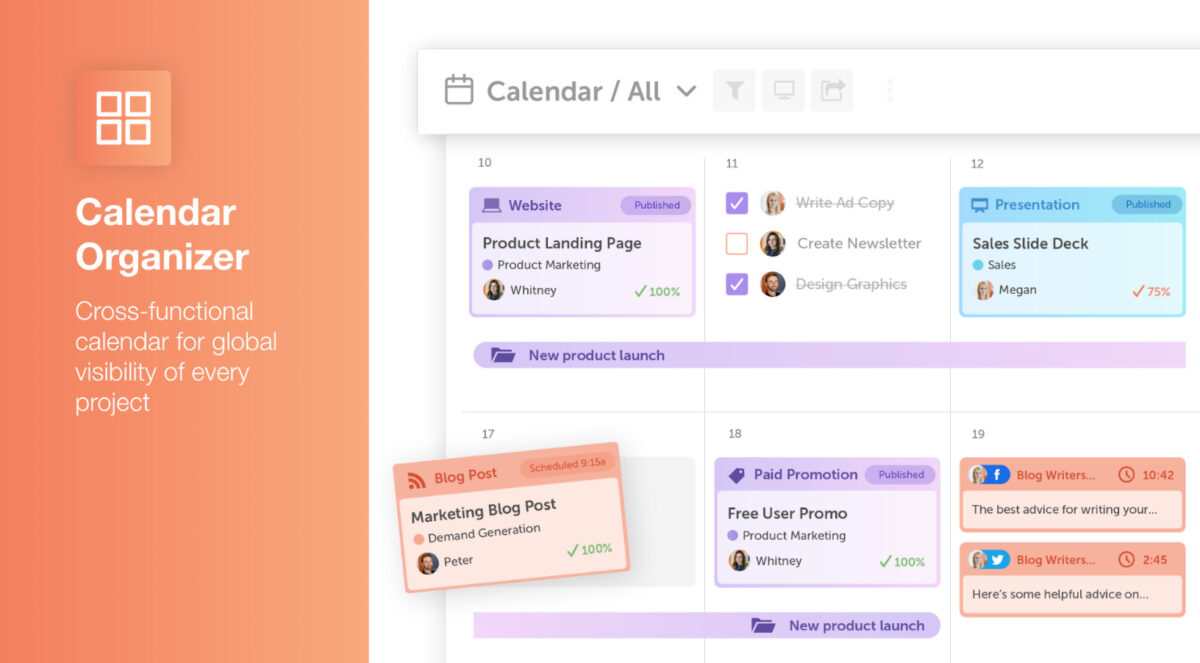 The primary focus of CoSchedule is content marketing and it is best for businesses that focus a lot on blog content. It has an Editorial Calendar that is more aimed at small businesses and a Marketing Suite which will likely not be within the budget of smaller businesses. 
Unlike the other tools, CoSchedule offers a trio of free content calendar templates. In addition to offering a content calendar template, it also shares an email marketing calendar template to help you plan each email before you hit send and a social media editorial calendar template to help you keep tabs on all your social media content conveniently via one place. 
While the content calendar template is perhaps a tad bit too simplistic, the other two templates are more detailed. One of the attractive features of the template for email content is that it includes a column for identifying your target audience or persona. This way, you can create targeted email campaigns more efficiently. 
A useful inclusion in the social media marketing template is a column where you can add the time. Considering that the time can make a difference in your results, it is a key factor that any decent content plan should include.
---
HubSpot is an all-in-one marketing platform that includes email marketing and CRM functionality to mention only a few of its features. On their website, they offer a free downloadable social media content calendar template. This package includes a spreadsheet for scheduling, monthly planning, Twitter updates, Facebook updates, LinkedIn updates, Instagram Updates, and Pinterest updates.
It also has a very practical content repository. Here, you can add your different types of content along with an interesting snippet about it. Having this type of database on hand can also help with content planning. This way, you do not always have to create new content from scratch as you can simply refer to this spreadsheet to see if you do not perhaps already have a suitable piece of content that you can repurpose. 
When you download these free content calendar templates, you will also get access to a guide for startups. From creating a brand strategy to what to measure and analyze, it will help you to plan your content in advance making it simpler to coordinate different marketing campaigns.
---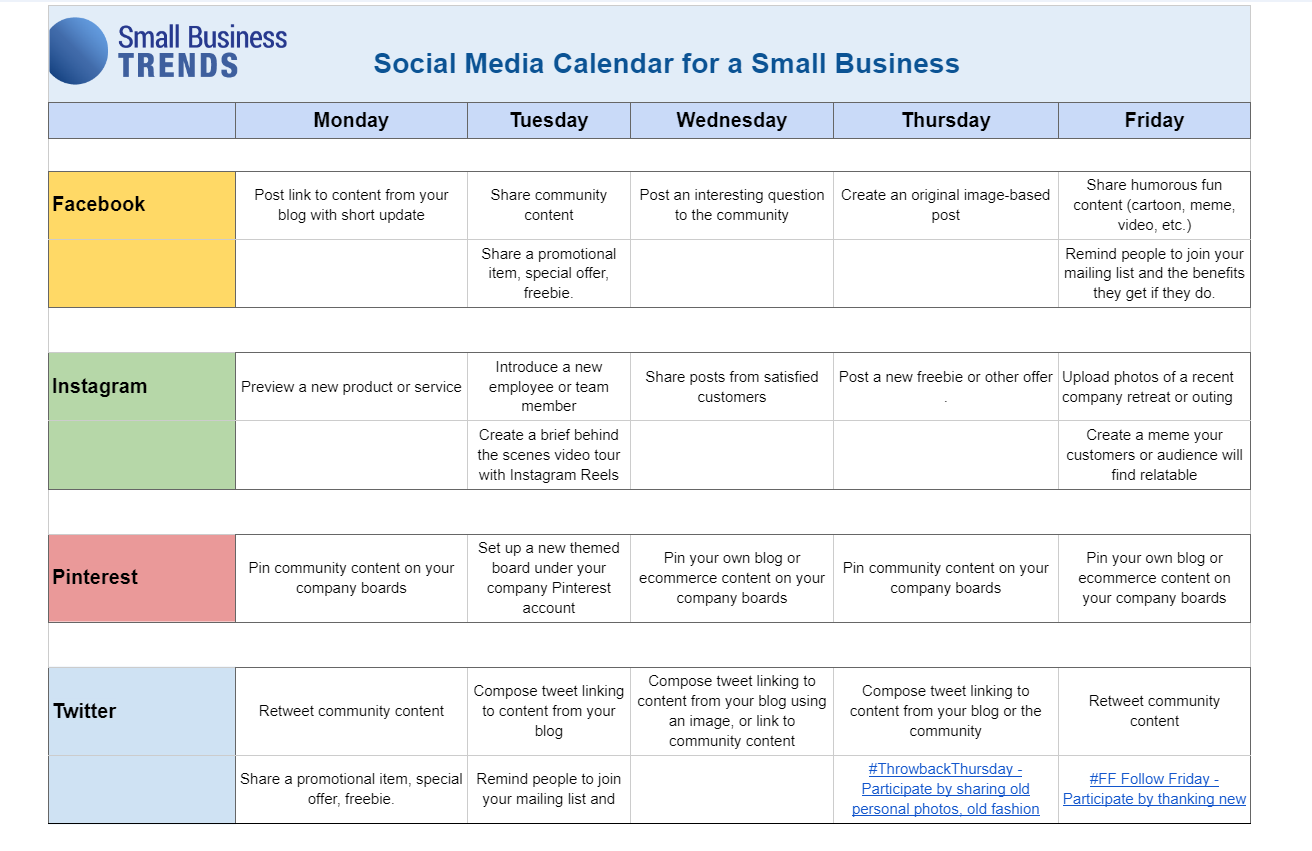 Small Business Trends, an online publication for small business owners, has shared a template for small businesses based on the calendar format that they use internally. Their template can be downloaded as a Word doc, Excel spreadsheet, or a PDF doc.
---

Backlinko offers a free content calendar template that you can either open as a Google Sheet or download as Microsoft Excel document. It is ideal for individuals who want to start a brand new blog or teams who want to grow their current efforts. 
Included in the download are a content list and workflow and a monthly calendar template. While the monthly calendar template is rather basic, the content workflow sheet is quite detailed and offers a step-by-step assembly line that will help you to stick to those looming deadlines. 
---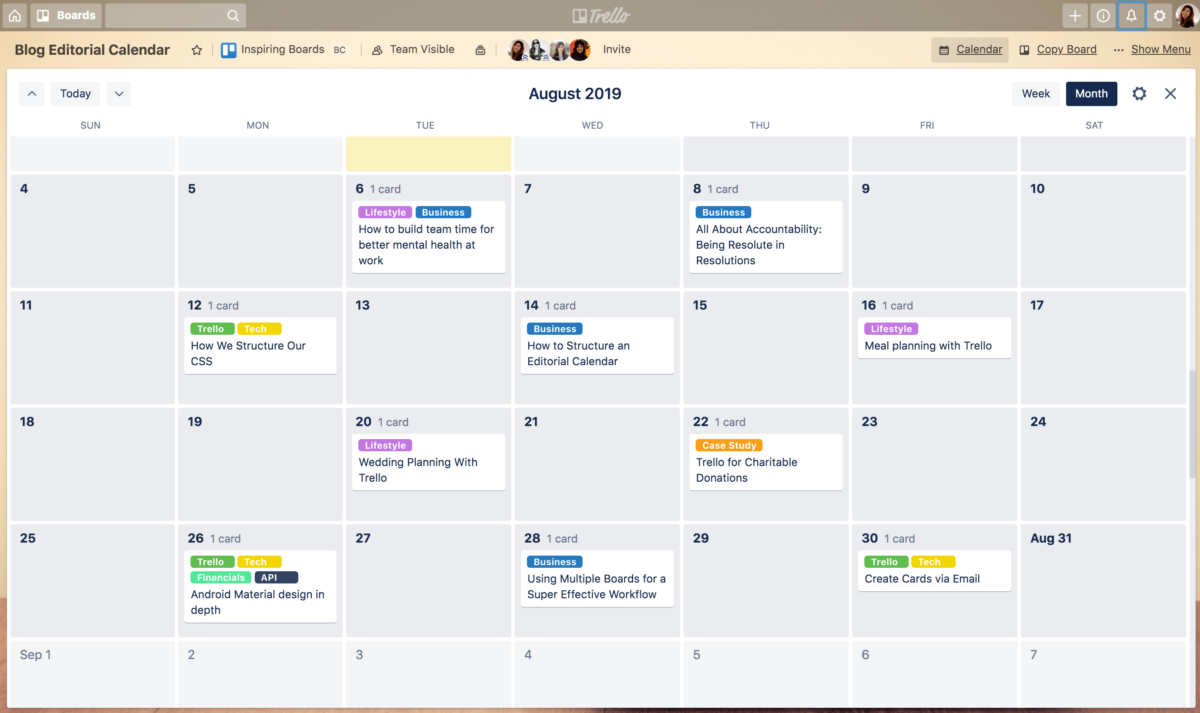 Trello remains one of the most popular tools for project management. It is especially great if you work as part of a bigger team as you can easily include due dates and add comments to ensure everyone in your marketing team is on the same page. Additionally, with the help of boards and cards, you can assign a task to a specific team member and define the steps needed for individual projects which can help you to organize and prioritize your posts.
One of its useful features is that you can keep tabs on your team members' progress by means of a checklist. This way, you can ensure that your campaign is still on track for a particular week or month. 
---
---
Wrapping Things Up
It can be hard to create captivating content continuously. One of the biggest hurdles is to identify what to write about. Though, with the help of one of these content calendar templates it is much easier to plan ahead based on current events. 
Then, to ensure that your content does not get lost in your target audience's feeds, these templates will also help you to identify the best time to post the content. For example, Tuesdays or Thursdays are generally the best days to send emails. So, knowing this, you can make sure that you allocate these days on your calendar for email content. 
If these free templates do not meet your needs, it doesn't take a lot of time or effort to come up with your own template. At the end of the day, if your content is your livelihood, the only thing that matters is that you use some type of template to guide your planning the month or, even better, for the year. 
Frequently Asked Questions
What is a content calendar?
To make content easier for companies to plan and schedule across the accounts they manage, they create a content calendar template. These templates are the best way to plan and organize upcoming content as it allows you to populate your content calendar with posts ahead of time so that you can post consistently whether it is a slow week, or your biggest promotion of the year. It allows you to observe worldwide global moments that are relevant to your brand's audience strategically.
What is a content repository?
A content repository is a place where you can store the content that you have created in advance. This way, you can simply pick things up and post per your schedule.
What is the best way to keep your posts on track?
Planning your posts ahead of time means that you can build failsafes into your workflow. Using a calendar template makes it easier to plan out what you will be doing in the future. This could mean a week, a month, or however far ahead you would like to plan ahead.
What are the advantages of a content calendar template?
Experienced marketers know that to be effective you need to post strategically as opposed to impulsively. While better planning is one of its primary advantages, the advantages offered by a content calendar goes far beyond just planning. It will also ensure that every one in your marketing team knows what is expected of them and help you to customize your messages more efficiently for the different platforms. Ultimately, if you don't have a plan, you'll end up wasting time you could be spending being productive.
How can I create my own content calendar template?
Start by reviewing your marketing strategy and identifying who your target audience is. Once you understand your target audience and the different platforms, you can begin to plan the type of content. You can decide how much detail you need on your calendar, but popular categories include dates, times, networks and links.