PR agencies promote companies or people via editorial coverage. This is "earned" or "free" media, unlike paid advertisements. PR agencies push for their clients to feature in newspapers, magazines TV programs, and websites.
The work of PR agencies often includes writing and distributing press releases, writing speeches, writing pitches, creating special events, conducting market research, networking, copywriting, blogging, social media promotions, and crisis management.
PR agencies help build their clients' reputations through the media. They can analyze the organizations and find positive messages, and translate these to be of worth to the media. Similarly, they can take bad news and determine the best response to minimize the harm.
All 10 of the PR agencies referred to here operate globally. They have customers from around the world, many of whom are sizeable well-known organizations.
---
Top 10 PR Agencies for 2020:
---
1. BCW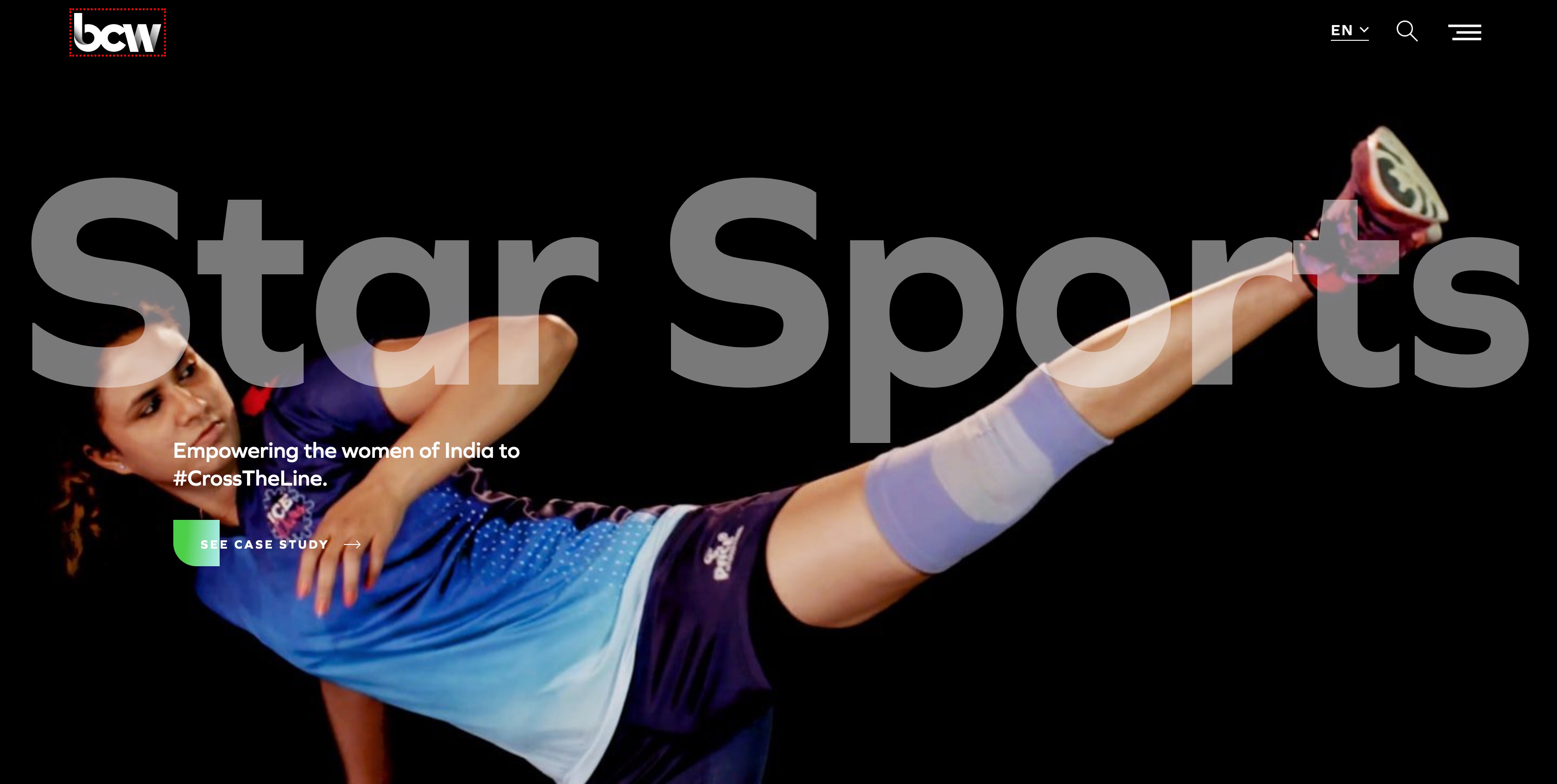 BCW is a giant global full-service communications agency. It was formed from the merger of Burson-Marsteller and Cohn & Wolfe. It is part of WPP, a British multinational advertising, and public relations company, and the world's largest advertising company. The merger brought together the corporate and public affairs, crisis and issues management expertise of Burson-Marsteller, and the digital and creative, consumer, and healthcare strengths of Cohn & Wolfe.
BCW is truly global with offices across North America, Latin America, Europe, Middle East, Africa, and the Asia-Pacific. Its stated areas of expertise are also colossal, covering nearly every sector imaginable. As you would expect, it lists many large corporations as its clients, including Nokia, Maserati, 21st Century Fox, Bayer, Coca-Cola, Colgate-Palmolive, Dow Chemicals, ExxonMobil, FedEx, and many more.
BCW aims to build big, insight-driven ideas that inspire action and connection across the globe. They help their clients move, inspire, engage, and lead people in a favorable direction, across all sectors on a global scale. They are a channel-agnostic approach, with valuable earned media at the core.
BCW is a finalist in the upcoming 2019 Global PR Agencies of the Year awards. Cohn & Wolfe won the North American Agency of the Year at the 2018 Global SABRE Awards.
---
2. Edelman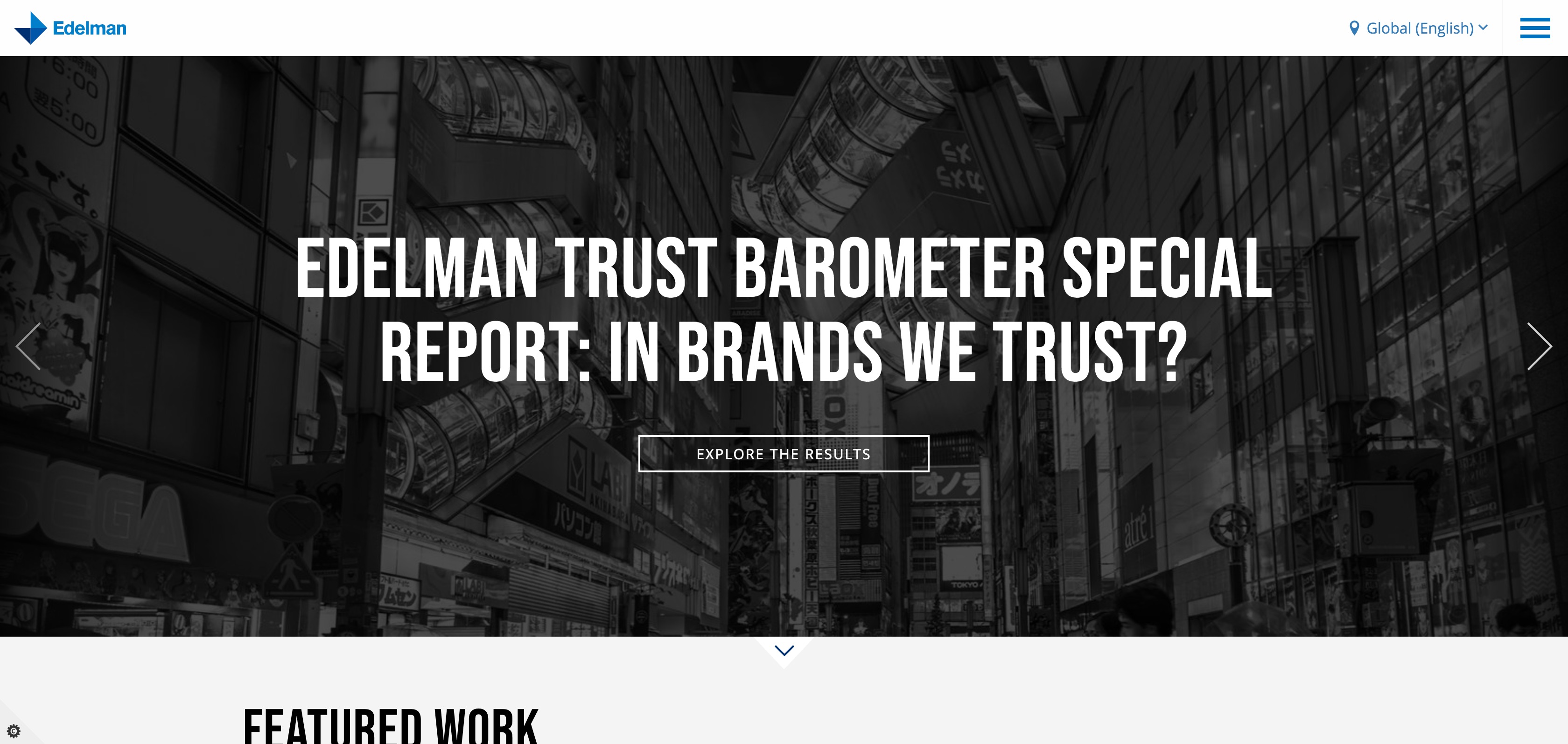 Edelman is the world's largest PR agency. 2018 was not a particularly good year for Edelman – they saw a 1% decline in global revenues. However, they are still a significant force in PR and communications. Their fee income in 2018 was still reported to be $888.4M.
They have continued to add 600 creatives and planners over the last few years, taking their staff levels to 5,618. According to the founder, Richard Edelman, they remain undaunted by the challenge of reinventing the firm into a truly integrated marketing services player.
The digital practice now accounts for more than 20% of the firm's global revenues.
The firm continues to produce high-quality work. It is a finalist for the 2019 Global PR Agency of the Year. It won the award for Digital PR Consultancy of the Year in the Asia-Pacific region.
One of their most successful recent campaigns was for KFC in Australia. The client tasked Edelman with showing the public how KFC cares about young Aussies. Edelman leveraged the launch of KFC's Youth Foundation to get the word out about the company's charity efforts, but without the stuffy corporate feel. With the founding of the new youth organization, they launched new limited-edition KFC merchandise ranging from enamel pins to chicken-scented surf wax. Every purchase resulted in a donation to the foundation.
---
3. FleishmanHillard
FleishmanHillard was founded in St. Louis, Missouri, in 1946. It is now a part of the Omnicom Group. Omnicom Group Inc. is an American global media, marketing, and corporate communications holding company, headquartered in New York City. Omnicom is composed of five major agency networks that oversee 1500+ agencies as parent companies. FleishmanHillard is part of its Diversified Agency Services (DAS) division.
They are currently the fourth largest agency in the world, with an estimated fee income of $606M in 2018. This showed a 6.1% growth compared to the previous year.
They are a finalist in the 2019 Global PR Agencies of the Year awards.
They have a healthy list of clients, including AARP, AT&T, Bayer, Emerson, Fitbit, GM, Pepsico, SAP, and Samsung. They added 26 clients worth more than $1M in 2018, including BNY Mellon, Elanco, GM, GoPro, Hanes, Johnson & Johnson, Philips, Roche, and the US Army.
FleishmanHillard regularly takes advantage of its Omnicom connection, and partners with sister agencies to deliver integrated campaigns.
One exciting recent campaign was for Levi Strauss & Co. Levi has a 20-year naming-rights agreement – Levi's ® Stadium – with the NFL's San Francisco 49ers. The relationship has earned the stadium the nickname, "Field of Jeans" after the classic film "Field of Dreams." In November 2018, the company covered the park's playing surface with 20,000 pairs of jeans donated by the community and 49ers fans over two weeks to the nonprofit Goodwill. It blanketed almost the entire field – leaving only a swath of turf, forming the universal recycling symbol. A time-lapse video of the activation went viral and capped a campaign that kept 12-plus tons of clothing out of landfills and funded Goodwill's job-training programs.
---
4. H+K Strategies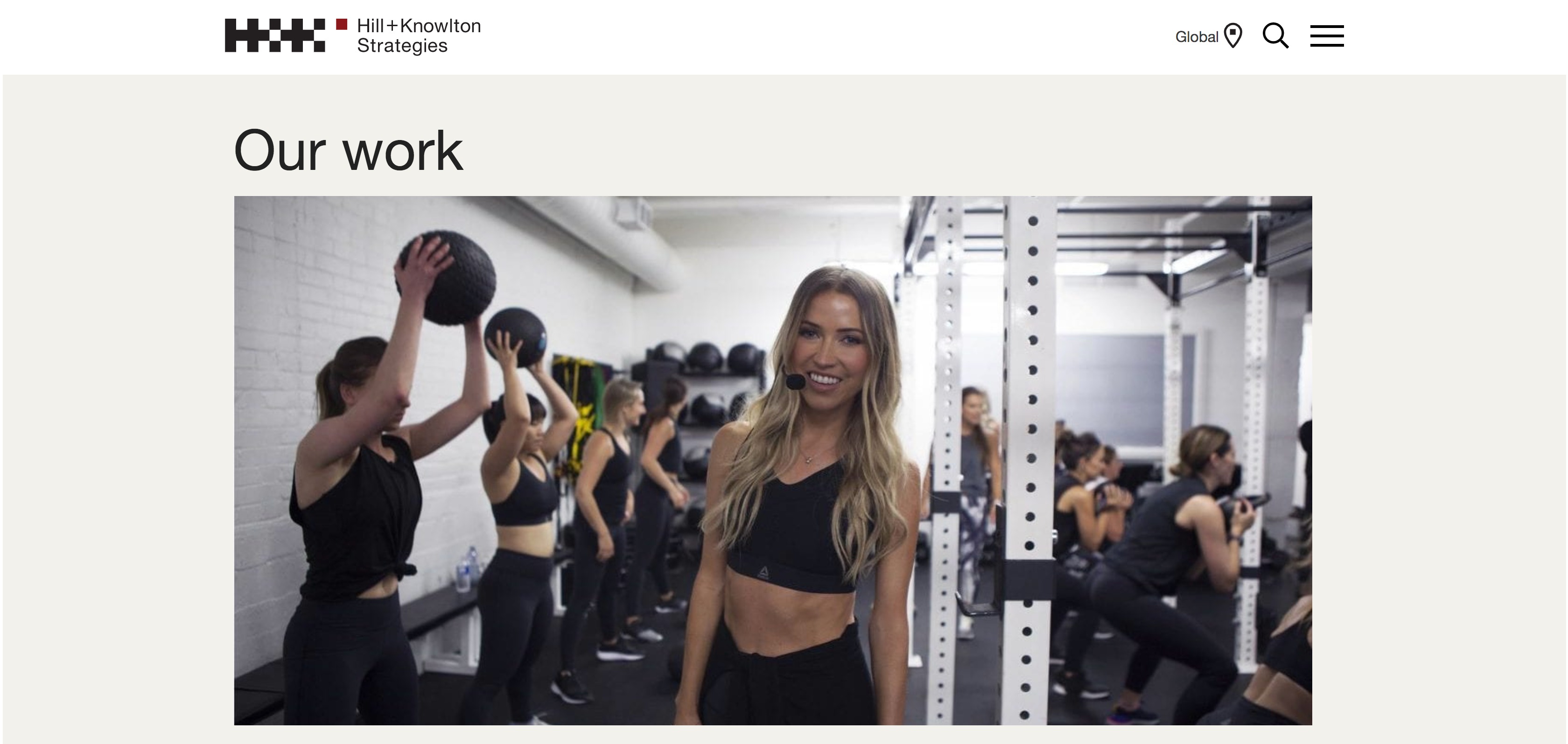 H+K Strategies is short for Hill+Knowlton Strategies. They offer senior counsel, insightful research, and strategic communications planning throughout the world. They have over 87 offices around the globe, and their clients represent 59 of Interbrand's 2013 Top 100 Global Brands and 50 percent of global Fortune 500 companies. The Holmes Report ranks them as the seventh-largest PR agency in the world, with an estimated 2018 fee income of $400M. They are part of WPP.
Although H+K Strategies has its headquarters in New York, it has a particularly strong presence in the EMEA (Europe, the Middle East, Africa) regions. H+K increased its income in 25 out of 30 markets in EMEA, with well above average performance in the UK, the Middle East, and Russia/Ukraine.
Some of the new European clients the agency gained in 2018 include Activision, ADNOC, the Azerbaijan Tourist Board, Barilla, British Airways, Cisco, Colgate, IKEA, Johnson & Johnson, La Liga, Norad, Oculus, and Smart Energy.
Synergy H+K Strategies was named North Asia Agency of the Year, with particular success in Korea.
---
5. Weber Shandwick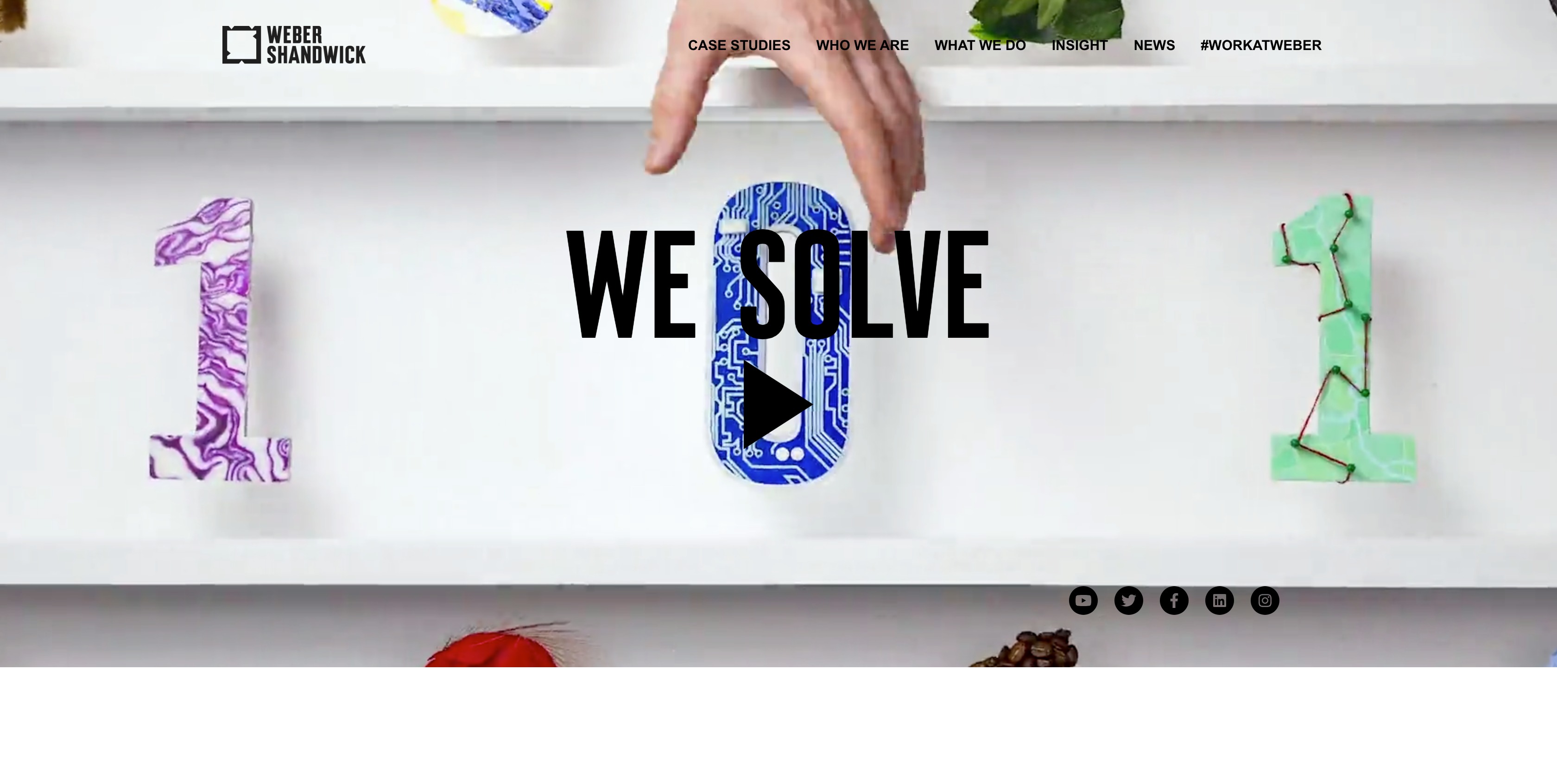 Weber Shandwick is a public relations agency with its headquarters in New York. They are part of the Interpublic Group of Companies (IPG), an American publicly traded advertising company. It is one of the "Big Four" agency companies.
Weber Shandwick takes second place in the Holmes Report's Global Top 250 PR Agency Ranking 2019. The agency's estimated fee income in 2018 was $840M, a 5% increase on the previous year.
They are a finalist in the 2019 Global PR Agencies of the Year awards. The firm picked up Large Agency of the Year honors in Asia. The firm also established itself as a regional leader in Latin America, where it earned the award for the Mexican Agency of the Year.
Weber Shandwick retained 49 of its top 50 clients in 2018. It recorded its strongest new business year in a decade.
One of their more exciting campaigns was for HSBC UK, in an attempt to build awareness of the effects of online fraud. They used 'deep fake' style technology on Rachel Riley, a much loved UK television celebrity known for her talent in math. A shocking video appeared on Rachel's social channels where Rachel confessed to being "bad at maths" and having answers fed to her via an earpiece. A day later, after national outrage, HSBC UK reassured the public that this had been a 'deep fake' style video, with Rachel's mouth movements adapted and her voice dubbed over by an impersonator. Rachel was in on the stunt. Viewers received follow-up educational videos from Rachel to help them stay safe the next time they went online.
---
6. Marina Maher Communications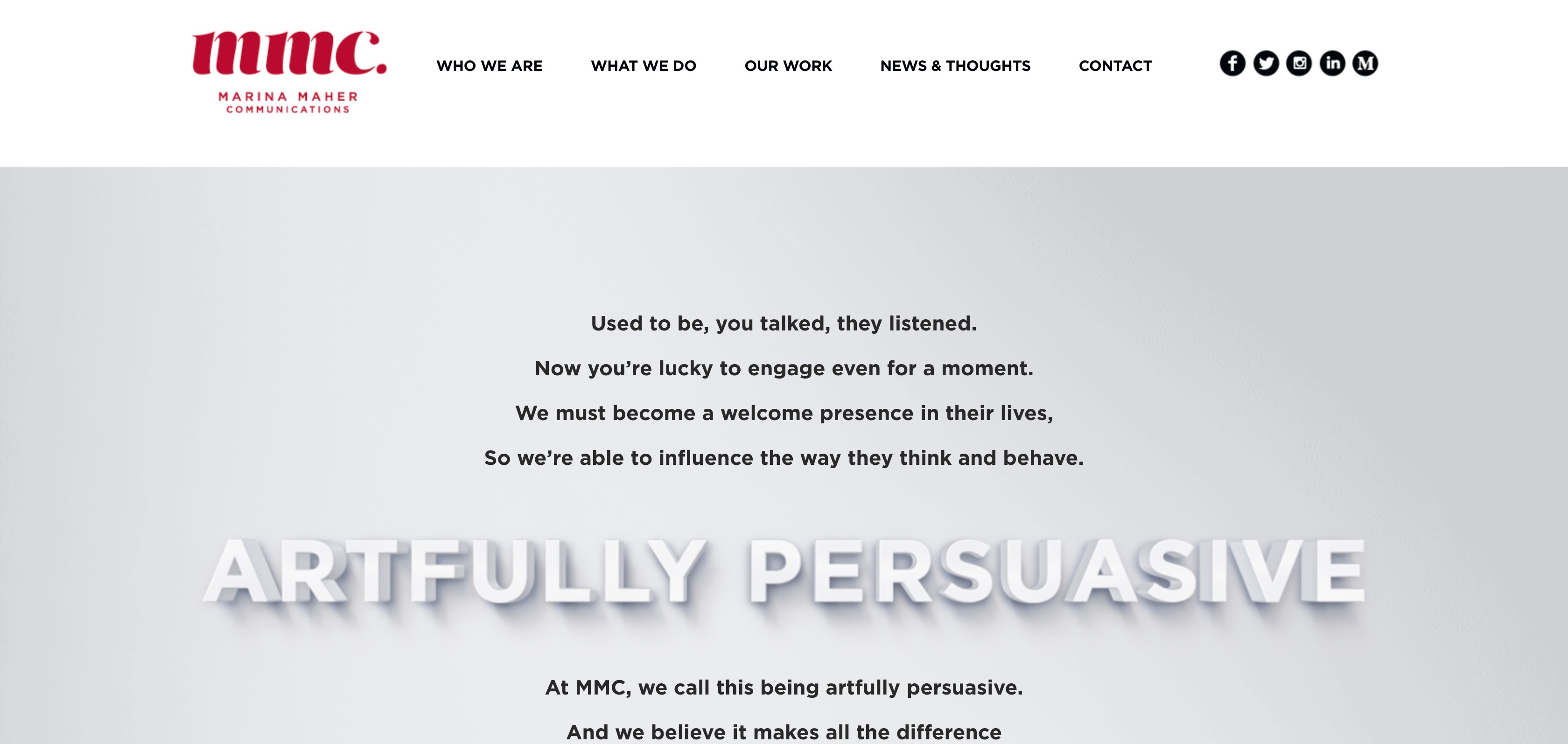 Marina Maher Communications (MMC) is a creative agency with over 30 years of experience in PR, earned media, and communications. They ranked 30th in the Holmes Report's Global Top 250 PR Agency Ranking 2019, with estimated fees income of $70M
The agency was named the 2018 North America Midsize PR Agency Of The Year and was a finalist in the 2019 awards. This has helped it earn new business from name clients, including P&G's Pantene, Rodan & Fields, Natural Cycles, United Therapeutics, Bluebird Bio, and Akili Therapeutic.
For some years now, MMC has helped Merck advance the conversation about maternal mortality, with an initiative called Merck for Mothers. MMC has helped Merck for Mothers amass nearly 200,000 Facebook fans through a mixture of positive and inspirational personal stories about birth and motherhood. In 2014 they expanded the audience to Twitter. They have established the custom hashtag #EndMaternalMortality.
In 2016, the campaign added Instagram to the mix. Merck for Mothers' average monthly potential reach exceeds 225,000. They have found their engagement rates to be an astounding ten times higher than the norm.
---
7. Sard Verbinnen & Co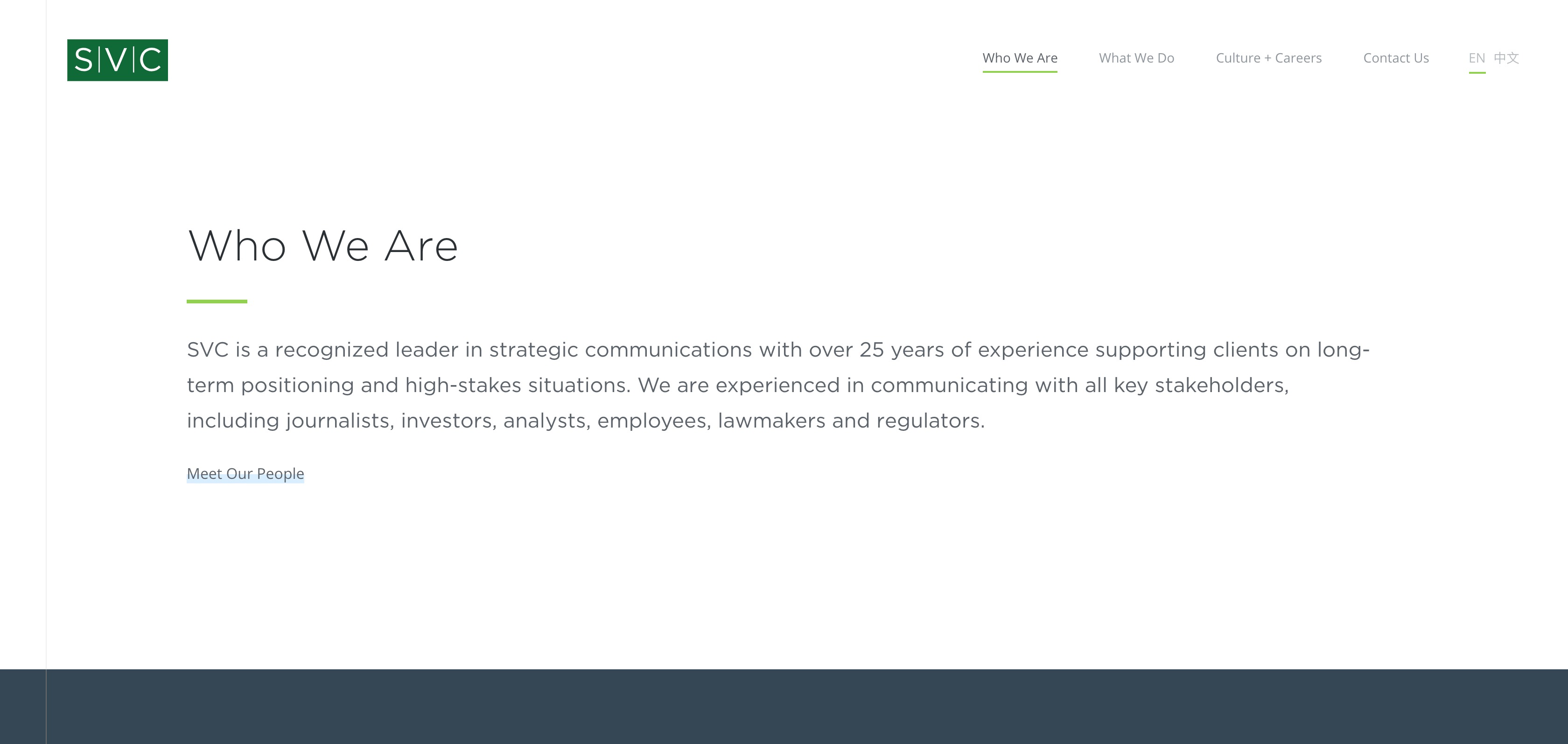 Sard Verbinnen & Co (SVC) is a financial communiocations specialist. This helped them win the 2018 Global Corporate/Financial Agencies of the Year award by The Holmes Report.
They have over 25 years of experience supporting clients in long-term positioning and high-stakes situations. They are experienced in communicating with all key stakeholders, including journalists, investors, analysts, employees, lawmakers, and regulators. SVC provides strategic communications advice and services to help clients manage overall positioning and transformative events affecting their reputation, business, and market value.
The company lists its areas of practice as including:
Corporate Positioning

IPOs and Listings

Mergers and Acquisitions

Restructurings and Bankruptcies

Crisis and Special Situations

Cybersecurity and Privacy Issues

Litigation Support

Public Affairs

Activism, Corporate Governance, and Shareholder Engagement

Environmental, Social and Governance
Sard Verbinnen worked with Bayer on its acquisition of Monsanto, with Qualcomm on its defense against Broadcom, with Samsung on its acquisition of Harman, and with ADP in its defense against activist Pershing Square Capital. It handled the initial offering of Best, Inc., the largest IPO by a Chinese company in 2017. The firm provided crisis communications support for the board of directors at Wells Fargo.
---
8. Narva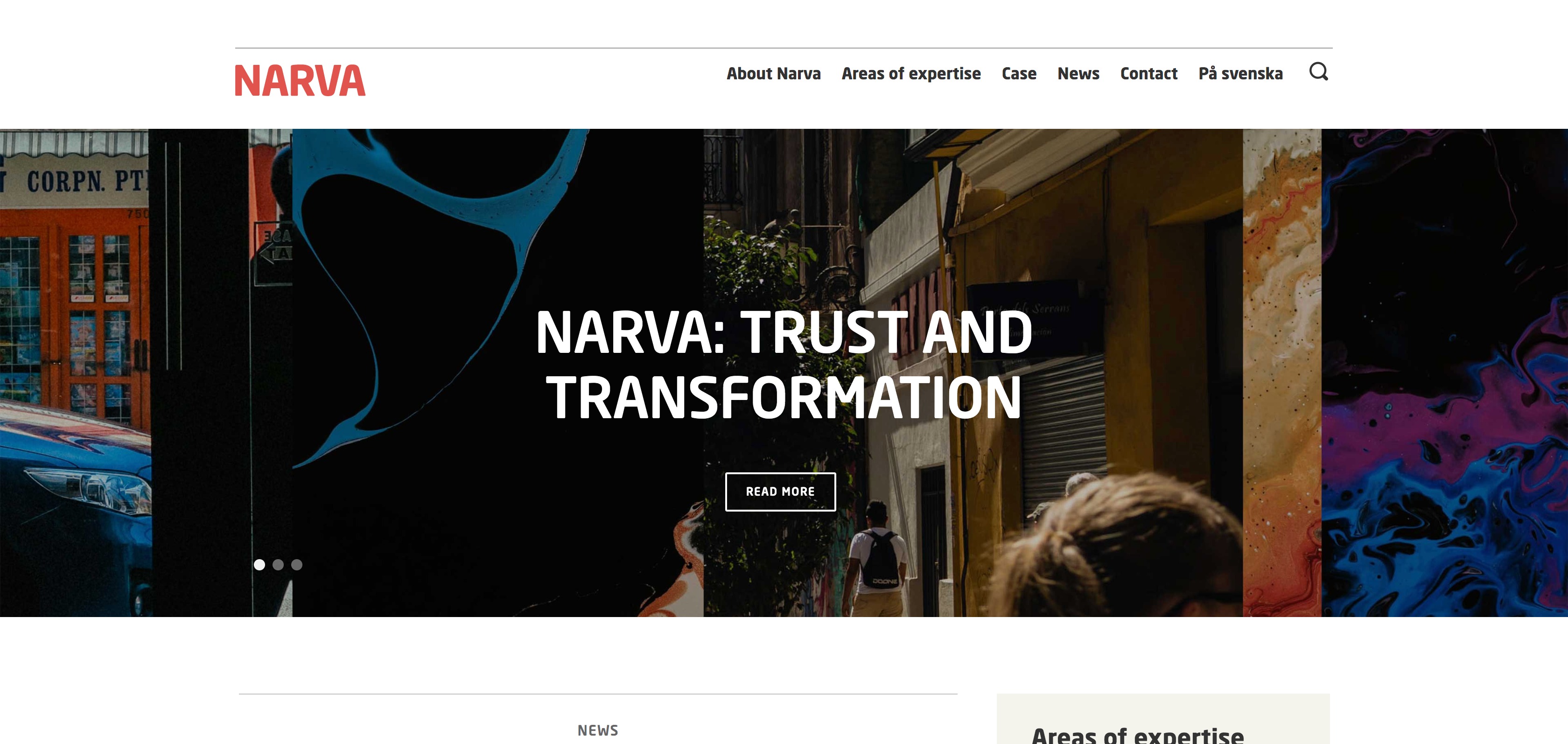 Narva is named after the Swedish army victory over a Russian force three times its size. It is one of the leading communication agencies in the Nordics.
The agency was founded in 2000. It is part of the Ahead Group, the largest agency alliance in the Nordic region. In 2017, Narva booked sales of SEK 90 million. They currently employ 60 people.
They won the Award for Nordic Agency of the year at the 2018 SABRE Awards. They won double gold for "If I was Minister of Health and Social Affairs", with the Swedish Childhood Cancer Foundation at the Polaris Awards 2018. They have also won an award for Best Annual Report 2017 (Boliden in the category for the largest company), and The Publishing Prize 2017 (Elanders - best annual report listed company).
Narva has offices in Stockholm, Gothenburg, and Malmö.
---
9. APCO Worldwide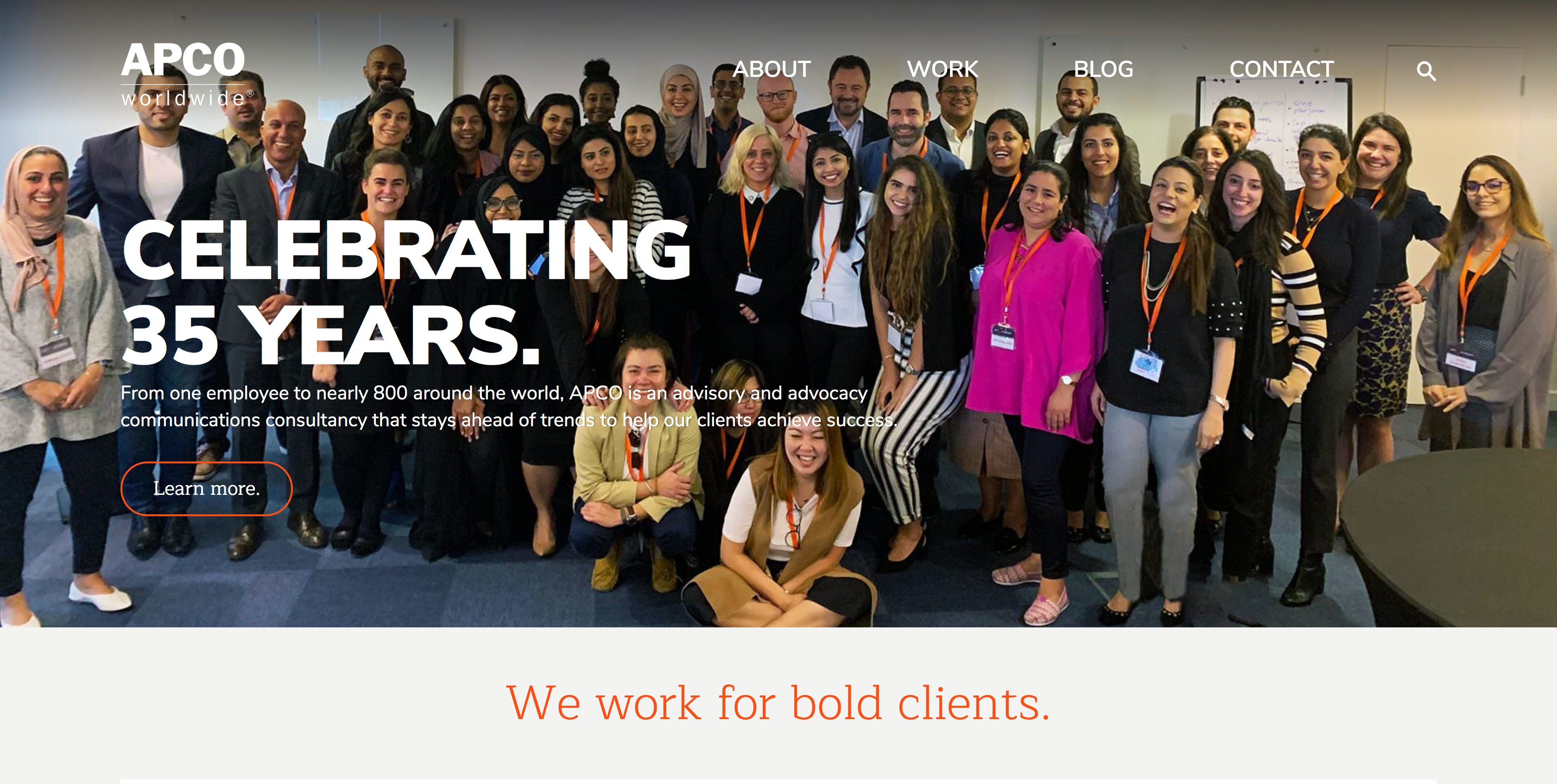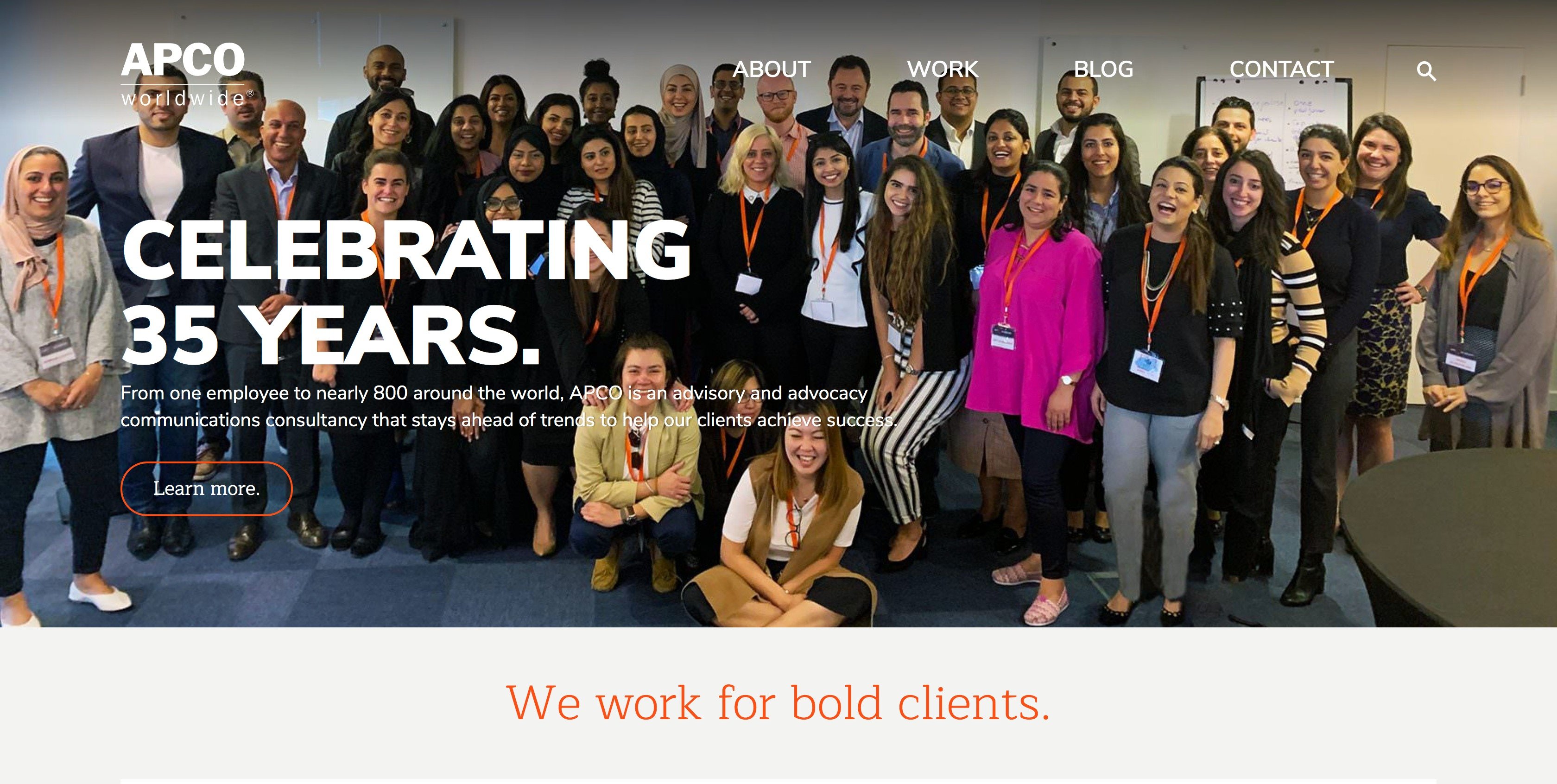 APCO Worldwide is an advisory and advocacy communications consultancy. They help leading public and private sector organizations act with agility and build organizational reputations, brands, relationships, and solutions to succeed. They are a majority women-owned business.
The agency won The Holmes Report 2018 EMEA Public Affairs Consultancies of the Year award and was a finalist in the 2019 Global Public Affairs Agencies of the Year award.
APCO redefined and expanded the definition of public affairs, both in its early embrace of research and analytics and in its investment in digital and social capabilities.
Their Europen division has particular strength in London and Brussels—the two most significant public affairs markets in the region. In 2017 it expanded its offices in Germany (Berlin and Frankfurt), Italy (Rome and Milan), and France. They are a significant player in the UAE and Saudi Arabia.
---
10. IN.FOM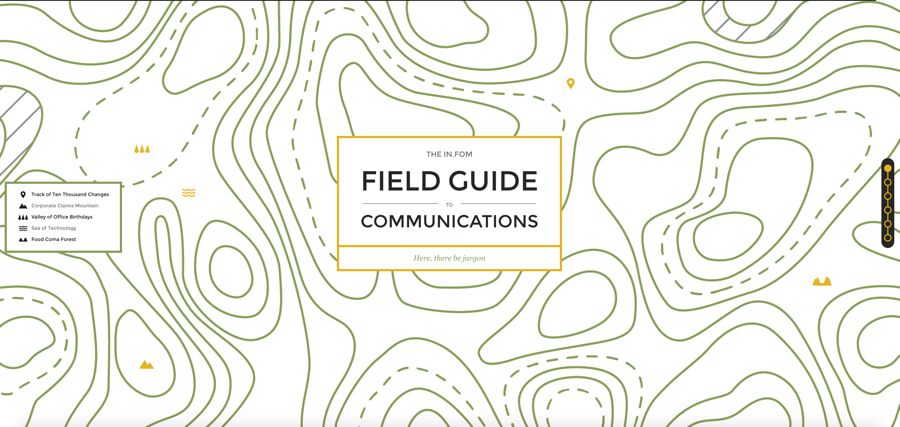 IN.FOM is a Singapore-based public relations and communications agency. They continuously aspire to be at the forefront of reinventing communications. Their approach prizes sustainable employee and client relationships.
They began operations in 2011 in Mountbatten Square, Singapore. They have upgraded their Singapore several times since then, and also opened a Bali office.
Their work gained recognition almost from the company's inception, culminating in them winning The Holmes Report's 2018 Global Technology Agencies of the Year award.
Some of their important clients include Ruckus Networks, Expedia, SGInnovate, UnionPay, Engie, CA Technologies, Herbalife, Intralinks, Intel, and Nokia.