Advertising Disclosure
Advertising disclosure:
Our partners compensate us. This may influence which products or services we review (also where and how those products appear on the site), this in no way affects our recommendations or the advice we offer. Our reviews are based on years of experience and countless hours of research. Our partners cannot pay us to guarantee favorable reviews of their products or services.
Organizations do a lot of research and planning when selecting the best business to provide them with a product or service. That's why when it comes to convincing other companies to choose your brand, you use a different approach than you would when addressing consumers directly.
---
11 Best B2B PR Agencies:
---
Defining B2B PR
Business-to-consumer (B2C) PR targets just one person making a purchase decision. Meanwhile, business-to-business (B2B) PR has to consider several stakeholders making that choice. Moreover, a company usually takes several steps to arrive at a decision as stakeholders have to prove that your brand fits its goals. These goals can include making the lives of their employees or customers easier, as well as saving time and money. Your product or service will matter only if it produces results that will add value to the company. And this is where PR plays a vital role.
PR and marketing sometimes overlap as they both align with a brand's overall strategy in delivering an effective brand message to buyers. But while marketing's main goal is to generate sales and boost revenue in the fastest way possible, the primary focus of PR is to create a favorable image for your brand. Your PR department or PR agency does this by addressing specific audiences such as company stakeholders, employees, or the media, depending on its needs. Through relationship-building and other activities, PR cultivates an environment where people get to know you as an awesome brand. Compared to advertising where you say good things about yourself, PR involves getting other people to say good things about you.
---
Benefits of Partnering with a B2B PR Agency
Here are some of the ways a B2B PR partner can support your organization's business strategy: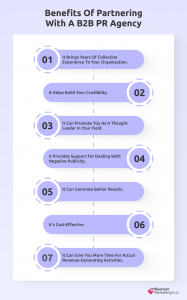 It brings years of collective experience to your organization.
PR experts have and maintain established ties with the media, influencers, and event organizers in your industry. They understand how media people think and what they need. These connections can help your company stand out in your sector, secure speaking invitations for your executives, and introduce you to the right sponsorship opportunities.
A PR firm that specializes in your niche is also familiar with the players, trends, issues, and potential pitfalls in your field. Moreover, it has a deep knowledge of your industry's lingo and culture. Thus, PR agencies can translate your brand's mission into a story that the media and influencers would like to cover.
It helps build your credibility.
A PR agency can connect you with trade and business journals, which the average American media consumers regard more highly than mainstream media. Your mention in these reputable journals—through case examples from current customers as well as innovation or success stories—can boost your trustworthiness, especially among business decision-makers who read them.
It can promote you as a thought leader in your field.
A PR firm can use its relations with media outlets to push byline articles from your company's executives that contain relevant and non-promotional content. Writing about timely topics can put you on the media's "experts list," positioning you as a thought leader in your sector. Once others value your opinion, you can reinforce your brand's strengths and explain the functions of your product or service with real-life examples.
It provides support for dealing with negative publicity.
Complaints and negative reviews are inevitable and need a prompt response. PR practitioners can help you prepare a professional statement that will apologize for any mistake or concisely discuss your side of an incident. They also know the proper step to take in case an unfortunate event ends up in a lawsuit or fatality.
It can generate better results.
Because a PR agency already has systems in place as well as access to resources and tools, it can carry out campaigns effectively and tweak them based on the assessment of results.
Hiring an experienced PR team means avoiding mistakes and getting the results you need over time, which translates to savings for your company.
PR may not be able to control the way journalists, influencers, and bloggers present their clients. However, they can cost less than paid advertising, where media is expected to publish content as is.
It can give you more time for actual revenue-generating activities.
Having an agency plan, execute, and monitor your PR program allows you to focus on the more crucial aspect of perfecting your product, ensuring a delightful customer experience, and finding new growth opportunities.
---
What Can You Expect from a B2B PR Partner
A B2B PR firm should be able to provide: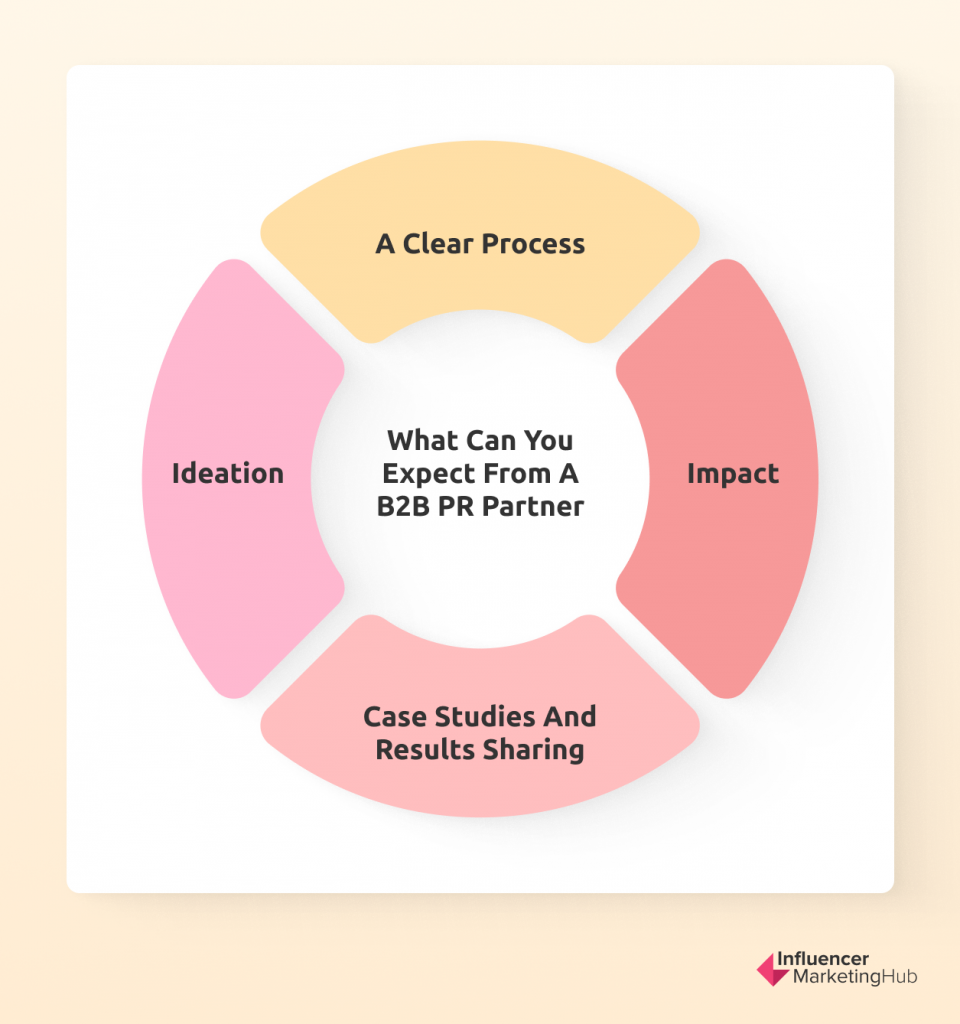 While you need to explain your expectations to your chosen PR team, the agency should be able to describe how it intends to meet those expectations. Their "process" includes how they will report and update you about the progress of your agreed-upon objectives.
Find an agency with top-tier ties with media, one with so-called hot press connections such as respected editors and journalists, particularly those associated with your niche. Your PR partner should give your brand media coverage in Tier 1 publications regularly.
Case studies and results sharing
Great PR firms are transparent about their results and success rate. Check their websites to see if they show samples of their work, case studies, and client reviews.
Professional PR practitioners should be able to offer strategic and creative ways to meet your B2B PR objectives and increase brand recognition through new topics and activities.
---
Questions to Consider Before Hiring an Agency
When you decide to get the services of a PR firm, that agency will become the mouthpiece of your business. Thus, it's important to ask yourself the following before hiring one: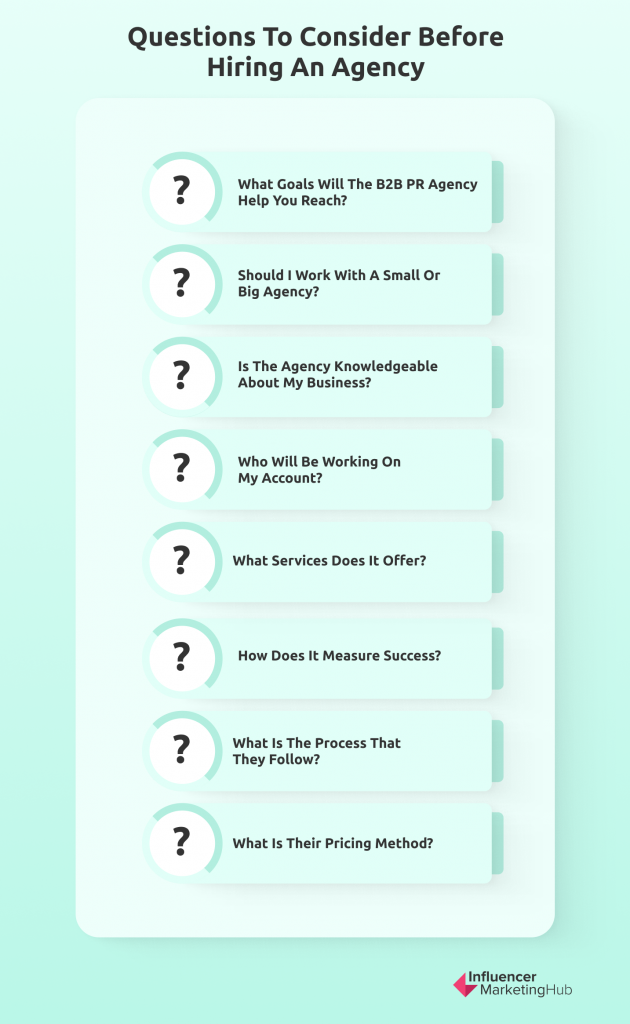 What goals will the B2B PR agency help you reach?
A professional PR firm would want to know how PR fits into your business strategy. So come up with SMART (specific, measurable, achievable, relevant, and time-sensitive) goals that would answer the question, "What do I want to accomplish by working with a PR agency?"
Should I work with a small or big agency?
Your choice will ultimately depend on the size of your budget and your business. But it pays to know how each type can support your PR goals.
Small PR firms can provide more personal service. The person who'll pitch the agency to your company is also likely to be the one to handle your account. Also, smaller agencies might offer more flexibility when it comes to pricing. Meanwhile, larger agencies offer a team to work with your business. This means having varied talents and viewpoints at your disposal.
Warning: Whether it's a big or small PR firm, beware of any conflicts of interest. Check its list of clients to see whether they include your direct competitors.
Is the agency knowledgeable about my business?
Look for a PR firm that's familiar with your niche and has a track record of working with B2B. This way, the agency won't have to spend plenty of time learning how your business operates. Instead, they can plan, discuss, and launch campaigns soon after understanding your goals.
Who will be working on my account?
Get to know the background, media connections, and track record of those who will handle your account. In a big agency, the top manager is unlikely to work directly with you and might delegate your account to a less experienced professional. Ask for references.
What services does it offer?
Depending on your needs, check if the agency offers:
Press release writing

Crisis management (for negative publicity)

Media training

Event planning and community outreach

Speech writing
Some agencies also offer marketing-oriented services:
Market research

Internal copywriting
Media outlets currently operate on various online platforms besides traditional print and broadcast networks, so find out the agency's range of digital capabilities.
How does it measure success?
Ask the PR firm how it will present measurable outcomes for your PR investment. Some basic measures of effectiveness include the number of media placements, site visits, social shares, and search rankings.
You can also specify your own benchmarks, such as mentions in trade media, national publications, or media outlets in a particular state or region of the world.
What is the process that they follow?
An effective agency typically explains how it operates. Nevertheless, ask them what they'll need from you. If you have an internal marketing team, determine the extent of involvement that the agency will require. Be ready to share information that will help them better understand how your organization is currently performing. Also, find out how soon you can expect results.
What is their pricing method?
Have a clear understanding of the agency's fees, whether they charge on a monthly retainer or per-project basis. Check if their pricing includes travel fare and media monitoring. Request a detailed breakdown of expenses.
---
Top B2B PR Agencies
Here are 11 PR agencies that your B2B company can consider partnering with: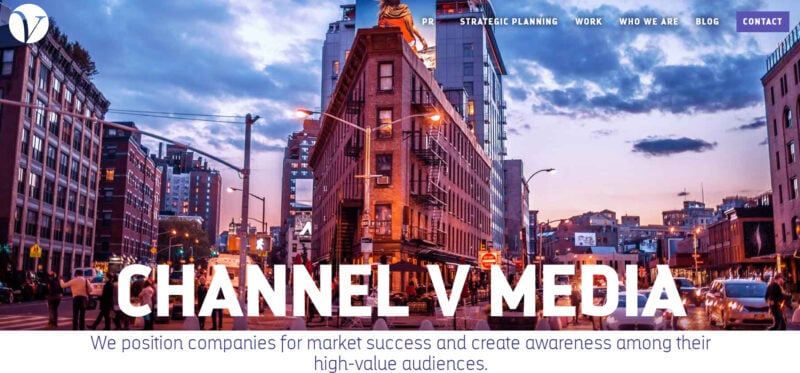 Based in New York City, Channel V Media is an award-winning strategic communications and PR agency that's been helping companies to make a name for themselves in the US market since 2008. During this time, they've worked with over 140 B2B companies in several niches like accounting, insurance and recruitment.
What makes them such a great PR agency to work with is that they have partnerships with several leading media outlets. This means that they can help you to get local and national coverage. That being said, their PR services are more than simply getting you coverage in publications like Forbes, The Wall Street Journal, or Harvard Business Review.
Their team is experienced at creating media stories that will change perception and will help you to influence markets. To do this, they use a wide range of other strategies like analyst briefings, trend reports, award entries, media briefings, and speaking submissions to help you make the most of key PR moments.
---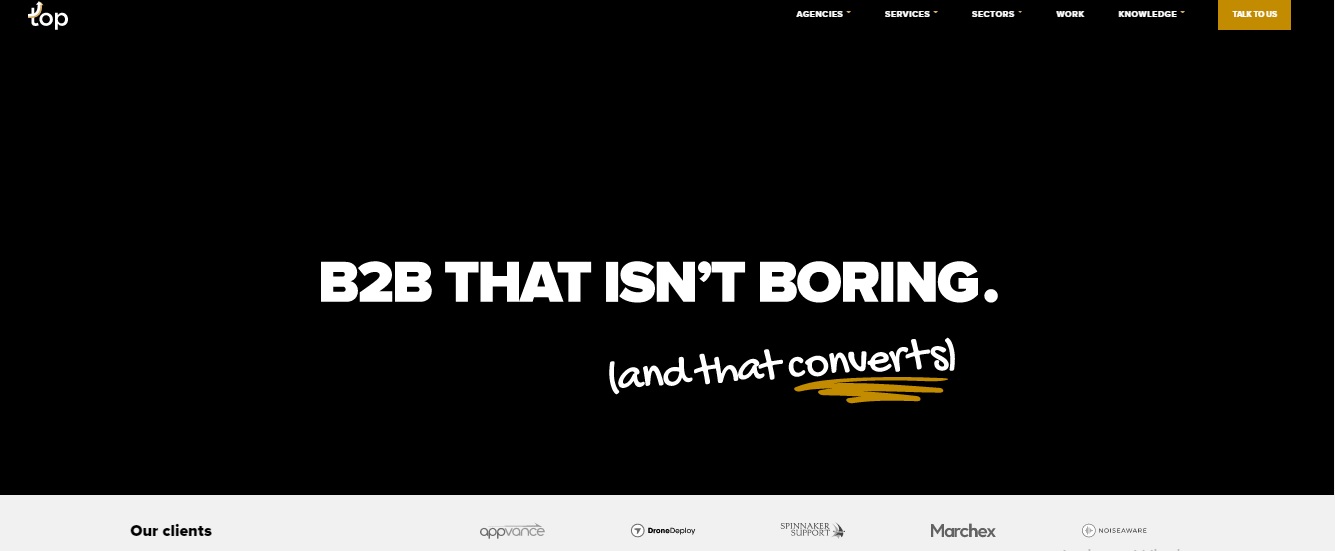 Top Agency is a group of "12 best-in-class" agencies, each with its own specialties, including B2B PR. The data-driven, Texas-headquartered firm has connections to the social media feeds of journalists in America's top 100 U.S. markets. It also operates in 21 cities outside the U.S., such as Amsterdam, Auckland, Copenhagen, Dubai, Glasgow, Johannesburg, London, Mumbai, Paris, Singapore, Tokyo, and Vancouver.
Their expertise includes media relations and media training, PR asset creation, ghostwriting, insightful reporting, crisis communication, and B-roll creation (TV and film production).
They serve various clients, including firms in construction, energy, franchise marketing, manufacturing, professional services, recruitment, small business, and transportation.
---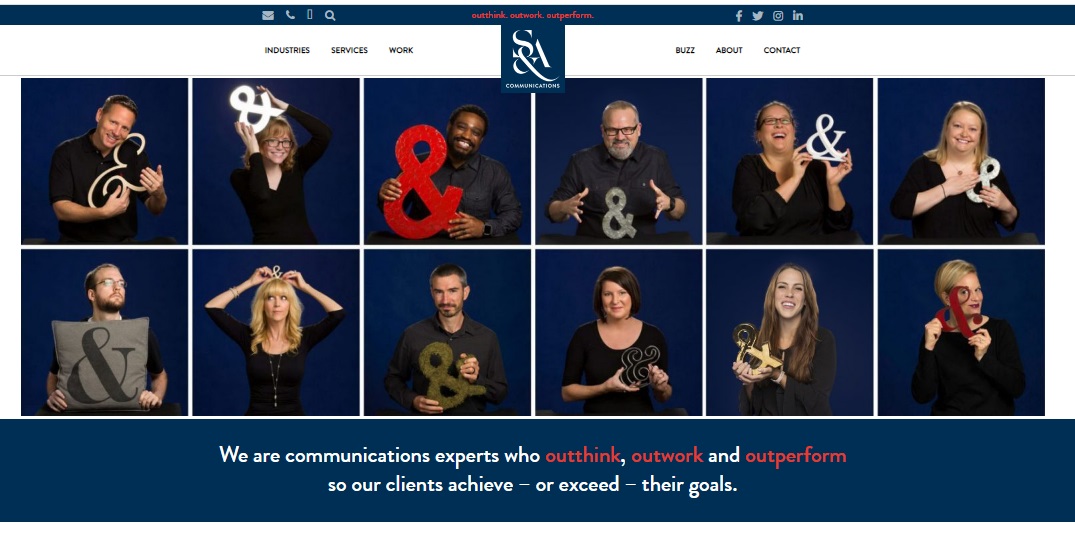 S&A Communications, a North Carolina-based firm, has been in the business since 1982, then focusing on the automotive industry. It now works with other sectors—from government and nonprofits to fintech, healthcare, higher education, professional services, and technology. Its PR and marketing services include media relations and training, crisis communication, community outreach, event management, and government affairs, among others.
S&A also offers digital (analytics, email, social media, SEO, PPC advertising, web design, and development), graphic design, photography, and video services.
---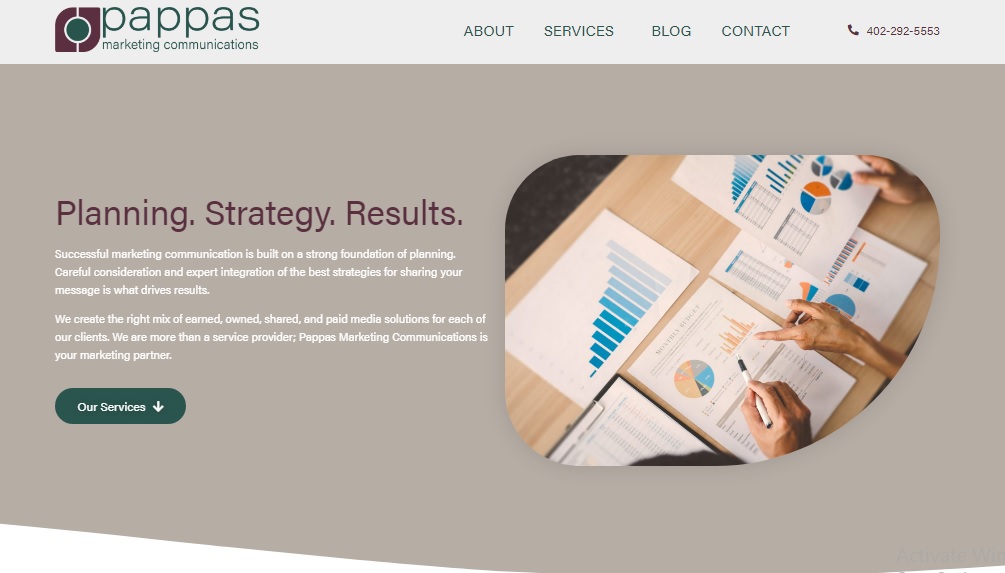 Pappas Marketing was known as Albers Communication Group from 2000 to 2020. It was rebranded by Gina Pappas, who acquired the company after being part of the firm for 12 years, serving as its president before founder Tom Albers passed away in 2015. A winner of the Public Relations Society of America's 2009 and 2015 Silver Anvil Awards, the Nebraska-based company provides PR, digital marketing, and video production services. It has clients across the U.S. and Canada.
Pappas' PR component covers strategic planning, including identifying target audiences, key messages, and the proper communication channels. They also cover content strategy and development, opinion research, media relations (trade, regional, and national) and earned media, media interview preparation, crisis communications, community relations, speaker placements, and training.
---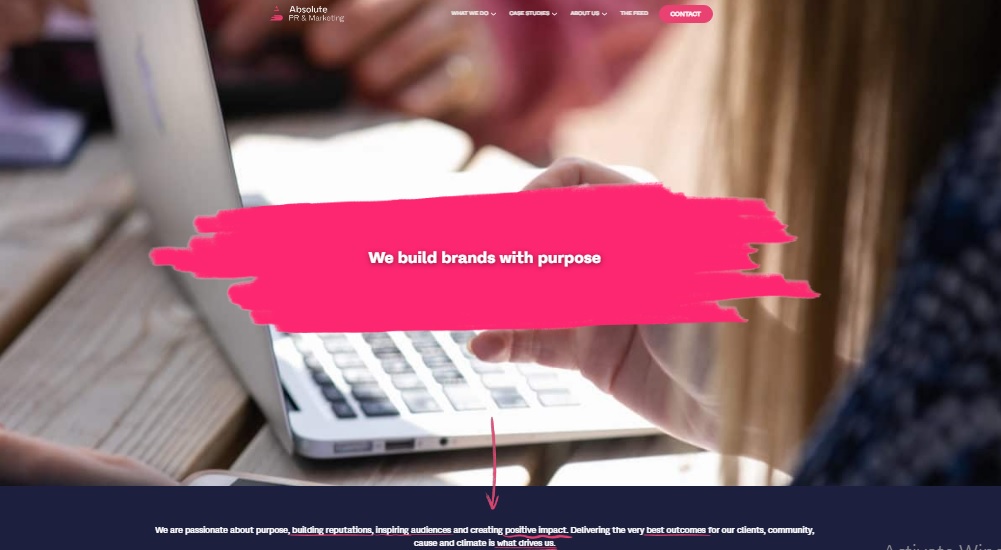 Absolute PR & Marketing, whose team is based in southwest England, has been around for over 20 years. It has clients in the manufacturing, recycling, healthcare, technology, and other professional service sectors.
The agency handles the various aspects of PR, from strategic planning for print and broadcast media relations to market research, campaign evaluations, media training, senior counsel, crisis communications, event planning, and white papers. SEO, newsjacking (aligning a brand to a current event to boost exposure), and media monitoring are also included in Absolute PR & Marketing list of specializations. The agency's client roster includes National Resource Consortium, GripHero, Ramer Sponges, and others that share its advocacy for environmental sustainability.
---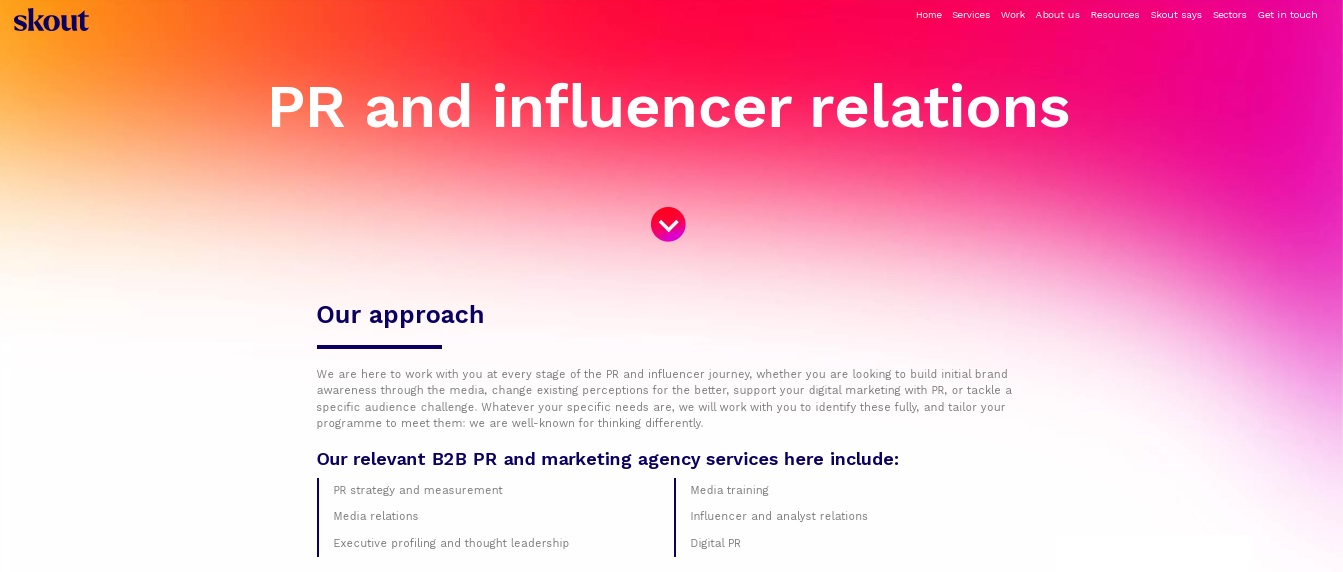 B2B communications are at the front and center of Skout PR, which was founded in 2010 and is based in Cheshire, in England's northwest. It has won various awards from the Chartered Institute of Public Relations and the Prolific North, a news, events, and jobs hub for the media, creative, and tech sectors in northern England.
Its suite of PR services includes PR strategy and measurement, executive profiling and thought leadership, media relations and training, influencer and analyst relations, and digital PR. Their expertise is sought after by companies in technology, telecoms, the public sector, procurement and supply chain, management consulting, HR and employee benefits, as well as SME and security.
---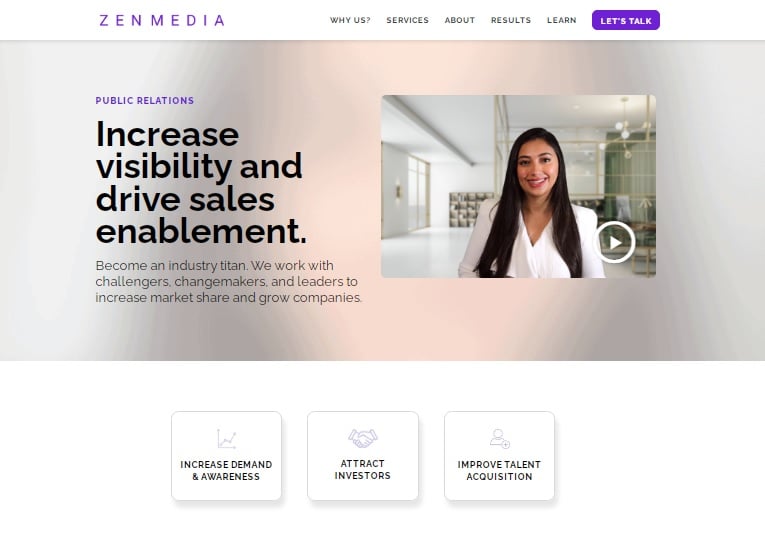 Zen Media describes itself as the go-to for tech-driven B2B brands, being a pioneer in social media marketing when it started operating in 2009 by TV personality and Momentum author Shama Hyder. Its PR team amplifies whatever output they're able to put out in traditional media by sharing them on social media. As a digital-first agency, Zen Media's B2B PR opportunities also include Reddit AMAs (Ask Me Anything) and virtual events such as live streaming with LinkedIn influencers, YouTube or podcast interviews, and Product Hunt campaigns (community-based website for launching new products).
The Dallas-based firm is a welcome disruption in the PR world, offering contracts that start with 90 days instead of a year. It also follows a "bullet points and blessings" method for content creation, in which its PR department creates media-friendly content using the bullet points—instead of opinion pieces—they ask from the client. Meanwhile, its SAM (story-amplify-measure) strategy for PR also includes pay-per-click advertising and video marketing services.
---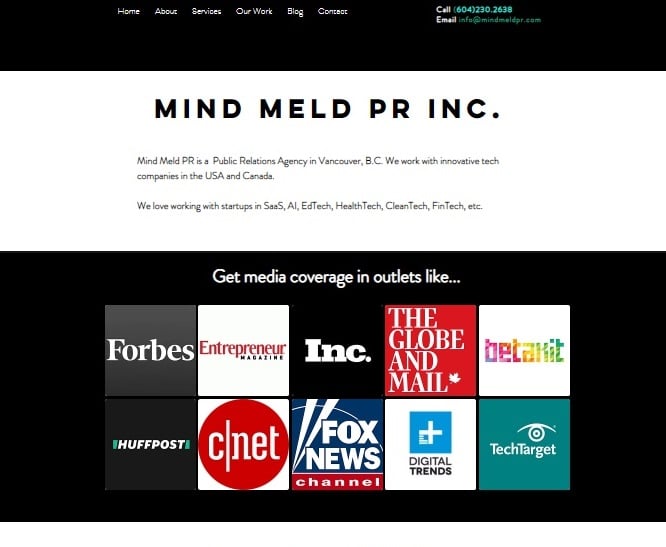 Vancouver-based Mind Meld—which was established in 2019—caters to SaaS, AI, and other tech-led companies (fintech, healthtech, edtech, and cleantech). The agency's greatest edge when it comes to media relations lies in its team of former journalists. The company's founder, Jonathon Harvey, was a former reporter and columnist who wrote about technology, culture, and politics.
Clients can select from Mind Meld's three monthly service packages: Basic PR, PR + Content Marketing, or PR + Thought Leadership. All packages include strategic planning, custom pitches, press releases, and reactive PR (opportunities from HARO or Help A Reporter Out, SourceBottle, Qwoted, and other platforms where journalists are looking for expert commentary). The agency can also handle one-time mini-campaigns, from furnishing you with a media list of up to 250 reporters and editors, writing a catchy press release, doing an eBlast (pitching your story to reporters), or identifying reporters who might like to jump on your story. The agency also offers Executive PR, which helps your C-Suite get attention through magazine-quality articles, on-brand social media messages, and other executive corporate communications.
---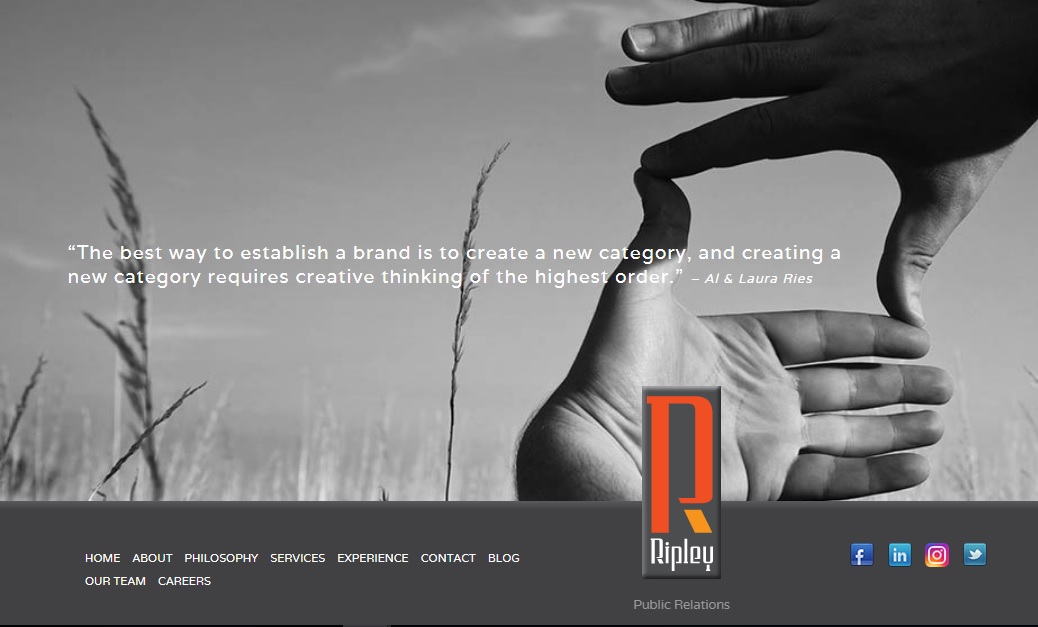 Forbes and Entrepreneur Magazine are among the business publications that have recognized Ripley PR since 2017 for championing the PR efforts of skilled trades and home service franchise brands. Heather Ripley, who founded the agency in 2013, is the author of Next Level Now, a book on PR secrets aimed at boosting the growth of home service businesses. However, the agency's B2B experiences go beyond the two sectors and cover manufacturing, technology, and healthcare IT.
Ripley PR offers communications strategy, media relations and training, issues analysis and risk assessment, speaking engagement, crisis management, and more. Its clients can expect placements in trade publications as well as national and regional news outlets. Social channel optimization and internal communication strategy development are its other specialties.
Ripley PR's newly formed sustainability arm, Orange Orchard, partners with eco-conscious, plant-based, and animal-friendly businesses and nonprofits.
---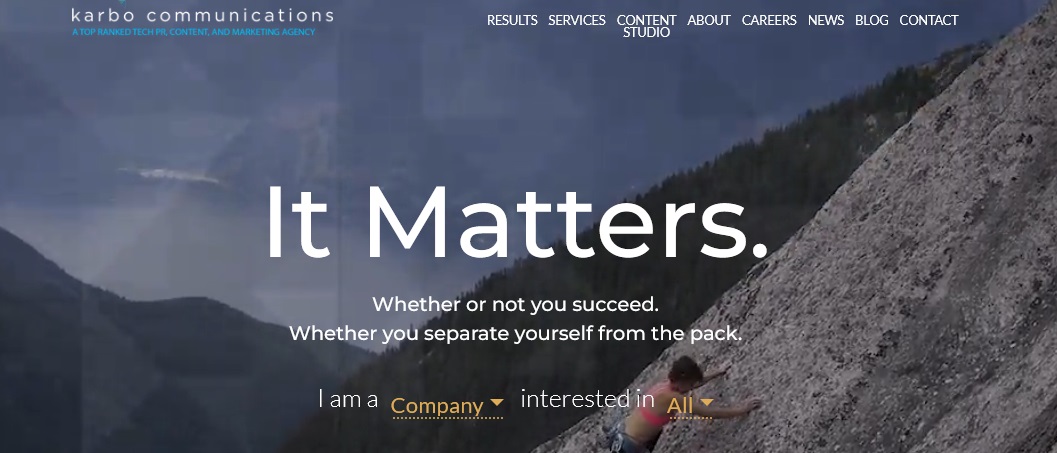 Karbo Communications is a digital PR and communications firm whose media and analyst relations service includes trend and media opportunity tracking, trade and broadcast press relations, speaking and media training, influencer campaigns, and product or service launches. Founder Julie Karbo, who has over 30 years of experience in the tech industry, is supported by a team with established PR and marketing careers in e-commerce, mobile, business intelligence, fintech, and more. The company has created strategic and disruptive communications programs for the likes of Hootsuite, TIBCO, Apple, eBay, Logitech, TDK, and others.
During the 2021 American Business Awards®, the PR agency bagged the Stevie® Award for Public Relations Agency of the Year. It also received certification from Great Place to Work.
---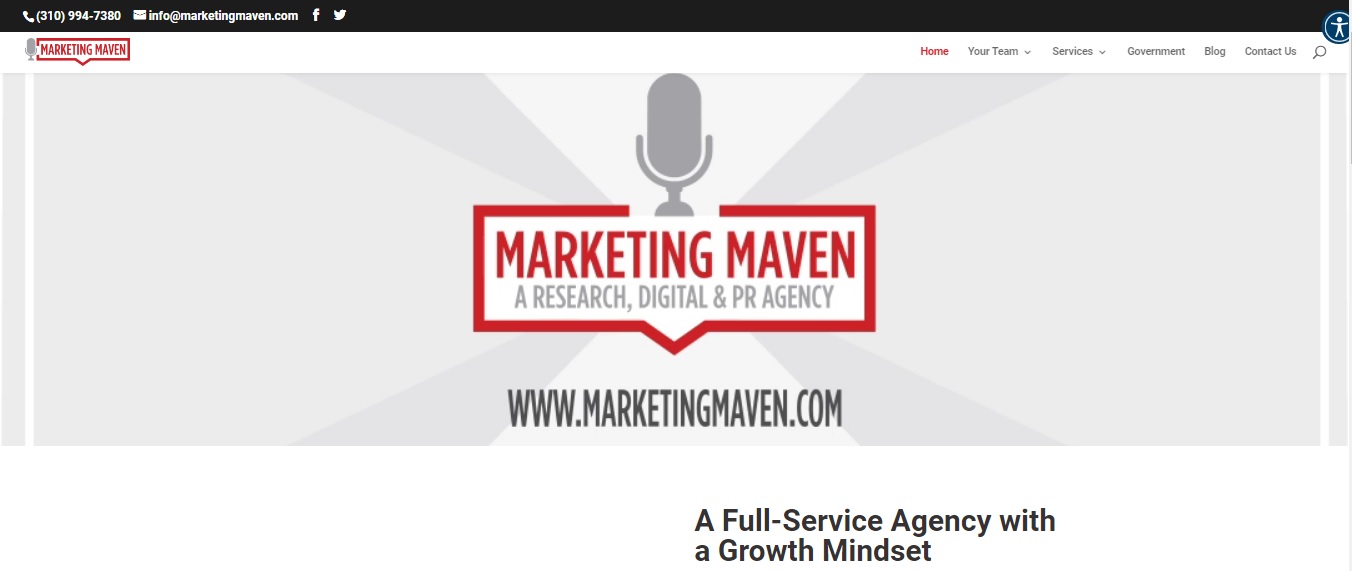 Offering full-service communication solutions for the past 11 years, Marketing Maven has become a leader in servicing the reputation management needs of B2B companies. Its high customer satisfaction ratings have placed it among Clutch.com's top B2B PR firms for 2020 and 2021. Beyond traditional media relations support and training, Marketing Maven's PR services include sentiment analysis, competitive and market research, trade show support, and email marketing.
This woman-owned business with offices in Los Angeles and New York won the IMPACT Award for social media campaign integrated strategy at the 2017 Internet Marketing Association's annual awards. It was also named among the best places to work in 2021 by the Pacific Coast Business Times.
---
Frequently Asked Questions
How can I determine whether I should outsource my company's PR?
Form your own internal PR department if:
You already have PR expertise and want to invest in building a team of media relations experts in-house to carry out a long-term strategy that you've already thought out

You have an existing team with a solid PR experience and your efforts are currently working

Your company can afford to hire professionals as additional staff and provide resources to carry out their tasks.
Meanwhile, you may need to work with a PR agency if:
Your budget is not enough to hire full-time, in-house staff

You need immediate results to speed up business growth

You can't afford to take risks or commit mistakes
You may also consider hiring an agency even if you already have a PR and marketing department if:
You need to get a fresh perspective on your brand and customers

You'd like to get more insights from senior talent
What are some red flags to watch out for when picking a PR agency?
A PR firm may not be a good fit for your business if:
It has poor reviews online (including high employee turnover).

It doesn't ask about your company's challenges before recommending strategies.

It downplays research.

Its associates don't communicate well with you and use fluffy buzzwords.

It can't show the results of their performance in black and white (case studies, proof of ROI, ad impressions, interaction on social media).

It boasts of awards you've never heard of.