Advertising Disclosure
Advertising disclosure:
Our partners compensate us. This may influence which products or services we review (also where and how those products appear on the site), this in no way affects our recommendations or the advice we offer. Our reviews are based on years of experience and countless hours of research. Our partners cannot pay us to guarantee favorable reviews of their products or services.
With the digital realm growing at warp speed, businesses and marketers are faced with a formidable challenge—sifting through the vast universe of online content to uncover valuable insights and spot emerging trends. They often struggle to filter through the noise to find relevant information from reliable sources. This arduous process of research consumes much time and hinders the creation of compelling content that truly resonates with their target audience.
Fortunately, the digital world also brings us the right solutions to these challenges—content discovery tools. By leveraging the capabilities of content discovery tools, marketers can effortlessly navigate the digital landscape, discover content, gain insights, and optimize their content marketing strategies. These tools are a time-saving lifeline, enhancing research efficiency and empowering the creation of engaging and informative content.
---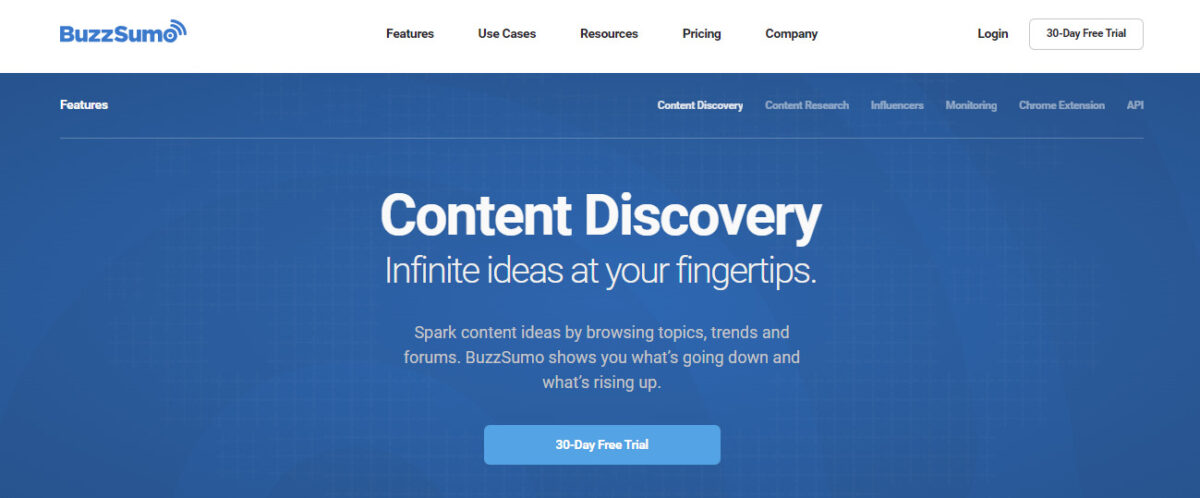 BuzzSumo is a comprehensive content marketing tool that has been trusted by creators worldwide since its launch in 2014. It empowers businesses to create brilliant content, monitor their brand and industry, and discover growth opportunities. With an extensive database of billions of articles and trillions of social engagements, BuzzSumo provides valuable insights and data to fuel data-driven content strategies.
BuzzSumo offers a treasure trove of content ideas at your fingertips. You can browse topics, trends, and forums to spark creativity and stay updated on what's buzzing in your market. It generates thousands of content ideas, ranging from viral trends to timeless classics, and provides SEO insights to optimize your content for search engines.
Key features:
Comprehensive keyword tool
Real-time views of viral trends
Easy-to-use topics filter
Access forum posts, community threads, and other Q&A sites
---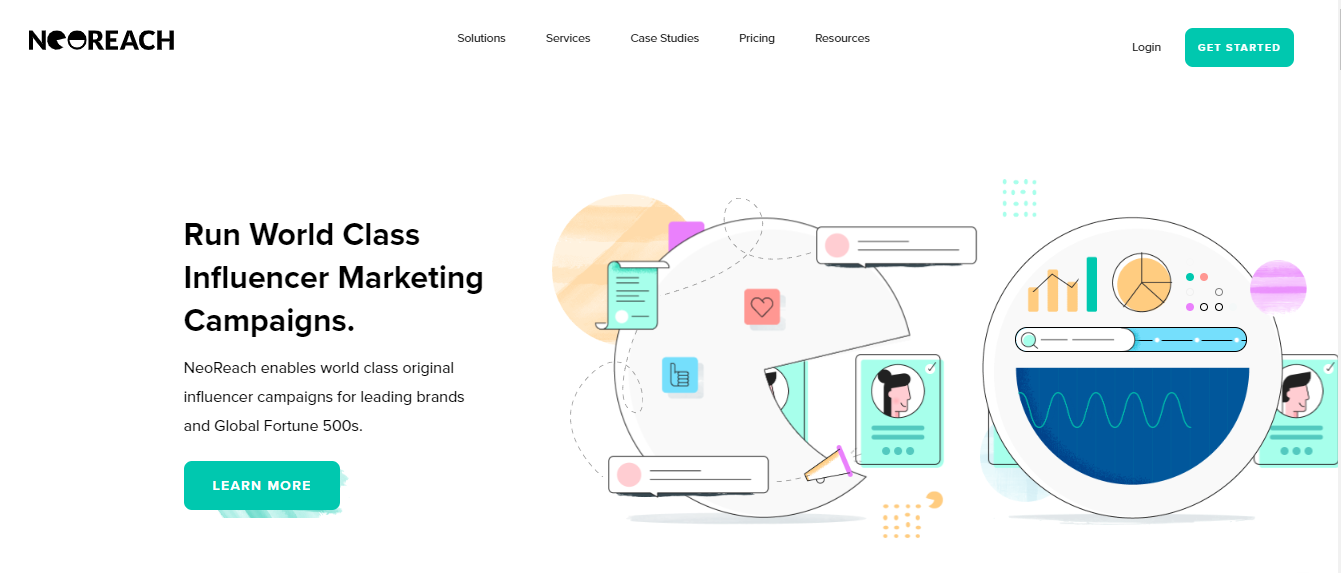 NeoReach is a powerful influencer marketing solution that helps businesses gain meaningful social impressions from the right users. With its managed services and influencer marketing software, NeoReach offers comprehensive tools and expertise to run successful influencer campaigns. Its platform provides access to a vast database of over five million influencers, along with analytics and performance-tracking features.
NeoReach's influencer database and analytics can indirectly support content discovery by providing insights into popular influencers and their content. It allows businesses to develop data-backed strategies, source top-performing niche creators, amplify content through paid media, and create memorable experiential activations that connect online and offline experiences.
Key features:
Managed services for influencer discovery and collaboration
Robust influencer marketing software
API integration of powerful influencer database

Key Features: Campaign Management, Search/Discovery, Influencer Relationship Management, Team Collaboration Tools, Campaign Reporting, Influencer Analysis, Audience Analysis, Forms and Compliance,
Channels: Facebook, Twitter, Instagram, YouTube, Pinterest, Snapchat
---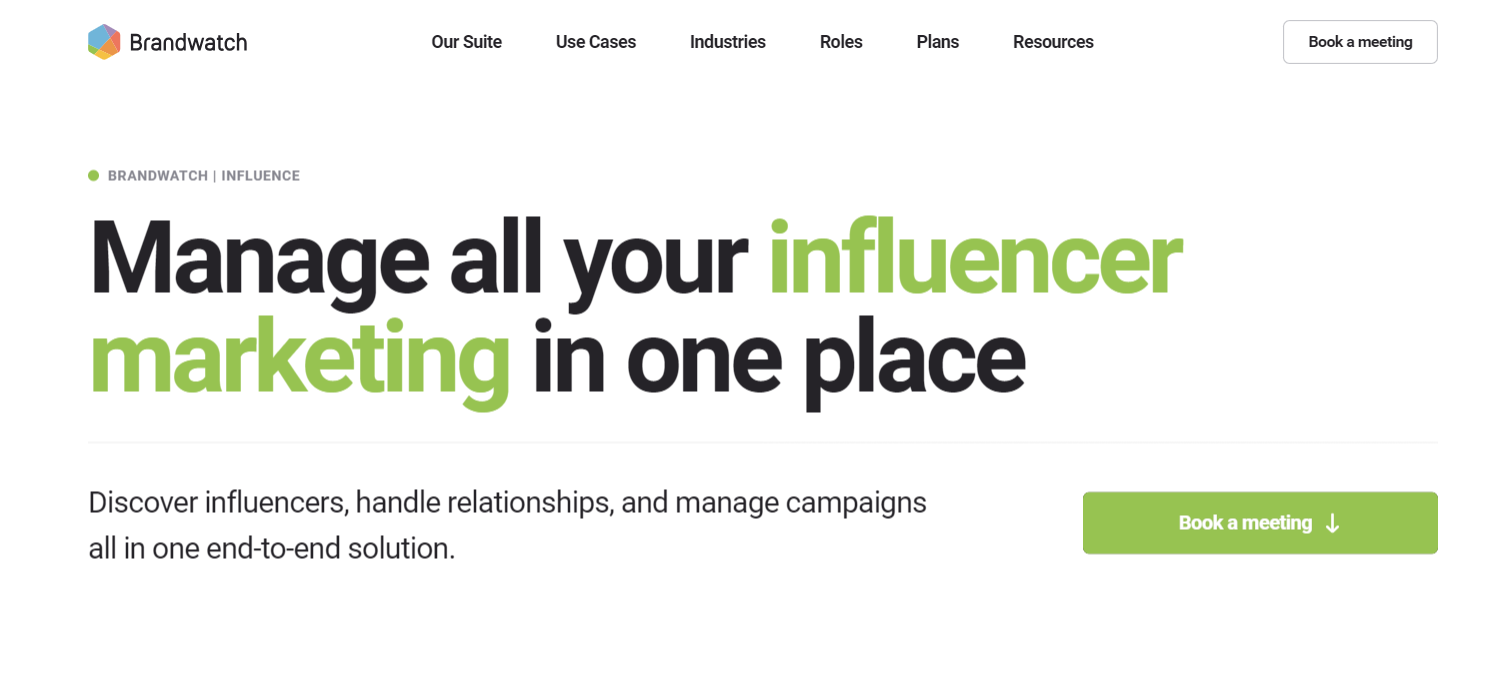 Brandwatch is a dynamic content marketing solution that integrates content planning and publishing with intelligent workflows. Since its inception, it has become an essential tool for marketers aiming to streamline operations, tap into market trends, and align their teams for a holistic content approach. This platform goes beyond traditional content creation, ensuring every piece is optimized, on-brand, and resonates with the target audience.
Brandwatch's keen focus on audience research, trend monitoring, and social strategy provides marketers with actionable insights, bridging the gap between assumptions and data-driven decisions. The integrated calendar, paired with collaborative features, offers a unified view of all organic and paid social activities, making it a favorite for businesses looking to simplify their content operations.
Key features:
Unified content calendar for managing campaigns
Audience research for data-driven content creation
Centralized content library with repurposing capabilities
Integrated approval flows to maintain brand consistency
Seamless conversion of posts to Facebook, Instagram, and LinkedIn ads

Key Features: Influencer Discovery, Influencer directory management, Creation of private influencer network, Campaign management and reporting, Broad platform coverage, Automated reporting,
Channels: YouTube, Facebook, Instagram, Twitter, Twitch, TikTok, Shopify
---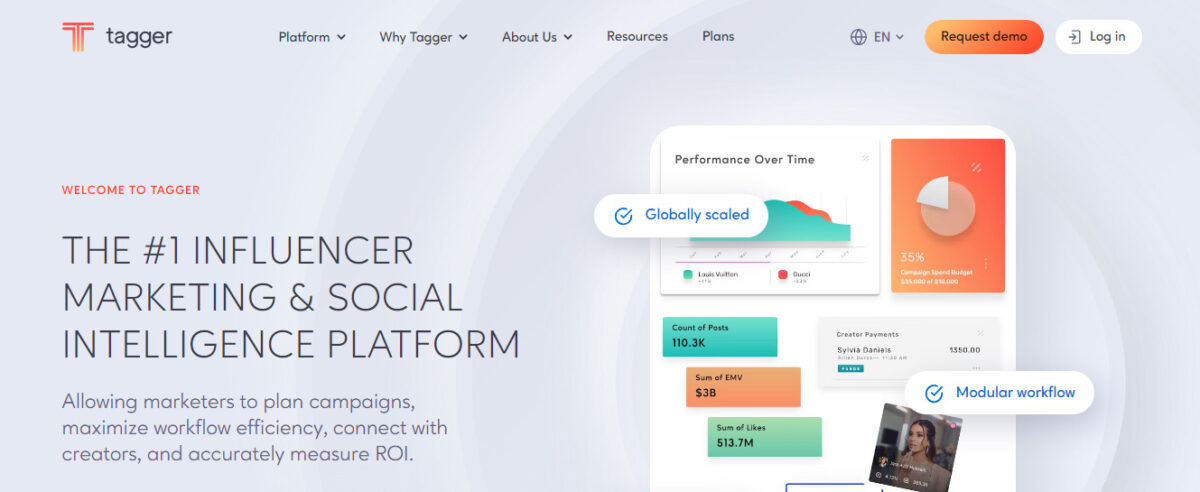 Tagger offers an exceptional set of content discovery tools that empower marketers to find the perfect creators, align with their brand values, and measure the performance of their influencer marketing efforts. Tagger's comprehensive features and user-friendly interface make it a useful asset for optimizing content discovery and achieving impactful influencer collaborations.
Tagger is best suited for marketers, brands, agencies, and media companies looking to maximize the effectiveness of their influencer marketing campaigns and streamline content discovery. It is an ideal solution for those seeking an innovative and accessible platform that provides accurate social data, robust analytics, and valuable insights. With Tagger, you can plan campaigns, search for creators with purpose, connect with influencers, and report on campaign performance—all within a single platform.
Key features:
User-friendly creator profile discovery tool
Accurate affinity tool
Content appropriateness
Comprehensive authentic follower analytics

Key Features: Search/Discovery, Automated Recruiting, Influencer Marketplace, Team Collaboration Tools, Content Library, Campaign Management, Campaign Reporting, Influencer Analysis, Audience Analysis, Fake Follower/Fraud Detection, Payment Processing, Social Listening, Competitor Research,
Channels: Facebook, Instagram, Twitter, YouTube, TikTok
---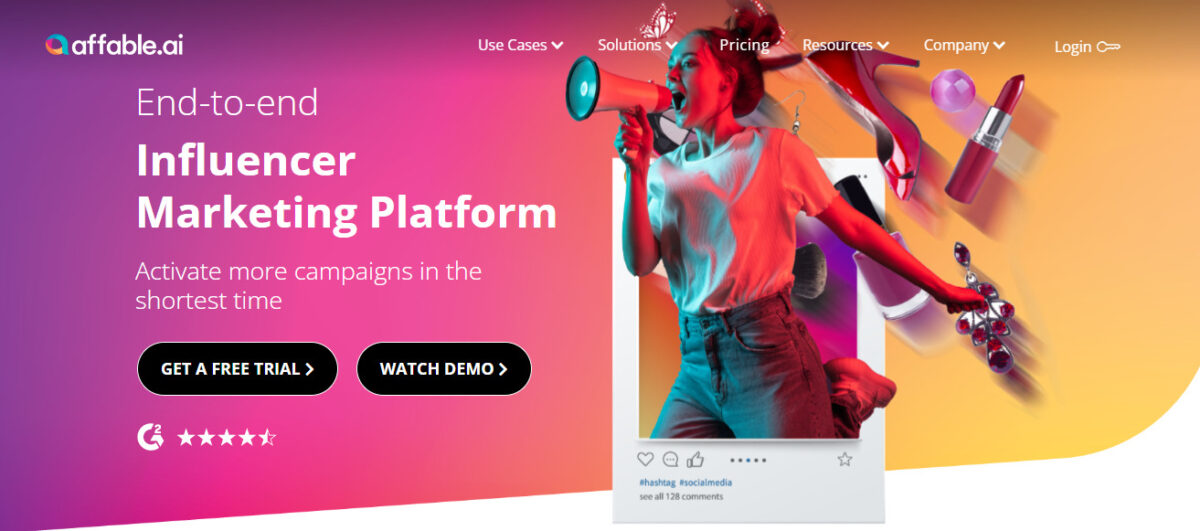 Affable's Content Discovery Platform is a tool designed to help brands understand current influencer trends and strategize their brand message effectively. With access to its massive Instagram influencer database and a range of powerful filters, Affable enables users to generate quick results and gain insights into the kind of content influencers are posting.
Affable's Content Discovery Platform is ideal for brands and marketers who aim to stay updated with influencer trends and leverage them to shape their brand messaging. It is particularly beneficial for those looking to save time and resources by relying on a comprehensive influencer database and powerful filters for content discovery. Whether it's understanding current trends, conducting competitive research, or finding content related to specific interests, Affable's platform provides a user-friendly solution to enhance content discovery efforts.
Key features:
Comprehensive filters for influencer trends
Competitive research capabilities
Enhanced content discovery through advanced computer visio

Key Features: Search/Discovery, Influencer Relationship Management, Content Library, Campaign Management, Campaign Reporting, Influencer Analysis, Audience Analysis, Social Listening, Competitor Research,
Channels: Instagram, Facebook, YouTube, TikTok
---

Talkwalker is a leading provider of consumer intelligence acceleration platforms that empower brands to drive business impact. With its powerful software platform, Talkwalker helps companies uncover, understand, and derive valuable insights from internal and external data, enabling them to protect their brands, measure their impact, and gain key consumer insights.
Talkwalker's platform is particularly beneficial for teams aiming to understand customer behaviors, analyze customer feedback, uncover emerging industry trends, and monitor critical conversations about their brand. With its powerful AI Engine, Blue Silk™ AI technology, and integration of customer data, Talkwalker provides a comprehensive solution for content discovery.
Key features:
Proprietary technology with advanced AI capabilities
Integration of external and internal customer data sources
Analysis of billions of customer signals

Key Features: Influencer Search & Discovery, Relationship Management, Third Party Analytics,
Channels: Twitter, Blogs
---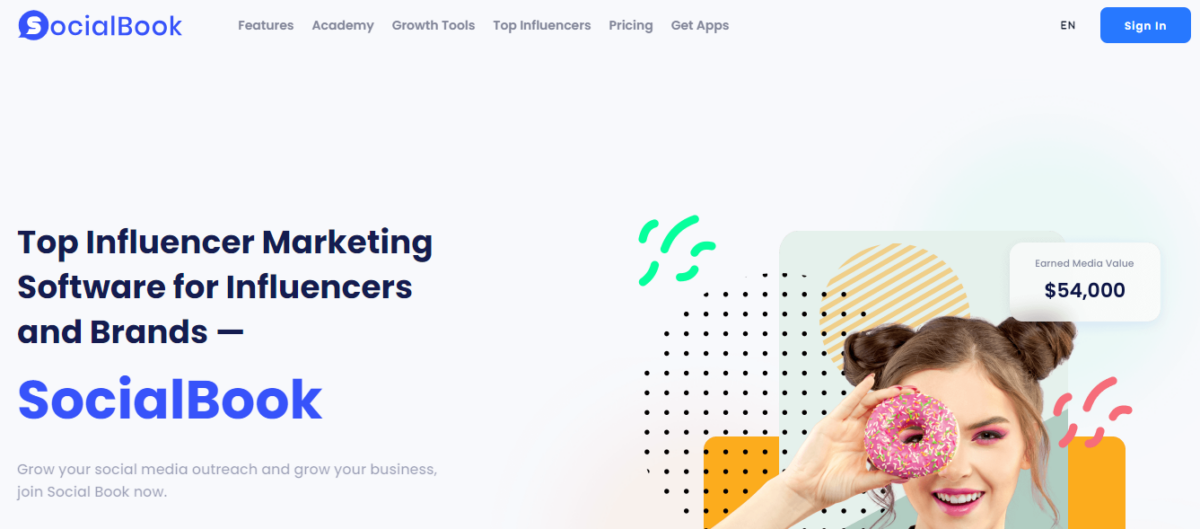 SocialBook is a top influencer marketing software designed for influencers and brands to enhance their social media outreach and grow their businesses. With its comprehensive suite, SocialBook empowers influencers to create better content, increase their following, and monetize their influence. For brands, it serves as a valuable platform to discover and collaborate with the best influencers, streamline campaign processes, and drive sales.
SocialBook offers an extensive influencer database with over 16 million influencers across various platforms. You can utilize four different search methods, including name search, filtered search, competition search, and SocialBook Checker, to find influencers that align with your specific needs.
SocialBook also equips content creators with free growth tools to enhance their creative process, expand their audience, and secure brand offers. From tag research and YouTube Builder for optimized content, to photo and video editing tools like background removers and cartoonizers, influencers can elevate their content quality and increase their monetization opportunities.
Key features:
In-depth profile reports for influencer discovery
Real-time competitor monitoring
Trend alerts for keywords, videos, and content

Key Features: Search/Discovery, Campaign Management, Campaign Reporting, Influencer Analysis, Audience Analysis, Payment Processing,
Channels: Instagram, YouTube, Twitch
---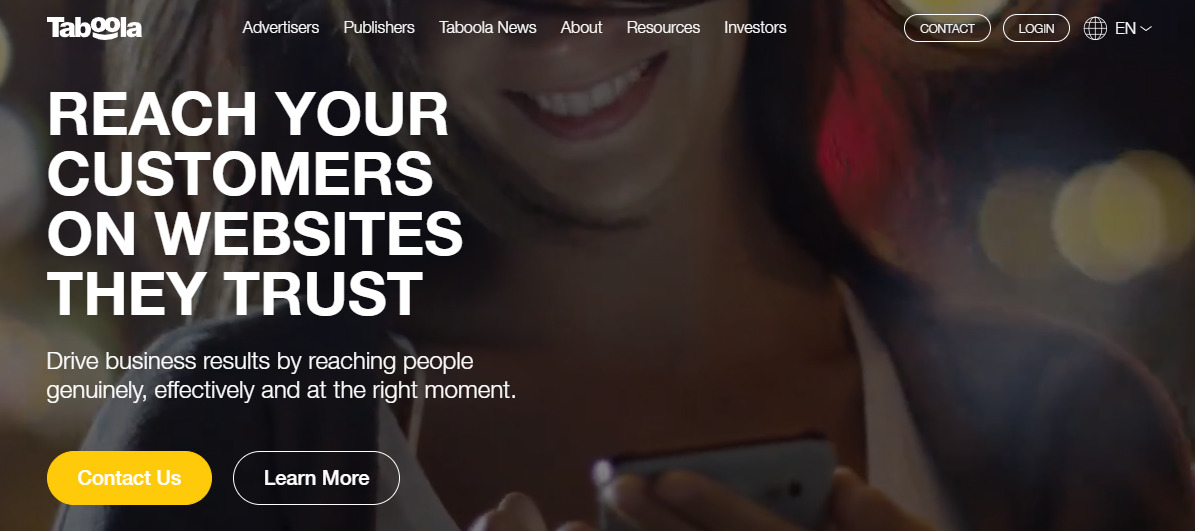 Taboola's discovery and native advertising platform enables businesses to reach their target audience genuinely and effectively. With its massive scale and relevant reach, meaningful engagements, and marketing results, Taboola empowers brands to drive content discovery and achieve their marketing objectives. Whether it's individuals exploring new content, advertisers seeking to engage their audience, or digital properties enhancing user engagement, Taboola provides a comprehensive solution for effective content discovery in the digital landscape.
By leveraging the power of discovery and native advertising, businesses can drive effective content discovery. With a better understanding of the interests and preferences of their audience, brands can deliver personalized and engaging content that captures their attention and drives tangible marketing results.
Key features:
Massive scale and relevant reach
User behavior data and flexible creative formats
Ability to generate high-value leads
---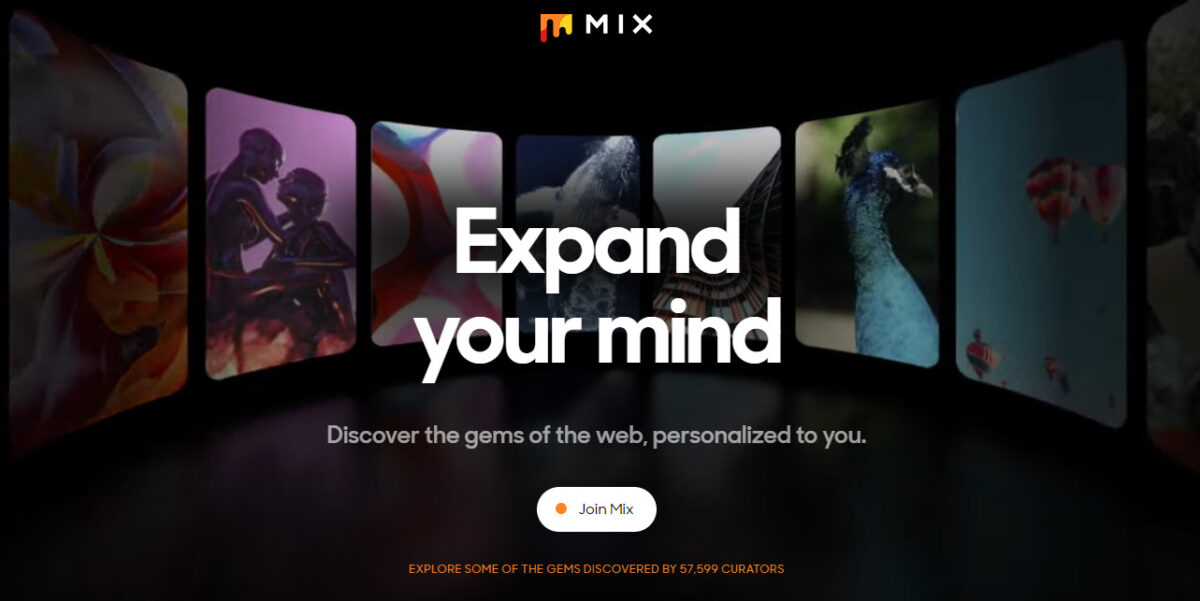 Mix (formerly known as StumbleUpon) is an innovative app designed to enhance content discovery. It provides an engaging platform for individuals seeking to explore new content and expand their knowledge in a curated and community-driven environment. It offers a unique content discovery tool that caters to their individual preferences and fosters an enriching exploration experience
By offering a wide variety of topics and leveraging user interactions, Mix learns individual preferences and delivers personalized content experiences. It appeals to people who enjoy connecting with like-minded individuals and engaging in content-related discussions. By finding and following other users with similar interests, individuals and brands can foster connections, discover new perspectives, and participate in a vibrant community centered around content exploration.
Key features:
An intelligent algorithm that learns from user interactions
A diverse range of content options
A vibrant community that actively connects with other users
---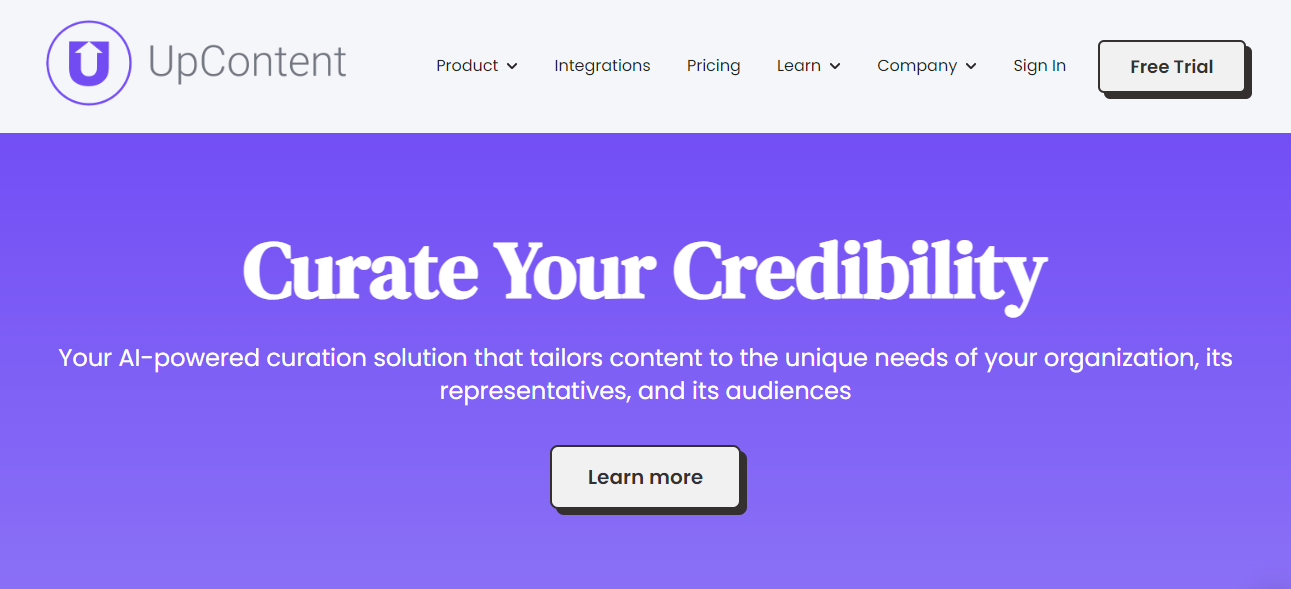 UpContent revolutionizes content discovery and curation through the use of advanced technologies and machine learning algorithms. Its comprehensive content discovery, intelligent article selection, collaboration capabilities, compliance features, and integration-first approach make it a great tool for individuals and teams seeking to enhance their content curation strategy.
UpContent utilizes a proprietary crawler that scours the web to discover articles from hundreds of thousands of publishers. This breadth of coverage ensures that users have access to a wide range of relevant and high-quality content that enables them to stay informed and up-to-date. It brings the best articles to the forefront based on the user's specific needs and preferences to help find content that aligns with their interests and provides meaningful insights.
Key features:
Wide breadth of coverage and intelligent content selection
Robust collaboration features for marketing teams
An integration-first approach that streamlines content discovery and distribution
---
---
The Benefits of Using Content Discovery Tools
Content discovery is the art of uncovering information that aligns with the interests, needs, or target audience of an organization. It serves as a crucial process for businesses and marketers seeking to enhance their content marketing efforts. Today, an overwhelming majority of companies rely on content discovery tools to streamline this arduous process. Over 30,000 companies are using one or more content discovery platform software.
Content discovery tools revolutionize the way we navigate the digital realm. Through the use of pre-defined algorithms and customizable filters, they can efficiently gather relevant content without overwhelming users. For businesses, content discovery tools can:
streamline the research process by aggregating content from various sources into a single platform,
provide real-time data on social media posts and discussions to identify emerging trends,
help brands discover potential collaborations and partnerships to amplify their reach and credibility,
offer insights into popular social media content, including trending hashtags and viral posts, and
leverage user preferences, search history, and behavior to provide tailored content recommendations.
These are just some of the many reasons why these tools have become indispensable assets for businesses and marketers.
---
Best Practices for Content Discovery
Finding the right content discovery tools is just the first step to creating content with impact. To get the most out of these tools, you must implement best practices that enable you to leverage them for maximum impact.
Define your target audience. Understand your audience's interests, preferences, and pain points to ensure the content you discover resonates with them.
Leverage multiple tools. Explore a variety of content discovery tools and platforms to widen your scope and uncover diverse content sources.
Experiment with keywords and filters. Refine your searches by using specific keywords and filters. Experiment with different combinations to uncover content that aligns precisely with your requirements.
Engage within relevant communities. Join communities related to your niche or market. Participate in discussions and share insights with peers. Stay active to get the latest in the industry.
Analyze and optimize content. Monitor the performance of the content you discover. Use the data and insights you gather to optimize your discovery approach.
---
Chart Your Way to Success With Content Discovery Tools
In this era of information overload, forging a path to content mastery requires innovative approaches and cutting-edge solutions. With content discovery tools as your compass, you'll transcend the noise and forge ahead on a unique journey of exploration and discovery. These tools serve as trusted guides that empower you to navigate the fast-changing digital landscape with ease, precision, and unwavering focus. By harnessing the power of content discovery tools, you can navigate the vast digital frontier with confidence, uncover treasures of knowledge, and propel your brand to new heights.
Frequently Asked Questions
How do content discovery tools work?
Content discovery tools employ various algorithms and user preferences to recommend relevant content based on interests, search history, or connections.
Are content discovery tools only useful for marketers?
Content discovery tools are not just for marketers. They bring benefits for anyone looking to explore and discover content across different topics of interest. They could be used by students carrying out research for academic work, professionals keeping abreast with trends, and lifelong learners expanding their knowledge.
Can I use content discovery tools for social media marketing?
Absolutely! Many content discovery tools provide insights into popular content on social media platforms. They can help marketers and businesses identify trends and create engaging content.
Are content discovery tools free?
While some content discovery tools offer free versions with limited features, others require a subscription or offer premium plans with advanced functionalities. The availability of free versus paid options varies across different platforms. It's important to assess your specific needs and budget when choosing a content discovery tool that aligns with your requirements.
How can I ensure the content I discover through these tools is trustworthy and reliable?
The first thing you can do is rely only on content discovery tools offered by established and reputable providers. Aside from that, you must exercise due diligence in verifying the reliability of the content you use. Look for reputable publishers, check for author expertise, and review user feedback or ratings whenever possible. By employing these practices, you can ensure the content you discover through these tools is credible, accurate, and reliable.