Best for:
Businesses of all sizes who post to Instagram and Pinterest
Overview
Planoly claims to have been the first visual planner for Instagram. They have since expanded to cover the other visual platform, Pinterest. In addition, if you have a Facebook page and a Twitter account connected to your Instagram business profile, you can now use Planoly to cross-post on those platforms too.
Planoly was founded in 2016 by Brandy Pham, who is also its Chief Creative Officer. She came up with the idea of Planoly after giving birth to her son Teddy, so she could be more organized with her Instagram social media strategy, fitting in her social post creation around caring for her son. Brandy operates a jewelry business, and she needed a way to plan and schedule Instagram posts to promote her business visually. Her husband, Andy, suggested creating a way to streamline the process, integrating content scheduling with social strategy.
Planoly has evolved since then, but it still very much keeps its visual focus. The first step in creating every post continues to be uploading an image or video. However, it has also innovated with additional products, like Sellit, a bolt-on to simplify your Instagram social selling.
---
Summary:
---
Pricing
As a SaSS platform, access to Planoly is sold on a monthly basis. Planoly offers three paid plans, as well as a free plan. All paid plans can be paid on a monthly or yearly basis. They offer a discount of approximately 15% for annual payment on the paid plans.
Free, $0/mo

– 1 social profile (1 Instagram OR 1 Pinterest), 1 user, 30 uploads/mo, can upload images only, analytics (1 month), manage and reply to comments (last 5 only)

Starter, $13/mo ($11.25/mo billed annually)

– 1 social set (1 Instagram AND 1 Pinterest), 1 user, 60 uploads/mo/profile, can upload photos, videos, and GIFs, analytics, manage and reply to comments, can share to Facebook & Twitter from Instagram, auto-post first comment, suggested best post times, Quick Schedule, image filters, customizable link in bio landing page (Linkit), schedule to Reels

Growth, $23/mo ($19.50/mo billed annually)

– 1 social set (1 Instagram AND 1 Pinterest), 3 users, unlimited uploads, can upload photos, videos, and GIFs, analytics, manage and reply to comments, can share to Facebook & Twitter from Instagram, auto-post first comment, suggested best post times, Quick Schedule, image filters, customizable link in bio landing page (LinkIt), schedule to Reels

Professional, $43/mo ($36.50/mo billed annually)

– 1 social set (1 Instagram AND 1 Pinterest), 6 users, unlimited uploads, can upload photos, videos, and GIFs, analytics, manage and reply to comments, can share to Facebook & Twitter from Instagram, auto-post first comment, suggested best post times, Quick Schedule, image filters, customizable link in bio landing page (LinkIt), schedule to Reels
All paid plans offer a 7-day free trial. Some products cost extra; for example, you gain Sellit for an additional $29/mo.
---
The Details
Setting up Planoly is relatively straightforward, or at least as we have seen across many of these reviews, as simple as possible within the restrictions set by Instagram. Planoly offers a comprehensive selection of tutorial videos, and it is probably worthwhile watching the account linking ones before you begin the setup process. I would recommend setting up the IG (Instagram) Planner first, unless you only have a Pinterest account, as it is the most mature and advanced tool.
Setting Up Planoly
You begin the process of using Planoly by setting up a free account filling out the form on their site.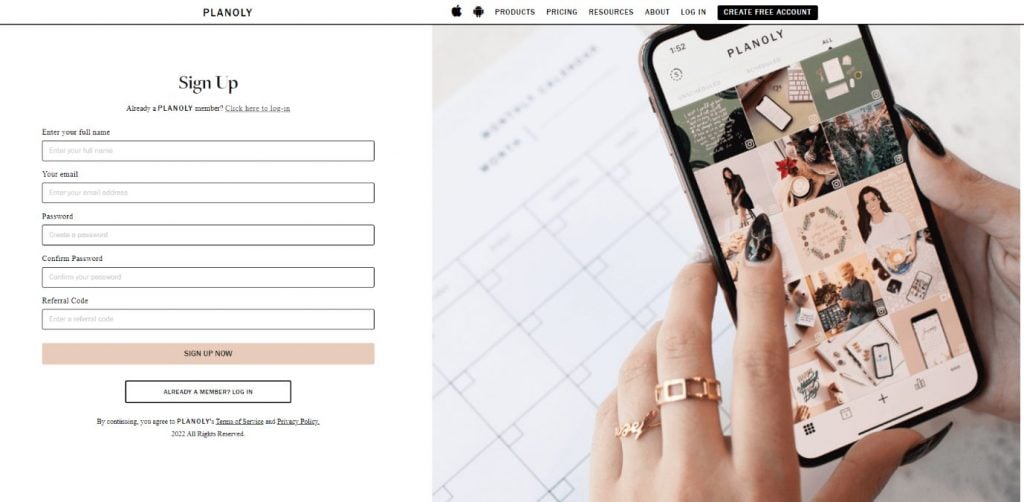 Please note that although Planoly offers a free plan, they also offer a free 7-day trial on their three paid plans. Therefore, you will probably find it of more value to begin using Planoly with your free trial and then make a more informed decision on the best plan for your needs in a week's time.
The "forever" free plan has significant usability limitations, allowing you just 30 uploads/mo, usable on either Instagram or Pinterest. The Starter plan allows you a more realistic 60 uploads/mo/profile, and you can upload to both Instagram and Pinterest. If you want unlimited uploads (or more than one user), you will need one of the higher two plans.
As you can see from the above screenshot, Planoly is flexible enough for you to add additional social sets (Instagram and Pinterest accounts) and users if that better suits your needs. For example, an agency wanting to add social sets for each of its clients, or a brand with multiple specialist social accounts, perhaps operating separate Instagram accounts for each location.
Once you complete your "free" purchase, the software presents you with a simple "Welcome to PLANOLY!" screen where it asks you to link up your Instagram and Pinterest accounts.
Compared to many social media marketing platforms we have reviewed here, Planoly makes linking with Instagram straightforward. It leads you straight to your Instagram account, where it asks you for various permissions.
You can link Planoly to any type of Instagram account, but you can only use all the features if you link to an Instagram Business account. In particular, you can't auto-post to a Personal or Creator account. Although this limitation is caused by Instagram rather than Planoly, it is irksome that you can't auto-post to a creator account, considering that Instagram created that type of account for its most active and best users.
Once you permit access to the requested information, Planoly explains how it links with Facebook.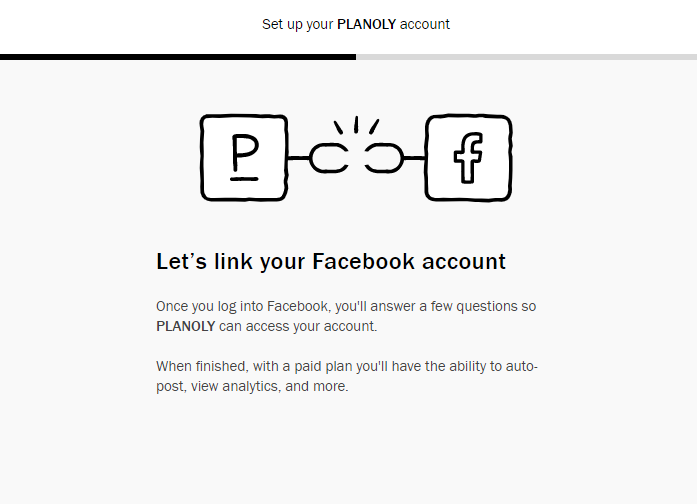 It asks you various questions throughout the setup process and steps you through setting account permissions. Spoiler Alert: ensure all account permissions are set to Yes. It then asks you about how you operate your social accounts, i.e., whether you are running your own accounts, those of your clients, or a mix of the two.
It's important to realize that you can only connect to a Facebook page that you have already linked to your Instagram page. Planoly isn't connecting to your Facebook profile. So, if you haven't already made the connection between your Facebook business page and your Instagram profile, now's the time to go back and do this before you finish your account linking here.
Things are similar with Twitter. If you have connected a Twitter account to your Instagram account, you can, in turn, auto-post to it from within Planoly. Otherwise, you can't tweet from Planoly.
Planoly finally asks you to pick a category that best describes your account.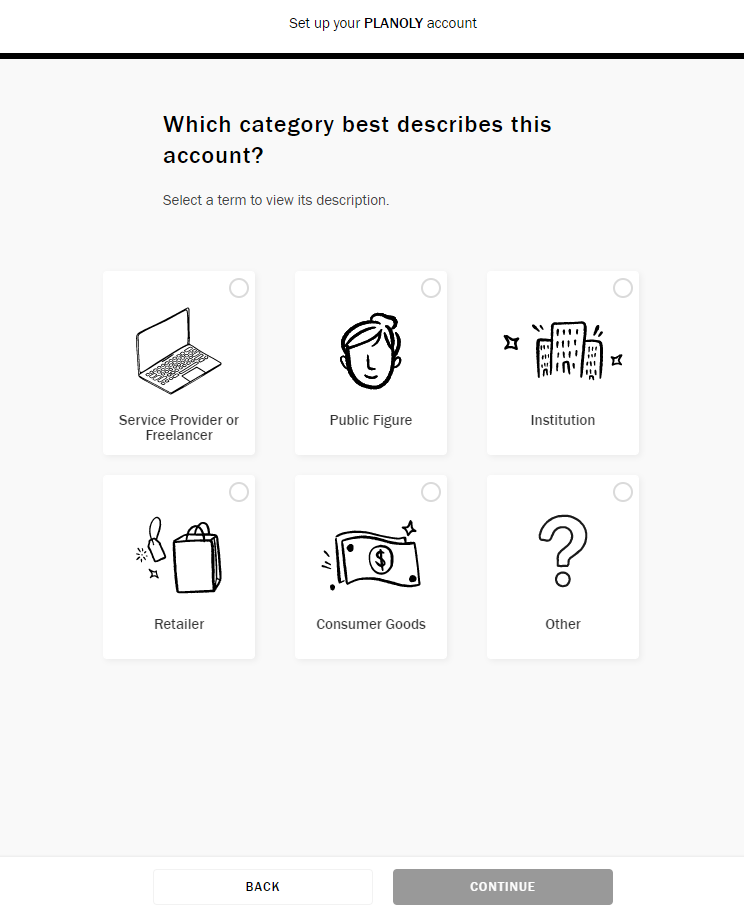 Once you have finished setting up your IG Planner, Planoly takes you to your Instagram calendar. If you are already an active Instagram user, you will see the images from your last 18 Instagram posts on the left-hand side of the screen (in the desktop version).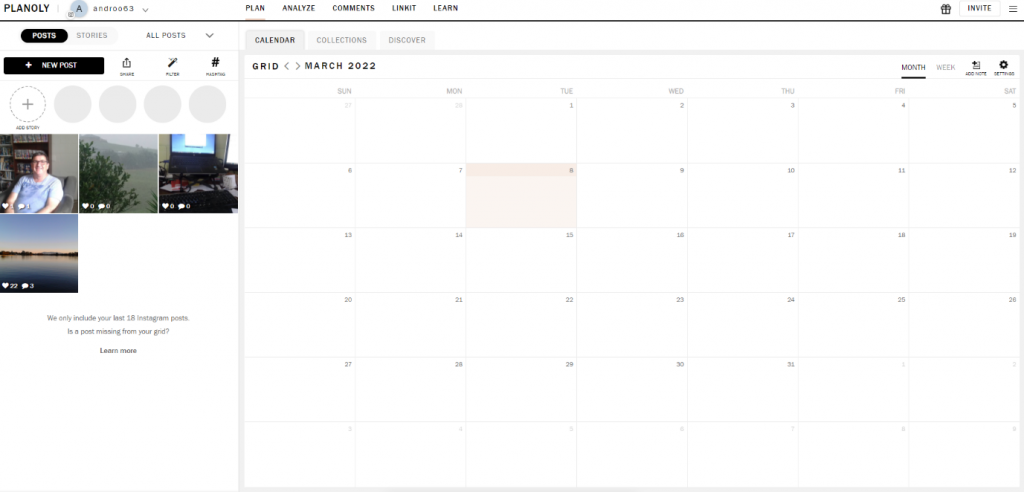 Although you previously permitted Planoly to post to your linked (to Instagram) Facebook page and Twitter accounts, you still need to go into your Planoly settings to change your settings to allow this. However, you can still customize things as a one-off each time you create a post.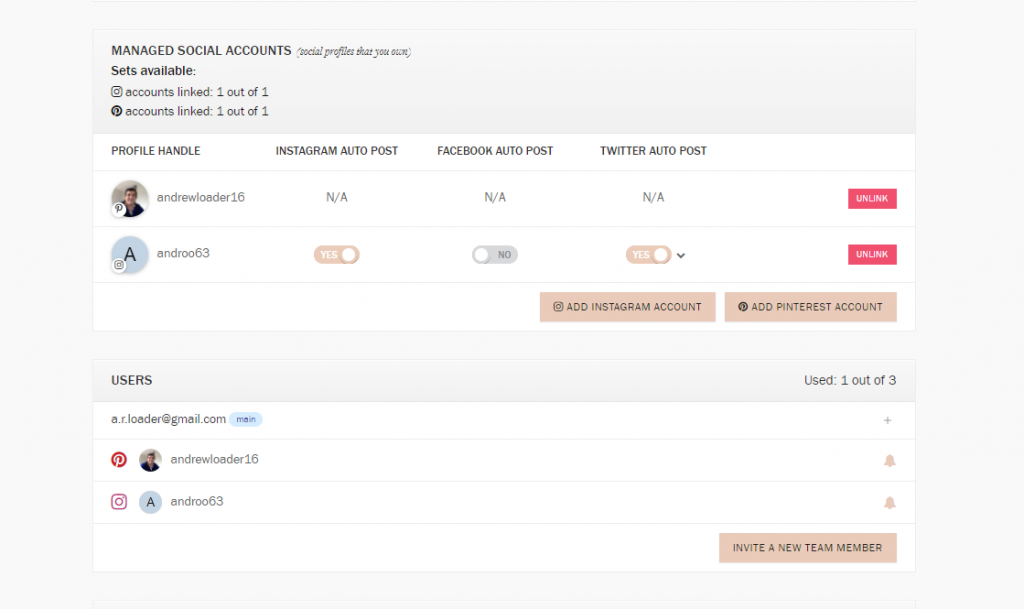 If you also want to use Planoly to post to your Pinterest account, you have to go through the setup process again for that social app. Pinterest makes this process more straightforward than Instagram does. However, after your Pinterest account setup, you will notice that Planoly remains more modular than many social media marketing platforms. Although your Pinterest planning calendar looks similar to your Instagram one, it remains separate. You access your different planning calendars from a drop-down box at the top left of your screen.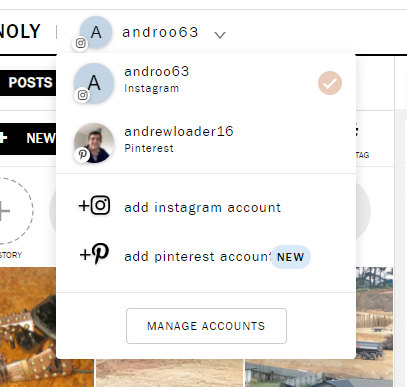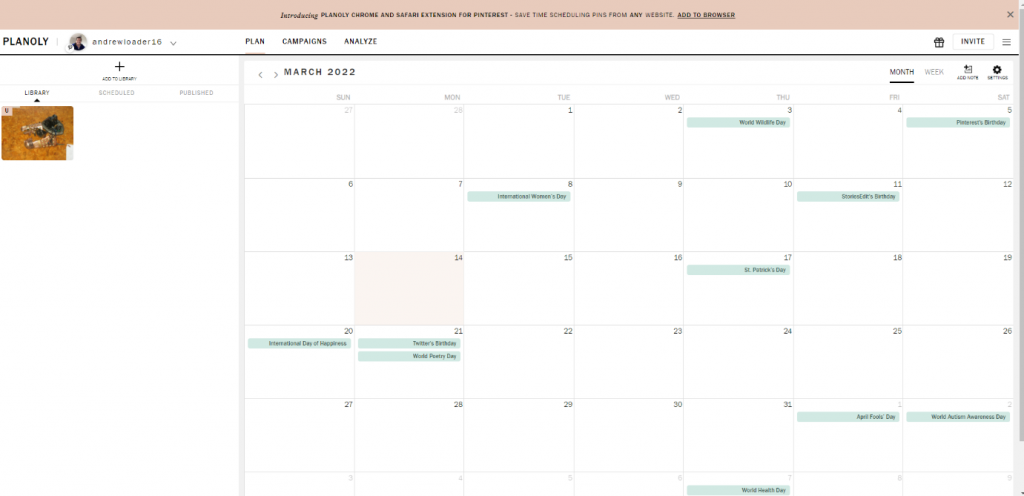 ---
Using Planoly
At its heart, Planoly is a gigantic (pretty) calendar to plan and schedule your posts. You can see your upcoming content on your IG and Pinterest calendar screens. In addition, you can optionally add social events to your calendars, so you can see where you could tie in relevant content.
Due to the limitations of the Instagram API, you will find some situations where you won't be able to auto-post there. However, you can still design and schedule your post in advance, and Planoly will send you a reminder when it's time to make the post on Instagram manually. Luckily, however, you can opt for auto-post in most situations. There don't seem to be any issues with Pinterest, however.
Planoly offers a variety of ways to begin a post. One of the most common is from the left-hand panel of the relevant calendar. In the case of Instagram, you can start a new post or a new Story by clicking on the appropriate buttons.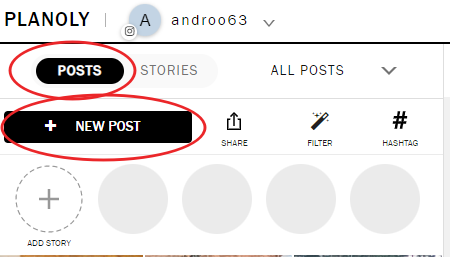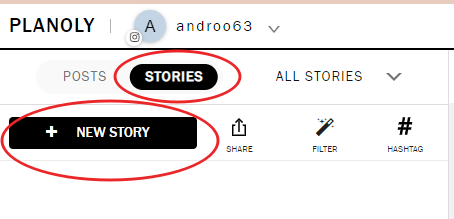 In the case of your Pinterest calendar, you will want to click on the + ADD TO LIBRARY button.
In all cases, you will then need to upload image(s) or video(s) to Planoly or use photos you have previously uploaded already showing in the left-hand panel. Planoly also allows you to add text, hashtags, boards (in the case of Pinterest), and various other details to personalize your post/Story/pin. Indeed, you can even upload and use stock images from Pexels and Unsplash free of charge.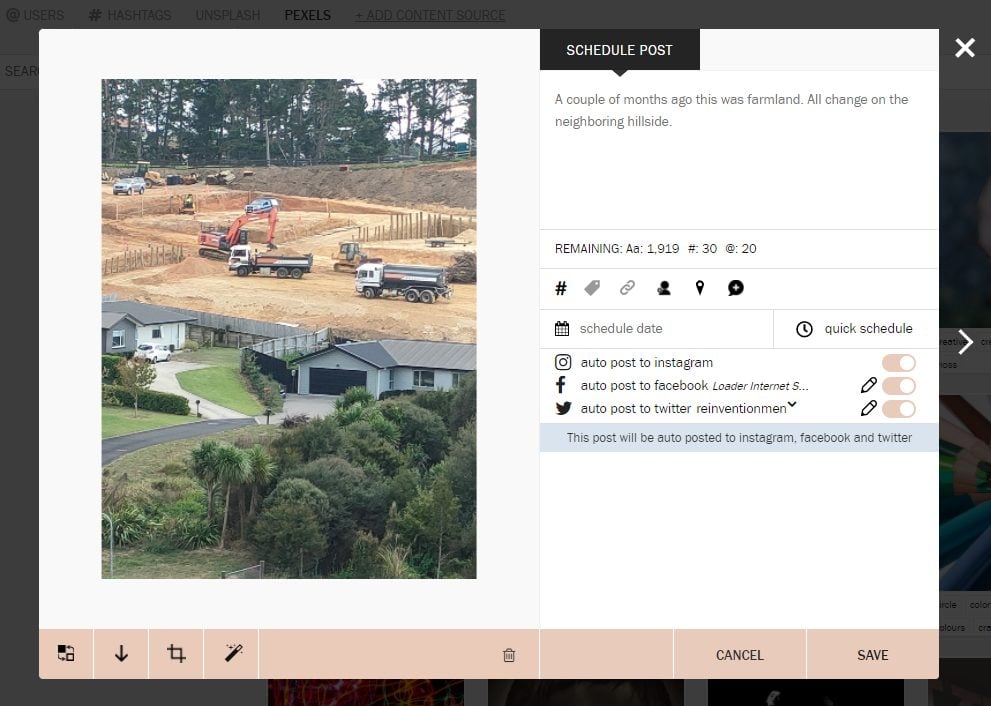 Obviously, you would typically need to upload and use multiple images for your Stories and carousel posts. Therefore, whenever you upload an image to your Instagram calendar, Planoly allows you to upload multiple images as a carousel or to upload for separate posts. Similarly, when you upload images for Stories, you select between uploading as a carousel or for multiple Stories.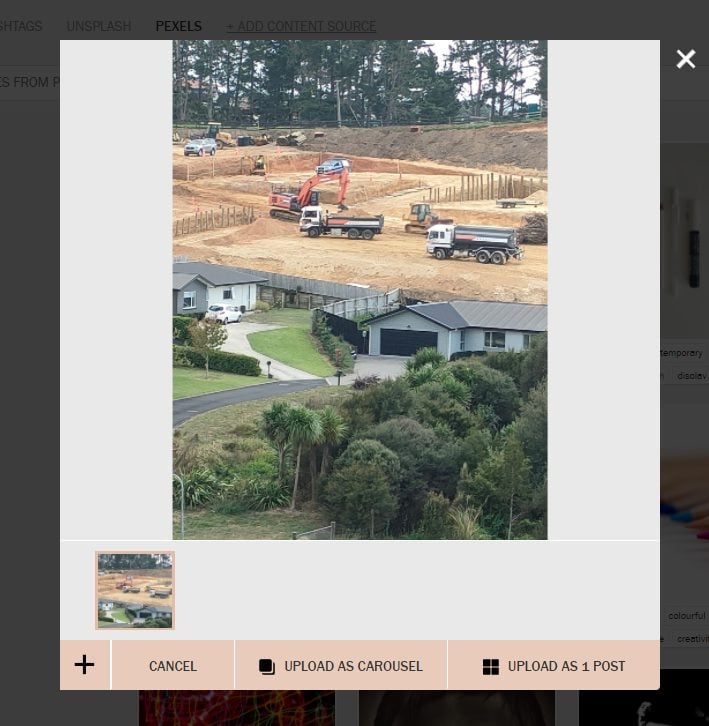 I did find one aspect of the file uploading confusing. Although you select to upload from various sources (including, usefully, directly from graphics app Canva), the resulting folder screen was not always that user-friendly.
For example, Planoly gives you Google Drive as a file option and then lumps all your folders and sub-folders together in one long list, as shown above. If you've operated Google Drive for some time, this can come to many thousands of folders, many of which are typically hidden deep within a folder structure and have nothing to do with your images. As a result, it can be challenging to work your way through to find the images you want to upload. I found the best workaround was to deliberately make some changes to the folder where you have the images you wish to use and then reorder your folders in Planoly by "Last Modified by Me."
As an aside, it would also be more helpful if you could directly access your Google Photos (which Google has now annoyingly separated from Google Drive).
Uploading from your computer is more straightforward, as it opens up a File Explorer-type screen that makes it easy to find the relevant graphic files. This also gives you a helpful workaround for Google Drive users who have installed the add-on that enables you to access Google Drive files from your File Explorer. Of course, you could access your Dropbox images this way, too, although the native Dropbox image importer into Planoly is more user-friendly.
Planoly includes a few tools to help you ensure your images work best for your intended social platform. For example, you can rotate and crop your photos to make them most suited to each intended social platform. In the case of Instagram, you can also select whether to cross-post to your Facebook page and Twitter account, editing the images to optimize them for these platforms too. Finally, Planoly warns you if it finds any problems with the pictures you are trying to use.
Planoly also keeps tabs on the other components of your posts. For example, it keeps track of your remaining characters, hashtags, and @-mentions you have left in your captions.
When you're ready, you can schedule your Instagram post for a specific time and date. Alternatively, you can add it to your Quick Schedule queue. This is where you pre-set your preferred post time slots for the week, and Planoly adds this latest post to one of these unallocated slots. You can easily select another time if you prefer, however.
Once you have set your post, it will show up in your calendar, and Planoly adds the uploaded image to your left-hand pane.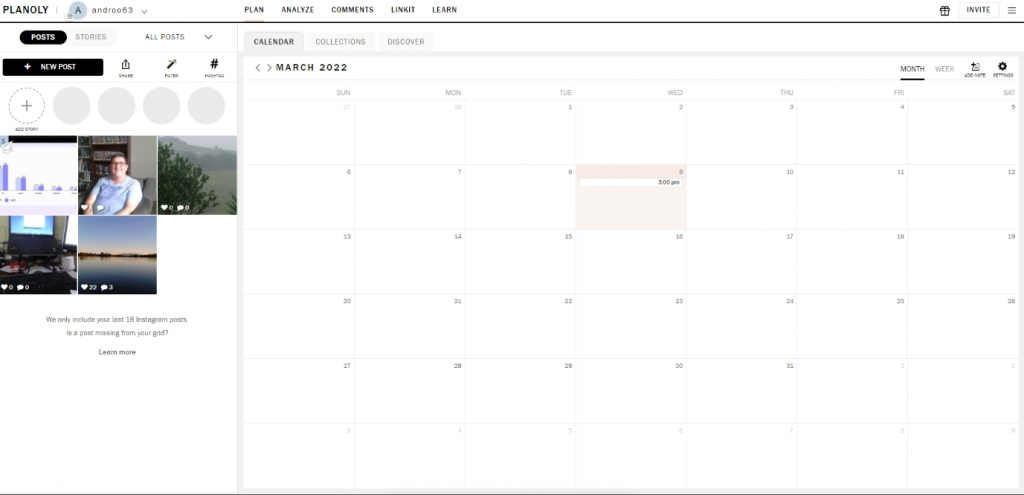 ---
Analyze
As with most social media marketing platforms, Planoly collects data to establish the performance of your posts/Stories/pins. I'm generally not a great user of Instagram and Pinterest, so the engagement on my posts was pitiful – that's hardly Planoly's fault, of course. However, the analytics will be of great value to brands wanting to establish the effectiveness of their social campaigns. On Instagram, you can access your post and Story performance data for the last week, month or year, or set a custom period. You can also quickly discover your top-performing content based on various metrics. The Analyze tab on your Pinterest calendar works similarly.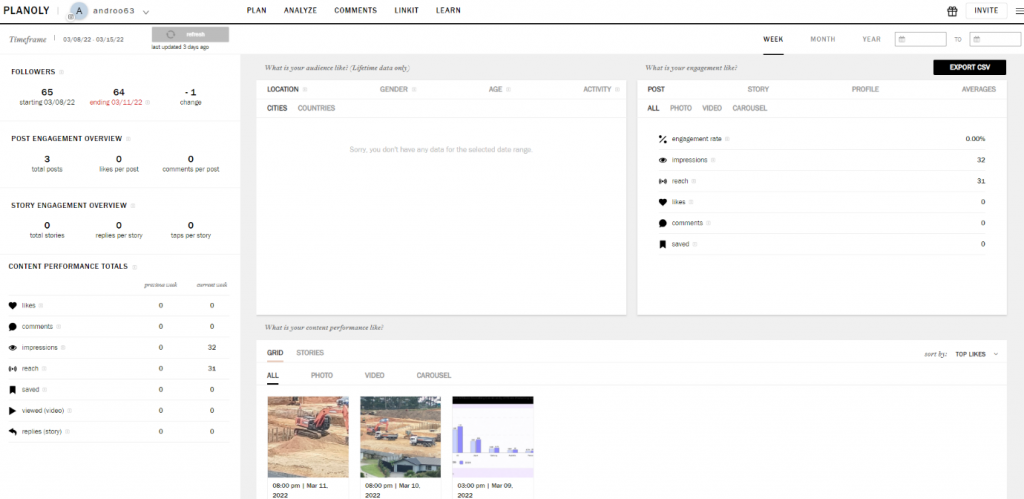 ---
Linkit
One of the more annoying features of Instagram has traditionally been your inability to include links in your post descriptions and comments. Although Instagram has included some workarounds in Stories and for people selling on the platform, most people just use a single link in their bio.
Planoly's solution to this problem is Linkit.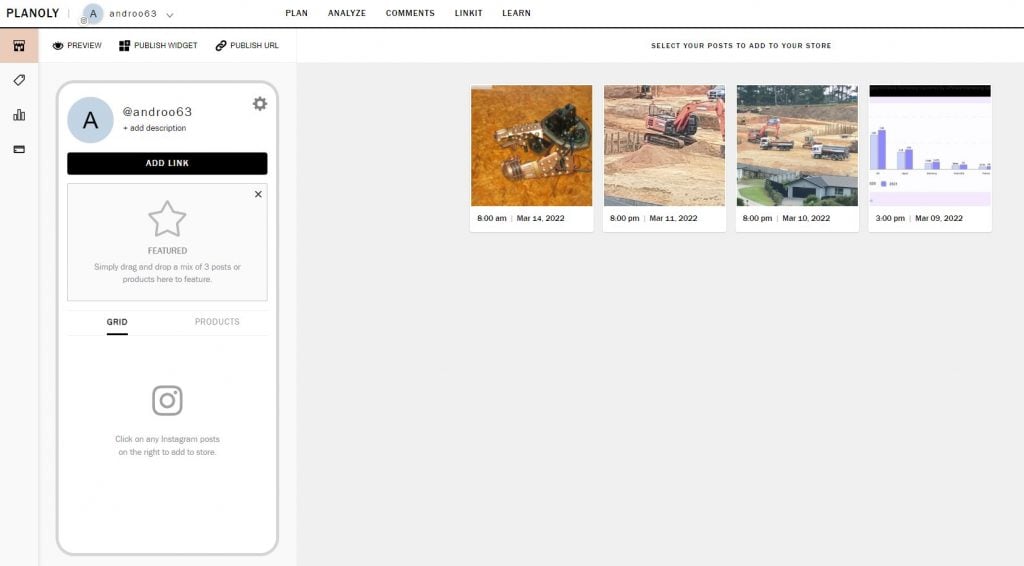 Linkit is available in all plans, including the free one. You can use it to drive traffic to where you want it most and create a clickable gallery of a selection of your Instagram posts.
You make a Linkit Gallery featuring a selection of your Instagram posts. Linkit includes two customizable buttons you can link to any URL. Once you have created and customized your Linkit Gallery, you can publish it. It gives you a URL that you can then use in any place that lets you insert a link.
---
Sellit
Sellit is a bolt-on for paid users. It is similar to Linkit, but it lets you transform a link into a social storefront, i.e., it helps you engage in social commerce. As with Linkit, you begin by making a gallery of your most popular Instagram posts, although you can also upload photographs of the products or services you wish to sell.
You create a digital storefront highlighting the products you wish to sell. Planoly offers a transparent process you can use to add your products to the store, along with any vital information, including payment and shipping details.
---
Reels Planner
Reels is Instagram's answer to TikTok. You can create and share short, entertaining videos, easily discoverable across Instagram. Planoly caters for these with their Reels Planner. You can visually plan and organize your Reels in your grid and schedule Planoly to remind you when to upload your reel to Instagram (you can't auto-post Reels).
---
Conclusion
Although social media marketing platforms are commonplace now, most still offer Instagram and Pinterest as afterthoughts. This is partly because Meta makes it incredibly difficult for companies to provide this service for Instagram accounts. As we have seen in some of these reviews, some platforms have had to create labyrinth-like processes to go through to add Instagram to your account (in one case, even making every end-user register with Microsoft as a "Developer," showing them a development plan.) In comparison, using Planoly with Instagram is child's play. And you can even auto post, as long as you operate an Instagram business account. Planoly leads you through Instagram's hoops and removes the frustration.
In some ways, it is perhaps unfortunate that Planoly's Pinterest calendar feels much like a separate product, as allowing for clear differences between the two platforms, the user experience is very similar. At the moment, your posts show on two different calendars. Hopefully, in the future, Planoly can better integrate the two. Likewise, the Facebook and Twitter posting feels like a bolt-on, as all you're really doing is reposting your Instagram posts on those other platforms.
If your focus is on Instagram and/or Pinterest, you should seriously consider this platform to assist you with your social posting, particularly if you use Instagram's offshoots, like Reels or Stories. Also, Planoly's Sellit add-on is a clear sign of things to come and the upcoming rise in social commerce.
Rating
Features

Ease of Use

Support

Best for:
Businesses of all sizes who post to Instagram and Pinterest