Advertising Disclosure
Advertising disclosure:
Our partners compensate us. This may influence which products or services we review (also where and how those products appear on the site), this in no way affects our recommendations or the advice we offer. Our reviews are based on years of experience and countless hours of research. Our partners cannot pay us to guarantee favorable reviews of their products or services.
Staying competitive in the ever-evolving marketing landscape is not just a goal but a necessity. Marketing Executives are constantly searching for tools to gain an edge as markets shift, consumer preferences evolve, and technology reshapes industries. 
One such indispensable toolkit revolves around trends analysis software, which excels at extracting valuable insights from vast data and providing actionable market intelligence for strategic decision-making.
This article will explore the 10 Best Trends Analysis Tools for 2024, giving marketers and executives access to specialized software to help gain a competitive advantage. 
---
Top Trends Analysis Tools
Top
trends analysis tools
2024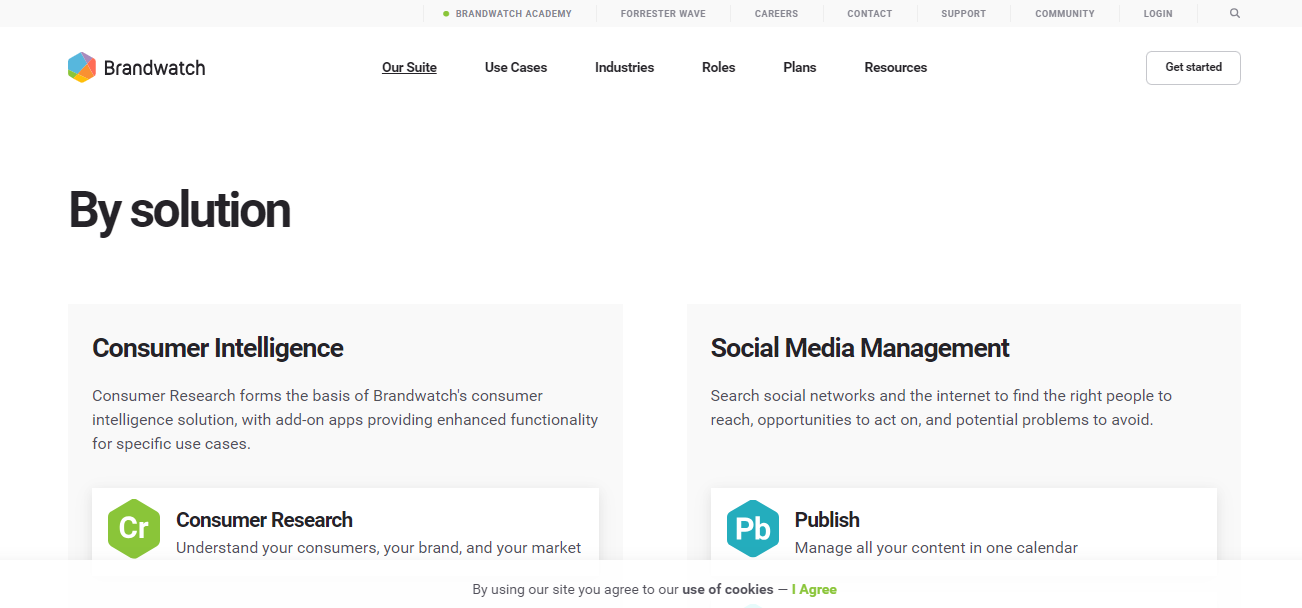 Brandwatch Consumer Intelligence takes market research to the next level, transcending the limitations of traditional methodologies. This tool harnesses the power of audience insights, tapping into vast social panels to unearth deep qualitative insights on a grand scale. 
A standout feature is its global Trend-Spotting capability. With Brandwatch, users gain access to the world's most extensive archive of consumer opinions, stretching back to 2010. This historical context is invaluable whether you're tracking hair trends in Asia, eco-movements in Europe, or dietary shifts in America. Simply put. the tool provides a comprehensive understanding of evolving consumer needs across the globe.
The Trend Spotting feature can also pinpoint trends among specific consumer groups and leverage past data to recognize potential future patterns.
Pricing: Price on request.
---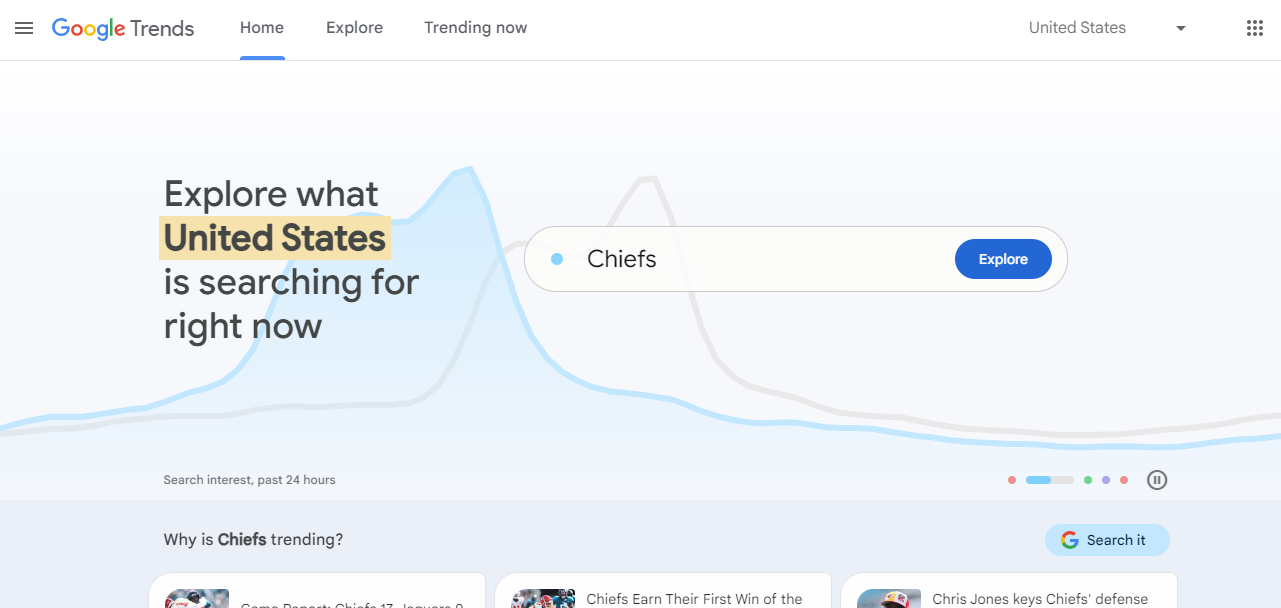 Google Trends is more than just a search trend tool; it's a window into the collective interests of internet users worldwide. By analyzing how frequently specific search terms are entered into Google's search engine, it offers a relative measure of a term's popularity over time. This tool is invaluable for comparative keyword research and identifying event-triggered spikes in search volume.
One of the tool's strengths is its adaptability. Users can delve into currently trending searches or input a specific term to gauge its search volume over time. The tool offers insights into trending searches related to significant events, like Hurricane Irma, showcasing top relevant search terms and popular queries in specific regions.
Moreover, Google Trends is not just about raw data; it's about actionable insights. Marketers can leverage this data for various purposes, from paid search and SEO to content marketing and ad creative inspiration. 
Pricing: Google Trends is available for free to all users.
---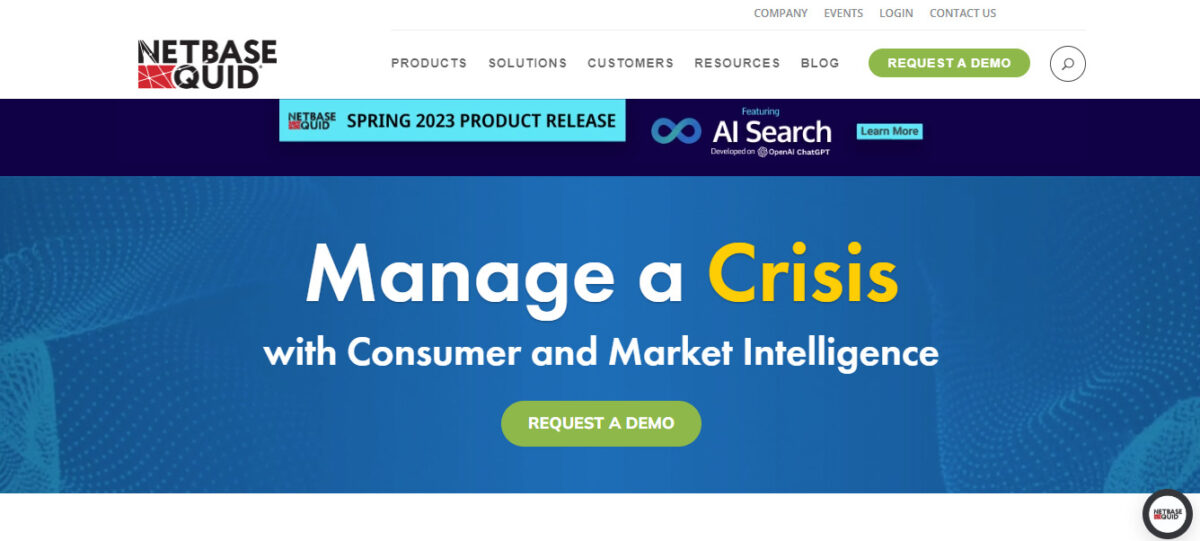 NetBase Quid is a powerhouse when it comes to unveiling emerging trends. Thanks to this capability, users can make trend analysis an integral part of campaigns, product development, and overall consumer satisfaction.
One of the tool's standout features is its ability to identify and track trends on every scale. With the vast amount of data available from social and news media sources, NetBase Quid assists in building a meaningful trend analysis. This aids in visualization and pinpointing specific opportunities. With the tool, users can analyze conversations surrounding market questions and delve deep to uncover innovative ideas and hidden insights.
Furthermore, the platform emphasizes the power of social sentiment. Brands can harness the "wisdom of the crowds" by tapping into social media conversations. This allows them to measure consumer passion levels around specific topics, identify aspects relevant to their brand, and set up alerts for emotional fluctuations.
Lastly, a strategic approach to trend analysis is evident in the tool's ability to monitor competition. By observing competitors' consumer conversations and sentiment, brands can identify unmet needs, see how competitors respond to macro trends, and adjust their strategies to remain at the forefront.
Pricing: For detailed pricing, request a demo.
---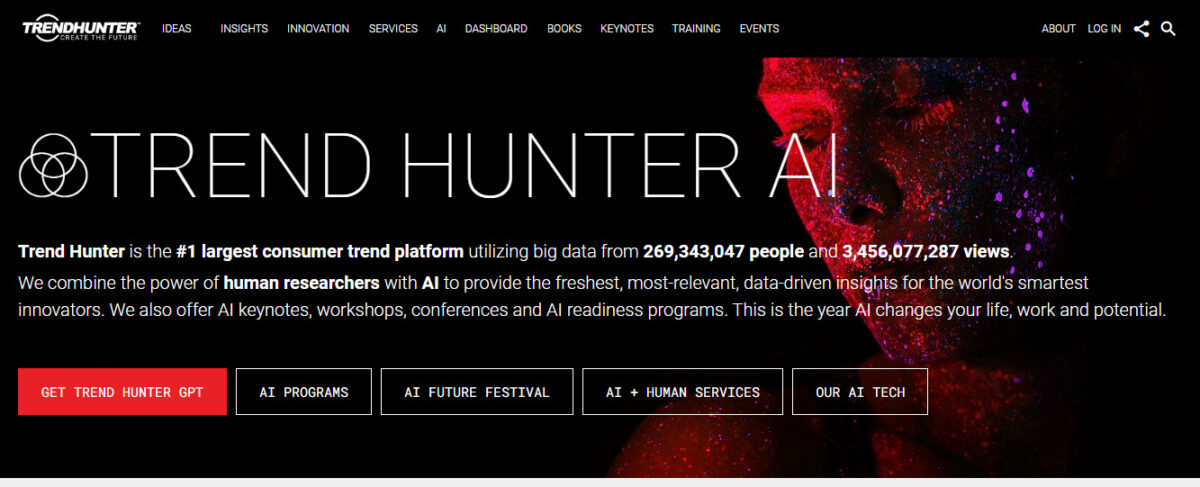 Trend Hunter boasts its position as the #1 largest AI trends analysis platform, leveraging big data from millions of people and billions of views. The platform seamlessly combines human researchers with artificial intelligence, offering fresh, relevant, and data-driven insights tailored for the world's most innovative thinkers.
Therefore, a significant feature of Trend Hunter is its AI market intelligence capabilities. The platform offers AI keynotes, workshops, conferences, and readiness programs. It's designed to help brands reshape their strategies with AI, whether they're tech giants or non-tech brands just starting their AI journey.
Furthermore, Trend Hunter's AI-driven approach extends to research and advisory. The platform has completed over 10,000 custom trend reports for leading brands, leveraging AI to deliver faster and more insightful research. Their AI frameworks and books, such as "Create The Future," provide a comprehensive overview of how AI, combined with other megatrends, accelerates the world.
Another notable feature is the Trend Hunter GPT, currently in Alpha. This AI-based tool assists users in crafting trend essays and reports on any topic in any industry, drawing from their extensive database and AI engine.
Pricing: Plans start from $199/month, billed annually.
---
Pulsar stands out as a robust tool designed to visualize the spread and evolution of social media trends. With its TRENDS feature, users can monitor trending topics in real-time, tracking their rise and fall, and observing how conversations around these topics spread.
A notable feature is its ability to track topic evolutions across years of social media history. This provides users with a deep historical context, allowing them to understand the trajectory of any given trend. Moreover, the platform offers global and local trend insights, enabling users to monitor trends across countries or even cities.
Pulsar's AI-driven trend analysis platform is also designed to cover potential blind spots, ensuring that brands can move on to consumer trends early. It aids in detecting, ranking, and predicting the growth potential of each trend, helping brands decide where to invest their resources. 
The platform's real-time social media trend analysis across various topics and categories ensures that users never miss a trend, helping them uncover categories among billions of online conversations.
Pricing: To get pricing and Pulsar in action, users need to appoint a demo.
---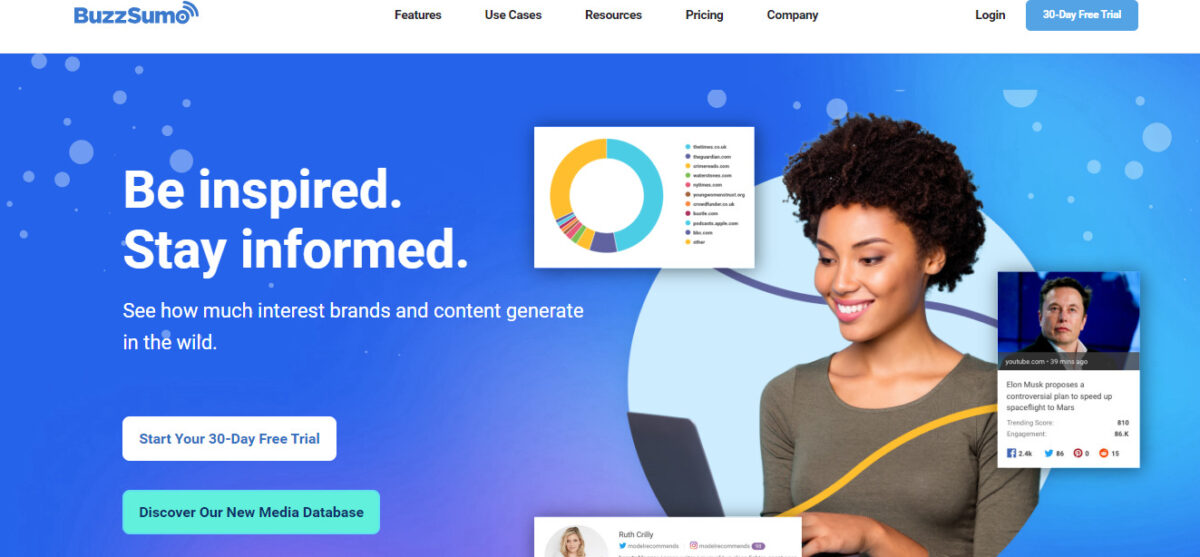 BuzzSumo offers a holistic approach to monitoring, allowing users to track mentions, trends, and updates related to their brand, competitors, and industry. The platform is designed to ensure that users stay informed and ahead of the curve, without being overwhelmed by the vast amount of data on social media.
One of BuzzSumo's standout features is its alert system. Users can create alerts for topics, brands, and keywords that are crucial to their business. This ensures that they are always in the loop, whether it's about mentions of their brand, updates on industry news, or insights about emerging products in their category.
Additionally, BuzzSumo offers a unique feature to track authors and outlets. Users can use the before-mentioned alerts system to create alerts for key influencers, bloggers, and journalists, ensuring they are the first to engage with their content. This is invaluable for brands looking to build relationships and foster collaborations.
The platform also offers backlink tracking, helping users monitor their SEO wins. They can track new links, get notified with every link, and even monitor their organic growth as their content gains traction.
Pricing: Plans start from $119/month up to $999/month with option to save on annual payments.
---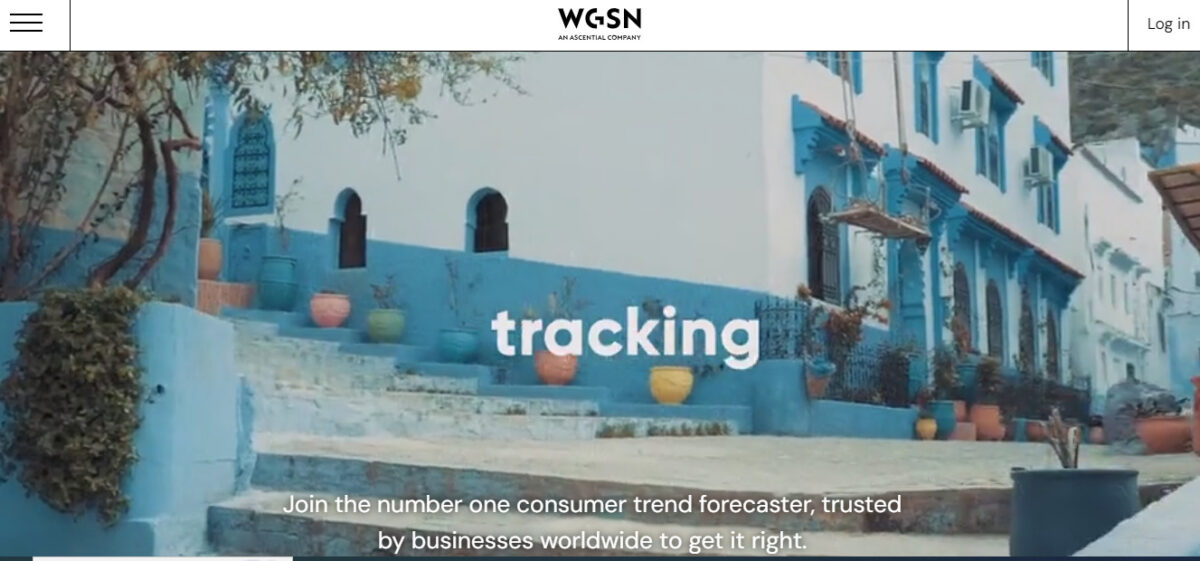 WGSN has established itself as the world's premier consumer trend forecaster, offering a blend of curated data, global trend insights, and industry expertise. This powerful combination empowers businesses to understand consumer behavior and lifestyles and to make informed decisions about product creation and timing.
A standout feature of WGSN is its expert consumer trend forecasting. By leveraging data science and expert trend forecasting, WGSN provides insights into the right trends, helping businesses create sustainably and land trends optimally to maximize sales. Their Consumer Insight service deepens into future consumer behaviors, interests, and tastes, enabling businesses to anticipate major lifestyle shifts and develop products that align with these evolving needs.
For businesses looking to design standout products, WGSN offers Product Design direction, providing inspiration and guidance on how products should look, feel, and function in the future. Their Trading service, backed by data and consultancy, offers precise trend predictions and effective retail and communication strategies to boost brand engagement and sales.
Pricing: Price details per request.
---
Trendstop offers a targeted approach to trend analysis, ensuring brands meet consumer expectations, optimize collections, and maximize sales swiftly. Their services are designed to give businesses the confidence they need to stay ahead of industry shifts and to anticipate potential consumer expectations.
Their platform offers insights into future consumer mindsets, color, product direction, technology, sustainability, and brand positioning. Their targeted approach saves time, reduces waste, and delivers immediate results, ensuring brands optimize opportunities and mitigate costly mistakes.
Trendstop's Trend Platform is a user-friendly tool that allows users to identify seasonal trends across various categories. Their Trend Activation Events offer live insights into global trends, launches, and innovations. Additionally, their Tailored Expert Support connects brands with experts for time-saving insights tailored to specific brand needs.
Pricing: For pricing, users are suggested to book a demo first.
---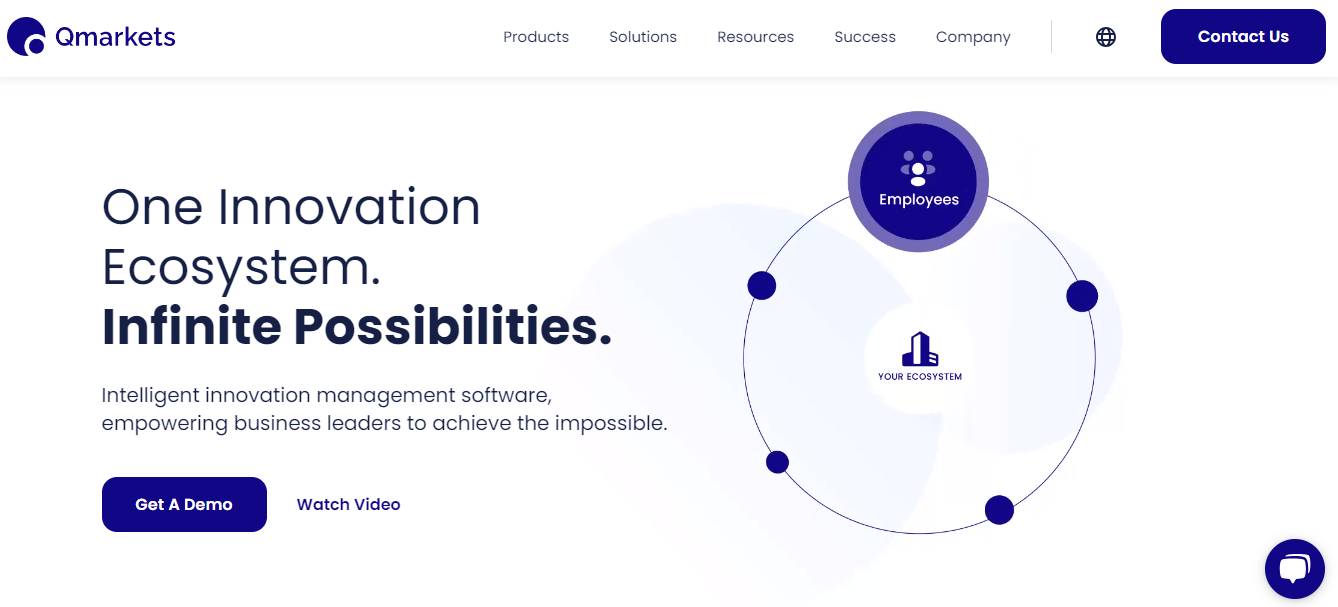 Qmarkets' Q-trend tool is designed to keep businesses at the forefront of innovation by building a collaborative trend knowledge base. This platform aims to identify and capitalize on innovations that can significantly impact a company's bottom line.
The core of Q-trend is its ability to research strategic trend opportunities, ensuring businesses stay updated on emerging innovations. It offers an automated trend engagement feature, allowing businesses to share trends with experts and stakeholders for evaluation. Furthermore, Qmarkets promotes a collaborative approach by enabling the crowdsourcing of trends either from the entire workforce or a selected audience.
Brands and businesses can use the Q-trend tool to create data-driven and agile analysis on all topics related to core business features and topics. 
Pricing: Price on request. A demo is also available.
---
QuestionPro offers a robust trend analysis feature, allowing businesses to capture data and predict future trends. This tool is designed to study statistical data and record current market behavior over specific periods, generating valuable consumer insights for future business strategizing.
Trend analysis in QuestionPro is especially valuable for long-running surveys, enabling businesses to measure differences in perception and responses over time. The platform offers various trend analysis methods, including Temporal, Geographic, and Intuitive, catering to different research needs.
However, one ofQuestionPro's standout features is its ability to plot aggregated response data. This can serve as an early warning indicator for potential problems or issues that might impact customers. The platform also offers various chart formats for viewing current trends in survey research data, such as area spline charts, line charts, and area stacked charts.
Pricing: QuestionPro offers a free trial. The Advanced plan is $99/month. The Team Edition plan is quotation-based.
---
Why is Trends Analysis Important for Any Business?
For Marketing Executives, the significance of trends analysis helps them understand emerging patterns in specific topics, enabling them to discern untapped market segments, recognize novel product opportunities, and even discover entirely new markets that are ready for exploration.
Moreover, armed with accurate and timely insights, executives are better positioned to make informed decisions that reduce the risk of expensive errors and maximize ROI on marketing endeavors. Furthermore, trends analysis tools equip businesses with the foresight to anticipate market shifts, enabling them to adjust their strategies proactively and maintain a competitive edge.
---
The Essence of Trends Analysis Tools
At their core, trends analysis tools are about understanding the past, analyzing the present, and predicting the future. They sift through vast datasets, from social media chatter to sales figures, to identify patterns and trajectories. These patterns, once deciphered, offer a roadmap to where the market is heading, allowing businesses to position themselves advantageously. 
---
Conclusion
Trends analysis tools are no longer a luxury but a necessity for marketing executives aiming to carve a niche in today's competitive landscape. By understanding the nuances of these tools, their importance, and the factors to consider when selecting one, businesses can best position themselves for sustained success. 
Frequently Asked Questions
Are these tools suitable for businesses of all sizes?
Yes, trends analysis tools cater to businesses of all sizes. Whether you're a startup looking to understand your niche or a large corporation aiming to maintain market leadership, these tools can provide valuable insights to inform your strategies.
How accurate are the predictions made by these tools?
While no tool can guarantee 100% accuracy, many trends analysis tools use advanced algorithms, AI, and vast amounts of data to provide highly accurate forecasts. Using these tools as part of a broader strategy is always advisable, combining their insights with other research methods.
How often are these tools updated with new data?
The frequency of data updates varies by tool. Some tools offer real-time updates, while others might update their data daily, weekly, or monthly. Regular updates ensure that users can access the most recent and relevant information.
How do trends analysis tools gather their data?
Most tools gather data from a combination of sources, including online searches, social media platforms, industry reports, and proprietary databases. Advanced tools may also employ AI and machine learning to refine and interpret this data.
How do trends analysis tools handle seasonal trends or anomalies?
Advanced tools can differentiate between short-term seasonal trends and long-term shifts in the market. They can also identify and account for anomalies, ensuring that the insights provided are accurate and actionable.