Advertising Disclosure
Advertising disclosure:
Our partners compensate us. This may influence which products or services we review (also where and how those products appear on the site), this in no way affects our recommendations or the advice we offer. Our reviews are based on years of experience and countless hours of research. Our partners cannot pay us to guarantee favorable reviews of their products or services.
Data is a critical component for growth. When utilized effectively, it can help businesses uncover growth opportunities.
Competitive intelligence (CI) is a practice that enables organizations to monitor and analyze data on their competitors. Through effective CI research, businesses can make better, data-backed business decisions, identify gaps in the market, identify emerging trends, anticipate what the competition is going to do next, and bolster their marketing strategy.
The digital business development firm Echez Group forecasts that using competitive intelligence will become a trend in 2023. This is in light of the recent development of technologies like AI.
Furthermore, the competitive intelligence tools market is projected to grow in the coming years and is estimated to become a USD 82 million market in 2027.
One key factor that fuel the market's growth is evolving trends, such as social media monitoring and increased competition, and the increasing need for businesses to have tools that will allow them to make informed data-based decisions and streamline business processes.
To help you find the best tools for competitive intelligence, we've created a list of the 8 best CI tools that you can use to fuel your growth in 2023 and beyond.
---
8 Best Competitive Intelligence Tools for Growth + How You Can Use CI to Scale Your Business:
---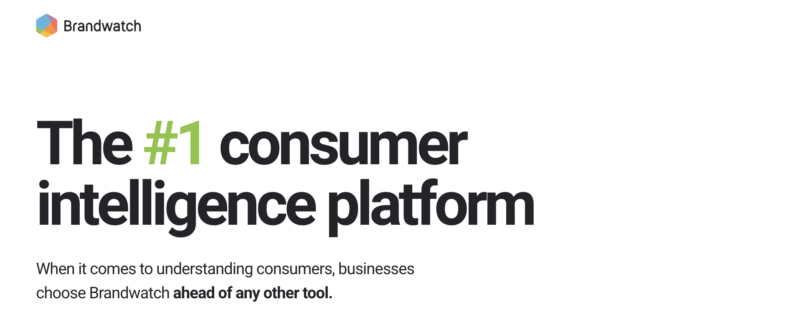 Brandwatch is a consumer intelligence tool that helps you stay ahead of the competition. Its features include social monitoring, Brandwatch Search for keywords, social panel, crisis management, market research, trend spotting, and competitive analysis. Its crisis management feature is especially useful for identifying potential issues to prevent them from escalating. Moreover, its trend spotting feature comes in handy when you're looking to identify and understand emerging trends, including those from key consumer groups, as well as uncover historical data to help you find patterns.
Brandwatch's market research capabilities also give you access to comprehensive consumer insights gained from millions of online sources. For the main highlight, which is the tool's competitor analysis capabilities, Brandwatch does more than just monitor your competition's actions. It contextualizes the market you're in and helps you define key metrics for success, both of which allow you to make more strategic business decisions. With it, you can perform competitive landscape analyses, determine share of voice, conduct benchmarking for competitor performance, and analyze competing product reviews.
Furthermore, Brandwatch lets you use social media data for competitive intelligence research. It lets you track key aspects of your competitors, including their health and consumer perception, and uncover who your competitors' audiences are, among other capabilities.
---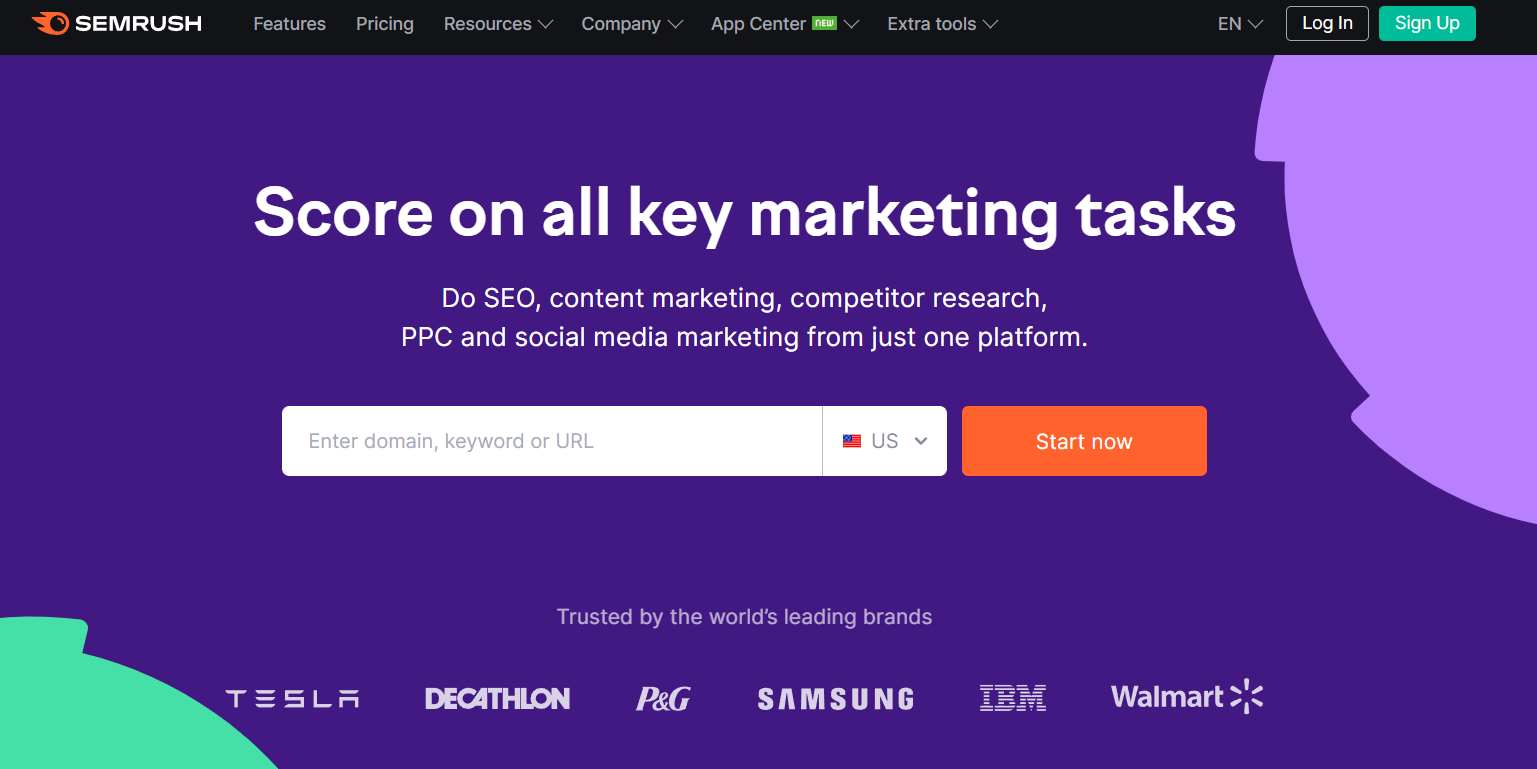 SEMrush is a powerful tool that lets you do SEO, content marketing, competitor research, PPC, and social media marketing. Focusing on its competitor intelligence capabilities, it has four main features for competitor analysis:
Traffic Analytics

– Lets you analyze competitor traffic and benchmark your website's performance against that of your competitors. This feature lets you gather data components like top traffic sources, traffic volume, top-performing digital marketing channels, and popular content topics.

Organic Research

– Helps you identify who your organic search competitors are and uncover opportunities to edge them out.

Advertising Research

– This feature uncovers data about your competitors' paid search efforts, including their ad budgets and keywords used.

Social Media Tracker

– The SEMrush Social Media Tracker feature lets you analyze the competition's social media efforts, such as how often they publish and which posts generate the most engagement
With the SEMrush EyeOn tool, you can track up to five competitors, particularly when it comes to their advertising and content marketing strategies. The tool's timeline presents a comprehensive view of competitor data, including the landing page and a short text to contextualize the competitors' ads or blog posts.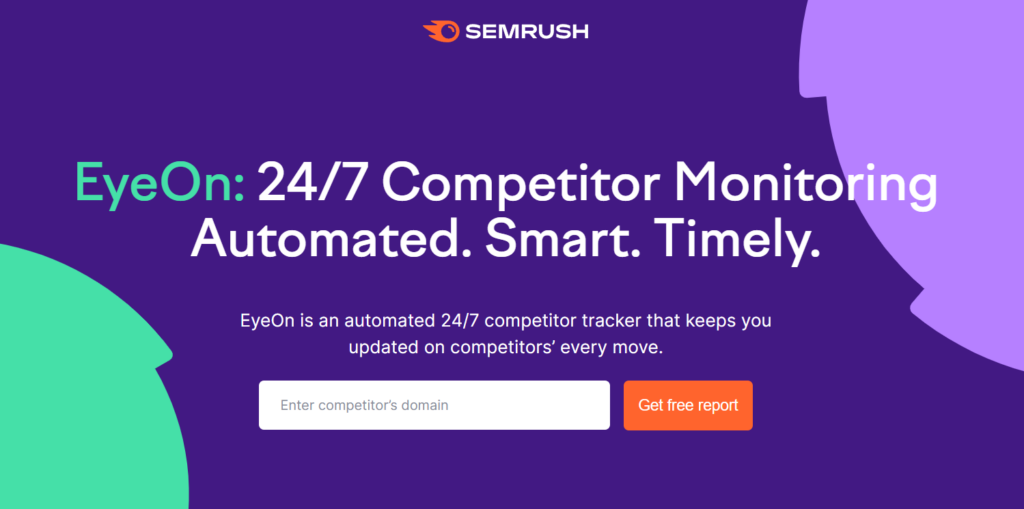 It's an easy-to-use tool that gives you a smarter way to keep your eye on the competition. You only need to enter your competitors' domain into the competitor tracker to get started. From there, you can track their news releases, social media activity, new web pages, and blog posts to gain competitive insights and take action on emerging trends. The great thing about this tool is that it lets you toggle the settings so you can receive weekly updates on your competitors.
---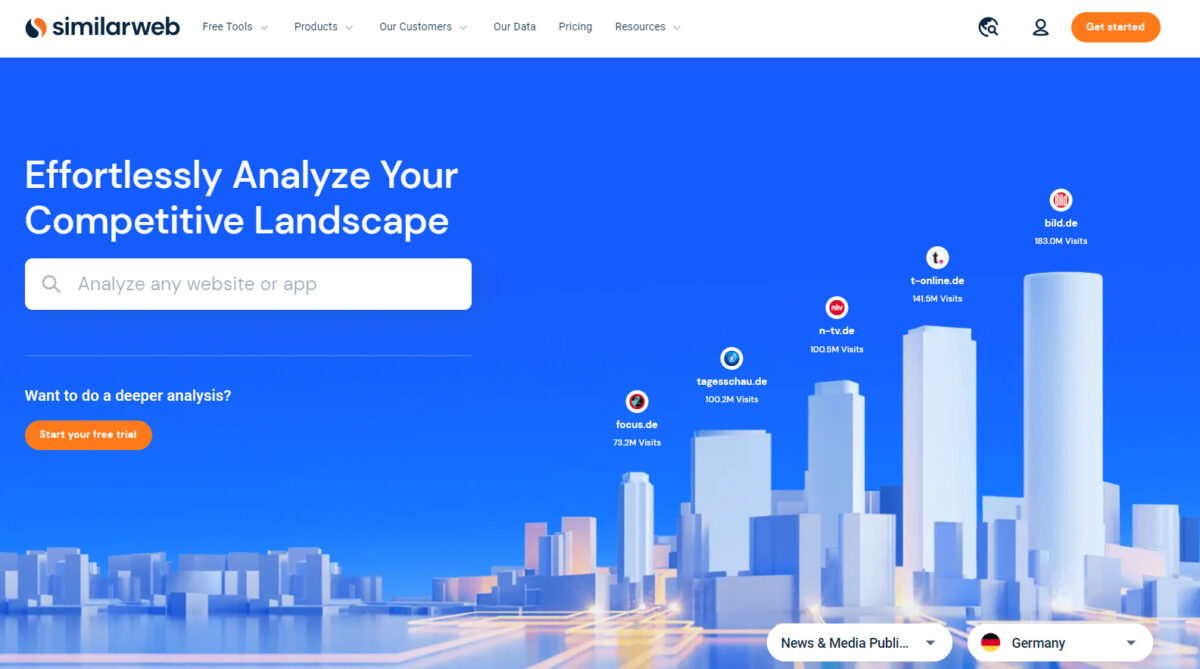 Similarweb is an easy-to-use competitive intelligence solution that gives you a comprehensive overview of your competitive landscape, allowing you to gain visibility into what your competitors are doing and formulate business-critical decisions for growth. It's an all-in-one platform for digital research, digital marketing, shopper intelligence, stock intelligence, and sales intelligence.
With Similarweb, you can identify growth opportunities across different digital channels. Use it to benchmark your performance against competitors, analyze consumer behavior, identify keyword insights and metrics, and track significant trends. This CI tool is backed by accurate marketing intelligence data, as well as a best-in-class data methodology. It derives its dataset from various sources, including real user clicks, first-party traffic analytics, billions of keywords from its database, public data, and websites.
---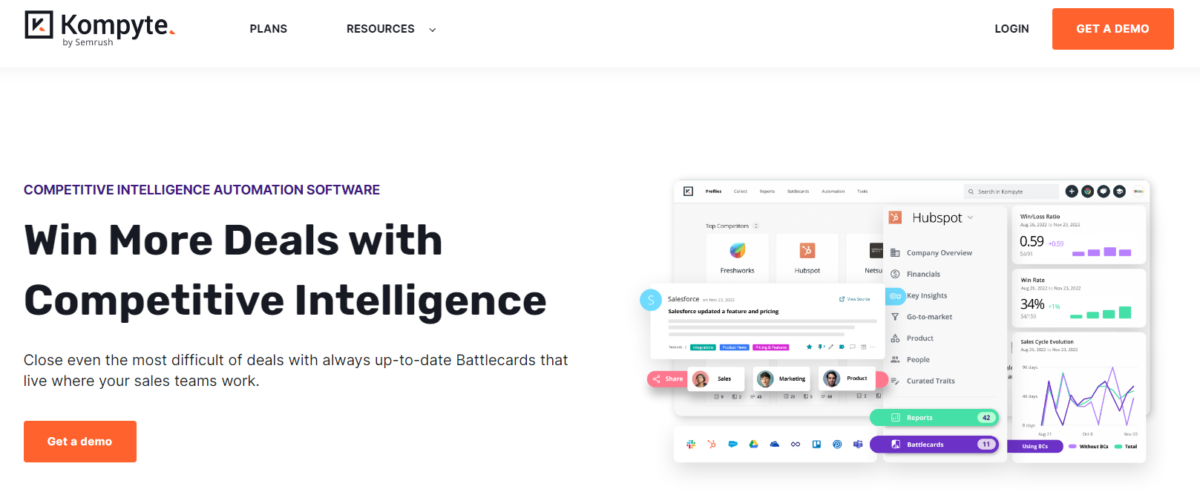 Kompyte by SEMrush is a competitive intelligence automation platform that leverages AI to help users keep track of the competition. Using machine learning, it automatically tracks, compiles, and analyzes your competitors' updates from various sources and millions of data points such as websitess, social media, and advertisements. Using AI, Kompyte gives you data on actionable updates quickly, clocking in at an hour or so.
It also lets you access Sales Battlecards and Battlecard templates, a feature that curates key competitive intelligence data from different sources. One of Kompyte's best features is that it's capable of visualizing competitor data, allowing you to easily view any changes that they made. It also comes with customizable dashboards, reports, and workflows, aside from competitive tracking and analysis tools.
---

While Ahrefs is known as an SEO tool, it's also equipped with a tool for competitive intelligence research. Ahref's Site Explorer is a competitive analysis tool for SEO that lets you get an in-depth view of the competition's organic search traffic and backlink profile. It combines three SEO tools: organic traffic research, backlink checker, and paid traffic search.
Through organic research traffic, you can uncover ranking keywords that your competitors are using. Ahrefs tracks over 150 million keywords (US) and more (for other countries), giving you an accurate picture of your competitors' organic search traffic. Its backlink checker helps you determine the competition's backlink profiles. Lastly, its paid traffic search feature gives you valuable insight into your competitors' paid search efforts, including whether or not they're buying PPC ads and the keywords
---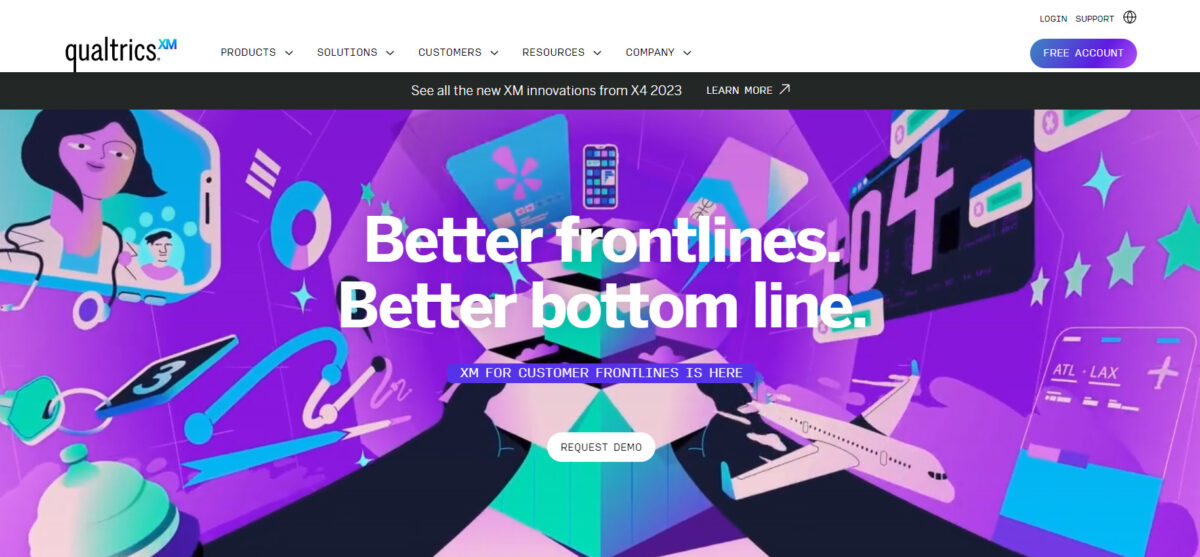 As an experience management software, Qualtrics is primarily designed to help users create better experiences for both their employees and customers. However, it also offers competitive benchmarking, a full-service research feature that helps you understand your brand's current market positioning and how you're performing against your competitors. With this feature, you get access to real-time data on the experiences you're delivering to your customers compared to that of your competitors. Aside from gauging your brand performance and how it stacks up against the competition, this feature also helps you identify key areas of improvement, thus allowing you to optimize your brand strategy and make it more aligned toward addressing your target audience's needs.
---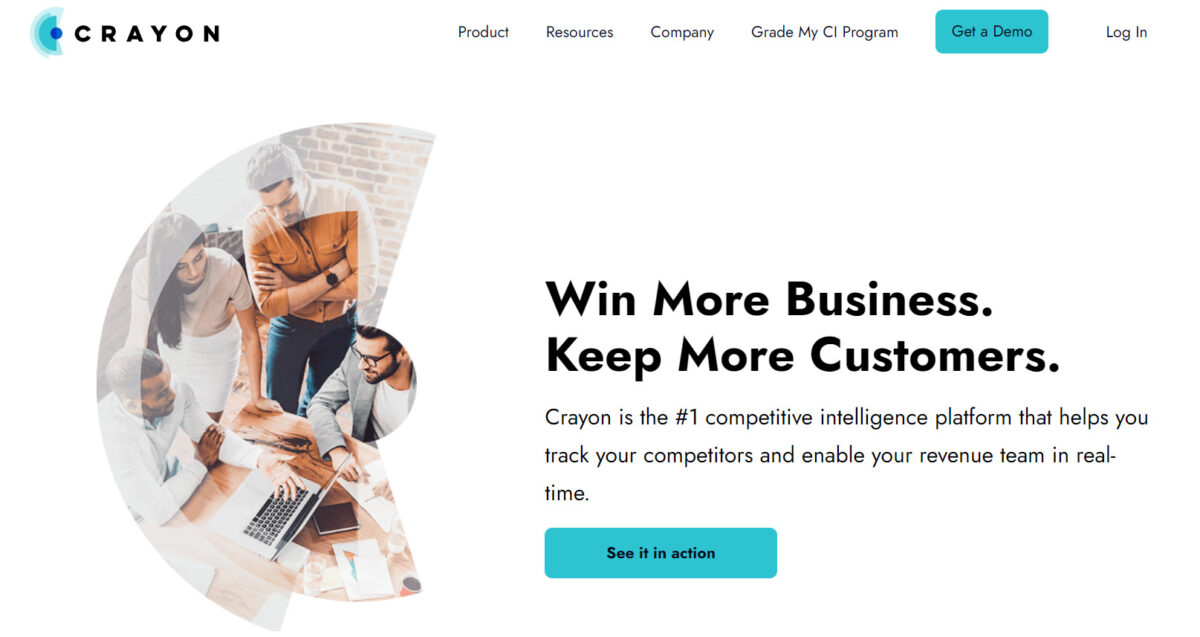 Crayon is a CI tool that's intended to help you track competitors in real time. The platform leverages advanced AI and ML to deliver impactful insights and automate your CI research. It can access over a hundred data types from across millions of CI sources to give you up-to-date and accurate data on your competitors.
Furthermore, Crayon is equipped with additional features, such as battlecards and email digests, to help your team maximize the data you collect. Best of all, Crayon is a scalable platform that allows you to distribute relevant data to the people who matter the most. It integrates with other popular solutions like Slack and Salesforce, taking its and your team's capabilities to the next level. In addition to these features, Crayon also has a unique feature that lets you combine insights from your competitors' digital footprint with intel from your internal or field team for a more comprehensive look at the competition.
---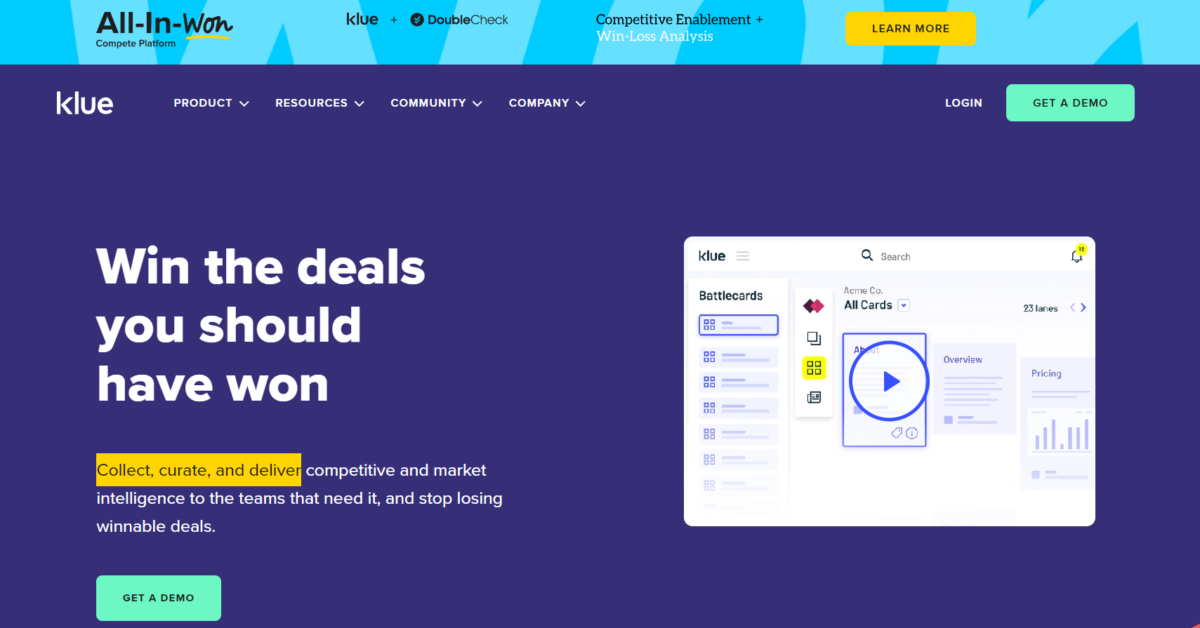 With Klue, you get access to a competitive enablement platform that lets you track the competitive landscape with ease. It filters out the junk so you can focus on analyzing and generating insights. Aside from being able to collect millions of data points from the web, Klue also acts as a central hub for competitive intel.
One of Klue's unique features is that it lets you crowdsource internal knowledge. This means that anyone from your team can share valuable information through channels like email and Slack. Moreover, Klue lets you track unlimited competitors, as well as verticals and product lines. It also uses AI to automate the collection and consolidation of data while eliminating junk information so you can focus on what matters most. Lastly, Klue helps streamline your workflows so you can quickly review and analyze data.
---
Why Use Competitive Intelligence Tools?
Competitive and market intelligence tools enable organizations to monitor the competition. These tools track, collect, and analyze information, allowing organizations to gather critical insights not only into their competitors but also into their customers and the market.
Through helping businesses monitor the competition, competitive intelligence solutions allow businesses to identify emerging trends, avoid risks or mistakes that the competition has made, find gaps in the market, and spot potential growth opportunities. These tools also help you understand your competitors' marketing campaigns, including how they're executing them and what marketing tactics they're using. Knowing your competitors' strategies allows you to build, adjust, or enhance your own marketing strategy, which will help you gain a competitive edge.
When you know what the competition is up to by collecting and analyzing their data, you're better able to tweak your strategy and, accordingly, your marketing efforts. Competitive analysis tools also allow you to make data-backed forecasts, helping you anticipate your competitors' next actions.
Aside from uncovering growth opportunities, competitive intelligence tools can help you uncover areas of improvement. Furthermore, by giving you access to valuable data, such as metrics and KPIs, competitive intelligence solutions let you review your performance based on benchmarking data. This further highlights what you're doing well and what needs to be improved.
Lastly, because competitive intelligence tools give you access to data and insights, you're better equipped to make data-backed and more informed business decisions.
However, competitive intelligence isn't just about using CI tools to learn more about the competition. You also need to find out what your customers want. Once you have all this information, you can start tweaking your marketing strategy to improve your product and marketing plan and create a product or service that meets your audience's needs while allowing you to stand out from the competition. Some of the things you can do to transform data into actionable points are to carve your niche in a market gap, adjust your product's pricing or features, and address your audience's overlooked pain points.
---
Choosing a Competitive Intelligence Solution
Aside from checking a CI solution's features and ease of use, you also have to see if it offers in-depth data coverage. This means that a tool is capable of scouring through, tracking, collecting, and analyzing vast data points. More than having a user-friendly interface, it's a good idea to look into a CI tool's customizability, which makes it flexible and, thus, easier to adapt to your specific needs. Make sure that the competitive intelligence tool you'll be using is scalable to adapt and grow with your business.
Furthermore, you may want to look closer at the integrations a CI tool supports. Integrations allow it to work seamlessly with your current tech stack and help take the CI tool's capabilities further. Lastly, pay attention to your budget and look for a solution that won't break the bank. The good news is that many CI tools have tiered pricing plans, as well as custom plans.
---
Best Practices for Conducting Competitive Intelligence Research
Before engaging in competitive intelligence research, it's best to know who your competition is and what the state of the market is. Knowing these two things allows you to build an informed CI research strategy. Suppose you're able to create a team that's dedicated to CI research. It can be made up of people from various departments, such as marketing, sales, and product development.
When conducting CI research, it's also best to keep practices within legal limits and remain ethical in your CI research practices. This means not using illegal methods like hacking to gain competitive intelligence. It's also a good practice to share the insights you've gathered with the team regularly to better facilitate growth and development.
You may also want to consider focusing on just a handful of competitors, especially if you're just starting with CI research. This would entail knowing who your competitors are and narrowing them down into the top one or top two competitors.
Contextualizing your data also allows you to look at the bigger picture. For example, suppose a competitor is leveraging user-generated content and gaining a lot of engagement. In that case, you should also identify how their strategy will affect your business and use that insight to craft a strategy that helps improve your positioning.
Also, CI research isn't just about leveraging CI tools. It's also about engaging with your employees, who may be able to give you insights into your competitors' activities. For example, you can talk to the top marketers in your team to see if they can update you about the competition regarding their marketing efforts.
---
Wrapping Up
Competitive intelligence is a critical component of business growth. Without it, you won't be able to know what the competition is doing and what you can do to gain competitive advantage. Through competitive intelligence research, you can uncover valuable data and insights, such as the competitions' marketing strategies and social media efforts, and anticipate what they will next, all of which can ultimately help you make better business-critical decisions.