Best for:
Small, Medium, and Large businesses
Longtime Brandwatch users know it as a highly effective consumer intelligence tool. The platform has been "listening" to social media, news, and blogs since 2007, giving brands the inside scoop into what people are saying about them. It was an equal-parts market research and crisis communications platform, allowing brands to stay on top of public sentiment and providing them with the information needed to respond to it. The only problem with it, really, was that it was research and no action. If you wanted to say something to, or follow up with, your audience, you had to ALT or CMD+TAB your way to another window, where another app was running to help you do just that. Until 2021, that is, when Cision bought Brandwatch.
At that point Cision combined Brandwatch with another one of its acquisitions, Falcon.io, and included both as part of Cision's Communications Cloud platform. But that's not what we're covering here. This review is of Brandwatch's consumer intelligence platform, software that now includes a suite of social media marketing tools, thanks to their being merged with Falcon.io. It also includes influencer marketing tools, as well, thanks to Cision's 2022 acquisition of Paladin. We covered the social media management side in its own review, and now it's time to go in-depth with the consumer intelligence part. This is where Brandwatch made its name, and the CI platform is still available as a standalone product. It's worth mentioning this product has been collecting data since late 2009, and all of it has been indexed and available to search through.
For the moment, Brandwatch/Falcon/Paladin still feel like disparate products placed under the same umbrella, but the good news here is that the branding is really the most pressing thing to be worked out. As you'll read in this review, the software itself is solid—you may just not know what to call it.
---
Summary:
---
Pricing
Like any SaaS platform, Brandwatch offers multiple subscriptions of service. While this review focuses solely on the Consumer Intelligence product, we've included everything here to give you an idea of how each (or all) of the products are licensed.
Consumer Intelligence, $Custom/month — designed for researchers and analysts who require the expertise of the top consumer intelligence platform to effectively analyze and interpret the vast amounts of online conversations and derive valuable insights.

Social Media Management, $Custom/month — Full suite of social media tools,

designed for social media managers seeking an all-in-one platform to manage multiple channels.



Full Suite, $Custom/month —

A bundle of the Consumer Intelligence and Social Media Management plans, sized for your company, ideal for data-driven organizations.
---
The Details
Most of the time, when we review software, we're shown a demo of the product by people who work for the company and therefore know it well. This usually results in one of two kinds of demos: The first is the one where the presenter has a plan and uses an active account to show us real-world walkthroughs of the workflow. These usually take about 30-45 minutes. The other kind of demo is from someone who's new at it, or just likes to wing things, and they end up taking us on a long and rambling tour of every single feature without adding a lot of context ("You can do this, and you can do that, etc."). These more unstructured demos generally end at 60 minutes when we cut them off and tell them their time is up.
With Brandwatch's Consumer Intelligence platform, we experienced a third kind of demo. For this one, the presenter was prepared, knew the product well, and used an active account to show us real-world walkthroughs—but there's just so much that the platform can do that we still had to cut her off after the 60 minutes. Thankfully, we'd seen everything on the platform, but had to rush through our post-demo Q&A in order to make it to our next meeting.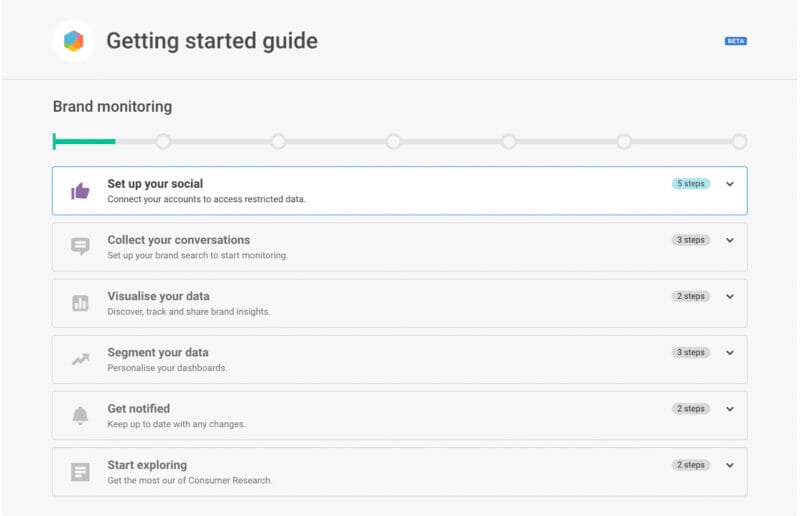 Similar to our experience with Brandwatch's Consumer Intelligence platform, businesses can benefit from using Brandwatch CI to effectively manage their online reputation, stay ahead of potential concerns before they turn into crises, and keep up-to-date with their competitors in real-time. Brandwatch CI offers a wide range of capabilities that are essential for companies looking to maintain a competitive edge and a positive brand image in today's digital landscape.
Social Media Monitoring
One of the noteworthy features of Brandwatch is its ability to focus on social media monitoring, a crucial aspect of any modern digital consumer intelligence tool. Essentially, what Brandwatch is doing is monitoring the vast entirety of the web, indexing the data into a searchable database, analyzing it all, and presenting that analysis to Brandwatch customers in attractive, visualized formats. That sounds relatively straightforward, and it is. Onboarding is a straightforward process, as well, with the software guiding you through it.
That onboarding process sets Brandwatch up to run in the background, monitoring mentions of your brand (or anything you want to monitor, really) and sending alerts that you define. Before you get into any of that, though, you might want to play around with searches and more complex queries to get a feel for how to best set these monitors up. A quick search can show you just how deep the data goes.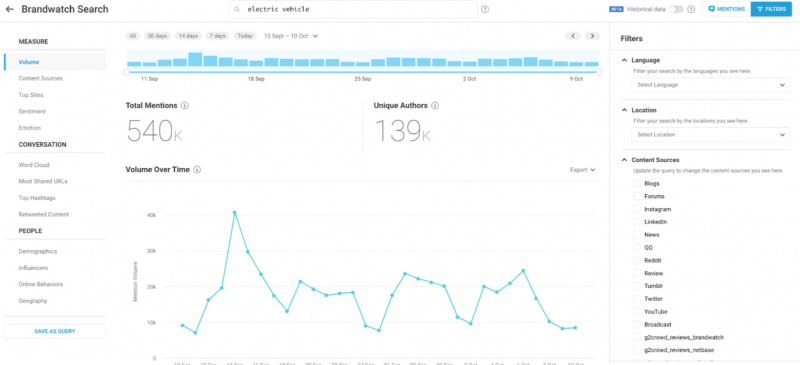 Brandwatch Search
As you can see in the screenshot, searching a keyword brings up a quick tally of all its mentions over a specified period of time (you can go back up to a little more than 10 years!). There are two things about this screenshot to pay attention to. The first is on bottom right, where you can filter the results by sources: check out how many sources there are! That list scrolls down to reveal more of the niche sites it's searching, and that's in addition to what we can see—major social channels, blogs, user forums, news feeds, and review sites, to name a few. This is, to understate it, a lot of data. If Brandwatch were a human, and data were tangible, they'd have to dedicate an entire season of the show Hoarders to cleaning out its house.
Although, to be fair, no hoarder ever presented their collections as attractively as Brandwatch does. Within this search screen, you can filter the data in several very useful ways. Remembering that the data is content that mentions your brand, you can search by sentiment—positive or negative—and even specific emotions, like anger, joy, or disgust(!). You can filter by who's talking. Specifying demographics is an obvious way, but you can also have Brandwatch show you mentions only from influencers, or from content that was published on Thursdays at 7PM. Every time you filter the data and the results refresh, the graph at the center of the screen updates to reflect them.
Possibly one of the coolest insights you can get is the context of the conversations happening. This is done through a word cloud assembled from posts containing your search terms. In the following screenshot, you can see that the general search term is "coffee," and the word cloud shows all the most frequent words and phrases that were used alongside our search term. Click on any one, and you'll see the content that matches.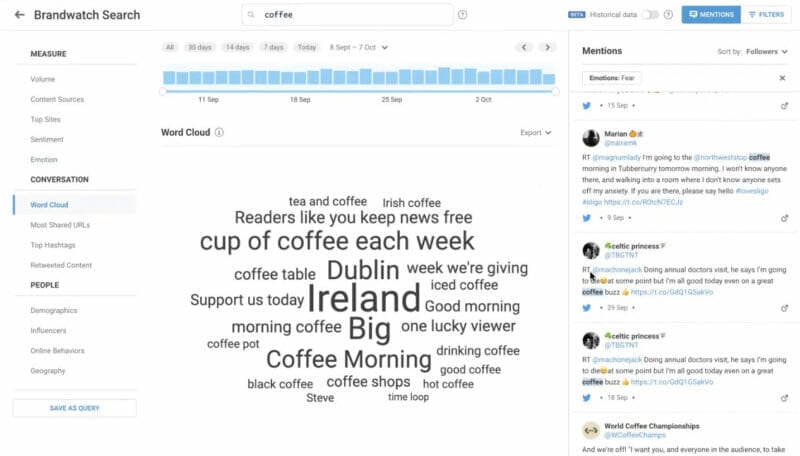 Beyond these basic searches—and it feels reductive to call it "basic"—you can do more advanced queries. The upside of these is you can be very precise about what you want to see. The downside is that it works by manual entry of Boolean operators amongst your search terms. It's not hard to learn how to do Boolean searches, but it's also not likely to be a skill that the average marketer has. And since it's not that hard to learn, it also wouldn't have been that hard to create some kind of visual guide to help construct the search terms, like drop-down menus that give the options of AND, OR, and NOT, something like that. As it is, typing Boolean queries in by hand feels very much like 1995. On the flipside, the AI engine that gives suggestions for search terms to include as you type out your query feels every bit like 2022. Once you've set up your query, you can choose from an array of templates to visualize the results in a dashboard (or create your own). These dashboards are where you can start to get really deep analytics on the people that are part of these conversations you're monitoring.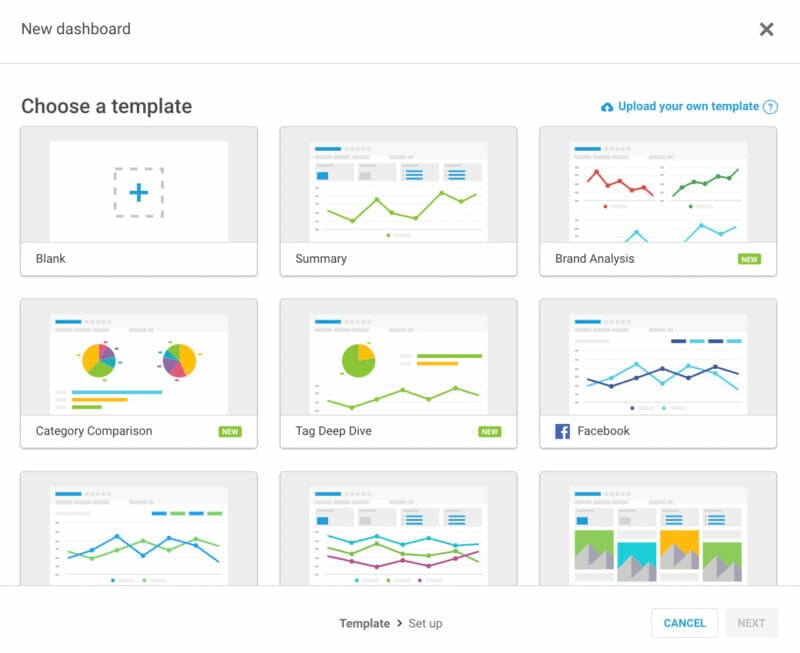 So let's say you've gone through these search exercises and dug deeper into understanding who out there is talking/posting/writing about your brand (or the relevant topics you've searched). What do you do with this group of people?
Brandwatch's

Social Panel
Brandwatch's Social Panel feature will analyze them as a group and uncover different ways in which they're alike. In doing this, you start to uncover what else your target audience has in common, intel which can help shape your approach to marketing to them. This feature also works in reverse: tell the platform what kind of attributes you want to look for, and it'll find people to match—it doesn't take a big imagination to see how this would be helpful in uncovering influencers to work with.

Alerts Feature
The last thing we'll call out—but not the last thing worth calling out—is the Alerts feature. Brandwatch gives you a lot of control over what you can be notified about. Just about anything you could filter for in the search is available here. There are obvious public relations applications to getting an alert about anything negative that's been published or posted.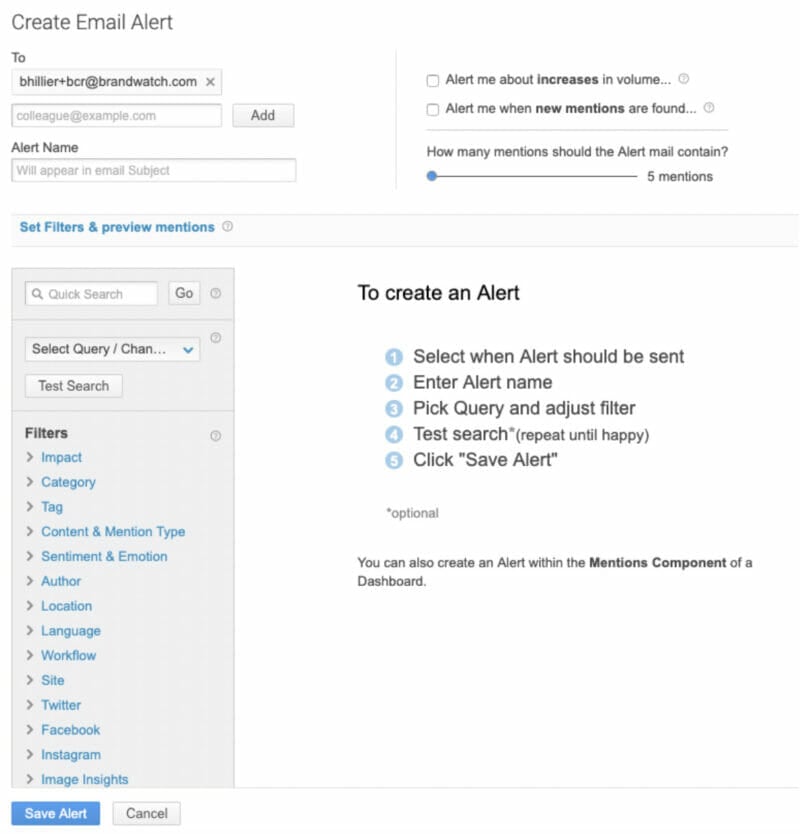 Crisis Management
Brandwatch offers a useful crisis management feature that helps businesses stay ahead of potential issues by detecting early warning signs and preventing situations from escalating. In moments of planning or crisis, Brandwatch allows users to pull data from significant events in the past, providing decision-makers with the context they need to make informed choices or you can even set an alert simply for when the volume of things being said increases.
Market Research
Brandwatch's Consumer Research feature offers access to extensive consumer insights from over 100 million online sources and 1.4 trillion posts, enabling businesses to tap into its extensive data collection capabilities. However, it requires technical proficiency and customization to fully leverage its market research resources.
Competitor Analysis
Brandwatch excels in offering comprehensive competitive intelligence, which encompasses more than just tracking competitors' actions. It delves into understanding the landscape in which your organization, products, and services exist, defining the metrics crucial for measuring success, and leveraging this information to make informed strategic decisions.
Trend Spotting
When it comes to trend spotting, Brandwatch proves to be a valuable asset. Brandwatch makes it easier for analysts to identify and understand trends, offering valuable tips on how to approach the process, including insights on identifying trends within known and unknown themes, spotting trends among key consumer groups, and leveraging historical data to discover patterns.
---
Add-On Products
Brandwatch's consumer intelligence solution offers specialized add-on apps to cater to specific use cases.
Vizia
Vizia, for example, is a data visualization platform designed to transform social and marketing insights into visually appealing presentations. It allows users to connect marketing data, design engaging visual decks, and share them across multiple channels to make complex information more digestible and influential for both brand communication and strategic decision-making. Despite some initial setup and integration challenges, Vizia's visualizations provide a compelling way to disseminate insights throughout an organization.
Influence
Focused on influencer marketing, this add-on supports platforms like TikTok, Instagram, and YouTube. Its features create a comprehensive solution that streamlines influencer marketing, enhances campaign reach, and delivers valuable insights, making it a valuable tool for users involved in influencer marketing campaigns.
---
Conclusion
Brandwatch has been around since 2009, and its longevity is a testament to its quality—in two ways. The first is that, well, it's been around since 2009. It wouldn't still be around if its users didn't like it. The second reason is, well, it's been around since 2009 so it's got a ton of data. Now, gathering all that data is the easy part. Costly, but easy. It's knowing what to do with that that's the tricky bit. Brandwatch's many insights and visualizations demonstrate that they very much know what they're doing with that data. And, because there's so much of it, you can be more confident in the accuracy of the insights. When it comes to statistics, (sample) size does matter, and in the case of Brandwatch it yields an unparalleled business intelligence tool.
Brandwatch Consumer Intelligence
Features

Ease of Use

Reporting

Best for:
Small, Medium, and Large businesses