Since the advent of social media, brands have had to constantly adjust strategies to produce results. In part due to consumer demands and the evolutionary cycle of social media platforms and algorithm updates.
For example, branded content on Facebook is ranked below user content, and organic reach is no longer as effective as it once was.
Despite these challenges, one aspect of business hasn't changed, and that's the importance of developing and maintaining a competitive brand. When it comes to social media, the only way to determine the extent of your business' competitive advantage is by benchmarking it alongside your competition.
How to Conduct a Social Media Competitive Analysis (Free Template and Examples Included):

---
The Importance of Social Media Competitive Analysis
Social media competitive analysis helps you peel back the layers of noise surrounding your industry and its players.
Has a competitor's social post gone viral? Should you copy it or not? If you do, what kind of results are you hoping to achieve? And is copying that social post on-brand?
This blog post will break down how to perform a social media competitive analysis for your business. We'll cover how to identify your competition, determine which data to focus on, and compile and analyse your data.
Once you've completed your own analysis, you'll develop meaningful insights. You'll know which brands are creating the most effective content, what types of content generates the most engagement, and what you can do next to better position your brand on social media.
We've also created a free template that you can use to perform your analysis.
---
Batch Your Social Media Competitive Analysis Processes
Social media competitive analysis involves a series of steps that you'll need to complete more than once. And as creating and completing a successful projects goes, the key to producing insightful analysis and doing a great job is planning.
You want to have a clear idea of exactly what tasks you need to complete at each step and how to execute them as quickly and accurately as possible.
As we breakdown our process, you'll find that we focus on one area at a time. We separate the identification of your competitors from the gathering data and analysis. This makes the entire process simpler to complete, resulting in less cognitive load.
It also speeds up the process. You'll experience a stronger sense of satisfaction and achievement as you systematically move through each step of your social media competitive analysis.
---
Identify Your Competition
Your market is likely filled with a host of competitors that participate at different levels. There are the top 5, the up-and-coming, in-betweeners and the laggards. When identifying your competition, we recommend using Google to find as many as possible as a starting point.
Why? Identifying which players are in your market is great, but your goal is to be able to segment your competition into pools.
You need to create a stronger and more effective social media strategy to go up against the top social media performers in your sphere. Knowing who fits the bill, therefore, matters.
How to identify your competition
Search for terms associated with your product or services.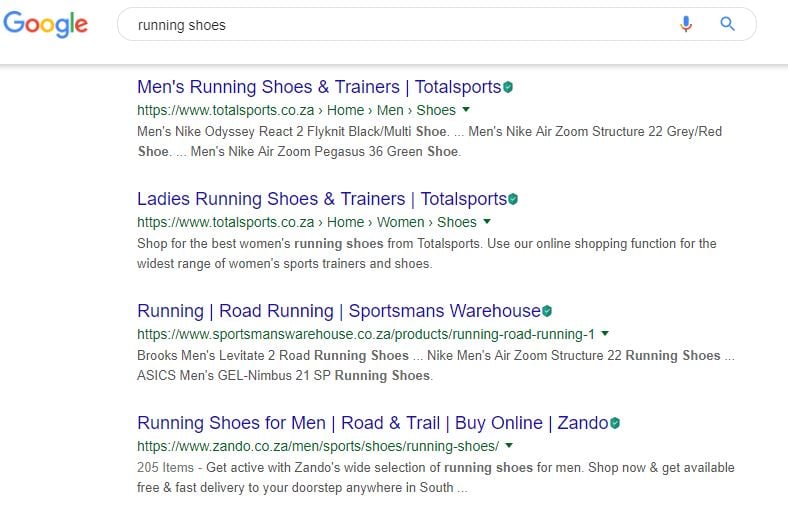 In this step, your goal is to gather as many competitors as you need. As you find competitors, don't pay attention to their social media presence, bookmark each competitors website. We recommend that you gather as many as 10 competitors before moving onto the next step.
As a professional, you undoubtedly know which brands are crushing it on social. We recommend that you add those to your list first, then proceed to find others.
Identifying 10 competitors seems like a lot of work, but it's worth it. You goal is not just to locate competitive brands, you also need to uncover meaningful insights in the analysis phase. The larger your pool of competition, the more definitive trends and insight should appear, and 10 is enough.
Note: it is possible that you identify 10 competitors but can only use 6 or 7. In that case, identify more. Don't let the work involved dissuade you from completing your analysis.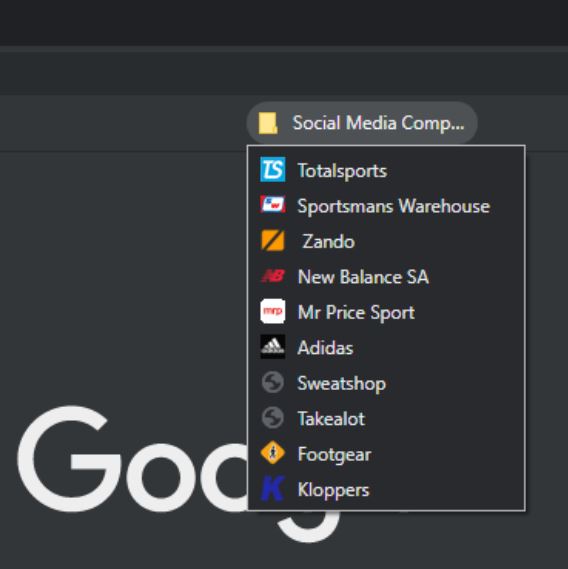 ---
Collect Your Data
Next, start collecting your data.
In this phase, we're concerned with gathering data we need to analyse and draw meaningful conclusions. In the free downloadable sheet, we relate all information to company names. This allows you to quickly identify competitive brands.
Visit each website and collect social media profile URLs. Social icons are typically located in the footer of a website. Right-click on each icon and copy the URL link. Next, add it to your analysis sheet.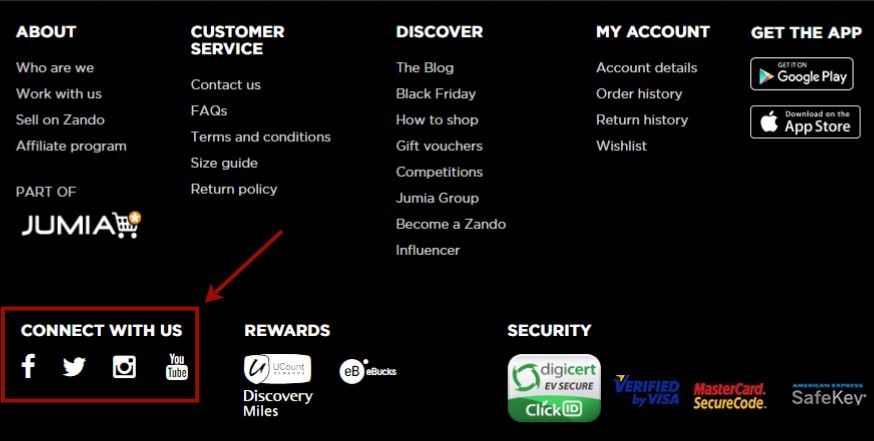 Tools
Gathering data can be a little challenging. We've found Fanpage Karma and it works perfectly. While it doesn't cover SnapChat or TikTok, you'll be able to generate data for Facebook, Instagram, Twitter, YouTube, LinkedIn and Pinterest.
Fanpage Karma also offers a free 14-day trial. You'll be able to use the trial account to gather all the data you need for your social media competitive analysis.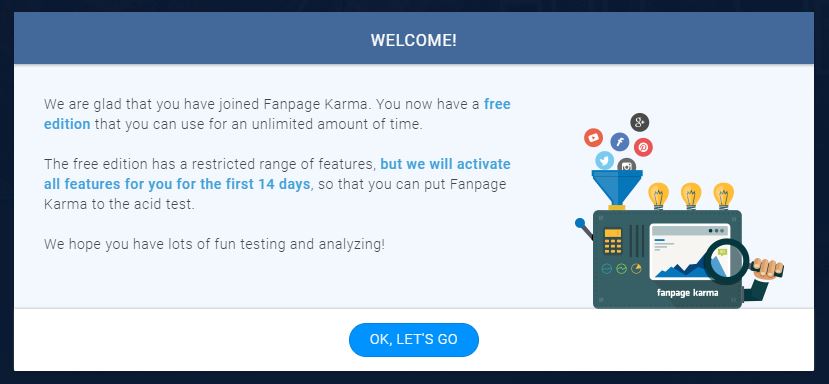 Data to Collect
Collecting data can appear to be slightly overwhelming in Fanpage Karma. This is due to the sheer volume of metrics you can track. As social platforms have different features, Fanpage Karma provides different metrics for each platform.
We like their approach to providing data. When you set up your account, you'll be able to create a dashboard with all competitors by social media platform.
Dashboards allow you to take a deeper dive into each competitor account and learn more about what is and isn't working for a brand.
For example, you can use the Table view to see all the performance metrics you've selected. If you're analysing a competitor's Story performance on Instagram, simply click on the Story Analysis tab and you'll see how many organic likes, comments, post saves and interactions your competitor received.

Given the numerous performance metrics you can track, and that you may want to focus on unique areas (think percentage growth of users since a competitor joined Twitter or Stories watched and Story Exits for Instagram), we aren't going to provide set criteria for what you should collect.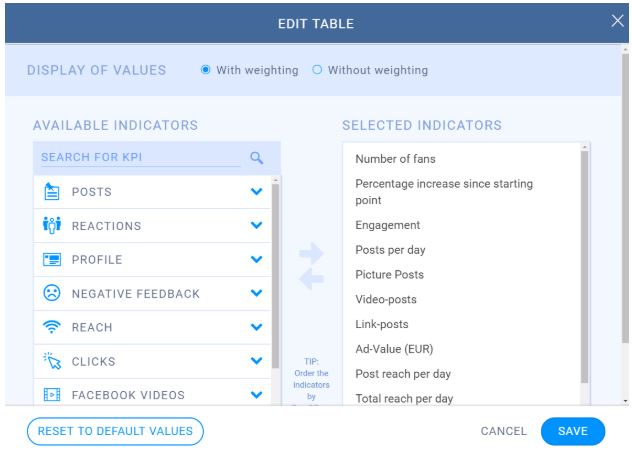 Instead, think about which areas you are aware of as potential growth areas for your brand and build your reports in Fanpage Karma accordingly.
Note: our free social media competitive analysis template is designed to include the default performance metrics that appear on each social media dashboard Fanpage Karma provides.
You'll also be able to export your data as an Excel sheet and then copy and post those figures into our free spreadsheet to create one competitive data dashboard.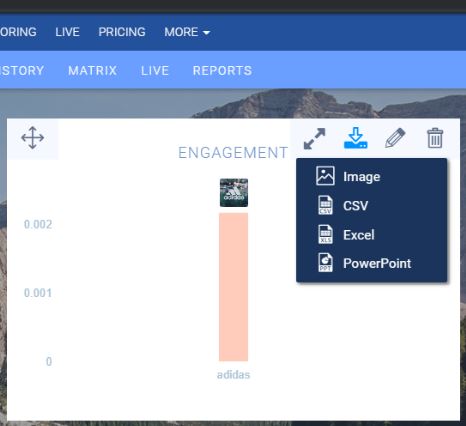 If you'd like to add any additional performance field, simply create an additional column and assign the performance metric to the column header.
For a breakdown of all performance metrics and what they mean, visit Fanpage Karma's Social Media KPIs Explained blog post.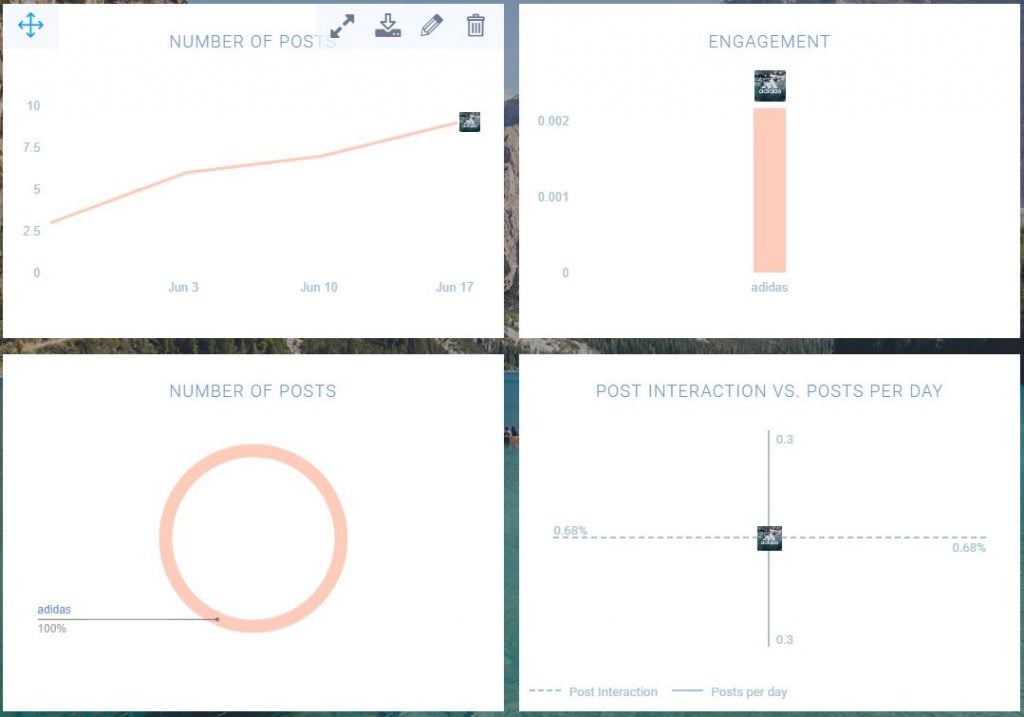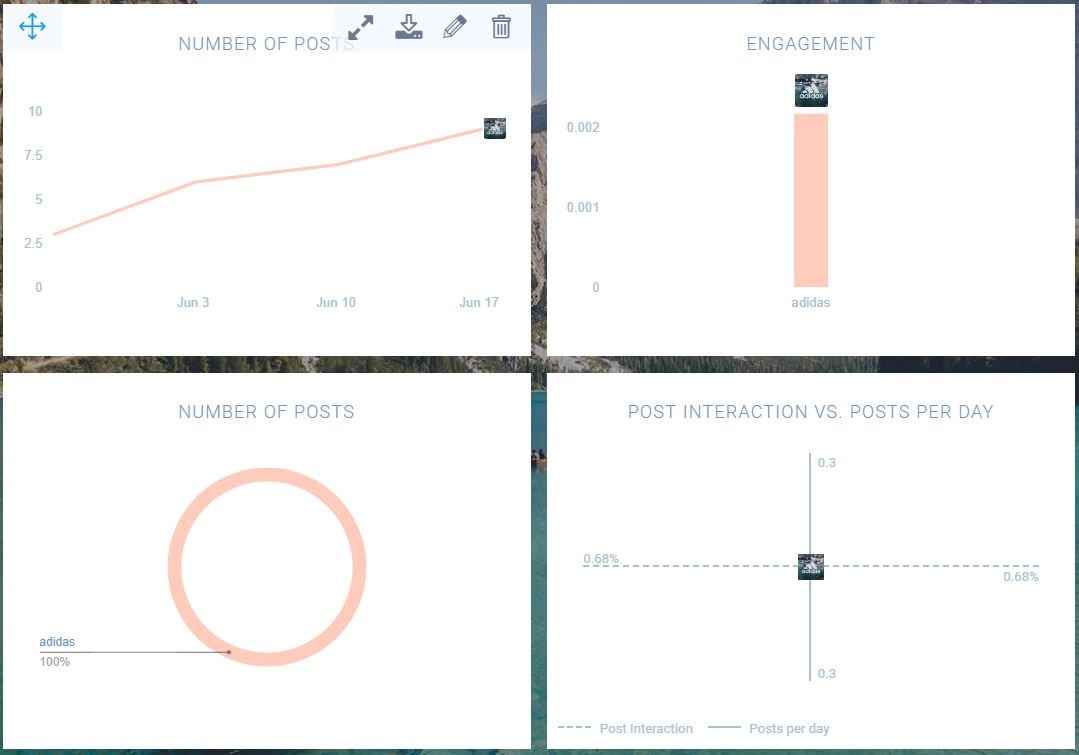 ---
Analyse Your Data
Once you've collected your data, it's time to start analysing it. Analysis can be perceived as a broad term with many ways to perform the at. For specificity, we like to think about analysis as a set of questions that deliver insights.
Here's our set of questions to help you spot trends and uncover gems as you complete your analysis:
Which Metrics Indicate Growth?
Growth is typically a good measure of a brands success on social media. But growth alone may not be an accurate representation.
For example, if a competitor produces Steve Jobs quote as an organic post that is not related to their products or service, and it gets tons of shares, using it as a measure of their success on social would be inaccurate.
Instead, focus on the post directly associated with problems, challenges your ideal customer experiences, and solutions that your competition provides. These posts will show a direct correlation between engagement values and how well competitor social content performs.
What has Remained Consistent Over Time?
Consistency on social media is a must. It's all part of growing a strong brand. As you look at your competition, gauge how consistent they have been when publishing content.
Depending on which metrics you're focused on, you want to be able to easily identify whether a brand has been consistent or dropped the ball somewhere.
For example, was a brand producing loads of video and getting strong engagement then suddenly stopped?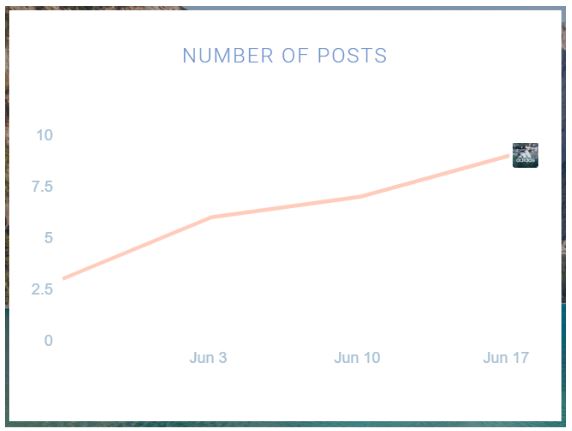 Adidas Running has consistently increased the number of posts they publish on Instagram over a three week period.
Where are Your Competitors Underperforming?
Can you spot any areas where your competitors seem to not be generating results?
This may take a little more effort to identify, but once you define exactly what 'underperformance' looks like, you'll be able to quickly see where competitors are underperforming.
For example, a quick way to determine if a competitor is underperforming is to look at their engagement values vs the number of posts they publish.
Questions you can ask:
Can you tell how many likes, shares or reactions they receive on average?

How does one brand compare to all others?

Which brand gets the lowest engagement?

What is the size of the brand's audience on the social platform that you are focused on?

Is the engagement ratio (in relation to audience size) low or high?

How do you determine what low or high engagement values are for your brand and industry?
These and other questions will help you develop a degree of insight into which brands you can easily outperform. But you must have a very clear definition of what 'underperformance' is to benchmark each competitor.
Which Types of Content are Top-Performers and why?
Identifying top-performing social media content is likely one of the key aspects you'll pay attention to during your analysis. When doing so, don't stop spotting whether blog posts or video works well, dig deeper.
Watch your competitor's videos and pay attention. Analyse them.
Questions you can ask:
Did the video seem structured and what did the structure include?

How long is each video on average?

Who appears in their videos?

What kinds of information do they share?

Do they make any offers?

How strong are their calls to action?
Content is one of the best indicators of a brand's success on social media. For your brand to outperform your competition, you don't need to reinvent the wheel, you just need to produce better content.
Tip: See which competitor content performed best using the Analysis tab in Fanpage Karma.

How Often is Content Published?
Consistency is key, but so is understanding the frequency at which your competition publishes content. Frequency matters because all brands need to market themselves to stay relevant and they also have budget constraints.
Yes, some brand's have larger budgets, but that doesn't mean they know how to use them effectively.
As you examine your competitions' social posting frequency, you can group the types of posts they publish by format. This will help you see which content types they are focussing on.
Having identified which types of content brands are producing, you'll be able to create a plan for your content production accordingly and focus on the types of content proven to generate results.
Note: as you create your plan, focus on producing content that has proven to generate results for your competitors. These types of content are low-hanging fruit that could produce similar or better results for your brand.
Tip: See the frequency gauge on the Analysis tab in Fanpage Karma.
What Trends Appear Across the Board?
Trends follow cycles. On social media, it can be a little challenging to spot all trends developing or losing steam, which is why your regular analysis will put you ahead of the pack.
Questions to ask:
What results seem to be consistent across on competitor brands?

Which types of content seem to be used the most?

What frequency seems to be used for publishing content?

Which metrics do most brands seem to be outperforming or underperforming on?
What Opportunities are There to Outperform the Competition?
In many ways, as you start analysing your competitors, you'll begin to see certain patterns forming. You'll catch glimpses on common practices, spot one or two outliers, and even notice certain social posts that form part of a test your competitors are running.
Once again, when considering how to outperform the most effective brands, look for opportunities in the form of content ideas your brand can use. Ensure that if you do apply the ideas that they are aligned with your brand.
Put your unique spin on ideas. Make them yours.
---
Take Action
Collect your analysis and structure it into a document that you can refer back to when necessary. As you'll be completing analysis regularly and using it to inform your larger social strategy, date your reports.
Also, include helpful summaries of the key insights and actions you must take based on the gems uncovered. This will make execution simpler and strengthen your brand's agility on social.
Important: completing social media competitive analysis is similar to completing research, it's great to have but serves little purpose unless used.
Act on your insights. Develop content. Test ideas. Generate results.
---
Rinse and Repeat
Building a strong and effective social marketing strategy happens over time. Brands move through growth spurts, but even the most rapidly growing brands need to be and stay competitive.
You brand needs to be able to find its edge and continue to enhance its competitive advantage. Accomplishing both requires constantly developing intelligence around your market and the most effective ways to promote your brand and its products and services.
Using social media competitive analysis, therefore, is crucial. But you need to perform your analysis regularly (at least once a quarter) to derive meaningful intelligence.
As you begin to grow your intelligence database, be sure to always look at how current data compares to previous reports. Competitive analysis is all about deriving insights, so keep an open mind as you examine data.