We discovered in our recent Artificial Intelligence (AI) Marketing Benchmark Report that 61.4% of marketers have now used AI in their marketing activities. A surprisingly large 44.4% stated that they had used it for content production. AI has now become an integral part of content marketing for many firms.
However, simply using AI to create content doesn't take away the need to monitor the success of your marketing activities. Every audience is different and you can't simply leave AI unsupervised to create the perfect content and marketing materials for yours. AI may be good, but it isn't capable of creating blockbusters and viral posts every time. You will still need to examine your marketing analytics to determine what has succeeded, versus what has sunk with your audience.
And what is great for analyzing data, spotting trends, and providing valuable insights? Why AI of course. Not only can AI assist you to create content, but it can help you analyze what works in your content marketing versus what does not gel for your audience. In this post, we examine AI marketing analytics, and how they can improve your marketing performance.
---
AI Marketing Analytics:
---
What is AI Marketing?
We have written extensively about the major role that artificial intelligence now plays in marketing. In What is AI Marketing? we found the following use cases for AI in marketing: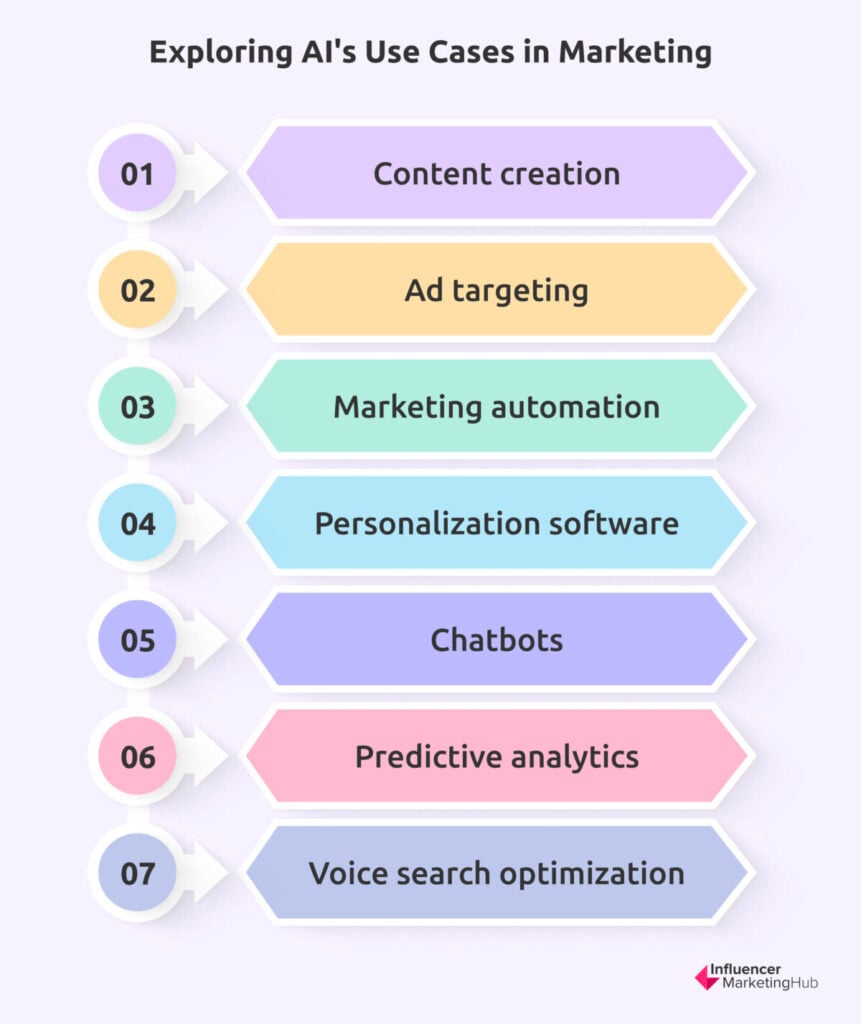 While this doesn't explicitly include AI marketing analytics (apart from the predictive variety), the reality is that analytics affect virtually all these categories. For example, with ad targeting, machine learning algorithms identify the most effective target audience for an ad campaign by analyzing customer data to identify patterns and behaviors most likely to result in a sale. Personalization uses machine learning algorithms to analyze data to create targeted campaigns tailored to a customer's interests and behaviors, and then continue to analyze the results of your latest campaigns.
---
What is Marketing Analytics?
Before we look at AI marketing analytics, we should first establish what marketing analytics is. According to Marketing Evolution, "marketing analytics is the practice of using data to evaluate the effectiveness and success of marketing activities. Marketing analytics allows you to gather deeper consumer insights, optimize your marketing objectives, and get a better return on investment." It means measuring, analyzing, and applying data to your marketing campaigns, not just tracking your campaign results.
Probably the most used tool for marketing analytics, as it's free and relatively easy to use, is Google Analytics. This tool alone provides thousands of metrics you can track. According to Databox, the 10 most important Google Analytics metrics are: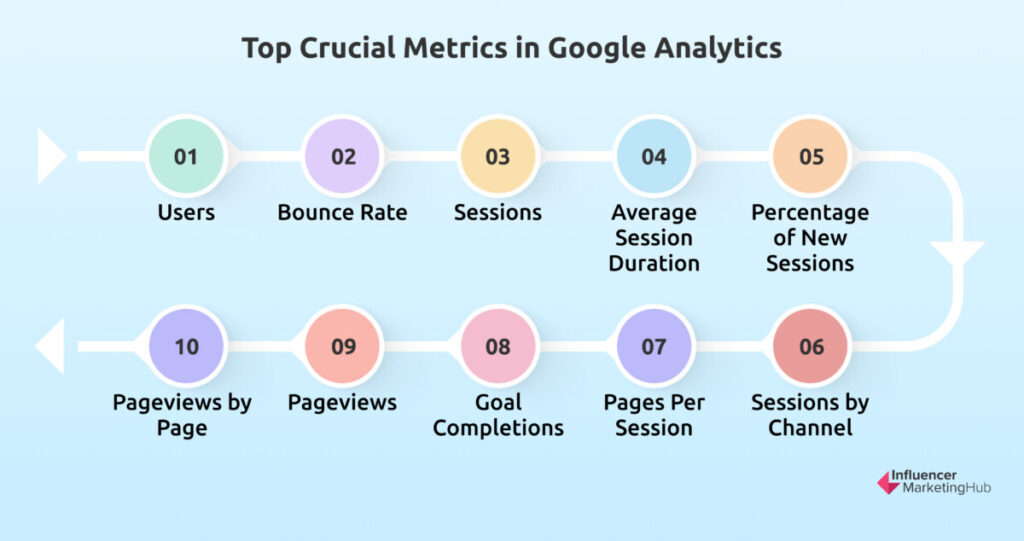 While you don't necessarily need AI to find this data, it does make it easier to manipulate and use.
Marketing analytics are vital for successful decision-making. Business managers use them to help choose the best option in multiple areas of their business. By taking notice of the information generated by marketing analytics, managers can improve on the ROI compared to taking other options.
The main purpose of marketing analytics is as a tangible way to show the effectiveness of your marketing campaigns. They show how your marketing is truly performing, not just relying on easy-to-see vanity metrics that may give a false impression of the success or otherwise of a campaign.
Of course, it is unlikely that your marketing analytics will show that your marketing is perfect – any more than that of your competitors. You can virtually always do better, and your analytics show you precisely where you should place your focus. They show what's working, what isn't, what is worth persisting with for a while longer, and what you should eliminate as soon as feasibly possible.
---
Why is Marketing Analytics Important?
We can use marketing analytics to check how successful our marketing activities have been, comparing actual results against targeted figures. Marketing is not always an exact science, and you can't always predict successful marketing activities with precision. You can use your marketing analytics to determine what has worked versus what has been less successful than desired, and then adjust your future activities to focus on the more successful activities.
---
Problems of Traditional Marketing Analytics
As important as marketing analytics are to businesses, they have not always been easy to use. Some of the more common challenges faced in the pre-AI days included:
Marketing analytics can generate large quantities of data – recording every click, impression, view, and more.
Much data was unreliable and of poor quality, because organizations lacked systems and processes to filter out irrelevant and misleading data
You needed data scientists to fully understand the data, and few companies employed experts.
Lack of knowledge meant many businesses selected the wrong data and attribution models for their needs.
Correlating data from disparate sources was challenging, meaning that many comparisons were faulty and irrelevant.
You could suffer from having data silos, i.e., you have relevant data in multiple places, but they are reported separately, independently of each other. If these data silos were reported together, you would have a far better overview and understanding of your marketing performance to date, guiding your future marketing strategies.
Artificial intelligence has helped the situation markedly, making it much easier for average firms to gain accurate, timely, and useful information from their marketing analytics. Today's advanced analytics platforms have the processing power to enable marketers to make real-time optimizations.
---
How Can We Use AI to Improve Our Marketing Analytics?
Brands have discovered that they can use AI in multiple ways to assist with the gathering, filtering, and analysis of data utilized by marketing analytics, and therefore improve its quality.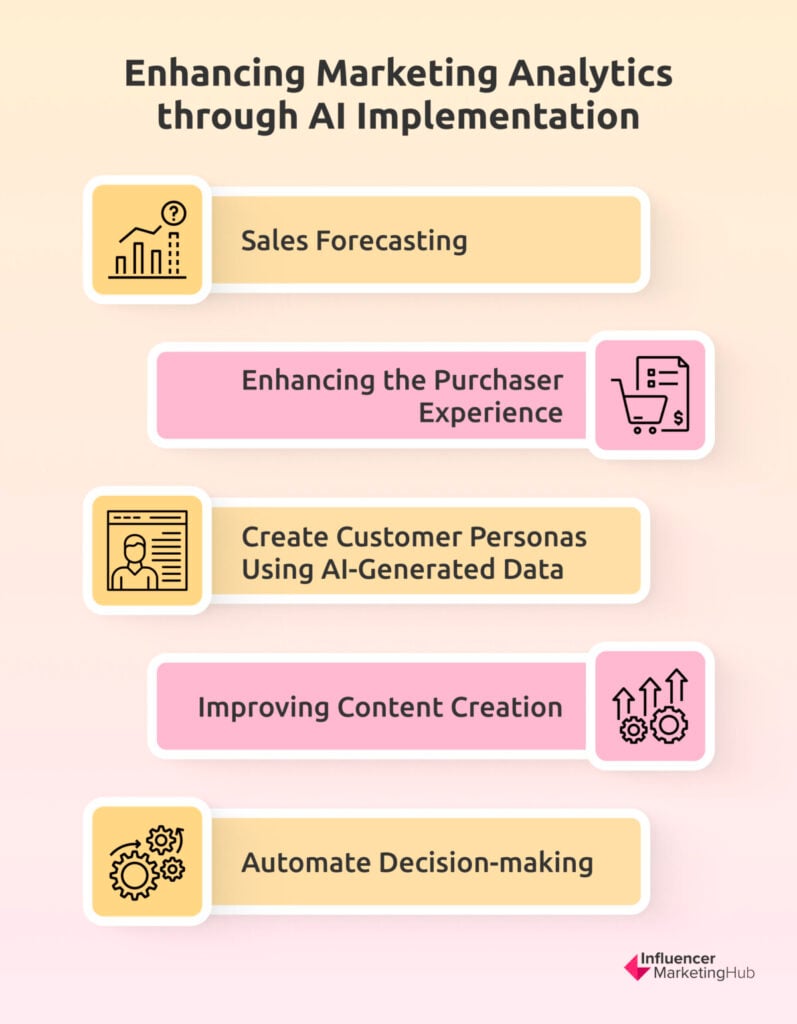 Sales Forecasting
Businesses are discovering that they can use AI to better estimate future sales based on past sales to customers. Many businesses use CRMs where they record details about their leads, customers, and sales, and this can rapidly accumulate a wealth of data. Traditionally much of this would have just sat there, being severely underutilized, but artificial intelligence software can now make use of this data, making increasingly accurate forecasts.
The advantage of more accurate forecasting is that you can better control your inventory stocks, ensuring you neither overstock nor understock most goods. In addition, some firms use chatbots to target marketing messages to the correct people, rather than wasting marketing resources and sending marketing messages to irrelevant people.
---
Enhancing the Purchaser Experience
Personalization is a marketing strategy where brands customize the content they deliver to meet each customer's interests, needs, and preferences. By using analytics, such as customer demographics, browsing habits, and purchase history, brands can create marketing messages that are individualized to enhance buyer experience and increase customer engagement and loyalty.
Personalization goes beyond addressing customers by their names when sending emails or text messages. Other typical personalization approaches include:
Knowing, understanding, and anticipating your audience's needs
Breaking down your audience into segments, e.g., into geographic, psychographic, behavior, and demographic groupings
Creating a content roadmap accurately addressing each market segment's preferences and determining the proper channels to use to deliver individualized content.
---
Create Customer Personas Using AI-Generated Data
Customer personas are fictional profiles you create representing specific types of target customers. They may not be real people; however, they simulate your actual (and preferred potential) customers. And you can create different customer personas for each type of customer with whom you wish to focus your marketing activities.
By visualizing your customers as "real" people, you can better understand what they are looking for in a product. And it makes personalizing your message so much easier and more accurate.
You may have to take a somewhat different approach if you're a B2B seller, however. While you will need to catch the attention of the Purchasing Officers (or equivalent) in the businesses you deal with, you have to also create personas for the actual users of your product within their organizations.
For logistical reasons, you can only use limited data when creating customer personas the old-fashioned traditional manual way. As a result, the best you can hope for is that your personas are "reasonably" accurate, if somewhat generic. However, by using AI tools, you can manipulate billions of data points, including on-web page interactions, geographic specials, purchase behaviors, beyond interactions/communications, referral sources, and more, to create accurate personas for your target customers. And then you can build various campaigns based on these personas.
---
Improving Content Creation
In many ways, the most obvious use for marketing analytics (AI or not) is to improve the quality of the marketing content you create. As marketing guru, Neil Patel, declares, every campaign, online and off, can be tracked and measured using an ever-growing number of analytic tools. As a result, the global big data analytics market size is expected to be worth $549.73 billion by 2028, up from $231.43 billion in 2021.
Data and analytics should guide your decisions about your content marketing campaigns and strategies. They can answer your questions about how successful your current marketing efforts are, particularly concerning the types of content that your audiences relate to, compared to the types not relevant to your specific audience. And don't ignore that "specific" in there – every audience is different, and you can't rely on generalizations to find the perfect content. Instead, you need to see what works for your readers/listeners/viewers/potential customers.
Various tools, including Google Analytics, Ubersuggest, Hotjar, Optimizely, Mention, EBI, Jasper, and many more all incorporate AI features that can find the answers to your questions for your particular audience.
---
Automate Decision-making
Businesses can use AI marketing tools to sift through a morass of data and recommend marketing or growth strategies to follow. These tools can analyze vast amounts of data to identify patterns, predict customer behavior, and make decisions in real time.
Predictive analytics can be particularly useful here. Based on customer data and behavior, AI can provide predictive insights to help marketers anticipate customer needs and preferences. For example, you might use predictive analytics to determine the best time to launch a new product line based on historical data.
Emarsys explains that this works because AI takes uncertainty into account.
"The closest thing we will ever have to an accurate fortune teller is a machine running AI software."
With traditional planning and prediction models, a business would predict a number, e.g., how much stock they should purchase for Christmas sales. AI, however, considers risk management. It includes conditional probability density (a range of possible numbers in a bell curve). For example, it factors in the cost of ordering too many or too few of an item. With probability distribution, a cost function, and mathematical optimization algorithms to find the best decision, AI can be far more accurate than traditional decision-making.
AI can use intelligent algorithms to determine cause and effect by digging through vast quantities of historical data, and by scientifically proving the relationship between cause and a desired effect. Good AI can make far better predictions about human behavior than most humans can – and this is very much due to the quality of your marketing analytics and other relevant data.
---
Winding Things Up
Thanks to AI, we now have tools with analytics capabilities far beyond any human. AI helps you connect and bring together disparate data, automate data models for scale, and shrink optimization cycles. It automates insights and provides you with accurate answers to most of the questions you may have about your marketing performance. And by using predictive analysis, you can relatively easily optimize your future marketing campaigns based on your past and current performance.
Not only can you use AI to examine your marketing analytics, but you can also examine the performance of your competitors, for example, their social campaigns, to discover their success stories and outperform them.
AI can simplify the work of marketing analysts yet increase their effectiveness.