A feedback loop can help brands understand how their customers feel about their brand, products, or service. The feedback that comes from positive and negative feedback loops can be a goldmine of information for a company and can lead to improved products, better service, happier customers, and increased revenue. But if you've never even heard of a feedback loop, you'll be hard-pressed to create and apply them to your business. That's why we've put together this guide to help you better understand the feedback loop. Here, you'll learn everything you need to know, from what a feedback loop is to how you can create your own. Plus, we'll include some examples of how other brands are using positive and negative feedback loops to improve business.
---
What Is a Feedback Loop: How to Create a Robust Customer Feedback System:
---
What Is a Feedback Loop?
A feedback loop is the process of taking a result and using it to guide future behavior. For business marketing, this means listening to and talking to your customers and then using the information you get to continually create a better product or provide a better service. Here's what a simple feedback loop looks like: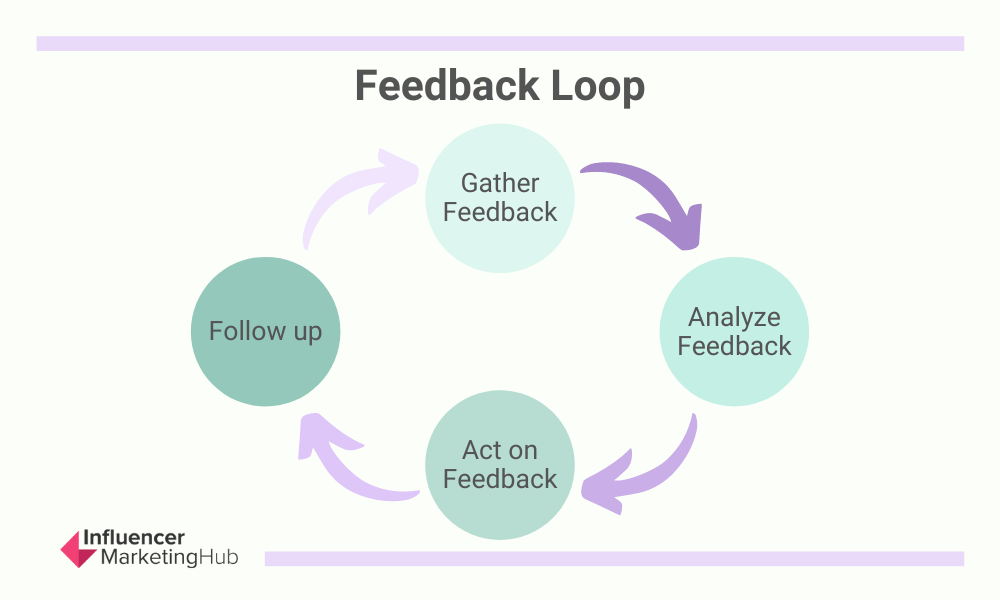 There are two types of feedback loops: positive feedback loops and negative feedback loops. They could perhaps more specifically be called "internal" and "external" feedback loops. You'll understand why in a moment.
---
Positive Feedback Loop
😀
A positive feedback loop is a process in which a company requests feedback from employees, particularly complaints. This feedback will be used to improve business operations and increase employee satisfaction. The ultimate goal is to increase revenue through decreasing employee turnover and improving company processes, culture, and infrastructure. It can be a formal or informal process.
---
Negative Feedback Loop
😔
A negative feedback loop is a process in which a company requests feedback from customers, particularly complaints. This feedback will be used to improve products, services, and customer service. The goal is to increase revenue by reducing customer churn, creating better products and services, making customers feel valued, and increasing customer satisfaction.
---
Benefits of Feedback Loops
Using positive and negative feedback loops can help you uncover problems with your business structure and processes as well as improve the products and services you offer. This shows employees and customers alike that their opinions are valuable and important to you. Sounds beneficial, right? So, let's dive into some of the more common benefits businesses report when using feedback loops.
Identifies Your Strengths and Weaknesses
Feedback loops shine a light on your brand's strengths and weaknesses. And without that knowledge, it's exceedingly difficult to make the necessary changes to build on what you're doing well and change what you're not doing so well. Plus, you get insight into what your employees and customers think so you can directly speak to those pain points and make improvements that will keep them on your side.
Reduces Customer Churn
A feedback loop, when action is taken, can reduce customer churn. This happens because your customers can actually see that you're taking their concerns seriously and are willing to make changes to your products and services in order to better serve them.
Increases Customer Loyalty
Collecting feedback from customers will only make a difference if you act on it. But when you do, you'll not only reduce churn but also increase customer loyalty. This is because you're not only improving the products you offer and the customer's experience, but you're telling your customers that they matter to you and that their opinions will be heard and acted upon. This inspires trust and can be just the thing your brand needs to turn even detractors into brand evangelists.
Improves Customer Support
Feedback loops can also help brands provide better customer support. Through the feedback process, you'll learn where your current customer support practices are falling short or failing your customers. You'll then be able to use that information to improve your customer support processes to better address the needs of your customers.
Creates a Better Culture for Employees
While positive feedback loops are more likely to have a direct impact on your company culture and employee happiness, even negative feedback loops can add to it. When your customers are happy and your business is bringing in more revenue, this gives your brand the opportunity to pay better, offer better benefits, and do what you can to make your company a great place to work.
---
Feedback Loop Examples
Now let's take a look at some feedback loop examples from real businesses. These examples will show you what the entire feedback loop looks like for both internal and external scenarios. You'll find feedback loops helpful for improving existing products, launching new products, establishing better internal processes, and a lot more.
Positive Feedback Loop: Dell
Dell used a positive feedback loop to better understand employee satisfaction. Plus, since they were dealing with 10,000 employee satisfaction surveys, they automated their feedback loop to make the entire process a whole lot easier. With this feedback loop, Dell was able to get employee feedback about food service, meeting rooms, break areas, the gym, parking, technology, and the office environment. Here's an example of the reporting from this feedback loop from the tool MonkeyLearn:
Image Source: https://monkeylearn.com/blog/feedback-loop/
Negative Feedback Loop: Best Buy
In this example, Best Buy uses a negative feedback loop to improve customer experience through their own research tool called VOCE (Voice of Consumers Through Employees). They collect customer feedback through this tool and used the information to streamline mobile order pickups as well as make it easier for customers to understand where to go when they needed customer service vs Geek Squad services.
How to Build a Feedback Loop
Now that you're more familiar with feedback loops, what they are, and how they can benefit you, your employees, and your customers, let's dive into how to build a feedback loop of your own. Remember, the standard feedback loop looks like this:
Gather feedback

Analyze the feedback

Act on the feedback and test it

Follow up with your customers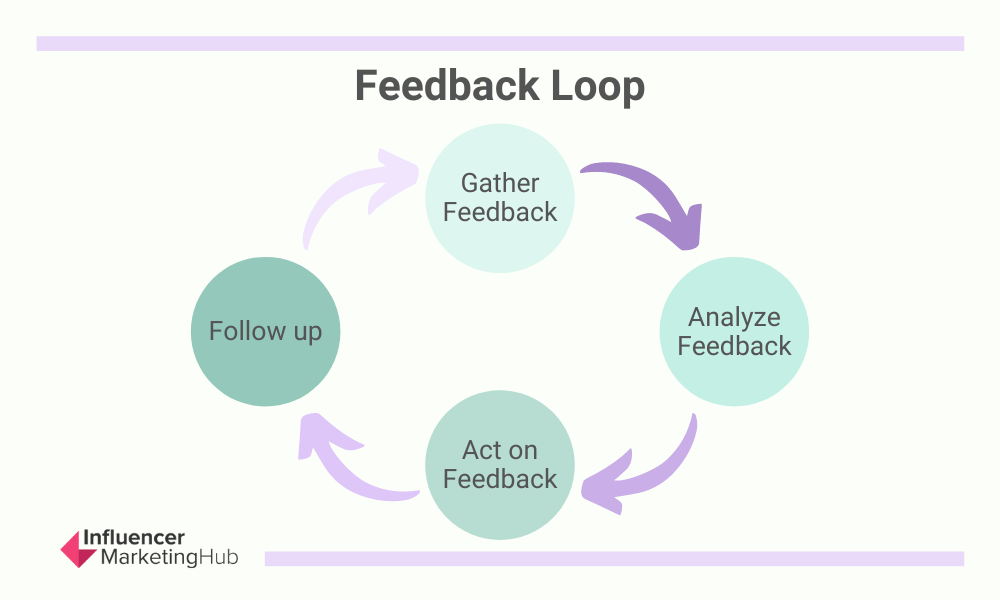 ---
Gather Feedback
The first step of your feedback loop is gathering feedback. This might mean sending out employee and customer satisfaction surveys, Net Promoter Score (NPS) surveys, or gathering information from your CRM, emails, chatbots and live chat, your customer support system, review sites, and more. There are also social media listening tools that make it really easy to collect data from social media. We do recommend that brands send out regular employee and customer satisfaction surveys as well as regularly pulling and analyzing data from other sources.
---
Analyze Feedback
The feedback that you'll be getting and dealing with is likely to fall into the category of qualitative, or unstructured, data. This kind of data is a bit difficult to analyze because it's not easily distilled into ratings, numbers, or percentages. However, it's also incredibly valuable because it gives you the context you need to understand what your employees and customers want so you're more likely to be able to successfully implement changes.
There are several tools available that can help you analyze your customer feedback like the aptly named Feedback Loop, GatherUp, and MonkeyLearn. These platforms help you create a test, target the people you want to hear from, and get your data in the form of charts, text responses, sentiments, and machine learning-generated insights.
---
Act on Feedback
Once you've analyzed your feedback and have a better understanding of what it is your employees or customers want, it's time to act on that feedback. This means using the data to improve your internal business operations, products, and services.
---
Follow up With Customers
Acting on your feedback will naturally bring up additional opportunities for feedback. We recommend reaching out to your customers and employees after implementing changes to let them know about the changes you've made. This lets them know that you've taken their recommendations seriously, that you're listening to them. You can even ask those who might have left negative reviews if they'd be willing to update their review with the new information.
---
3 Best Feedback Loop Tools
Choosing the right tools for your business can get complicated — especially with something like consumer feedback tools. There are different collection techniques, different types of feedback collected, and reports that highlight different kinds of insight. Here are three of the best tools we've found to handle your customer feedback loop efforts, each functioning in a different way.
1. Feedback Loop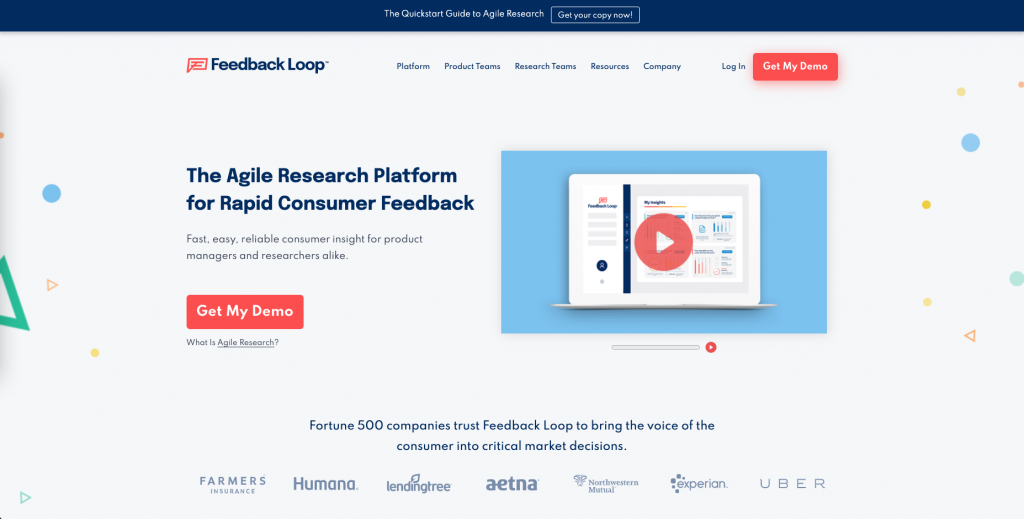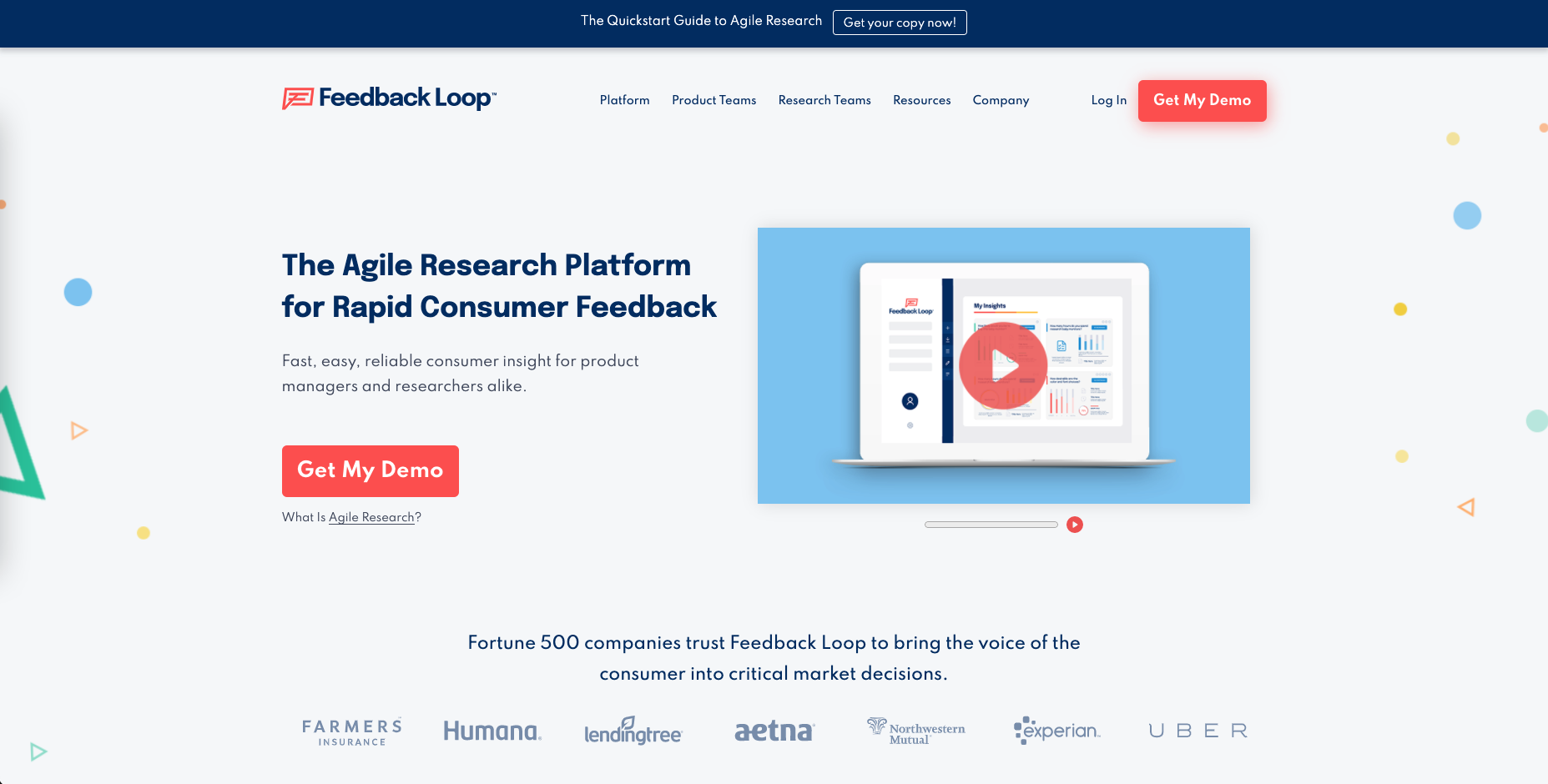 Feedback Loop is an agile consumer research platform that provides directional feedback early and often. You start by choosing from custom and pre-vetted templates, uploading a script, or requesting expert research guidance. Then, choose an audience from your library or create a new one based on behavioral and demographic criteria. Once you've gotten feedback, you'll be able to dig into charts, text, video, sentiment analysis, and other insights to get a full understanding of what your employees or customers want.
Pricing:
Sprint:

$999 for five tests, two audiences, and up to 100 participants per test.

Starter:

$30K/year for up to 12 tests per year, unlimited audiences, up to 250 participants per test, and 30-day onboarding with a dedicated specialist.

Custom:

If you have larger-scale consumer research initiatives and learning objectives, you'll need to contact Feedback Loop for a quote.
---
2. GatherUp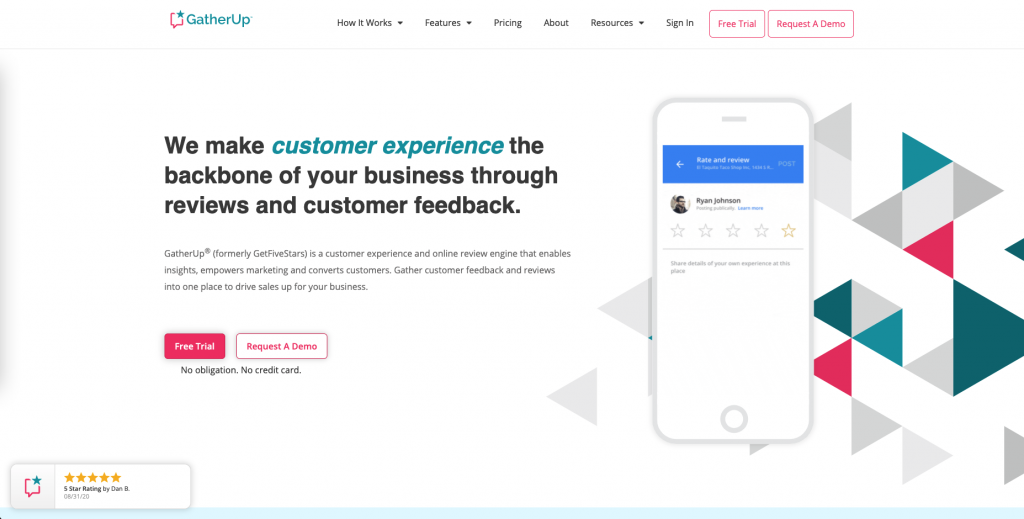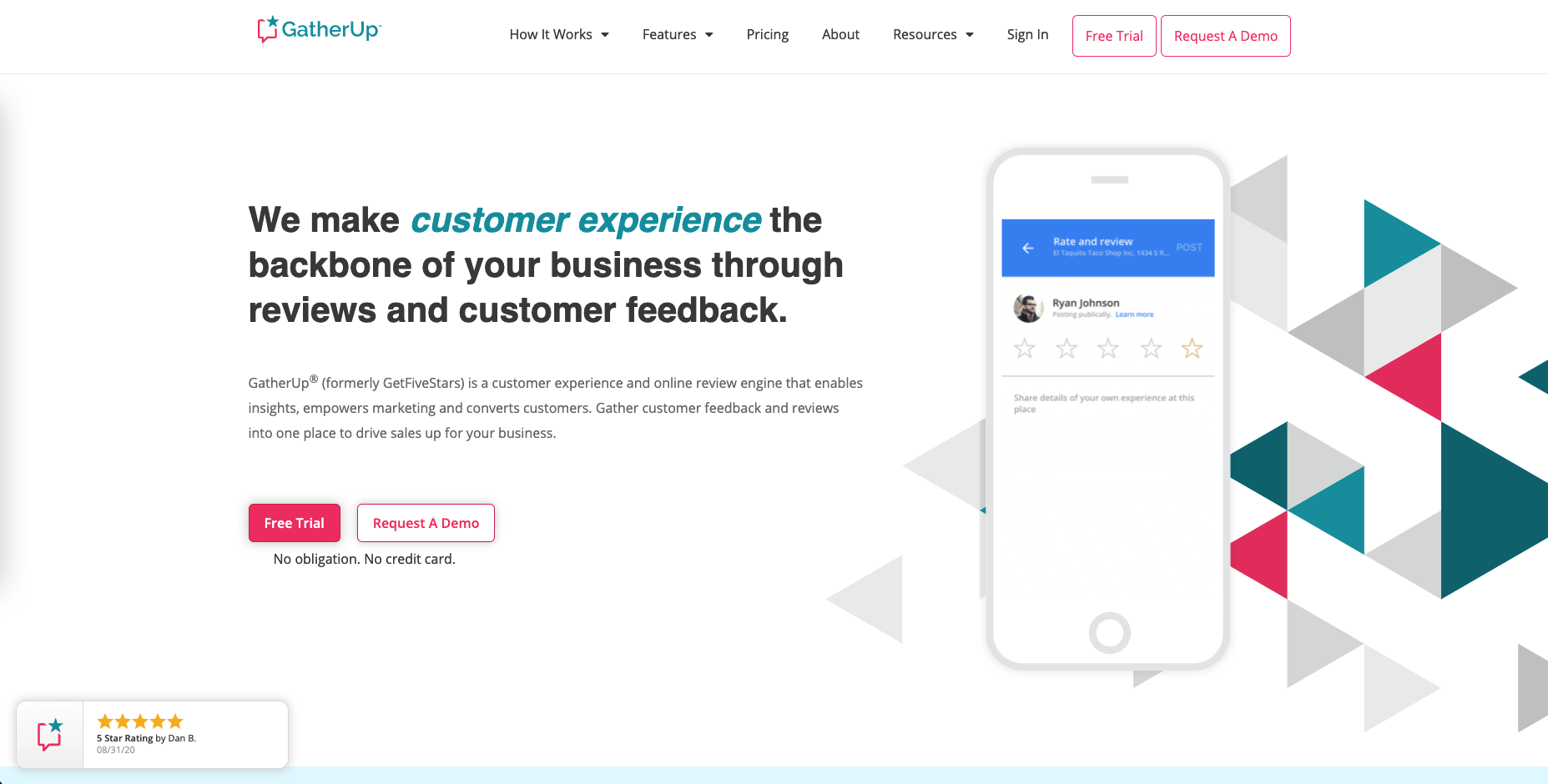 GatherUp is a customer experience and online review engine that gathers customer feedback and reviews into one place to drive sales up for your business. The platform uses email or SMS to send out automated requests and reminders to request 1st-party and 3rd-party reviews. GatherUp monitors more than 50 review sites, captures NPS, survey responses, and customer feedback, and sends email notifications for new feedback as well as detailed reports. The platform will even help you leverage your positive reviews through a review widget on your website, conversion popups for social proof, social sharing of review content, and improving your SEO, website content, and local listings.
Pricing:
1 Location:

$99/month/location

5 Locations:

$60/month/location

11+ Locations:

$45/month/location
All plans include:
Up to 3,500 new customers monthly

3,000 email feedback requests per month

300 SMS feedback request credits per month

Online Review Monitoring
---
3. MonkeyLearn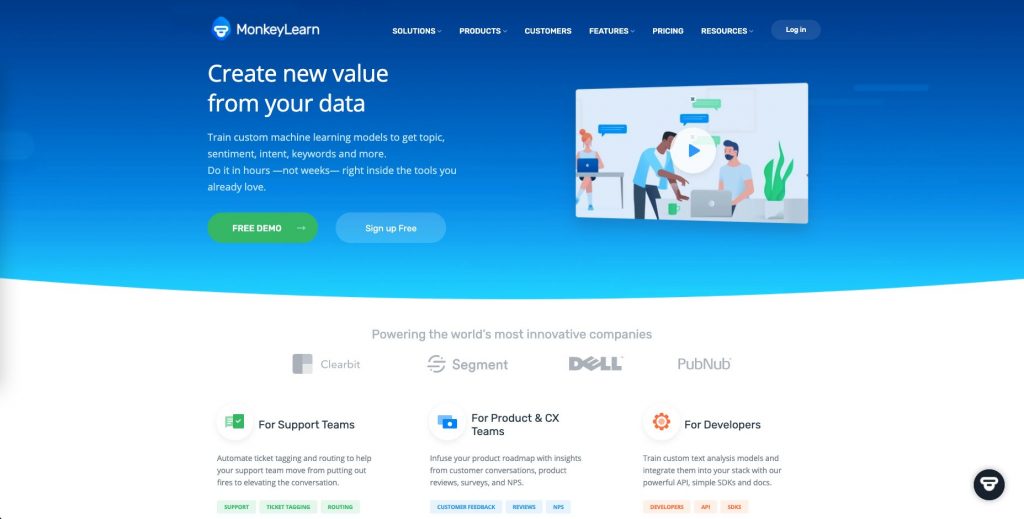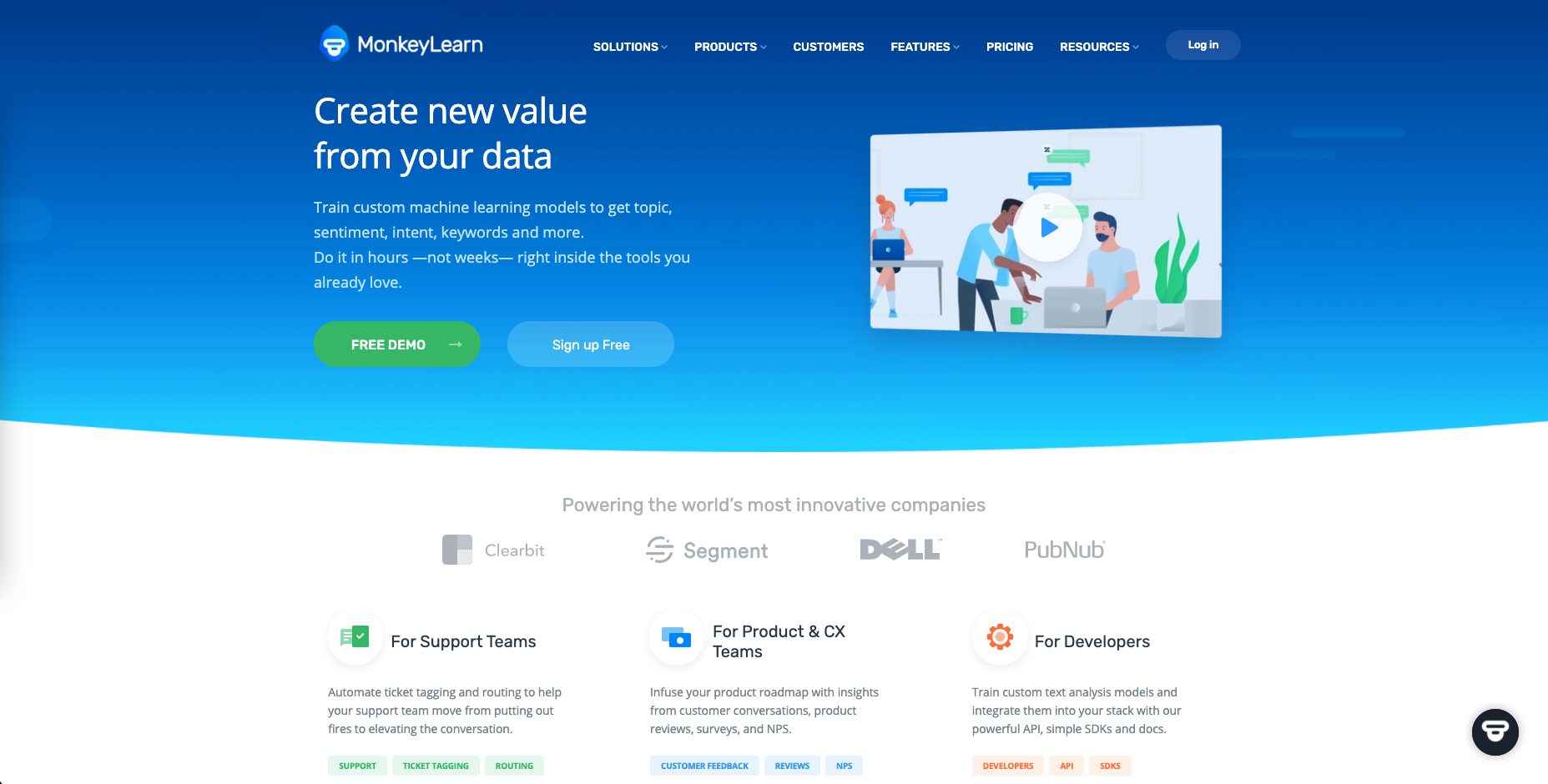 MonkeyLearn is an AI platform that lets you analyze text with machine learning to automate business workflows, saving hours of manual data processing. You can upload CSV or Excel files, or connect with apps via direct integrations, API, or using Zapier. MonkeyLearn accepts various forms of text data from emails, reviews, support tickets, surveys, social media, NPS feedback, and more. Then, you use text analysis models to automatically tag your text. There are pre-built models available or your can build your own. From there, you can connect with visualization tools like Looker, Google Data Studio, and Tableau to gain insights into your business.
Pricing:
API:

$299/month

Studio:

By quote
In addition to these tools, there are some less expensive tools like SurveyMonkey that you can use to gather data, though you'll need to set up the automations on your own.
---
Build Feedback Loops for Better Customer Experience
Feedback loops can help you collect and analyze important employee and customer data so your business can improve and grow. With the information included in this article, you'll be able to create your own feedback loops to implement a customer-centric strategy for your business that's sure to keep customers happy and reduce churn.
Frequently Asked Questions
What is customer feedback?
Customer feedback is data you collect directly from customers that gives you important information about the customer experience and customer satisfaction surrounding your products or services.
What is a feedback loop?
A feedback loop is the process of taking a result and using it to guide future behavior. For business marketing, this means listening to and talking to your customers and then using the information you get to continually create a better product or provide a better service.
How do I collect customer feedback?
There are tons of ways to collect customer feedback. The most common methods are via chat, surveys, and social media.