Nowadays firms can live or die by the quality of their reputation. With social media, customers can instantly spread your praises or make you appear like an incompetent demon. It certainly helps to know what others are saying about you on social media so you can react appropriately, taking damage control if need be.
A while back, we profiled Tools to Monitor Brand Mentions. We take another look at the industry here, looking at 22 social media listening tools for 2022. We have deliberately picked products that we (mainly) did not look at in our last article.
Many of these tools target large businesses and enterprises and do not advertise prices for their services. However, you should find a suitable tool to help you discover your social media mentions, no matter what your size or level of competition.
---
Top 22 Social Media Listening Tools for 2022: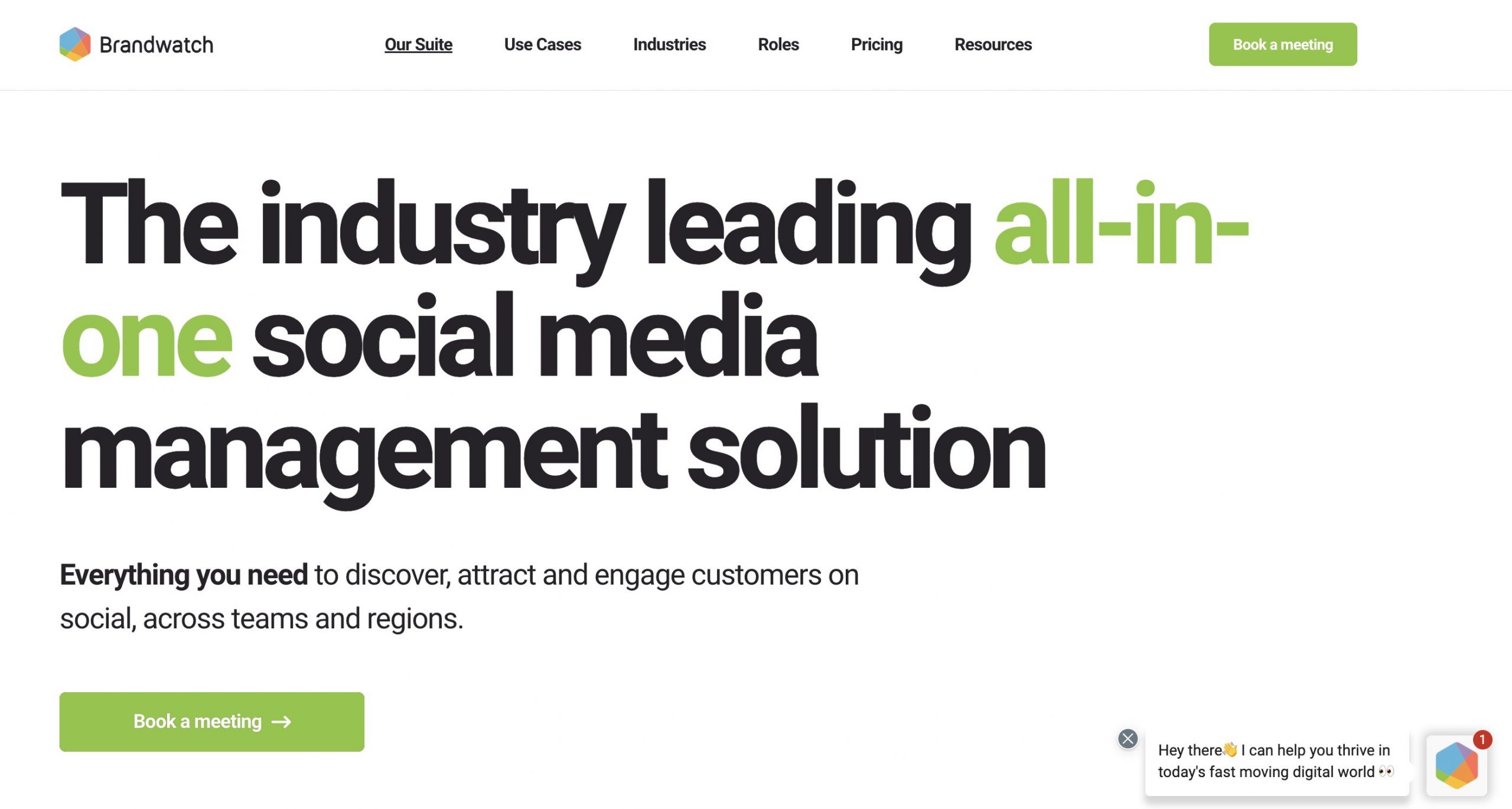 Plans: Essentials $129/mo, Full Suite Custom Pricing. 14-day free trial.
Brandwatch is a social media listening, publishing, advertising, measurement, and customer data management platform. Its social listening tools give a clear picture of what's happening and who's involved.
You can use them to identify popular topics and hashtags to follow to better design your campaigns and content. You can keep tabs on conversations taking place around your brand and products.
Brandwatch gives you much flexibility. You can track anything from brand names, topics, and keywords to phrases, refining your queries with advanced parameters. Indeed, if you have a global audience, you can track and engage wherever you have followers. In addition, you can filter extensively, accessing and viewing data by keyword, source, demographics, influencers, and content type.
Brandwatch offers sentiment analysis in multiple languages, marking mentions as positive, neutral, or negative to help you prioritize engagement. Users can set notifications to alert if there is a spike in specific mentions. You can react to negative publicity before it gets out of hand. To assist with this, you can set up automated reports of trending topics and mentions, sending them directly to your inbox.
With Brandwatch, you can identify influencers who interact with your topics of interest and, as a result, create strategies for collaboration and brand growth. You can also produce audiences from any social listening project – groups of people who meet specific criteria you set.
---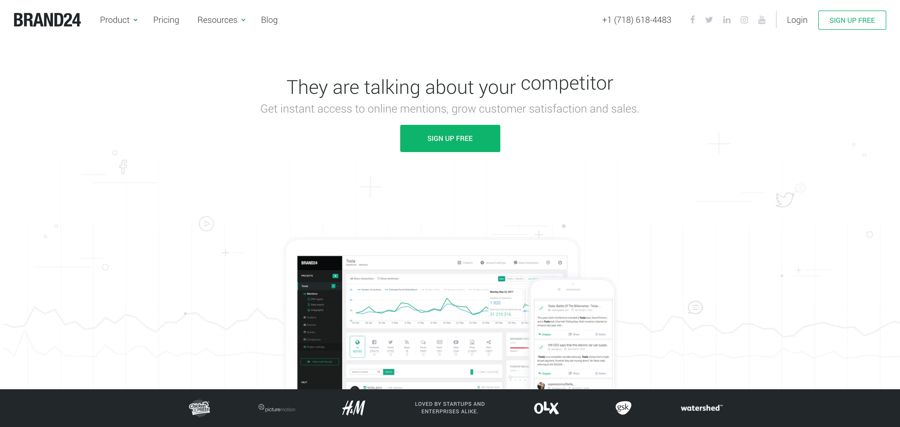 Plans: Plus $49/month, Premium $99/month, Max $199/month. 14-day free trial.
Brand24 provides you with social insights into what people say online about your brand. Unlike some of its competitors, Brand24 targets businesses of all sizes, with a $49/month package for small or new businesses.
It shows you a mentions feed, where you can discover what people say about your brand and take action in real time. You can join in and engage in discussions directly from Brand24.
It shows you a Discussion Volume Chart, graphically depicting your brand's mentions, so you can easily see any surges in brand mentions, and discover if there is a problem. Indeed, it provides full mention analytics, giving you a better understanding of who is talking about your brand online.
Brand24 has developed their own Influencer Score, to help pinpoint your industry influencers, so you can begin making contact with the people that matter in your niche.
It also includes sentiment analysis – not only can you see mentions of your brand, but it gives an indication of whether these mentions were positive, negative, or neutral in tone.
---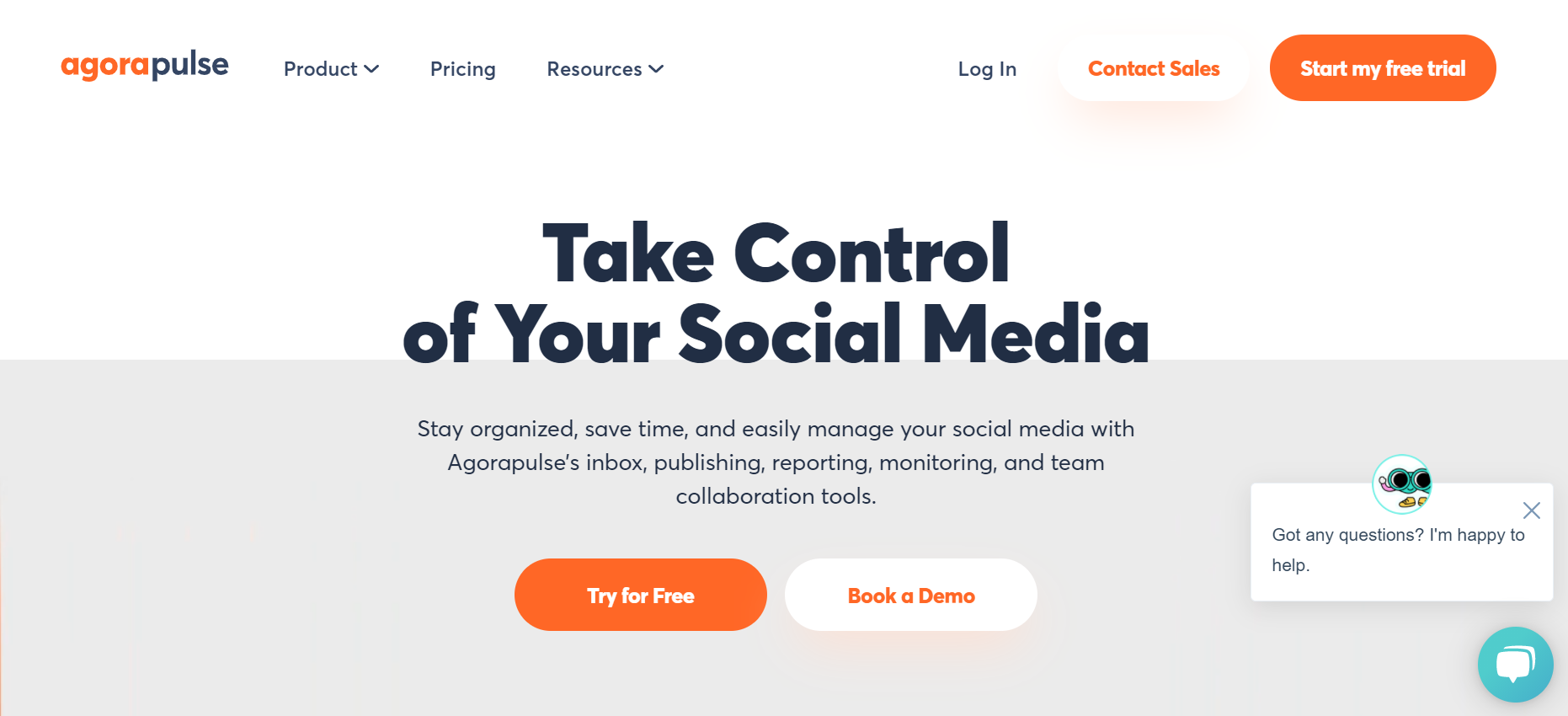 Plans: Medium $99/mo, Large $199/mo, X-Large $299/mo, Enterprise $499/mo
Agora Pulse is another highly professional social media management app that includes social listening features.
It features an extremely clean and straightforward interface. 
You can easily set up relevant brand-listening parameters, that allow you to listen to relevant conversations about your brand. You can further refine your YouTube, and Twitter searches by providing words NOT to include in your saved searches. Boolean operators allow you to hone in on only what you want to listen to. Add location and/or language parameters to your Twitter searches if you want to be even more specific.
Perhaps even more critical is that Agora Pulse helps you take action on what you hear. You can click on a monitoring item and like, retweet, reply, or reply in DM/PM. You can also label, bookmark, and assign any monitoring item to a teammate or client so that they can act accordingly.
---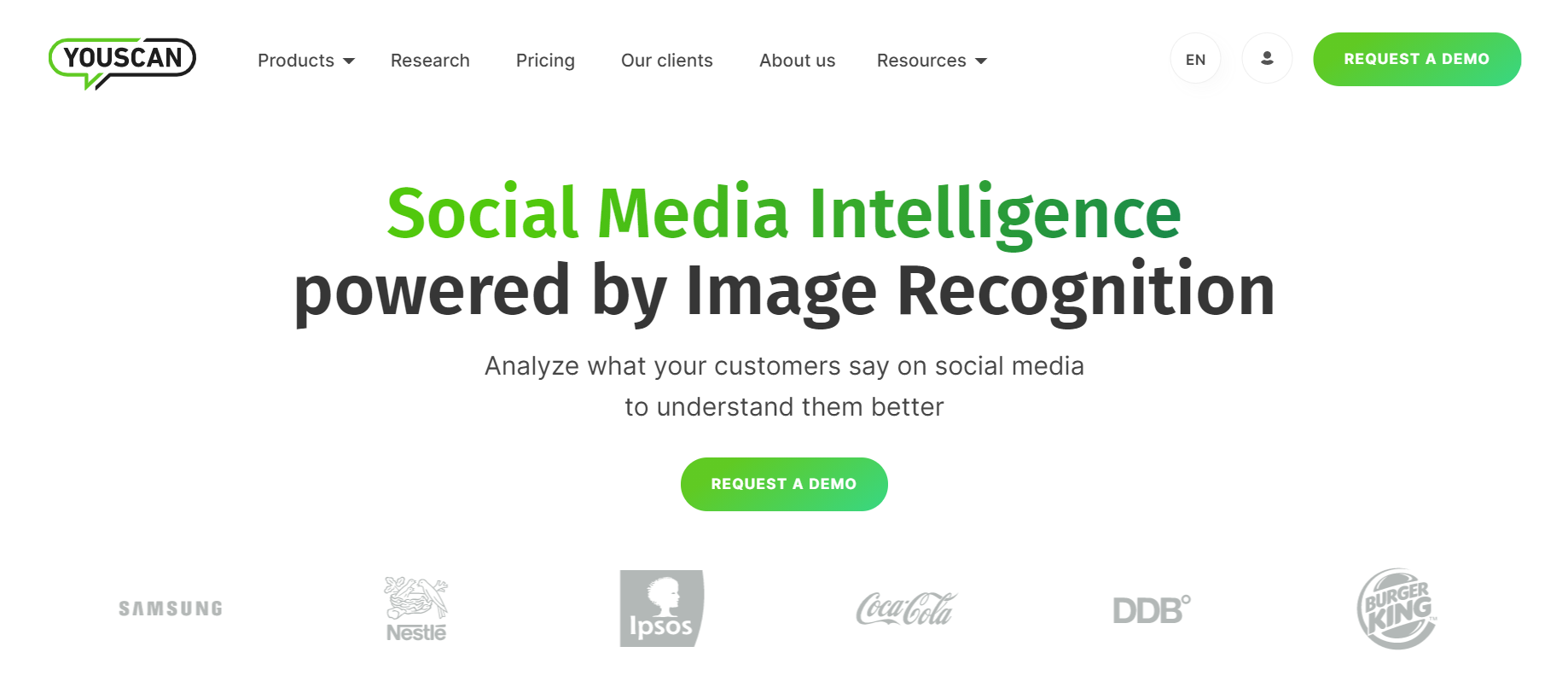 Plans: Pricing is customizable and available upon request from YouScan.
Unlike most social listening tools which offer more searches on the higher plans, YouScan keeps a consistent five searches in all its plans. But each search (Topic) can be detailed, with ways to include and exclude a variety of factors (like keywords and hashtags) and apply rules to them.  
You need to enter your search queries using Boolean operators. There are only a handful of operators to learn, and they all make perfect sense, but many marketers will first have to upskill their Boolean logic before they begin.
Once you've set the parameters of your search, YouScan will build a page showing all the mentions the platform has collected matching your search criteria. You can then filter the results down in several ways to get what's relevant to your specific search.
A particular strength of YouScan is Visual Insights. This searches through images, and you can set detailed parameters, to find pictures showing your specific requirements. An incredibly accurate AI engine powers image recognition. It can help you find detailed demographic and psychographic information about the people who use your brand.
You can use YouScan to find mentions of your brand by the most influential people and then see which of these has the most engaged audiences. It has Smart Alerts which you can set to notify you whenever it "sees" negative sentiment about your brand. You can even integrate their complaints directly into your Helpdesk system.
---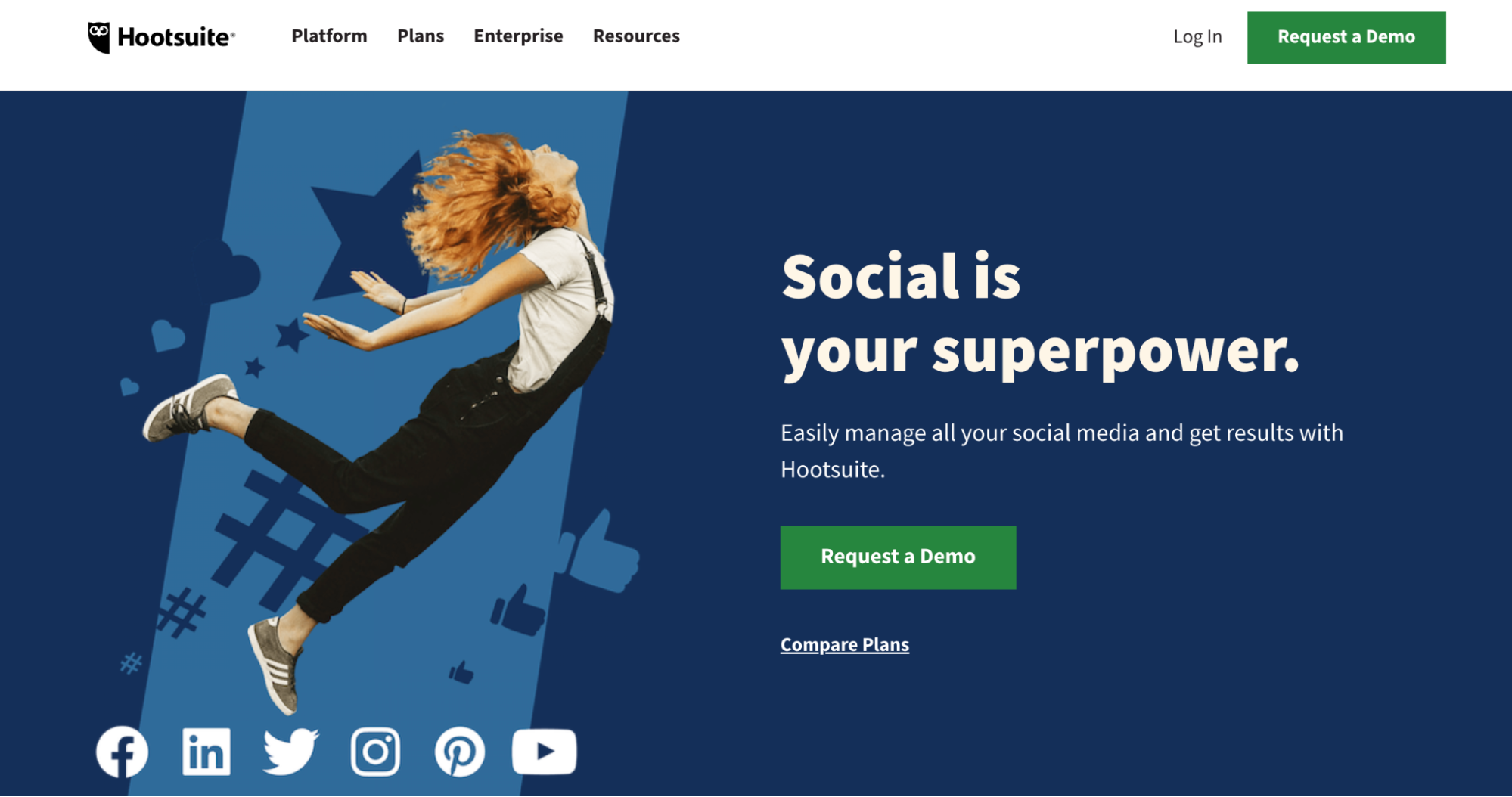 Plans: Professional $30/mo, Team $129/mo, Business $599/mo, Custom pricing for Enterprise Plan. 30-day free trial.
With Hootsuite, you can keep track of conversations about important topics, stay up to speed with your content's performance and brand mentions and monitor the activities of your competitors via Hootsuite streams. 
In short, streams are highly customizable social feeds that make it easy to take part in social conversations. You can, for example, organize your streams by social network, priority, business goal, or special searches. 
It also gives you the ability to practice social listening. Though, social listening is available only as part of their Business or Enterprise plan as an add-on. 
When you sign up for the add-on, you can keep track of and respond to social activities that deal with your business and its niche that include mentions, keywords, and hashtags. It's best to focus on your own brand first by creating streams for your brand and/or its product name, keywords, hashtags, and mentions. As you become more familiar with your niche and target audience, you can start to monitor the brand names of your competitors and known competitor hashtags too.
---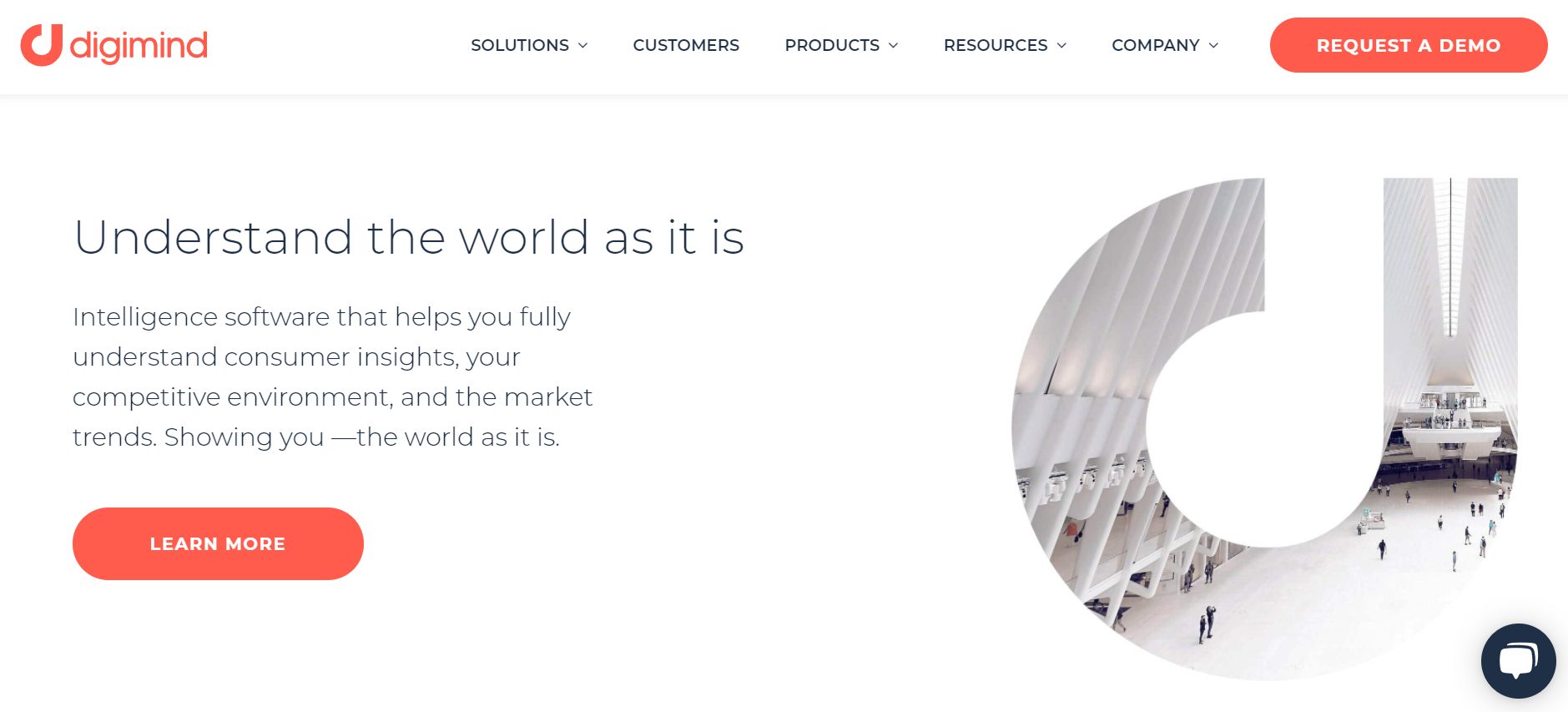 Plans: Contact Digimind for pricing. Prices are based on estimates of total monthly mentions with unlimited queries/topics and of the total number of queries required per year with unlimited mentions. Demos are available on request.
Digimind provides all the content you need to make sense of social and online data and transform it into actionable business insights. It offers two products: Social Listening and Market Intelligence. Both are impressive tools with a wide range of features.
With Digimind's Social Listening tools, you can:
Monitor specific terms and topics

Analyze mentions

Share content and engage audiences

Generate reports

Measure ROI for owned media (paid and organic)

Leverage search data for reputational management
Digimind's tools enable you to see the conversations that matter the most for your brand, in real-time, across millions of online sources, to gain valuable insights you can use to drive and improve your marketing strategy. 
You can analyze and benchmark an unlimited number of social accounts simultaneously with Digimind Social Analytics. However, you can go beyond your social networks to see your brand based on Google search behavior. With Digimind's Top Reputation module, you can follow what your customers want to know about you and your competitors' brands, products, people, and more, all in real-time.
---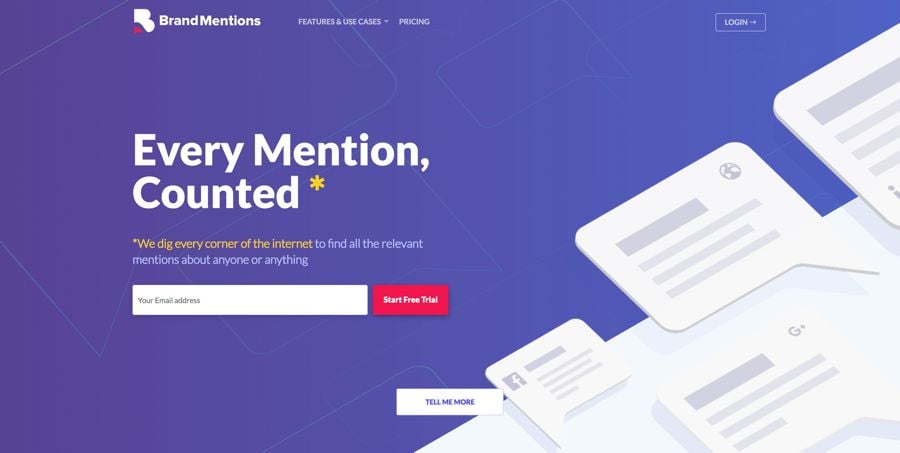 Plans: New Business $49/month, Growing Business $79/month, Company $299/month. 14-day free trial.
BrandMentions searches virtually every section of the internet to find all relevant mentions about any of their clients (or any other term that interests them).
Brands can use it to monitor everything that is being said about their company or product on all the channels that matter, be it web or social media.
BrandMentions cover all the essential channels where people talk about brands. It also offers comprehensive sentiment analysis, finding out the tone of the conversations.
You can also use BrandMentions to spy on your competitors. You can use it to reveal your competitors' marketing strategies. Indeed, you can quickly research and gain insights on any brand or any topic from any market.
It provides you with real-time notifications with email alerts and link notifications.
---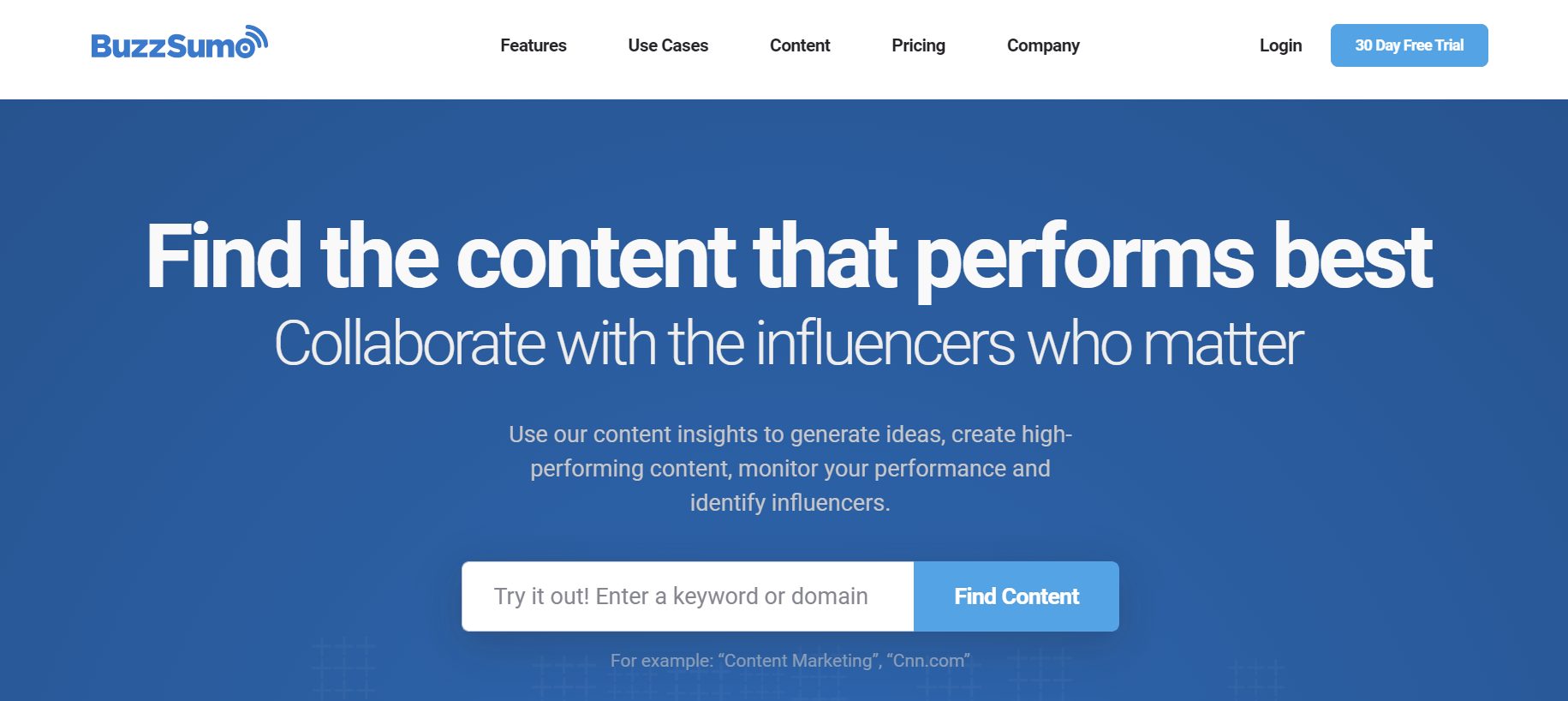 Plans: Pro $79/mo, Plus $139/mo, Large $239/mo, Enterprise $499/mo
Buzzsumo is primarily a content analysis tool but also acts as a social media listening tool. 
It allows you to comb the web for any content that includes your search term. It doesn't just give you search results, however. It also provides the amount of engagement associated with each search result. For example, if you set up a search for your organization, Buzzsume will find its online mentions. But it doesn't just tell you when somebody wrote a blog post criticizing your company's service, for instance. It also tells you that people shared that article 26 times on Facebook, and tweeted about it 478 times – which would require serious damage control.
BuzzSumo provides engagement figures for Facebook, Twitter, Pinterest, and Reddit. It also provides a total number of links each search result has received. 
Buzzsumo provides a useful alerts feature. You can create alerts to track brand mentions, competitor mentions, content from a website, keyword mentions, backlinks, or an author. You can set parameters for your alerts to tailor them to your needs.
---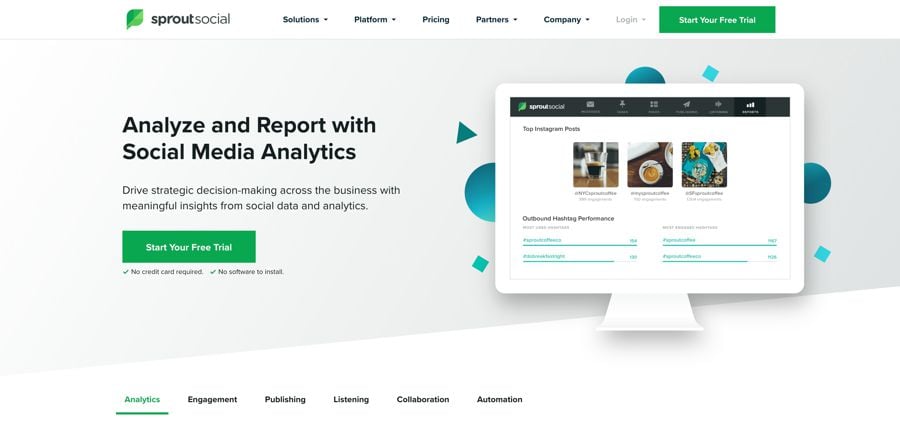 Plans: Standard $99/user/mo, Professional $149/user/mo, Advanced $249/user/mo
Sprout Social is a high-end professional social media management app. Although most of its features relate to social media management and optimization, it also includes social CRM tools and social media listening capability. It includes many collaboration tools, making it easy to work with a team.
Every time you enter Sprout Social, it presents you with a Dashboard, that offers you suggestions of what you should do next.
One of the most user-friendly features of Sprout Social is its unified Smart Inbox. You can reply to your messages, retweet/repost or repin content, like items, etc., all from within Sprout Social. You can group all of your messages in any way you desire. You can filter your inbox multiple ways including by keywords and hashtags.
Sprout Social's social listening feature works in much the same way as the Smart Inbox, and you can track mentions of your brand, your competitors, or selected keywords. You can quickly build complex queries, using Boolean phrases in the Query Builder, making your query visual and obvious. You can refine your searches to ensure that most of the mentions shown are genuinely about your firm.
---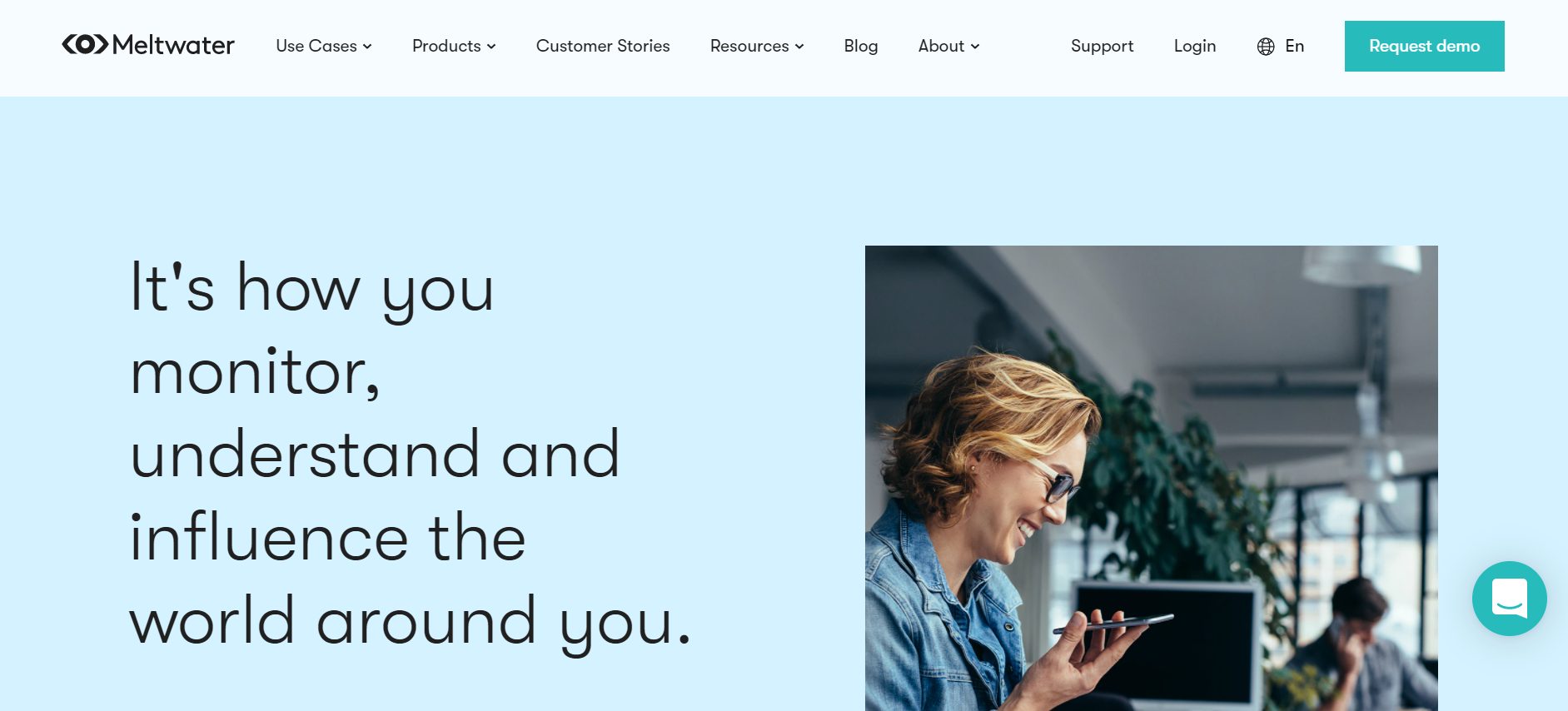 Plans: Not shown on website. Contact Meltwater for information.
Meltwater provides AI-driven insights, covering many aspects of an enterprise's activities. A significant aspect of this is its social media monitoring and engagement software, emphasizing analytics and focused engagement.
It looks at more than just social media, examining millions of posts each day from social media platforms, blogs, and news sites. It filters out irrelevant mentions and assigns sentiment to the mentions that interest you.
You can use Meltwater to set up searches, find key influencers, and track your online performance.
Meltwater incudes multiple dashboards, including some that monitor, benchmark, and analyze your online activity. You can also design customized dashboards to meet your needs better.
Meltwater allows you three keyword per search, and you can add numerous filters to refine the results. It carries out sentiment analysis on the results, determining whether each mention is positive, negative, or neutral.
---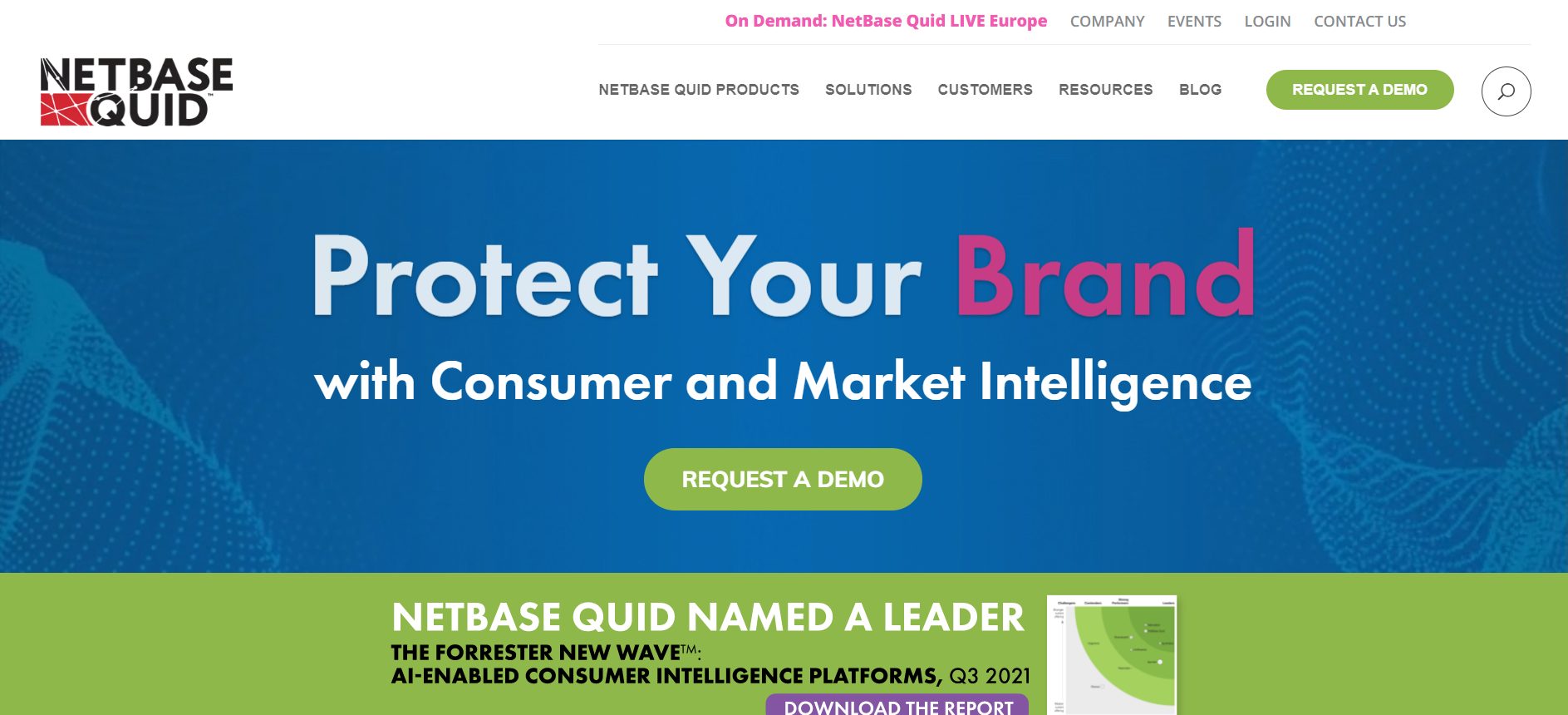 Plans: NetBase Starter, NetBase Business, NetBase Enterprise. Prices not shown on website. Contact NetBase for information.
NetBase provides real-time insight into customer conversations. It uses AI to determine emotions, behaviors, attributes, hashtags, people, and brands from social posts. NetBase's platform processes millions of social media posts daily.
It also uses non-social data, for example, surveys, focus groups, ratings, and reviews, to discover as much as possible about a business.
You can use NetBase to capture all the conversations about your business, across 99+ countries and 199 languages. It even includes analysis of the latest emoji and language.
You can use it to compare the performance of owned, earned, and partnered content.
You can also use NetBase's AI to discover when your brand appears in pictures. This can help you find out the most popular user-generated content relating to your brand on visual platforms, such as Instagram. At the same time, you can use it to see if anybody has misused your logo.
Forrester recently named NetBase, a leader in their social listening platforms report.
---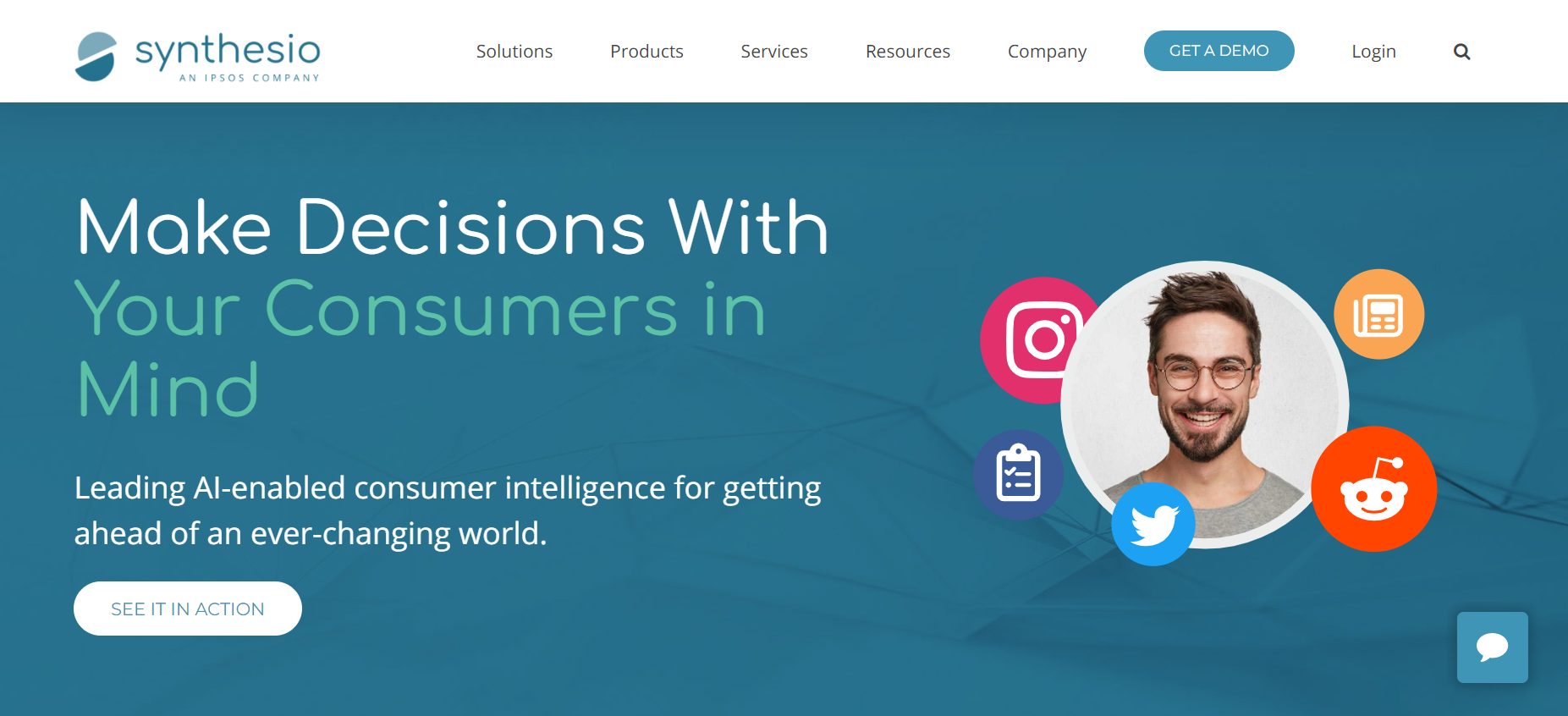 Plans: Not shown on website. Contact Synthesio for information.
Synthesio Social Media Intelligence Suite is a social listening platform that monitors businesses' online presence and provides their clients with actionable insights. It currently captures social media intelligence from 195 countries in more than 80 languages. It offers automatic sentiment analysis (AS) on more than 20 of those languages.
It features customizable Social Listening dashboards, displaying an immense amount of data relating to social mentions of your brand. All mentions in the Synthesio Social Listening Platform incorporate robust metadata about the content, author, and tone. They can be filtered easily.
You can also integrate into these dashboards paywall data from LexisNexis, logo recognition capabilities, and consumer reviews.
You can also track views, likes, favorites, replies, retweets, and shares from Facebook, Twitter, Instagram, and YouTube directly on your social media listening dashboards. You can add high-level business intelligence with Media Value and Engagement Rate widgets.
Synthesio enables you to export massive pre-filtered data sets via API or using an in-house tool, Reveal, and merge Social Listening metrics with performance data in many SaaS business intelligence tools.
---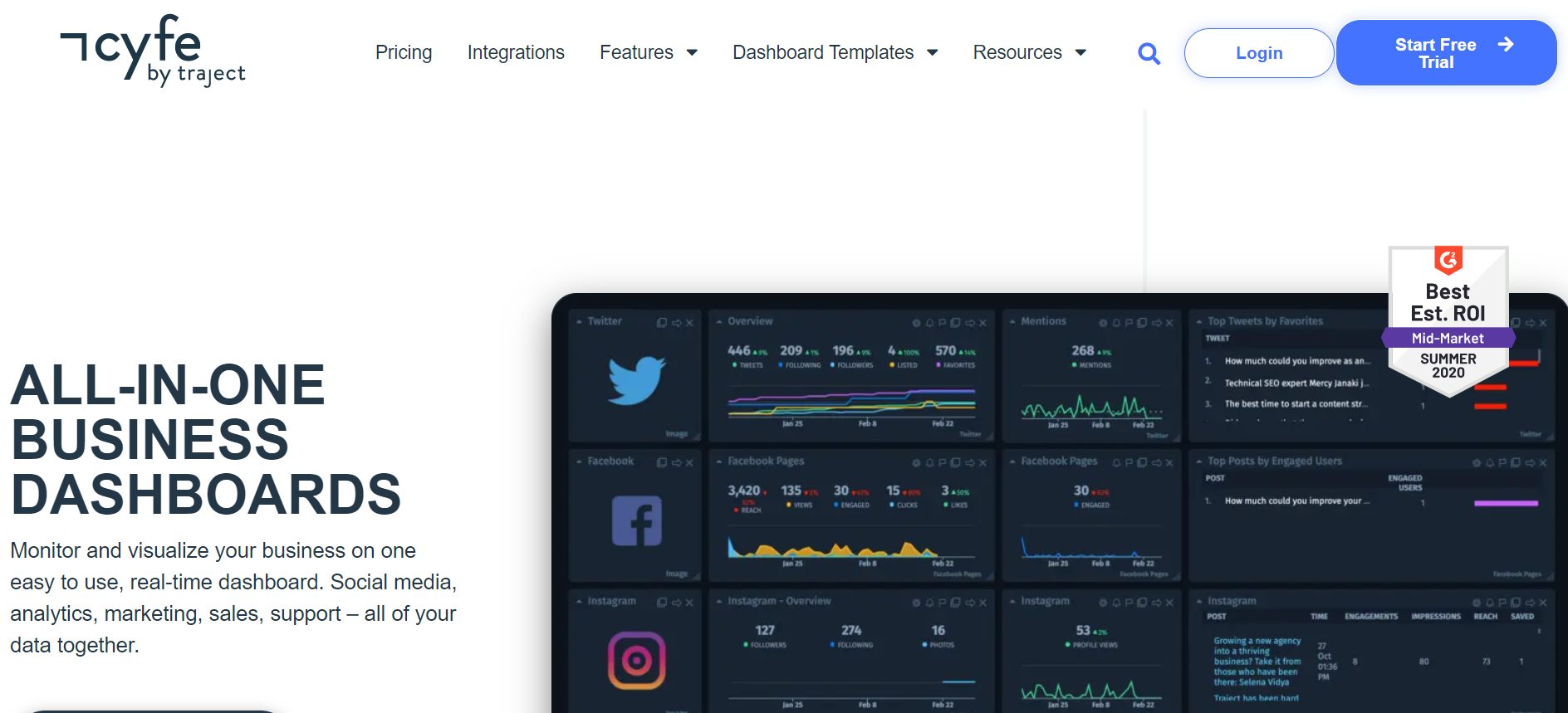 Plans: Free, Premium $29/month
Cyfe provides an all-in-one business dashboard showing social media, web analytics, marketing, sales, support, infrastructure, and more. You can pull data from popular services like Google, Salesforce, Xero, QuickBooks, and many more services using pre-built widgets. Alternatively, you can build your own widgets if you wish to work with a product not yet supported.
Cyfe includes dashboards relating to Start-up (data about new sign-ups, app downloads, subscriptions, and other related KPIs), Social Media, Marketing, Client, Web Analysis, Finance, Sales, and Project Management.
Clearly, Cyfe covers much more than just social mentions. However, it does incorporate social listening capabilities. It is also much cheaper than many of the more specialist products mentioned here.
Regarding the Social Media Dashboard, Cyfe uses real-time data and metrics to start tracking how your brand or clients are doing across Facebook, Instagram, Twitter, YouTube, Google+, Pinterest, YouTube, LinkedIn, and Vimeo.
If you opt for Cyfe Premium, you gain access to unlimited dashboards and widgets, with no limits on your monitoring. You can view data past the last 30 days.
---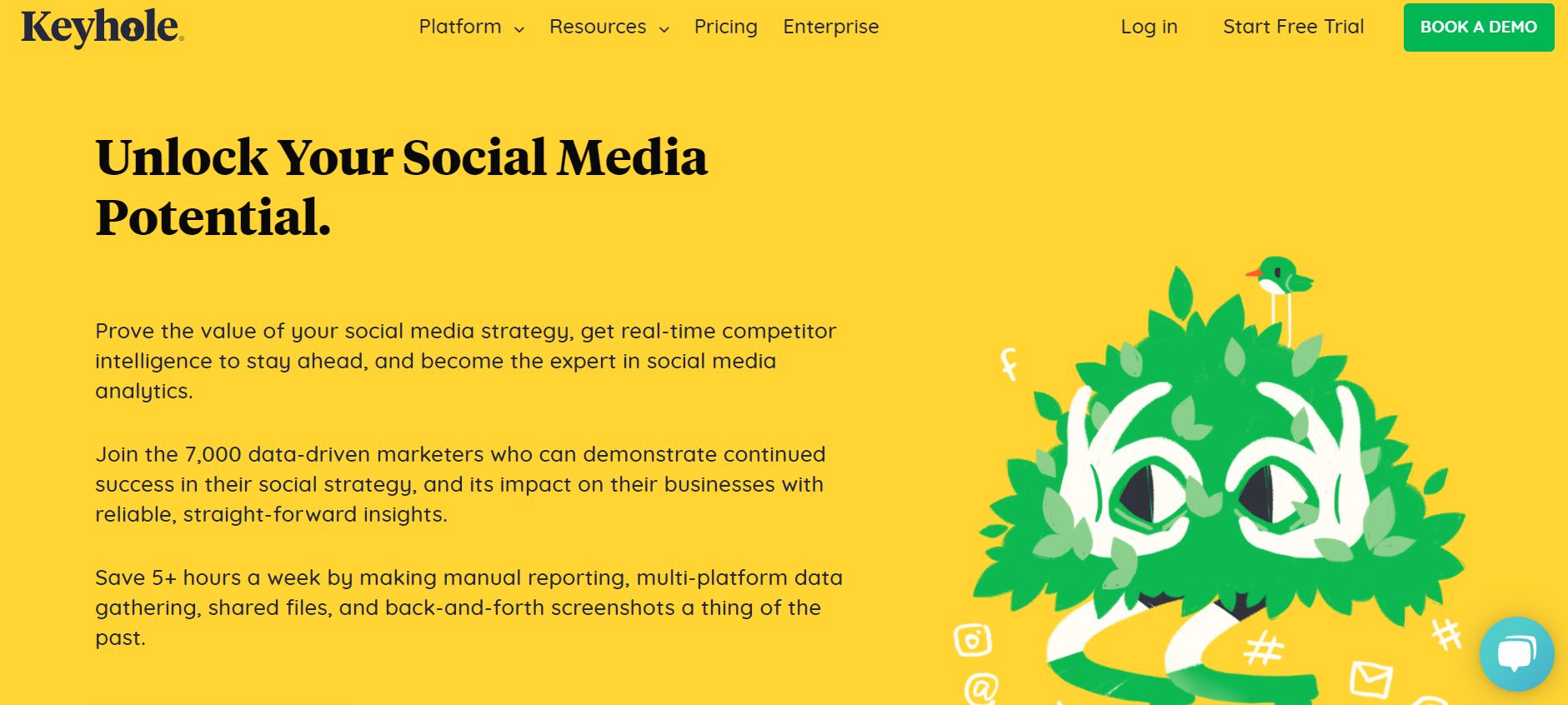 Plans: Professional $99/month, Team $199/month, Corporate $499/month, Agency $699/month, Enterprise – custom pricing. Discounts for annual payment. 7-day free trial.
Keyhole provides some online monitoring solutions. All plans include hashtag and keyword trackers, account trackers, and influencer trackers, but the quantity of each differ depending on the tier. Higher plans add in additional features, such as advanced sentiment analysis (at Corporate and higher), media wall and moderation (and influencer management (at Agency and higher) and more advanced analytics (on the Enterprise plan).
The heart of Keyhole is social media analytics and reporting for an account. You can monitor all accounts and posts in real time, and use Keyhole's analytics to help you optimize your posting schedule.
You can also monitor hashtags and keywords in real-time. You can use this to assist with social listening. You can use Keyhole's data to optimize and report on your hashtag campaigns. You can discover the total number of posts, the engagement rate, and the total reach and impressions your hashtags have generated.
---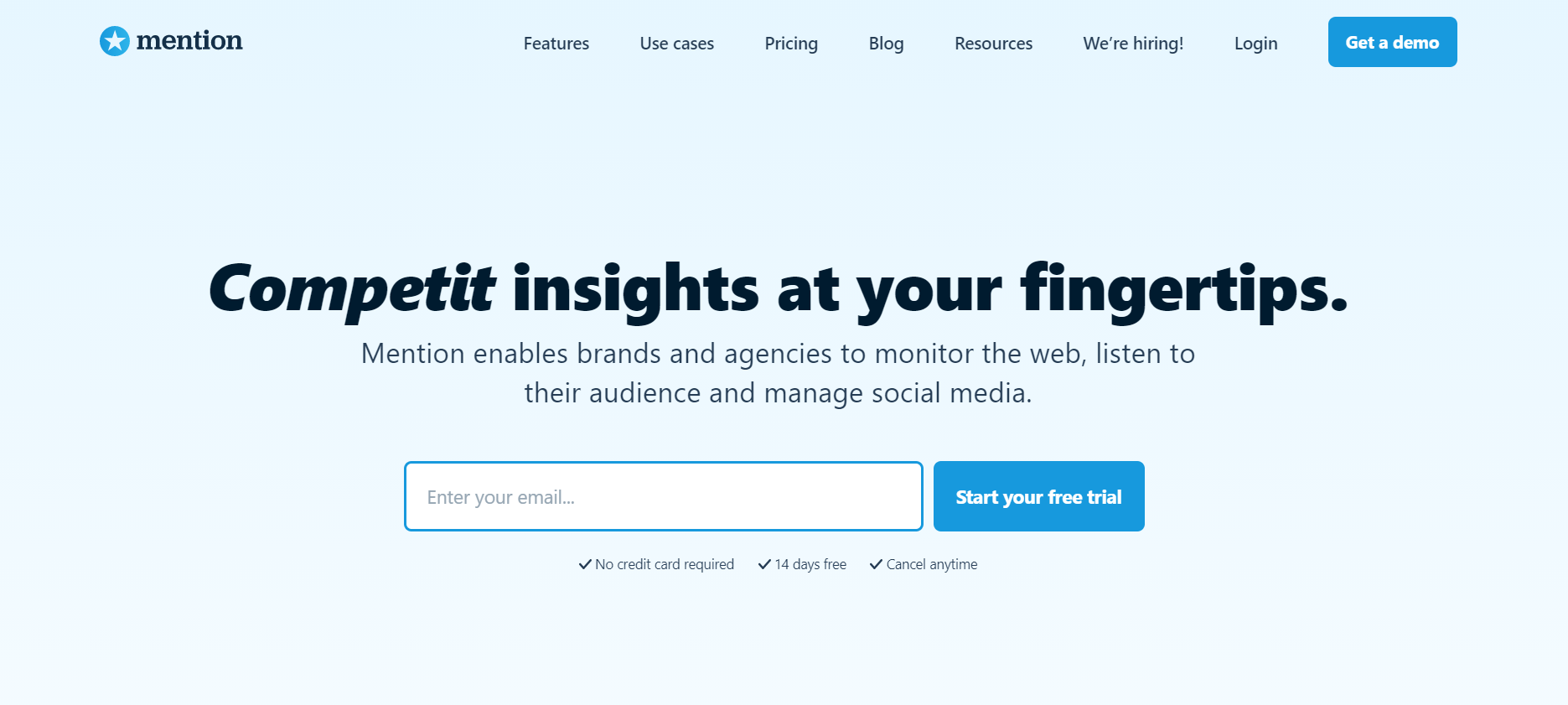 Plans: Solo $29/month, Starter $99/month, Company – custom pricing. Discounts for annual payment. Free trial.
You can use Mention to scour the web, social media, and more for powerful market insights. The Solo plan is designed for a solo user to monitor their brand. The Starter Plan targets small businesses to monitor their brand and competitors. It is at this level that you have a dashboard, have access to sentiment analysis, and can access an Influencer's Dashboard.
It is with the Company Plan, that you gain access to many of Mention's features, however. This is designed for companies who wish to grow their brand and business, as well as agencies. The Company Plan gives access to additional features, such as Facebook crawling, historical data, a Twitter dashboard, and more.
Mention helps you monitor the web, social media, forums, and blogs to learn more about your brand and your industry. You can quickly analyze public opinion with sentiment analysis for all mentions. Customize your alerts and filter by source, language, & date. You can refine your alert by adding or deleting keywords.
---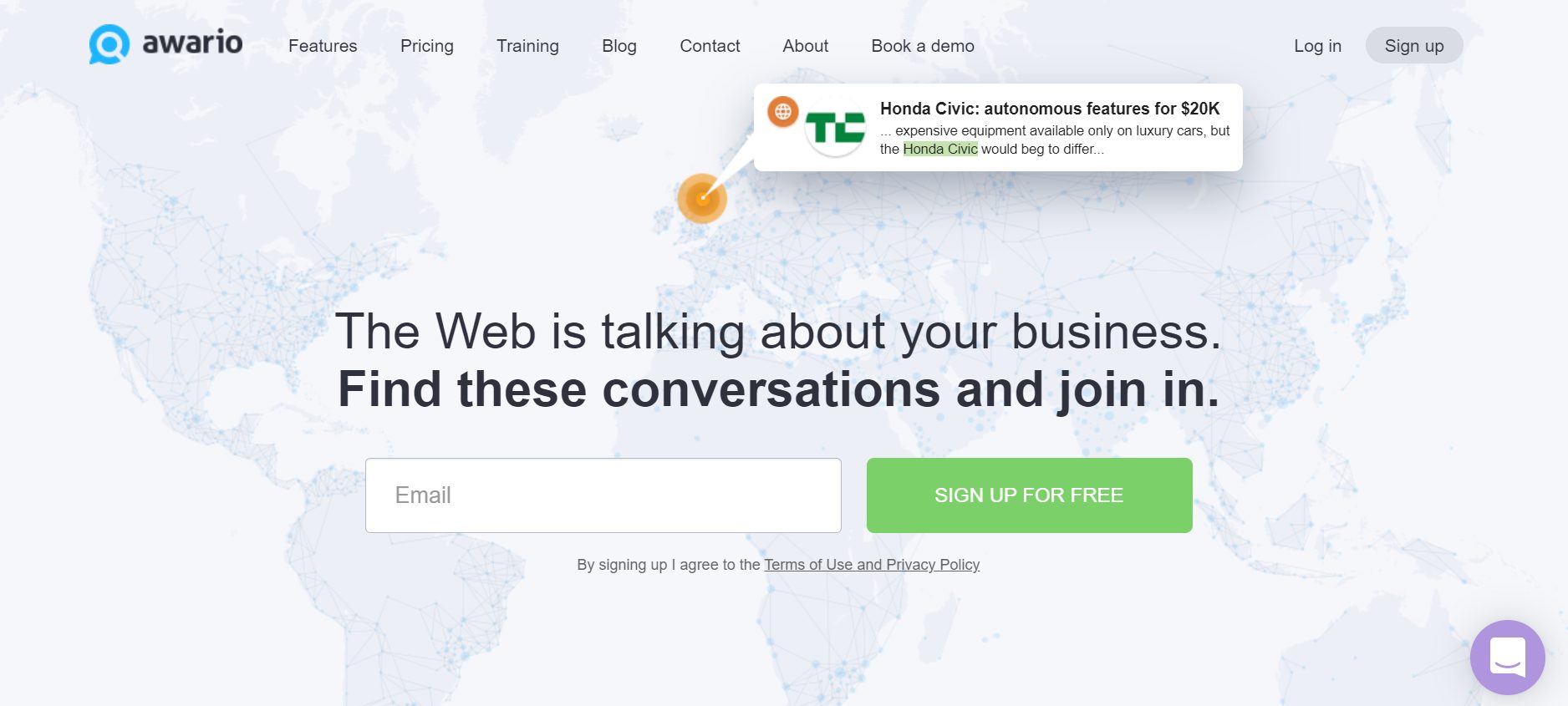 Plans: Starter $29/month, Pro $89/month, Enterprise $299/month. Discounts for annual payment. Free trial.
Awario finds Instant mentions from all around the Web and social media. It crawls over 13 billion web pages daily, in addition to APIs. You can use Awario to find all mentions of your business or organization's Twitter, Facebook, Google+, YouTube, Instagram, blogs, forums, news sites, or indeed any publicly accessible webpage.
The Starter Plan is designed for Individuals and small businesses monitoring their brand. Even at this level, you can set three mention alerts, one leads alert, and receive up to 30,000 new mentions per month. An alert is a keyword or set of keywords that Awario will monitor for you. A mention is a result that it finds.
The Pro Plan is best for small and medium-sized businesses monitoring their brand, industry, and competitors. With this plan, you can set 15 mention alerts and three leads alerts. It will find up to 150,000 new mentions per month.
The numbers grow further with the Enterprise Plan, targeted at more prominent brands monitoring multiple products and competitors. This level permits 50 mention alerts and 10 leads alerts. Awario finds up to 500,000 new mentions per month.
You can track the growth in the number of your mentions and their collective reach, sort mentions by positive, negative, and neutral with sentiment analysis, identify top influencers by social network, compare several alerts, and analyze progress with Awario's analytics.
---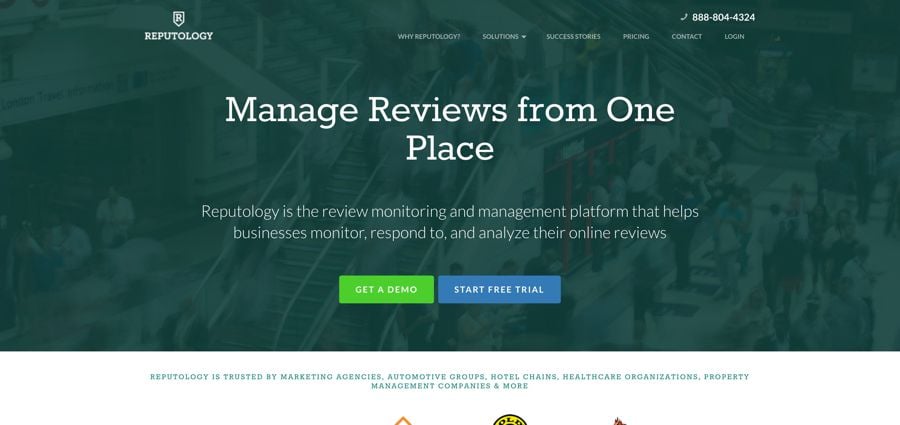 Plans: Single Location $29-$49/month, Multi-Location $10-$49/month/location, Agencies $10-$49/month/location. Free trial.
You can use Reputology to monitor, respond to, and analyze all of your online reviews from one place. It offers 24/7 review monitoring of over 100 review sites, including Google My Business,, Facebook and local search directories, employee review sites, app directories, and more. You can track reviews written about your locations, products, and services.
You can respond to reviews from within the Reputology platform. It includes semantic analysis technology that converts the unstructured content from reviews & feedback into actionable data.
---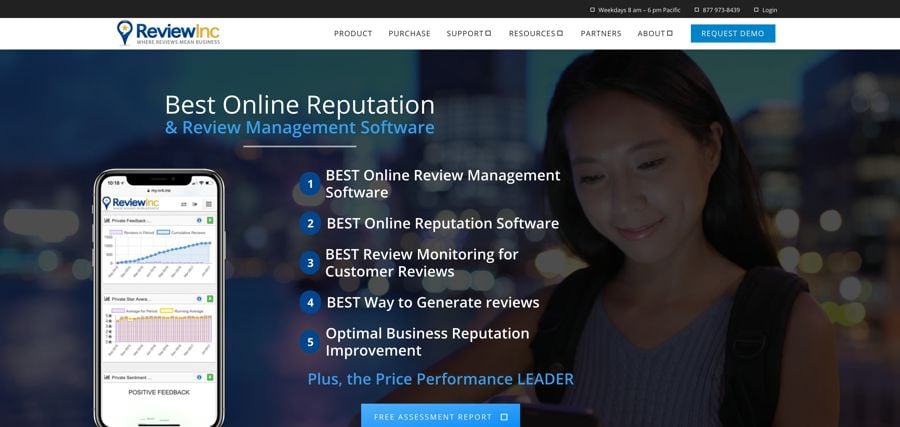 Plans: Monitoring $39/month/location, Basic $139/month/location, Pro $199/month/location, Enterprise – multi-location discounts, contact ReviewInc. Setup fees waived for annual contracts. Otherwise initial setup fee is $99 for Monitoring / $199 for Basic and Pro versions
ReviewInc offers online reputation and review management software. It follows a three-step process:
Review Monitoring – the software provides an aerial view of your online company reputation.

Collect more reviews – ReviewInc helps you to create a customized review marketing campaign that engages customers to give feedback about your business on the review sites like Google Maps, Facebook Reviews, and other review sites.

Amplify customer feedback – the system takes your great reviews and broadcasts it to the world. You amplify positive reviews with testimonials on your website, share them on social media with a single click, or even automate the process entirely with free Zapier and Hootsuite apps.
---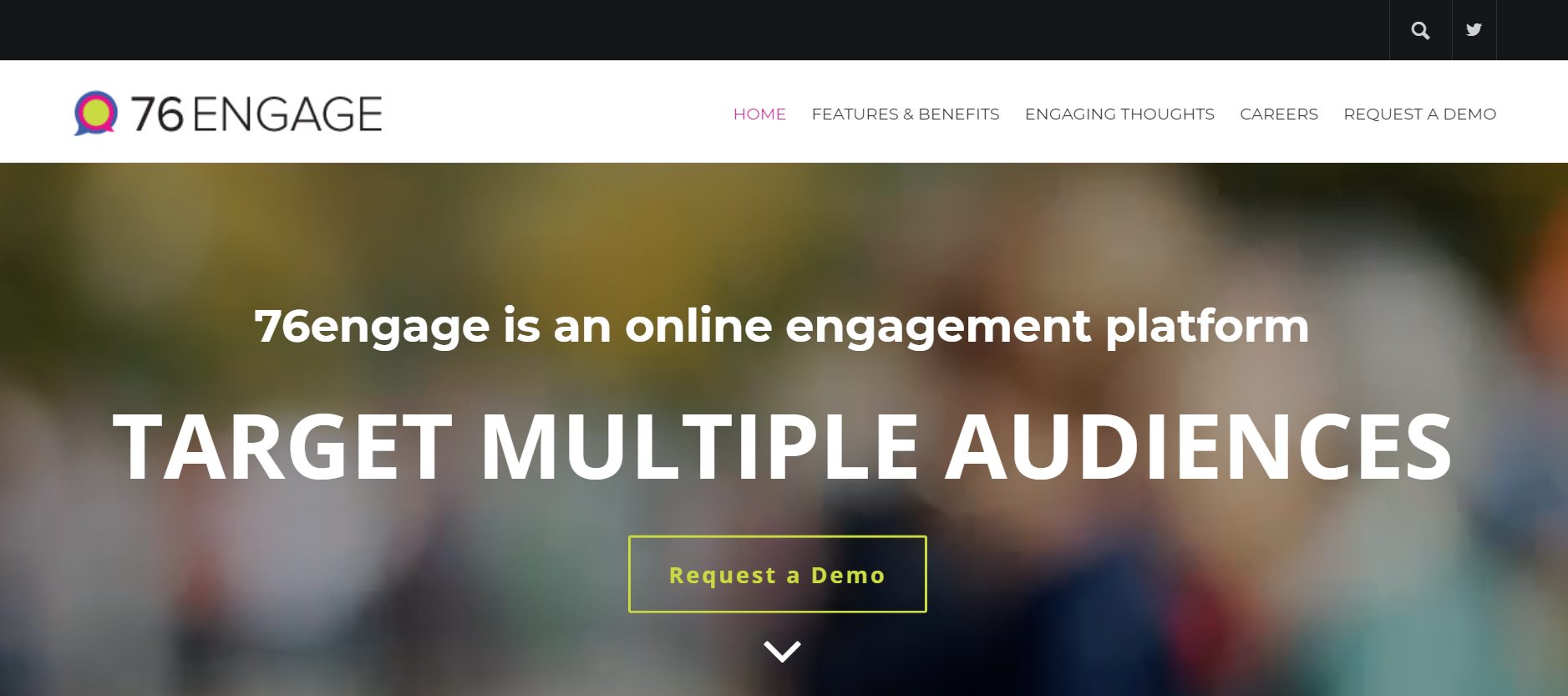 Plans: Not shown on website. Contact 76Insights for information.
Businesses can use 76Insights to provide them with insight into which articles, posts, and social objects are most successful and resonate with people. You can use the app to view posts in a graph or in a card view layout, filter posts, and share the most resonant content with your social networks and more.
The app enables you to identify the outliers that drive reaction on social media. It gives you resonance score breakdowns by social network. You can see your content performance with intuitive visualizations and group social accounts into handy watch lists.
---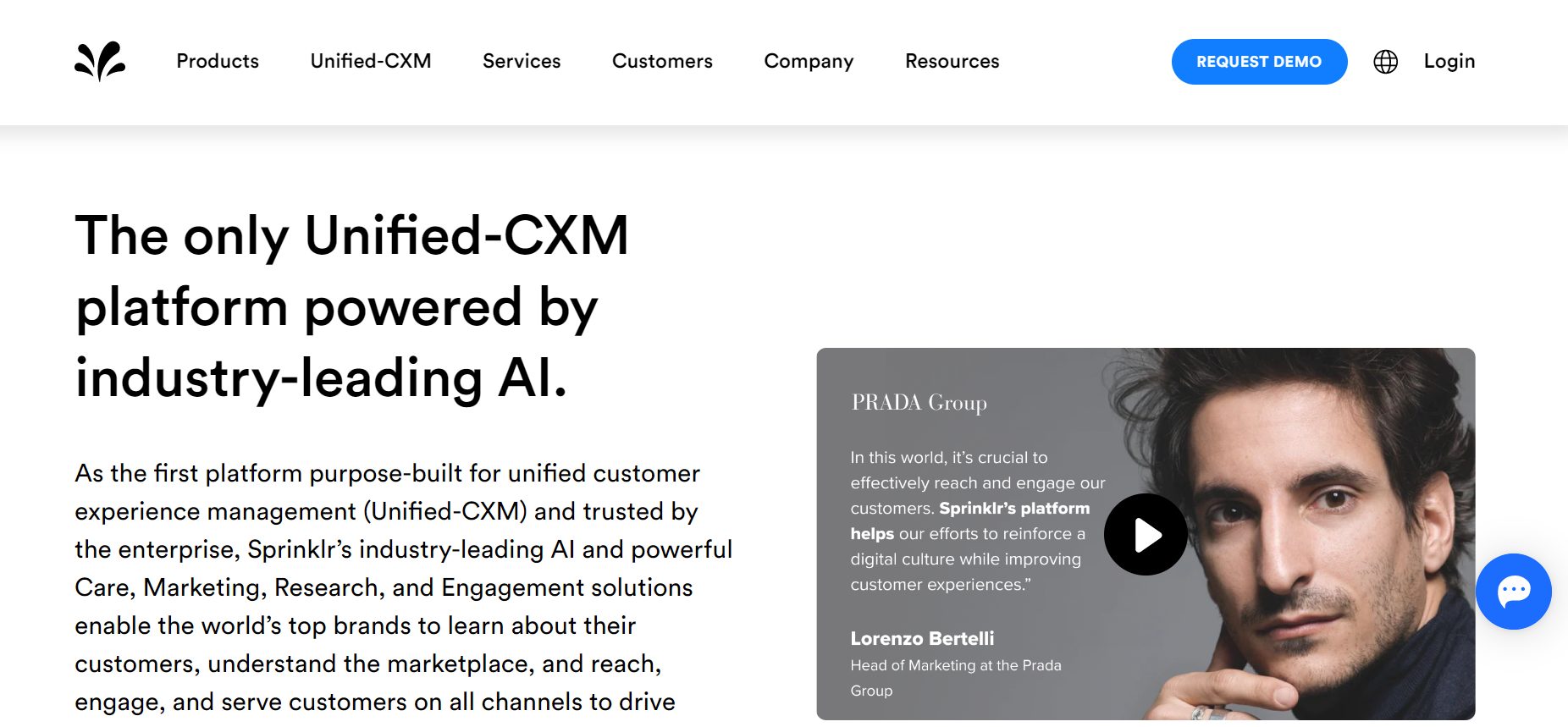 Plans: Not shown on website. Contact Sprinklr for information.
Sprinklr, as a whole, is a social suite for the enterprise. It has four elements:
Social engagement

Social advertising

Social care

Social advocacy
A central part of the suite is social listening. It listens to 3 Billion consumers across 350 Million sources – including 26 social channels. It allows you to see the volume, context, and sentiment of online conversations – both historical and real-time – and use that information to make strategic decisions that support business goals.
It includes endlessly drillable dashboards and surfaces real-time insights that connect to your unique business KPIs. You can also monitor competitive and industry activity to benchmark successes and decode competitors' strategy.
---
Plans: Not shown on the website. Contact Socialbakers for information.
Marketing with Socialbakers is a winning strategy for brands looking to optimize their social media marketing efforts. The company's suite of solutions provides detailed insights into the success rate and ROI associated with different campaigns, helping you make more informed decisions about which ones will work best in your case.
Socialbaker's social media listening tool allows you to monitor and analyze data from all of your company's touchpoints, giving insights into what customers want. You can use this information for campaign success by raising the content quality on each level, from conversation starters like hashtag searches or competitor monitoring through keyword research in posts themselves.
---

Plans: Not shown on the website. Contact Talkwalker for information.
Talkwalker is a social media marketing platform that empowers the world's most successful brands to drive business impact by bringing together data and insights from within your company as well outside sources like social platforms. Its listening platform provides a powerful tool for uncovering valuable information about client consumption habits.
With Talkwalker's social listening tool, you can monitor and analyze brand mentions across 10 different networks, including Twitter, Facebook, and Instagram. 
With its proprietary visual listening technology, it goes beyond the scope of just being a "social listening" tool. That's because you will be able track KPIs like hashtag performance, which ties efforts back to your business objectives, or customer sentiment. You will also be able to see the most popular topics being talked about in relation to your brand as well as understand how you rank against competitors.
---
Frequently Asked Questions
What are some of the advantages of Brand24?
Unlike some of Brand24's competitors, small or newer businesses will also be able to afford it. Its pricing starts at $49 per month, making it suitable for businesses of any size. It is also convenient to use as it shows you a mentions feed allowing you to reply in real time directly from Brand24's interface. You can also see if there has been a sudden surge in brand mentions which can indicate a possible issue with your brand.
Can I use Hootsuite for social listening?
Unfortunately, social listening is not included in the Hootsuite platform. Though, it does offer a separate platform, Hootsuite Insights, that is available at a custom price. With Hootsuite Insights, you can gauge the social sentiment around your brand on your own social channels as well as tap into conversations on blogs, forums, news sites and other public places. There are more than 100 million sources in over 50 languages across multiple social networks and platforms that you can access in real time.
How can you find out when your brand appears in pictures?
Some social media listening tools will be able to tell you when your brand has appeared in a picture. You can, for example, check out NetBase. With their AI, you can find out the most popular user-generated content that relates to your brand on social platforms like Instagram. You can also use it to find out if anyone has misused your logo.
Is Cyfe good?
Even though Cyfe is much cheaper than more specialist products like 76Insights, Sprinklr and YouScan, it is still a good choice as it offers an all-in-one business dashboard that shows social media, web analytics, marketing, sales, support, and infrastructure to mention only a few. It covers much more than simply social mentions and also includes social listening capabilities across Facebook, Instagram, Twitter, YouTube, Google+, LinkedIn, Vimeo and YouTube. To gain access to unlimited monitoring, you have to sign up for Cyfe Premium.
Are there affordable social media listening tools for small businesses?
Mention, Brand24 and Awario are some of the top social media listening tools that will fit the budget of smaller businesses. Mention has a Solo plan that costs $29 per month, while even their Starter plan which costs $99 per month is cost-effective for smaller businesses. Awario also has a Starter plan for $29 per month, while their next pricing plan costs $89 per month (which is slightly cheaper than Mention's). Brand24 is slightly more expensive at $49 per month.