When you're running a business, it's vital that you get a good understanding of your customers, who they are, how they interact with and experience your website, and how you can use these insights to deliver better experiences that address your users' needs and pain points.
Why is user behavior analytics a critical component for growth? How can it help both businesses and users? Let's shed some light on user behavior analytics (UBA), how it works, its benefits, and some statistics to add more context to UBA.
---
What's User Behavior Analytics?
---
What is User Behavior Analytics?
User behavior analytics (UBA) refers to data analytics that track, collect, and assess user data. This data can give you insights into important factors such as your audience's needs and wants, their behavior when interacting with your website, and what challenges they're facing when navigating your website.
Unlike basic metrics, UBA enables businesses to gain deeper insights into user behavior, which enables them to have access to actionable data, make data-backed decisions, and build more customer-centric experiences.
---
Types of Data and Actions You Can Track and Collect
When analyzing user behavior, you can track and collect the following: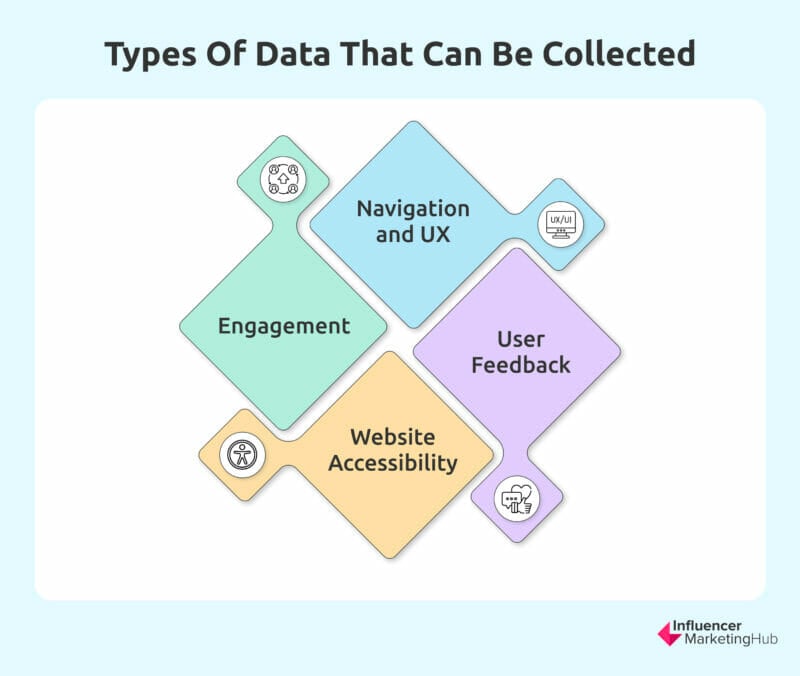 How do your users view and interact with your website? How you envision your site versus how your users actually interact with it will often be two very different things.
User experience is a broad category that can be tricky to measure. However, it's an essential metric that can help you improve your website's navigation flow and encourage visitors to stay on your website. Furthermore, these can help you understand what website elements your visitors are skipping, what sections they tend to spend more time on, what issues they're facing, and the factors that cause them to bounce. Some behaviors you can track under Navigation and UX include in-page clicks, mouse movement, user navigation patterns, and site speed.
---
User Feedback
Collecting user feedback is crucial if you want to better understand your visitors and implement data-backed decisions to improve their overall experience. To collect user feedback, you can use surveys and other feedback tools that are integrated into your website. Through such measures, you can get a clearer idea of how your visitors perceive your website, what's stopping them from completing a specific action, and their views of the product or service you're offering.
---
Website Accessibility
Website accessibility remains a pressing issue for persons with a disability. In a 2022 report by WebAIM, it was found that across one million home pages, close to 51 million accessibility errors were detected. That's an average of 50.8 errors, or accessibility barriers, for each page, which adversely impact a website's end users. When businesses don't prioritize accessibility, they can potentially lose revenue and face lawsuits and litigation. This is why it's important to collect data on website accessibility and use that to make your site more accessible to a wider audience.
---
Engagement
When someone visits your website, there's no guarantee that it will lead to a conversion, which is why it's crucial to nurture customer engagement at each point. When tracking engagement, you can measure behaviors such as live chat engagement or engagement with your site's chatbot. Using the data collected, you can derive answers for common questions, such as common issues your visitors are encountering when navigating your site, like issues with UX or content.
---
Why Should You Analyze User Behavior?
Analyzing user behavior can help equip your business for growth and success. This is primarily because UBA allows you to understand your visitors and their behavior, as well as their pain points, better. Without data derived from UBA, it can be tricky to attract new visitors or continue to engage your existing ones. Furthermore, by leveraging UBA, you can offer better customer experiences, which can help give you a competitive edge.
With UBA, you can use the data you've collected to improve your website or your software, along with other important elements such as its content and functionality. Moreover, by using analytics data, you can better determine whether your website is offering value to your visitors. Plus, it can give you insights into issues like bugs and crashes that you can use to fix them and prevent such problems from arising in the future.
Aside from these above mentioned reasons, you can use user behavior analytics to offer personalized advertising to your visitors, which can help increase conversions and the likelihood of them making a purchase or completing a desired set of actions before leaving your website. Also, you can use the insights you gained from UBA to improve your products or services. For example, you can check UBA data to spot performance issues. From there, you can take measures to address these problems, thereby reducing friction and allowing you to deliver better customer experiences, which can lead to improved customer satisfaction, loyalty, and conversion rates.
---
Top 12 User Behavior Analytics Stats and Facts
1. The User and Entity Behavior Analytics Market Can Potentially Grow to $4.2 Billion by 2026
The User and Entity Behavior Analytics (UEBA) Market is projected to reach $4.2 billion by 2026. One of the main factors contributing to this growth is the increase in threats related to data and cases of fraud. In addition to that, the increased acceptance of behavioral analytics tools across different industries is also fueling the market's growth. It's predicted that within this year, the US UEBA market will reach approximately $384.5 million, while China's UEBA market is projected to reach approximately $778 million by 2026, indicating a CAGR of close to 50%.
---
2. Today's Consumers are Increasingly Turning to Online Channels for Shopping
One trend in consumer behavior that continues to gain traction is how today's consumers are increasingly turning to online channels to shop. According to a GWI report, there was a significant increase (36%) in the number of Americans doing their grocery shopping online. Moreover, we're seeing a rise in the number of shoppers who are using social media platforms to shop. For instance, 48% of consumers, a 30% increase from April-June 2022's 35%, are willing to make a purchase from TikTok.
---
3. Personalization Continues to Be In Demand
Personalization will still be a major player in the coming years, with consumers continuing to demand—and expect—it from brands. According to HubSpot, 53% of marketers are making use of message personalization as part of their marketing strategy. By using UBA, you can offer more targeted and personalized experiences to your audience primarily because you get insights into their preferences, behaviors, and pain points—data that you can use to create bespoke experiences for each segment that you have.
---
4. Positive Customer Experiences Continue to Influence Purchasing Decisions
According to a Statista survey, 94% of consumers are likely to purchase from a business again if they get a positive customer service experience. Moreover, the same survey shows that 82% of customers have recommended a company based on positive customer service.
What do these numbers mean, and what role does UBA play in all of this?
User behavior analytics gives you deeper insight into your audience's behavior and how they interact with and perceive your website and, by extension, your brand. Thus, you can use UBA to deliver more optimized and targeted experiences to customers, allowing you to achieve results like being able to address their pain points and how you can add more value to their lives through your content for example.
---
5. Behavior Analytics Helps Companies Achieve A Range of Objectives
Aside from helping brands predict buyer behavior and create relevant offers, behavior analytics can enable them to achieve the following objectives:
---
6. Having Too Much Data is a Key Challenge
Despite the advantages of using behavior analytics, it also poses a slew of challenges, one of which is having too much data. This runs the risk of keeping said data in siloes and not implementing the right technology to make use of all the data at hand. Moreover, having access to too much data can open up the risk of companies not being able to keep their customers' data safe.
---
7. Common Barriers to Behavior Analytics Include the Lack of Clear Goals
Aside from having access to a large volume of customer data, another barrier to leveraging behavioral analytics data is the lack of clear goals. Without such goals, it can be challenging to establish the right KPIs to measure your performance. Another common barrier is using siloed data, which can produce inaccurate and even incomplete results.
---
8. One of the Main Factors Preventing the Growth of Behavior Analytics is Lack of Awareness
Lack of awareness among SMBs, particularly about cybersecurity attacks, is one of the main reasons that's preventing the growth of the behavior analytics industry. This lack of awareness also stifles the demand for analytics technologies.
---
9. Some of the Companies Working on Behavior Analytics Tools Include Instagram and Pinterest
Popular social media platforms and search engines like Google and Facebook use behavior analytics and related tools to understand users' behavior online, improve their services, and generate revenue. Other social media platforms that are known to use behavior analytics include Instagram, Twitter, and Pinterest. Some companies use UBA to develop their strategies, design products that meet their audience's needs and find bottlenecks that affect their conversion or marketing funnel.
---
10. Behavior Analytics Can Improve Sales Growth by as Much as 85%
Companies that make use of customer behavior insights can improve their sales by as much as 85% and enjoy gross margins of up to 25%. By leveraging behavior analytics, you can identify bottlenecks and improve your conversion processes, which can positively impact your conversion rates.
---
11. User and Entity Behavior Analytics Is a Rapidly Growing Aspect of Enterprise Security
UEBA is poised to become one of the fastest-growing aspects of enterprise security, seeing a CAGR of 48%. Furthermore, it's expected that within this year, UEBA technologies will be seen in as much as 80% of solutions geared toward threat detection and incident prioritization.
---
12. Gen Z Buyers Are Leading the Change
Gen Z consumers are a major contributing force to the growth of social buying and are more likely to embrace social commerce compared to older generations. Using UBA allows you to understand this demographic, what they're looking for, and how you can design your website and products or services to address their pain points. Furthermore, through UBA, you can understand their behaviors better. For instance, you can leverage UBA to understand how Gen Z consumers are searching for new products or what types of content they're after.
---
How Analyzing User Behavior Helps Companies
Why should businesses look into user behavior analytics? Here are several reasons why you should incorporate UBA into your growth strategy:
UBA allows you to understand why your visitors are doing what they're doing. For example, you notice a high cart abandonment rate. What's stopping them from making a purchase? By looking at user behavior, you'll get to see how users behave on your website. You'll also get to see what's preventing them from completing an action, such as bugs or crashes. Lastly, you can use UBA tools, like on-site surveys, to encourage visitors to stay while learning more about their experience and using what you've learned to create a better experience.

Analyzing user behavior gives you a pulse on what makes your visitors tick. This includes what they're paying attention to and what they're ignoring. For this, you can use

behavioral analytics tools

like heatmaps to see which elements they're interacting with the most and whether or not they're noticing your CTAs.

UBA can help you get into the mind of your visitors to see what motivates them to take a specific action, learn about what wants or pain points, and how you can offer a better experience to them. UBA takes out the guesswork and gives you concrete data you can use to target key moments in the user's journey so you can get a better understanding of their actions or what elements can help encourage conversions.

Analyzing user behavior can lead to sustainable growth. Data can give you a clearer picture of your customers' interactions with your products or services, which you can use to predict their behavior. Moreover, using machine learning techniques to complement your UBA can lead to more accurate data that you can use to shed some light on possible future interactions. Taking all of these into account, you can use UBA to improve customer retention, prevent churn, and offer better outcomes to your customers.

UBA can help you identify which content type your visitors interact with the most and which ones they value. This will allow you to create content that better caters to their needs or what they're looking for. For example, you've identified that users are looking for or are interacting more with content about how to streamline their workflows. With this insight, you can take appropriate actions such as creating a series of articles or how-to guides that will help them optimize their workflows.

UBA can help you improve how you market your brand and thus, influence how your visitors perceive your brand to some extent. You can leverage user behavior analytics data to tap into the personal preferences of your audience. For example, you can look at the trends they're paying attention to, the purchasing power of each segment, and the economic conditions of your target market. Doing so will allow you to position your brand, along with your products or services, accordingly, helping your audience see you as something essential or value-adding, instead of just another luxury brand they can do without.
Frequently Asked Questions
What tools can I use to analyze user behavior?
You can use behavior analytics software to monitor user behavior. Some of the common types of behavior analytics tools you can use include split testing (A/B) tools, heatmaps, and feedback tools.
Some of the UBA tools you can use include:
Google Optimize

Google Analytics

Crazy Egg's split-testing tool

Hotjar Session Recordings

Hotjar Heatmaps

Lucky Orange for conversion rate optimization
How do user behavior analytics and UBA tools work?
User behavior analytics works by analyzing user behavior and data. UBA tools collect website data, such as page views and bounce rates, that can give you insights into user behavior. Often, these tools use cookies to collect user information. Given that such tools collect a broad set of data, you can complement these with tools that incorporate artificial intelligence to refine results, process large data volumes, and get better insights.
What key metrics should I monitor in user behavior analytics?
Some of the key metrics you should monitor in user behavior analytics include:
Bounce rate

Active users

Average session duration

Pages per visit

Feature usage

Retention rate

Stickiness ratio