It's no secret that in 2023, consumer expectations from brands will continue to increase. Businesses across the globe are looking for ways to provide their customers with more personalized and immersive experiences that will exceed their expectations. As the number of people who use online channels to purchase products and services increases, e-commerce continues to thrive. Estimates show that by 2025, the industry will grow 50% higher. This promises lots of opportunities for sellers worldwide. But it also means that competition for customers will become more intense than ever.
eCommerce analytics equips brands with the data and insights that will allow them to get a deeper and more comprehensive understanding of their customers. This, in turn, helps brands build more robust marketing strategies, offer improved products and services, boost sales, drive revenue and ROI, and better position themselves as a solution to their customers' pain points.
If you own an online store, keeping up with the competition should be one of your primary concerns. You have to take the steps necessary to set yourself apart from the rest. Fortunately, there are lots of strategies you can use to help you get ahead. One of those strategies is analyzing data to help grow your sales.
But before we delve into this strategy, it's important to understand what e-commerce analytics is and why it's important for your brand.
---
E-Commerce Analytics: How to Use Data to Grow Sales:
---
What Is E-Commerce Analytics?
The eCommerce analytics market is growing and is projected to become a USD 32.79-billion market by 2027, driven by the continued growth of the eCommerce industry and the increased adoption of eCommerce channels. The rise in the number of tech-savvy consumers with access to mobile devices and the increasingly expansive reach of the internet has also contributed to the eCommerce analytics industry's growth.
eCommerce analytics is the process of discovering, analyzing, and leveraging large amounts of data to measure consumer behavior, monitor performance, understand trends, and show return on investment for campaigns. Brands and marketers use eCommerce analytics to make data-driven decisions that will help them improve business performance and sales. It involves a detailed analysis of different datasets, including marketing data, traffic origin, audience behavior, and customer demographics.
By integrating various analytics tools with platforms like Shopify, online store owners can better collect and analyze data to improve performance and sales. E-commerce data analytics involves using a data dashboard to display data in a way that is easily understood and interpreted, which helps to eliminate the need for guesswork and allows for informed actions based on consumer patterns.
The e-commerce industry is undeniably flourishing, with the global industry worth $4.9 trillion in 2021 and expected to reach $7.4 trillion by 2025. However, companies face challenges in streamlining the customer experience, winning customer loyalty, reducing shopping cart abandonment, and increasing conversion rates. To overcome these challenges, companies need to collect and analyze data, including sales, channel options, conversion rates, and behavior patterns. By leveraging these insights, e-commerce businesses can optimize operations, execute effective strategies, and drive customer retention.
---
Types of eCommerce Analytics and Key Metrics
There are different types of eCommerce analytics that you can use to create a better marketing strategy. In this section, we'll highlight five popular types of eCommerce analytics.
Audience
Audience data analytics gives you deeper insights into your audience, such as their demographics and what devices they're using to access your store. You can make informed decisions on advertising, shipping options, and how you display your marketing content using audience data.
Acquisition
Customer acquisition data paints a picture of your customer's journey, including how they found your business and what pushed them to visit your website. Through acquisition data, you can get insights into which marketing channels are the most effective at bringing in customers and which ones are responsible for driving sales and conversions.
Behavior
Knowing how your audience behaves once they're on your website can give you a better idea of how you can improve your online store or create enhanced user experiences to better cater to the different ways that people interact with your business. Some of the key insights you can derive from behavior analytics include knowing which products your customers are buying, which pages they visit first, and how much time they spend on your website.
Conversions
Conversion analytics lets you know when and how your audience converts into paying customers. Knowing conversion and conversion-related factors, such as cart abandonment rates and how long it takes for a visitor to become a customer, can help you make better, more valuable, and more appealing offers to your customers.
Paid Marketing Activities
Studying analytics for paid marketing analytics gives you an idea of how much ROI your paid marketing activities bring into your business. For example, you can see how much revenue your paid ads have generated and assess their effectiveness. Knowing whether your paid marketing campaigns are effective also helps you determine which ones are working to grow your bottom line instead of spending a lot of money on paid marketing activities that don't deliver results.
---
Which Metrics Should You Be Keeping Track of?
The customer journey consists of five stages: awareness, consideration, conversion, retention, and advocacy. There are specific metrics associated with each stage of the sales process to help you prioritize prospects and increase conversions.
Your reports need to include these metrics for effective monitoring.
---
Awareness Metrics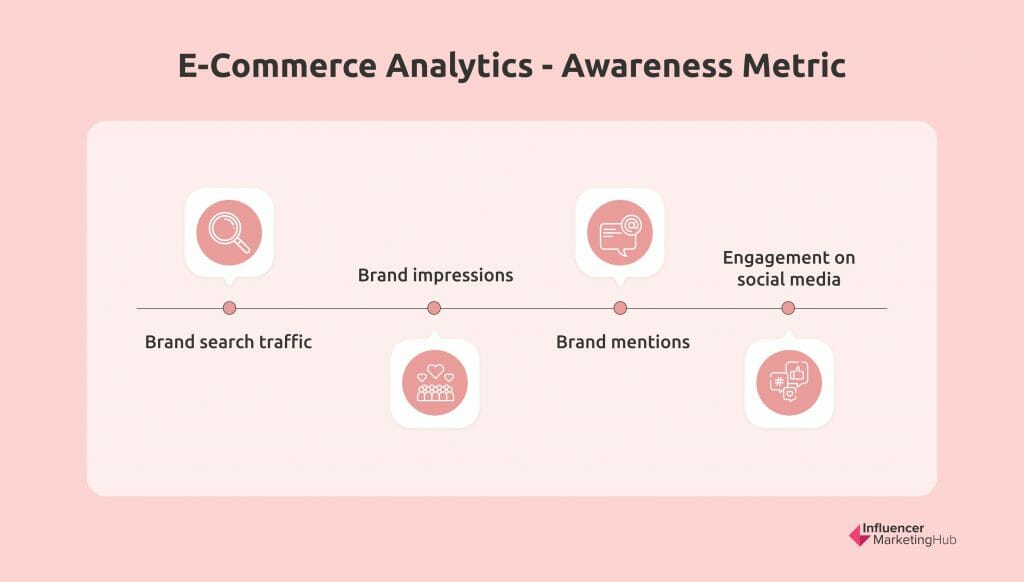 Awareness is the starting point of the customer journey. It is at this point that potential clients find out about your brand or business.
As a first step to determining which channels you should use, find out what channels your customers utilize the most. If your prospects found you through social media ads, it may be worth considering paid ads. In case most of your customers came to you through word-of-mouth, improving your referral strategy is a good idea.
Here are some of the metrics you can use to determine the recognizability of your brand.
Brand search traffic: This is the number of visitors who found your website through a branded search term in a given time frame.
Brand impressions: You can see how often the content of your campaign has been accessed by consumers by checking impressions.
Brand mentions: This metric is a good indicator of brand awareness and buzz. The term "mentions" refers to unsolicited marketing from consumers, such as reviews or website links from online users.
Engagement on social media: This lets you learn about client opinions and how frequently you're mentioned. Social media engagement can include likes, comments, shares, tweets, and views of videos. This metric helps you determine what content is appropriate across social media channels and how to keep engagement up.
---
Consideration Metrics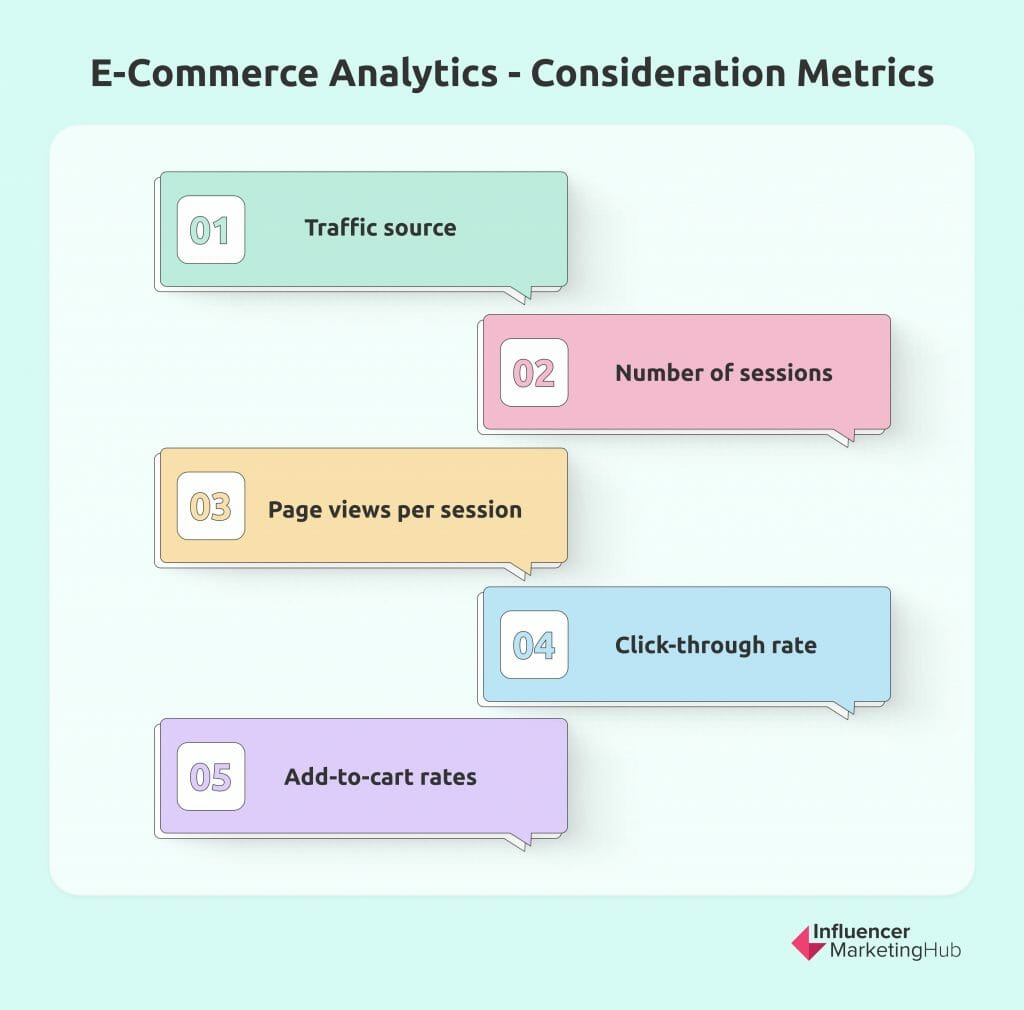 Consideration occurs when shoppers access your website and check out the products you have to offer. At this stage, there hasn't been any purchase made. However, their attention has been caught by what you have for sale, and they are contemplating buying something from you. Using this metric, you can see your website's progress toward generating sales. In addition, it will tell you what percentage of visitors left your site following a look at your products.
Here are some of the consideration metrics you can keep track of.
Traffic source: This refers to the way people found your website.
Number of sessions: The number of sessions on your site is the total number of visitors, both new and repeating. When a visitor interacts with your website within a certain time frame, this count as one session.
Page views per session: This is the total number of page views on a website divided by the number of sessions. It shows the average number of pages accessed per session by users. More pages per session indicate that your content is engaging and visitors are interested in exploring more.
Click-through rate: This helps you gauge the effectiveness of your keywords, ads, emails, and other content. This is calculated by how many clicks your ad gets divided by how many times it is displayed.
Add-to-cart rates: This indicates how many visitors placed at least one item in their shopping cart while they were on the site. This metric provides valuable information about the products you offer, your marketing strategies, and user experience.
By utilizing consideration metrics, you can gain essential insights into which sources are most likely to generate traffic so that you can focus on them and get more views, lower bounce rates, and higher conversion rates.
---
Conversion Metrics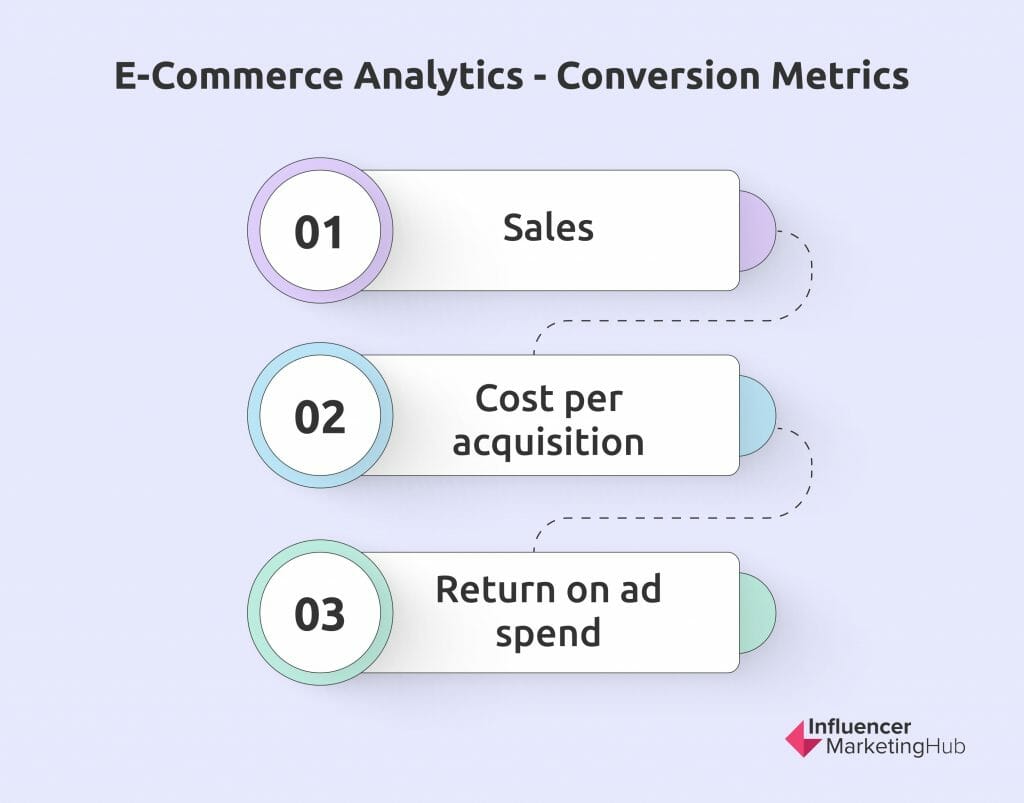 At this point, the visitor to your website is converted into a customer. Conversion metrics help you determine which channels are most effective. They will assist you with budgeting and provide you with an overview of which channels perform best when it comes to conversions.
There are many factors you'll have to take into account when choosing which channel is right for you. But knowing how much it costs to convert through various channels is already a good indicator of where you should allocate more resources. The number of sales is not the only figure you should be focusing on when tracking conversion metrics. Consider metrics that give you an idea of the worth of those sales and which conversion campaigns you need to improve on.
Sales: These are the profits a company earns by selling products to consumers.
Cost per acquisition: This metric measures the cost of getting a customer through your sales funnel.
Return on ad spend: This indicates how much revenue is generated with each ad dollar spent.
---
Retention Metrics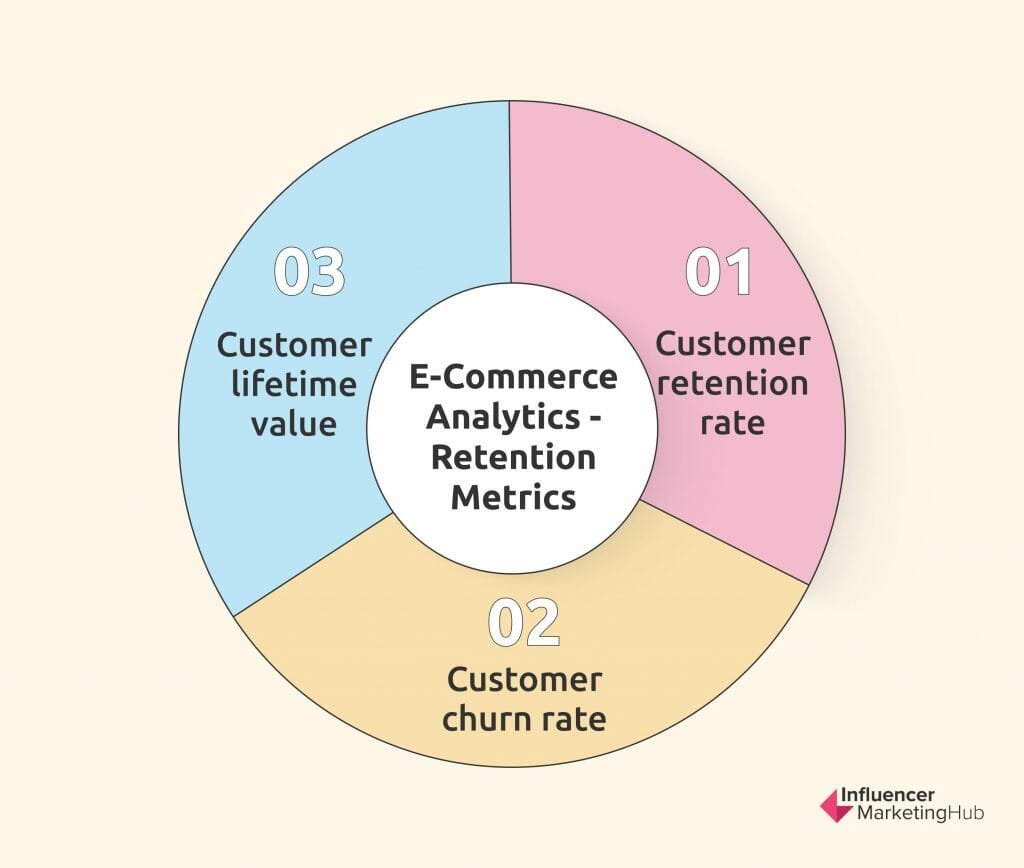 Customer journey goes beyond making people buy your product. You need to keep those customers interested and turn them into loyal customers who will keep buying from you and spread the word about your brand.
Retention metrics show you which customers continue to buy from you and for what reasons. This is a good way to find out which channels work best for increasing customer loyalty. It reveals which channels should be prioritized over those that generate one-time sales.
It's ideal if customers stick with you and support your business in the long run. With retention metrics, it should be easy to see if you're on track or if anything needs to be changed.
Customer retention rate: This indicates how many customers a business retains over the long run.
Customer churn rate: This refers to how many of your customers discontinued using your product or service over a certain period.
Customer lifetime value: This represents the amount of revenue derived from a customer over the course of their relationship with the company.
---
Advocacy Metrics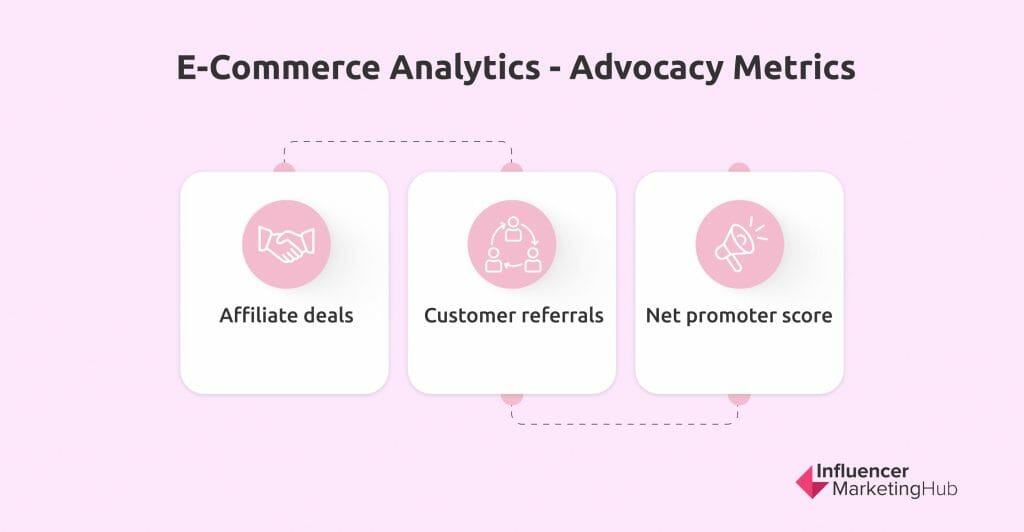 Advocacy metrics show how many people recommend your product or brand to others. You can track these metrics by asking current customers during quick checkout or through email surveys. There can be some difficulty monitoring these metrics, but the following can help you get started.
Affiliate deals: This indicates how well your brand has been promoted by affiliates through their networks.
Customer referrals: This is how many people found you by word of mouth.
Net promoter score: This metric is used to measure customer loyalty and contentment with a business. Customers answer: How likely is it that you would refer this company or product to others? NPS helps companies enhance service, customer service, quality, and more so that customers remain loyal to them.
---
Why eCommerce Analytics Matters — Benefits of Performing eCommerce Analytics in 2023
The eCommerce industry is expected to grow bigger in the coming years, and along with its growth comes the consumers' changing needs and expectations.
A Morgan Stanley report indicates that the eCommerce market could potentially grow to $5.4 trillion in 2026. The same report further highlights how retail sales continue to grow globally. For instance, in South Korea, the eCommerce market is projected to increase to 45% within the next five years. In the US, eCommerce market sales could jump to 31% by 2026, indicating a significant increase from 2022's 23%.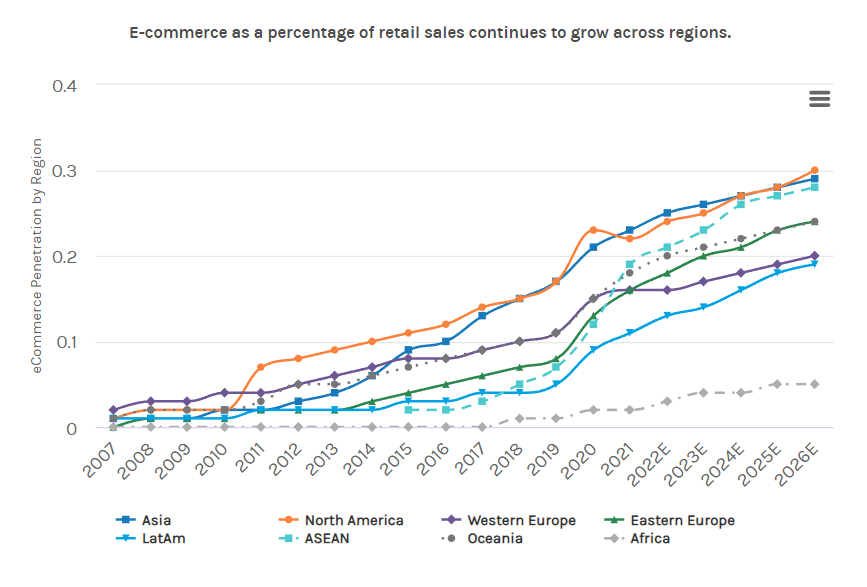 How can businesses keep up with this trajectory? How can they equip themselves to match or even exceed their customers' expectations?
eCommerce analytics benefits eCommerce businesses in a number of ways, such as equipping them with actionable data to help them make more informed decisions. It also eliminates speculation, using data to paint a clearer picture of your business's performance.
What else can eCommerce analytics do for your business?
Utilize marketing data
Often, eCommerce businesses have tons of marketing data but can't leverage it for growth. eCommerce analytics enables businesses to have access to actionable data and insights that they can use to create a more comprehensive marketing strategy.
Assess the effectiveness of marketing campaigns
eCommerce analytics allows businesses to measure the performance of their marketing and sales campaigns. Through data, they can see whether or not a particular campaign is effective.
Discover trends
Analytics is capable of condensing data and making it easier to understand. It also helps you uncover trends and identify patterns, allowing you to have a better understanding of your business's current performance and how it can potentially perform in the future. This, in turn, lets you make more accurate business forecasts that can inform your future actions.
For instance, marketing analytics can shed light on your website's most visited pages, where traffic sources are coming from, or what actions visitors are taking on your website. Analytics can also show you conversion points or which points your customers are converting from.
A better understanding of customers
Analytics lets you gather customer data, such as their behavior and preferences. This gives you a deeper insight into their expectations and pain points, which you can leverage to stay relevant to your target audience.
Make data-driven decisions
eCommerce analytics gives you access to actionable data and insights that you can use to create an informed, data-driven marketing and sales strategy. It can also shed light on potential risks, allowing you to take proactive measures to mitigate them.
Create unique and personalized experiences
Personalization has a significant impact on how consumers make decisions. It also plays a role in shaping customer experiences. Today's consumers expect companies to see them as individuals, and 56% of consumers expect to see personalized offers.
Moreover, 62% of consumers expect brands to be able to anticipate their needs.
A Merkle survey found that 86% of consumers are more likely to enjoy personalized offers based on factors like their purchase history or interests.
Through analytics, businesses can use data to improve product positioning, as well as craft a unique purchasing journey for their audience. Moreover, analytics can help you forecast the future needs of individual consumers, allowing you to make product recommendations that align with their interests or needs.
Optimize business
Product pricing can influence a business's profitability. eCommerce analytics helps you have a better understanding of pricing and how it impacts purchasing decisions across different customer segments. Furthermore, you can use the data to uncover better price points for different products.
Aside from helping you determine optimal pricing, analytics gives you precise numbers that you can use to create a more organized online storefront to make navigation easier for your customers. For example, you can use data to find out which items are performing well and put them at prime locations on your website.
Enhance cross-selling and upselling efforts
Analytics can help you uncover which products are often purchased together by your customers. Through data, such as your customers' purchase histories, analytics lets you create better cross-selling and upselling offers to your customers.
---
Best Practices for E-commerce Analytics
To achieve your desired results, you'll have to observe some best practices.
Track customer data across different touchpoints
Businesses aim to provide their customers with a seamless journey across different touchpoints or marketing channels, including mobile, web, and social media. You can use analytics to track customer behavior at different stages of their buyer's journey, whether they're discovering your new product on social media or making a purchase on your website using their laptop.
Without the right eCommerce analytics tool, it can be difficult for you to collect, analyze, and utilize all your data. When choosing an eCommerce analytics tool, you need to consider how it aligns with your business goals. You also need to determine what your needs are and what solutions can help you meet them. You also need to consider its automation capabilities to help minimize redundancies and errors, as well as improve employee productivity and efficiency.
Pacvue is an eCommerce growth software that businesses can use to gain competitive marketplace intelligence. With Pacvue, you can tap into various omnichannel opportunities to expand your reach. It also helps you optimize your digital shelf and marketing campaigns through features like rule-based automation and AI optimization. It's also designed to help keep businesses from wasting ad spend by letting you toggle budget management settings so that your budget is adjusted according to factors like real-time traffic and performance. Pacvue also makes it easier for you to organize, view, and share reports with team members via a custom dashboard.
If you're just starting out, it's a good idea to start with a simple tool instead of paying for an expensive solution with a lot of features that you won't be using. Make sure that your chosen analytics solution can also help you achieve an omnichannel approach. It also helps if its interface is intuitive so that everyone can use the platform with ease. Lastly, find an eCommerce analytics solution that's scalable so that it can keep up with your evolving needs as your business grows.
Finding out which marketing strategies are the most effective entails some trial and error, which is why it's crucial that you regularly test your marketing strategies. Make sure that you establish objectives and identify your KPIs. It also helps if you create and document your performance tracking process.
Consider visualizing data
Visualizing data makes it easier for users to understand them better. Make use of graphs, charts, and other visuals to make your more engaging and data easier to digest.
Automation makes it easier for you to view data in real time. It also minimizes room for errors and can save you a lot of time, allowing you to focus on analyzing data and gathering insights.
Make analytics data accessible to your team
To create an effective eCommerce analytics strategy, you need to make sure that your data is easily accessible to your team members. Thus, you need to have a streamlined communication system in place to centralize all your data and make sharing information between teams easier.
Ask for feedback from your customers
While collecting and utilizing analytics data is beneficial, you shouldn't overlook collecting direct feedback from your customers. Doing so through tools like online surveys and live chat can help find out what it is they're looking for, what they're struggling with, and how you can better address their pain points. Moreover, talking directly to your customers lets you know that you're listening to them and that you care about what they have to say.
---
Final Thoughts
Gather and analyze customer data with the help of e-commerce analytics tools so that you can make better decisions. It's like operating the dashboard of a plane. Just as a plane needs to land and refuel, your business needs indicators so that you can effectively monitor its performance.
You shouldn't become just a passenger while running your own business. Take the pilot's seat by using the right tools and measuring what matters. As a result, you'll find it easier to make smart decisions and keep your business running smoothly.
Frequently Asked Questions
Is eCommerce analytics still relevant in 2023?
Yes, eCommerce analytics is still relevant in 2023. This process lets you use data to enhance your business's performance and sales. It also gives you insight into what's keeping your business from growing. With eCommerce analytics, you can also gain insight into improving your products or services to give your customers more value and better experiences.
Why should eCommerce stores perform eCommerce analytics?
eCommerce analytics allows you to leverage data to create engaging and personalized user experiences, enhance your products or services, and equip you with the knowledge and resources to meet your customers' changing needs and expectations. It also lets you assess the performance of your marketing and sales campaigns. Another benefit to performing eCommerce analytics is that it can give you deeper insights into your industry and market trends, which can help you build a better marketing strategy.
What role does eCommerce analytics play in marketers' decisions?
Marketers can use eCommerce data and analytics to predict their target audience's behaviors and make better marketing-related decisions. Furthermore, they can use eCommerce analytics to identify and address common issues, such as how to scale growth, improve audience segmentation, increase conversion rate, and identify optimal customer acquisition costs.
What eCommerce analytics tools can I use in 2023?
Some of the eCommerce tools and eCommerce analytics solutions you can use include. Note that some eCommerce tools, such as BigCommerce and Shopify, come with built-in eCommerce analytics capabilities:
Google Analytics

BigCommerce

Shopify

WooCommerce

Matomo

Supermetrics

Optimizely

Kissmetrics

Hotjar

Crazy Egg