Advertising Disclosure
Advertising disclosure:
Our partners compensate us. This may influence which products or services we review (also where and how those products appear on the site), this in no way affects our recommendations or the advice we offer. Our reviews are based on years of experience and countless hours of research. Our partners cannot pay us to guarantee favorable reviews of their products or services.
In an increasingly competitive landscape, having great products and services is no longer enough. Businesses must establish themselves as leaders in their industries, be more visible in places that matter and capture the attention of their audiences. A brand's online presence in the marketplace has become more critical than ever before.
A vital starting point for mapping the industry and gaining competitive advantage is a brand's share of voice. Here, we will discuss the importance of share of voice, how to calculate it, how it can benefit your business, and the top 11 share of voice tools for businesses.
---
Top 11 Share of Voice Tools That Can Enhance Your Marketing Strategy:
---
What is Share of Voice?
Share of voice (SOV) is a crucial marketing metric that compares a brand's total advertising or marketing communications to its competitors. It serves as a gauge of a brand's presence and visibility in the market. This metric helps businesses measure how well they are performing compared to their competitors in terms of ad reach, social media mentions, and website traffic.
Traditionally, SOV describes the share of a brand's advertising on traditional media channels, such as print, radio, or television, compared to its competitors. However, the term has now expanded to include other metrics on brand awareness, such as the number and reach of online mentions, pay-per-click (PPC) campaigns, website traffic, and more.
---
Why is Share of Voice important?
By monitoring and analyzing share of voice, businesses can gain valuable insights into their market share and growth potential. This can help them identify gaps in their marketing strategy and find ways to improve their brand's visibility to stay ahead of the competition.
Here are some key reasons why share of voice is important for businesses:
Better understanding of market share. SOV is a great way to understand how much of the conversation your brand is dominating in your industry. By measuring your brand's SOV against your competitors, you can gain a better understanding of your market share.
Insights on potential growth opportunities. SOV monitoring can help identify potential growth opportunities in your market. For example, if you notice that your SOV is lower on social media compared to your competitors, you can focus on improving your social media strategy to increase brand visibility and engagement rates.
Increased brand awareness and loyalty: A higher SOV can lead to better brand recall and customer loyalty. By consistently monitoring and improving your SOV, you can adopt new marketing strategies to stay top-of-mind with your target audience.
Benchmark for success: SOV is a powerful metric for benchmarking your success against competitors. By measuring your SOV over time, you can track your progress and identify areas you can improve to increase your competitive edge.
---
How To Calculate Share of Voice
Calculating your brand's share of voice is a crucial step in understanding how well your brand is doing in terms of awareness and visibility compared to your competitors. This metric was originally used to measure success in paid advertising, but it can now be calculated for organic traffic and social media as well.
To calculate SOV, you need to divide your brand's measures by the total market measures. This could include your social media mentions, paid advertising clicks, or website traffic. A higher SOV indicates that your brand has a great presence in the industry. On the other hand, a lower SOV suggests that your brand has a smaller presence or is being outperformed by competitors.
Social Media

---
Public Relations

Public relations (PR) SOV measures how often your brand is mentioned across news and media outlets. To calculate PR SOV, choose the media format you want to analyze then determine the total number of articles or news stories published by those outlets during a specific time frame. Identify the number of articles or news stories that mention your brand, product, or service during the same time frame, and divide the number of articles or news stories that mention your brand by the total number of articles or news stories and multiply it by 100.
---
PPC

PPC share of voice is the percentage of ad impressions your brand has received for a specific set of keywords compared to your competitors. To calculate PPC SOV, define the keywords you want to analyze, determine the total ad impressions for those keywords during a specific period, and determine the number of ad impressions of your brand for those keywords during the same period of time. Then divide the number of ad impressions for your brand by the total number of ad impressions and multiply it by 100.
---
SEO
SEO share of voice measures your brand's appearance in search results pages. To measure this, identify the keywords related to your product or service that you want to measure. Determine the number of organic search results that mention your brand for those keywords during a specific time frame then divide that by the total number of organic search results for those keywords during the same time frame.

By calculating SOV, you can determine which platforms and channels are working best for your brand and where you need to improve your strategy. For instance, if your social media SOV is high, but your organic traffic SOV is low, you should focus on improving your organic traffic strategies.
Calculating your brand's SOV is a huge task but there are many digital marketing tools available to help you monitor your brand's presence.
---
Top 11 Share of Voice Tools for 2023
Top
share of voice tools
2024

Brandwatch Consumer Intelligence (Brandwatch CI) is a feature within the Brandwatch platform that focuses on consumer behavior and sentiment analysis. It provides businesses with insights into the opinions, attitudes, and preferences of their target audiences, as well as trends and emerging topics in their industry.
Pros:
Comprehensive tracking of multiple sources
Powerful data analysis capabilities
Impressive data visualization
Cons:
Requires an understanding of advanced Boolean queries
---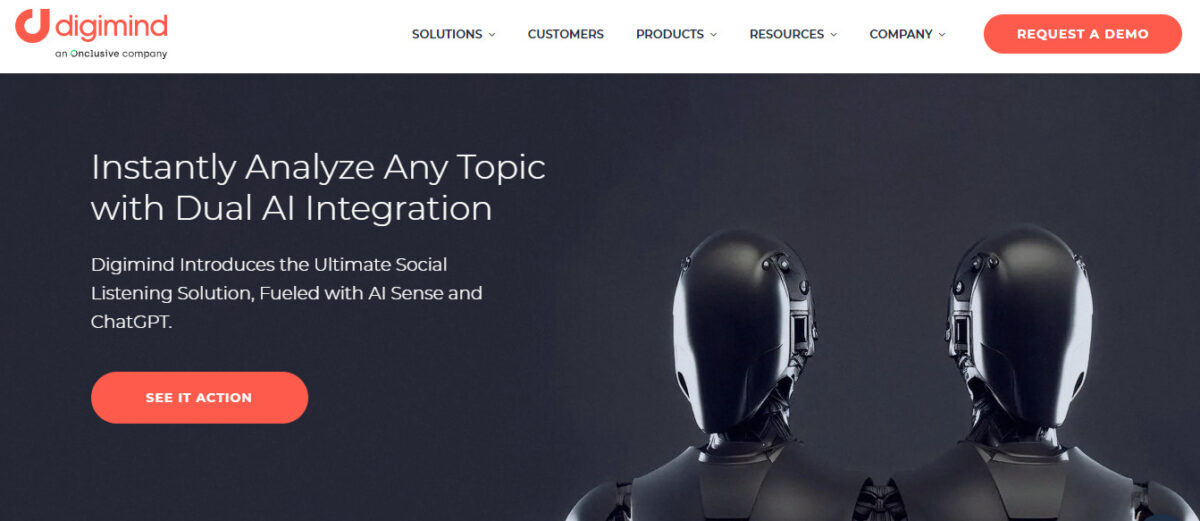 Digimind is a competitive intelligence and social media monitoring platform that uses AI and machine learning to help brands track their online reputation and gain insights into their industry and competitors. Its social listening tool allows businesses to monitor online conversations across various social media platforms, blogs, news sites, and forums. The tool provides real-time data on sentiment, volume, and engagement, enabling brands to track their SOV and identify areas for improvement.
Pros:
Great for managing social networks
AI-based sentiment analysis
User-friendly and intuitive interface
Cons:
Configuration may take some time
---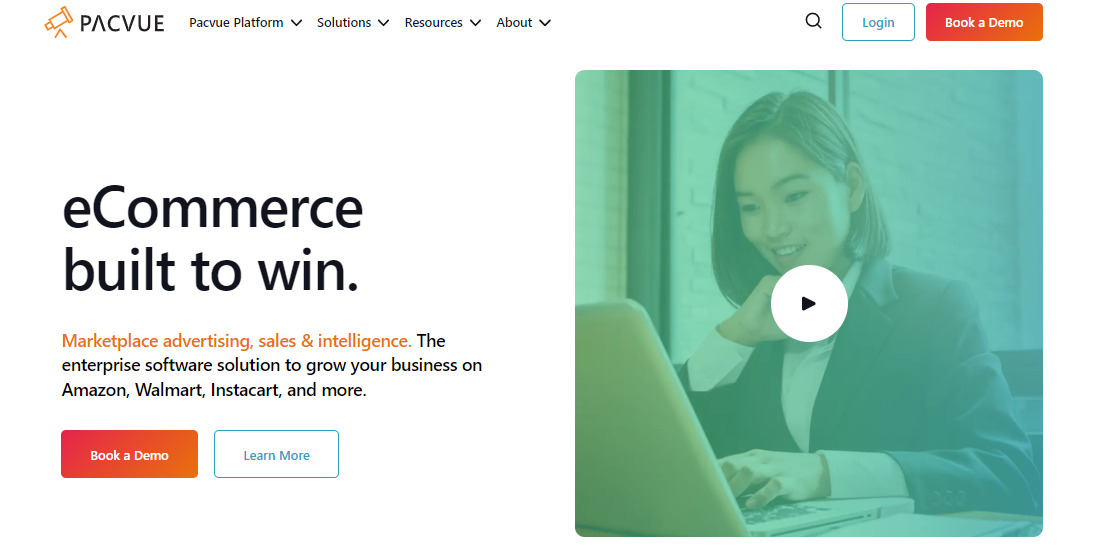 Pacvue provides a range of data analytics and reporting tools that can be used to track and analyze the performance of e-commerce advertising campaigns, including SOV. By monitoring the volume of impressions, clicks, and sales for a particular brand or product, Pacvue can provide insights into its SOV compared to competitors.
Pros:
Advanced analytics tools
Custom dashboards
Forecasting capabilities
Cons:
SOV data is not as comprehensive as the one generated by dedicated market research tools
---
Clerk.io offers a comprehensive suite of tools for customer analytics, audience analytics, and other solutions that can be used to gain insights for SOV. Its arsenal of tools can be used to monitor and analyze customer behavior, performance metrics, and other aspects of a business. This can allow businesses to gain insights into their performance.
Pros:
Comprehensive suite of e-commerce tools
Insights for SEO and share of voice
Friendly and accommodating support team
Cons:
Technical expertise required
---

Talkwalker's social listening tools can help businesses analyze brand mentions from over 100 million websites in over 100 different languages. Aside from the major social networks, it can tune in to discussions on blogs, forums, news sites, reviews, and even offline databases. It also provides sentiment analysis to help businesses understand how their brand is perceived by their audience. Talkwalker also has an AI-enabled image recognition feature that can track brand logos and images on the web and across social media.
Pros:
Real-time monitoring and reporting
Quick insights from large social data sets
Cost-effective solution for small businesses
Cons:
Tagging can be slow to update
---

Klear's tools can be used to track a brand's social media performance compared to their competitors. It provides real-time data on brand mentions, sentiment, reach, and engagement across various social media platforms, including Facebook, Twitter, Instagram, YouTube, and TikTok. It can also be used to segment the data by region, language, or hashtag to gain more insights into the audience's behavior and preferences.
Klear also provides competitive benchmarking data, allowing you to compare your brand's performance against competitors in terms of social media visibility and influence. This data can be used to identify areas for improvement and to inform social media marketing strategies.
Pros:
Real-time social media monitoring and analytics across multiple platforms
Competitive benchmarking and audience insights
Easy-to-navigate interface with user-friendly dashboard
Cons:
Limited data sources for certain social media platforms, such as LinkedIn and Pinterest

Key Features: Search/Discovery, Automated Recruiting, Influencer Relationship Management, Influencer Marketplace, Content Review, Content Library, Campaign Management, Campaign Reporting, Influencer Analysis, Audience Analysis, E-commerce Tools, Product/Gifting Tools, Forms and Compliance, Fake Follower/Fraud Detection, Payment Processing, Social Listening, Competitor Research, Visual Discovery,
Channels: Instagram, YouTube, TikTok
---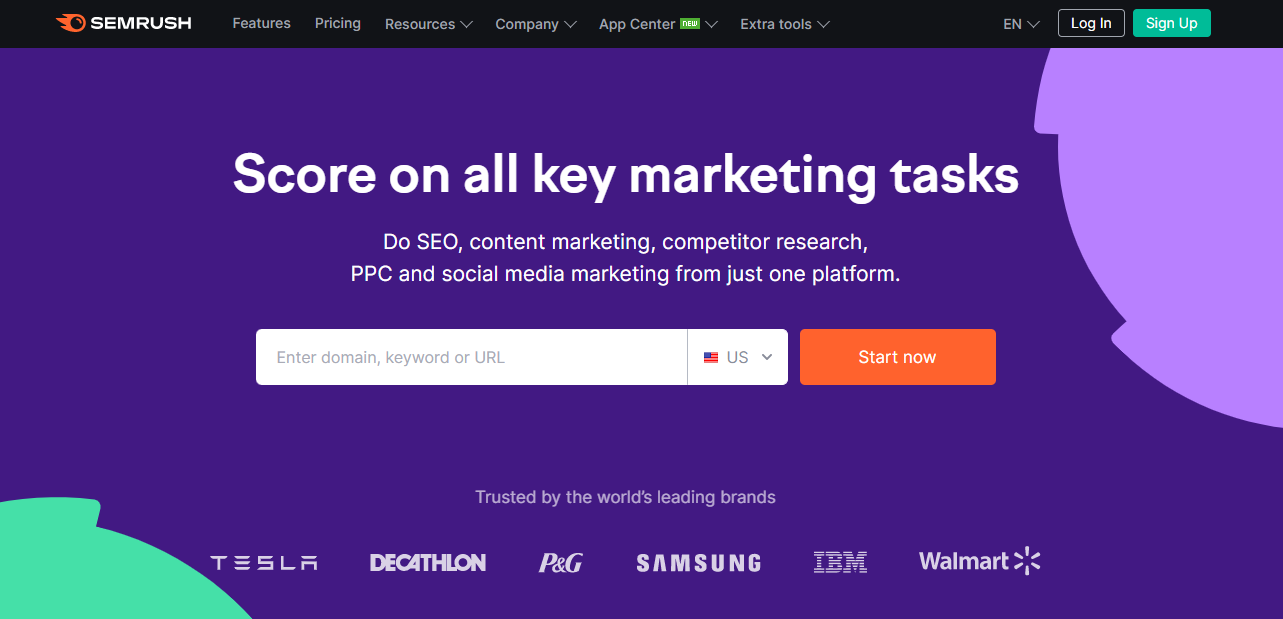 Semrush is a comprehensive digital marketing platform that provides a range of tools for SEO, PPC advertising, content marketing, and social media management.
To help monitor SOV, Semrush has a competitor analysis tool that enables businesses to track their performance for specific keywords and phrases compared to their competitors. Semrush's position tracking tool can also estimate the fraction of a target audience's attention that a brand gets by analyzing the total combined volume of all their keywords and comparing it to their competitors.
Pros:
Robust keyword research tool
In-depth site audit and optimization tools
Comprehensive social media management tools
Cons:
---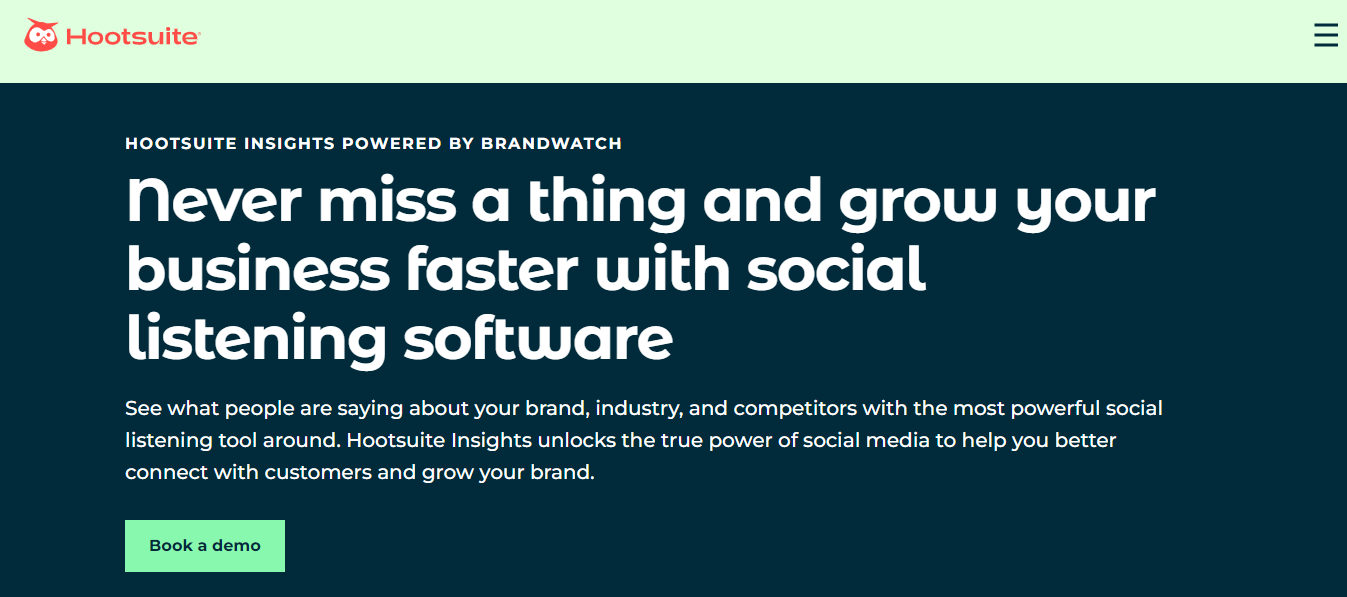 Hootsuite offers several tools that can be used for SOV analysis such as Hootsuite Insights and Hootsuite Streams. Hootsuite Insights allows users to track their brand mentions, sentiment analysis, and social media analytics in real-time. It provides insights into how your brand performs compared to your competitors and helps you identify trending topics related to your brand.
On the other hand, Hootsuite Streams allows users to monitor specific keywords, hashtags, and brand mentions across various social media platforms. It helps users stay updated on the latest conversations and news related to their brand, industry, or competition.
Pros:
Great for social media management and social listening
Real-time tracking and analysis of brand mentions and social media analytics
Easy to understand data visualizations
Cons:
Discrepancy with native platform analytics on LinkedIn and other networks
---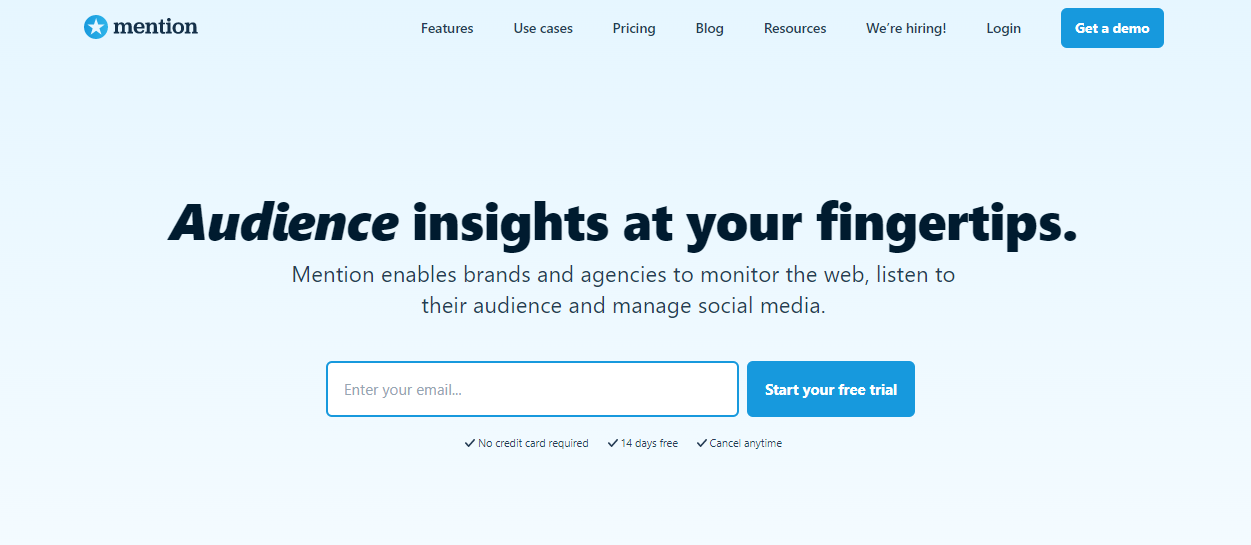 Mention has a social media monitoring feature that allows users to monitor their brand mentions across various social media platforms. It can also provide sentiment analysis to help users understand how their brand is perceived by their audience. In addition, its competitor analysis feature allows users to compare their brand's performance with their competitors and provides insights into their competitor's social media strategies, top-performing content, and engagement rates.
Pros:
Detects critical mentions of brand across various social media channels
Offers in-depth analytics and competitor analysis
Fast and efficient web tracking
Cons:
Needs proper configuration to track essential mentions
---

Google Trends can help monitor the changes in search volume for specific keywords or phrases over time and across various geographic locations. By tracking the popularity of these search terms, businesses can gain insights into consumer interest and preferences for specific products, services, or topics related to their industry or brand.
Aside from this, Google Trends can also compare the popularity of multiple search terms, view related queries and topics, and analyze the search volume by location, time range, and category. Moreover, this tool provides data on the top searches related to specific industries, making it a valuable resource for competitive analysis.
Pros:
Free to use
Provides valuable insights into consumer search behavior and trending topics
Useful for competitive analysis and identifying opportunities for content creation
Cons:
Data is relative and does not provide absolute search volume numbers
---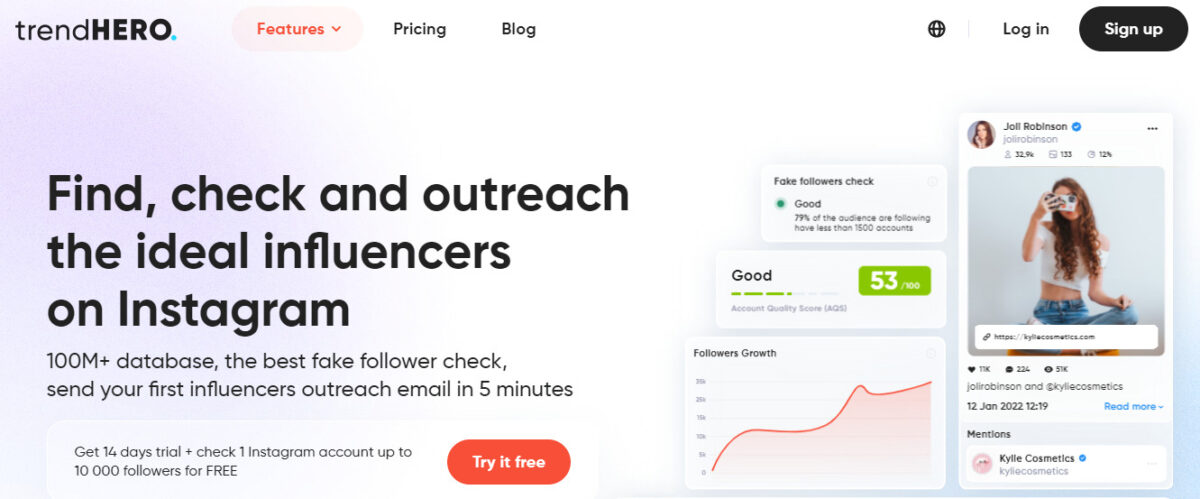 trendHERO is a powerful influencer marketing platform that specializes in Instagram, helping businesses calculate their SOV on the platform. Through its mention impact tool, trendHERO can track who has mentioned a brand's Instagram account and how it has impacted their follower count. This can help businesses understand their reach and influence within their target market as well as identify potential collaborations with influencers who have a significant impact on their audience.
trendHERO offers a range of other tools and features to help businesses with their influencer marketing campaigns on Instagram. These include competitor analysis and monitoring, account analytics, ad post and stories monitoring, and the ability to check an influencer's audience authenticity score through a fake follower check.
Pros:
Advanced search filters and in-depth reports
Accurate fake follower check
Detailed tracking of follower count, engagement rate, and ad efficiency
Cons:
Report generation takes a long time to load

Key Features: Search/Discovery, Influencer Analysis, Audience Analysis, Fake Follower/Fraud Detection, Social Listening, Competitor Research,
Channels: Instagram
---
Stay Ahead in the Game with the Right Share of Voice Tools in 2023
Don't let your competition outshine you in the market. To grow your business and stay ahead in the game, tracking your brand's share of voice is essential. With the help of the top SOV tools for 2023, you can monitor your brand's online presence, identify areas for improvement, and make informed decisions that boost your marketing strategy. In the ever-evolving digital landscape, the right tools can make all the difference. Investing in these tools today can take your business to the next level.
Frequently Asked Questions
What is the difference between share of voice and share of market?
Share of voice (SOV) measures your brand's online visibility and the extent to which your audience interacts with your content. It is expressed as a percentage relative to your competitors. On the other hand, share of market (SOM) represents the portion of total sales in your industry that your brand generates. While SOV focuses on visibility, SOM gauges market share by revenue.
What factors affect share of voice?
Numerous factors can affect a brand's SOV. These include the frequency and quality of content, the size of the brand's audience, the level of audience engagement, the marketing budget designated for paid media, and the degree of competition in the market. SOV can also be affected by seasonality, industry trends, and consumer behavior.
How often should I track share of voice?
You should track your SOV regularly, such as monthly or quarterly, to ensure that you have updated knowledge of your brand's performance. However, the frequency of your tracking depends on a variety of factors, such as the size of your business, the level of competition, and the frequency of changes in the market.