We launched Influencer Marketing Hub in 2016, just around the time when influencer marketing itself was about to go big. We weren't there for the birth of the industry, but we were there just before everyone and their uncle decided that the industry needed more software solutions. So it's been fun to watch the trends of what constitutes a good platform. In 2016, influencer discovery was the thing marketers were looking for. Over time, though, discovery became secondary—a bonus feature for platforms that did way more than just search for creators who matched a brand's criteria.
But, as the saying goes, everything old is new again, and discovery is back as the sometimes sole ingredient of influencer marketing platforms. It's not that the needs of brands and agencies keep changing so much as the industry keeps learning new and better ways to do things. The resurgence of discovery as a standalone tool coincides with an increased understanding of the data and insights that matter most, allowing those performing the searches to go deeper than they've ever been able to before. And while these analytic deep dives used to be the domain of big companies who could afford the steep price of entry, that's no longer the case. Today's expensive tech has always been tomorrow's affordable tool for the masses, and we see this happening in the influencer marketing software industry.
The latest hero of this trend is the aptly named trendHERO. Its primary selling point is "influencer auditing," kind of like a background check for creators that you are or want to be working with. There are several reasons you might want to audit influencers, and chief among them is to find those with a quality audience suited for your brand. The information that can be gotten out of trendHERO goes fairly deep, though. It's not giving you information or insights that you cou;dn't get elsewhere; instead, the truly revolutionary thing about trendHERO is its price point.
With data on over 75 million influencers, and advanced machine learning to process and understand it all, trendHERO has many of the qualities of the kind of platform that, five years ago, would have cost a few thousand dollars a month. As you'll see in the next section, though, this isn't even close to the case. Small businesses won't even have to stretch their budget to fit this platform into their operations, while large companies will get just as much value as they would with a solution that costs 10x more.
---
Summary:
---
Pricing
Because of trendHERO's broad appeal and affordability, it's actually a useful tool for just about any one involved in influencer marketing. From influencers who want to monitor their own performance and value, to brand and agency marketers, trendHERO is financially within reach for just about anyone. The four plans they offer cover all levels of need.

Free, $0/mo —

This plan just exists for potential users to get a feel for the platforms interface and usability. It only gives the most basic of information—engagement rate, follower growth rate—and allows you to save influencers to a list.



Blogger, $15.99/mo —

trendHERO is a Ukrainian company, so the naming of this plan "Blogger" is a bit of a cultural artifact. The platform doesn't monitor bloggers or blogs, only Instagram, and this plan is geared towards the creators who want to monitor their own accounts, or small businesses with minimal needs. In addition to the basics of the Free plan, this one gets you: influencer discovery, 10 reports/mo, tracking up to 3 accounts, unlimited lists, likers and active audience analysis, ad efficiency. A nice touch: if you run less than 10 reports, they balance rolls over to the next month.



Business, $39.99/mo —

All of the above, but with up to 50 reports and tracking of up to 20 accounts per month. Also, discover up to 500 influencer look-alike accounts, and search for posts instead of influencers.



Agency, $119.99/mo —

All of the above, but with up to 200 reports and tracking of up to 50 accounts per month, plus priority support. Coming soon to this plan is a CRM module, though there's no word on when that will happen.
---
The Details
trendHERO is all about discovery and insights, so it's not hard to find your way around the interface. There's no getting lost from the Dashboard: all sections of the platform are clearly defined down the navigation menu. If, on the off chance you get stuck and need help, you'll also find that pretty easily.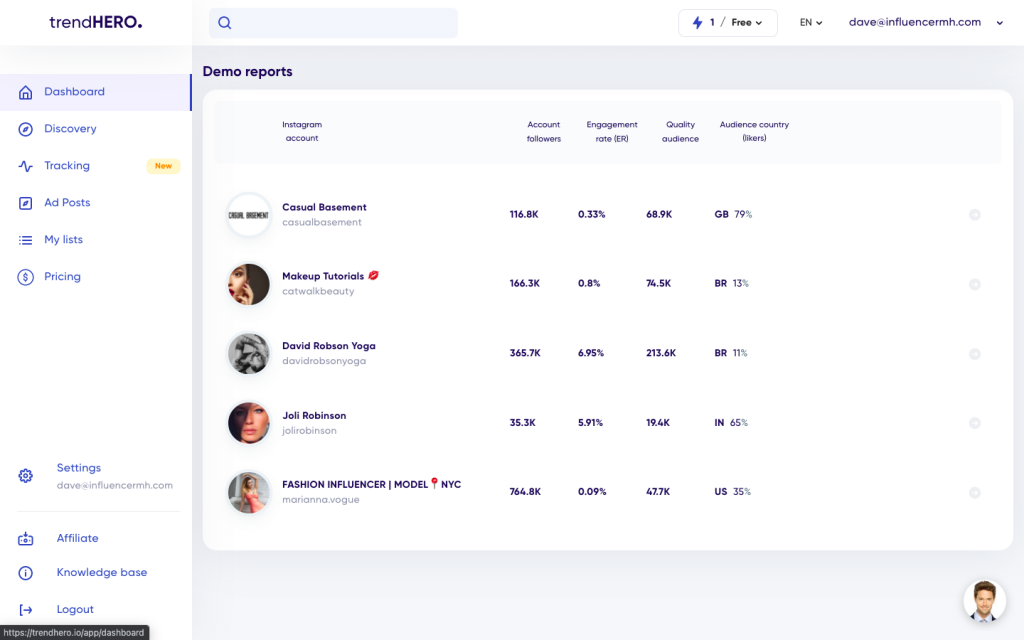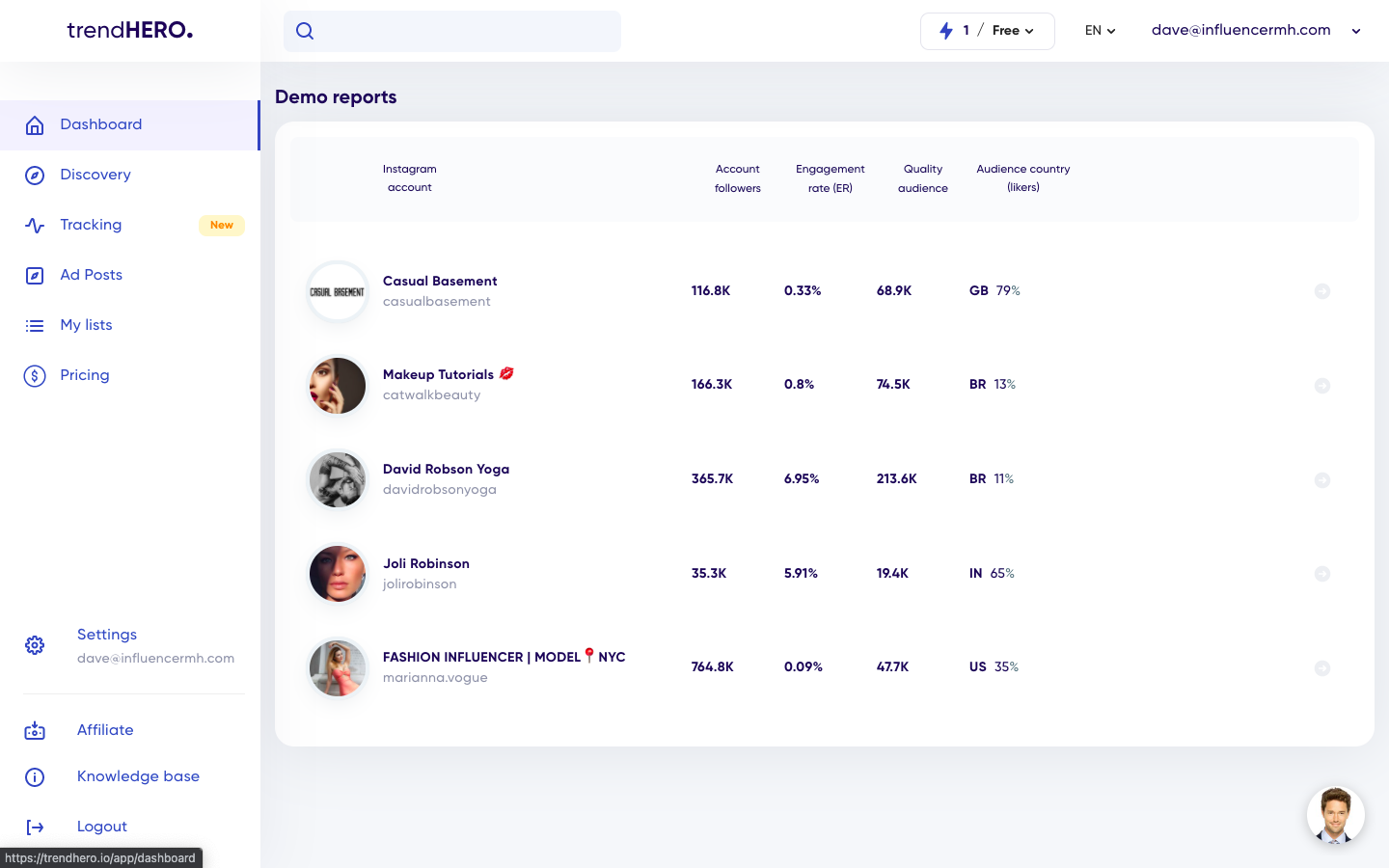 Getting into the meat of trendHERO's offering, you'll likely start with discovery. It's a basic search that allows you to filter results through the application of influencer-specific criteria: follower count, location, engagement rate, etc. This is one of the few missteps of the platform. One of the drastic changes in influencer discovery that's occurred in the last 5 years is the understanding that finding the right audience is as important as finding the right influencer. trendHERO knows, and the analytical reports it generates give you all kinds of great data about the audience, but no way to filter influencer searches based on the information it already has.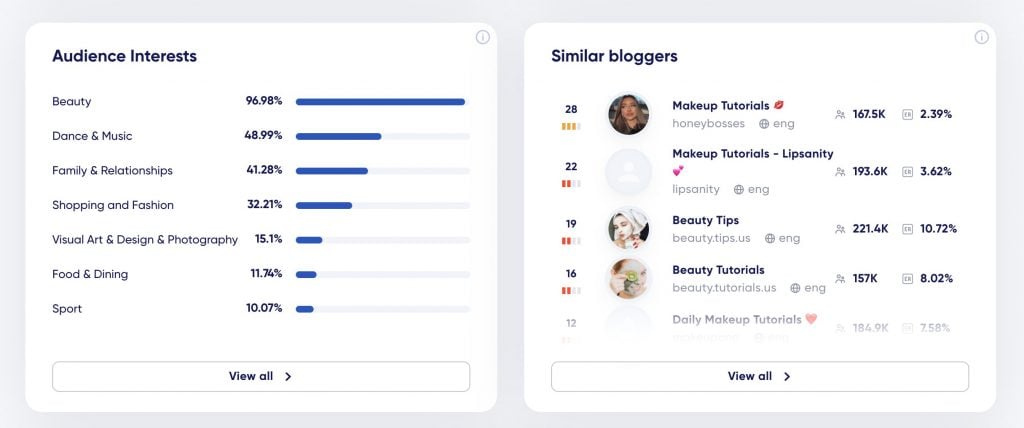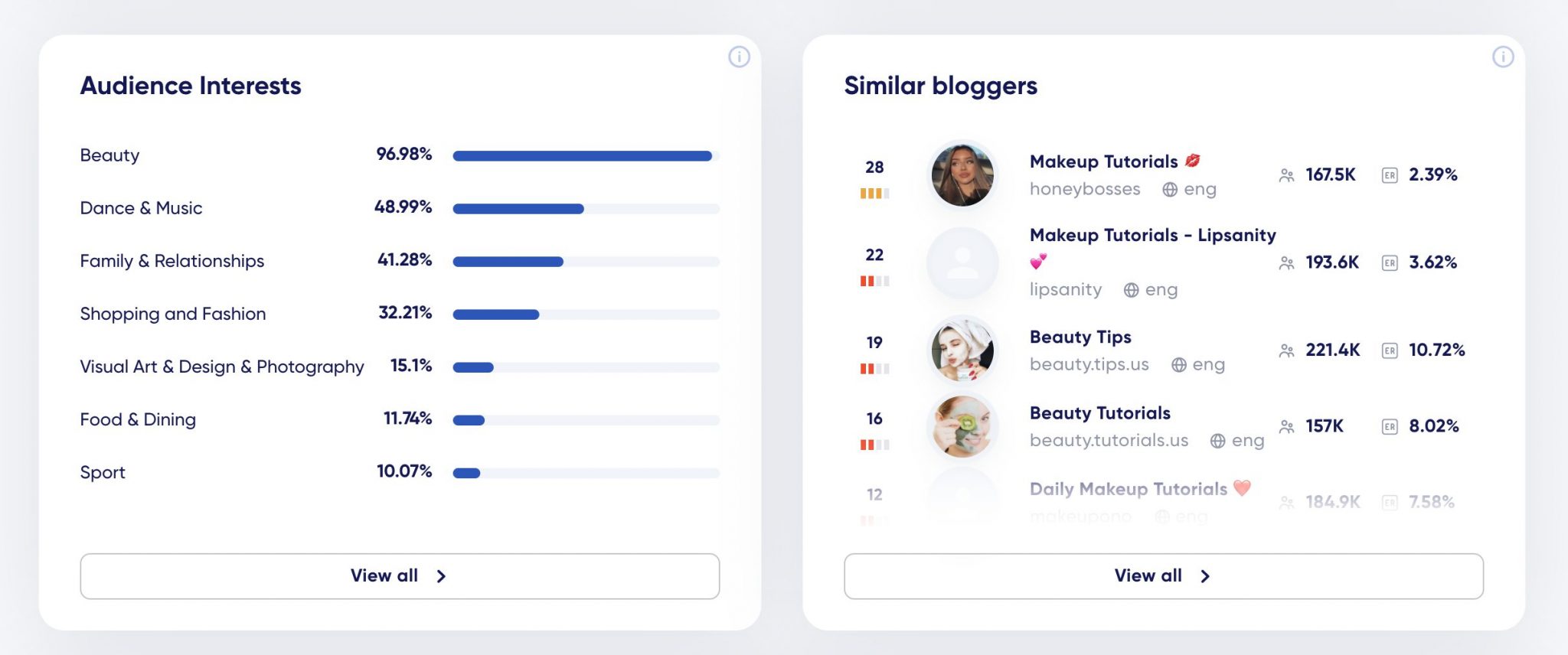 trendHERO's search would be improved just by adding a few criteria that allows you search against the audience's characteristics. It's pretty amazing that the platform can give the percentage of followers that are suspicious; it would be a real time saver if you could filter those with, say, more than 20% suspicious from even showing up in your search results. Things like this are even more crucial when you consider that these bits of data are only visible from the reports that trendHERO generates. Since you have a finite amount of reports you can run each month, it's a waste to use that credit essentially as a filter. You shouldn't have to run a report to find out that someone isn't going to be a good fit. You should be running reports so that you can understand how to best reach an influencer and their audience.
The good news here is that, in the even you find a small disqualifier in an influencer analysis report, you can use the lookalike search to find someone similar. trendHERO's AI uses over 1,000 data points to analyse and compare profiles, then presents similar ones to you, complete with a score of just how similar they are.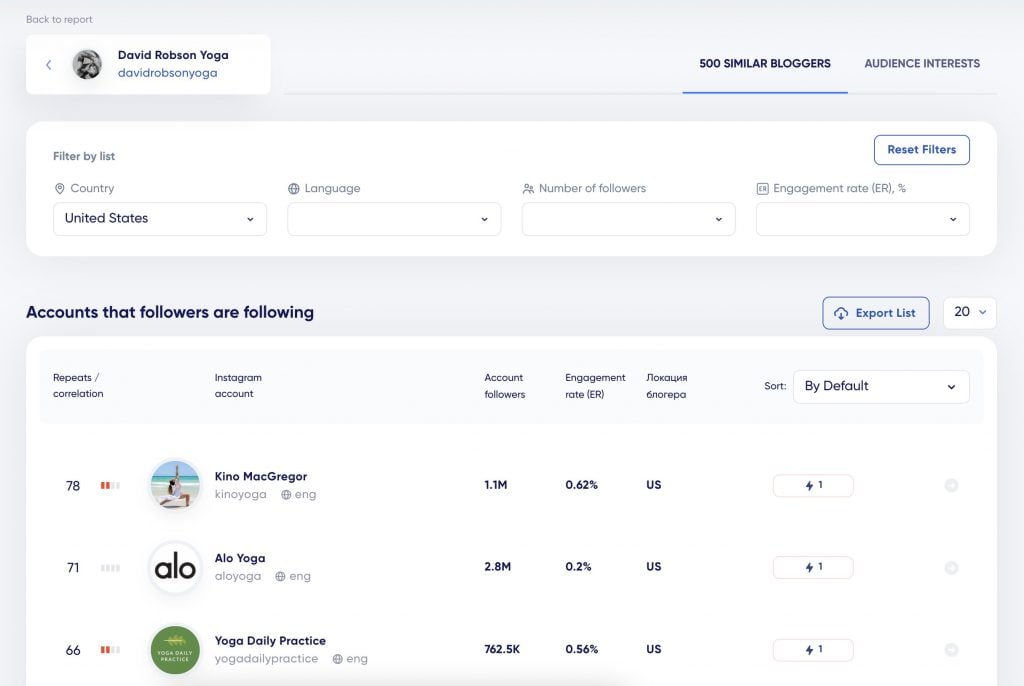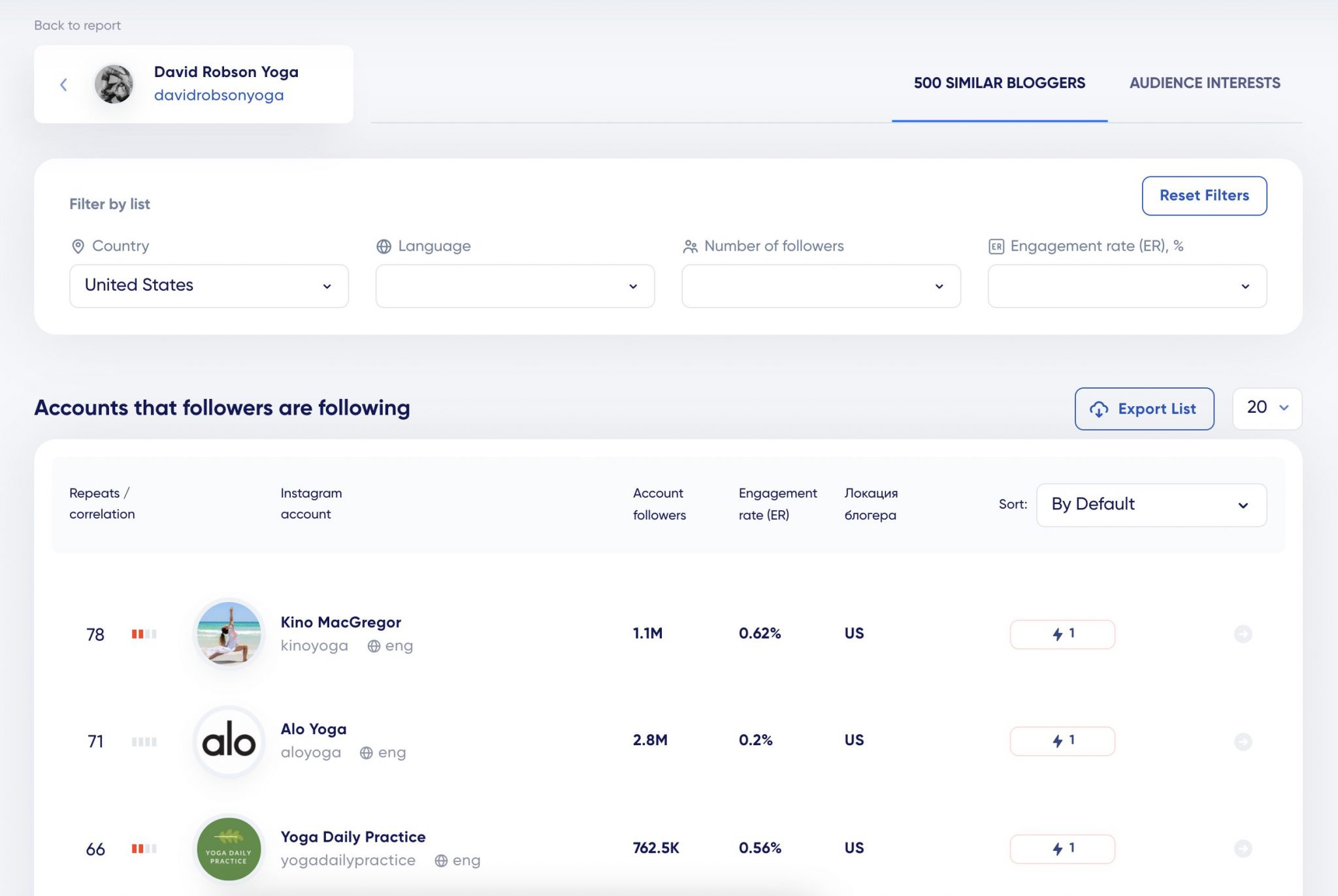 Still, there's an abundance of very useful data in those reports, and just because you can't search against it doesn't devalue the platform as a whole. There's some information you can get from trendHERO that I haven't seen offered by any other platform. There's a bigger focus on likers and commenters that goes beyond straight numbers. Comments get extra scrutiny. The platform distinguishes between comments from the audience and those from the influencer herself. It's an important distinction. How many other platforms are artificially inflating the engagement rate because comments from the influencer are included in the count? Even more importantly, by seeing the percentage of influencer comments vs audience comments, you can get an idea of just how actively engaged the influencer is. The higher the percentage of influencer comments, the more you can feel comfortable in the knowledge that this person is working hard to maintain her audience. You can also get a clearer picture of the audience quality by examining the comments. If an audience member who's commenting has more 2,000 followers, there's a chance the influencer is engaged in some kind of group where creators help each other out by disingenuously engaging with one another.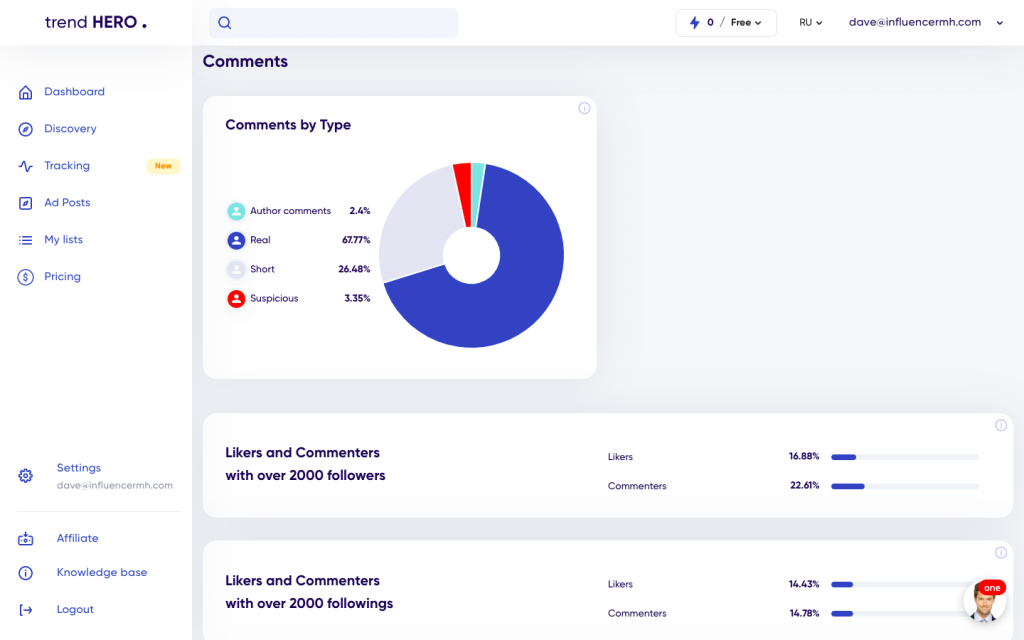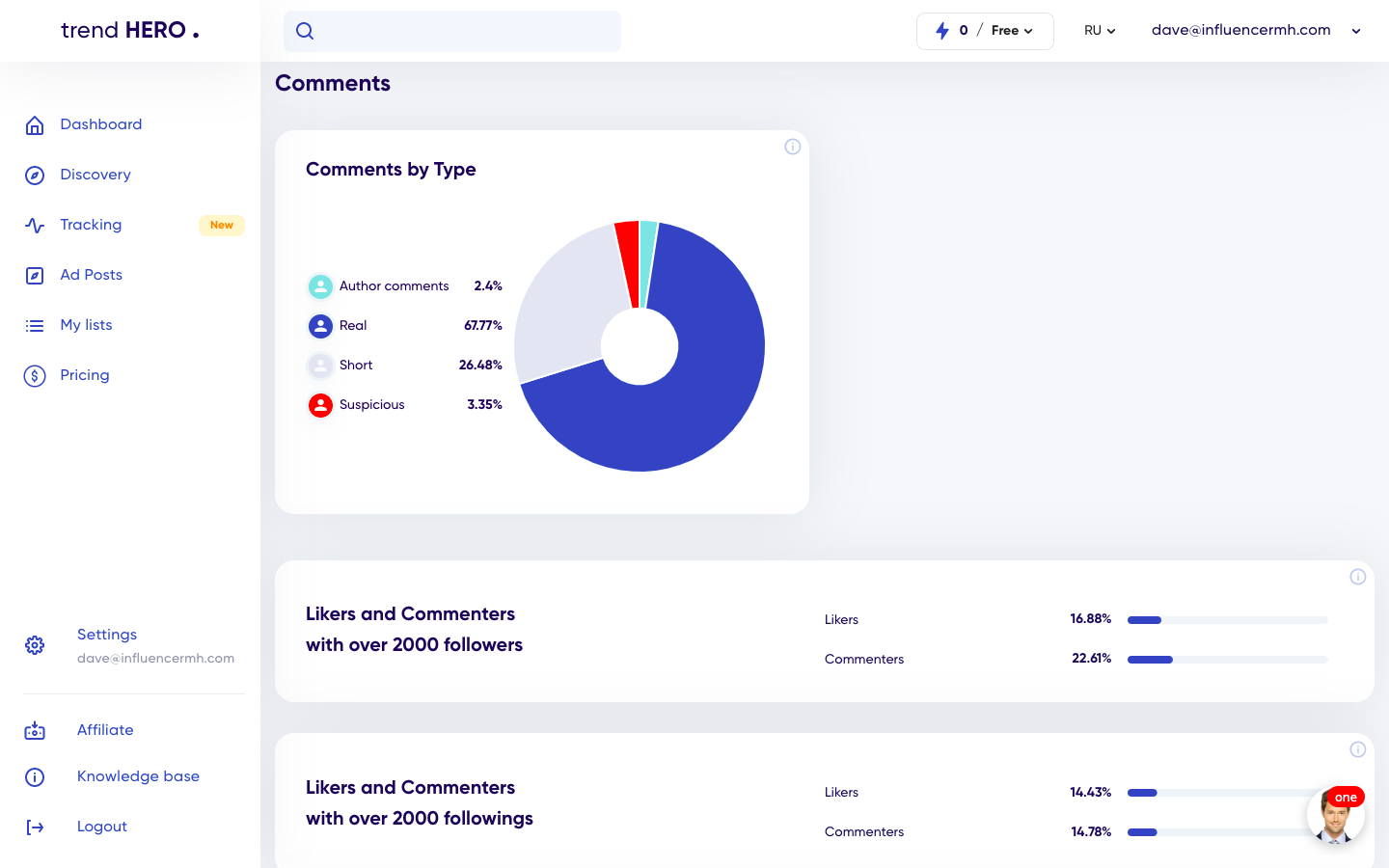 Moving on to the Tracking module, you can keep track of a number of influencers or brand accounts via social listening. Here you'll find a number of insights that are common—follower growth, ideal posting times, and top hashtags to name a few—but then there also insights that are unique to trendHERO. One notable one is the graph showing follower growth in the wake of a mention. A general rule of thumb is to look with suspicion at sudden bursts in audience count, because that looks like the influencer bought a bunch of followers to inflate their numbers (and their asking price). While this is a good assumption, it's not always true: sometimes someone gets mentioned and another popular account, driving audiences over to follow. trendHERO gives a much clearer picture of growth spurts in this way.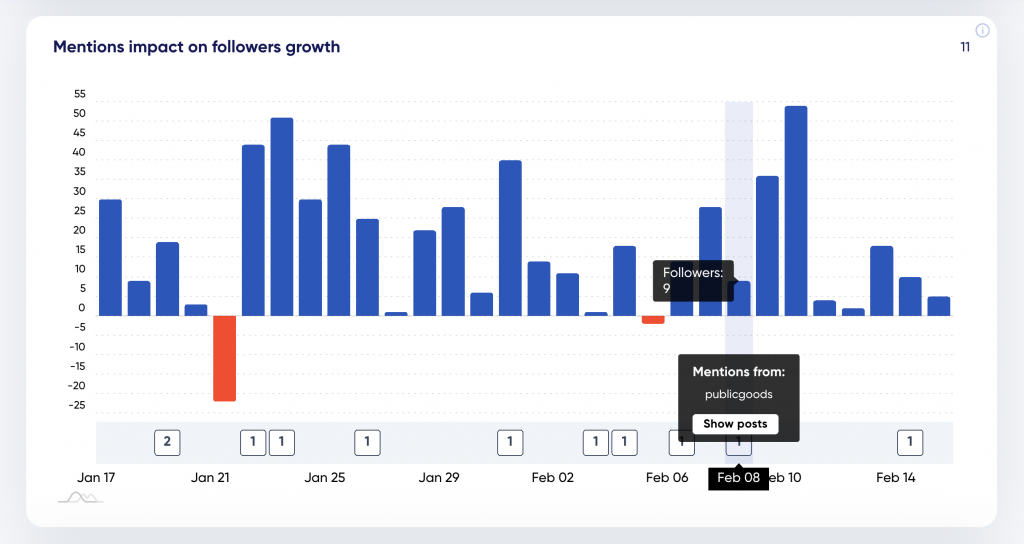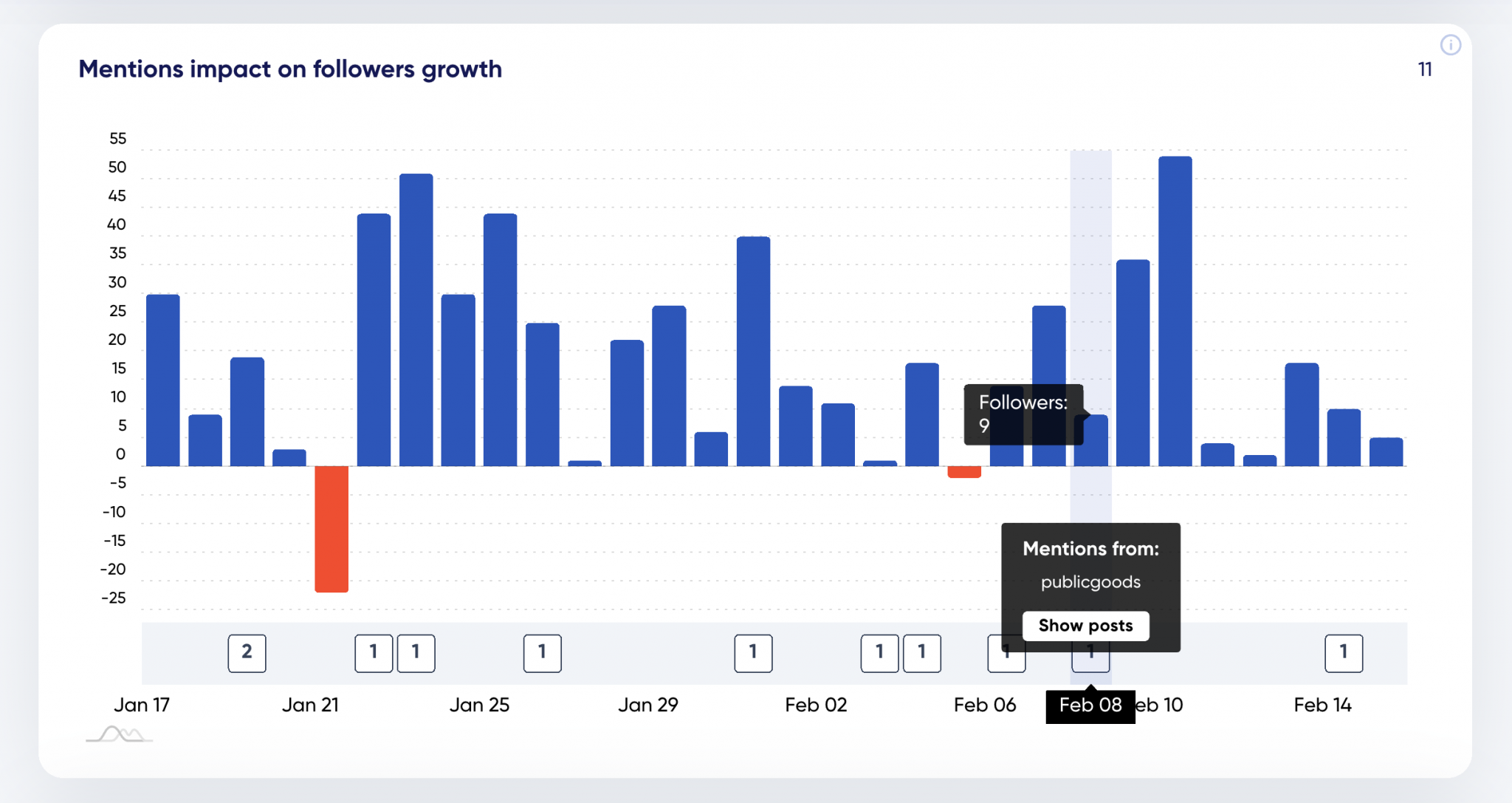 Finally, the Ad Posts feature lets you search through the actual advertising content put out by influencers to see how they handle the stakes of sponsored content. Influencers become big because their content is top notch, as is their ability to engage with and hold on to an audience. That doesn't always translate to success as a paid advertiser, though, and so this is a great way to see if they can rise to the occasion.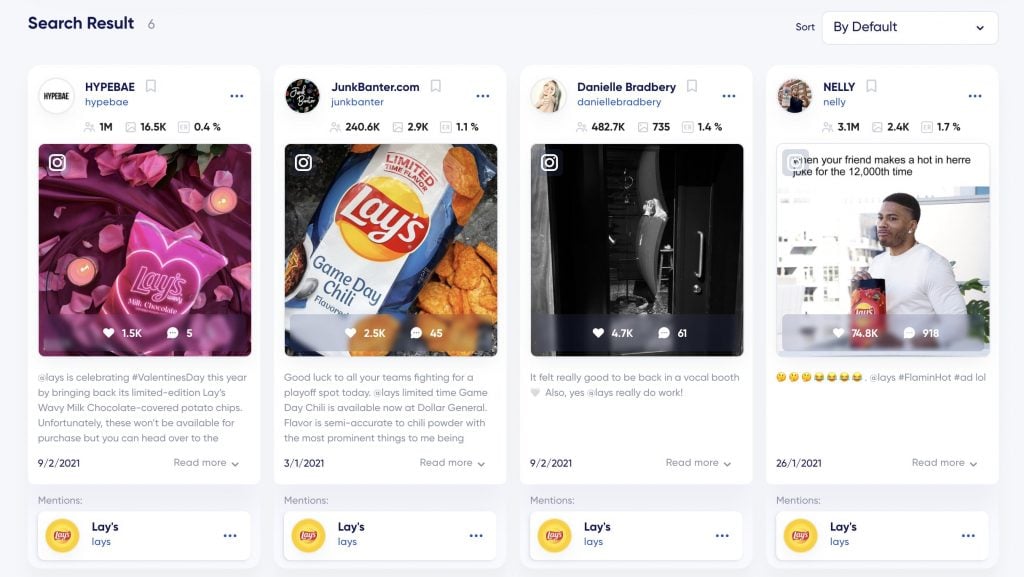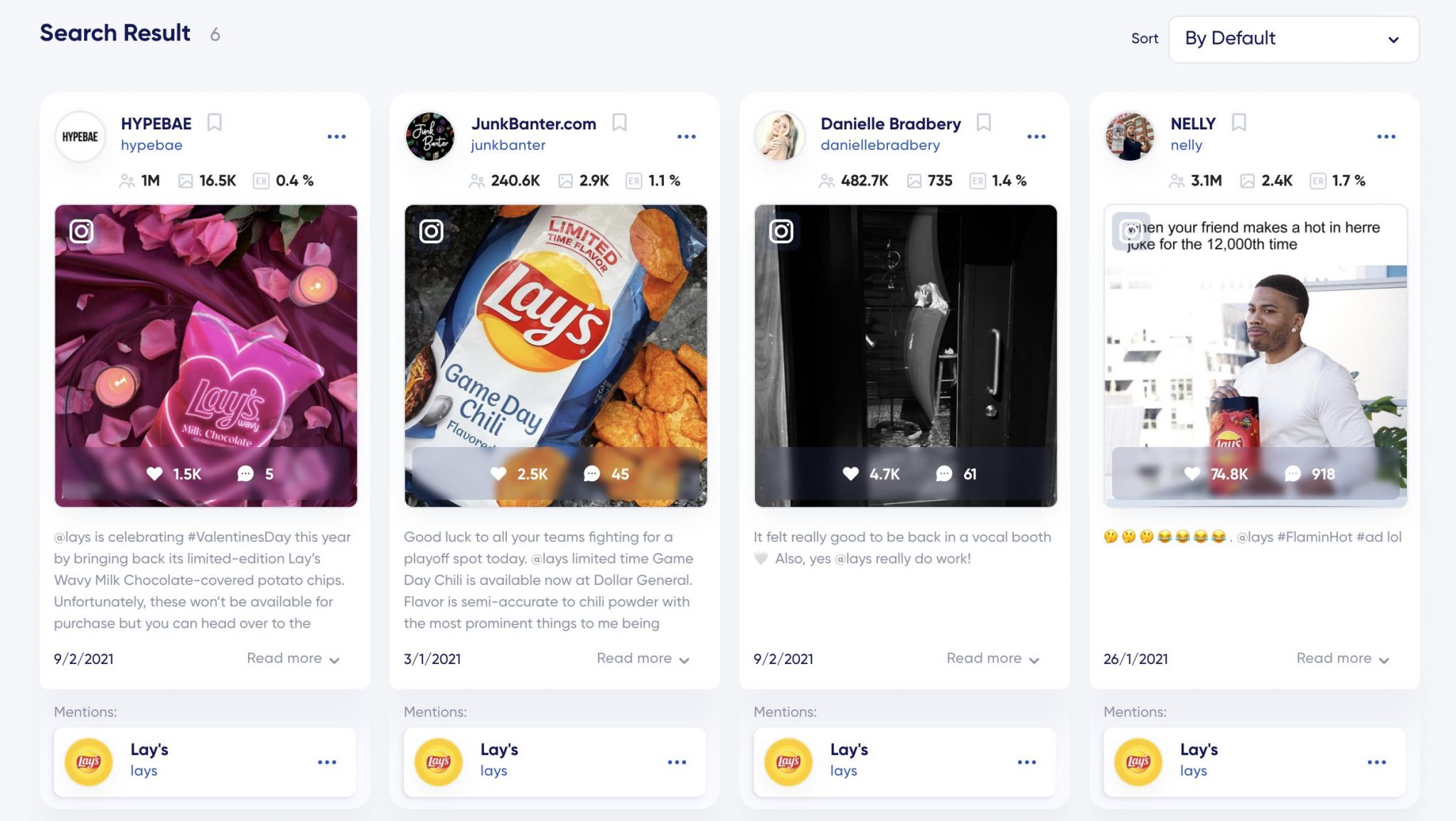 ---
Conclusion
trendHERO isn't necessarily a game changer in terms of what it can do. But, while it's not blazing any new trails in terms of the data science of influencer marketing, it has definitely broken new ground in its cost of entry. It offers an analytical depth previously only available to the most notable of brands with the largest of budgets. Now, all you need is an internet connection and $15.99 each month to get the kind of intel those big brands have been relying on for years.
Despite some minor shortcomings, trendHERO is the perfect solution for a variety of users: influencer who want better measurement of their worth (and the opportunity to compare themselves to those in their league); brands both small and large who have tighter marketing budget constraints; agencies who need to find the perfect fits for their clients. If you belong to any of these groups and are using more purpose built marketing tools that don't focus on influencer discovery and insights, trendHERO will definitely change the way you approach your influencer campaigns—and will give you results, to boot.
trendHERO
Features

Ease of Use

Reporting