If you're familiar with digital marketing, there's no doubt that you're familiar with influencer marketing. And if you're planning to start working with influencers this year, Instagram is a great place to start. This post will help you understand how you can leverage your influencer marketing efforts on Instagram and execute your first campaign on the platform.
---
The Beginner's Guide to Influencer Marketing on Instagram:
---
Why Use Influencer Marketing?
Influencer marketing was a $21.1 billion industry in 2023

, however, they anticipate the global influencer marketing platform market size will reach $84.89 billion by 2028

90% of our survey respondents believe influencer marketing to be an effective form of marketing

Influencer marketing campaigns increased throughout 2022

Businesses are making $5.20 for every $1 spent on influencer marketing

63% of marketers intend to increase their influencer marketing budget in the next year

84% of companies plan on working with a social media star in the next year
---
Why Choose Instagram for Influencer Marketing?
Now the big question is – why Instagram? Why not Facebook, Twitter, YouTube, or any of the other social media platforms? Aren't they just as effective for influencer marketing? The truth is that, although these other platforms can be useful for influencer marketing campaigns, none of them compares to Instagram.
With 2B million monthly active users, Instagram is an excellent platform for marketers to reach their target audience. Although this user base isn't as large as Facebook's, it is much more engaged, making it a more effective way for brands to get their message seen and heard. We analyzed 1,000,000+ influencer profiles across leading Influencer Marketing Platforms and found that Instagram has the highest interaction rate compared to other social media platforms.
Another interesting fact is that 65% of the top-performing Instagram posts feature products. This says a lot about how the platform's user base responds to sponsored posts. The audience doesn't seem to have a problem interacting with posts in which other users (read influencers) are promoting products. This is particularly so in the favored niches of Instagram. For example, fashion accounts for 25% of brand interactions on Instagram.
This is perhaps why even influencers themselves seem to adore the platform. Our The State of Influencer Marketing 2023: Benchmark Report found that Instagram was used by nearly 80% of the brands that engage in influencer marketing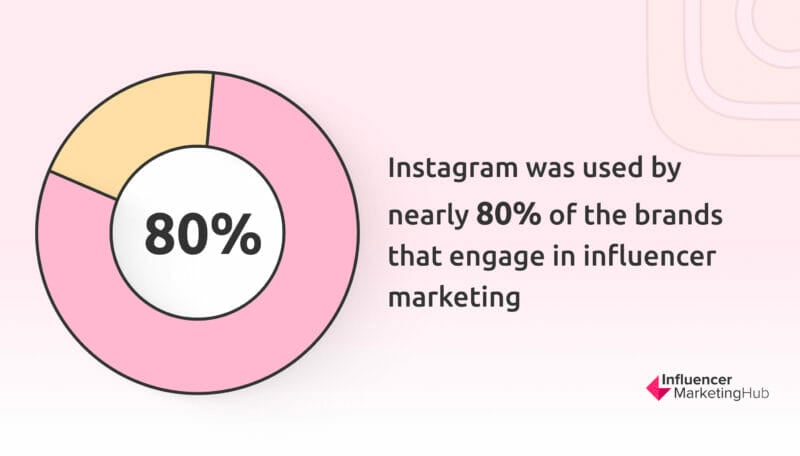 And in another survey, which was conducted by Bloglovin' on micro-influencers, Instagram seemed to be a favorite yet again. 59% of respondents in the study said that the platform is the most effective among all social channels to engage their target audience.
---
Getting Started with Instagram Influencer Marketing
So, if Instagram is such an effective platform for working with influencers, it's a great idea to get started using the platform for your influencer marketing campaigns. And here are a few essentials that you should consider before executing your campaign:
Set Clear Goals and KPIs
Before you start a campaign, there is one thing you must be sure of – what do you expect to get out of the campaign? It's crucial that you answer this question because the answer will form the basis of the rest of your campaign.
What are your campaign goals? Do you wish to raise brand awareness? Do you want to promote a product launch? Do you want to drive more traffic? Or do you want to increase sales?
You undoubtedly know that you have potential customers at different stages of the marketing funnel. Some people are already looking to purchase a product like yours and merely need a nudge in your direction. Others will be near the top of the funnel, possibly even unaware your product exists, and certainly not currently considering making a purchase. Finally, a third group will sit somewhere in between these two extremes.
For those near the bottom of the funnel, you can legitimately set a goal of increasing your sales, working with influencers to help you achieve this. However, your goals should relate more to product and brand awareness for those near the top of the funnel.
Whatever the ultimate goal may be, you need to clearly define it to better understand how to go about your campaign. In addition, having a proper objective in place will help you know what performance metrics will be relevant for the campaign. For example, if your goal is to raise brand awareness, metrics such as reach, impressions, engagement, etc., would be relevant for you.
That said, you should also look at how your competitors measure the results of their campaigns. This will help you gain a better idea of what kind of metrics you should consider using.
---
Set a Budget for Your Instagram Influencer Marketing
Before you go any further, you need to ensure that you have sufficient money set aside to pay for your influencer marketing campaign. Don't rely on influencers agreeing to work for you in return for free or discounted products.
Influencer marketing is a legitimate part of marketing, and as such, you need to budget for it in the same way you budget for other marketing types. Your budget will dictate the types of influencers you can approach to participate in your campaign – and whether you can realistically expect to meet your goals.
---
How Much Do Instagram Influencers Cost?
The amount you have to pay an Instagram influencer very much depends on their popularity and level of influence. Many of the world's largest and best-known brands have worked with celebrity influencers and been willing to pay considerable sums for the privilege. Hopper puts out an annual Instagram Richlist, attempting to separate influencers from celebrities. Expect to pay top celebrities, such as Cristiano Ronaldo, Dwayne Johnson, Arian Grande, and Kylie Jenner, upwards of $1.6 million per post.
However, most influencers have made their name on Instagram and other social sites, as distinct from celebrities who have gained their fame offline, and as a result, now have vast social followings. Top Instagram influencers, although still out of the reach of most small and medium-sized businesses, charge more manageable amounts. Eleonora Pons averages $264,000 per post, Charli D'Amelio $264,000 per post, and Addison Rae $219,000.
However, most businesses work with micro-influencers. These people with a reasonable online social media following have developed a reputation for having a focused passion in some niche or topic of expertise. Views differ regarding the size of a micro-influencer's following, as there is no precise definition. However, we can generally think of micro-influencers as anyone people consider an expert in a niche, with between 1,000 and 50-100,000 followers. If we go back to Hopper's 2022 findings, we can find high-quality micro-influencers charging in the region of $100-$500 per post.
---
Look for Ideal Influencers
Once you've determined what you want to gain out of the campaign, you can start the process of defining and identifying your ideal influencers.
Who influences your audience? Who creates content related to your brand, industry, or products? Who will be able to help you achieve your campaign goals?
Here are a few handy points you should consider when defining your ideal influencer:
Niche

- Consider their niche or their area of specialty. What topics do they usually cover? This is essential to maintain authenticity and create promotional content that doesn't deviate from their usual topics.

Reach

- Consider the reach of your ideal influencer based on your goal. For example, a relevant top-tier influencer would be an excellent option to raise brand awareness. However, if you wish to drive engagement and start conversations around your product, look for relevant micro-influencers instead.

Voice

- Have a clear idea about the kind of voice your ideal influencer should have. Do you want them to be more serious and professional? Or would you like them to be casual and friendly? Maybe you'd prefer to work with an influencer with a good sense of humor? Consider all of this based on what your target audience would like.

Engagement Rate

- Even if you choose to work with a top-tier influencer, make sure they can still drive significant levels of engagement. You should clearly define the minimum average engagement rate your influencers should be able to maintain. Use tools like the

Instagram Money Calculator

to find out the average engagement rate of potential influencers.
After defining your ideal influencer using these points, you can start searching for influencers for your campaign. There are now many influencer marketing platforms available in the market that can help make this job more manageable.
Influence.co, for instance, is an excellent option for finding Instagram influencers. This platform lets you search for influencers based on category. You can also filter the results based on location and Instagram follower count.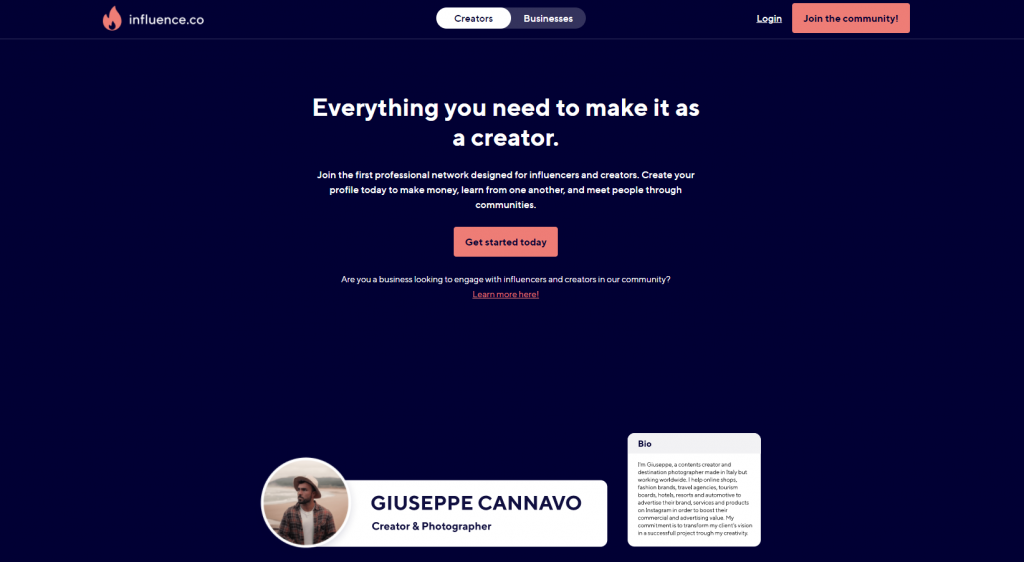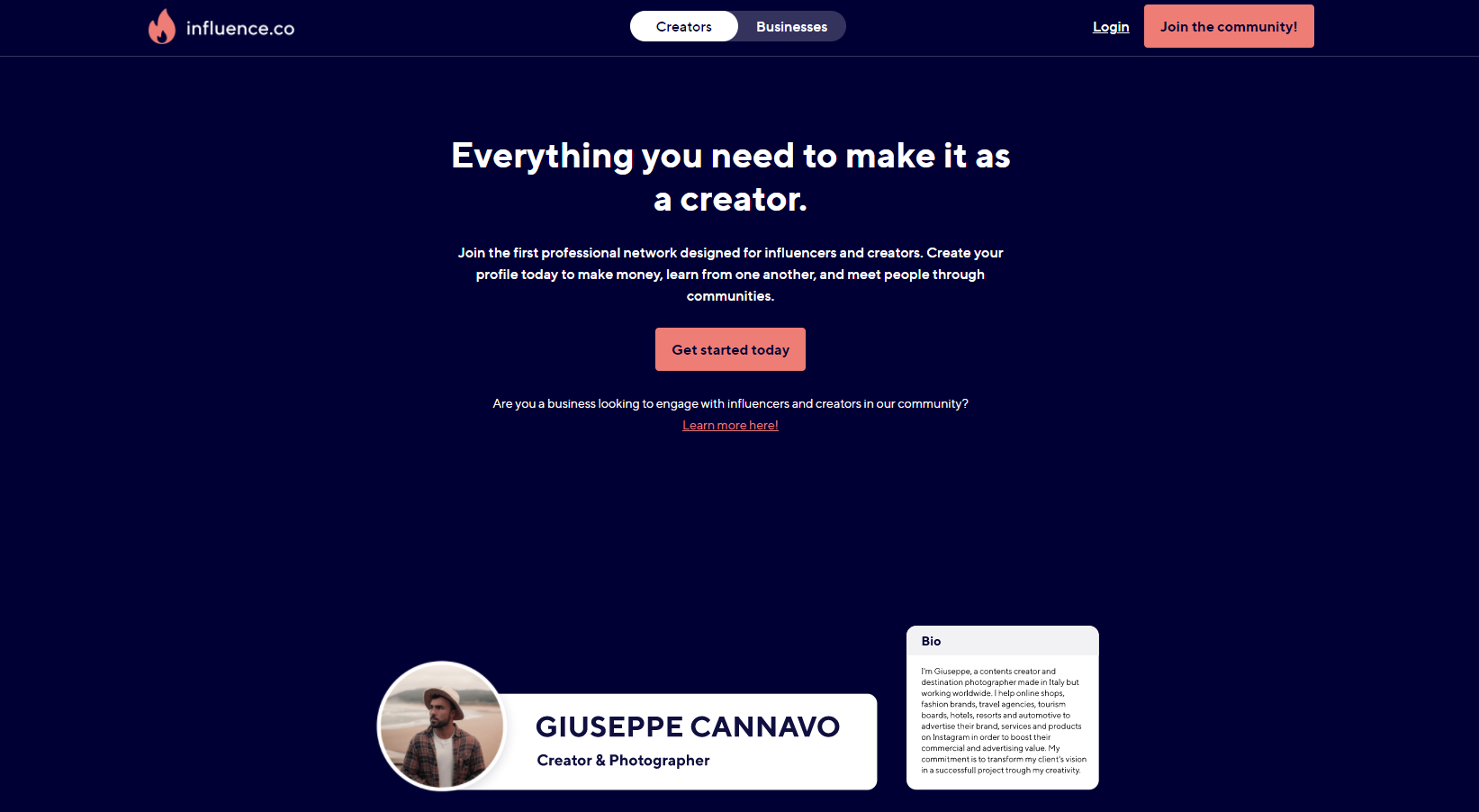 Using the advanced search feature of this tool, you can further narrow down your search based on gender, engagement rate, and age of the influencer. Additionally, there's a rate filter that can help you find influencers to suit your budget.
Grin is another option to help you with your influencer discovery. You can start your search using a relevant keyword. You'll then have the opportunity to filter your search based on metrics such as location, Domain Authority, etc. This can be very useful for Instagram influencers who have a blog or website for multichannel campaign execution.
---
Decide on a Collaboration Structure
After you've decided on which influencers you're going to work with, you'll need to discuss how you're going to collaborate with them. This will ensure that the campaign runs smoothly for both parties.
Here are some factors you should be negotiating about with your influencers:
Campaign Timeframe – Make sure you clearly communicate with your influencers about deadlines and campaign timeframe. Otherwise, you may end up having to follow up repeatedly in case they fail to meet these deadlines.

Content Production – You should also have an agreement on what exactly you expect your influencers to produce for the campaign. What kind of content do you want from them? Do you want Instagram photos featuring your product with a brand mention?




Do you want them to tell a story instead of just mentioning your brand? Maybe you want them to promote your products through videos and Instagram stories as well. Whatever your expectation is, you should clearly communicate it beforehand. You should also discuss the amount of content required for the content.

Content Usage Rights – Another crucial consideration is the right to content usage after the campaign. For example, suppose you plan to repurpose the influencer's content in social media ads, website testimonials, etc. In that case, it's crucial that you request full content usage rights while the influencer retains ownership.

Compensation – There's also the issue of compensation, which many brands and marketers fail to consider thoroughly before beginning their Instagram influencer marketing campaigns. Will you be giving them a flat payment per post? Or do you prefer to pay them based on their performance?

While some micro-influencers may agree to promote your products in exchange for complimentary products, avoid taking this for granted. Always be prepared to make some monetary payment when working with influencers.
---
Types of Influencer Campaigns on Instagram
Once you have your influencers, you can talk to them about the types of posts you'd like them to carry out on your behalf on Instagram. But, again, you should go back to the goals you set when determining the best combination for your campaign. Some typical types of campaigns include:
Sponsored posts – you pay influencers to create content on behalf of your brand, which they share with their followers on Instagram. They will need to tag these posts as being sponsored to meet legal disclosure requirements.

Branded content – here, you share posts through your company Instagram account, but you feature influencers in that content.

Reviews – influencers make posts where they review your products. You should let influencers be as honest as possible in these reviews to keep credibility with their audience.

Contests – you send free products to influencers that they use in a giveaway contest for their followers.
Instagram has expanded its offerings over the last few years, so you could negotiate with influencers to create any combination of the following:
Regular posts featuring a single image and a caption

Carousel posts with multiple images and a caption

Instagram Stories (which will disappear after 24 hours)

Videos, within any of the above, or on IGTV or Reels
---
Successful Instagram Influencer Marketing Campaigns
Now that we've got the basics out of the way, you can start looking for campaigns executed by other brands for some inspiration.
Here are a few perfectly executed campaigns that you can model yours after:
Alpro and Kate Spiers
Alpro wanted to promote their yogurt alternative products and partnered with model Kate Spiers. The influencer regularly creates content related to fashion, style, food, and lifestyle. She had previously made sponsored posts for other brands to match her fresh and delicate Instagram aesthetic.
For Alpro, she created a post in which the product is strategically positioned amid a breakfast spread. She added elements such as pink flowers and table linen to maintain consistency with her usual Instagram timeline. She also mentioned a quick recipe for the breakfast she was having, which included the Alpro product.
Here's how it looked:
Takeaway:
Make sure your influencer showcases your product in an aesthetic that matches the rest of their Instagram posts.
---
Glossier and GlamOnGlam
Glossier is known for partnering with micro-influencers and turning everyday consumers into loyal brand ambassadors. One of the micro-influencers they've partnered with was Instagram user GlamOnGlam, who has now renamed her account eaudeskin and has just over 9,000 followers. She regularly creates posts in which she showcases Glossier products and talks about them.
In the following post, she talked about the latest sunscreen produced by the brand. She gave a brief one-line review of the product and talked about how it's lightweight and serum-like. She also invited her followers to use the link in her bio to get 20% off on the product.
Takeaway:
Get influencers to promote discount codes in addition to giving honest reviews of your product.
---
Utopian Luxury Vacation Homes and Lisa Linh
Utopian Luxury Vacation Homes wanted to raise awareness about their brand through Instagram influencer marketing. So, they invited four travel bloggers, including Lisa Linh, for a unique experience in Utah. As a travel influencer, Lisa Linh showcased her vacation experience in an authentic and aesthetically pleasing manner.
She created several posts portraying some of the wonderful experiences she had during her vacation with the other three influencers. Some of her posts depicted her snowmobiling, swimming, and walking in the snow. The four bloggers also seemed to enjoy sitting by the fire toasting marshmallows.
Takeaway:
Get influencers to showcase a unique experience around your product or service.
---
Conclusion
These essential elements and tips can help you successfully execute your first influencer marketing campaign on Instagram. As you can see, there is quite a bit involved in the process, but it will all pay off in the long run.
Frequently Asked Questions
How do you become an influencer on Instagram?
Follow these steps to become a successful Instagram influencer:
Pick a niche
Edit and optimize your Instagram bio
Switch your account to a business account
Share original content
Curate your Instagram feed
Post on a schedule
Use relevant hashtags
Engage with your audience
Why is Instagram better for influencer marketing?
Instagram is the perfect platform to execute your influencer marketing campaign, especially because influencers prefer to use Instagram. 59% of influencers say Instagram is the most effective way to engage their target audience.
How do I start an influencer in marketing?
Here's a short, step-by-step guide to creating a successful Influencer marketing campaign:
List your goals and KPIs
Find relevant influencers
Trust your influencer with the content creation process
Reward your influencer
Track and measure the outcome
How many followers do you need to be an influencer?
To become an influencer, you will need at least 1,000 Instagram followers as a micro-influencer and 5,000 or more to become a regular influencer. To earn around $100,000 a year, you will need at least 5,000 followers and more than 300 sponsored posts or more.
Can you be an influencer with 1,000 followers?
Any social media user with 1,000 to 5,000 followers on a social media account can be considered a nano-influencer. These nanoinfluencers are regular people who are popular with friends and family.