For small businesses and creative entrepreneurs, selling on Etsy can be a profitable trade. In 2021, gross merchandise sales (GMS) within the platform reached $13.4 billion—30% more than the previous year, which already saw Etsy's GMS soar by over 110% at the height of the coronavirus pandemic.
You might be wondering how you can maximize your sales on Etsy, especially when you're just starting out. Good news is you don't need a massive email list or a huge social media following to do it.
As more and more consumers shift to online shopping, influencer marketing is as powerful as ever. This year, brands are expected to increase their influencer marketing budget, as the industry is projected to skyrocket to $16.4 billion.
The right influencer can boost your brand visibility and increase traffic to your storefront. This article will help you leverage an effective influencer marketing strategy on Etsy and create your first campaign on the platform.
---
The Ultimate Guide to Etsy Influencer Marketing:
---
What is Etsy?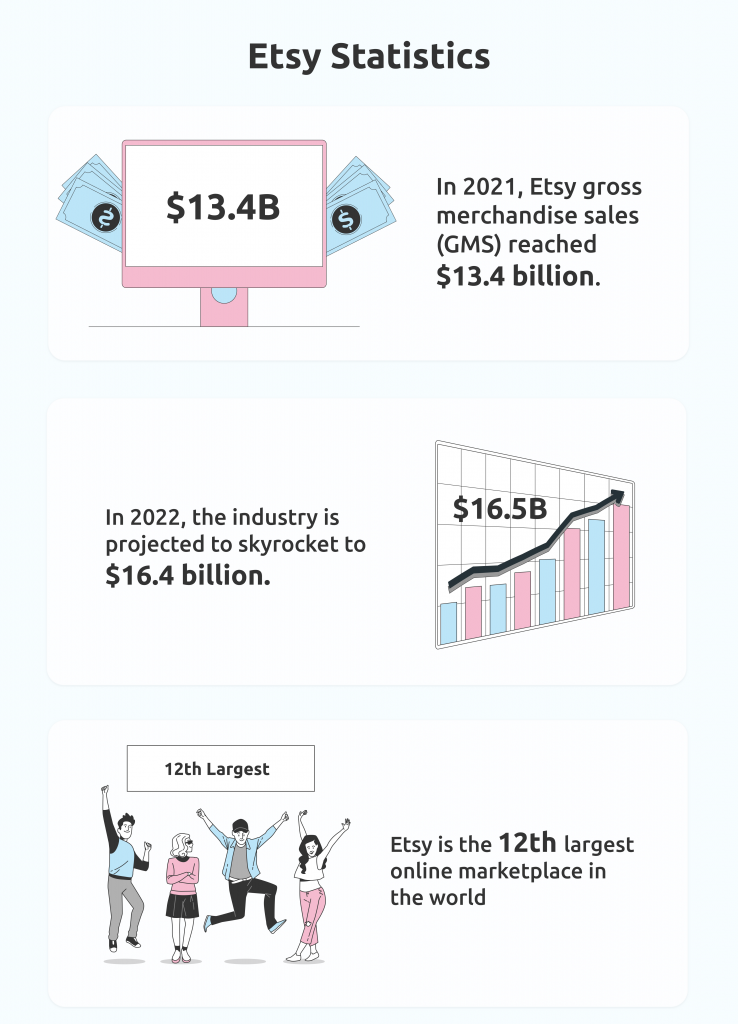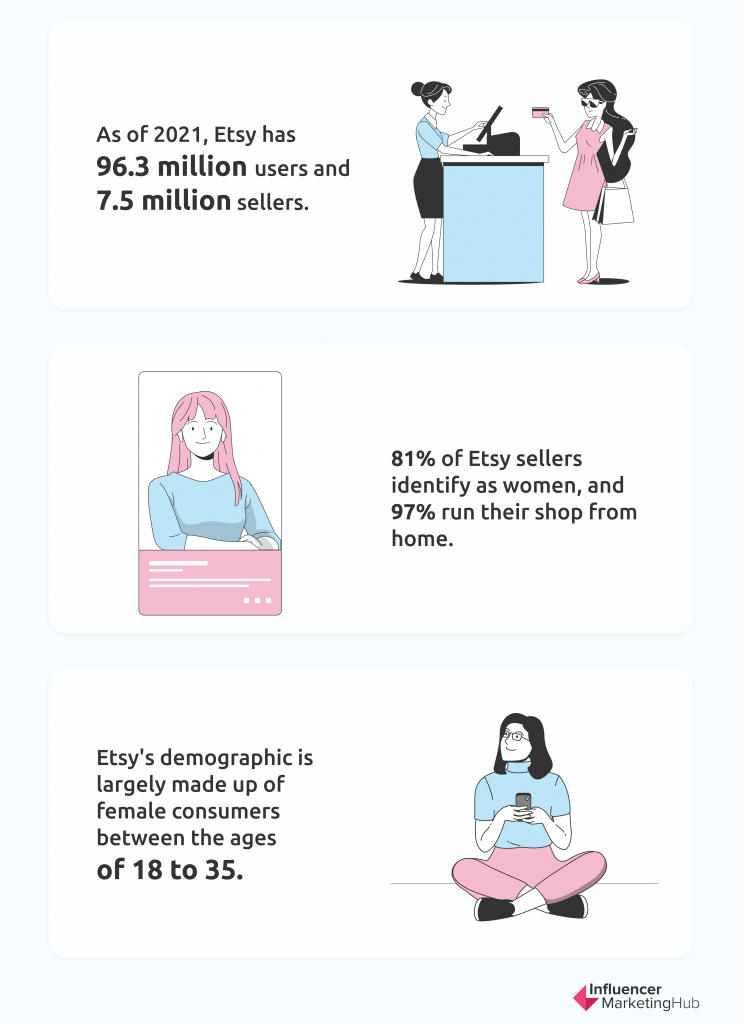 Etsy is an online marketplace where users from all over the world can list items they've made to sell or buy and collect items from other creators. These items can range from artworks and clothing to vintage jewelry.
As the 12th largest online marketplace in the world, Etsy sets itself apart from other e-commerce platforms with its focus on unique and high-quality products that are usually personalized and handmade.
As of 2021, Etsy has 96.3 million users and 7.5 million sellers. As much as 81% of these sellers identify as women, and 97% run their shop from home. Most of the shops are start-ups, which provide a secondary stream of income for sellers. Top vendors on the platform earn at least $10,000 a year.
Meanwhile, the Etsy demographic is largely made up of female consumers between the ages of 18 to 35. These shoppers also have money to spend and are typically after handcrafted, original, or retro items.
---
Why Should You Use Influencer Marketing on Etsy?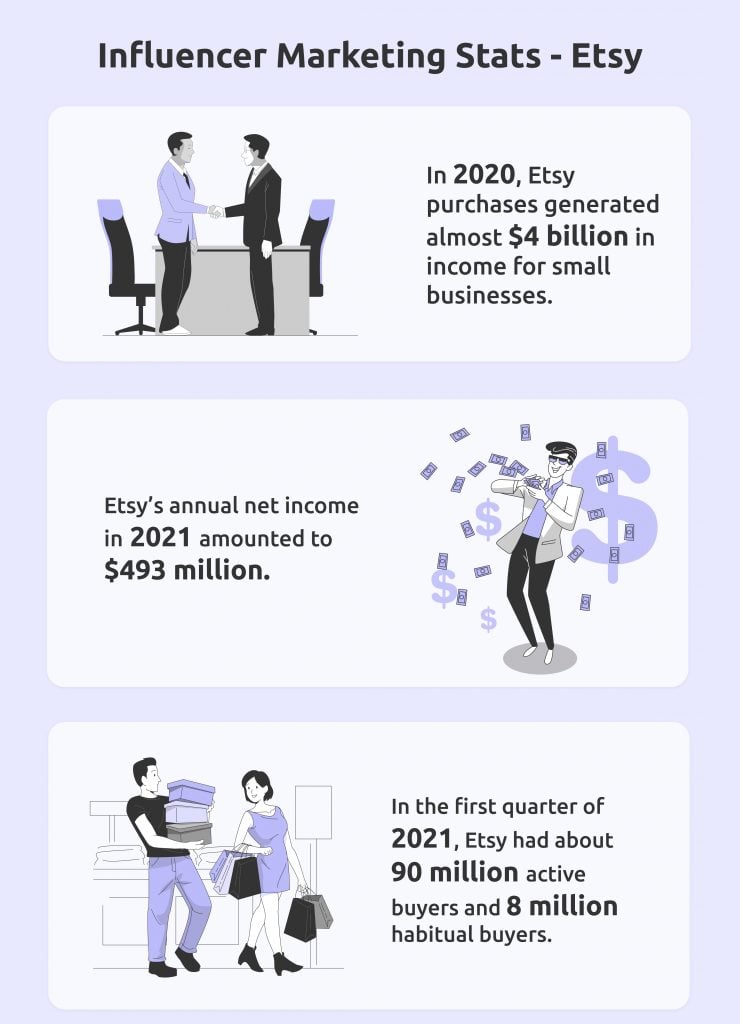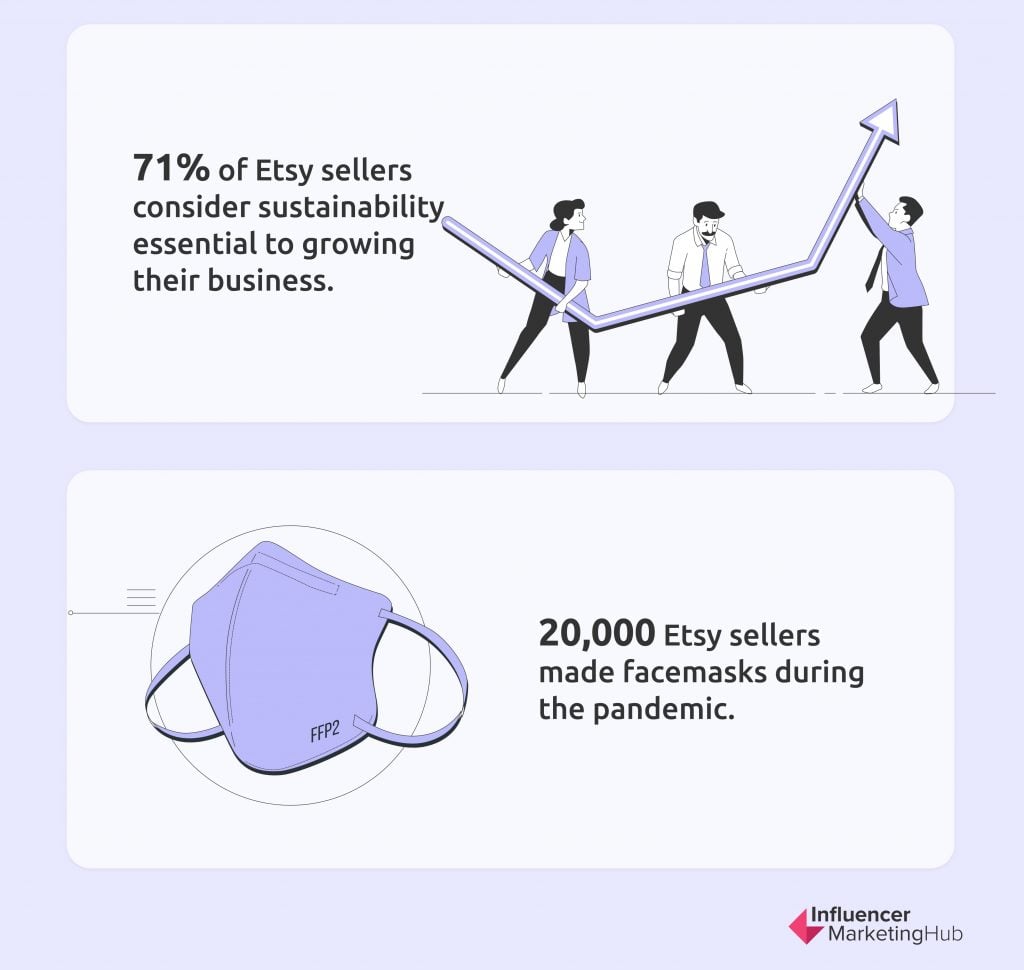 Compared to competing platforms, influencer marketing on Etsy isn't as huge. Still, it's one of the best places for influencers to promote your products. Here are some reasons why.
Thriving marketplace
Two years ago, Etsy purchases generated almost $4 billion in income for small businesses. On the other hand, the company's annual net income in 2021 amounted to $493 million, an increase of more than 40% from the previous year.
Wide and diverse reach
As Etsy products are unique and scarce, the platform has reached a varied user base. In the first quarter of 2021, Etsy had about 90 million active buyers and 8 million habitual buyers. These refer to loyal Etsy customers that have spent at least $200 on more than six purchase days.
Focus on personalization
Personalization is one of the key marketing trends of 2022. Salesforce's State of the Connected Customer report finds that over half of consumers expect offers to always be personalized. Etsy's market of highly individualized handicrafts creates opportunities for both sellers and influencers alike.
Sustainability response
This year, the demand for sustainable and local products is higher, and millennial and Gen Z consumers are looking to connect with brands that represent their values. Similarly, 71% of Etsy sellers consider sustainability essential to growing their business. Etsy not only advocates for independent creators within the local market but also seeks to reach net zero emissions by 2030.
Dynamic market
Etsy is responsive to consumer trends. Instead of selling the same thing repeatedly, vendors adapt to the times. In 2020, for example, 20,000 Etsy sellers made facemasks right after the Center for Disease Control and Prevention recommended people to wear one. For marketers, Etsy's flexibility as an e-commerce platform demands creativity and originality.
Good value
Other online marketplaces cater mass-produced items. On the other hand, people shop on Etsy for products that they can't find anywhere else. Compared to competing platforms, these products are also lower-priced. Moreover, Etsy's much lower fees keep shoppers coming back for more.
---
How Does Influencer Marketing Work on Etsy?
For their influencer marketing strategy, most Etsy shops have mainly been using influencers from different social media platforms. But as Etsy continues to make itself more accessible to influencers, a shift is starting to take place.
Two ways that influencers are flourishing on the platform right now are through the Favorites feature and The Etsy Edit.
In 2020, Etsy launched a tool that allowed influencers to curate their top picks on the platform and display them on their Etsy storefront as a Favorite item. When users click on that item, they are directed to the original product page. There, they can add the product to their cart and check out. Or, they can add it to their own Etsy collection or bookmarked Etsy items.
Similarly, influencers can include a list of Favorite shops on their Etsy storefront. Clicking on those shops directs users to the original seller's page, where they can browse through all the listed products.
Items that are low on supply, include a discount, or have been sold are automatically marked with a disclaimer to inform the buyer. If the shop is on break, Etsy lets potential customers know that as well.
One influencer who uses these Etsy features to promote her favorite shops and items is Toronto fashionista Shannae Ingleton. Her top shop picks range from African head wrap sellers like NubianGrace to printable wall art vendors like FrankiePrintCo.
Influencers can also market their favorite items through Etsy's online interview feature, The Etsy Edit. Here, influencers discuss Etsy items that they enjoy using. Any Etsy product that gets mentioned here is prominently featured in the interview, complete with price information, a link to the original product page, and a high-def photo.
Additionally, that product automatically becomes part of that influencer's Edit. Edits act like an online catalog that visitors can browse. They are so aesthetically pleasing that you can't help sharing them across other social media platforms.
One notable example of an influencer who maximized Etsy Edit is lifestyle blogger Kristine Lee. In her interview, she talked about her top Etsy picks for family-friendly summer finds. Some of the items that she listed included a personalized pompom hat from LittleLooksbyLilly and maple bread boards from kindlythelabel – both of which have already been sold.
---
Getting Started with Etsy Influencer Marketing
Now that you know how influencer marketing works on Etsy, here are a few essentials to help you get started.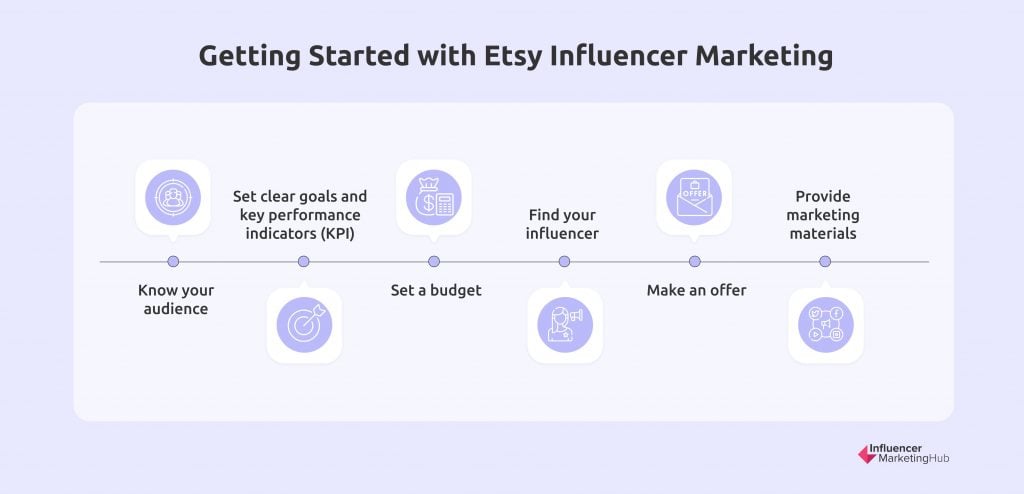 Look for an influencer who has the same audience or interests as you. This will not only draw more traffic to your shop but also generate potential leads. Influencers who market the same product as you would be more engaged and promote your brand effectively as a result. Consider getting a local influencer to help your brand gain more authentic promotions.
To discover the right influencer, segment your audience by interest then identify top influencers within each segment. Aim to tap the top 20 influencers for each target segment. These conversation leaders should also be flexible enough to address changes in consumer interest or trends. These strategies can help you not only reach audiences faster but also save time and money in the future.
Set clear goals and key performance indicators (KPI)
Before you start an influencer marketing campaign, know what you want to gain in the end. Maybe your product is already turning heads, and you're just looking for someone to give them the final push. Or maybe your brand isn't getting any traction at all, and you simply want someone to boost their visibility.
Knowing your goals can help you identify KPIs that are relevant to both you and your influencer, and can help you both set expectations for the results of the campaign.
Avoid relying on people who want to market your product in exchange for free stuff. Like any other advertising strategy, influencer marketing requires a budget. The budget dictates the type of influencer that you can approach for your marketing campaign. This can go a long way, especially when you find the right influencer for your brand.
Influencers rates depend on various factors, such as follower engagement, reach, platform, industry, content, and demand. If you're a small business, you should consider getting micro-influencers or influencers with about 10,000 to 50,000 followers. Depending on the platform, micro-influencers will typically cost $25 to $1,250 per post.
Other things that you need to look at when pricing your influencer are their return on investment, previous campaign performance, and rates in comparison to other influencers.
While there are many influencers out there, the challenge is in discovering the best one for your brand. You don't just want someone with lots of followers—you need someone who can provide valuable social proof.
Here are some ways for you to discover the best influencers on Etsy:
Adding well-populated hashtags on your product pages and descriptions can easily make you discoverable to potential consumers and influencers. You can also add item-specific hashtags and check out which users are already using these. It's also a surprising way to discover potential influencers.
Review your Etsy following
Sometimes, the right influencer is already following you. If you're lucky, they'll even be the first ones to introduce themselves to you. Provided that they meet the standards that you've set, your followers can be an effective influencer for your brand as they already believe in your product.
Etsy Teams function like online forums, where sellers can converse and collaborate with one another. Like any forum, teams have topics or categories that they want to focus on. Aside from gaining tips from like-minded creatives on how to grow your shop, you also get a chance to meet sellers who are influencers themselves.
Once you've found the right influencer, follow their storefront and social media pages. Slowly build rapport by engaging with their posts or adding their items to your Etsy collection. This is also one way for them to notice your brand.
Once you feel comfortable with the level of engagement you have with your chosen influencer, send them an email or a message. Ask if they're interested in collaborating with you for an influencer marketing campaign. If they're receptive, send them a formal email discussing your terms of offer.
Remember that the perfect outreach email is clear, concise, and personalized. It should discuss your campaign goal and what you expect your influencer to do for your brand. What are you willing to do for your influencer in exchange for a promotion, review, or feature on their platform? Consider sending them a free product or offering them a discount.
Always agree to terms that fit your budget. It also wouldn't hurt to discuss with your influencer any best practices when promoting your specific product, like disclosing whether an ad is a paid promotion. You can even throw in a free item as a reward or a thank-you gift if they're able to draw a certain number of sales.
Provide marketing materials
Having an influencer doesn't mean that you should leave everything to them. Far from it—influencer marketing is a collaboration between you and them. Moreover, making your own materials can help drive even more traffic to your shop.
Some of the things that you can provide your Etsy influencer are:
Product descriptions:

It's important to create product descriptions that target specific keywords for search engine optimization, as this can either boost or lower the product page's search engine ranking.

Hashtags:

These

can increase an item's visibility to potential buyers, so you must be aware of the ones that potential buyers are using to search for brands like yours.

Photos:

Using high-quality images for your products is particularly important for Etsy, especially since they also get featured every time your product gets a shoutout anywhere in the platform.
---
Etsy Influencer Marketing Strategies
Once you've got the basics down pat, should incorporate some of these techniques into your influencer marketing campaign.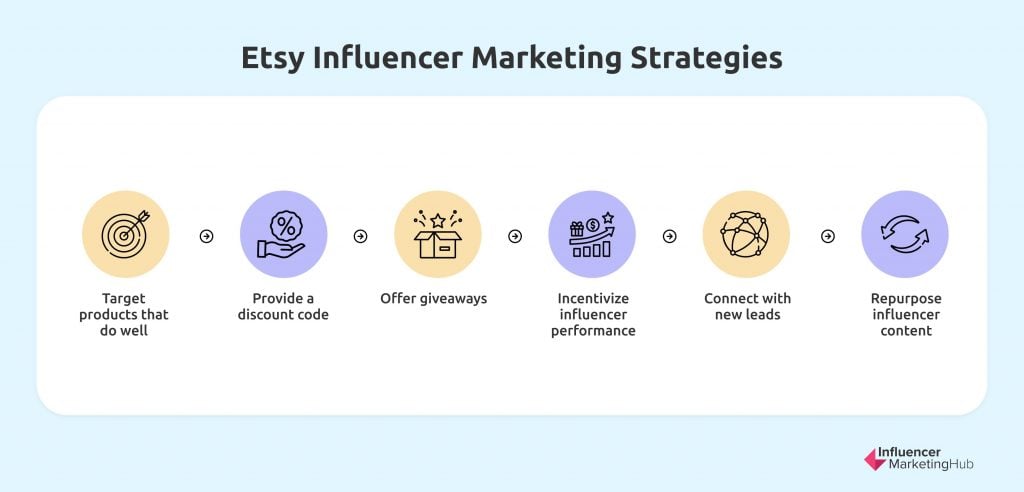 Target products that do well
The Etsy marketplace is big on niche products, as well as products for women. Here are specific categories that perform well on the platform:
Craft and supplies

: This category, which includes knitting and crochet patterns, make up

a third

of Etsy's top 10 sellers list. That includes

PlannerKate1

, the number one Etsy seller of 2021.

Jewelry

: The popularity of personalized necklaces, rings, and anklets has made

It'sCaitlynMinimalist

the number 2 top seller on Etsy with over

1.5 million

sales.

Wedding decorations:

UnmeasuredEvent

, the top shop for this category, has over

222,000 sales

.

Home Living:

In 2020, this category made up

25%

of handmade seller shares on Etsy.

Printable:

The hottest item under this category are planners with over 1,000 relevant searches on the platform.

Digital artworks:

The bestseller under this category is

LouMarksPhoto

. She creates photo filters and Instagram presets and has about

400,000

sales.
Provide a discount code
For every influencer you work with, offer a coupon or discount code that they can share with their followers. This helps you track how much revenue each influencer is bringing in. More than that, coupons are also a way for you to build customer loyalty. In fact, 91% of coupon redeemers say they revisit a shop that has given them a coupon.
Offer giveaways
Giveaways engage your viewers, increase your audience reach, and generate more leads. It's also cost-effective. Organize giveaways that your influencer can host on their Etsy storefront. When planning your event, select relevant prizes for your shop. Maybe you want your customers to receive an exclusive discount or a free item from your shop.
Incentivize influencer performance
Once influencers reach their target KPIs, a reward can be enough to motivate them to perform twice as well on future campaigns. Just make sure that the reward is in line with your influencer's performance. This may include gift cards from your store, a free product, or a portion of your sales.
Connect with new leads
While influencers can draw a crowd, it's your job to identify leads and engage with them. Leads can be anyone who adds your products to their Collections or Favorites, adds your item to their cart, or mentions your shop on social media. Some ways to connect with them include engaging with them on social media, adding them to your email list, or simply offering them product discounts.
Repurpose influencer content
One way to maximize influencer content value is by repurposing it for other channels. This not only draws more customers to your pages but also gives you positive social proof. You can simply share your influencer content on social media where others can engage with it, or you can repurpose it as an ad on your pages.