Advertising Disclosure
Advertising disclosure:
Our partners compensate us. This may influence which products or services we review (also where and how those products appear on the site), this in no way affects our recommendations or the advice we offer. Our reviews are based on years of experience and countless hours of research. Our partners cannot pay us to guarantee favorable reviews of their products or services.
In the vast, ever-evolving landscape of digital marketing, the ability to generate high-quality leads remains the lifeblood of any sustainable business. As we traverse into an increasingly digitized era, companies are perpetually on the lookout for effective methods to reach potential clients. This is where Lead Generation agencies come into play.
Lead Generation agencies are specialist firms that utilize a variety of strategies and techniques to cultivate potential customers for a business's products or services. They employ a multitude of tools to identify, engage, and convert potential leads into actual customers. In the context of LinkedIn, these agencies are adept at leveraging the platform's unique environment, designed to foster professional networking and business discussions, to generate superior leads that can significantly elevate business performance.
---
Top LinkedIn Lead Generation Agencies
We've curated a list of high-performing agencies that mastered the art of lead generation and demonstrated exceptional expertise in leveraging LinkedIn's unique professional network.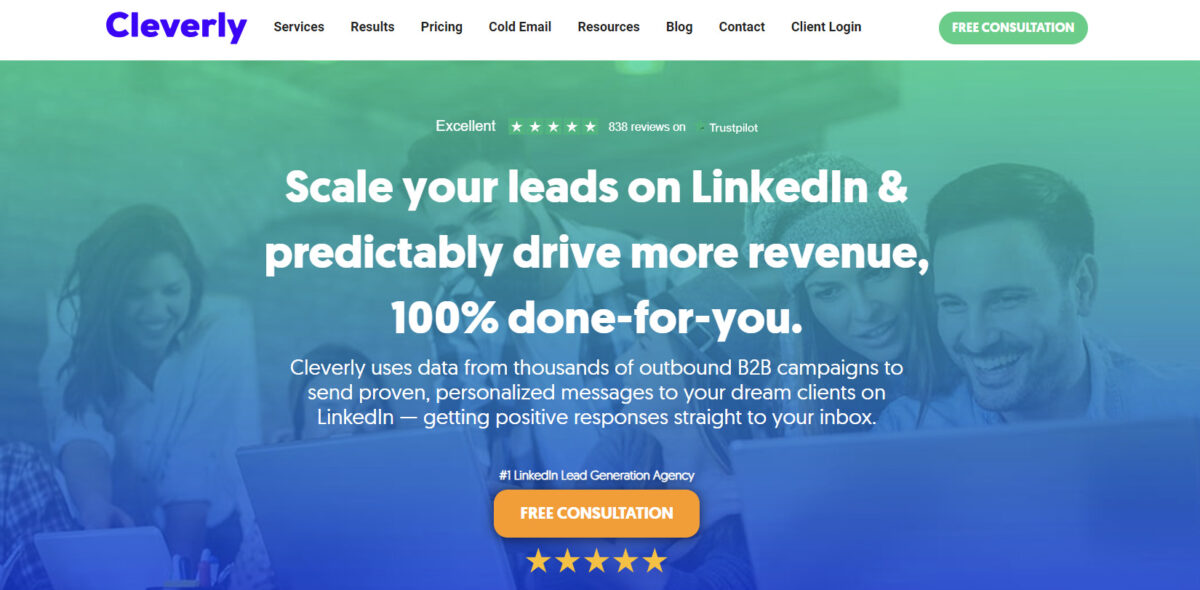 Best for: Large corporations, Startups, Mid-size businesses
A revered name in the LinkedIn lead generation sphere, Cleverly is a premier agency with a track record of producing stellar results. It's not just the impressive statistics – 151.4K client leads, $37.6M in client revenue, and $229M client pipeline generated – that make Cleverly stand out. It's their innovative, data-driven approach that has caught the attention of over 5,000 clients, including big names like Uber, Paypal, WeWork, Amazon, and Google.
Cleverly offers a comprehensive suite of services tailored to your specific needs. From building a targeted list of ideal prospects and crafting personalized outreach messages, to executing outreach strategies and closing deals, they provide a seamless, end-to-end solution.
Their pricing plans are highly competitive, starting at $397 per month for 250 prospects and going up to $1,197 for a comprehensive outreach and content package. Each plan includes an array of services such as LinkedIn profile optimization, content and ghostwriting, and LinkedIn sales strategy, designed to turn your LinkedIn profile into a lead converting machine.
---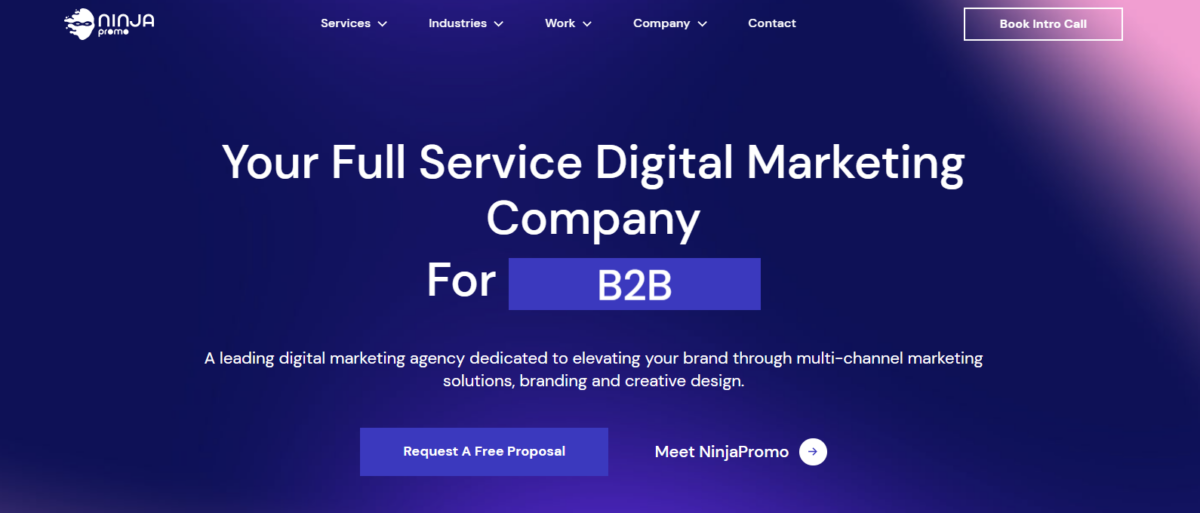 Best for: B2B businesses, Startups, Mid-size businesses
Specializing in bespoke LinkedIn marketing strategies, NinjaPromo has mastered the art of engaging high-value clients on LinkedIn. They distinguish themselves from the crowd by crafting personalized, targeted strategies that avoid the cliches and generic messaging that plague so many LinkedIn outreach campaigns.
NinjaPromo's suite of services includes LinkedIn profile optimization, LinkedIn outreach, and LinkedIn content creation, all aimed at engaging your target audience and driving relevant visitors to your website. They also offer detailed insights, analytics, and reporting, allowing you to keep track of your campaign's performance.
NinjaPromo has partnered with some of the best in the venture, including Polygon, Techstars, and Combinator. Their services are geared towards leveraging the power of LinkedIn's 930 million-strong professional network to supercharge the growth of B2B businesses. Pricing is available upon request, ensuring you get a tailored strategy that suits your budget and business needs.
---
Best for: B2B Businesses
A frontrunner in LinkedIn lead generation, Sociallyin tailors its services to match each client's specific goals and objectives. The social media agency uses powerful automation software to find highly qualified leads, engage them, and alert clients when the leads are ready to connect. Beyond being a LinkedIn lead generation company, Sociallyin is a partner in your business's online strategy, offering a free monthly webinar to keep clients up-to-date on LinkedIn's dynamic landscape.
Their LinkedIn Lead Generation Automation and LinkedIn Paid Advertising Strategy + Execution, along with social selling and LinkedIn workshops and e-courses, are designed to ensure the highest level of customer engagement. They leverage data from thousands of successful LinkedIn campaigns to target and engage your most qualified decision makers. They also offer the Social Selling Assistant™ (SSA), taking care of all your day-to-day engagement strategies on LinkedIn, from prospecting to conversion.
---

Best for: SMEs, startups, digital marketing agencies, and large enterprises
An all-in-one platform for LinkedIn posting and engagement, SocialPilot is designed to enhance your branding goals with its vast feature set. The LinkedIn Scheduler not only ensures easy posting on multiple LinkedIn profiles and pages, but also provides a vast array of tools for enhancing your posts. This includes personalized captions, curated content, business tagging, multiple images, image editor, post queueing, GIF & video support, bulk scheduling, URL shortening, audience targeting, Canva integration, and more.
With SocialPilot, scheduling LinkedIn posts is effortless, and they even offer a bulk scheduling feature for up to 500 posts at once. Alongside this, the tool offers a flexible calendar and team management features, allowing you to collaborate with your team and clients effectively. Furthermore, they offer an array of additional services including analytics, social inbox, and white label customization. With its comprehensive suite of features, SocialPilot ensures that your LinkedIn strategy is personalized, efficient, and impactful.
---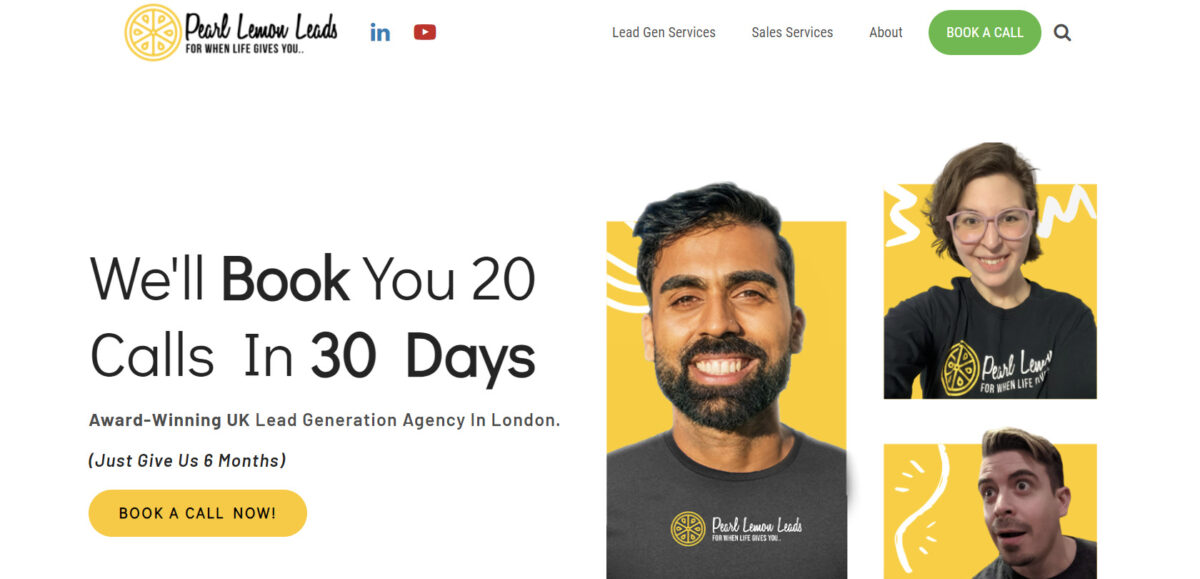 Best for: Small to medium-sized businesses
Pearl Lemon Leads, a UK-based LinkedIn Lead Generation company, specializes in capturing high-quality leads for businesses to transform into new sources of revenue. With over 500 million regular users on LinkedIn, this thriving platform is the perfect place for businesses to engage with potential customers.
Pearl Lemon Leads focuses on expanding your network, connecting you with your target audience, industry influencers, and referral partners. Their B2B Lead Generation services provide engaging content, ensuring that valuable information is consistently shared with your target market. They also optimize your LinkedIn profile for key employees to have a strong, conversion-focused presence.
Their multi-channel approach combines cold calling, cold emailing, and appointment setting with their LinkedIn Lead Generation services to deliver maximum value. Pricing for their LinkedIn Lead Generation Services is available upon request through a scheduled call. Pearl Lemon Leads has an impressive track record of helping clients achieve their digital growth goals, making them a top choice for LinkedIn Lead Generation.
---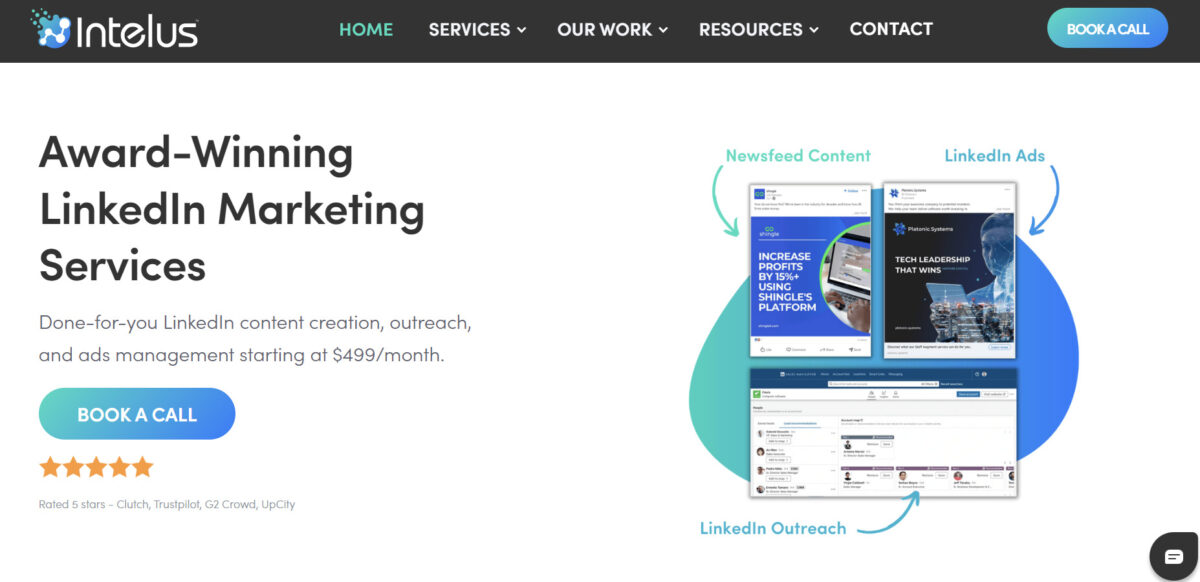 Best for: B2B businesses
Intelus is the #1 LinkedIn Outreach Agency for manual B2B Lead Generation. They offer a proven manual LinkedIn outreach process that consistently fills your sales pipeline with qualified opportunities. Intelus ensures that you no longer have to choose between DIY outreach or paying someone to spam your network with automation.
Their services include ICP & Buyer Persona Alignment, careful LinkedIn Lead Sourcing, A/B Testing LinkedIn Messages, Manual LinkedIn Lead Nurturing, LinkedIn Outreach Reports, and LinkedIn Outreach Strategy. They offer three pricing tiers: Semi-Manual LinkedIn Outreach at $1,499/month, Manual LinkedIn Outreach at $2,499/month, and Manual LinkedIn, Email & InMail Outreach at $3,499/month. Note that all plans require a separate purchase of LinkedIn Sales Navigator.
Intelus prides itself on its simple, transparent pricing, and its full-service approach to growing your network, increasing LinkedIn engagement, and driving more sales. With their expertise and customized approach, Intelus stands out as a premier choice for LinkedIn Lead Generation.
---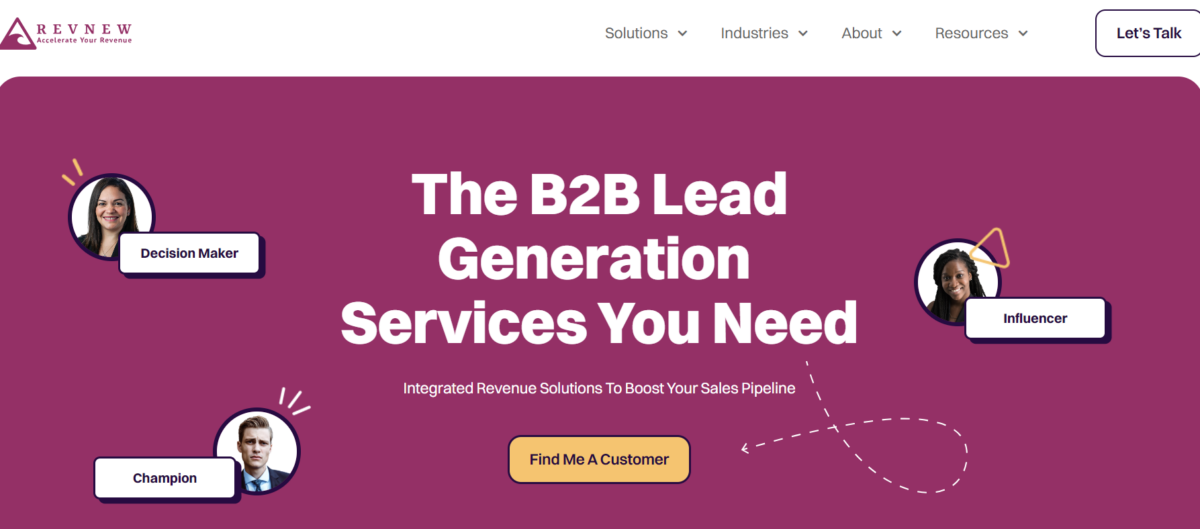 Best for: B2B businesses, small and large organizations
Revnew positions itself as the only LinkedIn lead generation agency your business needs. They understand the challenges that many businesses face when it comes to LinkedIn, whether it's a lack of a prospecting strategy, difficulty crafting the right messaging, or issues with outreach messages getting flagged as spam. Revnew aims to help businesses overcome these obstacles and improve their LinkedIn marketing strategy.
They offer a variety of services, including a prospecting service that seeks to place businesses at the top of their prospects' minds by engaging with them in a friendly, personable manner. They also provide a 'done-for-you' lead generation service that helps businesses identify and convert potential leads. Additionally, they can help businesses create precise, targeted LinkedIn ad campaigns to boost engagement and conversion rates.
Revnew prides itself on having helped various businesses improve their lead generation, boasting impressive numbers of leads generated and contacts tracked. They offer a comprehensive LinkedIn marketing strategy, from identifying prospects and crafting engaging messages, to conducting outreach campaigns and closing sales.
---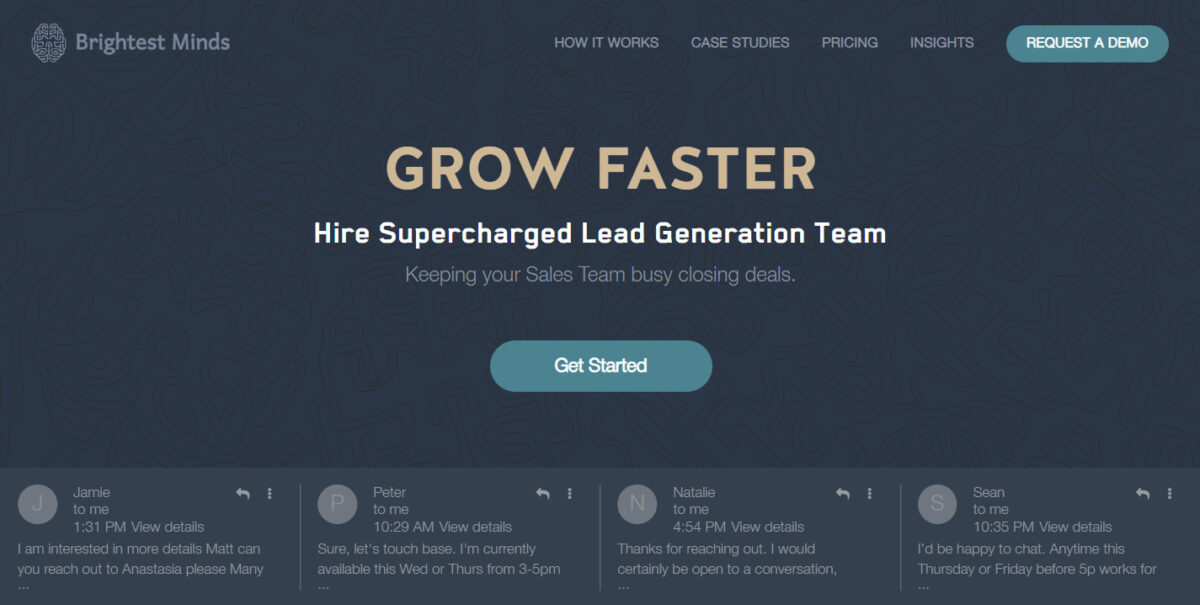 Best for: Tech startups and SaaS companies
Known for delivering consistent results with their modern strategies, BrightestMinds is a leading LinkedIn lead generation agency. Founded in 2017 as a side project, the company has grown into a team of over 50 people, boasting a track record of over 500,000 unique leads, over 20,000 sales prospects, and over $10,000,000 in potential sales. This company stands out due to its unique blend of sophisticated tech and human expertise.
BrightestMinds offers a comprehensive and cost-effective approach to LinkedIn lead generation. By combining advanced tools like Marketo with the skills of KPI-driven SDRs, data analysts, and other specialists, they offer a semi-automatic service that brings together the best of both worlds: technological efficiency and the human touch.
Their unique approach to lead generation involves targeting specific data such as company growth data, staff count, mobile app revenue, and community interests, among over 99 types of data that they can gather to ensure a precise and effective lead generation strategy. Their service guarantees between 300 to 3000 B2B leads for every 130 hours of work by a mentored specialist.
BrightestMinds' commitment to continuous learning and improvement is evident in the Brightest Minds University, an educational program for skill development that encourages team members to constantly improve their skills and knowledge. Their range of clients spans from global giants like IBM to promising startups, demonstrating their versatility and effectiveness in generating leads on LinkedIn.
---

Best for: B2B organizations, startups
Win at LinkedIn is a LinkedIn lead generation service that prides itself on generating qualified leads for companies. The service promises 60 to 120 direct introductions to buyers within 45 days, guaranteeing a steady stream of leads for your sales team to follow up on. The company has generated over 30,000 accepted leads for B2B organizations, making it a reliable and efficient choice for LinkedIn lead generation.
Their service stands out with its 'Done For You' LinkedIn Lead Generation service, which includes a promise of no more cold calls and lead quality guarantee. They only engage with targets that meet your criteria, ensuring that you only accept leads that meet your standards.
The process involves a detailed consultation to understand your business, comprehensive research to build contacts that fit your Ideal Customer Profile (ICP), engaging with prospects in a personal and human approach, and delivering leads typically within 7 days of the campaign starting.
Their pricing is straightforward with two plans, the Gold Plan (£3000) offering 60 Qualified Leads, and the Diamond Plan (£5000) providing 120 Qualified Leads. Both plans come with dedicated campaign management teams, professionally written sales copy, LinkedIn data, and unlimited consultation. The company's unique approach and commitment to quality make it a standout choice in LinkedIn lead generation.
---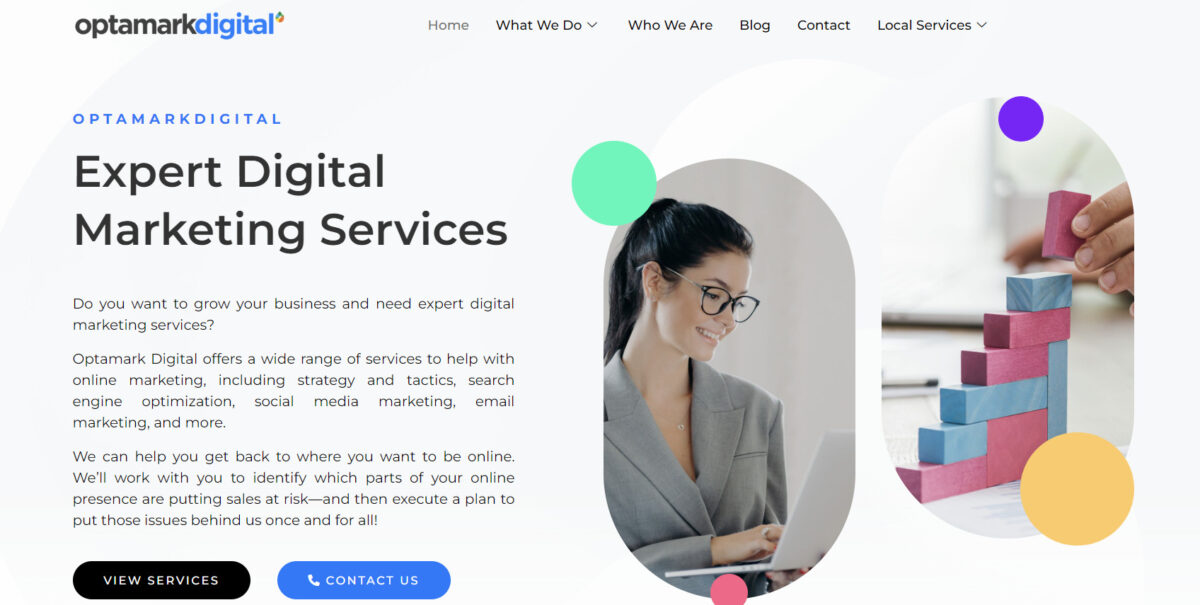 Best for: Mid to Large-sized businesses
Optamark Digital is a premier agency specializing in LinkedIn lead generation, strategically targeting and segmenting audiences to reach the right prospects. Using a combination of data-driven content creation and LinkedIn's social selling feature, they expertly assist businesses in expanding their LinkedIn audiences and converting them into valuable leads.
Priding themselves on creating impactful marketing campaigns, they follow a clear methodology: listen, plan, and execute. They also manage tasks involving prospect identification, qualification, and appointment setting. With Optamark Digital, businesses get a well-orchestrated LinkedIn campaign that efficiently generates leads and amplifies sales, propelling companies to global leadership.
---
Understanding The Role of LinkedIn Lead Generation Agencies
LinkedIn lead generation agencies are the lifeblood of sustainable business growth, cultivating potential customers using a variety of strategic techniques. Their expertise in identifying, engaging, and converting potential leads into actual customers on LinkedIn is invaluable. In the fierce market competition of today, companies require advanced, effective, and efficient lead generation strategies that these agencies can provide.
---
Selecting the Right Agency
The task of choosing the right LinkedIn Lead Generation agency is a critical decision. This is not a one-size-fits-all endeavor. Different agencies have varying areas of expertise, service offerings, and approaches to lead generation. Therefore, businesses must consider factors such as the agency's experience, their understanding of your industry, their track record in generating high-quality leads, and their ability to tailor their strategies to meet your specific business objectives.
---
In Conclusion
Throughout this comprehensive review, we've explored the transformative role of LinkedIn Lead Generation Agencies. We've learned that these specialized firms utilize the power of LinkedIn's professional network to uncover and engage high-quality leads, a crucial element for any business aiming to thrive in a competitive environment.
From our in-depth analysis of each agency, we saw how different firms, with their unique offerings and expertise, meet varying business needs and objectives. Whether it's Cleverly's data-driven approach, NinjaPromo's personalized strategies, or Sociallyin's advanced automation software, each agency offers a unique way to leverage LinkedIn's potential, and therefore brings a distinct value to businesses.
The importance of making a thoughtful choice while selecting a lead generation agency cannot be overstated. The right partnership can make the difference between struggling to connect with potential leads and building a consistent, high-quality lead pipeline.
As we move forward, the role of LinkedIn Lead Generation agencies will continue to grow. By investing in a competent lead generation agency, businesses can foster meaningful connections, build stronger networks, and fuel sustainable growth.
Frequently Asked Questions
What exactly do LinkedIn lead generation agencies do?
LinkedIn lead generation agencies help businesses grow their LinkedIn network and attract potential leads. They accomplish this by creating engaging content, implementing effective marketing strategies, and using data analytics to optimize these efforts.
What type of businesses can benefit from a LinkedIn lead generation agency?
Almost any type of business can benefit, particularly B2B companies, startups, tech firms, professional services, and businesses in the recruitment sector. LinkedIn is a professional platform, making it ideal for industries and businesses targeting professionals.
How do these agencies generate leads on LinkedIn?
Agencies use various strategies like content creation, sponsored content, InMail campaigns, LinkedIn ads, and effective use of LinkedIn Sales Navigator. They also apply data analytics to improve these strategies over time.
Can these agencies guarantee a certain number of leads?
While some agencies may project potential leads based on past successes and your industry type, it's important to note that no agency can provide an absolute guarantee. However, a reputable agency will put in the necessary strategies and effort to maximize lead generation.