Advertising Disclosure
Advertising disclosure:
Our partners compensate us. This may influence which products or services we review (also where and how those products appear on the site), this in no way affects our recommendations or the advice we offer. Our reviews are based on years of experience and countless hours of research. Our partners cannot pay us to guarantee favorable reviews of their products or services.
Over the course of the COVID-19 pandemic, businesses saw rapid changes in business practices and management. Gone are the days of manual file organization and data transfer. Today, enterprises are embracing cloud-based workplace platforms so employees can work wherever they please.
However, the growing complexity of business processes can add unnecessary workload on employees. Urgent deadlines and everyday mundane tasks can be difficult to segregate in little time. With the help of enterprise automation, employees can leave repetitive tasks up to software and business applications while they work on more important tasks.
As businesses grow, finding bottlenecks in processes is inevitable. Eliminate such roadblocks and jumpstart your way to success with the right enterprise automation solution.
---
7 Must-Have Enterprise Automation Solutions:
---
What is Enterprise Automation?
Enterprise automation integrates software and digital processes to execute repetitive tasks. Instead of running a manual inventory check with pen and paper, employees can refer to a spreadsheet for quick and easy management. More complex examples of enterprise automation include file sharing, request approvals, and IT operations.
With proper implementation, enterprise automation boosts operational efficiency, enabling businesses to maximize resources and scale. While employees work on more pressing tasks, automated systems can take over menial processes and clear up bottlenecks.
---
Types of Enterprise Automation
Enterprise automation can be as simple as managing spreadsheets or as complex as integrating multiple applications across business departments. The broad scope of automation is categorized as follows:
Basic Automation
Basic automation refers to automating simple, manual tasks. It is the fundamental component in implementing higher-level automation systems.
A common example of basic automation is a form system; the department in charge can easily assess performance and satisfaction rates by reviewing data and feedback received from forms.
Below are other use cases of basic automation across the different departments:
Marketing: Automated news alerts on industry trends and competitor activities

Sales: Customized dashboards for ease of tracking progress

Finance: Spreadsheet formulas for automated spend calculations and cost analysis
Business Process Automation
Business process automation (BPA) revolves around optimizing workflows across departments. BPA standardizes processes for ease of understanding and communication between different business teams.
Business process automation builds on basic automation solutions for more in-depth task management. For instance, the basic automation of notification alerts on competitor highlights can be further streamlined with business process automation. Dedicated social media tools and analytics can aid marketing teams to stay up-to-date on brand mentions and audience engagement across social channels.
Integration Automation
Integration automation involves the integration of multiple applications and devices for streamlined file-sharing and project management. Automated workflows of software run by different teams and departments come together on a single platform.
Integration automation simplifies progress tracking and communication. Collaborative work platforms like Microsoft Teams and Slack provide business users easy access to web portals, online forms, and more. Businesses manage multiple workflows and applications on a central hub, cutting back costs on redundant software solutions and human error.
Robotic Process Automation
Robotic process automation (RPA) is best suited for tasks with a specific and thorough procedure to follow. RPA software imitates a human's method of executing a task, such as copying and pasting text or files.
RPA is powered by machine learning and artificial intelligence. These bots are prompted into action by a significant set of keywords. A common example would be AI chatbots; customers can raise queries with the bot and it provides the best answers. It can also redirect customers to human customer service representatives when necessary.
---
Benefits of Enterprise Automation
Time and money are of the essence for businesses of all sizes. As business practices evolve with the advancements of technology, embracing enterprise automation helps optimize processes and address pain points. Enterprise automation aims to support organizations in scaling operations and efficiency – from employee performance and security to customer experience.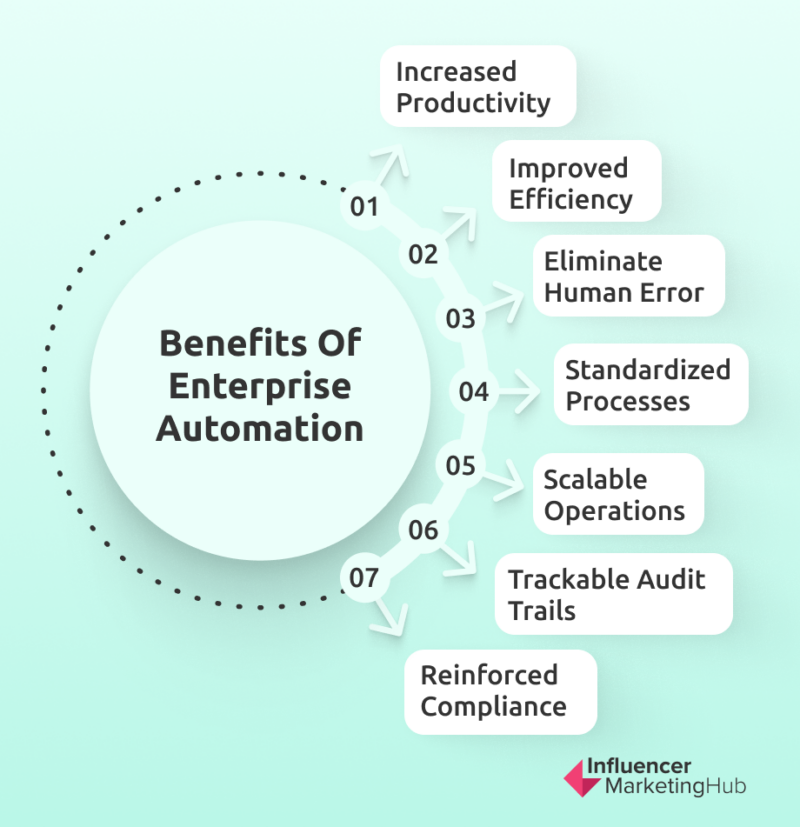 Increased Productivity
With automated processes taking over manual work, businesses can streamline processes and increase productivity. Employees accomplish more work in less time with applications performing automated tasks in the background.
Improved Efficiency
Rather than employees relieving one another of workload, digital processes can aid them in handling menial tasks. With enterprise automation, organizations can better reallocate resources and minimize costs without compromising on the quality of service and performance.
Eliminate Human Error
Even the smallest of errors in data entry can significantly affect results. This, however, does not mean employees are prohibited from making mistakes. Digital processes can aid to eliminate errors and uphold the reliability of results. Run validation checks and address discrepancies immediately with enterprise automation.
Standardized Processes
Silos in an organization lead to different processes implemented for every department. However, such silos limit operational efficiency and opportunities for collaboration. Standardizing processes and workflows across teams ensures every employee recognizes the defined rules and guidelines.
Standardization allows for consistency in growth and performance. Most importantly, organizations can observe transparency in decision-making and communication.
Scalable Operations
Manually sifting through invoices, request forms, and more can hold back a business from expanding. Employees, no matter how skilled, can only handle a certain number of clients at a time before they reach the peak of their productivity.
Automated processes contribute greatly to an enterprise's success in today's fast-paced society. Digital solutions can execute several tasks simultaneously and initiate new business opportunities to explore.
Trackable Audit Trails
An organization does not simply run processes; it also keeps track of the status of every process and relevant employee activities. Enterprise automation solutions record audit trails to uphold accountability, data integrity, and data security.
Reinforced Compliance
Protecting critical client data is a priority of all businesses. However, not all digital solutions follow compliance standards, thus putting client information at risk and inevitably, the organization's integrity. Enterprise automation ensures data security with IT-approved role-based access control and other security protocols.
Top
enterprise automation software
2024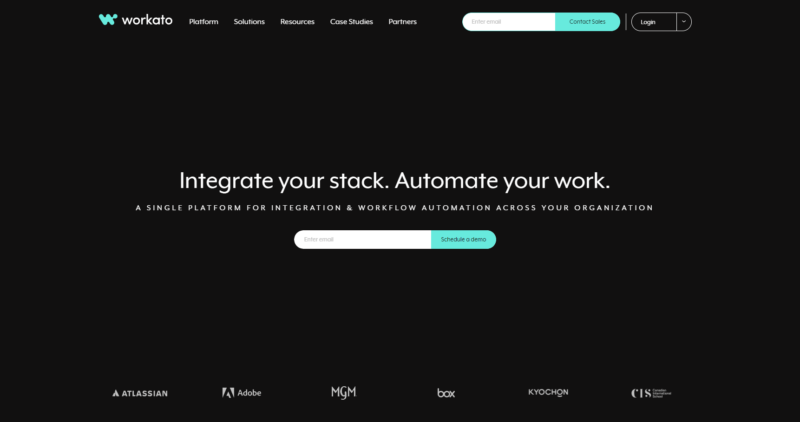 Features: Employee onboarding and offboarding, campaign creation, opportunity management, quote-to-cash, procurement, analytics
Pricing: Quoted upon request
Simplicity is at the core of Workato. This enterprise automation platform lets organizations build seamless workflows across departments—from IT and HR to finance and marketing. Workato simplifies business processes with the power of artificial intelligence. It is an all-in-one cloud-based solution supporting seamless data synchronization and access anytime, anywhere.
On Workato, managers can activate and interconnect workflows across business teams for maximum efficiency. Stay ahead of project goals and deadlines with automated task management. Increase and nurture leads with smart data integration from existing tech stacks such as Salesforce and Outreach. Set up actions with specific procedures for a thorough execution of tasks, or program intelligent bots for automated notifications and message responses.
---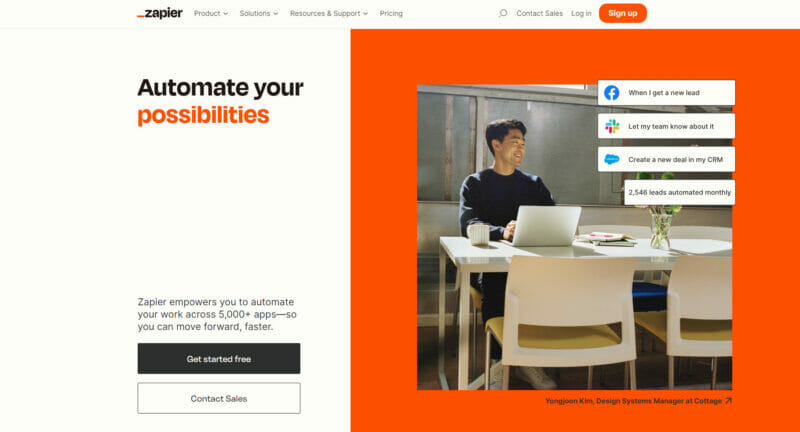 Features: Lead management automation, customer communications, internal processes, multi-step editor
Pricing: Basic plan is free at $0; paid plans begin at $19.99 per month
Zapier gets more work done in less time with its diverse integration for more than 5,000 applications. This automation tool collates data across existing technology for sophisticated workflows from project management and marketing, all the way to customer relations.
Zapier makes quick work with task assignments and process automation to help business users beat deadlines. Workflows can be activated or paused as necessary; Zapier supports trigger-specific prompts to help employees get back on track immediately. Every trigger, or Zap, automates multiple actions in the background. Employees gain more time to get on more client calls or partnership deals with Zaps taking care of more technical tasks.
---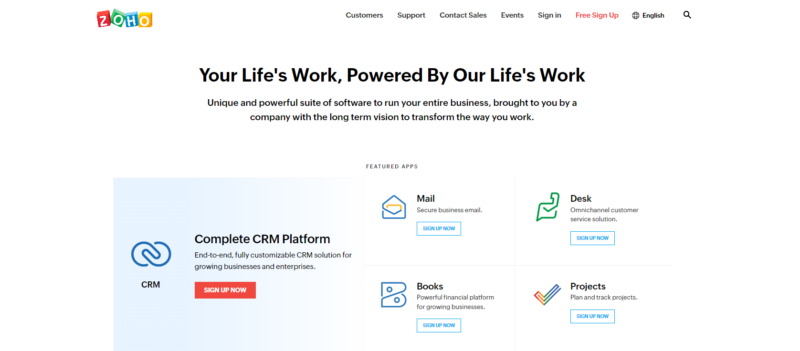 Features: Customer relationship management, low-code app development, process automation real-time analytics, remote workplace management
Pricing: Free subscription plan available; paid plans begin at $59 per month
Zoho is a powerful workplace platform featuring over 55 proprietary applications to support enterprise automation. This cloud-based technology lets businesses work comfortably in remote setups with a unified communication channel and collaborative spaces.
A fully-furnished Zoho workplace experience is reinforced with Zoho Creator, a low-code application development platform. Business users can tailor applications to optimize business processes without writing a block of code. Create apps with multi-device support on the intuitive drag-and-drop application builder. Automate processes and select from more than 500 integrations to add to your custom apps.
---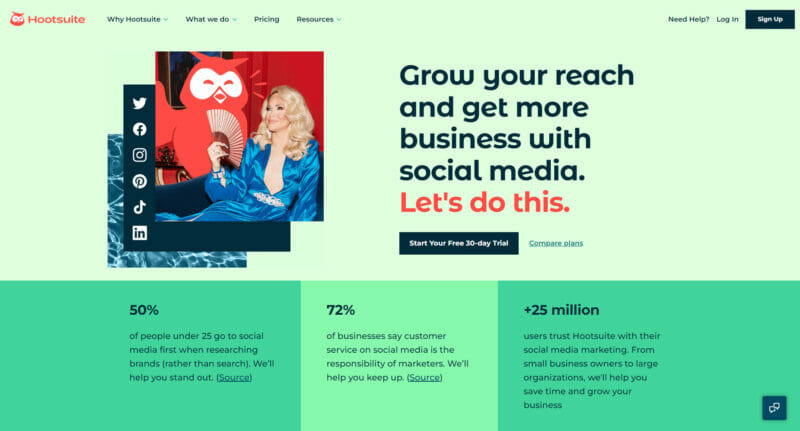 Features: Scheduled content management, customer engagement, market analysis and insights, real-time reporting, ad campaign management
Pricing: Plans begin at $49 per month. Try for free with a 30-day trial.
Increase engagement across social media channels with Hootsuite, a dynamic social media management platform. It offers many tools to support automated campaign management and user acquisition processes. Marketing teams can easily schedule striking content for maximum impressions and audience engagement.
Real-time analytics provided by Hootsuite enables businesses to optimize campaigns and stay ahead of trends. Targeted advertising, competitor tracking, and reliable customer support boost brand awareness and sales growth on social media.
---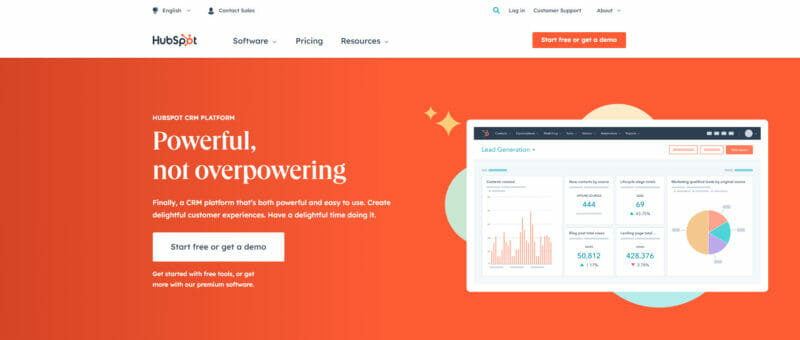 Features: Custom process automation, dashboards, tracking applications, real-time market insights, sales pipeline management, task management
Pricing: Starter subscription plan is billed at $45 per month.
HubSpot is a comprehensive CRM platform with a range of digital products to help automate processes in marketing, content management, sales, and operations. HubSpot lets businesses streamline inbound marketing strategies, partnership deals, and more with automation solutions.
Boost efficiency and drive sales with advanced functions exclusive to HubSpot. From targeted advertising and lead tracking to customer portals and online forms, HubSpot takes over the technical tasks. Additionally, it also helps keep track of sales, clearing the workspace of multiple spreadsheets. HubSpot also supports custom automation for tailored digital experiences in managing workflows.
---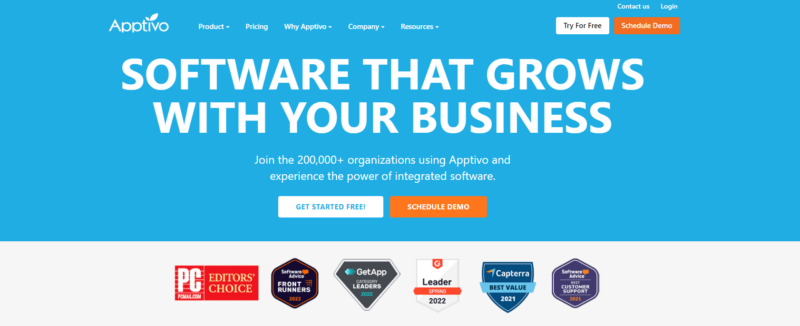 Features: Project management, procurement, finance reports, customer web portals, ticketing desks, email marketing campaigns
Pricing: Free trial available for 30 days; paid plans start at $10 per month.
Apptivo is a cloud-based business management platform that gets the work done for businesses of all sizes and verticals. Make project management, procurement, and invoicing quick and simple with the flexible and scalable features of Apptivo.
Apptivo's straightforward solutions make enterprise automation a welcome change in any organization. Employees can get more work done with Apptivo taking care of mundane actions. Schedule personalized email campaigns and invoice requests in just a few clicks. Deploy a reliable ticketing system and reach out to more customers in a short span of time.
Apptivo is best suited for business users working in remote environments. Access and sync data anytime, anywhere with Apptivo's multi-device compatibility.
---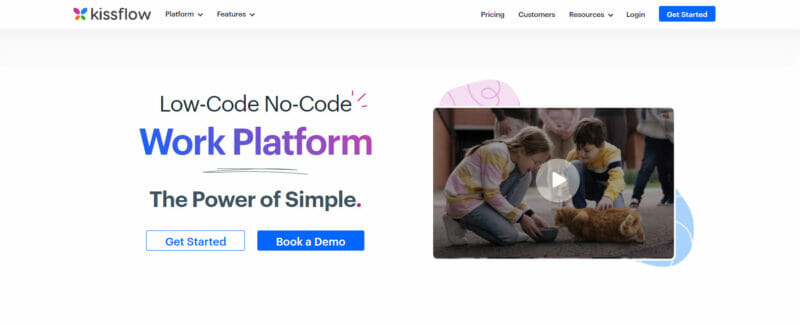 Features: Process automation, procurement, online invoicing, employee onboarding, talent acquisition, application development
Pricing: Quoted upon request
Kissflow is a cloud-native workplace management platform, boasting a low-code/no-code technology for enterprise automation. Its intuitive drag-and-drop application builder allows business users to develop and launch applications to optimize and automate processes in the organization.
Trusted by more than 10,000 companies around the world, Kissflow proves its leadership in digital transformation and enterprise automation. Non-developers can automate workflows and integrate new apps into the workplace without so much as writing a single line of code. Choose from over 400 pre-built templates to design forms, portals, dashboards, and more.
With Kissflow, every department can accelerate performance and productivity. From employee onboarding and project management to invoicing and request approval, Kissflow boosts operational agility and reliability.
---
How to Integrate Enterprise Automation for a Productive Workplace
Every business has goals to meet and milestones to unlock. However, increasing business processes can hold back employees from working effectively. Enterprise automation provides organizations the flexibility to operate at a larger scale, all while ensuring quality of service and performance.
As discussed earlier, there is a variety of enterprise automation solutions to consider. An organization may simply require one solution, while another may be interested in incorporating more comprehensive software. Get a clear understanding on how to implement enterprise automation with our handy guide below.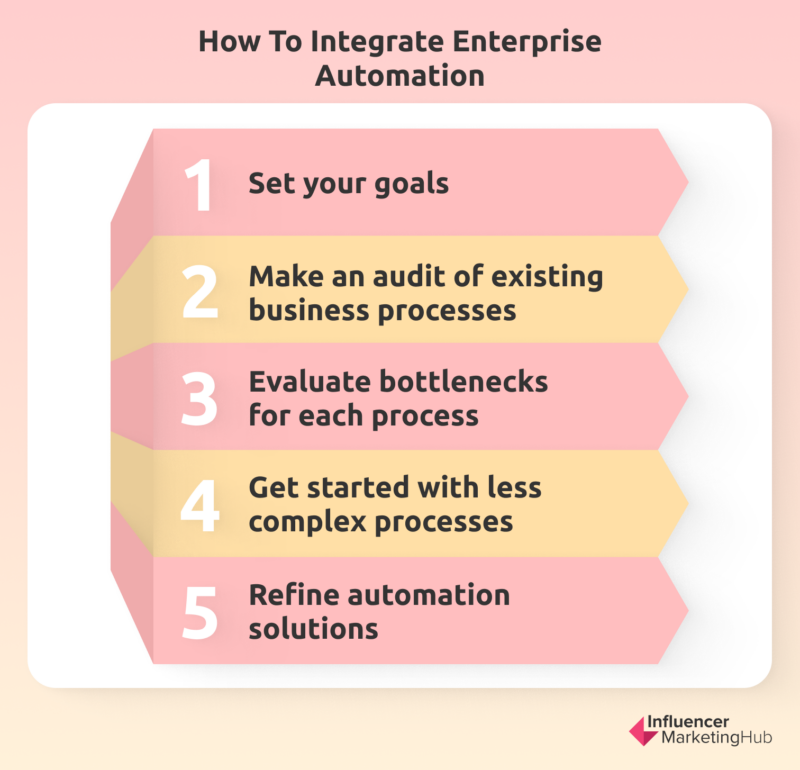 Set your goals.
Start strong with goal-setting. Set clear and specific goals to aid you in determining the best actions to take in optimizing business processes. What is it that you wish to accomplish with enterprise automation? Achievable and measurable goals will help you assess your investment returns in the long run.
Make an audit of existing business processes.
Keeping track of all business processes is essential in evaluating their need for automation. Make a list of existing business processes within and across departments. Try not to forget any process to ensure every business action is considered when implementing automation solutions.
Evaluate bottlenecks for each process.
No process is perfect, but the right enterprise automation solution can eliminate bottlenecks and increase overall efficiency. Jot down pain points for every process and assess the best solution to tackle persisting issues. For instance, how can employee onboarding go off without a hitch? What steps can the HR department implement to automate account setups and scheduled provision of technical equipment?
Get started with less complex processes.
It is best to start automating simpler tasks such as weekly task reports. This allows employees to familiarize themselves with the latest integration without interfering much with their usual routine around the workplace. Work your way up from simple to more complex automation such as integrating new business applications for better results and investment value.
Refine automation solutions.
Enterprise automation does not stop at implementing new analytics tools and web portals. Make it a habit to regularly review performance and corresponding results. Sustain or improve automated processes as you see fit to maintain a competitive advantage.
---
Jumpstart Business Success with Enterprise Automation
The competition in today's digitally-driven industry drives businesses to double their efforts in increasing sales and audience engagement. Accelerate work without compromising on the results and well-being of employees with the power of enterprise automation. In just a few clicks, accomplish more work with reliable and secure automation solutions.