Businesses can take on all sorts of shapes and sizes, from non-profits to start-ups all the way to enterprise companies. We typically define an enterprise business as one that generates upwards of $50 million in revenue and manages hundreds or even thousands of employees. Companies like Google, Amazon, and Microsoft fall under this umbrella.
Once a business gets to that size, it starts needing enterprise software to help manage processes, keep employees and tasks efficient, and ensure that revenue isn't lost.
However, as businesses grow, managers may not always know what the best types of software to bring in are. That's why we've put together this list of 11 types of enterprise software that your large company may need to organize processes in 2023.
---
11 Types of Enterprise Software for 2023:
---
What is Enterprise Software?
Enterprise software is a type of software that helps large businesses and organizations manage processes.
For example, one type of enterprise software that we'll cover shortly is a customer relationships management tool, or CRM. This type of tool allows large enterprise companies with comprehensive sales teams to manage their outreach and leads in an organized and streamlined way.
There are many different types of enterprise software, and many online software and tools offer enterprise-level service options as well to make sure they're able to satisfy the needs of large companies with thousands of employees.
---
Why is Enterprise Software Important?
There are so many reasons that large companies need to consider enterprise-specific software in order to improve processes and scale the business. Let's walk through a few key benefits of using enterprise software platforms within your business.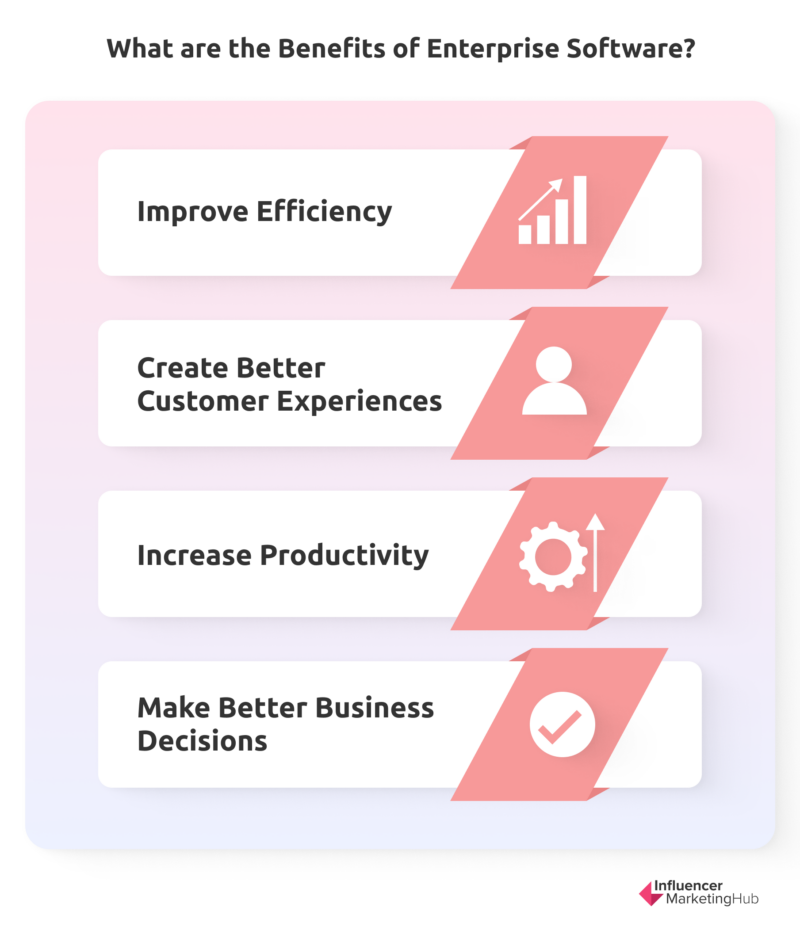 Improve Efficiency
Improve processes by automating tasks and enlisting the help of software designed to make operations much more efficient and streamlined. Large-scale enterprise software packages provide the exact tools your organization needs to make sure you're operating as quickly and efficiently as possible.
For example, marketing automation tools can help make sales and marketing processes much less tedious, opening up your employees to do more meaningful work.
Create Better Customer Experiences
When your business is more efficient, it's able to service its customers more effectively. This improves customer experiences, keeping them coming back time and time again. This in turn helps your business to scale and ensure you're providing great customer service.
Knowledge management and customer relationship management software are both great examples of tools that allow enterprise companies to build a better customer experience. These track customer behavior to create personalized experiences as well as offer tips and assistance for getting the most out of the product or service.
Increase Productivity
Help your employees get more done in less time. Through automation tools and other key enterprise software, you're able to help minimize tedious manual tasks and ensure your employees can focus on more important projects.
Business process management and business process automation tools are both key enterprise software for improving productivity within your organization.
Make Better Business Decisions
Utilize your software choices strategically so that you can get a clear bird's eye view of your business's performance, helping to make better business decisions that can help the company grow.
Software like business intelligence tools are a massive help in identifying necessary information that your business and its leaders need to know in order to make informed decisions throughout the organization.
---
11 Types of Enterprise Software to Consider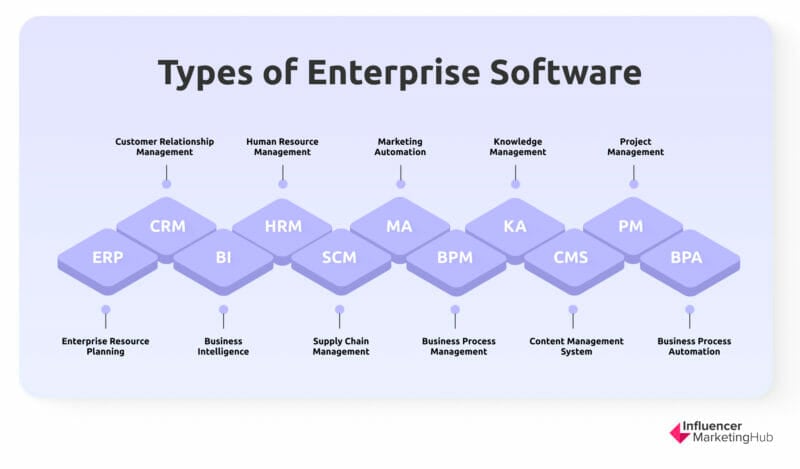 When you're managing an enterprise company or even just leading a single team within an enterprise company, there are many different processes you have to consider. You want to make sure your team can work well and efficiently, and signing up for the right enterprise software can help.
Here are 11 types of enterprise software you might want to consider for 2023. We'll walk you through what they can do for your business and introduce you to a few popular examples of each type of software so you can start your search for the perfect tools for your business.
1. Enterprise Resource Planning (ERP)
Enterprise resource planning (ERP) software is a type of enterprise software that allows organizations to manage their day-to-day processes like sales, marketing, accounting, production, human resources, and more.
ERP software is immensely helpful for enterprise companies, and can actually take on the role of multiple types of enterprise software in an all-in-one solution. With the ability to integrate with numerous processes across your organization, ERP tools can be a massive help.
To top it off, your ERP software can likely integrate with other types of enterprise software that we'll cover throughout this article, helping to streamline your processes even more.
Top Enterprise Resource Planning Software:
Oracle

SAP

Microsoft Dynamics

Sage
---
2. Customer Relationship Management (CRM)
Your customer relationship management (CRM) software is typically utilized by your sales—and sometimes marketing—team(s) to keep track of leads, sales deals, clients, and more. It helps monitor the entire relationship with both leads and customers so that everyone involved with onboarding knows what each client has already learned or heard about from each sales or marketing person.
CRMs are for more than service-based enterprises as well. They can help product-based companies keep track of orders and ensure that no customer is missed. A CRM can help generate invoices, organize your entire database of leads and clients, track sales opportunities, and more.
Top Customer Relationships Management Software:
Salesforce

HubSpot

Zoho CRM

Keap
---
3. Business Intelligence (BI)
Business intelligence (BI) tools help large, enterprise companies to gather, analyze and visualize key data relating to their business. It can help executives and team leaders make better business decisions and plan more effectively by having clearcut business intelligence right in front of them.
These tools use data mining, sophisticated algorithms, benchmarking, and other key data gathering tools to pull relevant information, then create dashboards and reports that make it easy for decision makers to view pertinent figures.
BI tools and the work they do can help reduce business costs, cut down on manual tasks, aggregate key data, predict upcoming trends, and help your organization make informed decisions surrounding the business.
Top Business Intelligence Software:
Datapine

Domo

Zoho Analytics

Sisense
---
4. Human Resource Management (HRM)
As we're sure is obvious, human resource management (HRM) software help large organizations to better streamline their human resources processes. When your HR team is managing hundreds to thousands of employees, HRM tools are essential.
This type of software will help your HR team to automate processes, find and vet candidates, manage hiring and payroll, train employees, manage your workforce, and more.
Top Human Resource Management Software:
Paycor

Workday

Monday.com

Freshteam
---
5. Supply Chain Management (SCM)
Supply chain management (SCM) is key for any enterprise company that has manufacturing processes as a part of their organization. These businesses obviously have an essential need for supplies to continue running their manufacturing operations—and SCM tools ensure there's always access to key supplies.
Other tasks that SCM software can help with include gathering information about ordering from various suppliers, managing supplier relationships, process orders, manage inventory and so much more.
Top Supply Chain Management Software:
Blue Yonder

Infor

Epicor

Logility
---
6. Marketing Automation
Marketing automation is one of the key software solutions that a typical enterprise company needs. It helps their marketing team set up automated processes that eliminate tedious manual tasks. This ensures marketing teams are able to focus on important tasks like planning for the next quarter, monitoring performance and adjusting strategies, etc.
The automations that this type of software allows can include tasks like email nurturing sequences, ad retargeting, personalized email marketing, social media scheduling and reporting, lead generation, and more.
Top Marketing Automation Software:
Marketo

HubSpot

Drip

Keap
---
7. Business Process Management (BPM)
Business process management (BPM) software is an enterprise solution that helps large organizations to manage and monitor repetitive tasks or processes throughout the business and build them out in a way that maximizes efficiency.
These types of tools typically integrate with a number of other enterprise-level software to help improve and streamline your processes even more. Don't get this confused with project management tools (that we'll cover later), though—this type of software assists with business processes while project management tools help individual teams complete various tasks and projects.
Top Business Process Management Software:
BPMApp

Kissflow

Jira

Nintex
---
8. Knowledge Management
Many businesses—especially software companies—have knowledge bases on their websites that help customers learn how to get the most out of the software, understand how to complete various tasks and processes, and more.
And having knowledge of management software is key to creating a comprehensive and easy-to-navigate knowledge base. This helps teams to publish help desk articles, offer live chat help, create FAQs, gather information on what customers are searching for, and more.
Top Knowledge Management Software:
Guru

Helpjuice

Confluence

Document360
---
9. Content Management System (CMS)
A content management system (CMS) is a software that allows brands to build out a website or blog without needing to know code or have other web development knowledge. Instead, anyone on the team can create new landing pages, publish blog content, or make minor changes to existing web pages.
The most popular CMS by far is WordPress, hosting a vast majority of enterprise websites. However, many enterprise companies will have a fully coded website, but use a CMS to manage their blog for content marketing purposes.
Top Content Management System Software:
WordPress

Shopify

Squarespace

Webflow
---
10. Project Management
The last type of enterprise software we're going to discuss is project management software. This helps enterprise teams manage tasks, projects, launches, etc., from start to finish, staying on deadline and ensuring nothing gets lost in translation.
Project management software is also key for development teams who use agile solutions to quickly create and launch new projects, web pages, or other pieces of software. However, nearly every team in an enterprise-level company can benefit from having access to project management software.
Top Project Management Software:
Asana

Jira

ClickUp

Monday.com
---
11. Business Process Automation
Business process automation takes business process management (BPM) a bit further. In fact, the two often go hand-in-hand. Business process management tools allow businesses to pinpoint where certain processes may be lagging.
Business process automation software helps businesses to automate repetitive tasks, build out workflows, and simplify a number of other processes. This helps decrease time spent on certain processes, allowing employees to focus on more complex tasks while your business process automation tool completes some of the more tedious and recurring responsibilities.
Top Business Process Automation Software:
IBM

Pipefy

Kissflow

Appian
---
Choose the Right Enterprise Software for Your Business
Start searching for the right enterprise software for your business and your team. It's a good idea to consider how you're promoting and marketing your enterprise business as well. Scaling enterprise-level influencer marketing can be a great strategy for staying top-of-mind with your target audience.
Frequently Asked Questions
What are some different types of enterprise software?
Some of the different types of enterprise software include business intelligence, supply chain management, business process management, enterprise resource planning, and more.
What is an enterprise software system?
An enterprise software system is a type of software that was created to help massive, enterprise-level companies. It has a higher price point because it's a robust tool that's meant to assist companies with thousands of employees.
What are the four types of enterprises?
The four types of enterprises are:
Sole Proprietorship

Partnership

Private Limited Companies (Ltd.)

Public Limited Companies (PLC)
What is an example of enterprise software?
An example of enterprise software would be a tool like HubSpot. They offer a number of sales, marketing, customer service, and operations solutions for large businesses to take advantage of.
Why would you need enterprise software?
Large companies need software to help them manage and streamline processes. In a company of 1,000 employees, you need to help them work better together, and enterprise software does just that.