Enterprise content management (ECM) is a strategy for creating and organizing various types of content that has become more and more popular over the years. In fact, the enterprise content management market has more than doubled since 2017—from $31.66 billion to $67.14 billion.
If your enterprise company is regularly creating content to share with your employees, stakeholders, team leads, C-suite, customers, and more, enterprise content management can be a great solution.
Throughout this guide, we'll talk more about what ECM is, major benefits of using it, the top five components, and more.
---
What is Enterprise Content Management? Guide to ECM:
---
What is Enterprise Content Management (ECM)?
Enterprise content management, or ECM for short, is a strategy that many large organizations employ to manage all five components: capturing, managing, storing, preserving, and delivering important content to the necessary parties. (More on these components shortly.)
ECM involves the various processes and tools needed for those components, and ensures that your organization is able to keep up with the flow of content throughout the business—and that nothing essential gets lost.
Your ECM solutions typically focus on internal content, like reports, training documents, and any other type of spreadsheet, PDF, Word Document, etc.
It can also hold both structured information and unstructured information. Structured information refers to documentation, data, and other information that is in a more standardized format, like Excel files or SQL databases. Unstructured information, on the other hand, does not have a standardized or structured format, and can come in all sorts of shapes and sizes.
---
Why is Enterprise Content Management Important?
ECM has become much more prevalent and important over the years as data breaches have risen and governments have made moves to help keep as much information private for citizens as possible.
But more than that, ECM is important because it helps store and manage the thousands of stray documents businesses might otherwise have. Don't rely on email and unsecure storage to hold onto those client contracts and employee files.
Instead, invest in an ECM software that can help you store essential files, organize them into flexible folders for easy access, and keep sensitive information safe.
---
Top Benefits of Enterprise Content Management
Why else should your organization consider investing time and money into enterprise content management? There are a number of benefits to consider.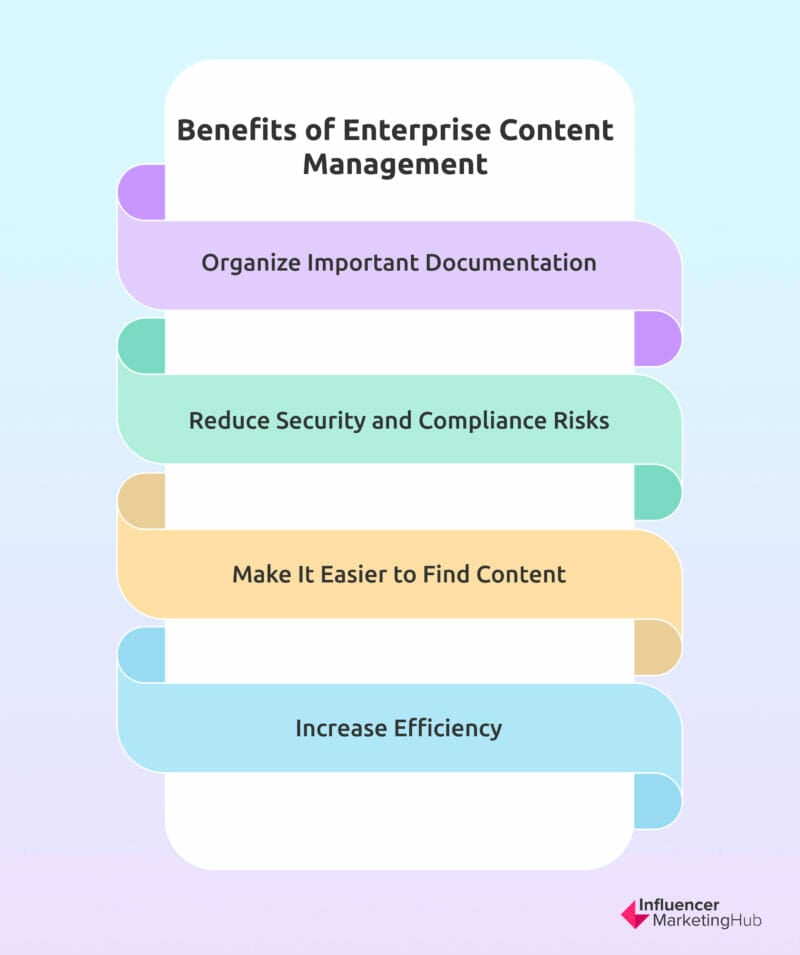 Organize Important Documentation
Your ECM system is likely going to house a number of internal documents, helping to keep all of the most essential pieces of content all in one place. This provides your company with what's called a "single source of truth," making sure there are no duplicates, errors, and loose documents (especially containing sensitive information) flying anywhere around the company except in the ECM storage.
Reduce Security and Compliance Risks
ECM tools can ensure that your content is stored within a secure repository, only allowing those with access to search through and find the documentation they need. This can help alleviate potential security and compliance issues, making sure that only those who need the documentation are able to access it.
Make It Easier to Find Content
With easy search tools and everyone on your team knowing that the content they need will be stored in one safe place, it's much easier to search for and locate the documents, spreadsheets, files, contracts, etc., that people need for their day-to-day tasks.
Increase Efficiency
ECM systems can reduce manual tasks, automating your content management. It also makes it easier for your employees to find what they need to complete their tasks while also avoiding redundant work like having to re-create lost documents, improving overall productivity and efficiency.
---
Enterprise Content Management Elements
Proper enterprise content management can be broken down into five major components. Your ECM strategy should have each of these pieces in place to ensure nothing falls between the cracks.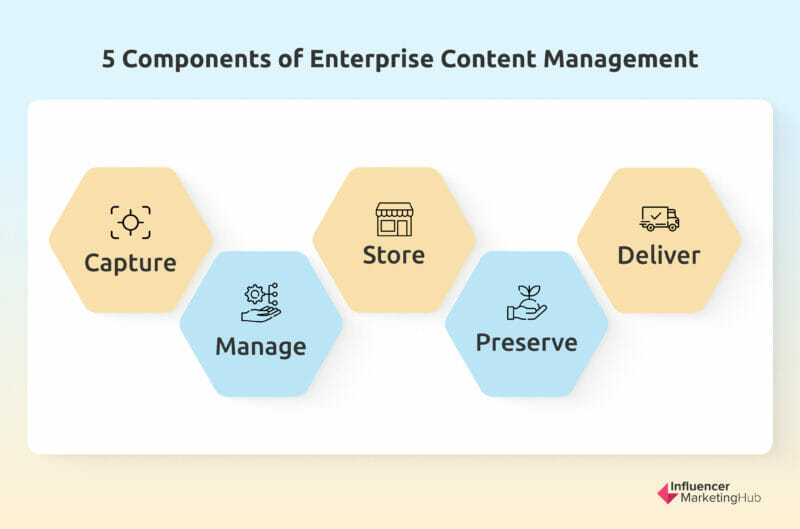 Capture
This first component, capture, is all about capturing or gathering existing documentation to bring it into your new ECM system. You'll need to convert any paper documents into electronic formats, import existing electronic files, and compile a list of all existing documentation that need to live within your ECM storage.
This could include documentation like:
Contracts

Invoices and purchase orders

Resumes and applications

Employee files

Research reports

Proposals
Digitizing all of these documents into one centralized repository can help improve organizational processes and make the business content even easier to find.
Manage
The next component is manage, and this is where a comprehensive enterprise content management software system is going to come in. The interface of whichever ECM tool you choose needs to make it possible for team members who need to access various documents to easily search for and find them.
Features of the management component should include document management, collaborative systems, web content management, and transactional records management.
Store
The third component is store. Your ECM tool should have a storage option that holds your digital files for you. But more than that, you should be able to:
Set parameters on who is able to access files

Use flexible folder structures to organize your files

Back up frequently-changing information

Let users make edits to documents and spreadsheets
Preserve
The fourth component, preserve, refers to holding onto infrequently-changing information via records management. This can also be referred to as archive management—essentially your ECM system is archiving documents that you don't access often to save room for files that you do access and update regularly.
These preserved files can still be utilized, but this is a great way to make sure you're remaining compliant with your infrequently-changing documentation.
Deliver
The last component is deliver. This component ensures that whoever needs access to documents in your ECM system gets them. This might be team members or clients—but the deliver aspect makes sure they always fall into the right hands.
---
How to Implement an Enterprise Content Management System
Ready to implement your own ECM system? Let's walk through these six key steps to help you get started.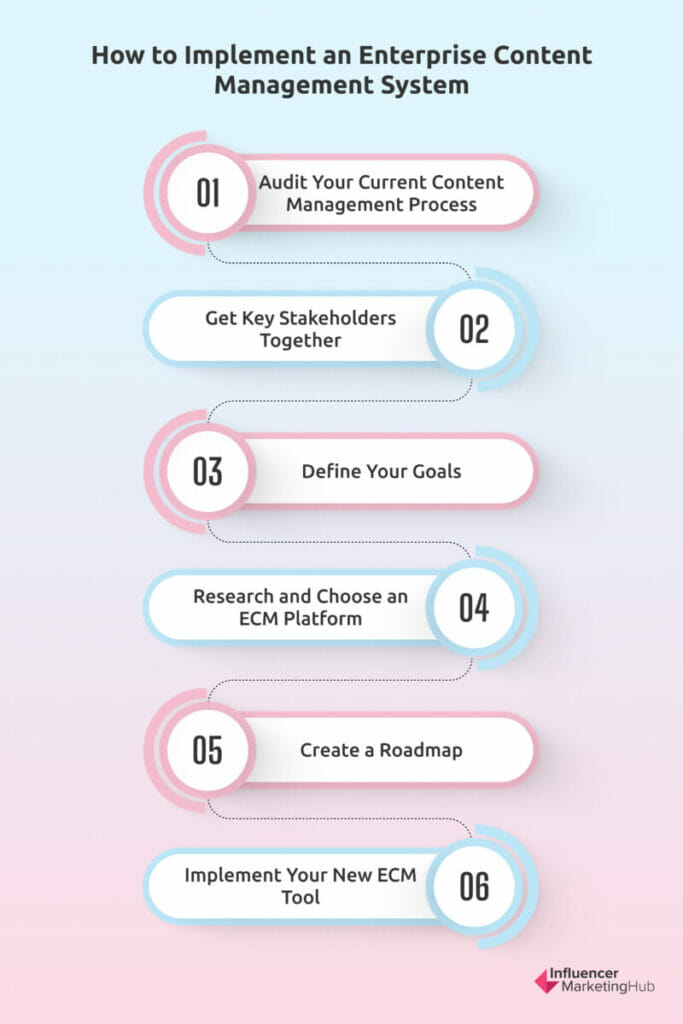 ---
Audit Your Current Content Management Process
(Or lack thereof in some cases.) Where do you keep your content? Are you, as we mentioned early on, using email attachments and unsecure cloud storage for your sensitive information? Do you have files saved on an external harddrive?
Neither of those options are secure or foolproof. And it's time to buckle down and invest in ECM.
Compile a list of all of your existing documents, PDFs, files, spreadsheets, etc., and where you're currently storing them. This will help as you get your ECM platform set up so you know exactly what information to capture.
---
Get Key Stakeholders Together
A good ECM system works across teams and departments, so you need to make sure you plan for each department that needs to have access to the files. Get one team lead or department head from each key team and have them work together to find the best solution and implement your new ECM system.
---
Define Your Goals
Why do you want to implement this ECM system? What are your goals? A few common goals include:
Reducing security and compliance risk

Improving business processes

Reducing paper waste

Boosting employee efficiency

Making it easier to find key documents
Make sure each stakeholder is aligned on your goals and doesn't have anything additional to add.
---
Research and Choose an ECM Platform
Each person on the newly minted ECM project team should work together to research and find enterprise content management software options that have all the features they need to meet their goals.
To get your search started on the right foot, here are a few software options to consider:
Alfresco

AODocs

OpenText

Hyland

Newgen

IBM Cloud Pak

M-Files

SharePoint
---
Create a Roadmap
Once you've landed on the perfect ECM tool for your organization, it's time to create a roadmap for implementation. This roadmap will help your team get from point A (where your content currently exists) to point B (how you envision your content within the ECM tool).
Using Agile or Scrum planning tactics for this project can be a great way to keep all stakeholders involved and get the new process up and running as quickly and efficiently as possible.
---
Implement Your New ECM Tool
Last but not least, it's time to implement. Sign up, capture all of your content, store and organize it, etc. However, this process isn't going to end with that. There are additional steps to be taken to make sure your content stays secure and organized.
Consider the following:
Build out policies that define who has access to which files in the tool

Create processes for entering new documents correctly

Train team leaders on how to best use the tool for their teams

Design knowledge and training documents for new team members

Test various processes to find the best ECM system for your organization
---
Get Started With Enterprise Content Management
Keep your enterprise company organized through enterprise content management. Find the right ECM tool for your business and learn more about other enterprise software that can ramp up efficiency throughout your organization.
Frequently Asked Questions
What does enterprise content management mean?
Enterprise content management refers to the strategy of capturing, managing, storing, preserving, and delivering important documentation within an organization.
What are the components of enterprise content management?
The five components of enterprise content management are:
Capture

Manage

Store

Preserve

Deliver
How does an enterprise content management system work?
An ECM system allows team members to easily organize, store, and find important documents for their business. For example, an HR team member can use it to organize employee files while a salesperson can use it to store client contracts, purchase orders, etc.
What is an example of enterprise content management?
An example of ECM can be found within enterprise content management providers like Alfresco, AODocs, OpenText, Hyland, Newgen, IBM Cloud Pak, M-Files, and SharePoint.
What is the difference between CMS and ECM?
A CMS, or content management system, is what a company would use to make edits to their web pages or blog content. It's more public-facing, whereas ECM, or enterprise content management, focuses on the storage and organization of internal documentation.